Milk Kefir is a probiotic rich, cultured dairy product that you can make in your very own home with just two ingredients! An excellent first home fermentation project, with very little equipment needed. Turn store-bought milk into a wonderful superfood!
This post contains affiliate links, which means that if you click a link and make a purchase, we receive a commission at no additional cost to you. See our disclaimer for more information. Any nutritional information is for entertainment and informational purposes only, and is not intended as medical advice. Always seek the advice of your health provider.
---
Do you love milk kefir? I do! It's one of my favorite probiotic-rich beverages to serve for breakfast or for a quick snack. Milk kefir has more strains of gut-friendly bacteria than yogurt, so you get more bang for you buck! While I absolutely love a bowl of yogurt, a wonderful smoothie hits the spot when I need something quick and delicious.
I've been making kefir at home now for about 4 years, and I absolutely love it. It's one of the easiest ferments I have going in my kitchen. I love that I can turn regular old store bought milk into a delicious superfood. Best of all? It's one of the easiest ways to get probiotics and fruit into my picky toddler.
A Complete Guide to Milk Kefir
I've put together a milk kefir guide, and I hope that you find it helpful. There's a lot of information here, but it's because I want you to feel confident as you order your first package of grains and make that first batch of milk kefir. I've included a full step-by-step photo tutorial near the end, as well as a recipe card with simple instructions. Below is a table of contents so you can easily navigate and move between topics as needed. It's a long read but I hope a helpful one!

If you have any questions that aren't answered in this blog post, please leave your question in the comment box below OR DM/tag me on Instagram @Littlehomeinthemaking
What Do I Need to Make Milk Kefir at Home?
The great thing about making you own milk kefir at home is that you don't need very much to get started! Milk kefir is one of the easiest ferments to start with if you're new to culturing and fermenting.
All you need to start making milk kefir is:
Kefir Grains
Milk (any kind except ultra-pasteurized is suitable)
You will need a little bit of equipment, but chances are you have these on hand anyway!
Glass mason jar, pint or quart sized
Wooden spoon
Fine plastic strainer or nut milk bag
I specify that you need a fine plastic strainer, because the acidity of ferments can react with certain metals, or so goes the rumor at least. Plastic strainers are inexpensive, and super easy to wash by just throwing them in the dishwasher after a quick rinse. You could also use a nut milk bag if you have those on hand or will be using them for other projects (like my Instant Pot Ghee)
How to Find Milk Kefir Grains
Provided that you have access to adequate milk, the most difficult part of getting started with making your own milk kefir at home is obtaining grains. Even though it is the most difficult, it really isn't difficult at all!
If you have a local friend who makes kefir, they can easily give you a few tablespoons of active grains to start your own batch. Kefir grains grow over time, so you always end up with extra to share.
Local Vs. Online
If you don't have a local friend, you can order grains online. Most often they are in a dried state for safe shipping. You will be given instructions on how to rehydrate the grains once they arrive at your home. Cultures for Health is a great company that sells a multitude of cultures for your home fermenting projects! They sell milk kefir, as well as water kefir grains. Ensure that you purchase milk kefir grains, because water kefir is a completely different culture and will not work to culture milk. Use my link below 👇 to get 25% off when you order 2 cultures (why not order some water kefir, kombucha, or sourdough to try out too?).
You may also have some luck at the local health food stores. I had to wait about a month for my grains to come in through special order. Looking back, I probably would have ordered them online since it's much quicker.
Can you make your own kefir grains?
No, you cannot. 😢 Since I love doing all kinds of projects from scratch, I certainly did as much digging as I could about making my own milk kefir grains. Unfortunately, this is not possible. The original kefir comes from the fermenting of milk in bags made out of animal hides. 😳 Now we use kefir grains to "inoculate" the milk with the necessary culture, and transfer those grains from batch to batch. While we cannot make these grains on our own, they are fairly easy to obtain and will likely last you a lifetime if treated with relative care.
See this article for some more information on the origin story of kefir.
How do I store milk kefir grains?
When the grains are not actively fermenting milk for use as kefir, they should be kept in the fridge with a good quantity of milk to cover them. This will provide enough "food" for them for 1-4 weeks (depending on how much milk and how established your grains are), after which time you would take them out and add them to a fresh batch of milk for making into milk kefir.
During the winter season, kefir takes a longer period of time to ferment the milk, and so you may not need to store the grains like you would in the summer months when it is warm and the milk is fermenting quickly. It takes approximately 48 hours for a first fermentation to occur, so if you like to use kefir often, you may not need to store your grains during the winter at all.
How to Make Kefir Taste Good
Plain milk kefir is not my cup of tea, and chances are it isn't yours either. While it is delightfully tangy, it can be slightly sour, and I find the addition of frozen fruit and some natural sweetener to be delightful. Even still, you may find it to be a bit of an odd taste until you grow accustomed to it. After that time, you will grow to love it. When I was pregnant with my son, kefir smoothies were just about the only thing I could get down (except for boxed cereal 🤣) without wanting to be sick. A pregnant woman wanting kefir!? Seems odd, but it worked well.
I most often blend my kefir with frozen berries and sweeten with maple syrup or honey. Sometimes I add collagen powder, but I find the texture can be offputting during pregnancy. I've also added a small scoop of old fashioned oats, which adds a lovely texture and is great for nursing mothers.
Some of my Milk Kefir Recipes:
How to Choose the Best Milk for Making Milk Kefir
One of my favorite things about making milk kefir at home is that I can use whatever milk I have on hand. While there are some exceptions, most store bought milk can be used with ease and success. You can even use coconut milk for a batch or two, so long as you refresh your grains with batches of milk kefir in between. See this post for more details on how to do that.
Milks you Can Use for Making Milk Kefir:
Raw Cows Milk
Raw Goats Milk
Unhomogenized Cows Milk
Pasteurized Cows Milk
Pasteurized Goats Milk
Coconut Milk (no additives or sweeteners, with dairy kefir batches every so often)
Milks that are Not Suitable for Making Milk Kefir:
Ultra-pasteurized Cows Milk
Ultra-pasteurized Goats Milk
Almond Milk
Cashew Milk
Soy Milk
Oat Milk
Ultra-pasteurized milks are not common in my area, unless they are a shelf-stable milk product. I have heard that they are more common elsewhere, and particularly with organic milks intended for a longer shelf life since they have to be transported from further distances. If you cannot find on the package at what level the milk was pasteurized, you may try e-mailing customer service and inquiring there before using the milk to make kefir. Ultra-pasteurization prevents the culture from working, since it is a basically sterile product.
How to Make Goat Milk Kefir
The wonderful thing about milk kefir grains is that you can switch back and forth from cows milk and goats milk as needed. Your first transitional batch may not thicken as much as usual, but it will be just fine to eat. The grains adapt very well, and there is no special culture or process needed for goats milk. If you're using raw milks in particular, goats milk is a great fit since it is naturally homogenized, meaning you won't have to dig your grains out from the cream that rises to the top with raw cows milk. An established milk kefir culture is a perfect addition to a small homestead for this reason!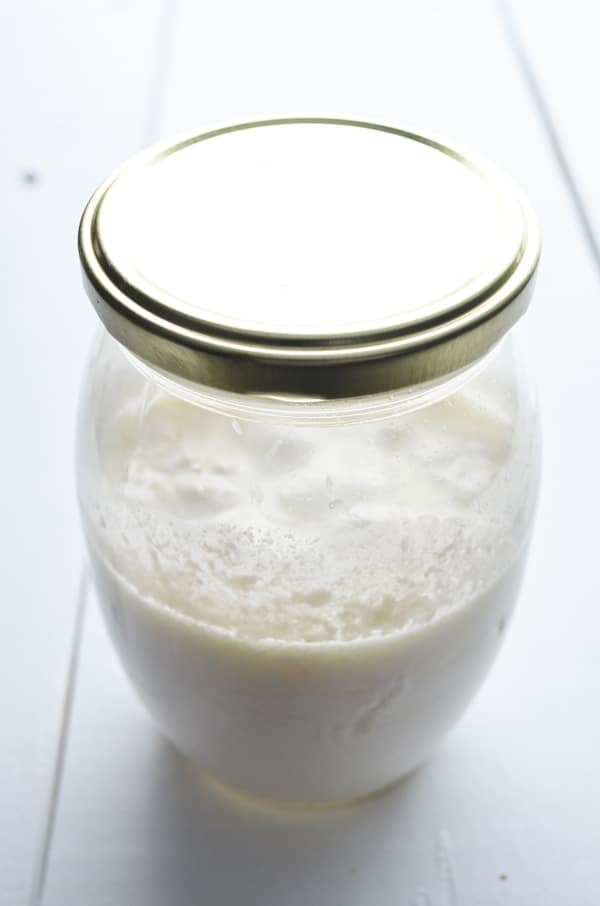 How Long Does it Take to Make Milk Kefir?
The length of time that it takes a batch to ferment greatly varies on the temperature of the home and where the milk kefir is located during the fermentation process. An ideal temperature is about 68-70F, but both colder and warmer temperatures will work for making milk kefir, albeit at a much slower or much faster pace.
In the summer, my milk kefir often ferments within 18-24 hours. In the winter, 48 hours is the timeline I expect. If I choose to do a second fermentation, I would ferment the milk for an additional 8-12 hours in the summer and 24 hours in the winter. Our home is often 80F+ in the summer since we do not have air conditioning, and we keep our heat at 65-67F in the winter time.
How fast milk kefir is made is dependent on two factors:
Temperature
Grain to Milk Ratio
Temperature
Like I explained above, milk kefir ferments more quickly in warm temperatures, and more slowly in cool temperatures. Warm temperatures speed up microbial activity, while cool temperatures slow it down. This is why raw meat spoils at room temperature, but is preserved when frozen.
Grain to Milk Ratio
If your milk is fermenting too quickly or too slowly, and you don't think it has anything to do with the ambient temperature, it may have to do with the grains. Think of grains as hungry little toddlers. They don't eat a lot on their own, but the more of them there are, the hungrier they get. Soon you're handing out crackers and yogurt at an alarming pace. Such is the same with all ferments and cultures. A little bit of culture requires a little bit of food, and a lot of culture requires a lot of food.
In this case, kefir grains are the hungry toddlers, and milk would be the coveted snack of choice. The milk "feeds" the grains what they need, and in return, you are left with a thick, fermented milk known as milk kefir. So if you have a lot of grains, you also need a lot of milk.
For an ambient temperature of 68-70F:
2 Tbsp. Active Milk Kefir Grains (if you bought them dried, this is the volume you need after they have been rehydrated)
2 cups of Milk
This fits perfectly in a pint jar. If you have only 1 tbsp. of grains, use 1 cup of milk. If you need to ferment a quart of milk, use 4 tbsp. of active kefir grains.
Adjusting for Ambient Temperature
While this ratio is perfect for the "ideal" temperature, you can play around with your grain ratio to suit you during extreme temperatures. During a very hot summer you may try 1 tbsp. of grains to 1.5 cups of milk, and adjust as necessary. In the winter you may opt for 3 tbsp. of grains to 2 cups of milk to speed up the fermentation process.
As you'll soon see, milk kefir is very flexible and can be adapted to your needs once you get the hang of it. It's a matter of keeping it "fed" often enough, knowing that its needs increase with warm and more grains, and decrease with cool temperatures and fewer grains.
Water Kefir Vs. Milk Kefir
Water kefir and milk kefir are completely different cultures, although they sound similar and even look a little bit similar. Water kefir grains are translucent and either clear or slightly brownish/reddish in color. Milk kefir grains look like tiny pieces of cauliflower, are opaque, and white. Milk kefir grains transform milk into kefir, while water kefir grains use a sugar water solution for a clear, soda-like beverage.
Some people have success transferring their milk kefir grains to water kefir grains, but from what I understand it results in a weaker product, and lasts only a few batches. If you intend to make water kefir, it is best to purchase or source water kefir grains and maintain a separate culture. You cannot ferment milk with water kefir grains, so take care in sourcing milk kefir grains if that is your intention.
Full Tutorial: How to Make Milk Kefir at Home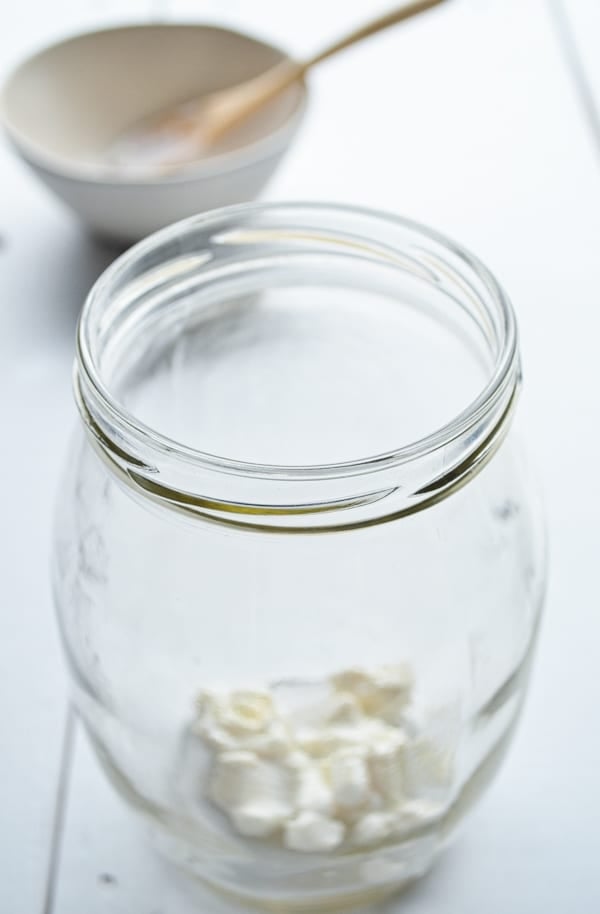 Step 1: Prepare Your Grains
Once you've purchased or sourced your grains, you will need to make sure they are active. Often, if you purchase your grains locally they will be active and given to you in milk. If you purchase them online, they will often be dried. There will be instructions included with your kit that will explain exactly how to rehydrate your grains. Once your grains are rehydrated and active, you're ready to make milk kefir!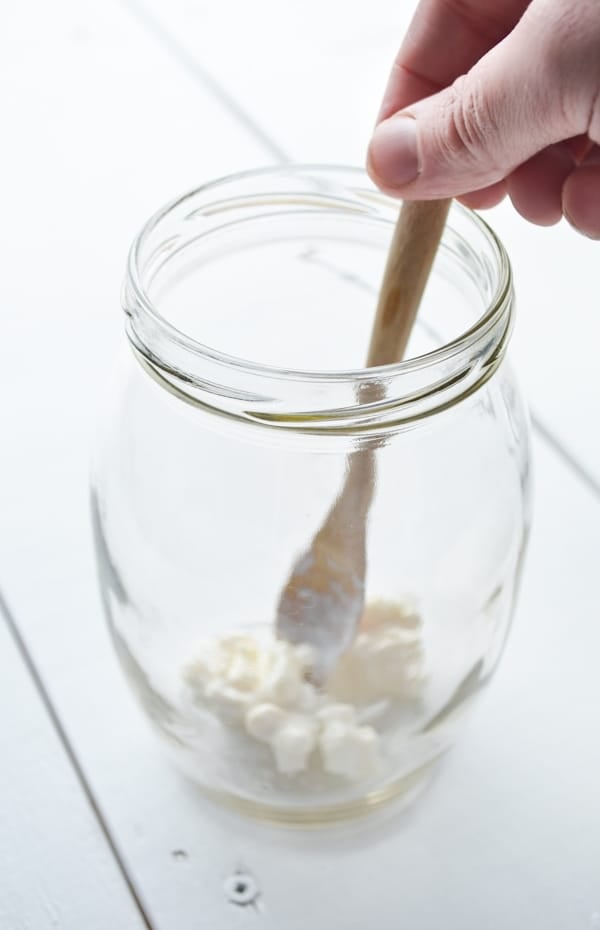 Step 2: Find a Clean Glass Jar
Now that your grains are active, you will need to add them to a clean glass jar. It is not recommended to ferment in plastic containers since they can leach. Glass is the best option for all sorts of fermenting and culturing projects since they can be cleaned and sterilized very easily.
I recommend glass pint-sized jars with a plastic lid, OR a very clean old mayonnaise or pickle jar. I like the lids with the popping seal, because I find I get a thicker ferment in them and also an indication of when and if I need to burp the jar. Burping is the process of opening your jar to let out excess gases, preventing the jar from breaking. This doesn't happen often with kefir, but it does with many other ferments.
Once you have your clean jar, add 2 tablespoons of active milk kefir grains to the jar.
Step 3: Add Your Milk of Choice
Add in 2 cups of your milk of choice. Be sure to consult the list above on suitable milks for making kefir. Especially for your first time, I highly recommend using either whole cows milk or goats milk. Ensure that you milk is NOT ultra-pasteurized. You can use lower fat milk or skim milk to make kefir, but I would not recommend it for your first batch since lower fat milks don't seem to set up as well and your grains still haven't adapted.
Be sure to give your milk and grains a little stir with a small wooden or plastic spoon.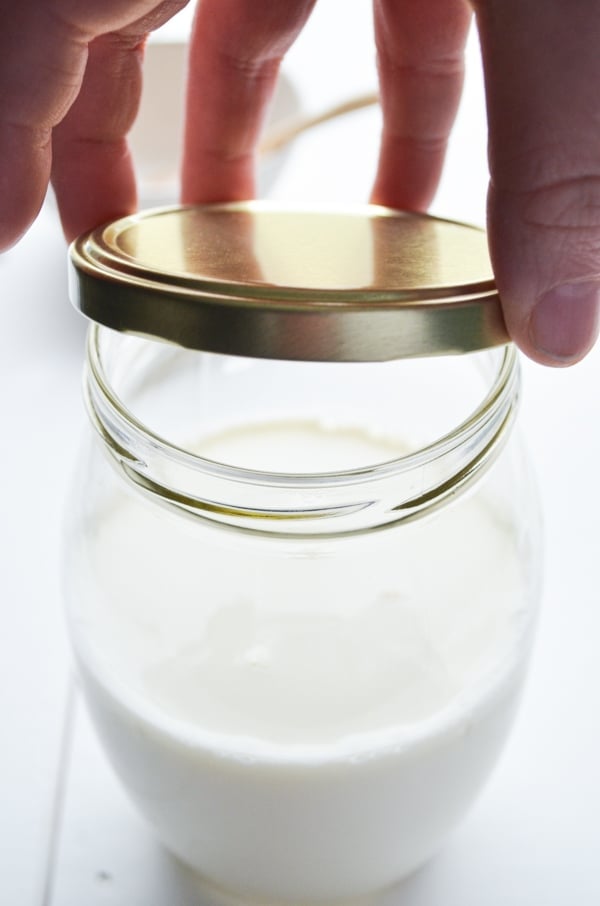 Step 4: Cover
Once you've added both the grains and the milk, it's time to cover your jar. Some folks who have been making kefir for many years cover with a lid, and some cover with a cheesecloth and a rubber band (or clean dishtowel). This is a matter of whether they believe milk kefir is an anaerobic or aerobic fermentation process. I've done it both ways, and I prefer to use a slightly secure lid. You don't want to completely thread the lid, but just tight enough that bugs and the like can't get in.
If you're opting for a light covering, use a double layer of cheesecloth or a light dishtowel secured with a rubber band. This is enough to keep bugs and dust out, and it's really just a matter of preference in my opinion. It may be easier to get a good ferment the first few times by using a cheesecloth, but I can't say for sure.
I used a light covering for the first several years of kefir making, but I started using a lid and liked the results a little better somewhere in my third year. In my experience, using a lid creates a thicker end product, and I also like that there is no risk of cross contamination with other ferments (see this article from Traditional Cooking School for more information). I keep a lot on the go (sourdough, sauerkraut, beets, and ginger bug to name a few), so I like to keep lids on whatever I can for this reason.
See this great post from Yemoos for more information on weighing the pros and cons of lid vs. cloth.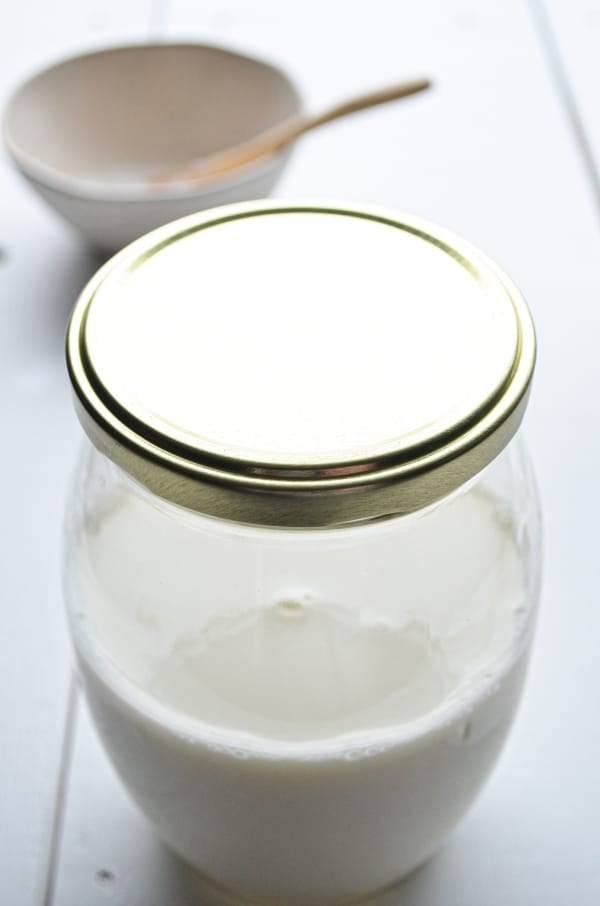 Step 5: Ferment from 12-48 Hours
This is perhaps the trickiest part of making milk kefir, but it really is quite simple once you get the hang of it. Like so many other from scratch foods, the exact time that milk kefir is finished is moveable and subject to temperature and environment. What you're looking for is a product that is thick (not quite as thick as yogurt, but thicker than heavy cream) with pockets of whey beginning to form. Whey is the watery liquid that rises to the top of your yogurt container. It is slightly yellow in color, and you can see some pockets in the photo below.
In the summer time, this may take as little as 12 hours. In the winter time, in a cool home, this can take as long as 48 hours. Once you've made a few batches, you'll be able to roughly estimate how long it will take based on your environmental factors. You can see my section above labeled "How Long Does it Take to Make Milk Kefir?" for more information on balancing time, temperature, and grain to milk ratio.
The good news is, even if your milk kefir has "over-fermented" and completely separated from the whey, you can shake it really well and use it as desired. It may be a bit more tangy than you may hope for, but it's perfectly usable and does not need to be wasted. Kefir is a mostly forgiving culture, and you'll be surprised how resilient it is. I once left my grains in a small amount of milk for 3 or so months after I had my son, and I was able to rescue them and bring them back to their former glory in just a few batches. Like sourdough, once it is established, it's hard to kill. 🤣
Step 6: Check for Whey Pockets
Like I described in Step 5, you will see pockets of whey when the milk has been sufficiently fermented. In the photo here, you can see that there is some separation occurring. Once you see the beginning of separation, your kefir is ready and you can proceed to the next step.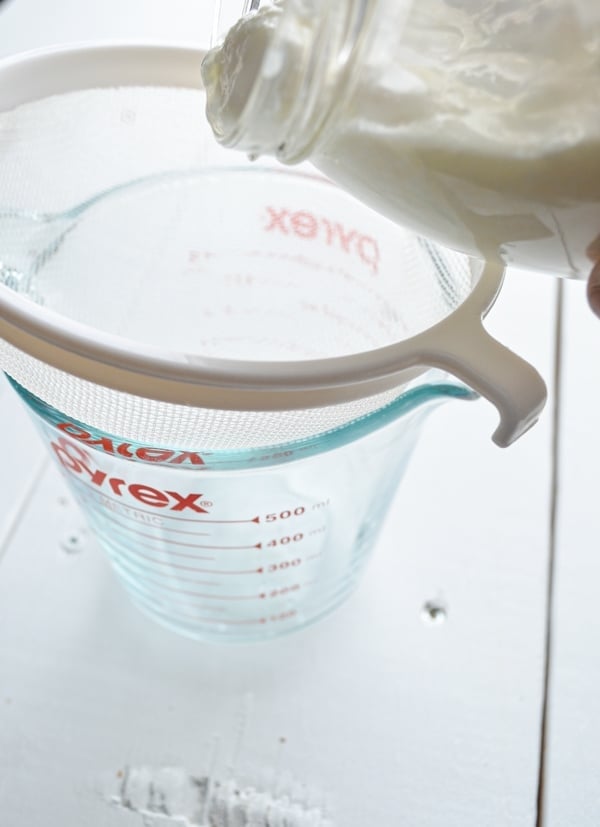 Step 7: Strain your Milk Kefir
Since you will need your grains for making continuous batches of milk kefir, you need to strain off the grains and retain the milk kefir for later use. If the grains are left in the milk kefir, they will continue to ferment and you could end up with a very sour end product, not to mention a very disgusting texture. I would NOT want to drink milk kefir grains 🤢.
I like to use a plastic strainer since I am quite superstitious about using any sort of metal with my cultures and ferments. Word is that stainless steel is absolutely fine to use, but there can be reactions with aluminum. I figure it is better safe than sorry and stick with plastic and wood as far as my ferments go.
This plastic strainer is the one use. I love it because it fits nicely over a 2 cup glass measuring cup, is super fine, and I can wash it in the dishwasher for an easy cleanup.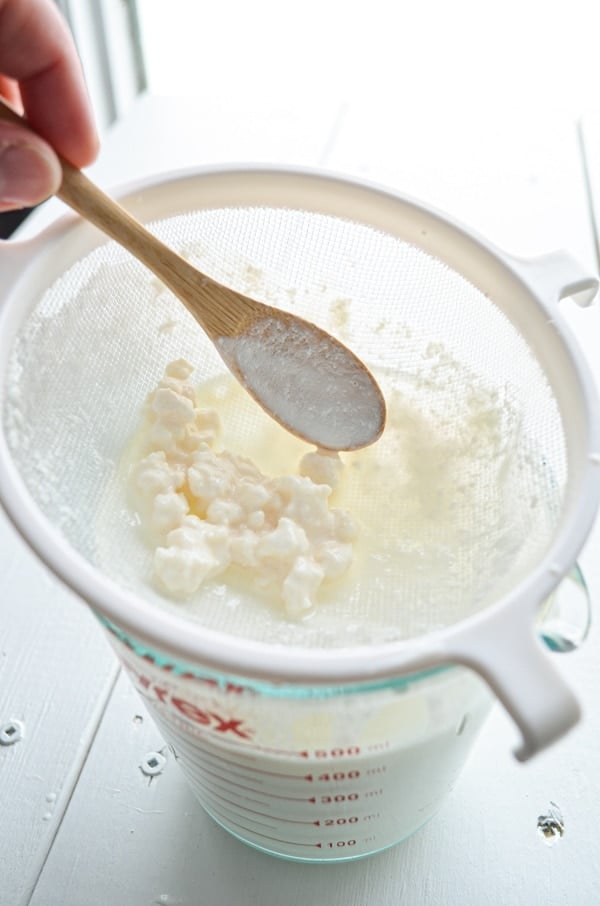 Step 8: Collect your Grains
Since the kefir will be relatively thick, you'll have to push it through the strainer gently by stirring gently with a spoon. Waiting for it to drain completely will take forever, so it's best to move it along quickly. Once the finished kefir is strained, grains will remain in the mesh strainer. These are for starting your next batch of milk kefir.
I normally place my grains in a clean glass jar and start the process over again, but if I have plenty of kefir in the fridge, I will opt to store my grains. See my section above labeled "How Do I Store my Milk Kefir Grains?"
The basic idea is that you cover your kefir grains in milk, cover, and keep in the fridge for 1-4 weeks (1-2 weeks is best). When you're ready to make kefir again, simply strain the grains and start with new milk. I have used the milk for storage as kefir before, but I'm not advocating for you to do the same! 😂 Especially at first, it's best to take every precaution.
Step 9: Pour Your Milk Kefir into a Clean Glass Jar
Once your finished milk kefir has been strained, it is now time to move it to another clean glass jar. This is the container you will store your kefir in until you use it, or you may do a second fermentation to further reduce lactose.
All you have to do is pour your finished milk kefir in, top with a plastic lid (metal lids rust very easily), and place in the fridge. Easy peasy, lemon squeezy! 🍋
Step 10: Store for Later Use or Do a Second Fermentation
If you're happy with your milk kefir at this point, place it in the fridge until you'd like to make a delicious smoothie with it. If you'd like to further reduce the milk sugar, you can do a second fermentation.
How to Do a Second Fermentation
A second fermentation is fairly simple. Once you've poured your finished kefir into a clean glass jar and topped with a plastic lid, just place it back on the counter. Let it ferment for an additional 12-24 hours. Some find this mellows the flavor, but most do it for the reduction of carbohydrates and lactose. I can go either way, but I opt for a second fermentation more often than not.
A second fermentation is merely an optional step, so don't feel that you need to do it. Experiment with how you like your kefir, and what methods work best for you. It's a very flexible ferment and one that is sure to become a favorite. It certainly has been a favorite of mine!
Welcome to the World of Making Kefir at Home!
I hope you found this post informative and helpful. I made a meme for us kefir nerds that are a little superstitious about using metal when making our favorite fermented beverage.
If you have any questions that I haven't answered in this post, please be sure to ask it in the comments below and I'll do my best to answer!
Scroll down for the simple recipe printout 👇
Homemade Milk Kefir
Total Time:
2 days
5 minutes
Have you ever thought about making your own milk kefir at home? It can be done, and with just two ingredients! Check out the full tutorial on how to make your very own cultured dairy at home.
Ingredients
2 tbsp. Active Milk Kefir Grains
2 cups Whole Milk, or goats milk
Instructions
Place your active kefir grains in a clean, pint-sized glass jar.
Add 2 cups of whole or goats milk and stir with a wooden or plastic spoon.
Cover your jar with either a lid, or a doubled-piece of cheesecloth secured with a rubber band.
Let the milk ferment on your counter, in a slightly warm spot, for 12-48 hours. The kefir is ready when pockets of whey start to appear, and the milk has thickened considerably.
Set a fine sieve over a small glass bowl or measuring cup. Pour the fermented milk kefir into the strainer and use a plastic or wooden spoon to push the kefir through the strainer, leaving the grains behind.
Retain the grains for your next batch of milk kefir.
Pour the finished milk kefir into a new clean glass jar and top with a plastic lid. You may store the milk kefir in the refrigerator for later use, or you may proceed with a second fermentation.
For a second fermentation, place the covered milk kefir in a warm spot on your counter for another 12-24 hours. Secondary fermentation further reduces the milk sugars, and may help those who are slightly sensitive to dairy or lactose (although not for those who have allergies or intolerances). A secondary fermentation helps mellow the flavor as well.
If you opt for a second fermentation, store your milk kefir in the fridge after the second fermentation.
Notes
Homemade milk kefir can be stored at least as long as the milk that was used in the fermentation process. I find my milk kefir lasts a very long time, and I don't recall a batch that really went bad yet according to the "smell test", but you must use your own discretion. For the safest option possible, be sure to drink the milk kefir by the expiration date of the milk you used. And of course, if anything seems off to you, don't drink it!
Nutrition Information:
Yield:

2
Serving Size:

1/2 of Recipe
Amount Per Serving:
Calories:

240
Total Fat:

13g
Saturated Fat:

8g
Trans Fat:

0g
Unsaturated Fat:

4g
Cholesterol:

38mg
Sodium:

195mg
Carbohydrates:

18g
Fiber:

0g
Sugar:

18g
Protein:

13g
Nutrition information is an estimate only.