This easy and satisfying recipe for a Kefir Smoothie Bowl is the perfect healthy breakfast idea. Made with probiotic-rich milk kefir, and topped with a variety of fruits and superfoods, this is one breakfast (or snack) you'll want to make again and again!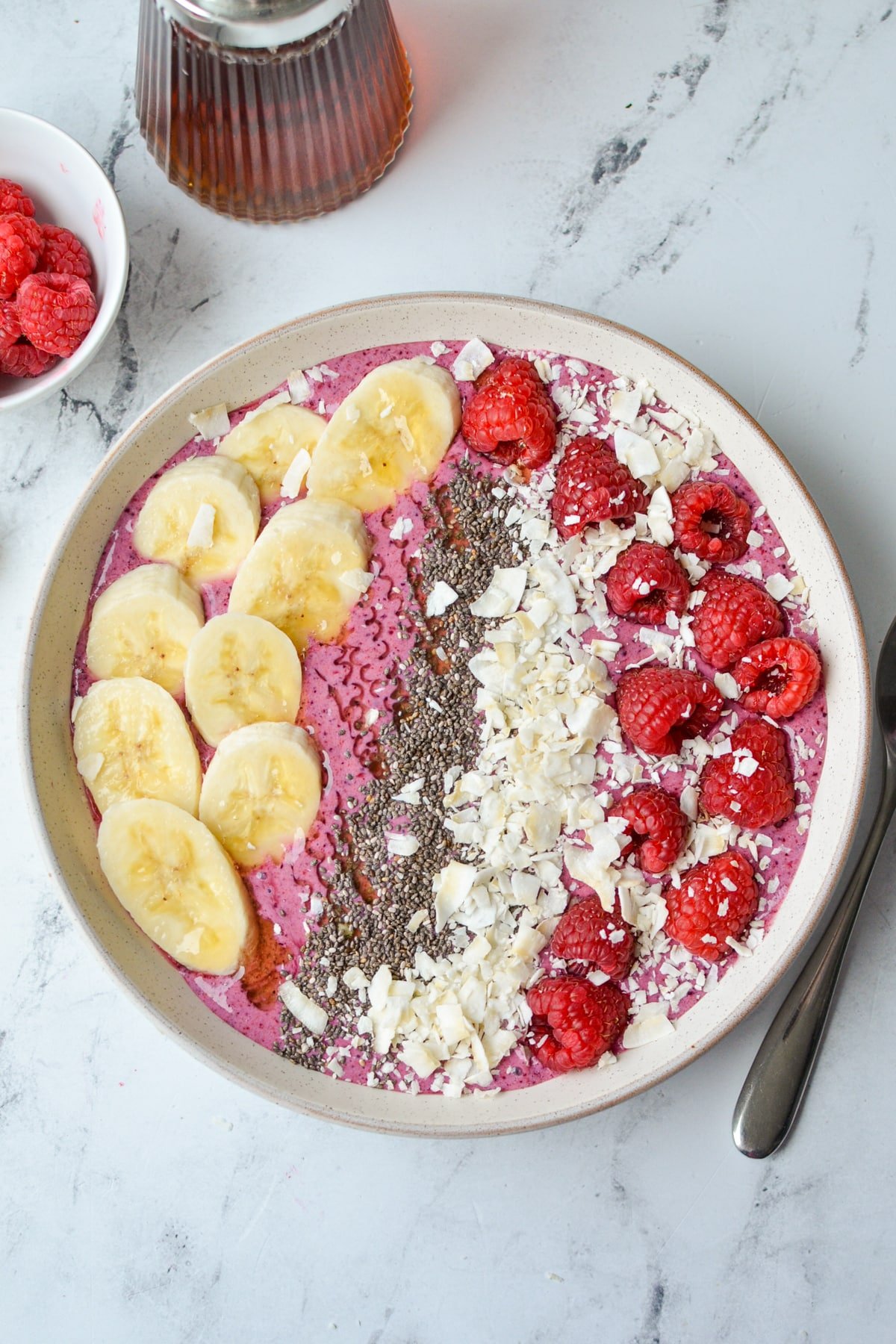 If you've been around for any amount of time, it's probably pretty clear that I'm a huge fan of milk kefir. It makes sense after all, since I've been making my own for over 5 years now.
Smoothies are the ultimate way to use probiotic-packed milk kefir. They feature delicious fruit, which often masks the slightly tart taste of kefir. This kefir smoothie bowl is a way to switch up your breakfast routine and enjoy something special, without tons of work or time invested.
In fact, it's a new favorite in my home, and I can't wait to make it again and again. The best part? You can switch up the fruit smoothie base and toppings for a totally different experience each time. Seriously, a mango and pineapple tropical smoothie bowl is calling my name!
Why You'll Love This Recipe
It's easy to put together, yet looks like it took a lot of effort to make.
Full of healthy fats, fiber, and fruit.
A great way to introduce probiotic-rich kefir into your daily routine.
A fun and easy alternative to kefir smoothies.
Ingredients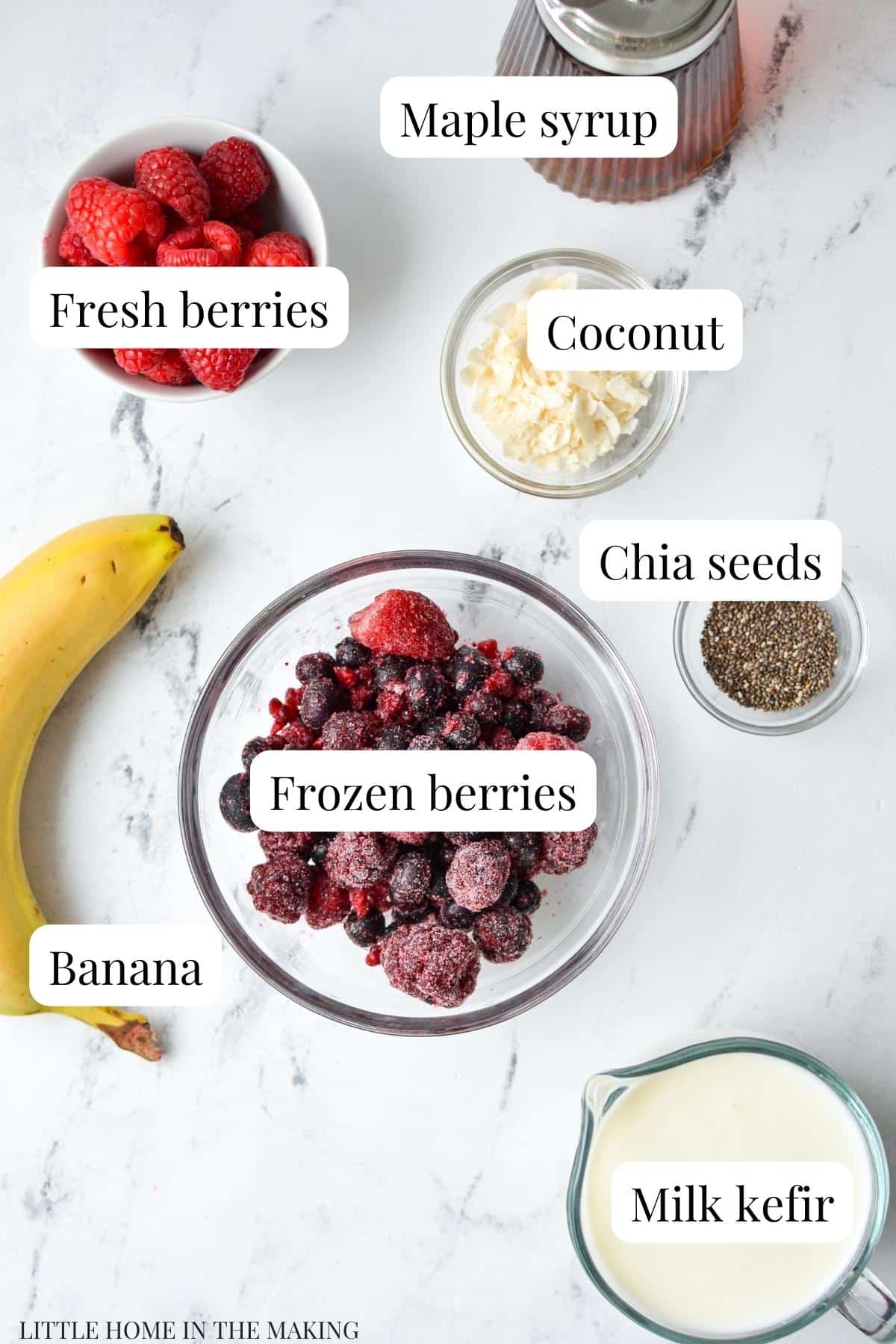 Kefir: You'll need about 1 cup of kefir. You can either use store-bought, or make your own.
Frozen berries: These help thicken the smoothie bowl and add some extra fruit flavor! I do frozen mixed berries, but you can use whatever you like best! Mango and pineapple would be especially delicious.
Chia seeds: These add both fiber and omega-3 fats, helping to make this kefir smoothie bowl extra satisfying.
Honey or maple syrup: I like to add a little sweetness to the kefir itself, and a light drizzle on top if my sweet tooth is calling to me. You can use either honey or maple syrup.
Fresh fruit (for topping): Use whatever fresh fruit you have on hand for topping your smoothie bowl. I went with some sliced banana and fresh raspberries.
Coconut (optional): This adds a really nice texture and flavor, but if you're not a big fan of coconut, feel free to leave it out. I like these coconut chips.
Equipment:
Blender: You'll need a good quality blender to break down the frozen fruit. I have really enjoyed both the Nutri Ninja for single servings and the Professional for larger servings, but I do hope to upgrade to a Vitamix one day soon!
How to Make a Smoothie Bowl with Kefir
To get started, you'll make the smoothie portion of the bowl by adding kefir, maple syrup, and the frozen berries (or frozen fruit of choice) into the jug of your blender.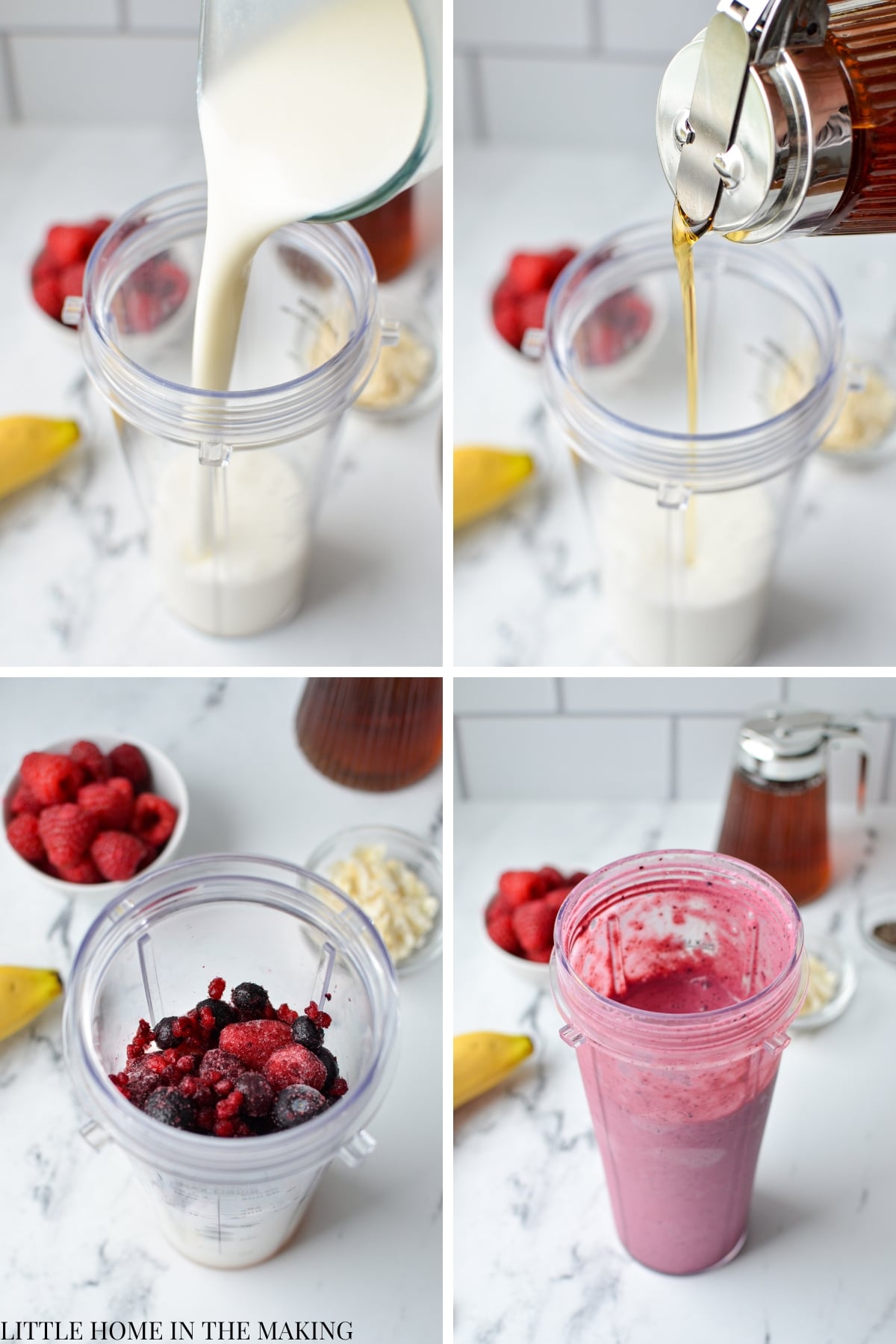 Pulse or set your blender on high and blend until the fruit is fully broken down and smooth.
Then pour the kefir smoothie into a shallow, wide bowl with high edges.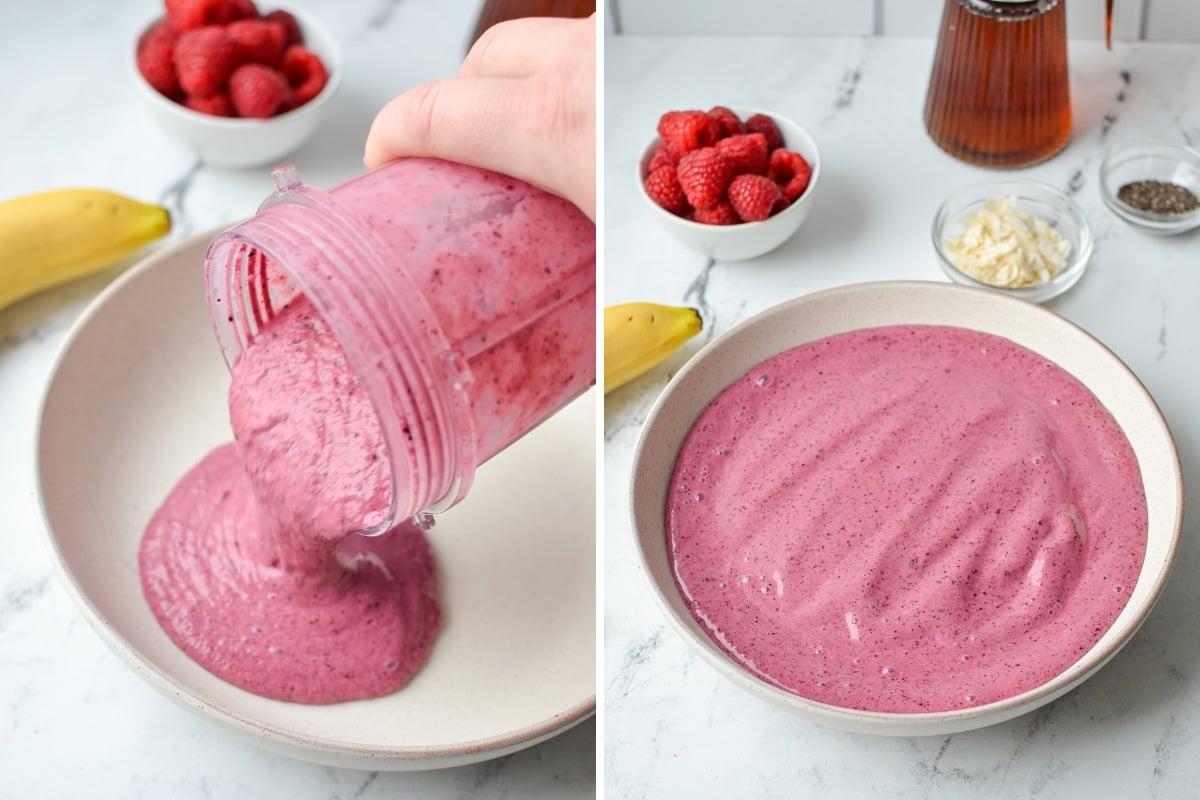 Adding the Toppings
One your smoothie is poured into the bowl, you're ready to add in the toppings! You can easily customize this based on what you like, but I've given you a general guideline.
Just gently lay on the surface of the smoothie bowl your toppings of choice. Here are the ones I used:
Sliced banana
Fresh raspberries
Chia seeds
Coconut chips
Drizzle of honey
Once your toppings are in place, you're ready to serve and enjoy! My husband likes his all mixed together, but I like to have a little from each side of the bowl and try out different flavor and texture combos.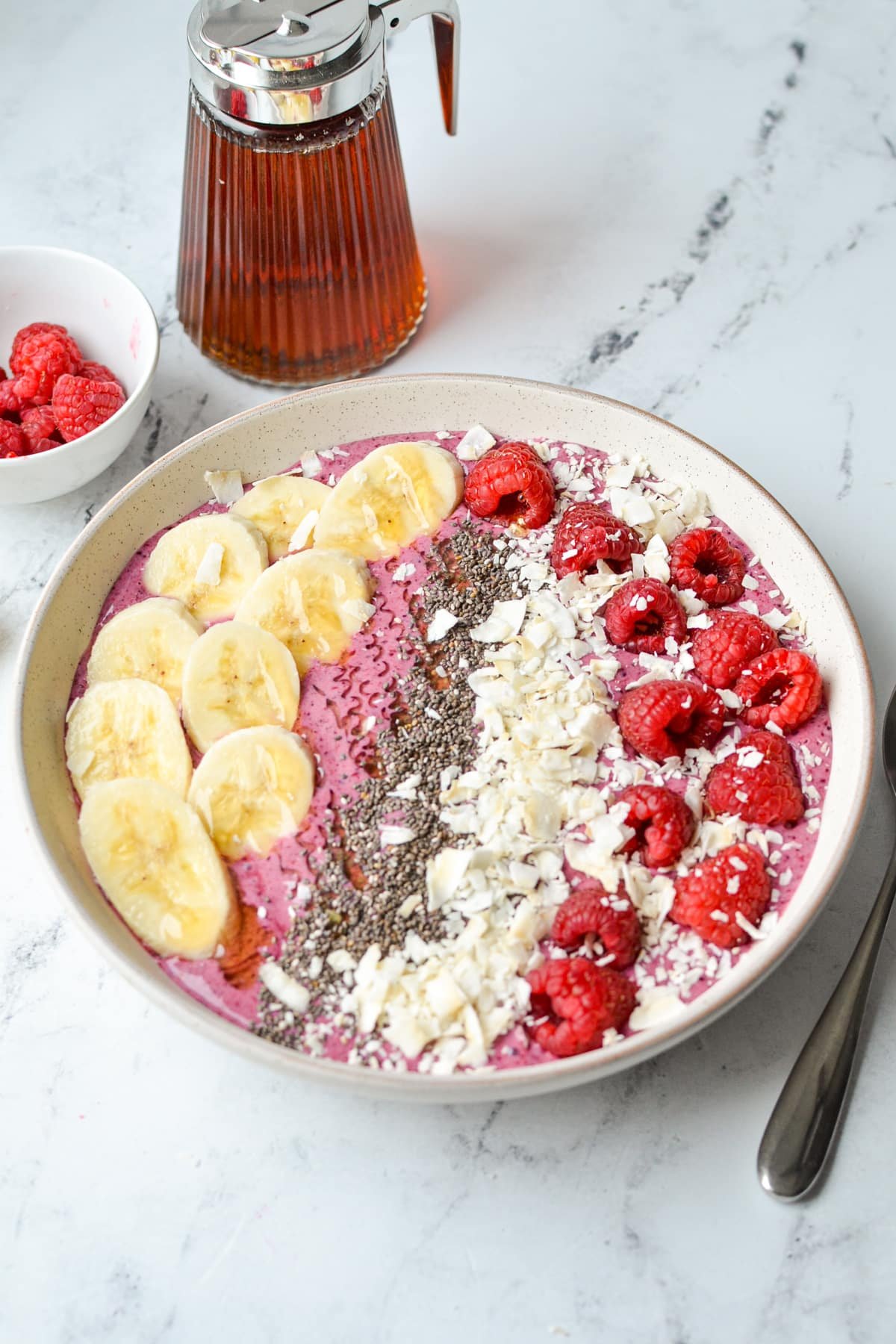 Yummy Smoothie Bowl Toppings
If you're looking for some inspiration, here are a few suggestions for some delicious smoothie bowl toppings
Fresh fruit (bananas, strawberries, raspberries, etc)
Granola
Chia seeds, flax seeds, hemp hearts.
Bee pollen
Honey or maple syrup
Almond butter, peanut butter, etc.
Avocado
Toasted nuts
Raw or soaked nuts
Coconut shreds, flakes, or chips.
Rolled oats
Sprouted oats
Chocolate chunks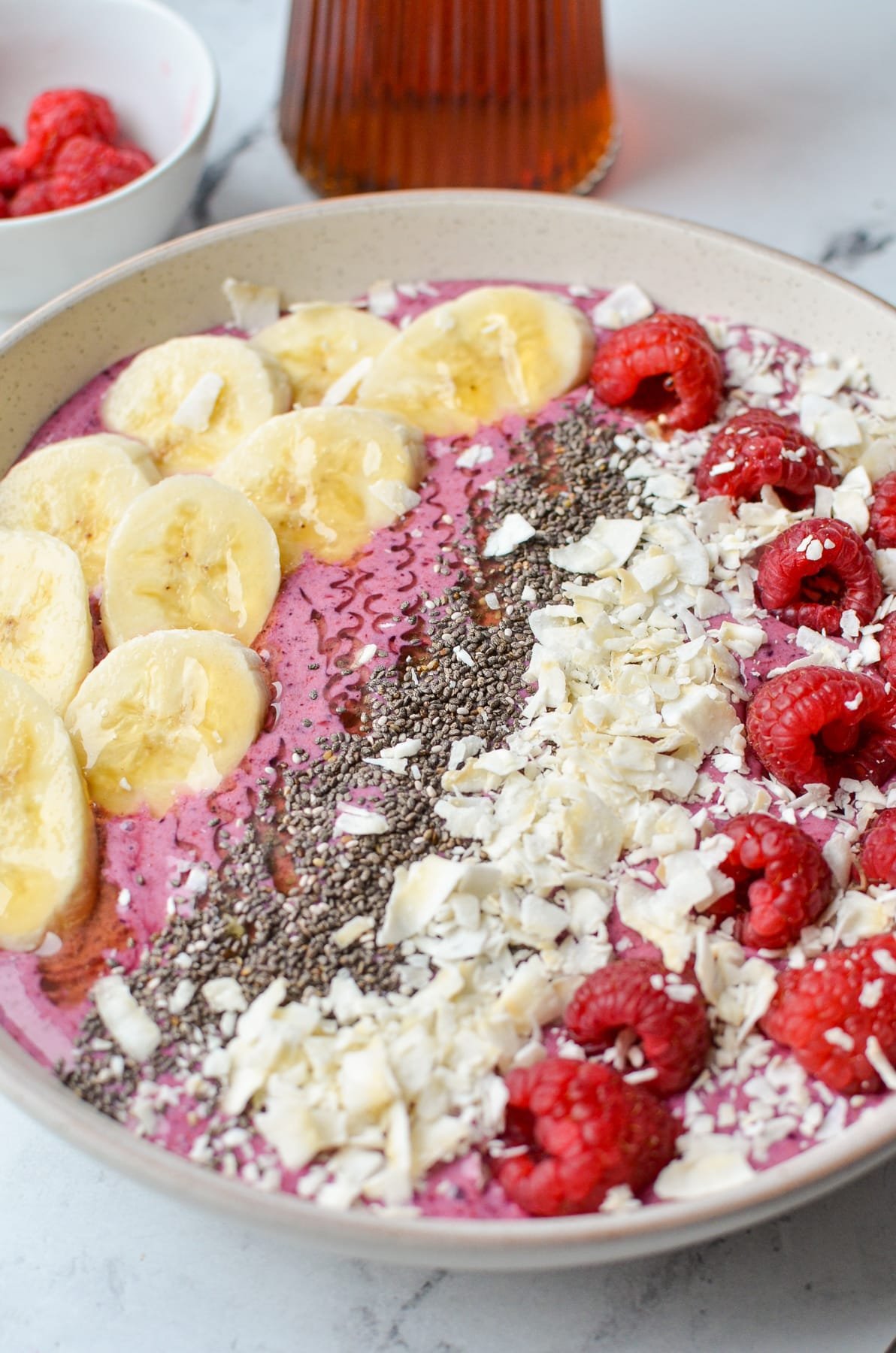 Recipe FAQ's
What makes a smoothie bowl so thick?
A smoothie bowl is often very thick because it uses a high proportion of frozen fruit to liquid. This gives it a thicker texture, allowing it to more easily hold up toppings like sliced fruit, nuts, and granola.
How do you thicken a smoothie for a smoothie bowl?
If you don't find your smoothie thick enough to be used in a smoothie bowl, you can easily thicken the consistency. You could try blending in some rolled oats, chia seeds, or additional frozen fruit. Alternatively, you could add 2-3 ice cubes and blend those in – they will water it down a bit, but it's an easy way to thicken smoothies without additional calories.
Do you need frozen fruit for smoothie bowls?
It is recommended that you use frozen fruit for smoothie bowls, but if you only have fresh fruit on hand, you could use it instead. To help thicken your smoothie, add 1 cup of ice and blend it with the fruit. This should give you a thick texture, similar to that which you would get with frozen fruit.
More Kefir Recipes
Kefir Smoothie Bowl
This easy and satisfying recipe for a kefir smoothie bowl is the perfect healthy breakfast idea.
Ingredients
1 cup kefir
1 tablespoon maple syrup (or honey)
1 cup frozen berries (or fruit of choice)
1 teaspoon chia seeds
1 medium banana, sliced
1/2 cup fresh berries (or fruit of choice)
2 tablespoons flaked coconut (optional)
Honey, for drizzling (optional)
Instructions
Add the kefi, maple syrup (or honey) and frozen berries to a high powered blender and pulse until completely smooth.
Pour the smoothie into a shallow bowl with high edges.
Gently add on the toppings: sliced bananas, fresh berries, chia seeds, flaked coconute, etc.
If you desire, add a small drizzle of honey, peanut butter, or additional toppings of your choice.
Serve and enjoy!
Notes
Thick smoothie bowl: If you want your smoothie bowl to be thicker, you can either increase the amount of frozen fruit or add 2-3 ice cubes.
Topping Variations for Smoothie Bowls:
Sliced fresh fruit of choice
Chia seeds, flax seeds, hemp hearts, bee pollen, etc.
Almond butter, peanut butter, etc.
Granola
Chopped nuts
Coconut shreds, flakes, or chips
Chocolate chunks
Avocado
Rolled oats
Nutrition Information:
Yield:

1
Serving Size:

1
Amount Per Serving:
Calories:

498
Total Fat:

8g
Saturated Fat:

4g
Trans Fat:

0g
Unsaturated Fat:

3g
Cholesterol:

10mg
Sodium:

509mg
Carbohydrates:

100g
Fiber:

14g
Sugar:

72g
Protein:

16g
Nutrition information is an estimate only.
Please note that some of my blog posts here at Little Home in the Making may contain affiliate links. If you make a purchase through these links, I will get a small commission at no additional cost to you. See our disclaimer for more information.