This easy recipe for Fermented Lemonade is also known as whey lemonade, since it is often made with leftover liquid whey from straining yogurt or homemade cheese. It's a delicious probiotic drink that uses just 4 ingredients – and you don't even need whey to make it! You can easily substitute the whey for another culture.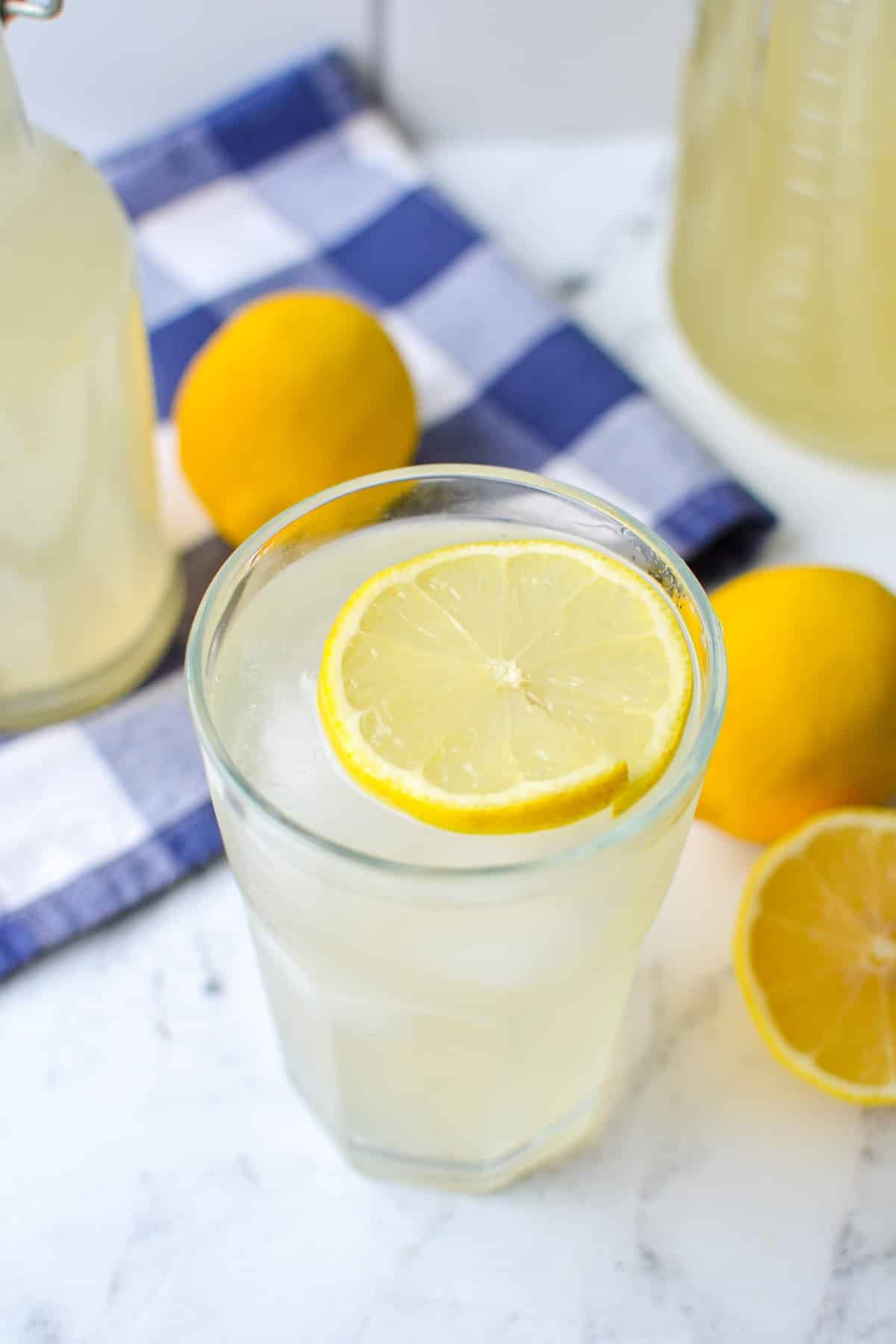 This easy recipe for fermented lemonade (AKA whey lemonade) is one that we make in my home often. If I have an abundance of whey from straining homemade yogurt, or a little that I've collected after making kefir cheese, it's time to make fermented lemonade!
This is my son's absolute favorite beverage to make and enjoy. He's just 4 years old, but he loves getting his probiotics in the form of this classic and delicious version of homemade lemonade. After working hard at squeezing the lemons and stirring the jar, he's all too excited to get a taste. 2-3 days later the lemonade is ready for chilling, and he's always the first to have a glass.
And me? Well, I'm just excited I can turn this favorite sweet Summer beverage into a nourishing drink with probiotic benefits.
Even if you don't happen to have liquid whey on hand, you can still make fermented lemonade. You'll just need a starter culture of some sort, which could be kombucha, water kefir, ginger bug, or of course – whey.
Why Make Fermented Lemonade?
It's a probiotic lemonade recipe, making this Summertime favorite a healthy and nourishing choice.
Easy to make with just 4 ingredients needed – and one of them is water!
A great way to use leftover whey from straining yogurt.
A beginner-friendly lacto fermented beverage that contains probiotic benefits.
Ingredients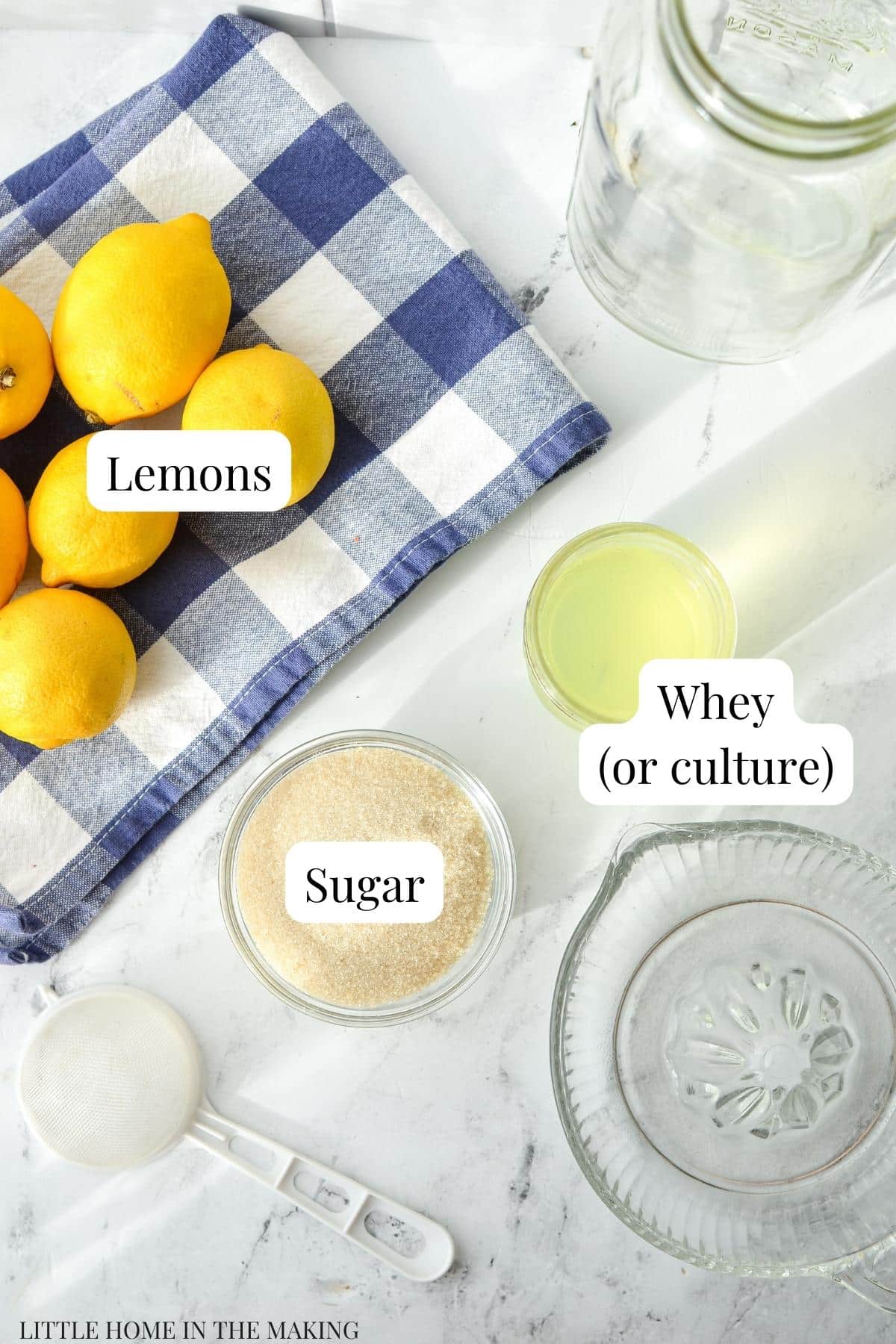 Lemons: Fresh lemons are a must for this recipe. If possible, buying them in season makes for the best flavor, but lemons are plentiful at the grocery store all throughout the year.
Cane sugar: You'll need to use a granulated sugar for this recipe as it is what feeds the fermentation process. So sweeteners won't work for this recipe. I like to use organic cane sugar, but you can use regular cane sugar if you prefer.
Whey (or starter culture): If you have whey leftover from straining yogurt or kefir, this is the perfect way to use it! If you don't have whey, you can use an alternative culture like kombucha, ginger bug starter, or water kefir (also see my recipe for water kefir lemonade).
Water: Most of the liquid in this recipe is water, so make sure you are using a drinkable quality water. If your water is municipal, be sure that it is filtered to remove chlorine (I recommend a Berkey filter).
Equipment and Tools:
Half gallon jar: I like to make fermented lemonade in a half gallon mason jar, but you could use two quart jars, or double or halve the recipe as desired. I also recommend a plastic lid, but you could use a regular two piece canning lid if preferred.
Fine mesh strainer: I recommend this set of 3 fine mesh strainers for almost all of my fermenting and culturing recipes. They don't react with acidic ingredients, but are fine enough to strain effectively.
Citrus juicer: This makes easy work of juicing a lemon. I have both a hand press and a glass glass one. If you're using the classic, you'll need to strain off the pulp and seeds. This can easily be done with a small mesh strainer.
Straining Whey From Yogurt or Kefir
If you haven't already reserved whey from a batch of homemade yogurt, you may be wondering how exactly you get some of this liquid gold known as whey.
Whey is yellow in color, and either clear or milky (depending on how you strained it). Whey can be either sweet whey (from making certain cheeses) or acid whey (most often from making yogurt). If you're using the whey to make fermented lemonade you can use either sweet or acid whey – no worries!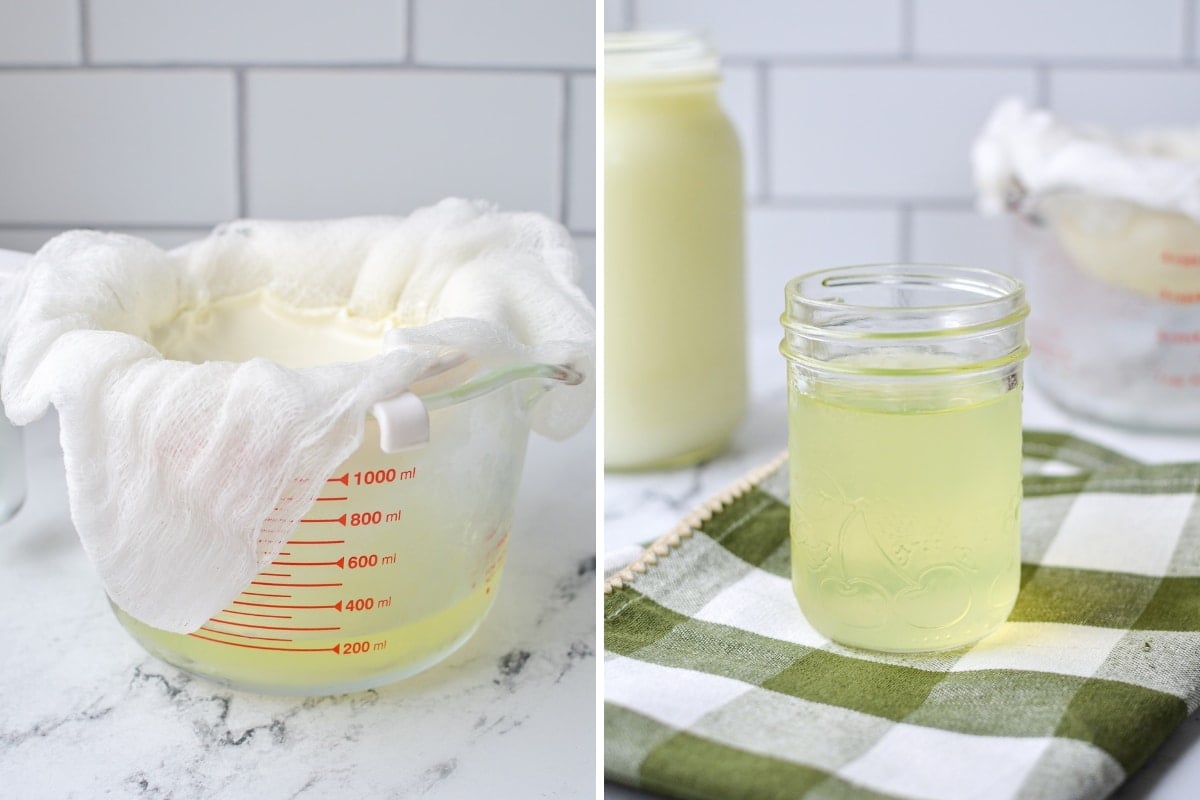 How to Collect Whey From Yogurt:
Fit a large bowl or glass measuring cup with a strainer, leaving enough room for liquid to collect in the bottom.
Line the strainer with 2-3 layers of cheesecloth, a clean flour sack towel, reusable cheesecloth, OR coffee filters.
Fill the strainer with yogurt, leaving about 1/2″ of space at the top of the cheesecloth.
Cover the bowl with plastic wrap.
Place the bowl in the fridge and allow to strain for about 4-8 hours, or 10-12 hours if you want your yogurt to be thick like Greek yogurt.
Transfer the yogurt to a storage container and use as you would Greek yogurt, and reserve the yellowish liquid to use in recipes calling for whey.
Clear yellow whey will store for at least a month in the fridge, with milky whey storing for approximately 1 week. Clear whey is best for making fermented lemonade and other cultured foods.
How to Make Fermented Lemonade
This easy recipe for whey lemonade is ready for fermentation very quickly. In fact, the hardest part is probably squeezing the lemons!
You'll need about 5-6 medium lemons to yield 1/2 cup of strained lemon juice. It's important to measure after straining as we won't be including the pulp or seeds, but we still want a fresh lemon-y flavor.
Once your lemon juice is measured, set it aside while we prepare the sugar and water.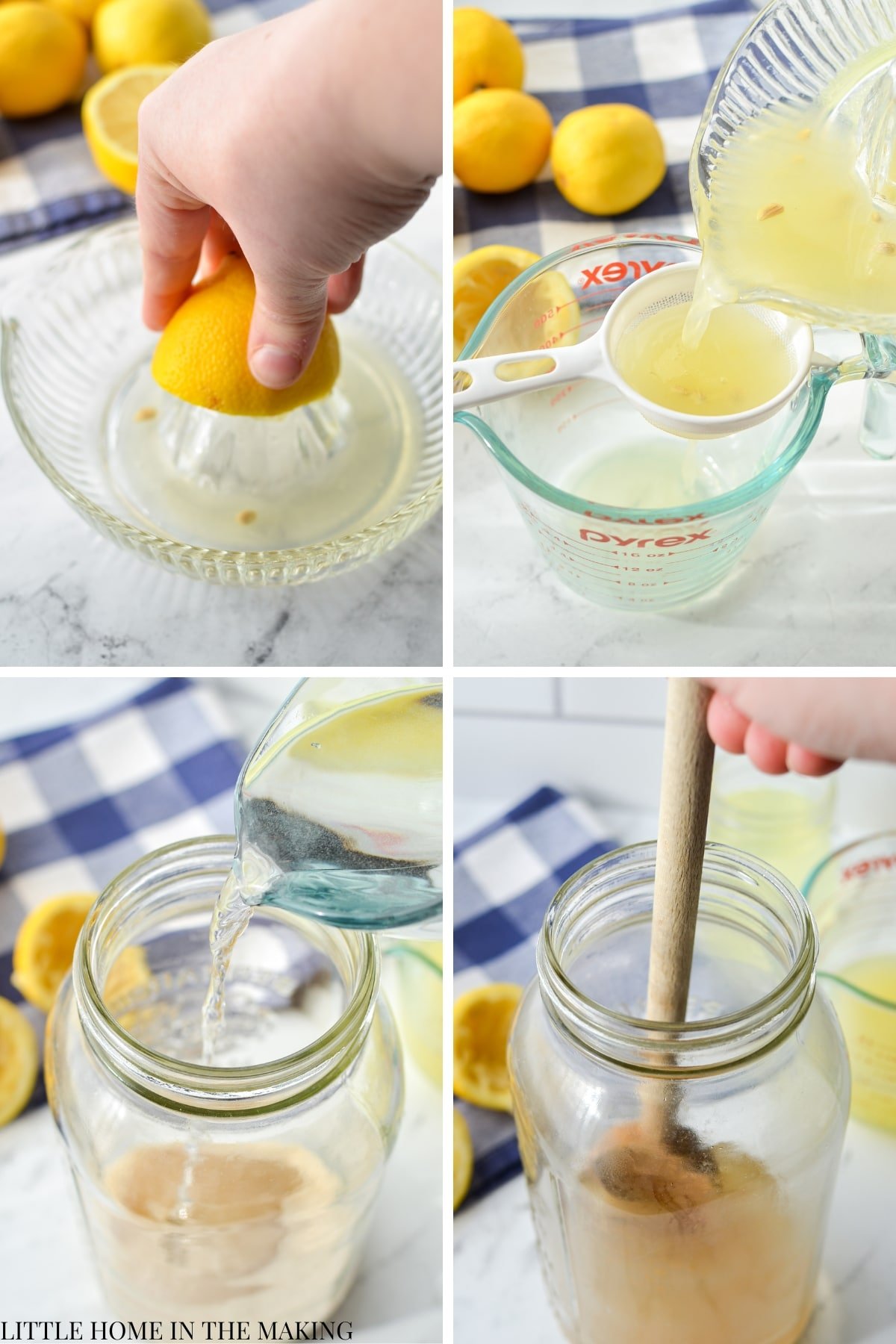 Add the sugar to a half gallon mason jar (or divide it between 2 quart jars). Add about 1 cup of hot water to the jar and stir it well with a wooden spoon until the sugar is dissolved.
Adding the Whey and Lemon Juice
Add in about 4 cups of cool water to the jar and stir well to incorporate it. This will cool the mixture down, keeping the enzymes in the lemon intact and the cultures in the whey active.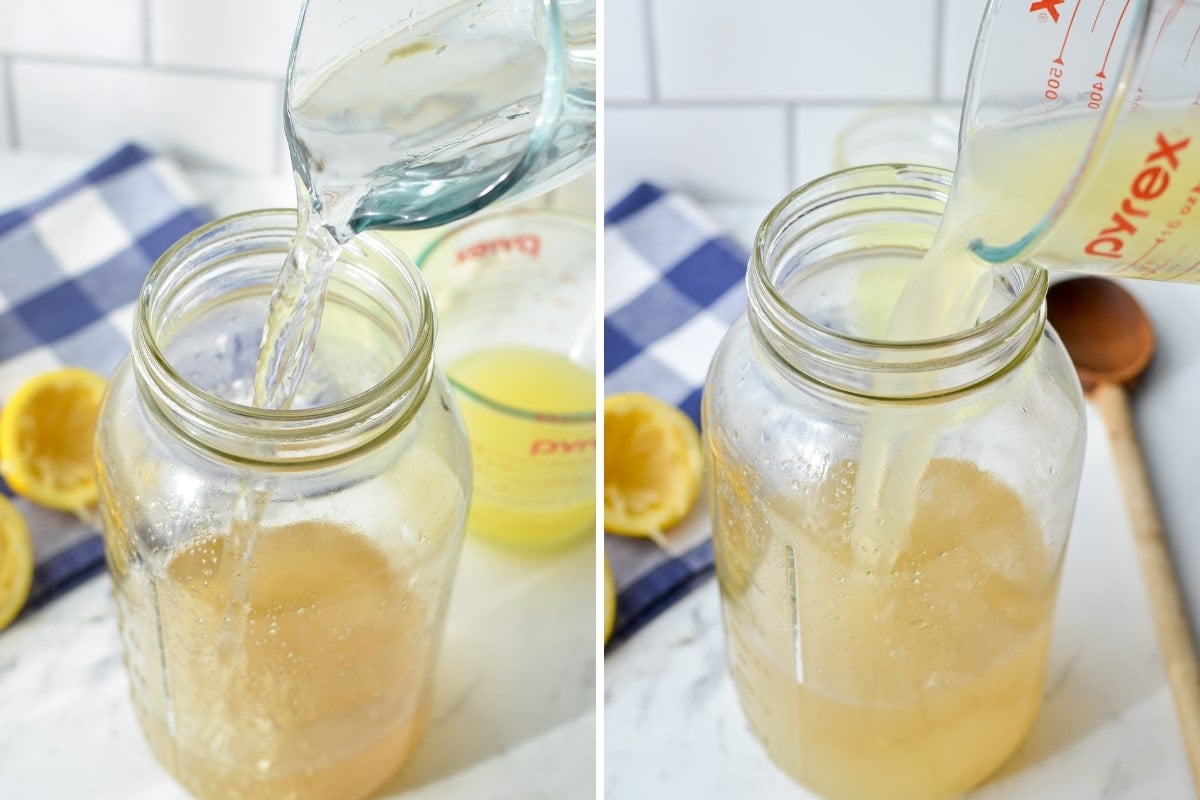 Add in the reserved lemon juice, as well as the liquid whey.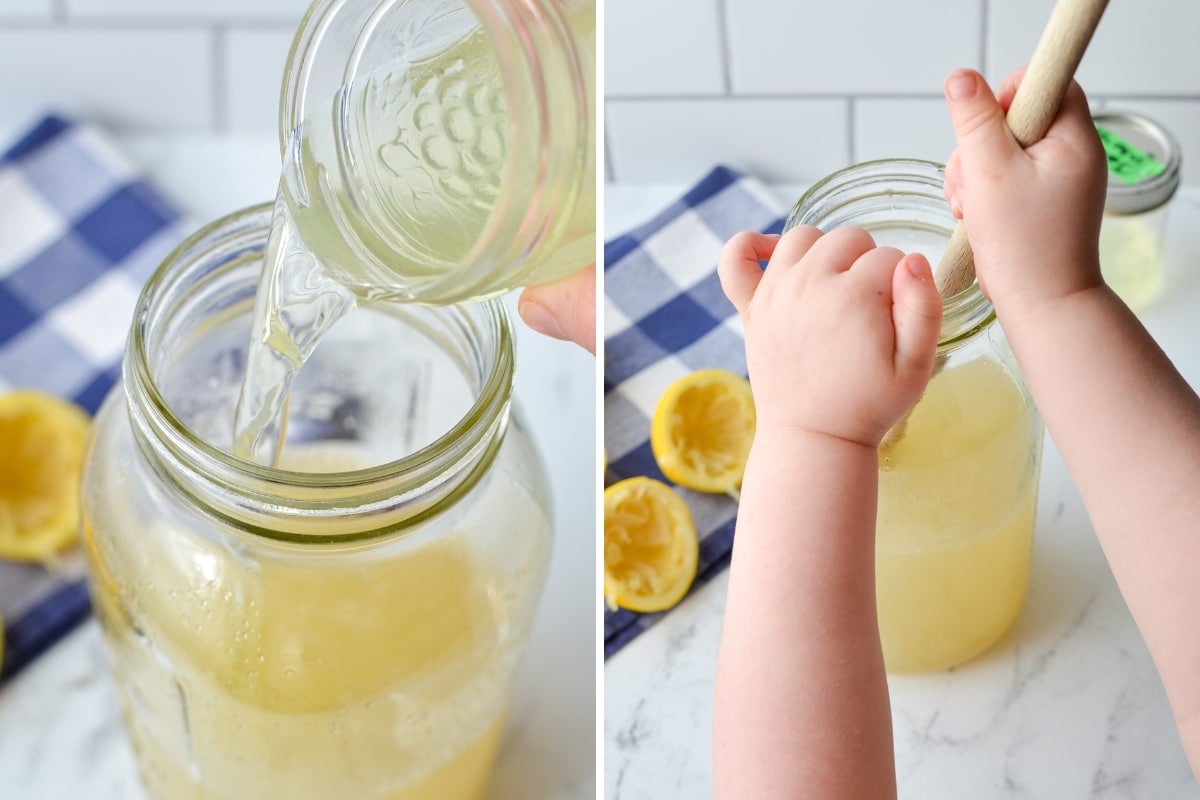 Stir well to thoroughly combine the lemon juice, sugar, whey, and water mixture.
Top the jar with additional cool water, leaving about 1″ of headspace at the top. Then secure it with a plastic lid, airlock, or pickle pipe.
Fermenting Lemonade
Once your lemonade has been topped with a lid, place it in a warm place (65-85ºF) outside of direct sunlight on your counter. Allow to ferment for about 2-3 days (or up to 4 days in cool weather).
If your kitchen is very warm, I definitely recommend using a pickle pipe or airlock lid to ensure excess gasses are easily released. Otherwise, burp your jar several times a day simply by turning the lid enough to let out gasses.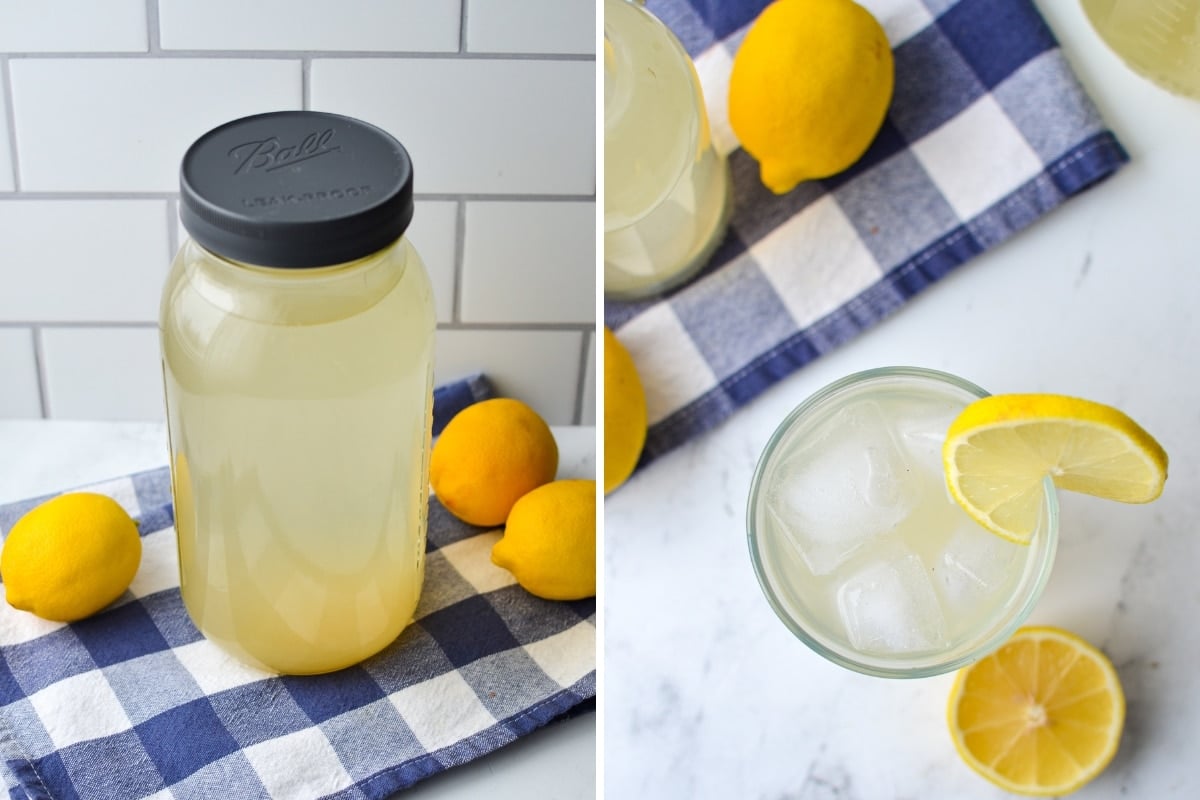 Once the lemonade has fermented to your liking, serve over ice, chill, or transfer to swing top bottles for a cute storage option.
You can store your fermented lemonade for up to 2 weeks. Discard if there are any signs of spoilage or a slimy consistency.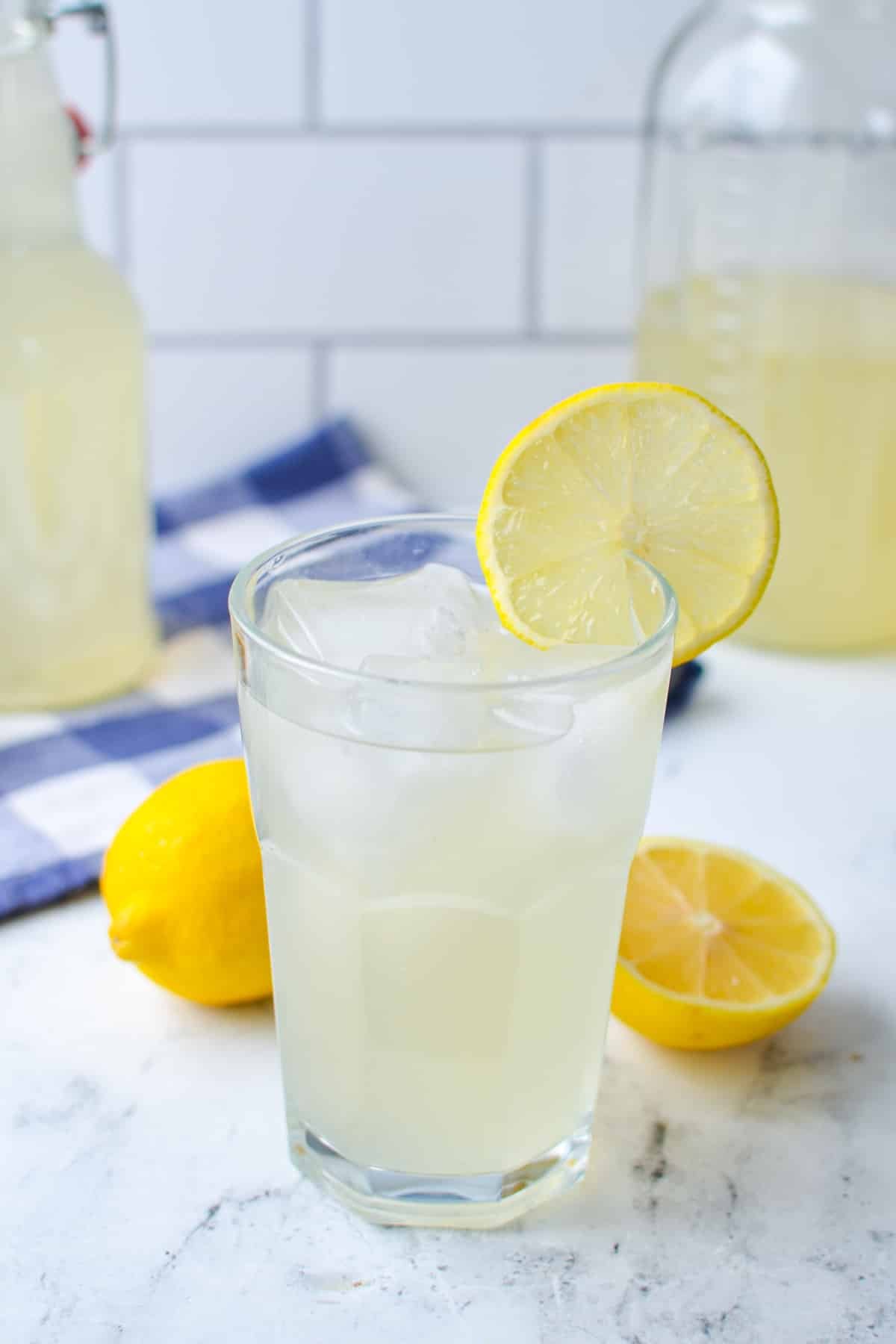 Alternative Starter Cultures
Fermented lemonade without whey: If you don't have whey available, you can easily substitute the whey for 1/2 cup of a variety of cultures including ginger bug, kombucha, or water kefir.
Fermented lemonade with ginger bug: Substitute the whey for 1/2 cup of active ginger bug starter. Keep in mind that this will impart a strong ginger flavor on the finished beverage, so it will be like a fermented ginger lemonade.
With water kefir: You can easily substitute the whey for 1/2 cup of finished water kefir. If you're using store bough, ensure the water kefir is plain and raw with active cultures. You can learn more about this method in my recipe for Water Kefir Lemonade.
Using kombucha: Substitute the whey in fermented lemonade for 1/2 cup of unflavored or lemon-flavored finished kombucha. If using store bought, ensure that the kombucha is both plain and raw with active cultures.
Making Fermented Limeade
If you would prefer to make a fermented limeade you can absolutely do that! Just substitute the 1/2 cup of strained fresh lemon juice for strained fresh lime juice. You'll need about 6-10 limes, depending on the size. You could also do a blend of lemon and lime by including 1/4 cup of lemon juice and 1/4 cup of lime juice.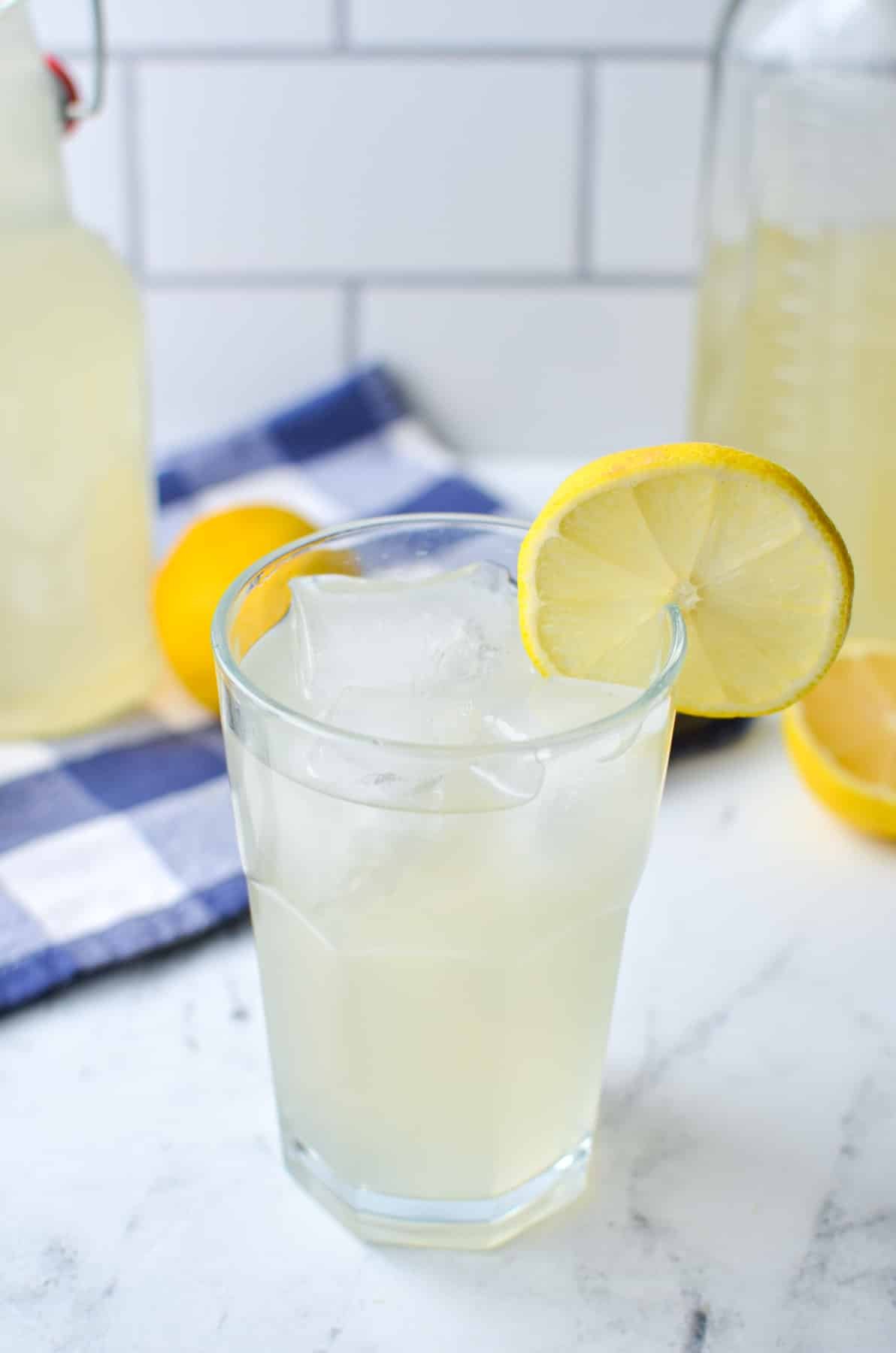 Frequently Asked Questions
Can you ferment lemonade?
Yes, you can ferment lemonade! You'll need a way to introduce active cultures to the fresh lemon, sugar, and water mixture. That could include liquid whey (from straining yogurt), kombucha, water kefir, or a ginger bug starter.
What happens when you ferment lemonade?
When you ferment lemonade with a starter culture such as whey, kombucha, or water kefir, the culture begins consuming the sugar in the beverage. This is what creates beneficial bacteria, and oftentimes some effervescence.
Does fermented lemonade contain alcohol?
Like all fermented foods, fermented lemonade does contain a very small amount of alcohol. This amount is extremely negligible and would be a fraction of 1%, meaning it is perfectly fine for those avoiding alcohol to drink. In order to get a substantial alcohol content fermented foods need a yeast culture, and/or fruit, and a much longer fermentation time.
More Fermented Beverages and Recipes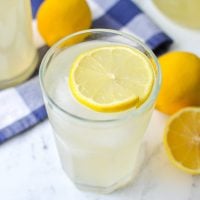 Fermented Lemonade
This easy recipe for Fermented Lemonade is a delicious probiotic drink that uses just 4 ingredients!
Print
Pin
Rate
Ingredients
1/2 – 3/4

cup

lemon juice

strained (5-6 lemons)

½

cup

whey

or water kefir

½

cup

cane sugar

1

cup

hot water

5-6

cups

cool water
Instructions
Pour the freshly squeezed lemon juice through a fine mesh strainer to remove larger pieces of pulp and seed.

Add the cane sugar to a heatproof half-gallon jar (or divide it between two quart-sized jars).

Pour in 1 cup of hot water, stirring it together with the sugar until it dissolves.

Add in about 4 cups of the cool water, stirring to combine.

Stir in the lemon juice and whey.

Pour in more cool water until the jar is filled to within 1" of the top.

Add a plastic lid or pickle pipe (if your home is warm) and secure it.

Place the jar in a warm place and ferment for 2-3 days.

Once the lemonade has fermented you can add the jar directly to the fridge to chill or decant it into swing-top bottles for single servings.

Serve chilled and with ice (if desired). Keeps for up to 2 weeks in the fridge.

Notes
Alternative starter cultures: If you don't have any whey leftover from straining yogurt or kefir, you could use finished water kefir, kombucha, OR ½ cup of ginger bug if you don't mind a lemon and ginger flavor.
Nutrition
Serving:
1
g
|
Calories:
62
kcal
|
Carbohydrates:
15
g
|
Protein:
1
g
|
Fat:
1
g
|
Saturated Fat:
0.3
g
|
Polyunsaturated Fat:
0.02
g
|
Monounsaturated Fat:
0.1
g
|
Cholesterol:
2
mg
|
Sodium:
7
mg
|
Potassium:
48
mg
|
Fiber:
0.1
g
|
Sugar:
14
g
|
Vitamin A:
17
IU
|
Vitamin C:
9
mg
|
Calcium:
20
mg
|
Iron:
0.03
mg
Please note that some of my blog posts here at Little Home in the Making may contain affiliate links. If you make a purchase through these links, I will get a small commission at no additional cost to you. See our disclaimer for more information.