This easy and healthy Kefir Chia Pudding is loaded with probiotic benefits, healthy fats, and fiber. An easy make ahead snack or grab and go breakfast that is naturally sweetened with maple syrup. Just 4 ingredients!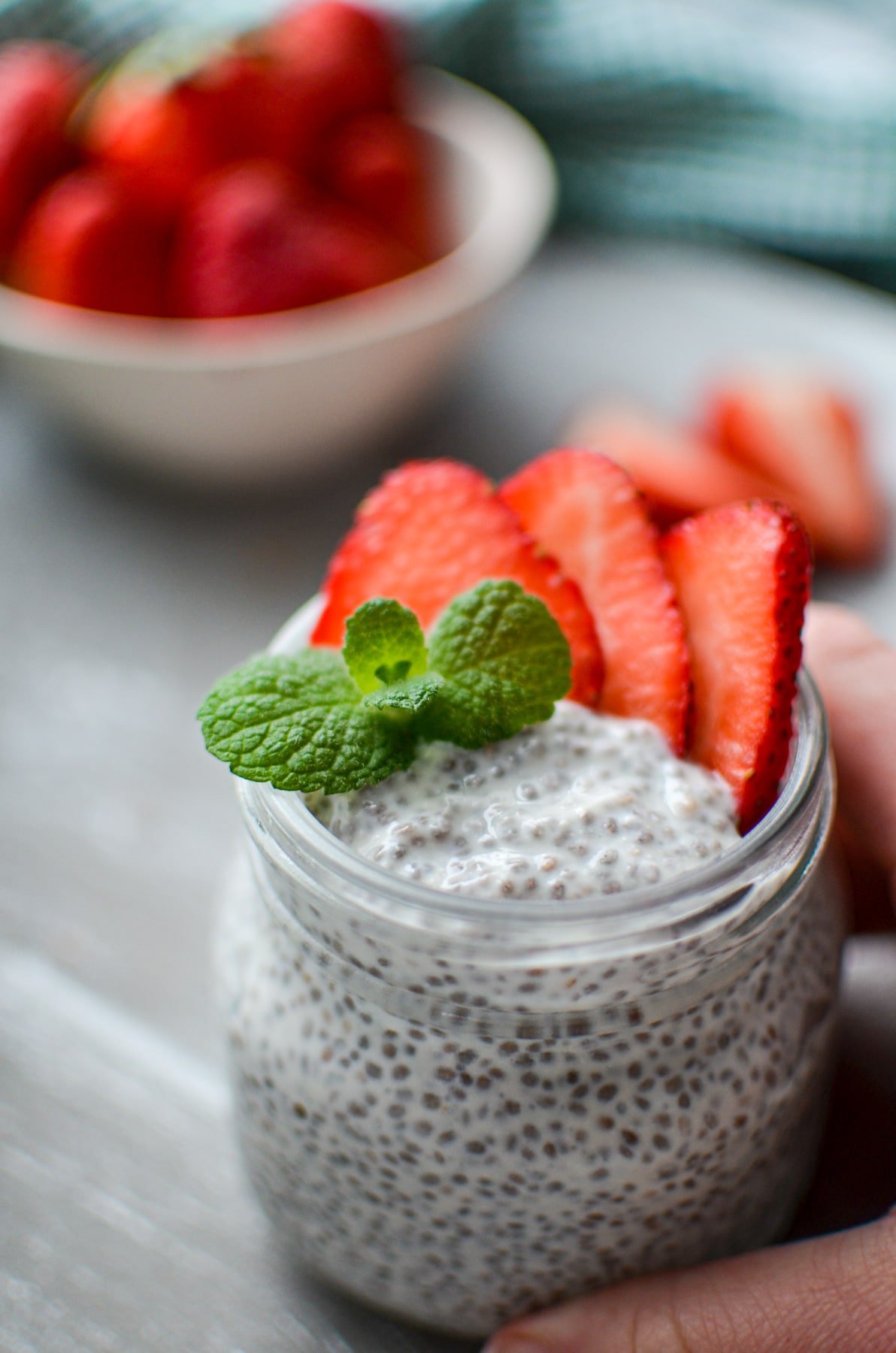 Please note that some of my blog posts here at Little Home in the Making may contain affiliate links. If you make a purchase through these links, I will get a small commission at no additional cost to you. Please see my Disclaimer for more information.
Kefir is easily one of my favorite foods that I make in my kitchen! I've been making it from kefir grains for about 5 years now, and I've seen a big boost to my gut health and general wellness through using it. While I typically make delicious smoothies like my strawberry kefir smoothie, my kefir green smoothie, or the tropical mango pineapple kefir smoothie, I love making grab-and-go snacks and breakfasts with it too!
I started out with making these delicious strawberry kefir overnight oats, and had success with trying out different fruits and flavor combos. I couldn't help but wonder, could I make a kefir chia pudding?
The answer, of course, was yes!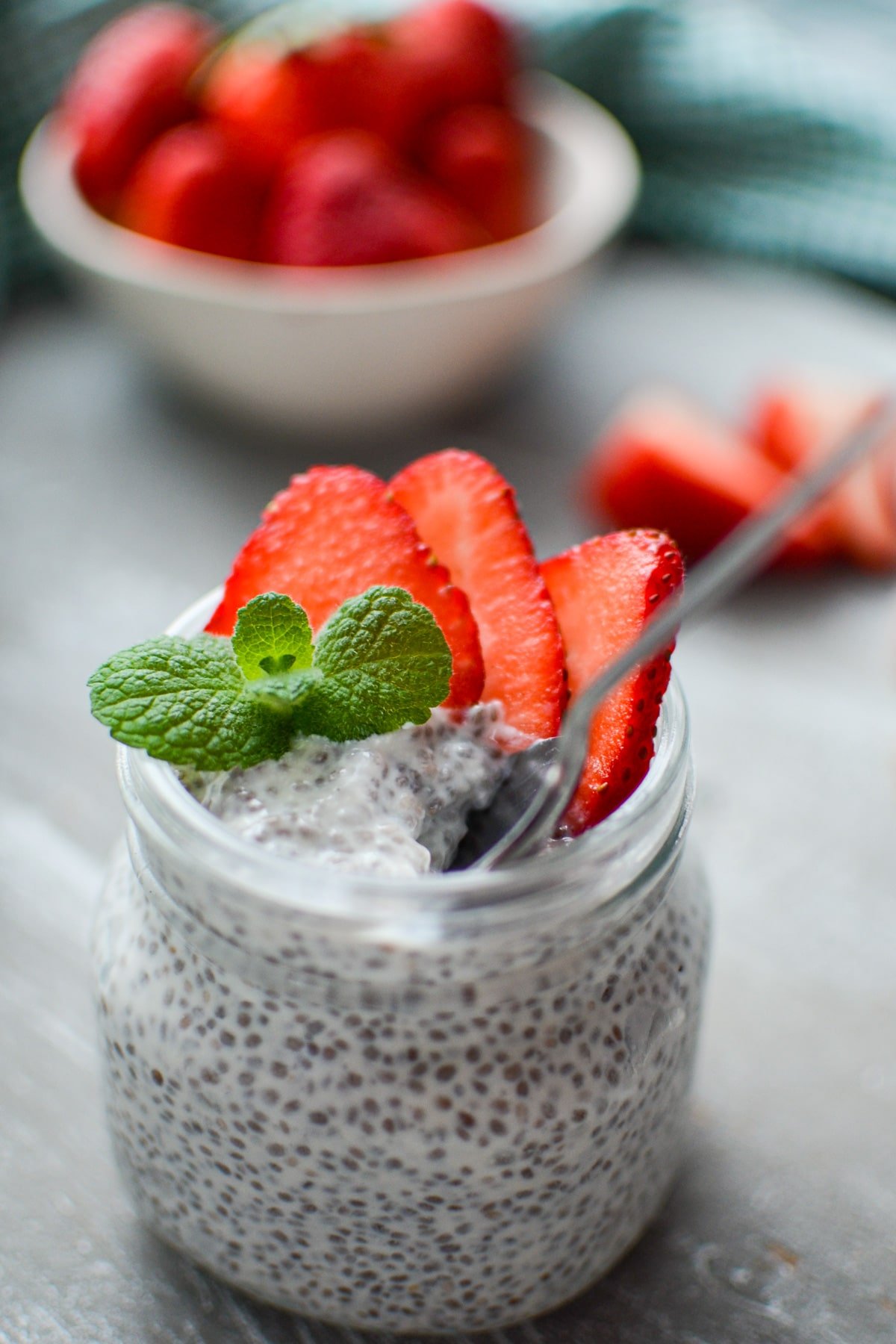 A Gut Health Boosting Snack
Since we all know milk kefir is teaming with probiotics, we also know it's a good choice for boosting our gut health by introducing beneficial bacteria. Milk kefir is a great addition to your daily menu, but it can be difficult to fit it in if you're not big on smoothies.
That's where this chia pudding recipe comes in! Made with probiotic rich milk kefir, it's the perfect way to introduce milk kefir into your diet in a small, snackable way. Chia pudding is also full of fiber and healthy fats, so it makes a satisfying snack for when you need something more substantial to hold you between meals.
You can also double, triple, or quadruple the recipe if you want to prepare grab-and-go snacks for the week.
Let's get started and I'll show you how easy it is to make kefir chia pudding!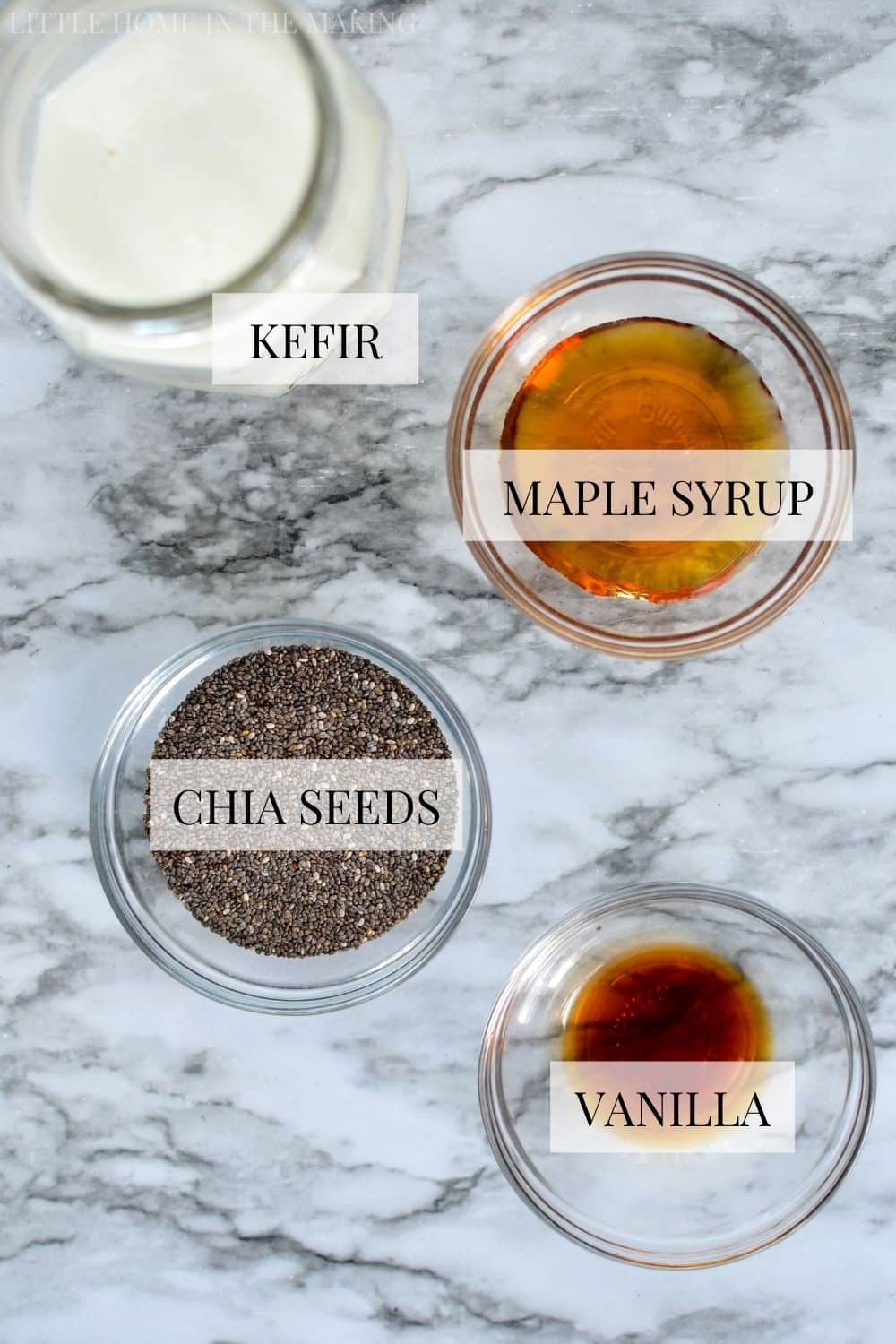 Kefir: You will need milk kefir for this easy chia pudding, but if you need to be dairy free you can use cultured coconut kefir if needed!
Chia seeds: 1/4 cup (or approximately 4 tablespoons) of chia seeds is used in this recipe.
Maple syrup: Depending on how sweet you like things, 1-2 tablespoons of maple syrup is perfect. If you want to use honey instead, you can absolutely make that substitution! Just be aware that honey is much sweeter and you'll need to scale back a bit.
Vanilla extract: Just a touch makes for a delicious vanilla flavor. Feel free to substitute based on the flavors you like best!
How to Make Chia Pudding with Kefir
It's so easy to make you kefir chia pudding! All you need is one jar (or bowl) to get started!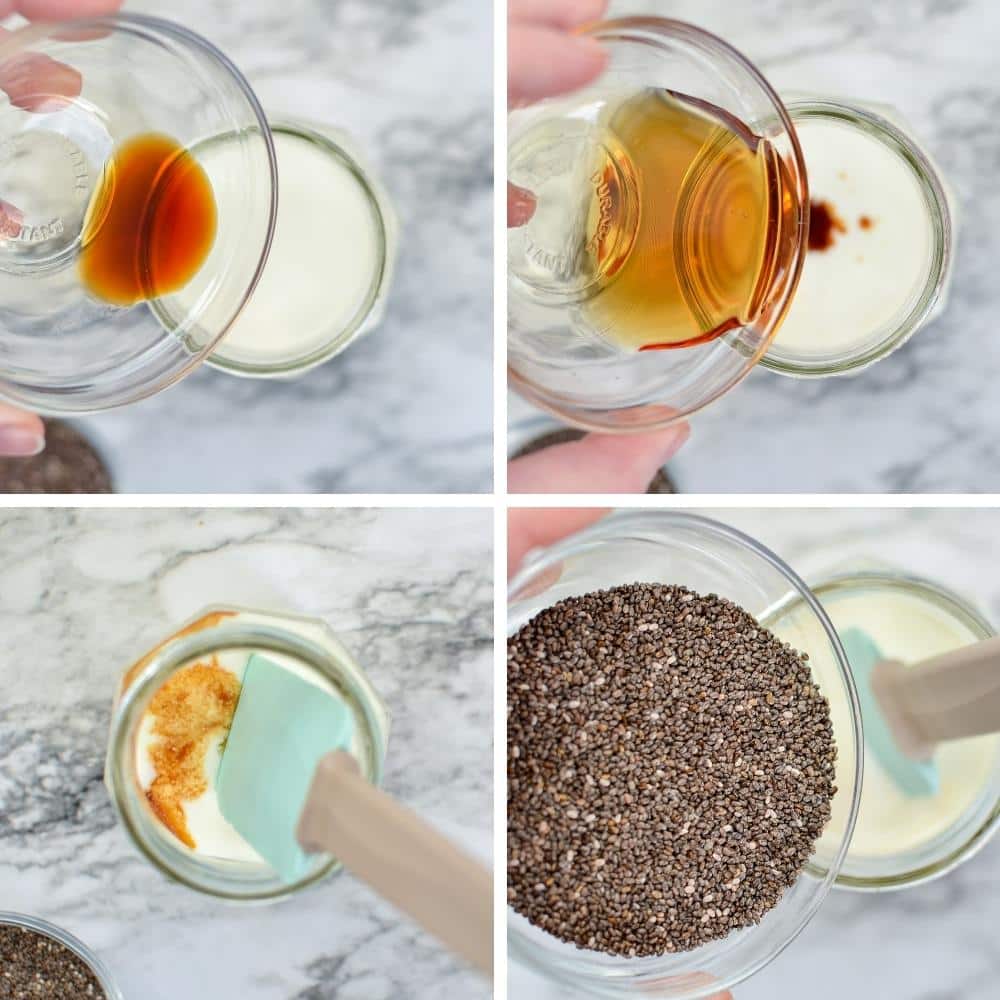 Add the milk kefir (or coconut kefir if dairy free) to a pint sized mason jar or small bowl.
Add in the vanilla extract and maple syrup.
Stir well to combine.
Add in the chia seeds and fold them in until they have all been coated in the milk kefir mixture.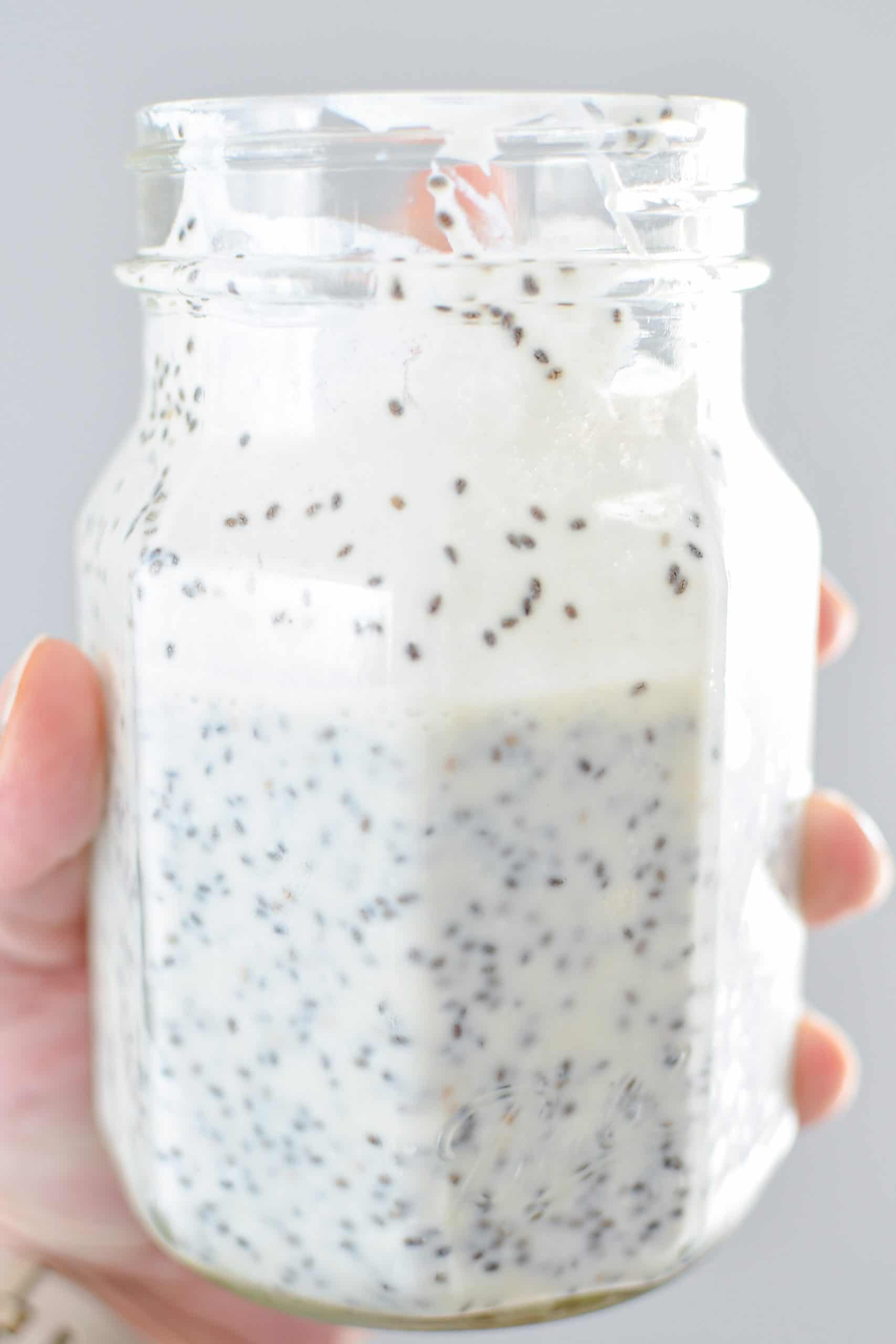 Storing and Chilling
Add a lid to your jar or, if using a bowl, cover tightly with plastic wrap.
Place in the fridge for at least 4 hours, but overnight is ideal.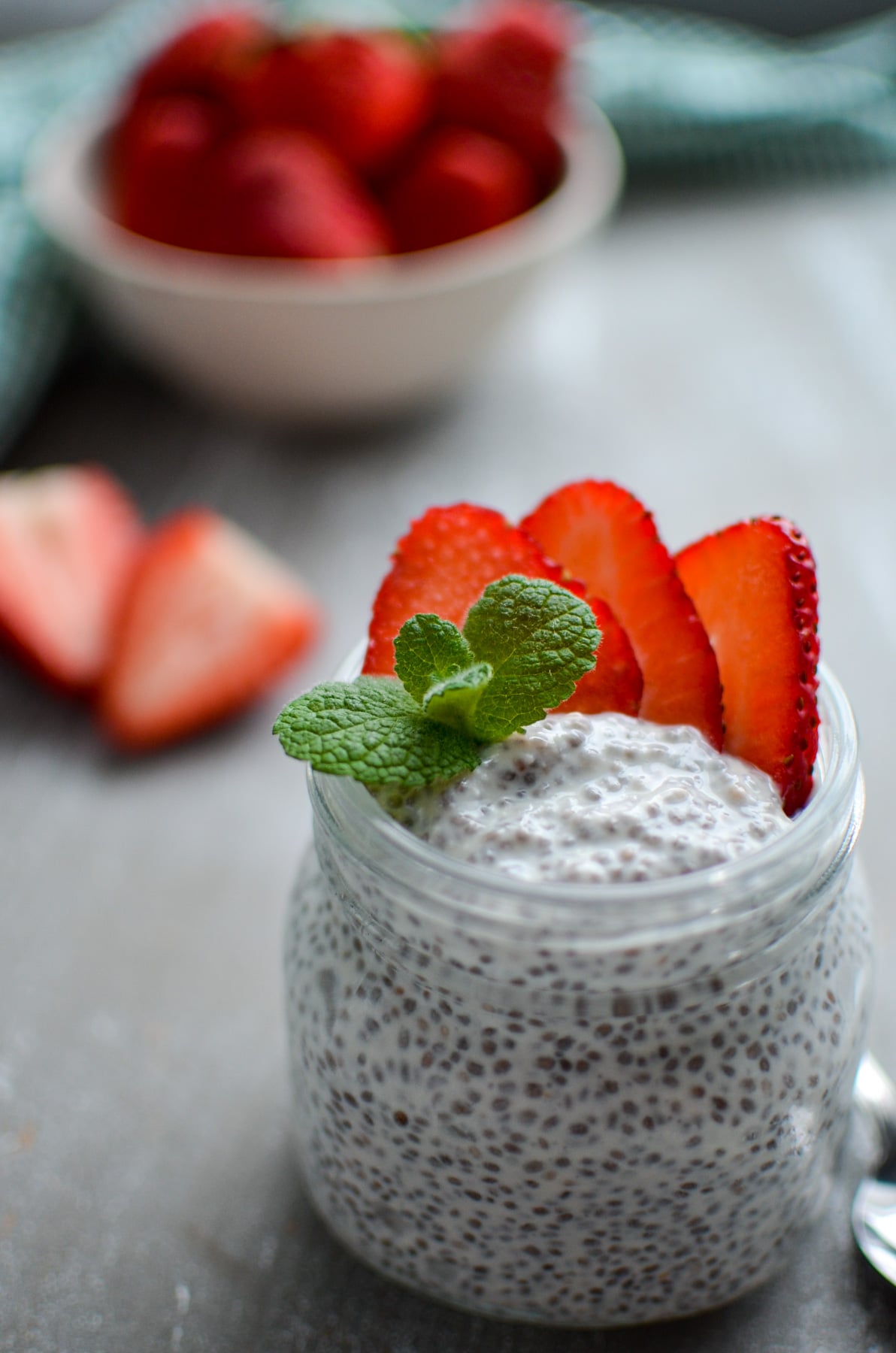 Serving + Storage Tips
Store your kefir chia pudding in an airtight jar or container for 3-5 days.
Serve with freshly cut fruit, or frozen berries. A sprig of mint makes a beautiful garnish.
If you're looking to make several servings, feel free to double, triple, or quadruple the batch. Divide the servings into mason jars to make for easy grab-and-go snack ideas.
Kefir Chia Pudding for Meal Prep
Chia pudding makes a great meal prep recipe, since it can store for 3-5 days and is super filling. This easy kefir chia pudding is full of healthy fats and fiber from the chia seeds, and a good dose of protein from the milk kefir.
Half pint jars make a great snack size, and you can double or triple the recipe to make sure you have plenty of healthy snacks on hand throughout the week. If serving with fruit, be careful to only cut and prepare the fruit on the day you plan to enjoy your kefir pudding. Adding the fruit too soon will cause it to become soggy, and speed up the fermentation process of the finished milk kefir, making for a very bubbly result.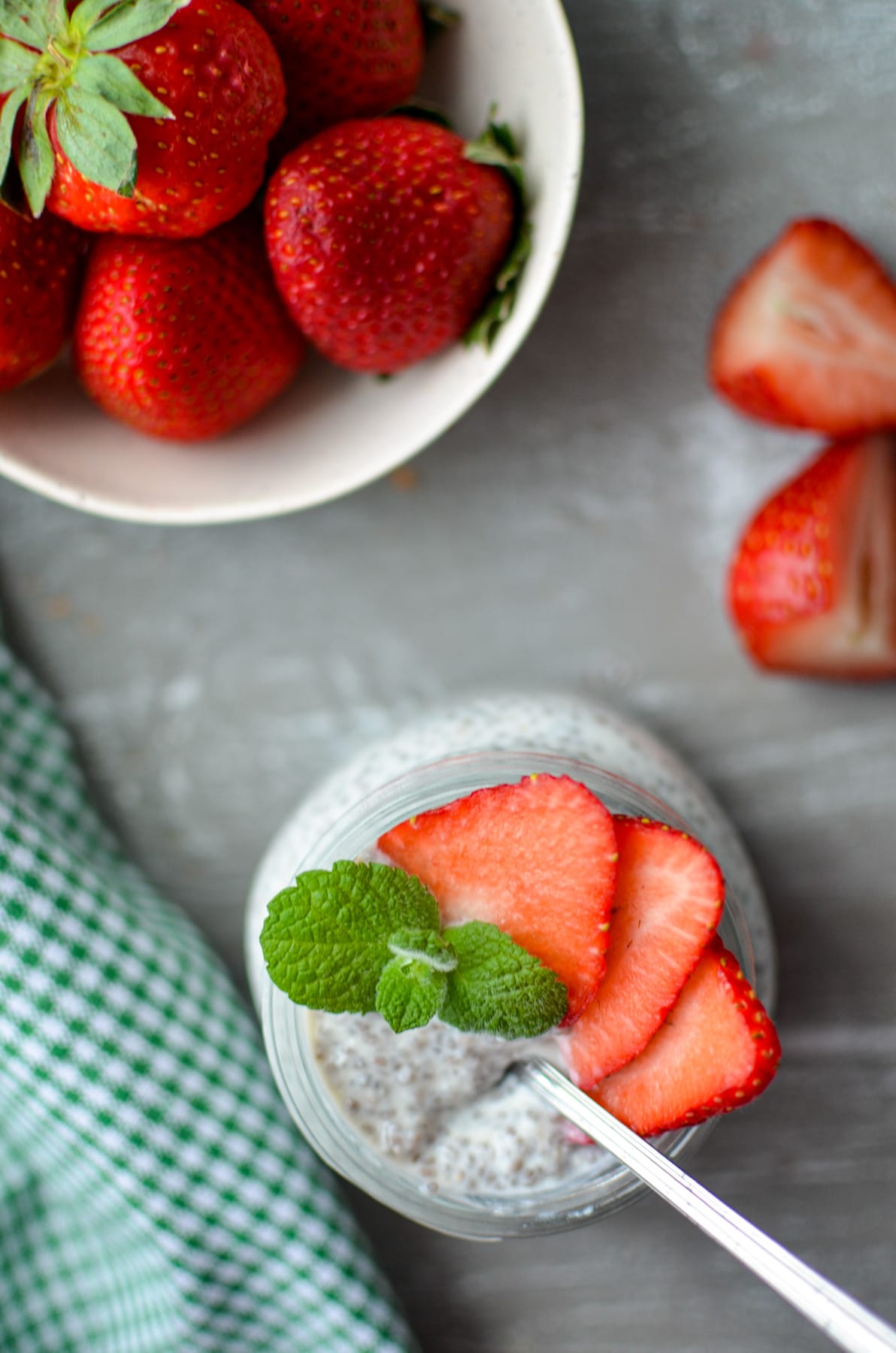 More Recipes Using Kefir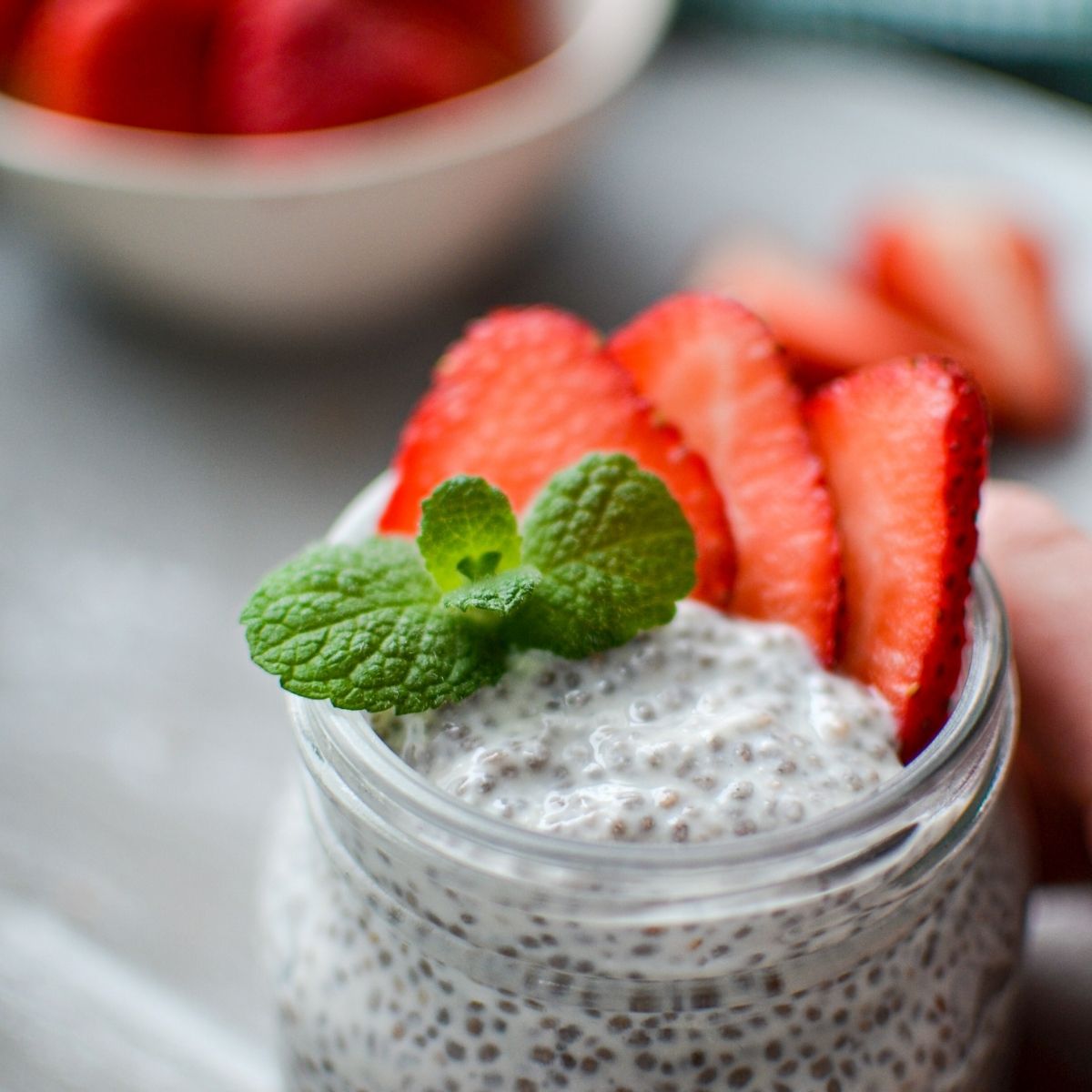 Kefir Chia Pudding
Kefir chia pudding is a fiber and probiotic packed snack or breakfast that can be made ahead for a quick grab-and-go meal prep option!
Ingredients
3/4 cup milk kefir
1 tablespoon maple syrup
1/2 teaspoon vanilla extract
1/4 cup chia seeds
Instructions
Add the milk kefir to a pint sized jar or small bowl.
Pour in the maple syrup and vanilla extract.
Stir well to combine.
Add in the chia seeds, and mix well to insure all of the seeds are coated. Scrape down the sides of the jar to get as many chia seeds submerged in the liquid as possible.
Place an airtight lid on the cover of your jar. If using a bowl, cover tightly with plastic wrap.
Place your kefir chia pudding in the fridge and allow to chill for at least 4 hours, but overnight is best.
Notes
Storage: Keep your kefir chia pudding in tightly covered containers and eat within 3-5 days.
Meal prep: To make this recipe meal prep friendly, you can double, triple, or quadruple the recipe to make multiple servings. Store in half pint jars for easy convenient "grab and go" snacks.
Adding fruit: If you'd like to serve with fruit, prepare and cut your fruit the day of serving for the best possible results. Doing so during the initial preparation can make for soggy fruit, and over fermented milk kefir.
Dairy free substitute: If you need to eat dairy free, you can use a cultured coconut kefir in place of the milk kefir. Do not use water kefir in place of milk kefir, since it is an entirely different culture.
Nutrition Information:
Yield:

1
Serving Size:

1
Amount Per Serving:
Calories:

375
Total Fat:

16g
Saturated Fat:

3g
Trans Fat:

0g
Unsaturated Fat:

13g
Cholesterol:

8mg
Sodium:

364mg
Carbohydrates:

43g
Fiber:

17g
Sugar:

21g
Protein:

16g
Nutrition information is an estimate only.