Try this healthy, homemade recipe for Rosemary Dutch Oven Chicken. Learn how to roast a whole chicken, and make bone broth when you're done!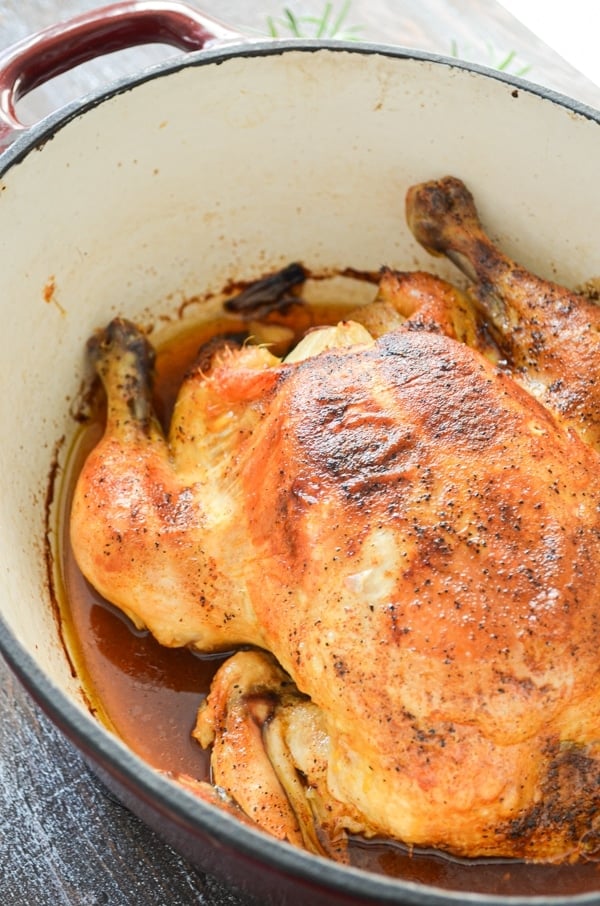 This post contains affiliate links, which means that if you click a link and make a purchase, we receive a commission at no additional cost to you. See our disclaimer for more information.
---
Everyone should know how to roast a chicken.
As a new wife and homemaker, I was so excited to learn all.of.the.things. Although I had an interest in cooking and baking through my teen years, I didn't really have the experience or mentorship that would help me build on those skills. I learned so many of those classic homemaking skills from Martha Stewart books (the internet wasn't what it is now).
When I roasted a chicken for the first time, I totally felt like I was that girl. I was that girl who could cook a delicious and impressive dinner from scratch and I was rocking it. Little did I know, that was barely scratching the surface as far as cooking skills go. As much as I love cooking, I now know that roasting a chicken is not exactly fancy, nor would it be the pinnacle of my cooking career, but it felt good. It felt good that I could make one of those things that turned around and around on the rotisserie at the grocery deli counter. I didn't need to buy my chickens pre-cooked, because I was that girl.
Learning How to Cook From Scratch
The romance of learning how to cook in those early years was strong, and I started to learn how to make just about everything from scratch. Once I discovered the world of bone broth (this is pre-bone broth craze people), I really entered a new level. I was living that Little House on the Prairie life, nevermind that I was on the top floor of an apartment building in a not-so-good neighborhood. In my mind I was living in a cabin, simmering that delicious broth on the back burner of my Pioneer Princess wood stove. Back then, it felt like I would never get out of that apartment in the city, but now, some 7 years later, I'm living in a little cottage in the country. I still don't have the Pioneer Princess wood stove, but you can bet I'm working towards it.
I don't romanticize the country life like I once did, but it the love of all things old fashioned and from scratch is still a very big part of who I am. Back then I thought all my problems would be solved if I just lived in a little off grid cabin in the country, but now — older and hopefully wiser — I realize that every lifestyle has its challenges and draw backs. Yes, even the country life.
But when I want to be taken back to that moment in time, the moment where I felt like I could actually do this whole homemaker thing, I do the sensible thing: I roast a chicken.
Learning How to Roast a Whole Chicken
I am by nature a person who likes to measure things. There a few recipes that I take liberty with, and roasted chicken is one of those things. It seems like each time I roast a chicken (which is often), I try something new or different in the way of technique. Sometimes I start the oven off hot, and then turn it way down. Other times I stuff butter under the skin, and sometimes I drizzle it right on top. Sometimes I don't use butter at all. And yet, it tends to turn out just right and delicious. I think that speaks to experience more than anything else. It is the same way with sourdough bread. Once you get going and you've done it for a while, it just seems like you really can't mess it up!
In the beginning of learning to roast a chicken, I would agonize over the minute details. Should I cover the breast with foil? How long should I roast it for? What herb is best? How do I get the crispiest skin? Once you've had the gift of time and experience, you can relax and still turn out a delicious chicken. One of my favorite ways to roast a chicken is this way: in a dutch oven.
My Beloved Dutch Oven
My dutch oven, next to my cast iron skillet, is my most used and versatile kitchen tool. I bake a loaf of sourdough bread in it nearly every day, and it provides a wonderful vessel for many soups and stews. It's particularly good for meats because leaving the cover on for part of the cooking time yields a lovely, moist texture. Because the dutch oven it is cast iron, it heats evenly, preventing hot spots. I'm particularly fond of it, since it has been with me since the beginning. Yes, I had my dutch oven in my 600 sq ft apartment in the city, and I still have it here in my little cottage in the country. Roasting a chicken in my dutch oven brings back so many fond memories of learning and growing. It's hard to ignore the etched-in macaroni shapes on the bottom, after all.
Can I Make Bone Broth from Roasted Dutch Oven Whole Chicken?
The best part about roasting your chicken in a dutch oven? You can make bone broth in the same pot. Yes, that means you don't have to clean out the dutch oven! You can be that girl. That's right, the country homemaker extraordinaire who not only roasts her own chicken, but makes her own bone broth too. No, nothing goes to waste with this mama on the case.
All you have to do to make bone broth from dutch oven chicken, is toss all of the leftover bones and fat into the dutch oven. Add some aromatic vegetables, water to cover, apple cider vinegar, and salt. Simmer that baby for at least 8 hours, strain, and now you have bone broth. It really doesn't get any easier than that.
How Can I Stretch My Roasted Chicken For Multiple Meals?
I'm working on a post with some tips and tricks on exactly how I get a whole roasted chicken to stretch for 3 meals, but in the meantime my advice is this:
Serve Lots of Sides: For your initial roast chicken dinner, ensure you have lots of filling sides available. Mashed potatoes, rice, roasted vegetables, biscuits, and sourdough bread all make filling options. Cook up as many sides as you can, that way you can get away with serving a smaller portion of chicken to each family member.
Don't Leave the Chicken at the Table: I would portion out the chicken in the kitchen, and then serve all of the sides family style on the table. If someone wants seconds they will be more likely to fill up on things already on the dining room table.
Make Bone Broth: To really get the most from your chicken, you should make bone broth. At least one of my meals will be made from mostly bone broth, making the chicken last that much longer. I use bone broth for soups, cooking grains, making gravy, and in chicken pot pie. If you really want to stretch your chicken, you need to make sure you're making bone broth!
Casseroles and Pot Pie: The best way to use leftover shredded chicken is in casseroles and pot pies. You can make just 1-2 cups of shredded chicken go a long way! Make sure to include plenty of vegetables, as well as a filling starch like potatoes, bread, or brown rice.
Can I Make This Dairy Free?
Yes you can! The only dairy in this recipe is the melted butter. If you are opting for dairy free, you could use melted coconut oil. If you're just dairy sensitive, you may find that you do well with ghee rather than butter. You could easily use that in place of butter in this recipe. You can also use olive oil or avocado oil.
What Do I Need to Make Dutch Oven Whole Chicken?
Whole Chicken: I like to buy a chicken that is between 4-5 lbs, but you can use whatever size your family prefers.
Onion: All you need are regular cooking (aka yellow) onions for this recipe!
Garlic: Nothing beats fresh garlic. My husband loves fishing the soft garlic cloves out and eating them whole.
Rosemary: Just a few sprigs of fresh rosemary add a lovely, but not overpowering flavor. I have a little potted rosemary by my sink that I use often for this purpose.
Butter: I like to use salted butter, but you can use melted ghee or coconut oil in place of the butter if you desire. If you opt for that, I would recommend adding a bit more salt to your taste.
Paprika: Keeping it simple with paprika!
Black Pepper: If you know me, pepper always makes an appearance. It just isn't a meal without pepper.
Salt: I like to use a mineral salt like Real Salt or Pink Himalayan.
Dutch Oven: The model I have is no longer available, but this oval dutch oven from Amazon Basics looks really similar and it's a great price.
Rosemary Dutch Oven Chicken
Total Time:
2 hours
15 minutes
Try this healthy, homemade recipe for Rosemary Dutch Oven Chicken. You can make bone broth right in the pot after you're done!
Ingredients
4 lb Whole Chicken
1 large Onion, peeled and quartered
5 cloves Garlic, peeled
1-2 sprigs Fresh Rosemary
2 tbsp butter, melted and cooled
¼ tsp Smoked Paprika
½ tsp Ground Black Pepper
1 tsp Mineral Salt
Instructions
Preheat the oven to 350F.
Rinse the outside and the cavity of your whole chicken and pat dry.
Stuff the chicken cavity with the onion, garlic cloves, and sprig of fresh rosemary.
Place the chicken, breast side up, in the dutch oven. Drizzle the melted butter over the surface of the chicken.
Combine the smoked paprika, black pepper, and mineral salt in a small bowl. Mix well and sprinkle over the surface of the chicken, taking care to get the wings and legs as well.
Place the lid on the dutch oven and place into the preheated oven.
Bake for 70-90 minutes with the lid on, depending on the size of the chicken. If the chicken is on the smaller end, bake for 70, for chickens close to 5lbs, bake for 90 minutes.
Remove the chicken from the oven. Increase the temperature to 425F and remove the lid from the dutch oven. Baste the chicken with the drippings. Once the oven reaches the new higher temperature, place the chicken back in the oven and bake for an additional 30 minutes, or until there is an internal temperature of at least 165F in all parts.
Remove the chicken from the dutch oven to a plate and serve! You can also serve directly in the dutch oven if you have a sturdy heatproof trivet for your kitchen table.
Notes
A good way to make sure you don't over bake your chicken is to check the internal temperature. The finished whole chicken needs to have an internal temperature of 185F. For the covered portion of the baking, you can remove the chicken from the oven once it reaches 165F and then return to the oven uncovered for the remaining baking time.
The drippings in the pan make an excellent gravy if you so desire to do so! Also, if you like to make bone broth, you can return all of the bones, skin, and odd bits to the dutch oven once your meal is done (reserve the extra chicken for a casserole or soup) and cover with water and a splash of apple cider vinegar. Let the bones sit for 30 minutes and then simmer on low for 8+ hours.
Nutrition Information:
Yield:

8
Serving Size:

1/6 of Recipe
Amount Per Serving:
Calories:

578
Total Fat:

34g
Saturated Fat:

10g
Trans Fat:

0g
Unsaturated Fat:

20g
Cholesterol:

207mg
Sodium:

500mg
Carbohydrates:

2g
Fiber:

0g
Sugar:

1g
Protein:

62g
Nutrition information is an estimate only.
Don't forget to Follow Little Home in the Making on Pinterest for more healthy, whole food recipes and country cottage life!
Little Home in the Making on Instagram