This healthy Kefir Green Smoothie is a tasty blend of milk kefir, spinach, mango, pineapple and banana. This tropical inspired smoothie is full of nutrients and is perfect for a quick and healthy breakfast, or for adding onto a nourishing lunch. Substitute the fruit combinations for endless possibilities!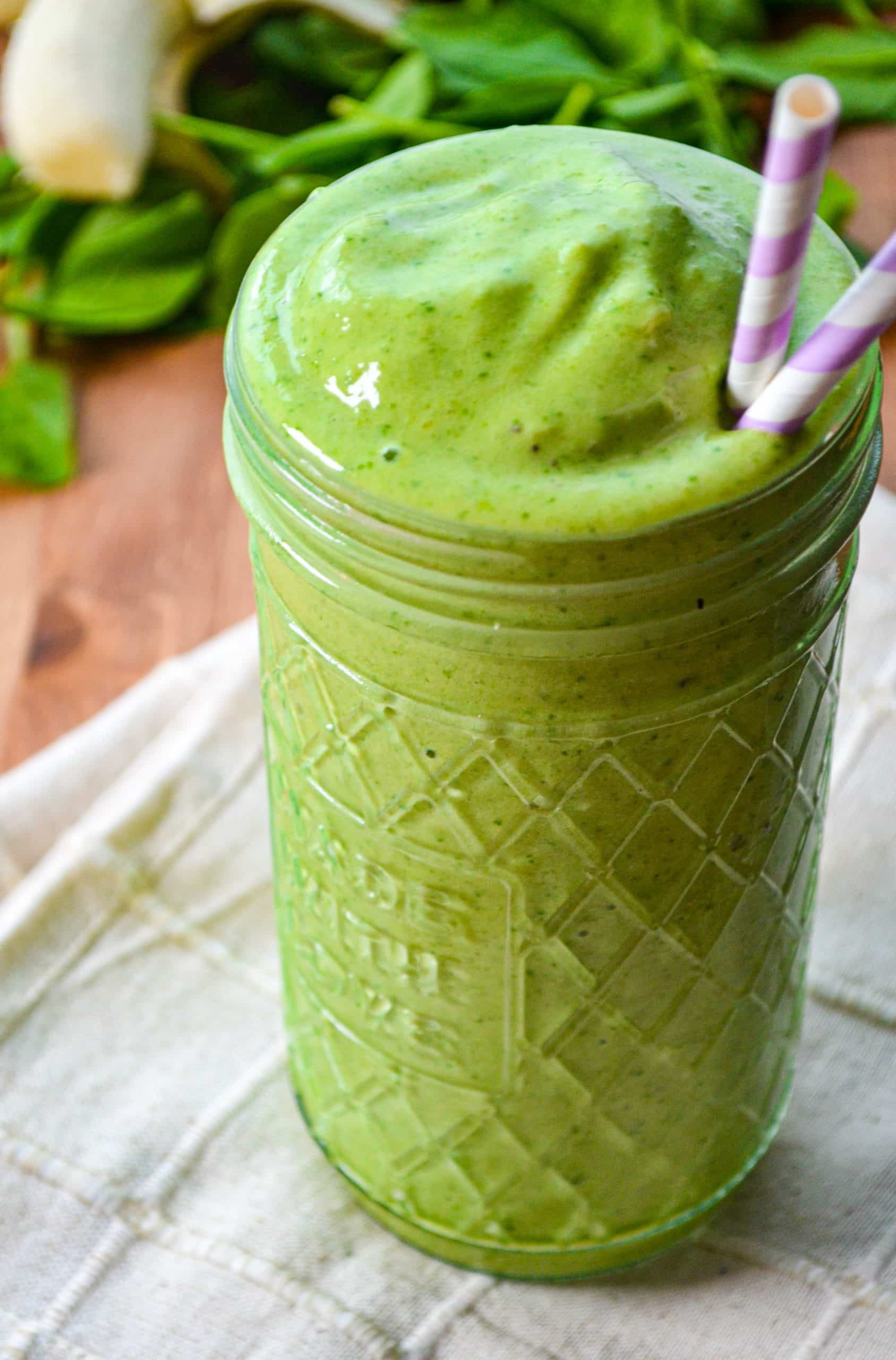 Please note that some of my blog posts here at Little Home in the Making may contain affiliate links. If you make a purchase through these links, I will get a small commission at no additional cost to you. See our disclaimer for more information.
Smoothies are a great way to get a healthy breakfast in with minimal effort, and they are particularly great for picky eaters. My son is almost as picky as they come, but he will slurp down my kefir smoothies all day and all night. This makes me feel good, since I know he's getting probiotics, protein, healthy fats, and plenty of nourishing fruits and vegetables when he drinks one of these Kefir Green Smoothies.
While my little guy has never been one for vegetables, and finds most foods that aren't sourdough bread or PB&J sandwiches slightly repulsive, he just loves these smoothies. I can't say I blame him! Not only does it feature a good dose of spinach and probiotics, but the fruit combination of mango, pineapple, and banana makes for a tropical taste experience that just can't be beat.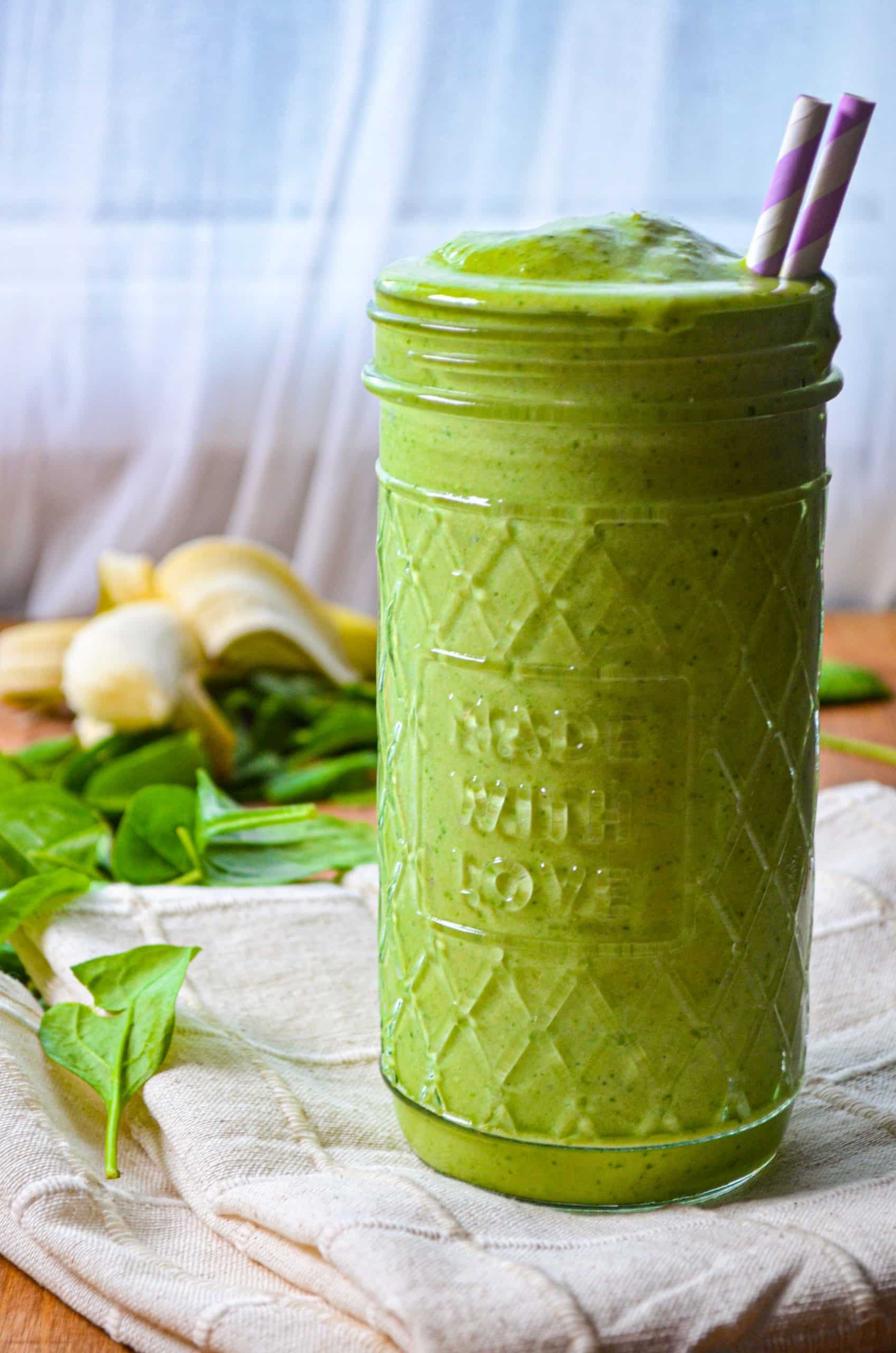 Great for Lunch, Too!
Since most often our breakfasts are oats or eggs, I don't pull out the Kefir Green Smoothie too often in the early hours. While it certainly has its place at the breakfast table, I actually make it most often for the midday meal. Instead of a big salad, I enjoy a green smoothie and a few snacky items. My son takes his share with his daily lunch request, which changes from day to day.
Lunch, especially for those who work outside of the home, can often be a weak spot for fast food and less nutritious options, but by sneaking in a nourishing Kefir Green Smoothie, we can fill up with the good stuff and be far less likely to crave the less nourishing stuff.
But however you slice it, this Kefir Green Smoothie is a delicious and easy way to nourish your body with probiotics, greens, fruit, and fiber. All good in my books!
Let's get started.
Ingredients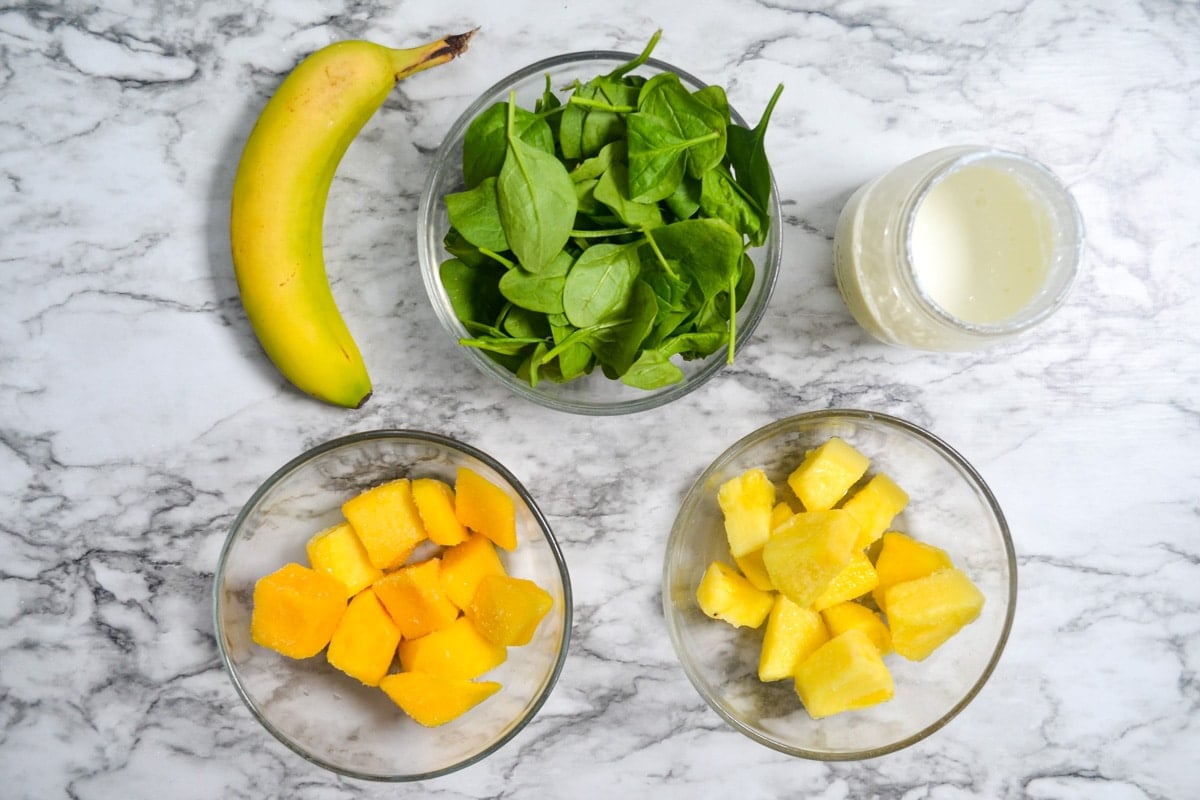 Milk kefir: Since this is a kefir smoothie, you definitely need kefir! There are a few options if you want to make a regular green smoothie with different bases, and I've listed those in the "substitutions" section below.
Spinach: You will need 2 cups of loosely packed baby spinach. Buying this prewashed makes for a super easy prep.
Mango: While you can use whatever frozen fruit combo you like, mango creates a lovely sweet and thick smoothie that covers the stronger tastes of milk kefir and spinach.
Pineapple: Another sweet addition is pineapple. I like to buy it frozen, since it can be hard to keep fresh for longer periods of time, and the canned stuff just doesn't hold a candle to fresh or frozen.
Banana: If you freeze overripe bananas for smoothies, this is the perfect use for them! You can also use fresh ripe bananas.
How to Make a Green Smoothie with Kefir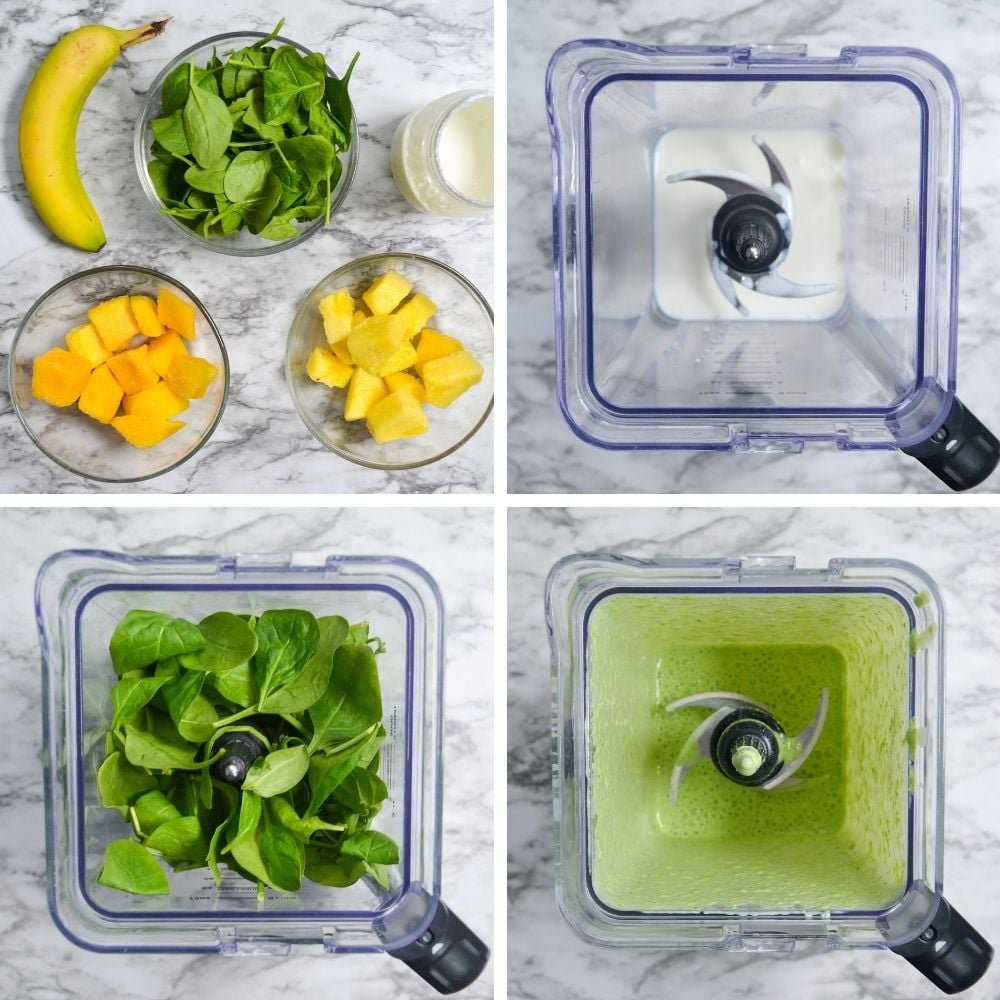 To get started, add your kefir to the jug of a high powered blender such as a Ninja professional or Vitamix.
Add in the spinach and blend on high speed until the spinach is broken down and the mixture is smooth. You will still see flecks of spinach, but they will be small enough to easily fit through a straw.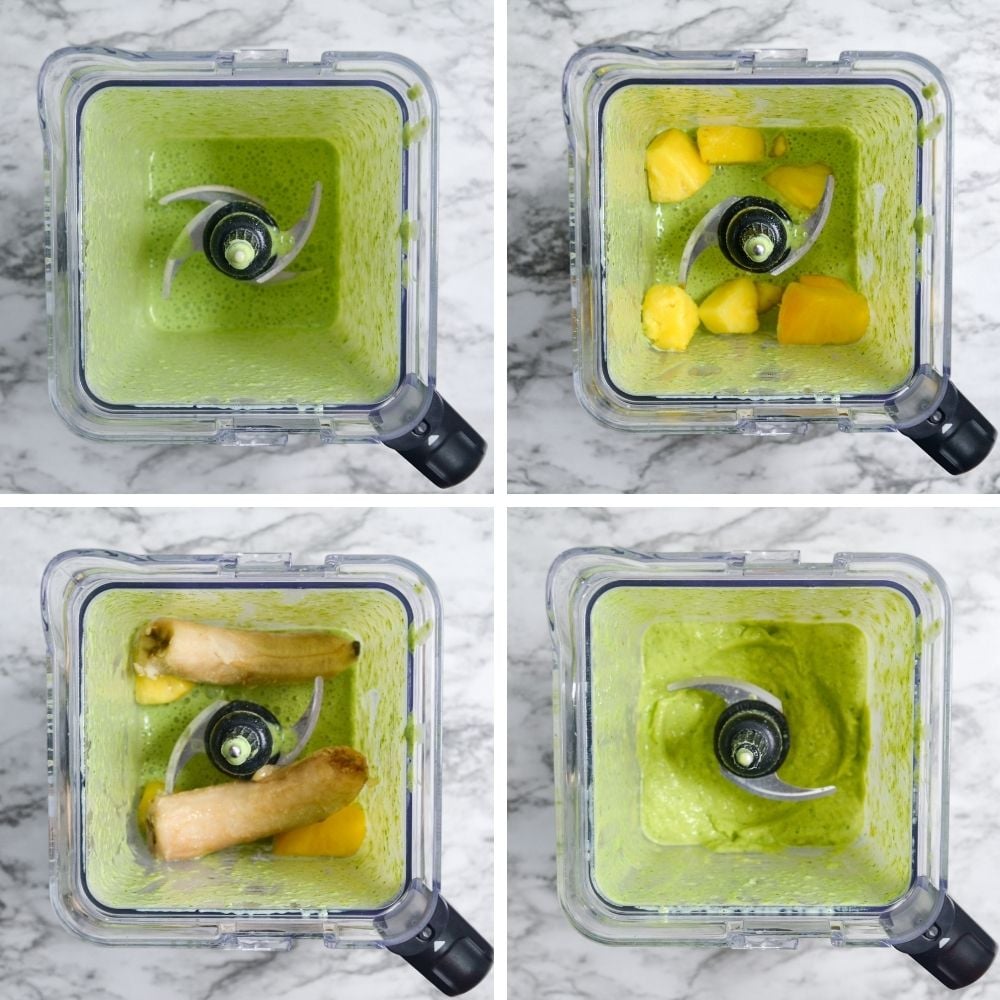 Add in your mango chunks, pineapple chunks, and ripe banana. Or any fruits of your choosing.
Blend on high speed until all of the fruit is broken down and everything is smooth.
Transfer to a glass jar with a smoothie straw lid, or a large tumbler with a smoothie size straw.
Serve and enjoy!
Recommended Equipment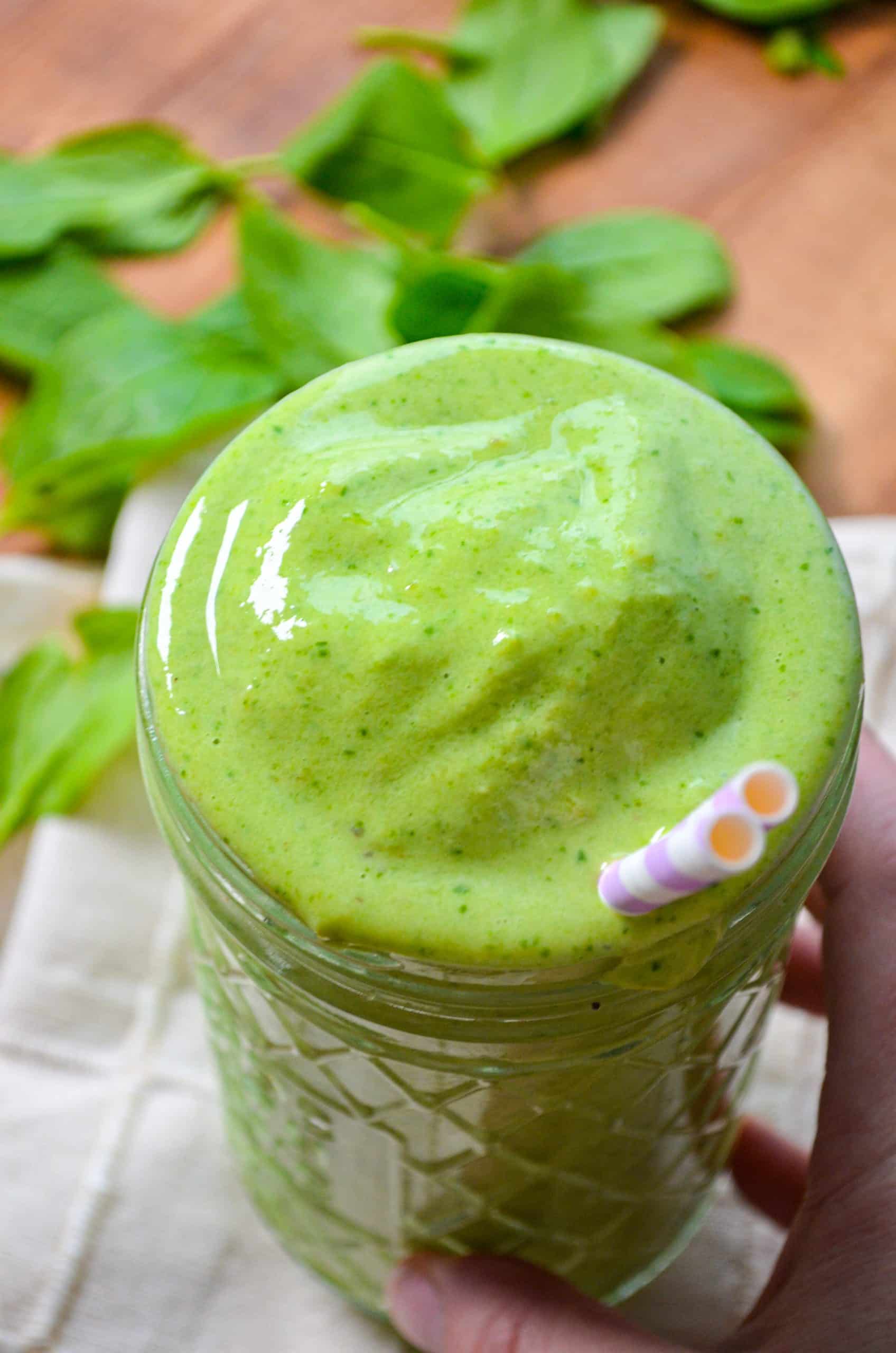 Variations and Substitutions
Fruit: Feel free to use 2 cups of any fresh or frozen fruit of your choice in place of the mango and pineapple. Note that less sweet fruits may require the addition of maple syrup to enhance the sweetness. You could also use honey to increase the sweetness.
Frozen or Fresh Fruit: You can use frozen or fresh fruit. I would recommend using at least one of your fruits as a frozen version. This gives the smoothie a thick consistency. Bananas are a good option, since they are often stashed in the freezer anyway. If you only have fresh fruit, feel free to use 1/2 cup or so of ice to give the smoothie a thicker consistency.
Almond Milk: If you'd like to use almond milk instead of kefir, you absolutely can. Since it is a thin consistency, I would recommend either using 1/2 cup of yogurt alongside the almond milk. Alternatively, you could try adding 1/2 cup of ice cubes to help thicken it.
Coconut Kefir: If you want to keep this kefir green smoothie dairy free, you can absolutely use coconut kefir in place of the milk kefir.
Homemade Kefir: If you'd love to use homemade kefir (I highly recommend this!), then you can learn all about getting started with homemade kefir by reading this post I wrote about this probiotic rich superfood.
Raw Milk Green Smoothie: If you'd like to use raw milk instead, feel free to substitute the milk kefir for 1 cup of raw milk + 1/2 cup plain yogurt of your choice.
Kefir Kale Smoothie: Substitute the baby spinach in this kefir green smoothie recipe for washed and stemmed baby kale. Taste and adjust for sweetness as needed.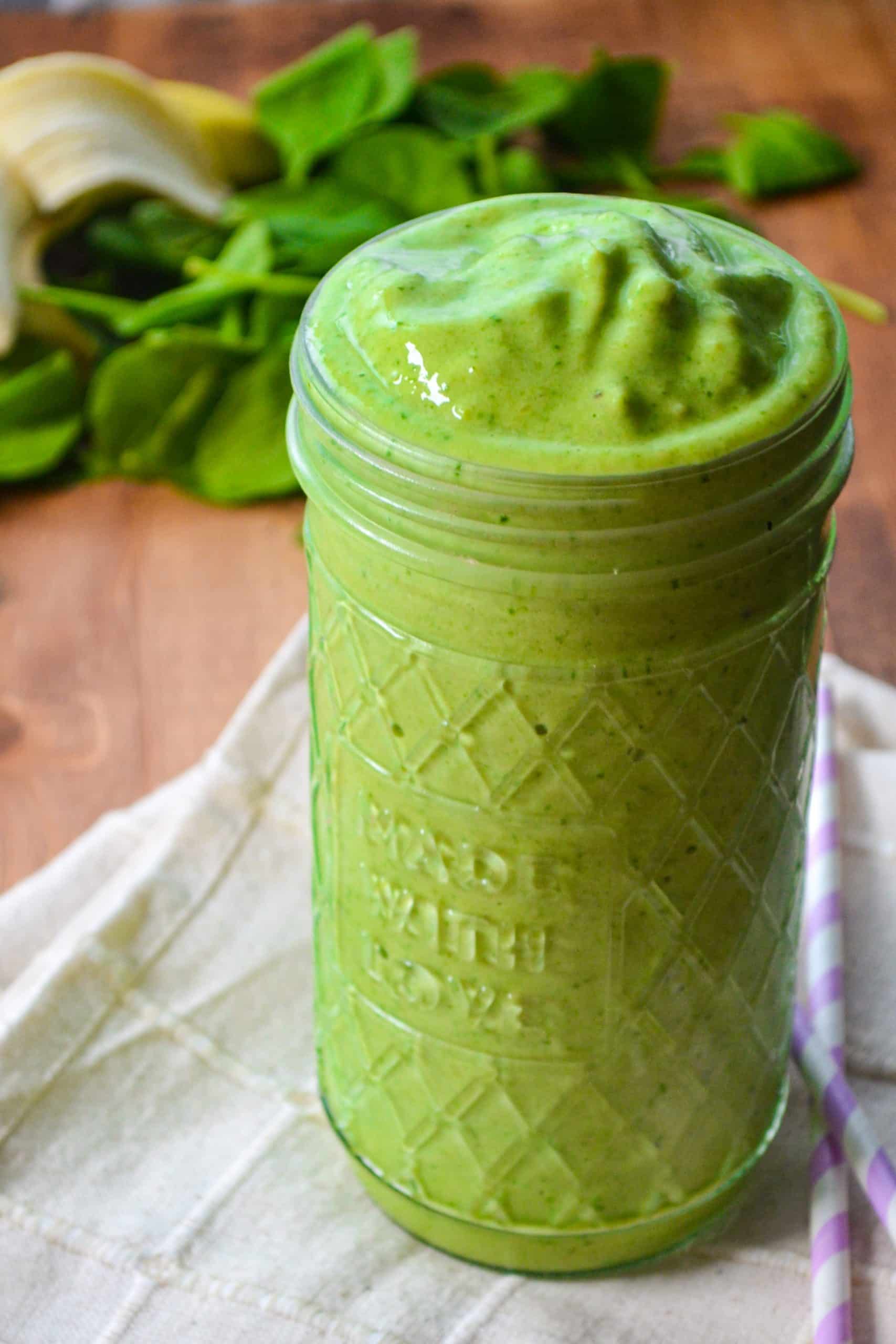 More Milk Kefir Recipes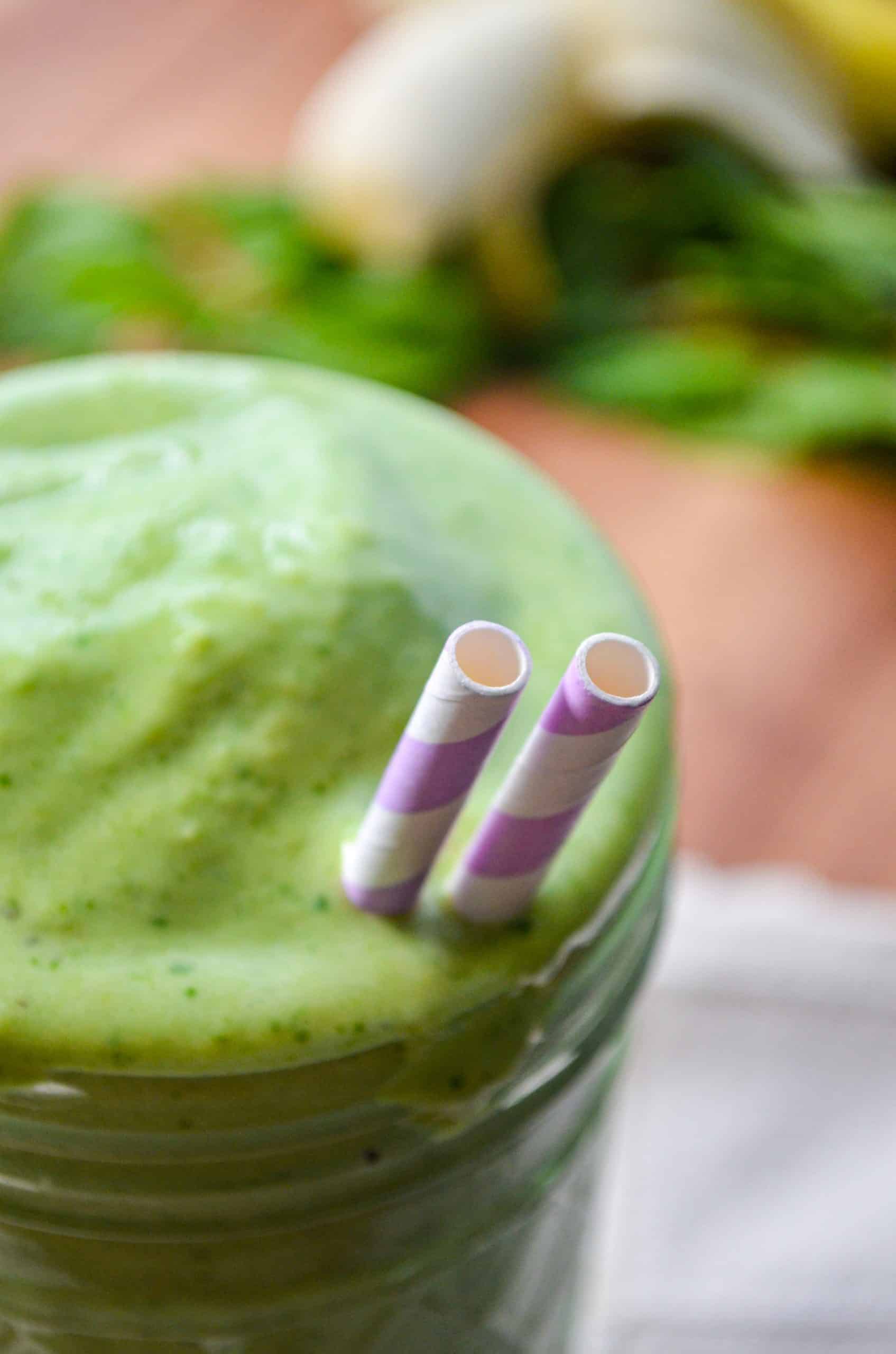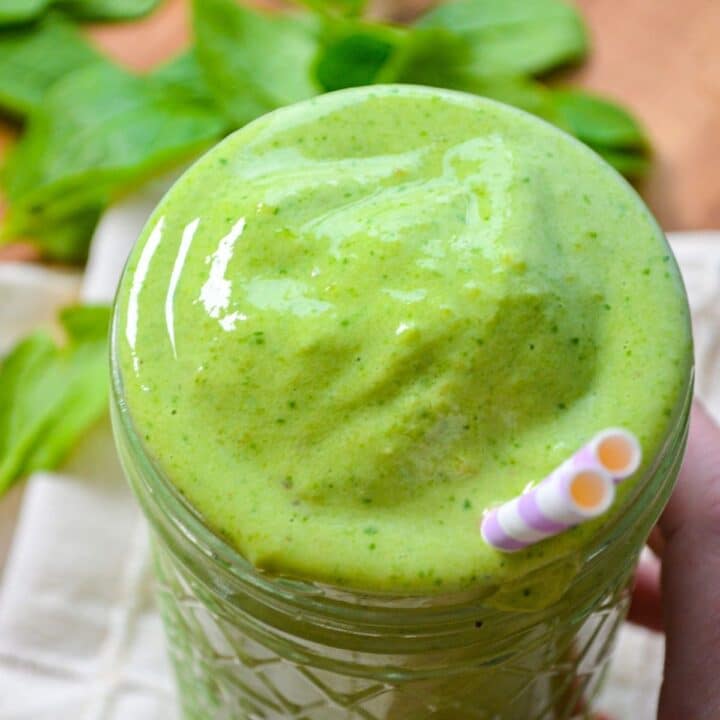 Kefir Green Smoothie
This healthy Kefir Green Smoothie recipe is made with frozen fruit, spinach and milk kefir. Makes a delicious and easy breakfast, or a great addition to a nourishing lunch.
Ingredients
1 1/2 cups milk kefir
2 cups loosely packed baby spinach
1 cup fresh or frozen mango chunks
1 cup fresh or frozen pineapple chunks
1 medium banana, peeled
1 tablespoon maple syrup (optional)
Instructions
Add your milk kefir and spinach to the jug of a high quality blender.
Blend on high speed until the spinach is broken down and combined well with the milk kefir.
Add in the frozen fruit, as well as the banana. If you are using maple syrup, you may add this now.
Blend on high until completely smooth.
Pour into glass jar or tumbler and add a large straw.
Serve and enjoy!
Notes
Fruit: If you don't want to use pineapple and mango, you can use 2 cups of any of your favorite frozen fruits. You may need to include some maple syrup, or additional maple syrup, depending on the fruit used. Some fruits are sweeter than others, so you will have to taste and adjust based on your tastes.
Frozen vs. Fresh Fruit: You can use fresh or frozen fruit, but for the consistency of the smoothie it's nice to use at least one of your fruits in its frozen form. Otherwise, you may want to add a few ice cubes.
Milk kefir substitutes: Any combination of milk and yogurt (1 cup milk to 1/2 cup yogurt), milk kefir, or coconut kefir can be used to make this green smoothie recipe.
Greens: You can substitute the spinach in this recipe for the raw greens of your choice. Just note that it may change the flavor substantially. Spinach is very mild compared to kale or swiss chard, for example.
Homemade Milk Kefir: You have the option of using store bought milk kefir, but you can use homemade kefir for the best results. I have a guide to making milk kefir that you can find here.
Nutrition Information:
Yield:

1
Serving Size:

1
Amount Per Serving:
Calories:

597
Total Fat:

5g
Saturated Fat:

2g
Trans Fat:

0g
Unsaturated Fat:

2g
Cholesterol:

16mg
Sodium:

763mg
Carbohydrates:

126g
Fiber:

10g
Sugar:

107g
Protein:

22g
Nutrition information is an estimate only.