These sourdough drop biscuits require NO rolling, and no cutting. All you need to do is mix up the dough, drop them on the sheet and bake! Packed with buttery flavor, these flaky buttermilk drop biscuits are the perfect way to use up some of that sourdough discard! Freezes beautifully.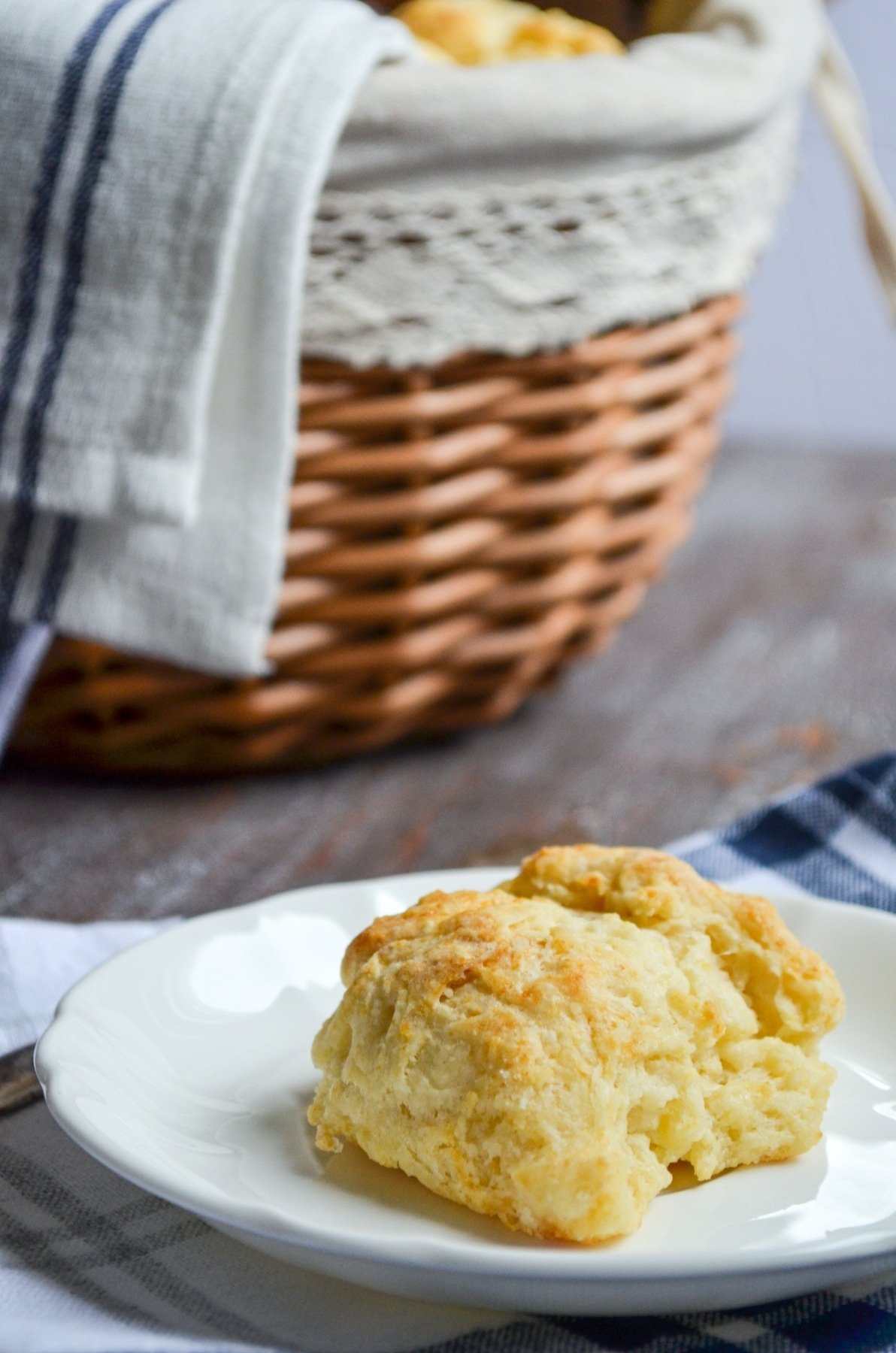 When we think of biscuits, we think of an experienced Granny whipping up a batch of buttermilk biscuits with her eyes closed. They are perfect every.single.time. Flaky, buttery, and sky high. The thing that frustrates us so much is that Granny doesn't even seem to follow a recipe! She just makes absolutely amazing biscuits every single time, and yet we can't seem to get them consistent…even with following a recipe!
Well, there is something to be said for experience in the kitchen. In my early years as a home cook, I had many more failures that successes. I'm not sure exactly what kept me going, but I continued on cooking and baking with passion and zeal. I burned more things than I got right, and somehow 10 years later I end up here. With a food blog, and absolutely loving every minute of it.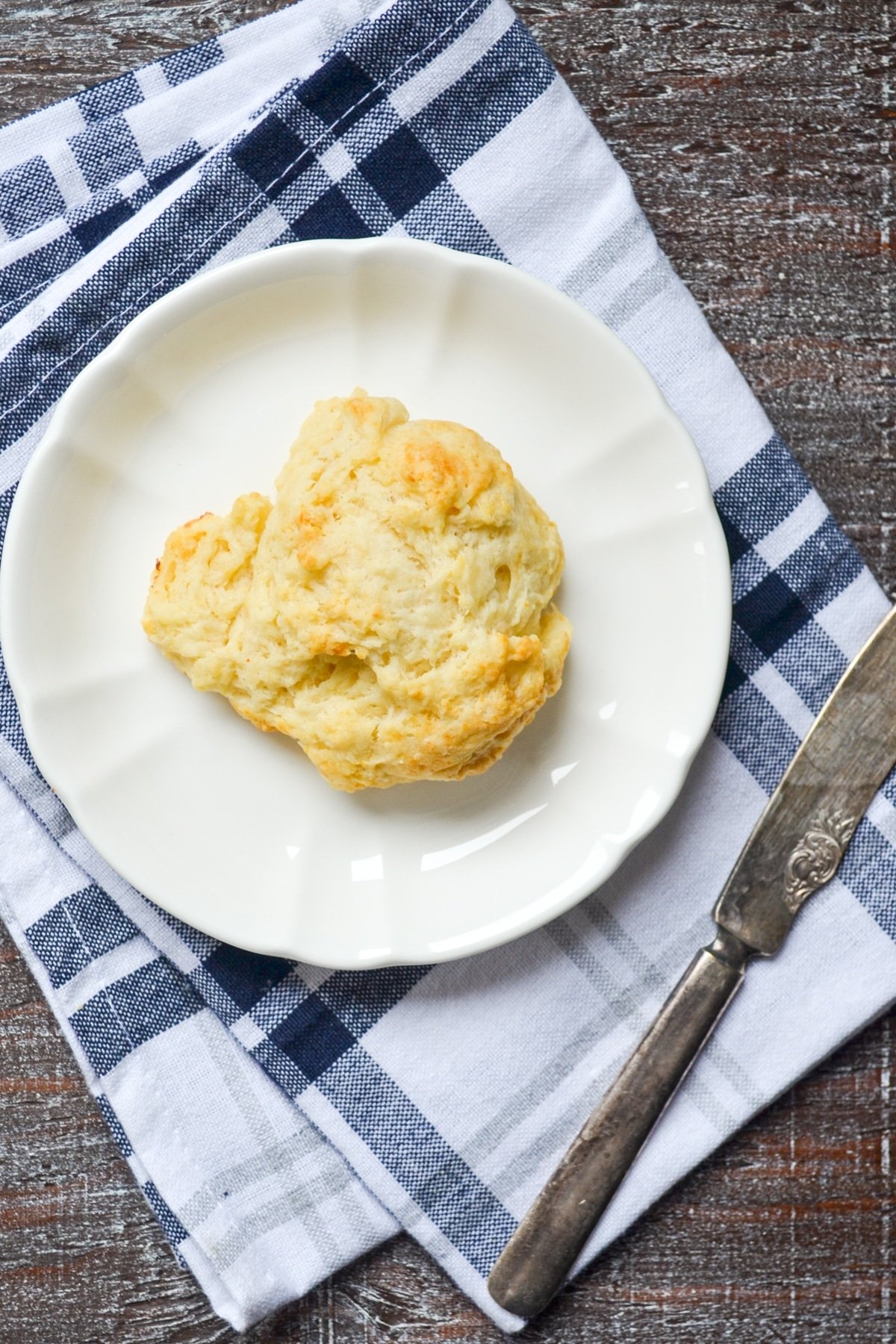 Experience is the best teacher
Of course, experience and passion has brought many shortcuts and tricks my way. For each recipe I agonized through, I learned a new skill or technique. I've taken those learned techniques and applied them to countless recipes, and so it is the case with these scrumptious Sourdough Drop Biscuits. They are the classic buttermilk drop biscuit, but with added sourdough discard and a special trick for getting flaky biscuits WITHOUT cutting in cold butter.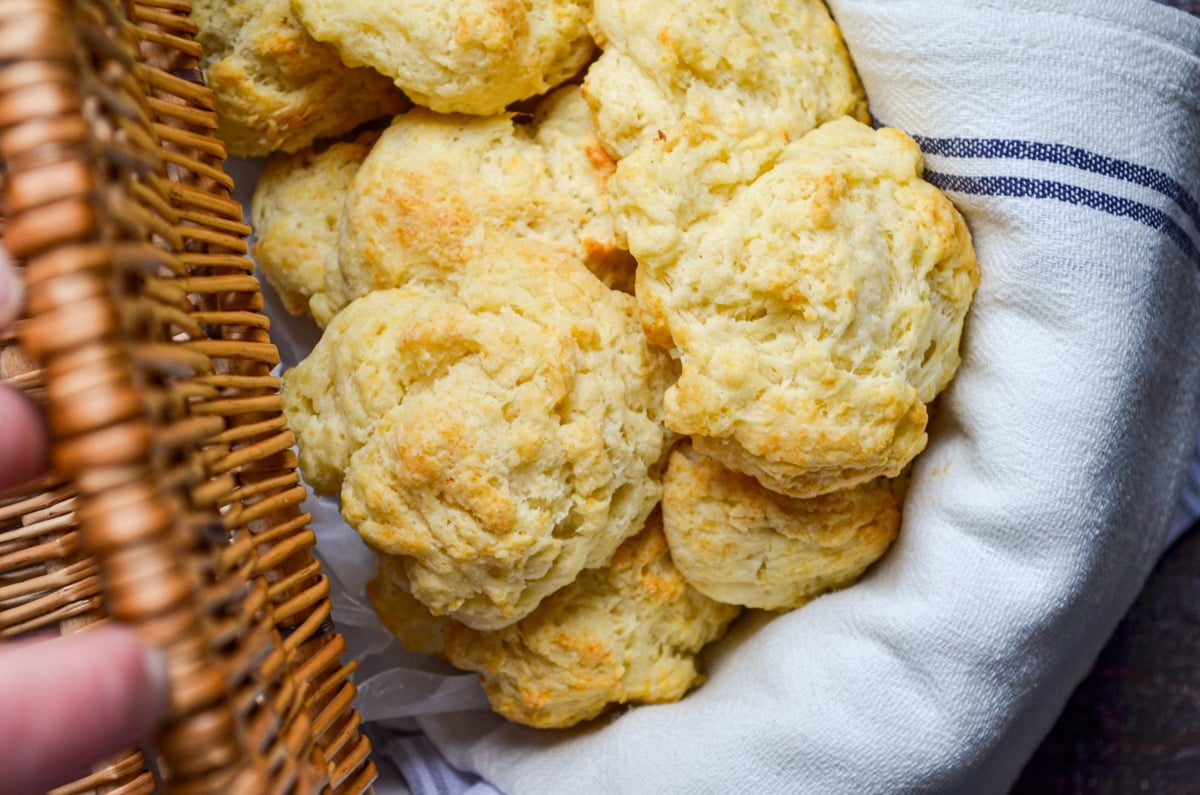 The Secret to Flaky Biscuits
Any home cook worth their salt knows that the secret to flaky biscuits is butter, and lots of it. But not simply the presence of butter, but rather the pieces of butter. In order to get tender, flaky drop biscuits, most cooks will cut cold butter into the flour mixture using a pastry cutter or a fork and some elbow grease. This works awesome, and is the method I normally use for cut biscuits, pie dough, and other such things. This method is something I learned from Cooks Illustrated, and it's a great way to get a flaky biscuit without cutting in butter!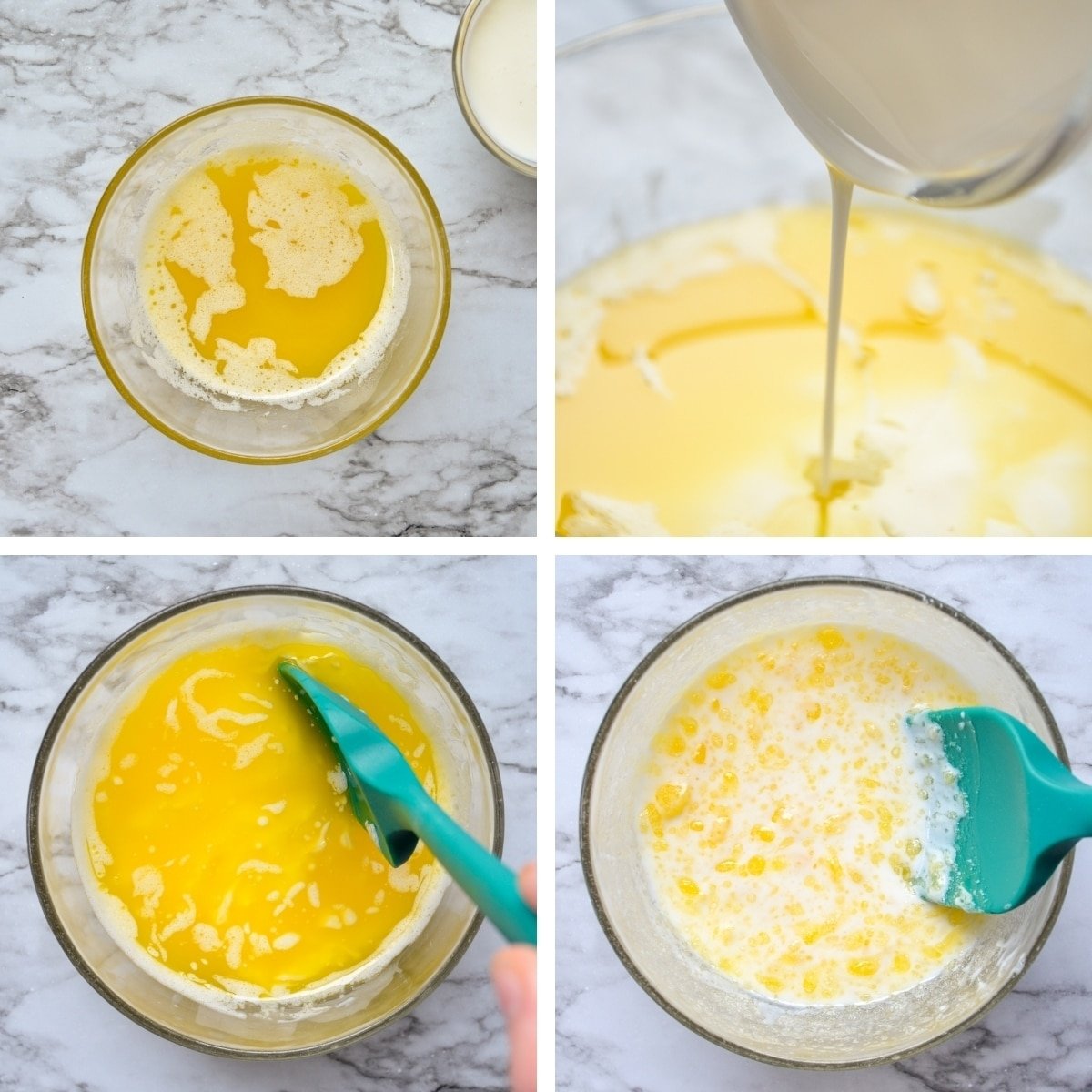 We take the quantity of butter required in the recipe ( 1/2 cup + 2 tbsp. ) and melt it completely. Let it cool slightly
Then, we pour in the COLD buttermilk, and stir gently. As the cold buttermilk mixes with the melted butter, the butter begins to harden into little balls and clumps. This is PERFECT for getting a flaky biscuit! Odd shaped and large chunks of butter is what creates that signature flaky, crisp on the outside, soft on the inside buttermilk biscuit.
It may take a little work (well, stirring) to get it there, but keep stirring until you have a good quantity of yellow butter chunks (like is shown in the bottom right image).
Once you've done that, add in the sourdough discard and stir well until combined.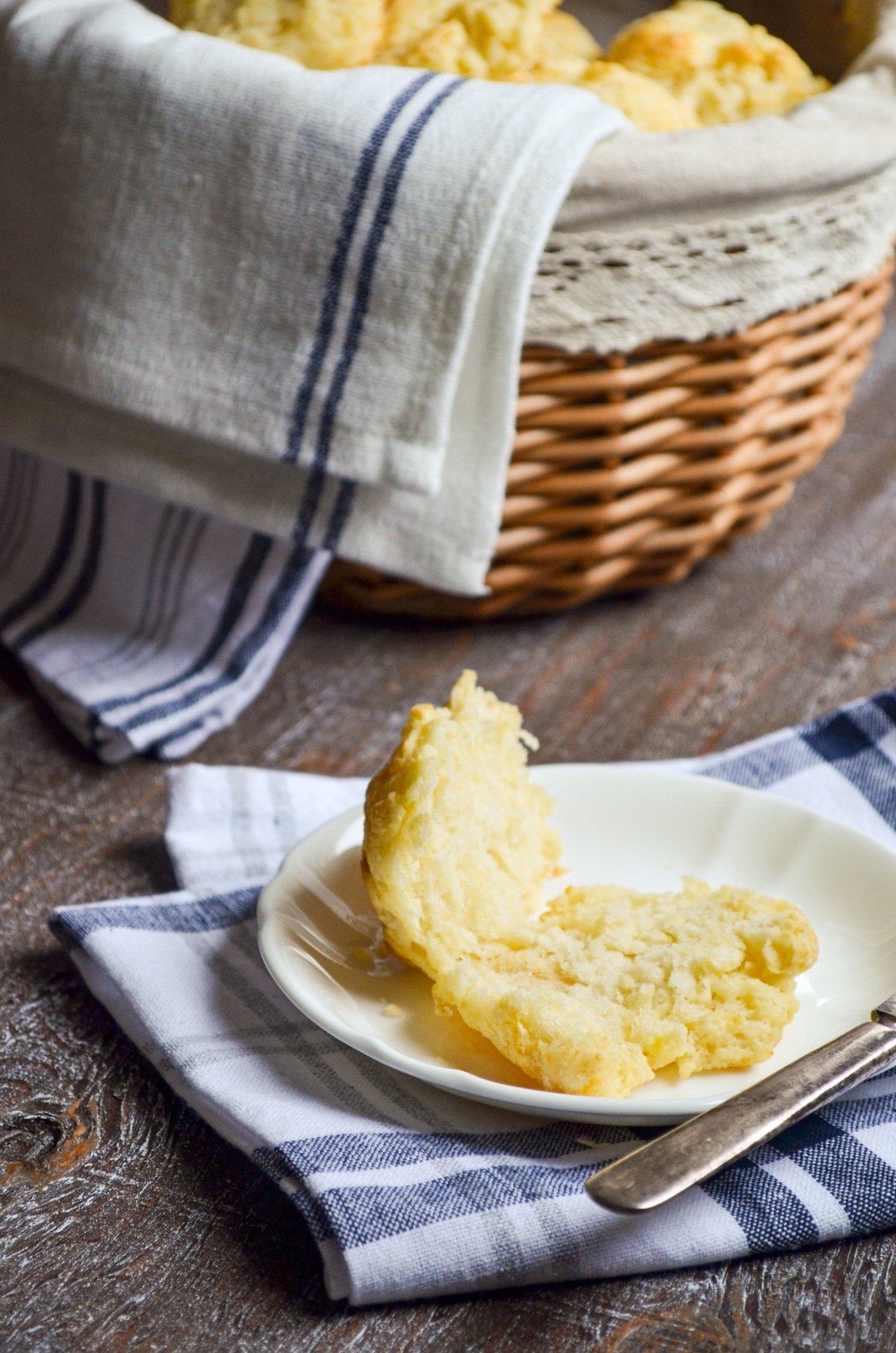 What Ingredients Do I Need?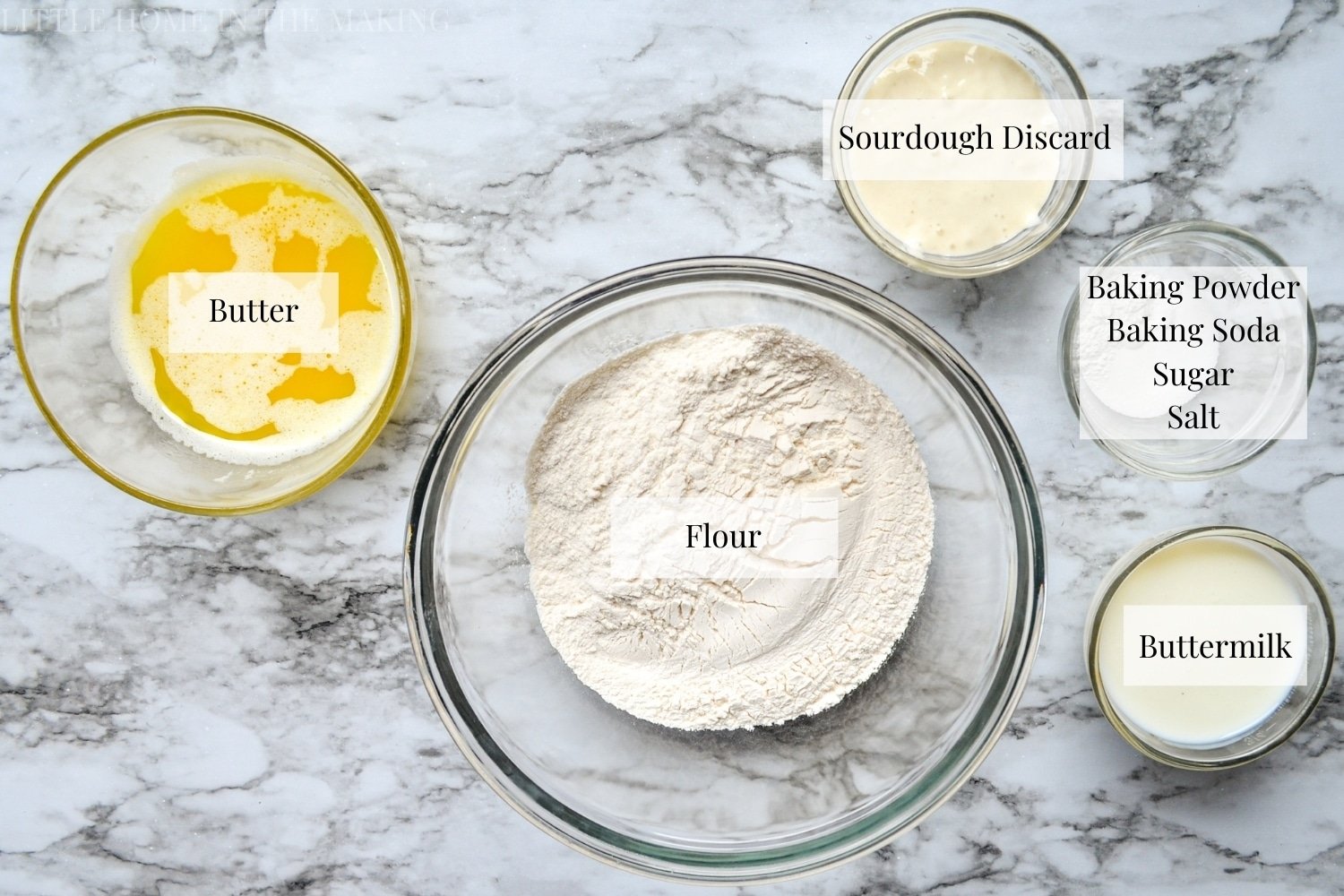 How to Make Sourdough Drop Biscuits
Now that you understand the technique we've used for getting perfectly flaky biscuits, we are ready to move on to show you just how we put it all together into these delicious Buttermilk Sourdough Drop Biscuits. It's SOOOO simple. You're going to love it!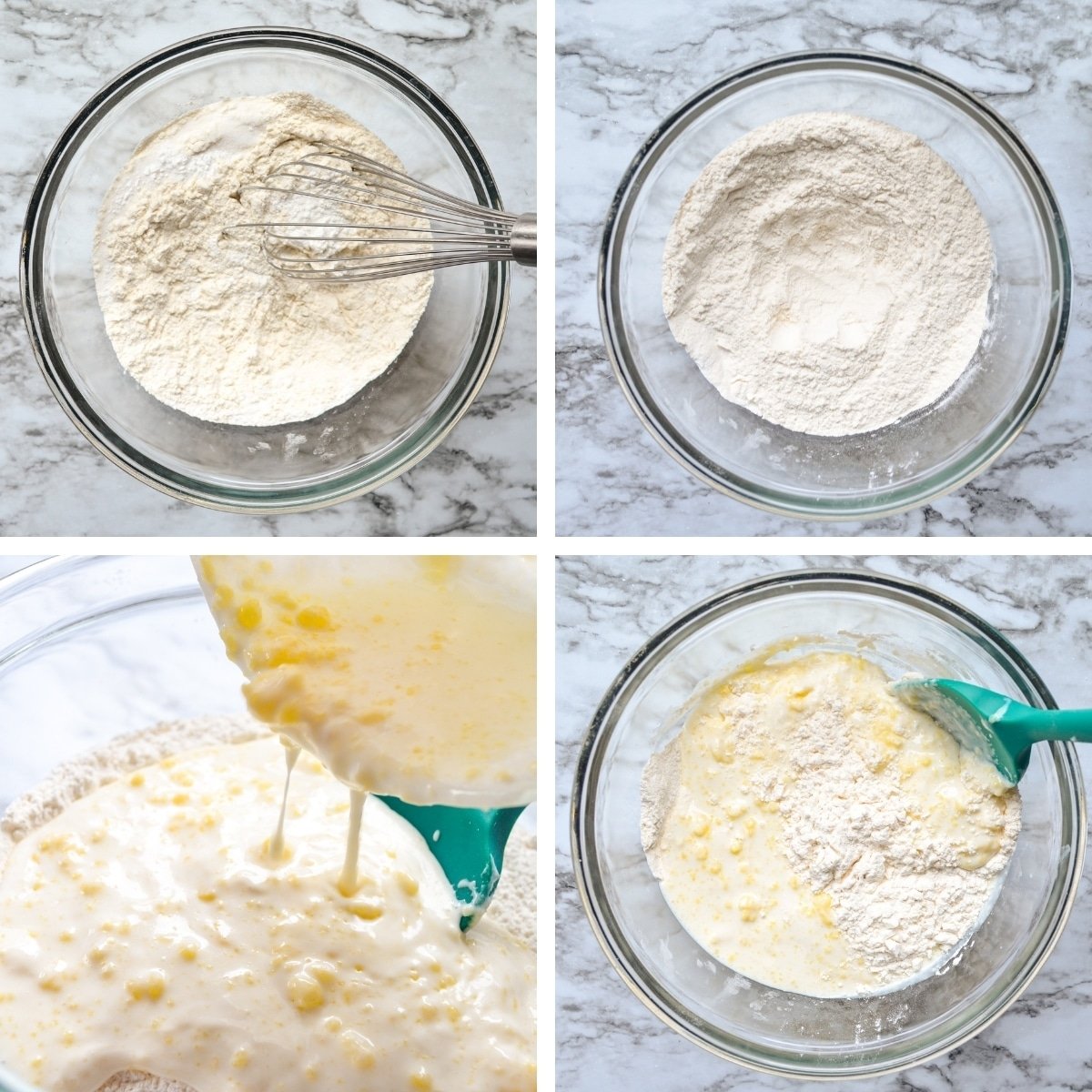 Mix together your dry ingredients (flour, baking powder, baking soda, salt, and a touch of sugar) and whisk well to combine.
Make a well in the bowl of dry ingredients, and pour in the buttermilk, butter, and sourdough discard mixture. Use a silicone spatula to gently fold the wet and dry ingredients together.
Stir this just until combined and there is no dry flour bits. Use your hands to form the dough into one cohesive ball.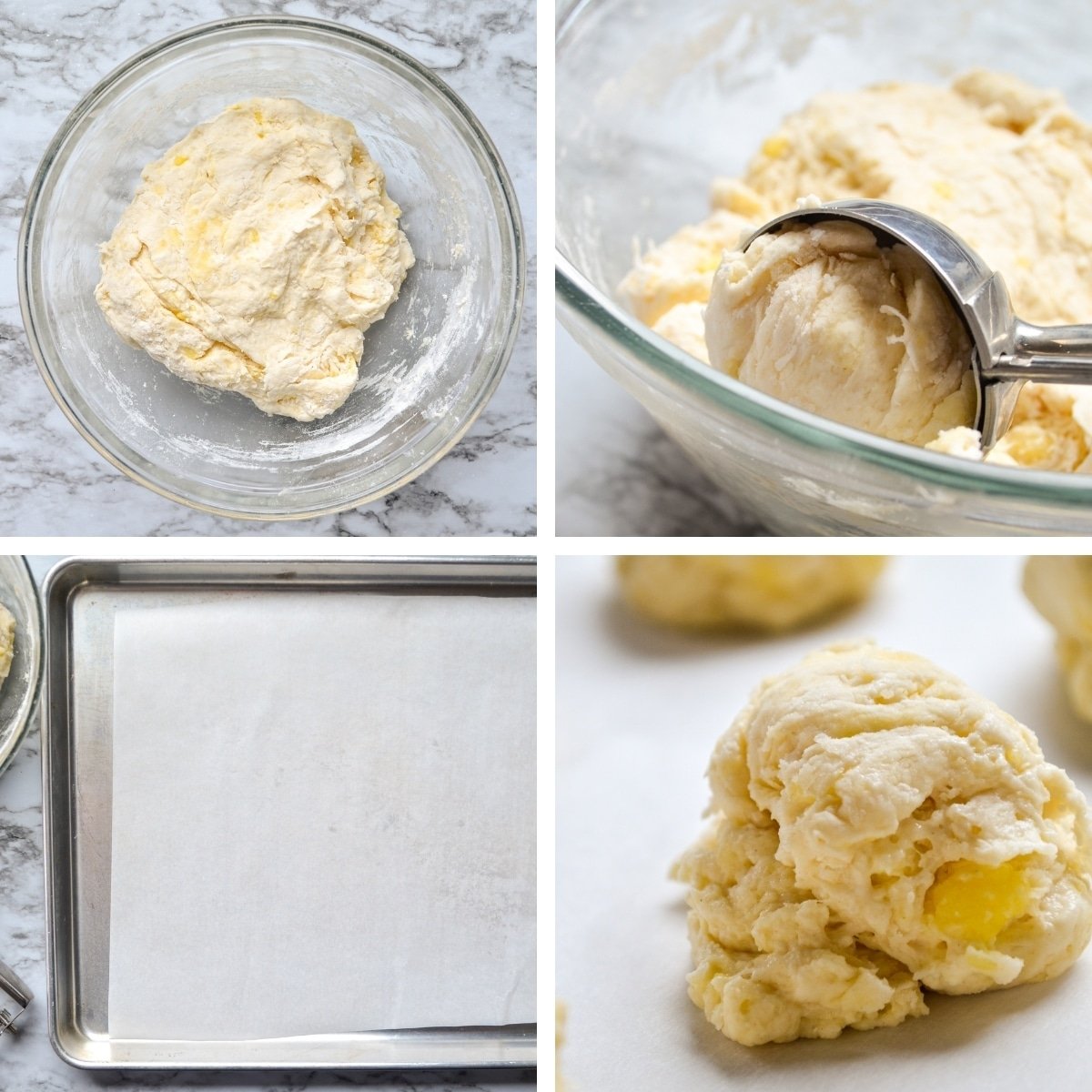 Grease the inside of a 1/4 cup size measuring cup OR a large bakers scoop (#20/3 1/2 tbsp. size like this one) and portion out some of the dough using your tool of choice.
Drop the portion of dough onto a parchment lined half size baking sheet.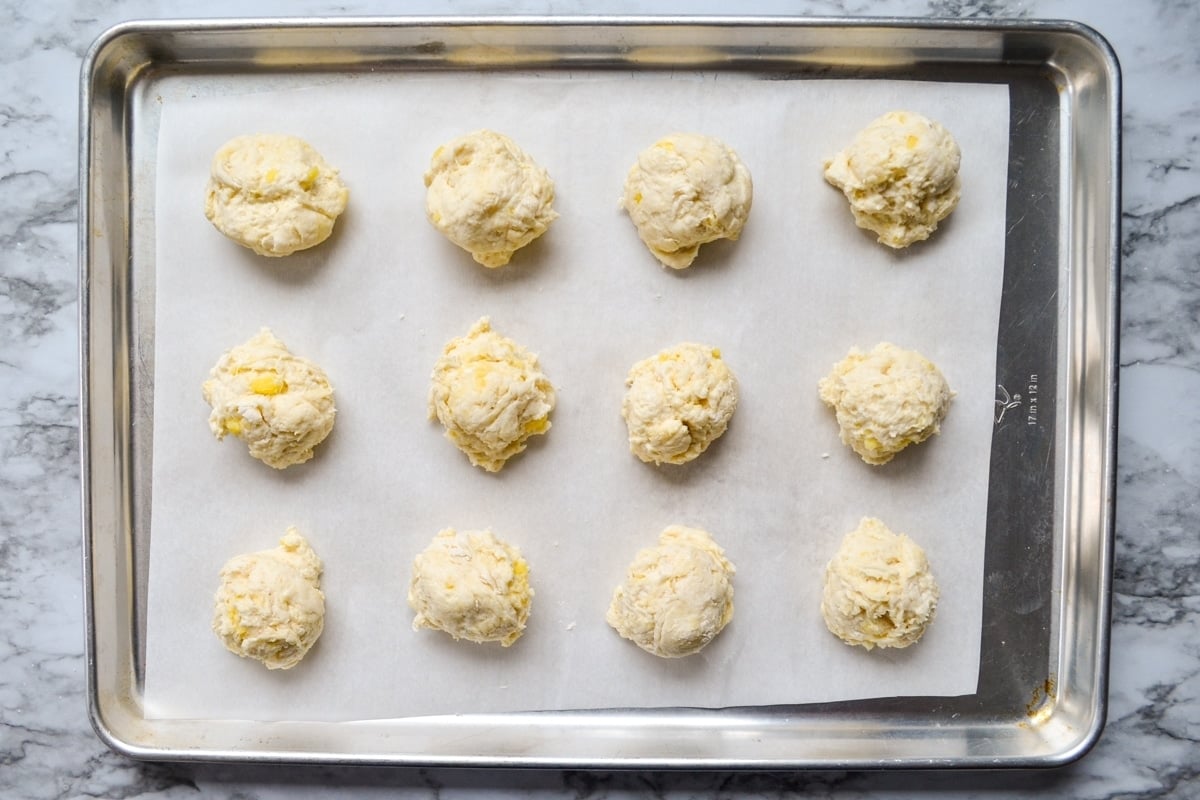 Repeat this until all the dough is used up. Make sure to space your biscuits 1 1/2-2″ apart to allow them to expand during baking!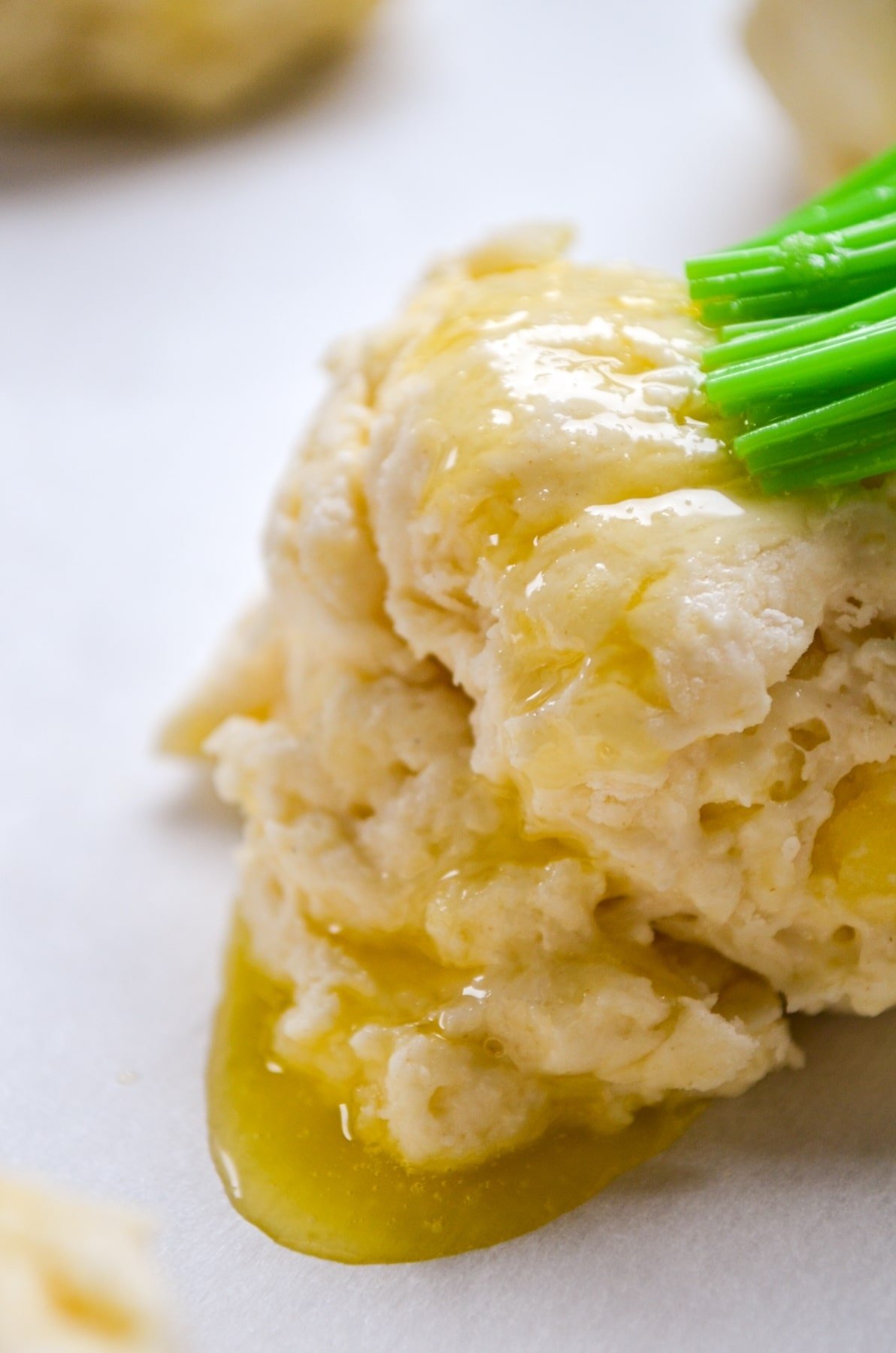 Then brush your sourdough drop biscuits with some melted butter. This is just extra and SOOO awesome. For me, the extra layer of melted butter makes these absolutely delicious.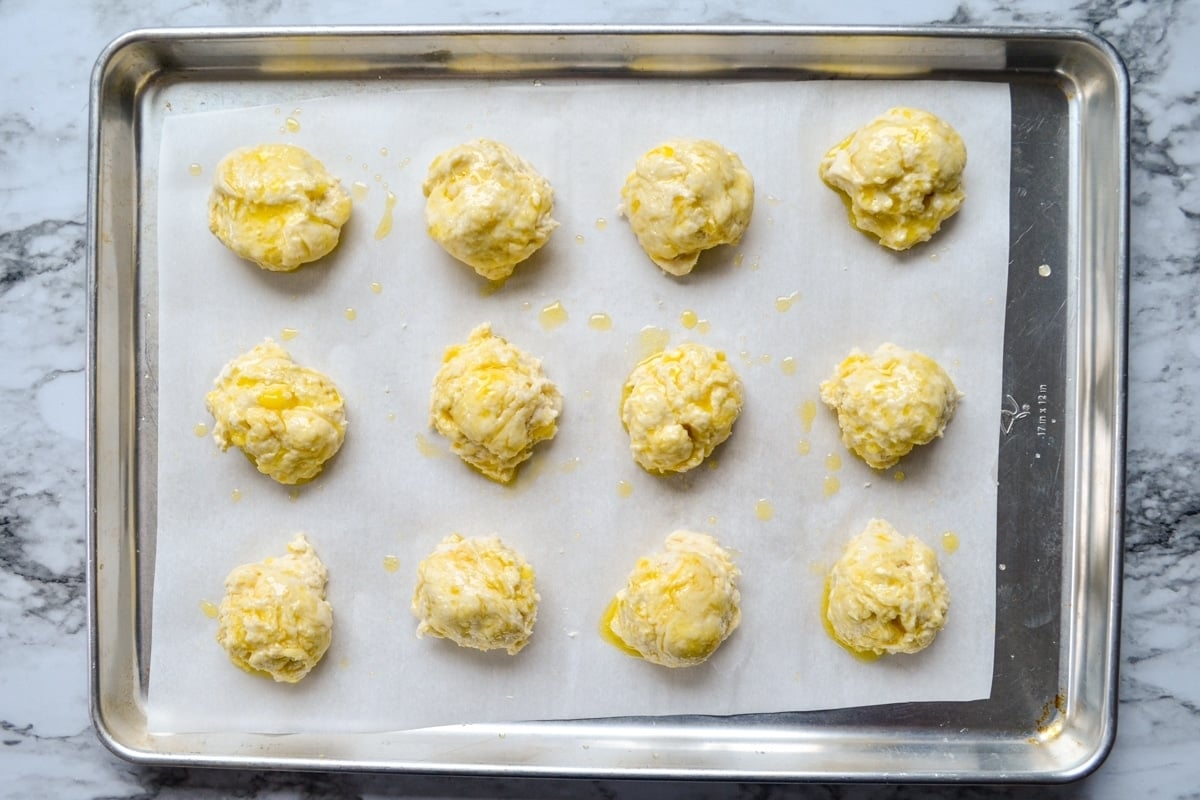 Once all of your biscuits are brushed with the melted butter, bake them in an oven preheated to 475F for 13-17 minutes.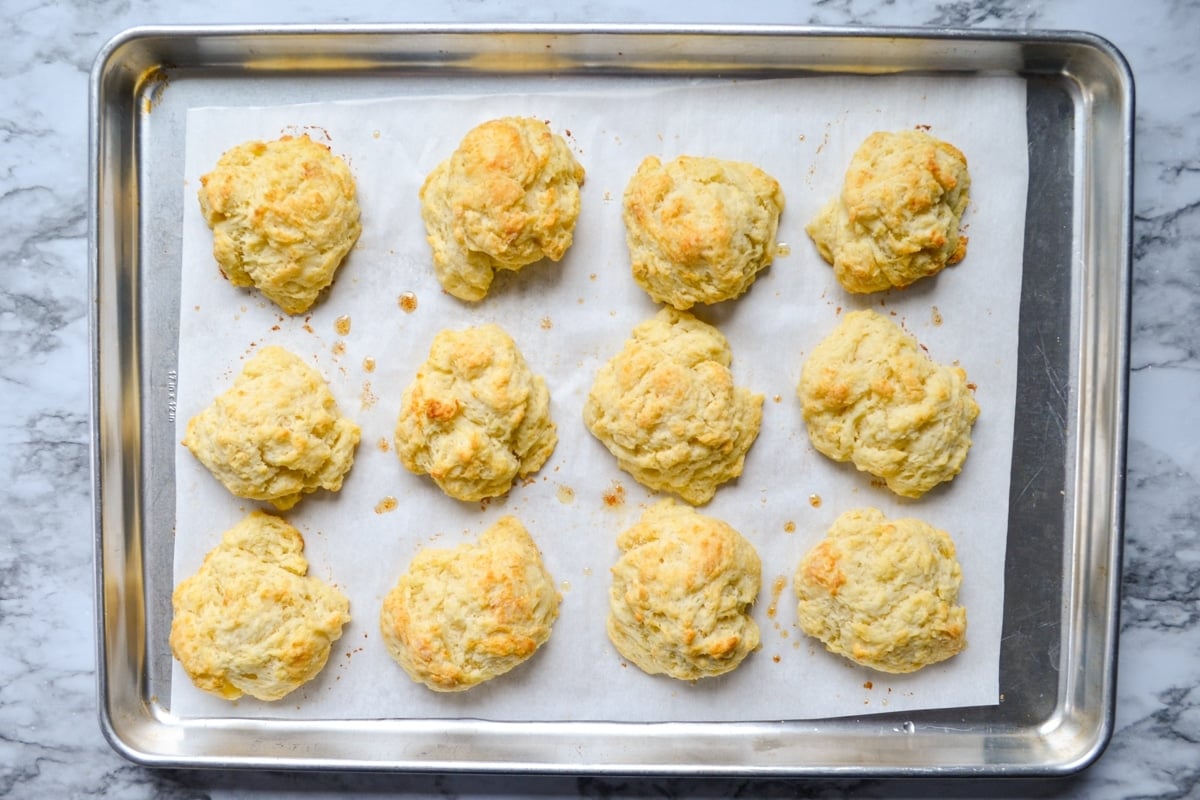 Once the biscuits are golden and cooked through, remove from the oven and brush the tops with an additional coating of melted butter (if desired). Let them cool for about 5 minutes before serving or moving to a cooling rack.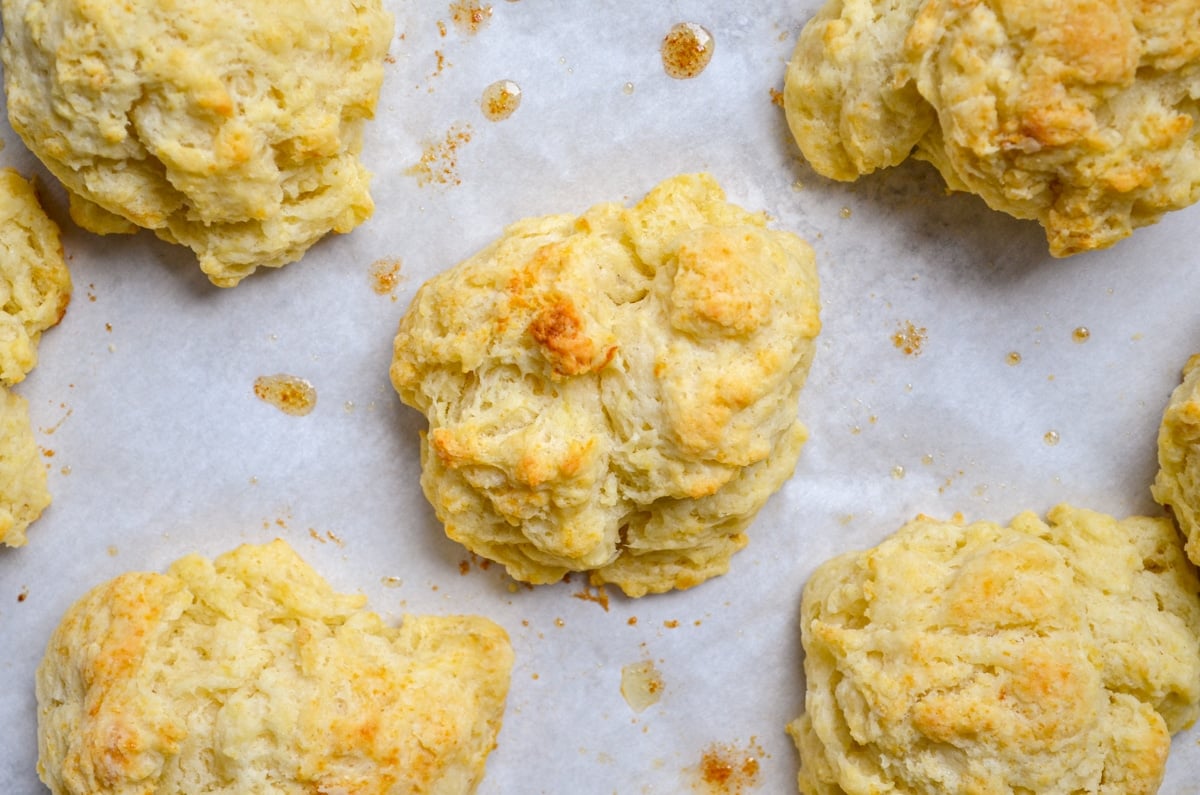 Sourdough Drop Biscuits: Questions and Answers
Do I have to use buttermilk for drop biscuits?
While you will get the best results by using buttermilk, you will still great results using a buttermilk substitute or whole milk.
What can I use as a buttermilk substitute?
Substitute the buttermilk called for in the recipe with the same volume of regular milk. Remove one tablespoon of the milk, and add in 1 tbsp. of white vinegar or lemon juice. Stir and let sit for 5 minutes before adding it to your recipe.
What kind of sourdough starter do I use?
This recipe uses sourdough discard (spent starter). Since it does not require a rising, you do not need to use active starter. Both cold (reserved from the fridge) and warm (discarded from your starter) work for this recipe. I do prefer the cold starter, as it produces a nicer texture.
Can you freeze drop biscuits?
Drop biscuits freeze beautifully. Once they have cooled completely, transfer them to zip top freezer bags and remove all excess air. Freeze flat. Frozen biscuits are best if eaten within a month of baking.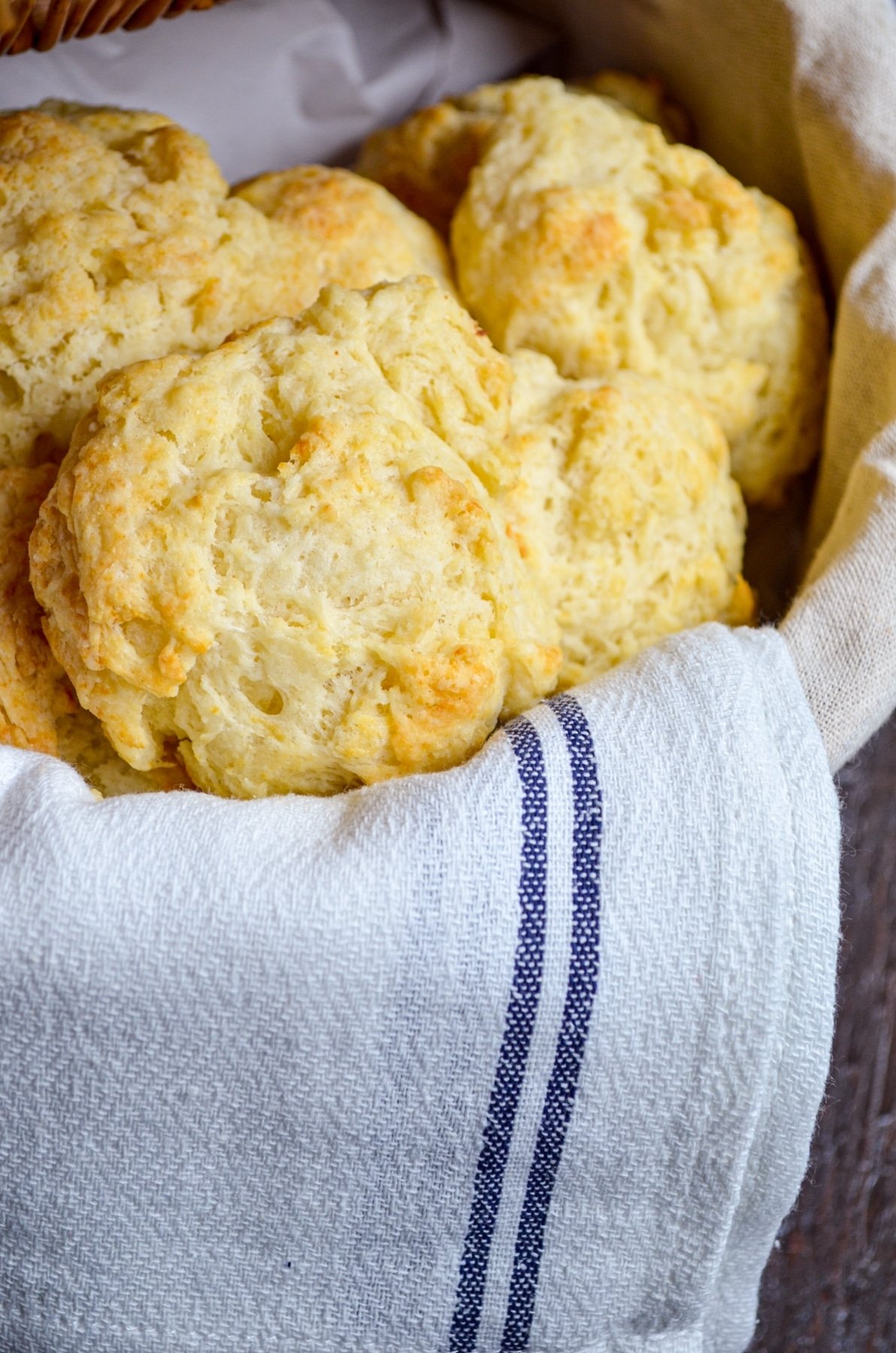 More Favorite Sourdough Recipes: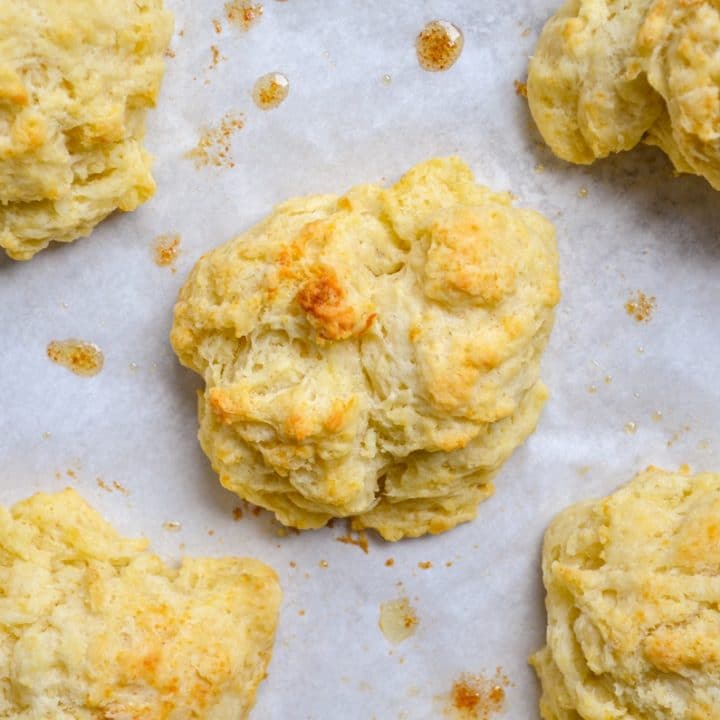 Sourdough Drop Biscuits
These Sourdough Drop Biscuits are an easy version of the classic buttermilk biscuit! Made with leftover sourdough discard, they are a delicious addition to your favorite soup or breakfast meal. Best of all? NO rolling and NO cutting! Simply drop and bake.
Ingredients
1 3/4 cup unbleached all purpose flour
2 teaspoons baking powder
1/2 teaspoon baking soda
1 teaspoon sugar
1 teaspoon salt
1/2 cup unsalted butter, melted and cooled slightly
1/2 cup + 2 tablespoons cold buttermilk
1/2 cup Sourdough Discard
For Brushing
4 tablespoons unsalted butter, melted and divided
Instructions
Preheat the oven to 475F and adjust the oven rack to the middle position. Line a baking sheet with parchment paper.
Add the flour, baking powder, baking soda, sugar, and salt to a medium bowl and whisk well to combine.
Add the melted butter to a separate medium bowl and add the buttermilk. Stir until the butter forms small clumps. These clumps are caused by the warm liquid butter interacting with the cold buttermilk. This mimics the "cutting in" process of typical biscuits, since the result is large clumps of butter.
Add the sourdough discard to the butter and buttermilk mixture. Whisk gently to combine.
Make a well in the center of the dry ingredients.
Add the sourdough, butter, and buttermilk mixture to the well of the dry ingredients. Stir gently with a silicone spatula, just until combined and all the flour is moistened. The dough will be pulling away from the sides of the bowl. Use your hands to form a rough mass.
Grease the inside of a 1/4 cup sized dry measuring cup, or a #20 size cookie scoop (large size; about 3 1/2 tbsp). Scoop up a heaping portion of dough and drop directly onto the prepared baking sheet. Repeat this until all your dough is used up, spacing each biscuit 1 1/2-2" apart. If using a large cookie scoop, you will yield approximately 12 biscuits.
Brush the biscuits with 2 tablespoons of the melted butter. Bake in the preheated oven for 13-17 minutes, or until the tops are golden brown and crisp.
Remove the drop biscuits from the oven and brush the tops with the remaining melted butter.
Serve immediately, or allow to cool on a wire rack before transferring to storage.
Notes
Buttermilk Substitute:
If you don't have buttermilk on hand, you can make a buttermilk substitute by adding 1/2 cup + 1 tbsp. of cold milk to a small bowl. Stir in 1 tbsp. of white vinegar or lemon juice and stir. Let this mixture stand for 5 minutes, and then proceed with the recipe.
Freezing Drop Biscuits:
These biscuits freeze wonderfully! Once the biscuits are completely cooled, add to a labeled freezer bag and remove any excess air. Place in the freezer and consume within 1 month.
Nutrition Information:
Yield:

12
Serving Size:

1
Amount Per Serving:
Calories:

154
Total Fat:

10g
Saturated Fat:

6g
Trans Fat:

0g
Unsaturated Fat:

3g
Cholesterol:

26mg
Sodium:

282mg
Carbohydrates:

15g
Fiber:

0g
Sugar:

1g
Protein:

2g
Nutrition information is an estimate only.
Please note that some of my blog posts here at Little Home in the Making may contain affiliate links. If you make a purchase through these links, I will get a small commission at no additional cost to you. Please see my Disclaimer for more information.