If you're looking for a healthy make ahead breakfast idea, you have found it with these Kefir Overnight Oats. Loaded with probiotics and chia, it's a breakfast that will fill you up and KEEP you full. Instead of waking up hungry, wake up to breakfast in a jar!
Updated on January 17, 2022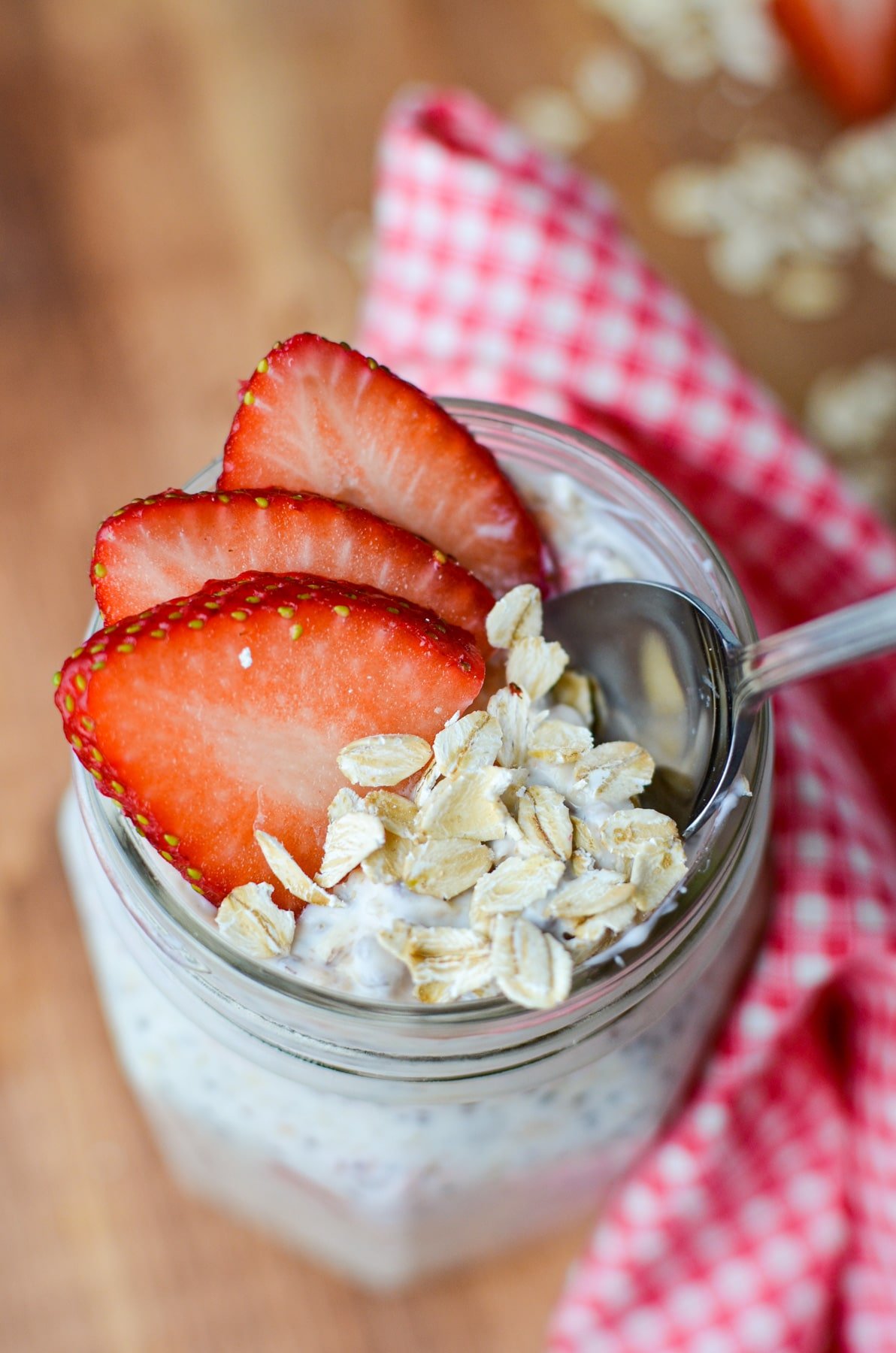 Please note that some of my blog posts here at Little Home in the Making may contain affiliate links. If you make a purchase through these links, I will get a small commission at no additional cost to you. See my disclaimer for more information.
Breakfast is the most important meal of the day. That's what everyone tells us anyway! The problem is, in most households, it's also the busiest time of the day, meaning that it often gets skipped or neglected.
Making kefir a part of your daily ritual is one that can have great benefits. Not only is it gut friendly, but it's also full of protein, making it a filling breakfast option. But not everyone has enough time in the morning to whip up a delicious kefir smoothie (but if you do, be sure to check out my kefir archive for lots of recipe inspiration!)
So what's the solution?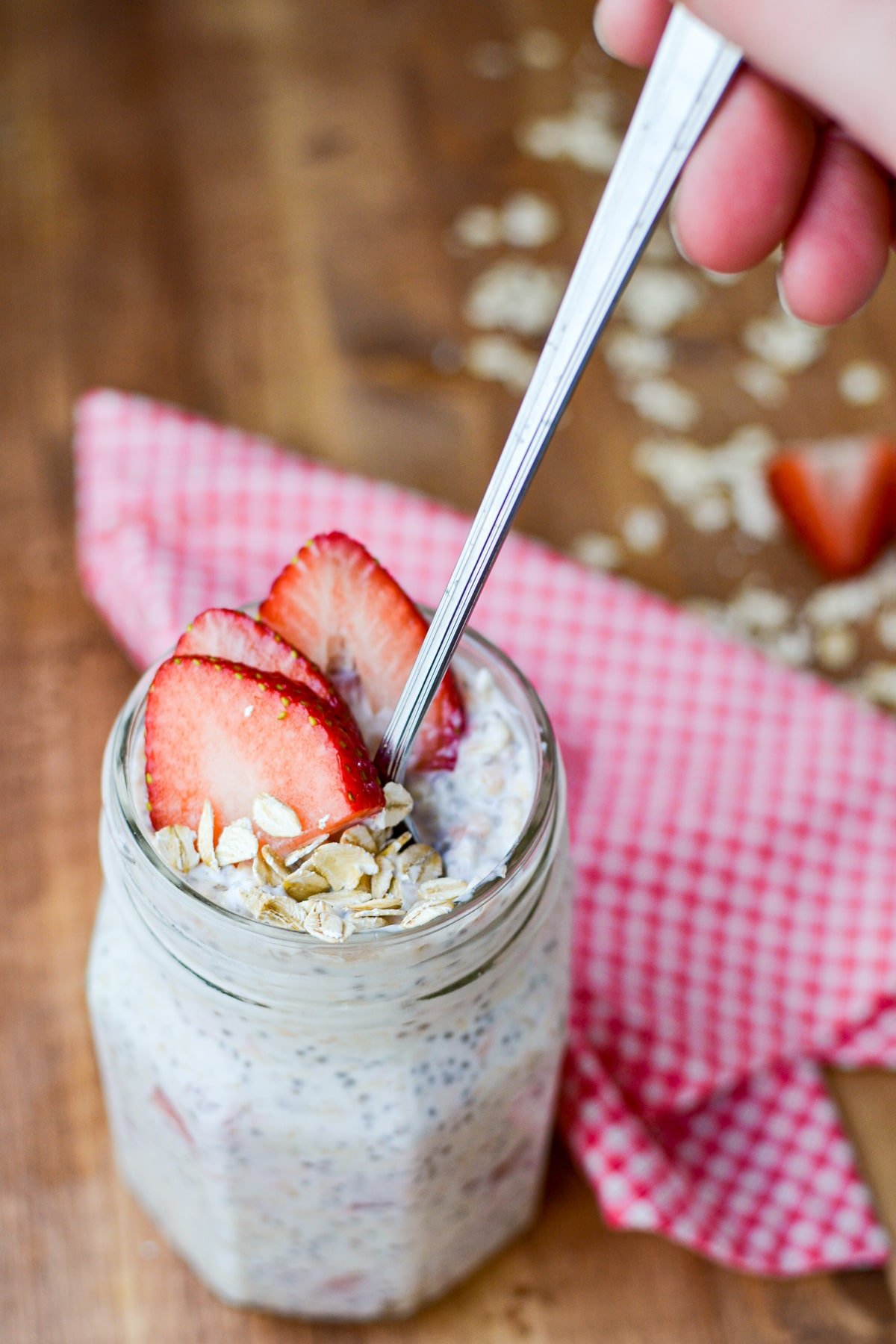 Make it Ahead
Overnight oats aren't exactly new to the scene, but my version has a probiotic rich update: kefir. Of course yogurt has probiotics, but homemade kefir has significantly more than yogurt and is super budget friendly if you make your own! I also love that special tang you can only get from kefir.
This recipe for Kefir is made with the probiotic rich superfood, and makes enough for 2 generous servings. This means you can get two prepared breakfasts for the work of one.! Not only is this make ahead breakfast probiotic rich, but it is also refined sugar free and made completely from scratch. Not bad! I've used sliced fresh strawberries in this recipe, but I've also had great success with other fruits, and even frozen! Just be sure to use small, bite sized pieces.
Ingredients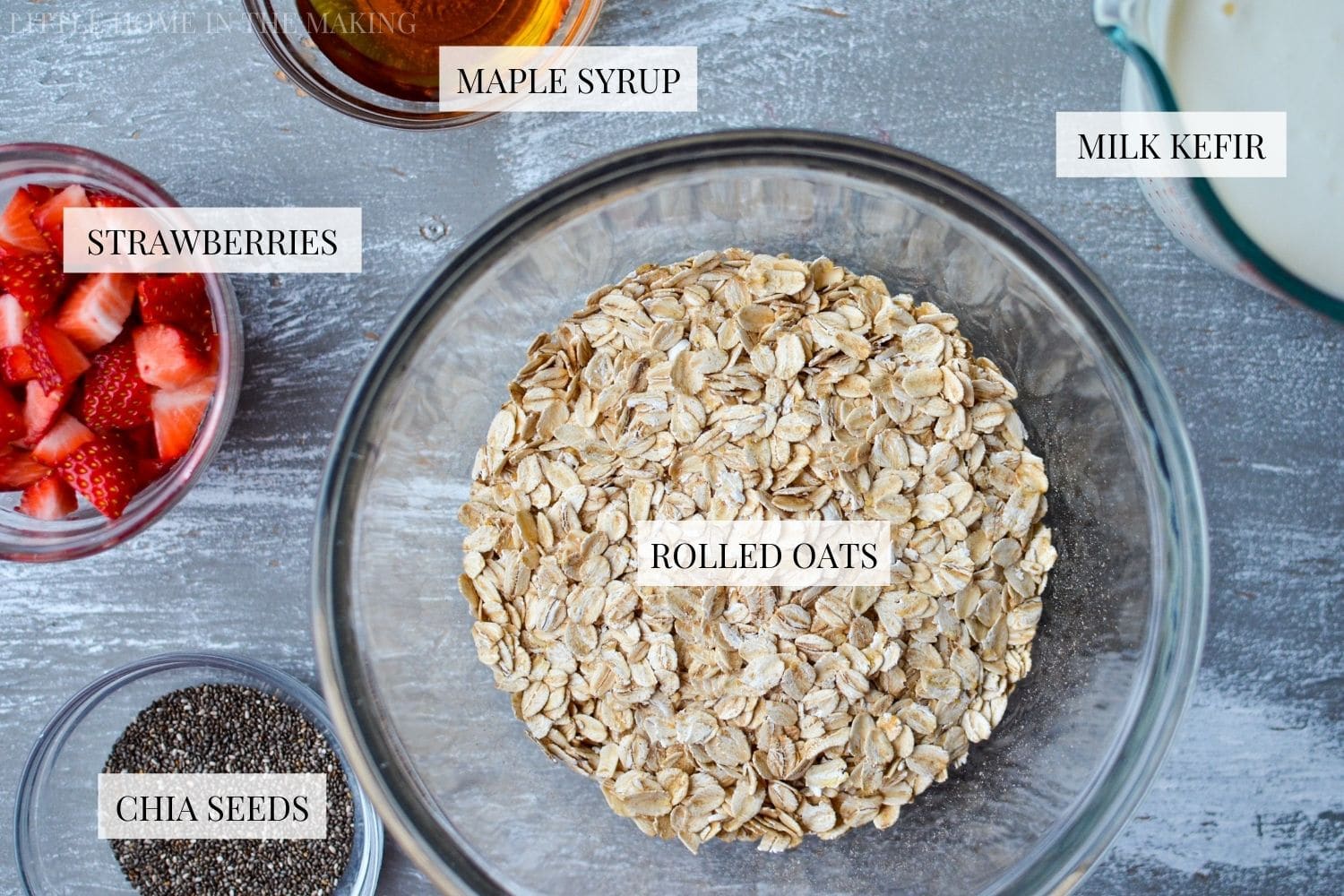 Kefir: You will need milk kefir, and you can use either homemade, store bought, or even coconut milk kefir if you are dairy free.
Oats: You will need rolled oats for these kefir overnight oats. Also known as old fashioned oats, they are essential to the texture and cannot be substituted by any other kind of oat.
Chia seeds: This provides fiber, healthy fat, and helps absorb some of the milk kefir.
Maple Syrup: For sweetness! You can add as much (or as little) as you like to ensure your oats are the perfectly sweet.
Fruit: I like to use chopped fresh strawberries, but you can use any fruit you like. Fresh berries and mango work particularly well, but you can use frozen fruits too.
How to Make Overnight Oats with Kefir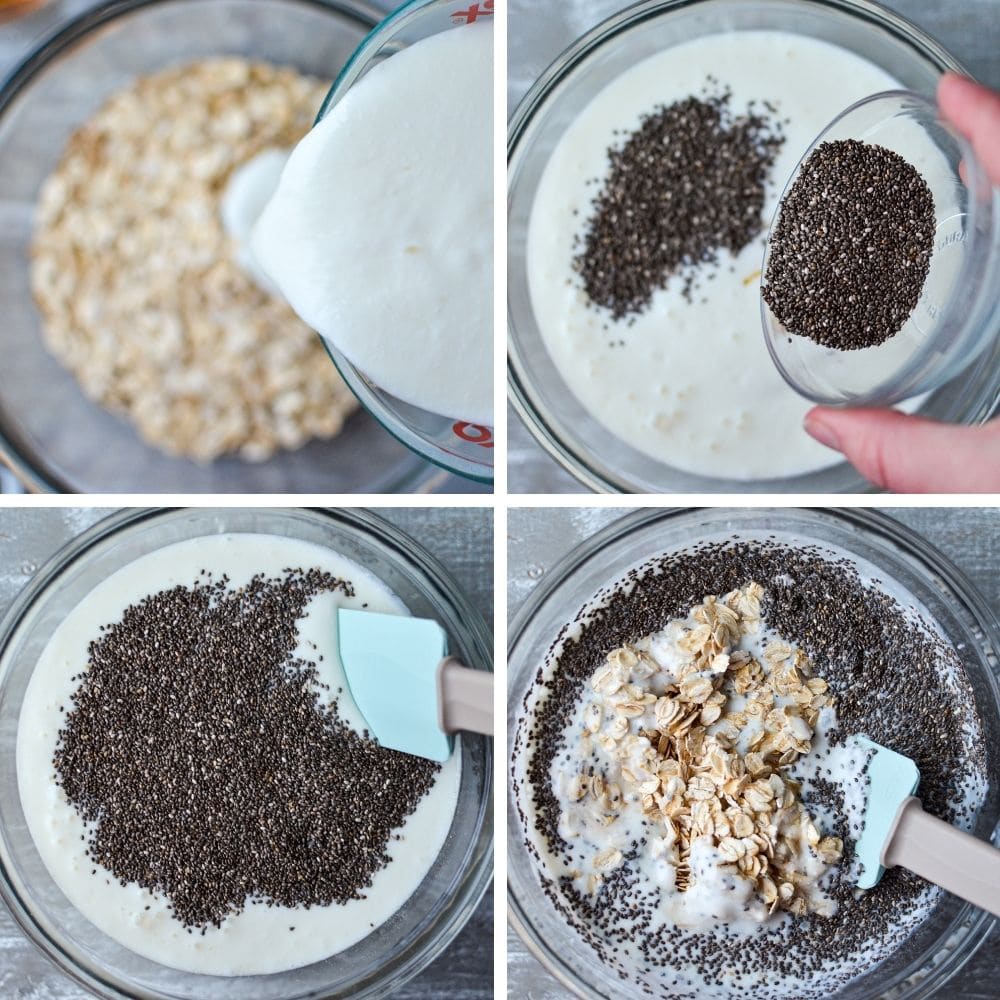 Add the rolled oats to a medium sized bowl.
Pour in the milk kefir, maple syrup, and chia seeds.
Stir well to combine.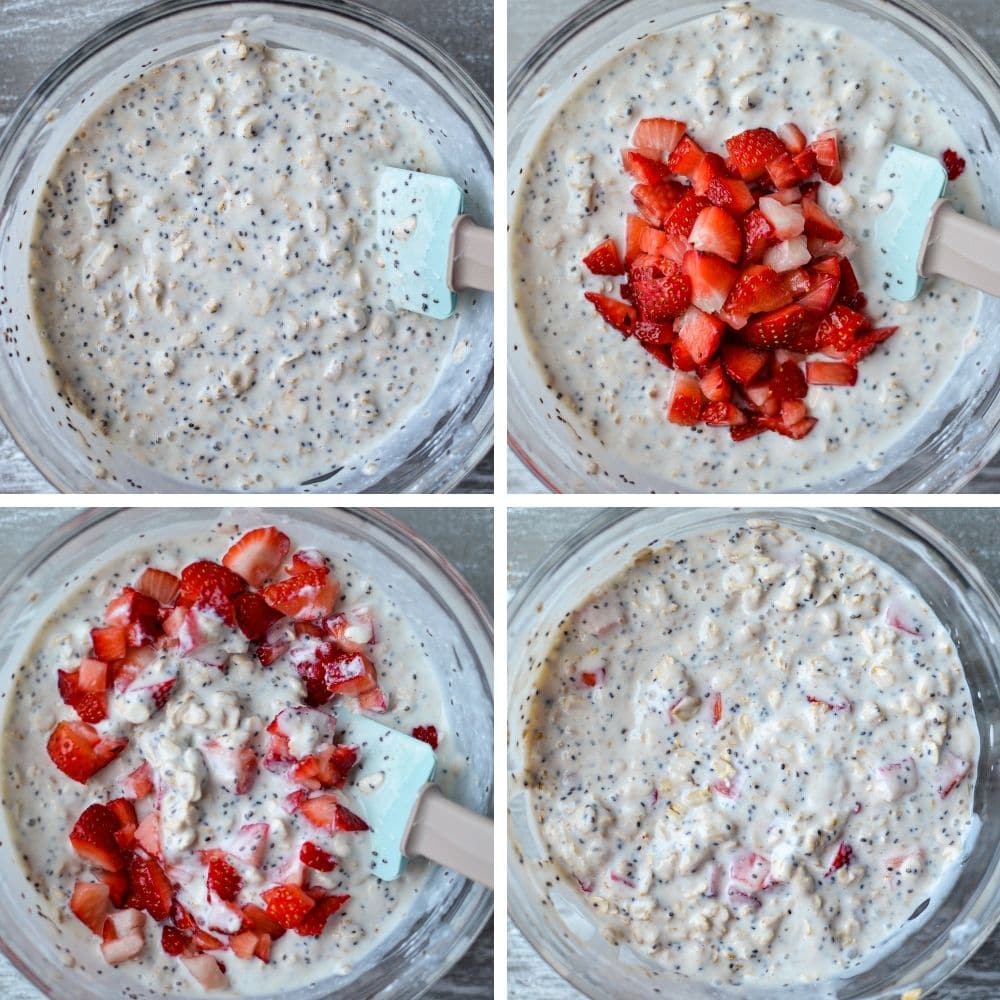 Once your oats, chia seeds, maple syrup, and milk kefir are all mixed together, it's time for your add-ins!
My favorite add in is chopped fresh strawberries, but you can use 3/4 cup of any chopped fruit of your choice.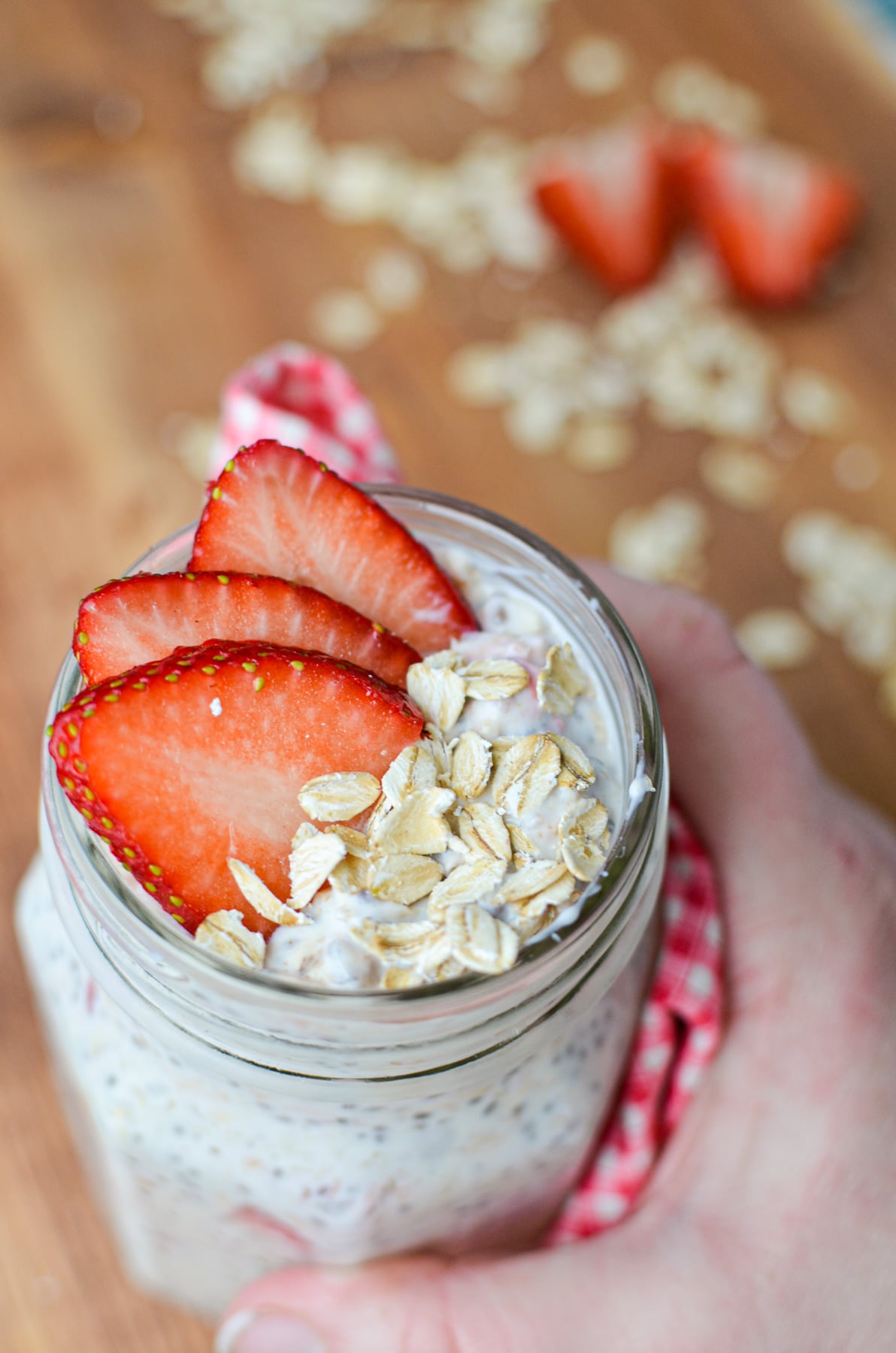 Frequently Asked Questions
What fruit is best with kefir?
Any fruit that works well with milk, works great with kefir. Strawberries, blueberries, raspberries, blackberries, and mango are all popular and delicious choices.
Can I make Kefir overnight oats ahead of time?
Yes! The BEST way to make kefir overnight oats is ahead of time! These do best when they soak "overnight", but are good in the fridge for a few days. Because kefir is a fermented food, they can get a little more effervescent with time, so be aware that they may be a bit "bubbly" after 2 days.
Can kefir ferment oats?
The answer is: sort of! While kefir will not fully ferment the oats, it will be an acidic (and cultured) medium that will speed up the process that normally takes place via soaking oats. This means that some of the phytic acid will break down, and continues to the longer that the oats soak in the milk kefir. Since this takes place in the fridge, it is at a much smaller rate than would happen at room temperature.
Are overnight oats fermented?
If the oats have an acidic medium (like kefir), they can very easily become fermented and gain the benefits of fermentation such as a break down of phytic acid.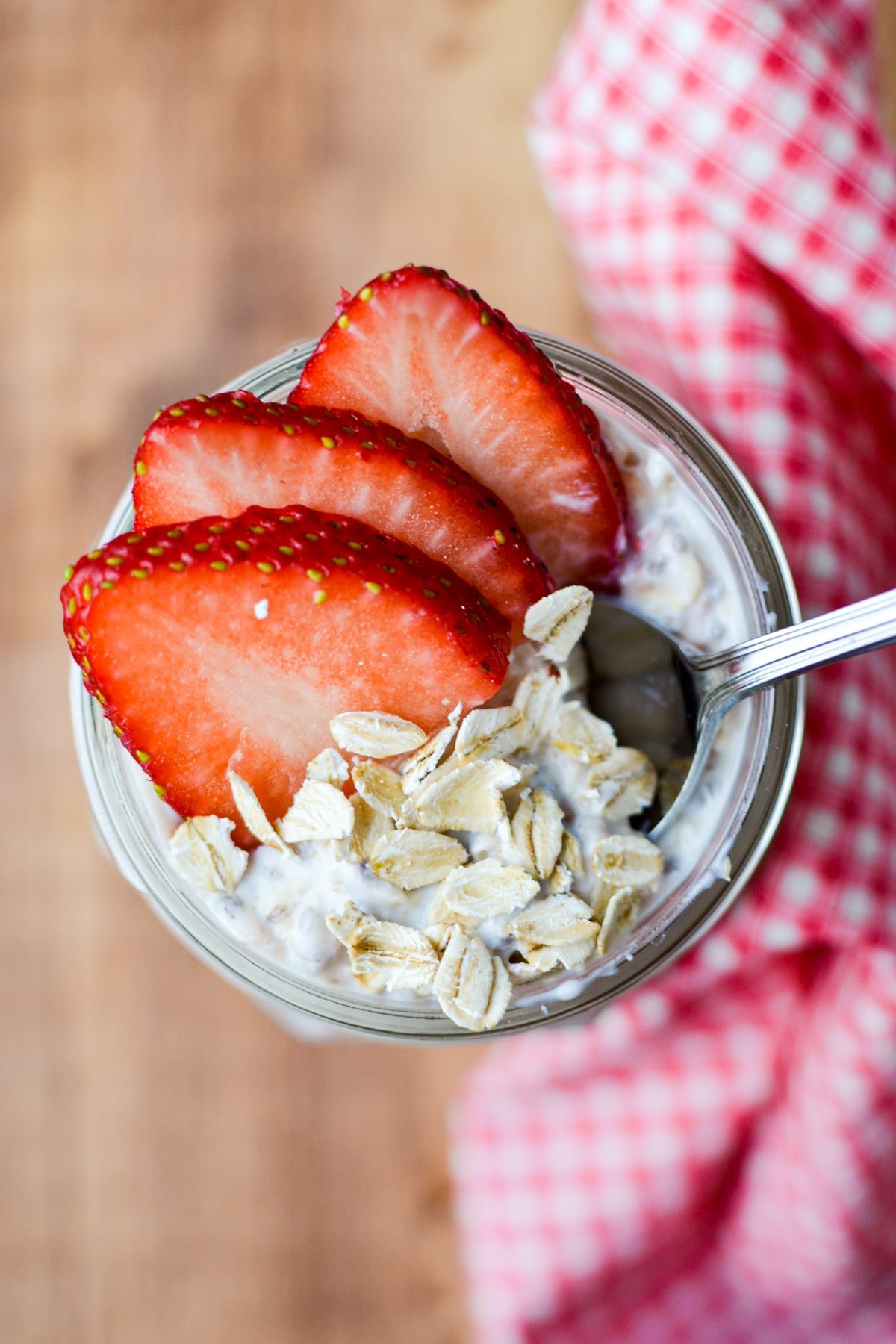 More Healthy Kefir Breakfast Recipes: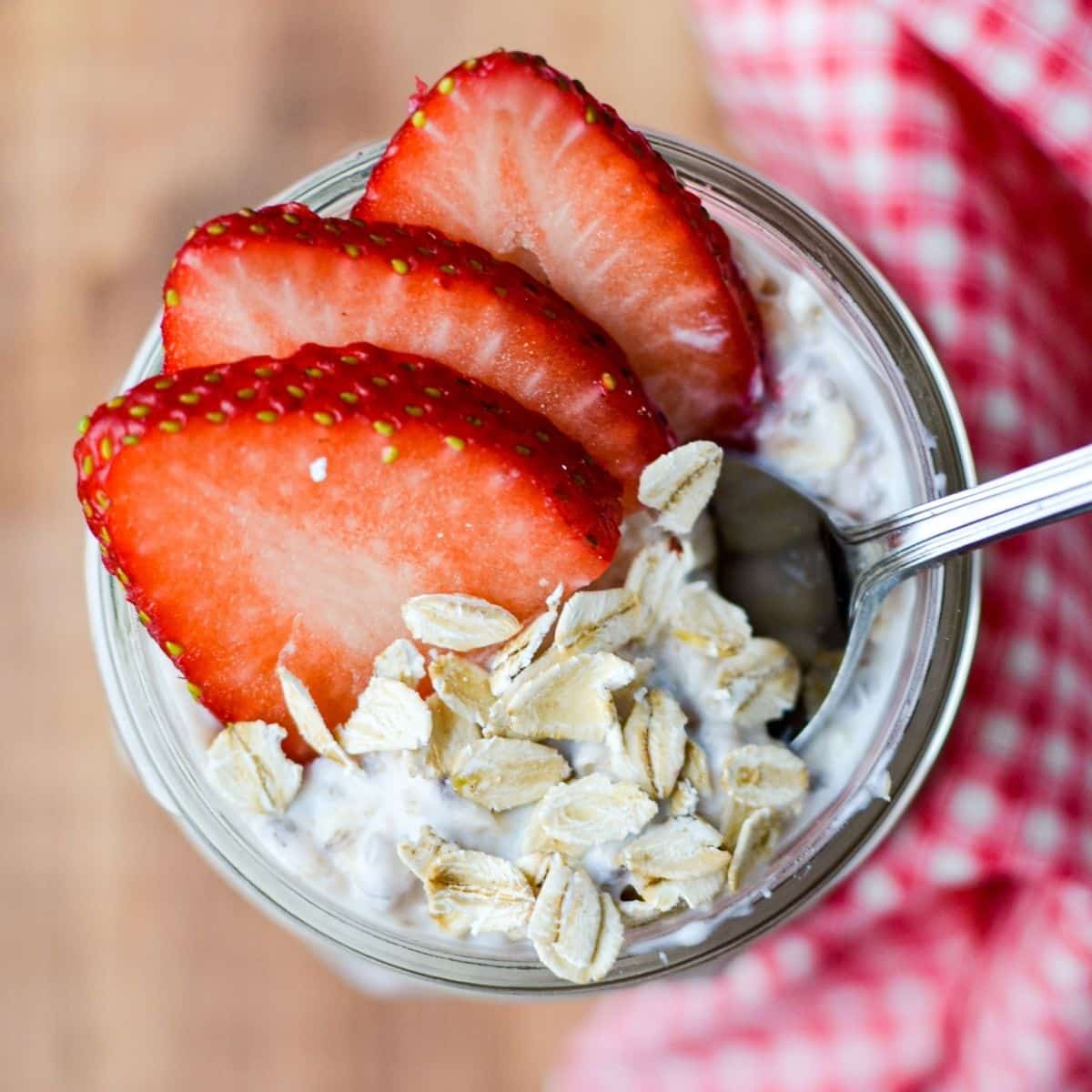 Strawberry Kefir Overnight Oats
Total Time:
4 hours
10 minutes
Plan ahead and prepare a healthy and easy breakfast with these Kefir Overnight Oats. Loaded with probiotics and fiber, this is sure to keep you full through to lunch. Perfect for breakfast, but great for a healthy snack too!
Ingredients
2 cup Plain, Unsweetened Milk Kefir
2 tbsp. Chia Seeds
1-2 tbsp. Maple Syrup
1 1/2 cups Old Fashioned Oats
3/4 cup Sliced Strawberries (or fruit/mix-in of choice)
Instructions
Combine the kefir, chia seeds, and maple syrup in a medium bowl.
Add the oats and chia seed. Mix well to coat the oats completely.
Fold in the strawberries, or mix-in of choice.
Divide the oats into two pint jars or small bowls.
Cover and refrigerate at least 4 hours, but overnight (8 hours) is better.
Enjoy within 2-3 days!
Notes
Fruit options: These kefir overnight oats are best when served with chopped fruit, but you can use any style of mix ins you like. I recommend trying strawberry if this is your first time, but you can get creative with new flavors once you've tried the base recipe. Blueberries, raspberries, blackberries, and mango are all great fruit choices. You can even use frozen fruit, but it may result in an off color or slightly watery end product. They will still taste yummy though!
Storage: Store in an airtight container or jar and eat within 3-4 days. Since kefir is a fermented food, your oats will get more "bubbly" with each passing day.
Portions: This recipe is enough for 2 generous meal-sized servings, or approximately 3-4 "snack" sized servings.
Oats: Only used old fashioned or rolled oats for this recipe. Steel cut will not soften as well, and quick oats will become very mushy.
Kefir: You may use store bought kefir, homemade kefir, or coconut milk kefir for this recipe. Do not use water kefir, since it is a completely different product.
Without Kefir: Use 1 cup of milk and 1 cup of Greek yogurt in place of the milk kefir in this recipe if you don't have milk kefir available.
Nutrition Information:
Yield:

2
Serving Size:

2 cups
Amount Per Serving:
Calories:

464
Total Fat:

16g
Saturated Fat:

6g
Unsaturated Fat:

7g
Cholesterol:

35mg
Sodium:

130mg
Carbohydrates:

63g
Fiber:

12g
Sugar:

16g
Protein:

18g
Nutritional Information is calculated using MyFitnessPal and is an estimate only.