If you're looking for a healthy make ahead breakfast idea, you have found it with these Strawberry Overnight Oats with Milk Kefir! Loaded with probiotics and chia, it's a breakfast that will fill you up and KEEP you full. Instead of waking up hungry, wake up to breakfast in a jar!
Updated on April 22nd, 2021
Please note that some of my blog posts here at Little Home in the Making may contain affiliate links. If you make a purchase through these links, I will get a small commission at no additional cost to you. See my disclaimer for more information.
Breakfast is the most important meal of the day. That's what everyone tells us anyway! The problem is, in most households, it's also the busiest time of the day, meaning that it often gets skipped or neglected.
So what's the solution?
Strawberry Kefir Overnight Oats
Overnight oats aren't exactly new to the scene, but my version has a probiotic rich update: kefir. Of course yogurt has probiotics, but homemade kefir has significantly more than yogurt and is super budget friendly if you make your own! I also love that special tang you can only get from kefir.
This recipe for Strawberry Overnight Oats is made with superfood milk kefir, and makes enough for 2 medium sized servings. This means you can get two prepared breakfasts for the work of one.! Not only is this make ahead breakfast probiotic rich, but it is also refined sugar free and made completely from whole foods. Not bad! I've used sliced fresh strawberries in this recipe, but I've also had great success with frozen! Just be sure to use small pieces.
Q & A: Can I Make My Own Milk Kefir?
Yes!
I have recently posted a complete tutorial on how to make your own Milk Kefir at home! I tried my best to answer any questions you may have about making your own milk kefir, but if I missed anything, be sure to ask me in the comments or shoot me a DM @littlehomeinthemaking on Instagram.
More Questions and More Answers:
Can I Use Frozen Berries with Milk Kefir?
Yes you can! Make sure to use a smaller cut (like sliced strawberries), so you don't get big chunks of soggy berries in your milk kefir overnight oats.
Do I have to Use Strawberries?
No! You can use any type of berry you like. Be sure that you use small pieces, which makes it easier for eating on the go, and more pleasant too! If you're going to use blueberries, especially frozen blueberries, opt for "wild" blueberries over conventional. These are smaller and sweeter, and work much better in kefir overnight oats than the regular kind. Also, note that blueberries have lots of color, which leaks into the oats and makes them look a little "muddy", but they still taste great!
Can I Make Milk Kefir Overnight Oats Ahead of Time?
Yes! The BEST way to make kefir overnight oats is ahead of time! These do best when they soak "overnight", but are good in the fridge for a few days. Because kefir is a fermented food, they can get a little more effervescent with time, so watch out for that!
What Do I Need to Make Milk Kefir Overnight Oats?
Milk Kefir: This provides the foundation and the liquid that will make the oats soft. It also adds probiotics and protein to your breakfast in a jar!
Old Fashioned Oats: Also known as rolled oats. You will not want to use steel cut, quick oats, or any other kind of oats in this recipe. Select gluten-free oats if you need them to be gluten-free.
Chia Seeds: This adds some fiber and some healthy fat, and helps thicken the oats as well. An inexpensive superfood addition!
Sliced Strawberries: Sliced fresh strawberries add a really nice "strawberries and cream" vibe to our kefir overnight oats.
Maple Syrup: Just a little for sweetness. I recommend maple syrup because it has a more neutral taste than honey. You could also replace it with a sweetener of your choice if you are avoiding natural sugars.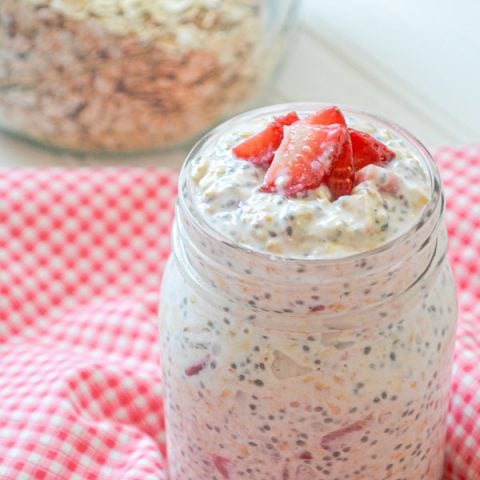 Strawberry Kefir Overnight Oats
Total Time:
4 hours
10 minutes
Plan ahead and prepare a healthy, cheap breakfast with these Strawberry Kefir Overnight Oats. Loaded with probiotics and fiber, this is sure to keep you full through to lunch. Perfect for breakfast, but great for a healthy snack too!
Ingredients
2 cup Plain, Unsweetened Milk Kefir
2 tbsp. Chia Seeds
1-2 tbsp. Maple Syrup
1 1/2 cups Old Fashioned Oats
3/4 cup Sliced Strawberries
Instructions
Combine the kefir, chia seeds, and maple syrup in a medium bowl.
Add the oats and chia seed. Mix well to coat the oats completely.
Fold in the sliced strawberries.
Divide the oats into two pint jars or small bowls.
Cover and refrigerate at least 2 hours, but overnight (8 hours) is better.
Enjoy within 2-3 days!
Nutrition Information:
Yield:

2
Serving Size:

2 cups
Amount Per Serving:
Calories:

464
Total Fat:

16g
Saturated Fat:

6g
Unsaturated Fat:

7g
Cholesterol:

35mg
Sodium:

130mg
Carbohydrates:

63g
Fiber:

12g
Sugar:

16g
Protein:

18g
Nutritional Information is calculated using MyFitnessPal and is an estimate only.
More Recipes to Try: