Are you craving a warm, comforting cinnamon roll? Why don't you try a delicious bowl of cinnamon roll oatmeal? Naturally sweetened with maple syrup and honey, and topped with a cream cheese swirl. Cinnamon Roll Oatmeal will be a new breakfast (and snack time) favorite!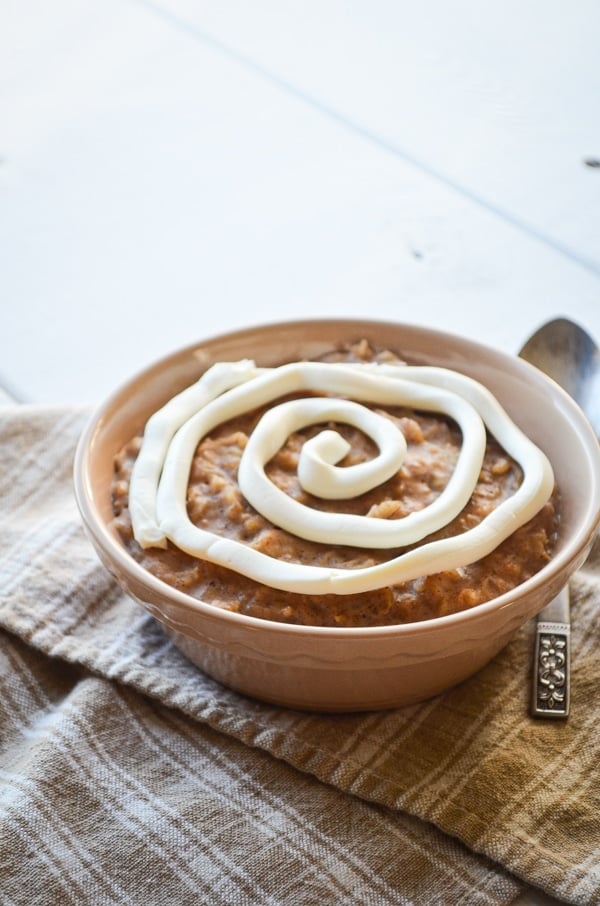 This post contains affiliate links, which means that if you click a link and make a purchase, we receive a commission at no additional cost to you. See our disclaimer for more information. Any nutritional information is for entertainment and informational purposes only, and is not intended as medical advice. Always seek the advice of your health provider.
---
Every once and a while a gal needs a special treat. And while yes, that special treat can be those all-too-popular indulgences like pizza and ice cream (well, at least those are mine 😋🤣), sometimes you want an extra special kind of treat. One of those treats that brings you comfort and deliciousness, but also acts as a filling and well balanced meal. My friends, Cinnamon Roll Oatmeal has you covered.
Breakfast is the BEST time for a special treat. Sweetness fits in nicely with the breakfast atmosphere, and often goes well with your favorite cup of coffee (french press for me please 😍). I've been making a habit out of treating myself at breakfast, and mostly that is because oatmeal is one of the easiest foods to transform! Just a few weeks ago I posted my recipe for Chocolate Peanut Butter Oatmeal, and now I'm doing it again. I've been experimenting with oatmeal recipes over the past few months, and now I'm ready to bring you some of the greatest hits. And this cinnamon roll oatmeal? Well, it fits the bill.
Oatmeal is the Perfect Breakfast Food
I try to avoid boxed cereals in my home (although they have their place during busy weeks and difficult times). They are one of those foods I really can't eat in moderation, and I don't like all the added sugar. We try to use natural sweeteners when possible, so boxed cereals aren't on my grocery list. Because of this, we eat a fair bit of oatmeal in many forms (Psst. My Healthy Cinnamon Granola is a great stand-in for boxed cereal).
Oatmeal is a perfect breakfast food because it is inexpensive, flexible, and nutritious. Oatmeal has about 5 grams of protein per serving, which is a great start when we are talking about a plant based food. I like to get about 15-20 grams of protein into adult-sized servings, so the addition of milk helps boost the protein content. If you're needing more protein, you could easily sprinkle on some chopped walnuts or serve a glass of milk or kefir smoothie on the side.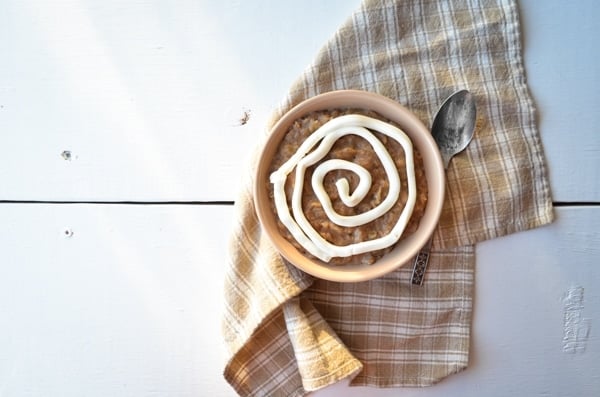 The Many Forms of Oatmeal
Oatmeal doesn't have to just take the form of a regular bowl. It can be granola, baked oatmeal, granola bars, muesli, and more. Oatmeal can be made into so many different options. Here are a few that I have just on my blog:
My Favorite Thing about Oatmeal for Breakfast
It's fast!
So many of us think that creating a breakfast from scratch every single morning will be too time consuming. The reality is that oatmeal can be an extremely quick breakfast option. In just 10 minutes, from prep to plate, you'll have a delicious and filling breakfast on the table. Since 5 minutes of that is completely passive, you can brush your hair and throw on some clothes at the same time.
Making a from-scratch breakfast doesn't have to be hard and daunting. Oatmeal is definitely your friend when it comes to a quick and healthy weekday breakfast.
Breakfast for the Family
If you're making this cinnamon roll oatmeal for your family, be sure to scale it according to how many you're serving. The recipe below is for one generous serving, which I often share with my toddler. I would plan for one serving per adult and teenagers, a half serving for young children, and a quarter serving for toddlers. Make sure you let them help with the cream cheese swirl! They will have great fun doing so 😂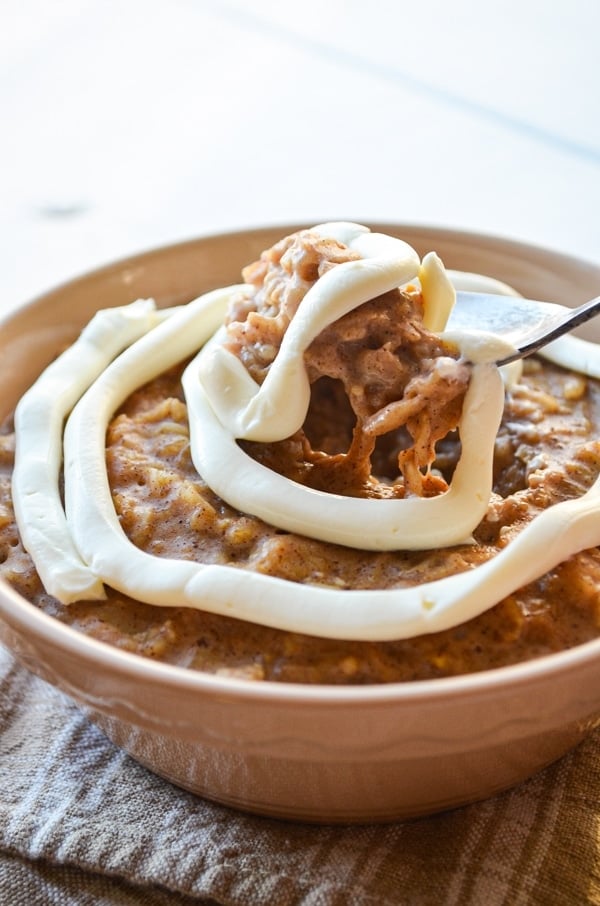 What Do I Need to Make Cinnamon Roll Oatmeal?
Oats: I always use old fashioned rolled oats in my oatmeal recipes. They are sturdy, practical, and a good all-purpose oatmeal.
Milk: I like to use whole cows milk for both protein and richness, but you can try nut milks or goats milk if desired. Be sure to let me know in the comments how it worked out!
Maple Syrup: My favorite (and the classic) way to sweeten oatmeal is with maple syrup. 😋 You can use honey if you can't access maple syrup easily (I am in the Northeast after all), but I really prefer the maple syrup flavor. I find maple slightly reminiscent of brown sugar, which really plays into the "cinnamon roll" feel of the oatmeal. You won't get that exact same effect from honey.
Mineral Salt: Just a little pinch helps bring some flavor to your oats. Never cook oats without some salt alongside!
Cinnamon: This puts the "cinnamon" in "cinnamon roll oatmeal" 😂. Just regular ground cinnamon works splendid in this recipe.
Butter: I like to add about a tbsp. of butter to all of my mock-dessert oatmeals. This really gives them a richness and a buttery flavor, which helps give that authentic taste. I use salted butter, and suggest you do the same. If you only have unsalted butter on hand, add a pinch more salt to the recipe.
Vanilla Extract: Another element that can't be missed for that true dessert flavor. Be sure to add it in AFTER you remove the oatmeal from the heat. The vanilla flavor dwindles away if it is heated too highly, thus it is much better to add it after the cooking time is through.
And for the topping:
Cream Cheese: I like to use the spreadable cream cheese for this purpose, but you can use slightly softened block cream cheese if desired. You want the cream cheese to be soft and pliable, so you're able to spread it or pipe it onto the surface of the oatmeal neatly.
Honey: I like to use honey to sweeten the topping. Maple syrup thins the consistency a little too much, while the thick consistency of honey works perfectly for making a mock cream cream cheese icing. Simply use the back of a spoon to combine the cream cheese and honey into a spreadable icing. I used a plastic freezer bag with the tip snipped off for piping on my cream cheese swirl, but if you are short on time you can spread the topping on evenly.
Scroll down for the printable recipe 👇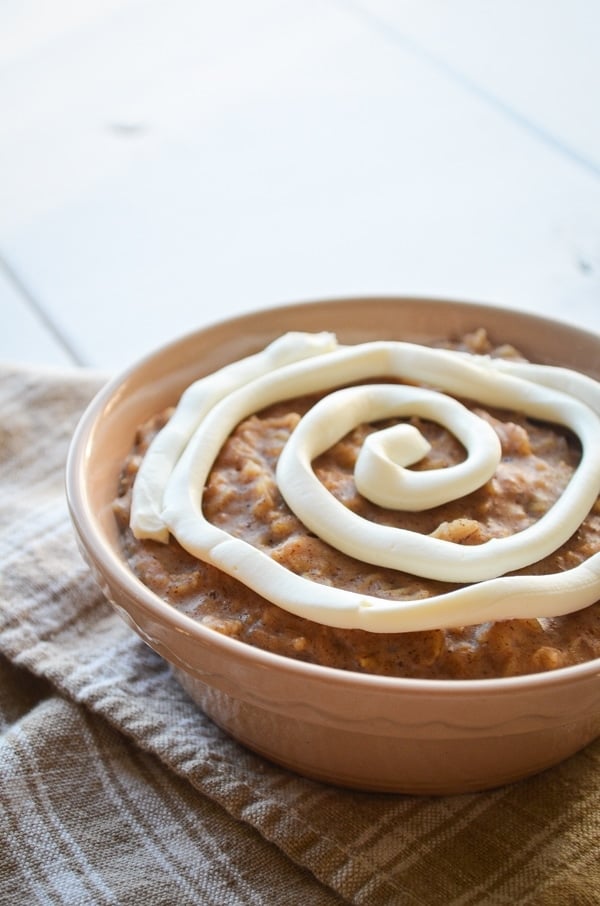 Cinnamon Roll Oatmeal
Are you craving a warm, comforting cinnamon roll? Why don't you try a delicious bowl of cinnamon roll oatmeal? Naturally sweetened with maple syrup and honey, and topped with a cream cheese swirl. Cinnamon Roll Oatmeal will be a new breakfast (and snack time) favorite!
Ingredients
1 cup Whole Milk
½ cup Old Fashioned Oats, heaping
⅛ tsp. Mineral Salt
2-3 tbsp. Maple Syrup
¾ tsp. Ground Cinnamon
1 tbsp. Salted Butter
¼ tsp. Vanilla Extract
Topping
1 ½ - 2 tbsp. Cream Cheese
½ tsp. Honey
Instructions
Add the milk, oats, mineral salt, maple syrup, and ground cinnamon to a small saucepan. Stir well and heat over medium-high heat.
Once the mixture has reached a high simmer, but has not begun boiling, stir well and reduce the heat to medium.
Set the timer for 5 minutes and cook, stirring often, until the time is up.
Once the 5 minutes have passed, remove the oatmeal from the heat and stir in the butter until melted.
Add the vanilla extract and stir well to combine.
Add the cream cheese and honey to a small dish, and combine with the back of a spoon. This will help smooth the cream cheese and make it spreadable.
If you'd like to present a swirl, you may pipe on a swirl using a plastic storage bag with the corner snipped off. You may also spread the cream cheese topping on gently if desired. Piping makes for a nice presentation, but isn't required for a tasty bowl of oatmeal.
Nutrition Information:
Yield:

1
Amount Per Serving:
Calories:

623
Total Fat:

31g
Saturated Fat:

18g
Trans Fat:

0g
Unsaturated Fat:

10g
Cholesterol:

84mg
Sodium:

525mg
Carbohydrates:

71g
Fiber:

4g
Sugar:

43g
Protein:

14g
Nutritional information is calculated using MyFitnessPal and is an estimate only.
Links of Interest:
The Nutrition Source: Oats – via Harvard School of Public Health
Oats – via The World's Healthiest Foods