This Basic Berry Kefir Smoothie can't get any easier! Frozen fruit and homemade milk kefir blend to make an easy, healthy, and gut-friendly breakfast.
Please note that some of my blog posts here at Little Home in the Makingmay contain affiliate links. If you make a purchase through these links, I will get a small commission at no additional cost to you. Please see my Disclaimer for more information.
Kefir smoothies are a regular item on the breakfast docket in my house. My little one and I probably enjoy several kefir smoothies per week. Most of the time, it's this Basic Berry Kefir Smoothie or Blueberry Oatmeal. Both of these recipes make excellent use of frozen berries. Frozen berries are such a great item to keep on hand! They make an inexpensive addition to pancakes, yogurt, smoothies, and so much more. Frozen berries are a great source of vitamin C and fiber too, which makes them a healthy and inexpensive staple in my home.
How Do I Find or Make Milk Kefir?
I make my own milk kefir using kefir grains, but you can use storebought plain, unsweetened kefir if you don't have your own batch on the go. If you do like kefir, I highly recommend making it at home! Homemade milk kefir is probably one of the easiest and low maintenance ferments you can make. All you need to do is strain off the kefir and stir the grains into fresh milk every 24 hours. You can easily take a break by placing your kefir in the fridge. I took a long break when I was postpartum with my son, and with a little care my grains came back to life and have been producing thick, creamy milk kefir ever since.
Where Do I Find Kefir Grains?
Finding Kefir grains locally can be really difficult! If you have a big local food movement you may be able to find them from a local goat or dairy farmer, but if not you can order them online! Cultures for Health is a great, well reputed site that ships cultures of many kinds. If you click the banner below, you'll save 20% off your order of Kefir Grains!
4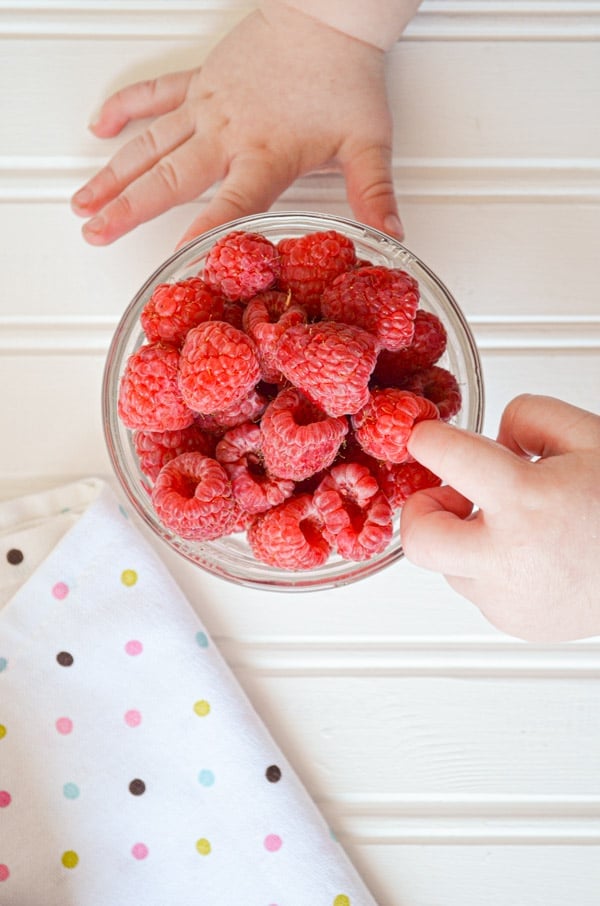 What Do I Need to Make a Basic Berry Kefir Smoothie?
Milk Kefir: I use homemade kefir here, but you can use plain, unsweetened kefir from the store too!
Frozen Mixed Berries: I buy these in the 4-5lb bags in the frozen section of my grocery store or Costco. For this recipe I used mixed berries, which is a combination of raspberries, blackberries, blueberries, and strawberries.
Maple Syrup: I like to use maple syrup as my sweetener, but you can use whatever you like. Maple syrup makes it easy because I can give it to my baby without worry (babies under 1 year can't have honey). You may not need any additional sweetener at all, but I find a little sweet compliments the tart kefir.
Collagen Hydrolysate: This is an optional add in! Collagen Hydrolysate adds an additional 11 grams of protein, which makes this smoothie more filling as a breakfast or snack. It's also supposed to be good for hair, nails, and joints. Hey, it can't hurt. I use Great Lakes brand.
A Good Quality Blender: A powerful blender is needed to break up the hard frozen fruit and blend it together with the milk kefir. Blenders can get really expensive, but I have an inexpensive Ninja blender and I love it.
Basic Berry Kefir Smoothie
This Basic Berry Kefir Smoothie can't get any easier! Frozen fruit and homemade milk kefir blend to make an easy, healthy, and gut-friendly breakfast.
Ingredients
2 cups Plain, Unsweetened Milk Kefir
1 1/2 cups Frozen Mixed Berries
1 tbsp. Maple Syrup
pinch Salt
1 scoop Collagen Hydrolysate Powder, (optional)
Instructions
Pour the Milk Kefir into the jug of a high quality blender.
Add the frozen berries, salt, maple syrup, and collagen.
Blend on high until smooth.
Serve and enjoy!
Nutrition Information:
Yield:

1
Serving Size:

1
Amount Per Serving:
Calories:

397
Total Fat:

5g
Saturated Fat:

3g
Trans Fat:

0g
Unsaturated Fat:

2g
Cholesterol:

21mg
Sodium:

1094mg
Carbohydrates:

61g
Fiber:

9g
Sugar:

49g
Protein:

31g
Nutrition information is an estimate only.
Don't Forget to "Pin It" for Later!