This Healthy Cinnamon Granola is made with oats, coconut oil, and maple syrup. No refined or artificial sweeteners, and absolutely delicious!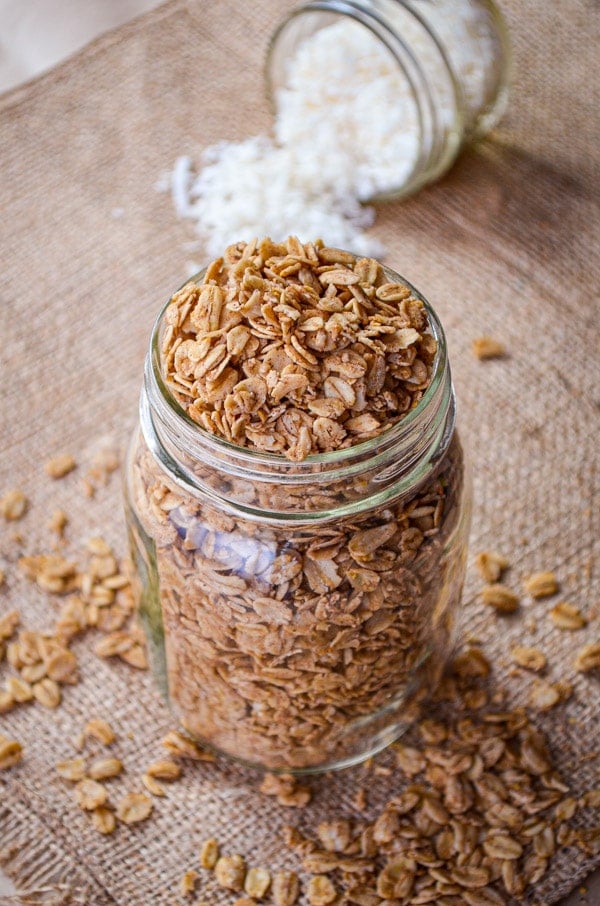 Please note that some of my blog posts here at Little Home in the Making may contain affiliate links. If you make a purchase through these links, I will get a small commission at no additional cost to you. See our disclaimer for more information.
Granola is such a great option to have on hand for a variety of breakfast options. The most common way to eat granola is on top of a nice bowl of yogurt. In my house we often eat it served with milk as a breakfast cereal replacement.
This healthy granola contains no refined sweeteners (sweetened with maple syrup), so it's a great healthy option to keep on hand. This granola is super inexpensive because it forgos the addition of often-pricey nuts and seeds. Instead, I've made this healthy granola entirely of oats. Oats are an inexpensive item that everyone should keep in their pantry at all times! Oats are naturally gluten-free too. If you're sensitive to gluten, you may want to buy "Gluten Free" oats specifically. Oats that aren't labeled "Gluten-Free" may be contaminated because oats are often grown next to wheat. When the label says "gluten free" it's because they were grown away from a wheat or gluten-containing crop.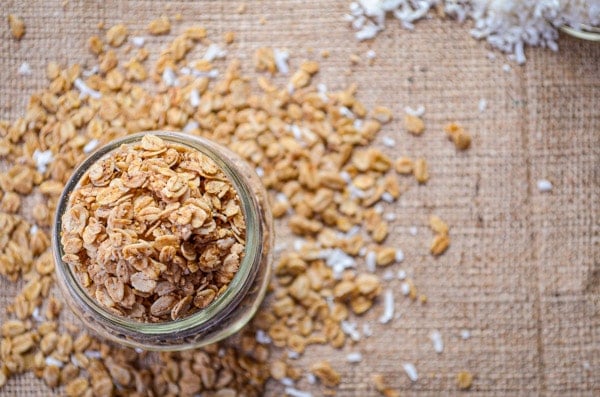 Keeping Your Granola Fresh
I use coconut oil in this recipe, which is one of those items that can either be considered "healthy" or "unhealthy" depending on which side of the spectrum you find yourself on. The word "healthy" is subjective, anyway. If you don't like to use coconut oil, you can use an oil of your choice or melted butter in equal measure and this healthy granola should turn out just fine. If you do use butter, I would recommend keeping your granola in a sealed container in the fridge, since butter itself doesn't have an extended shelf life at room temperature. Using coconut oil or other shelf-stable oils should give you 2-3 weeks if you store your granola at room temperature in a sealed, air-tight container.
It is really important that you keep this granola sealed tightly. I keep many of my pantry dry goods and ferments in these 1/2 gallon size mason jars, and use these plastic lids to keep them sealed and labeled. For granola, you can use any airtight jar or container you have on hand. I love using the 1/2 gallon mason jars because I love glass and I love to have everything match. It just looks better that way!
This recipe for healthy granola uses Virgin Coconut Oil, which lends a nice coconut flavor to the granola. Refined coconut oil doesn't offer the same coconut taste. If you don't like the taste of coconut, you could use refined coconut oil or an oil of your choice.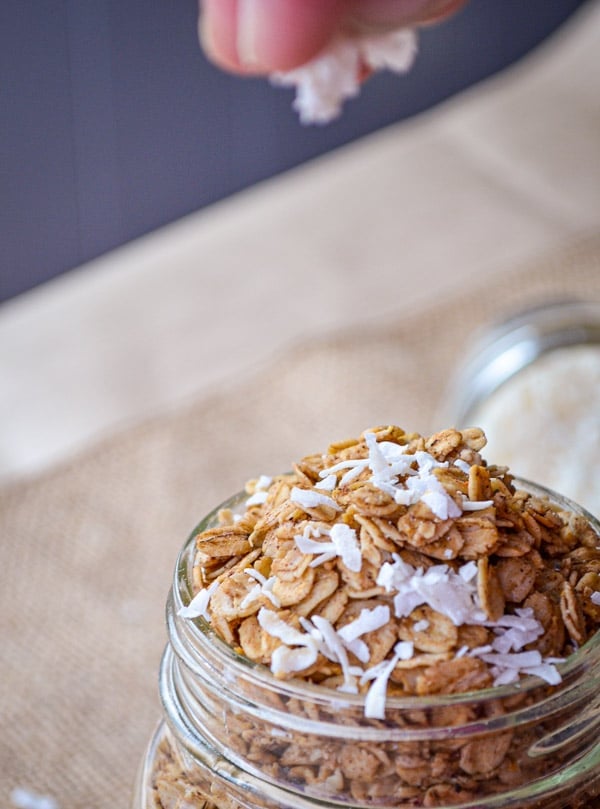 What Do I Need to Make Healthy Granola?
Old Fashioned Oats: Oats make up the majority of the ingredients. I use the "Old Fashioned" or "Rolled" style. Quick oats won't work in a granola recipe.
Maple Syrup: We sweeten this healthy granola with maple syrup. Yes, that means no refined or artificial sweeteners! Yum.
Coconut Oil: Virgin Coconut Oil is used in this recipe for a light coconut flavor.
Cinnamon: The key seasoning! Cinnamon makes for a hearty and delicious granola.
Spices: Nutmeg, cloves, and ginger compliment the cinnamon.
An Airtight Jar or Container: Any airtight jar will do. I use half gallon glass mason jars.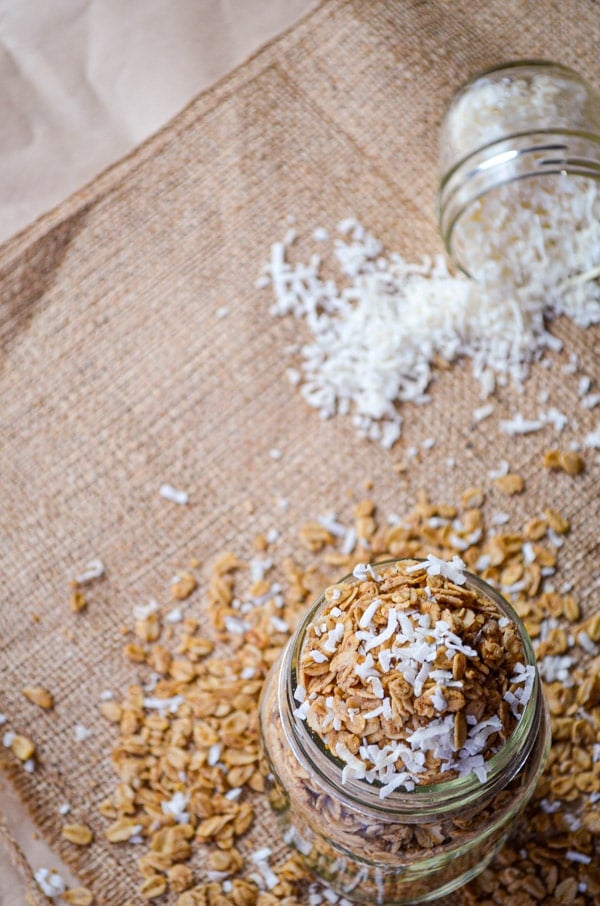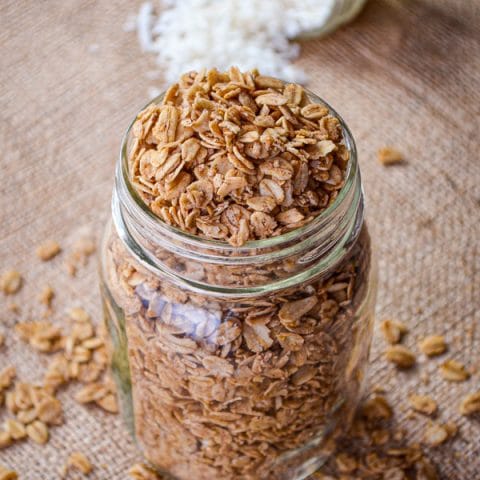 Healthy Vegan Cinnamon Granola
Total Time:
1 hour
10 minutes
This Healthy Cinnamon Granola is made with oats, coconut oil, and maple syrup. No refined or artificial sweeteners, and absolutely delicious!
Ingredients
6 cups Old Fashioned Oats
1 tbsp. Ground Cinnamon
1/2 tsp. Ground Nutmeg
1/4 tsp. Ground Cloves
1/4 tsp. Ground Ginger
1/4 tsp. Salt
1/2 cup Maple Syrup
1/2 cup Virgin Coconut Oil, melted and cooled
Instructions
Preheat the oven to 300F and line a sheet pan with parchment paper or a silicone pan liner.
Add the rolled oats to a large bowl. Add in the cinnamon, nutmeg, cloves, ginger, and salt. Mix well with a silicone spatula.
Fold in the maple syrup, then the coconut oil.
Add in the vanilla extract and mix well.
Pour the granola mixture onto the lined sheet pan and spread it evenly.
Bake in the oven for 40-60 minutes, stirring the oats occasionally to break them up and ensure even cooking. Once they are lightly browned, remove them from the oven and toss well. Allow them to cool completely on the baking sheet.
Transfer to a bowl and let them cool further before transferring them to an airtight container. We have stored this granola for several weeks without spoiling, but I recommend consuming within 1-2 weeks just to be sure. You may store in the fridge if desired or if concerned about storing granola at room temperature.
Nutrition Information:
Yield:

12
Serving Size:

1 grams
Amount Per Serving:
Calories:

272
Total Fat:

12g
Saturated Fat:

8g
Trans Fat:

0g
Unsaturated Fat:

2g
Cholesterol:

0mg
Sodium:

53mg
Carbohydrates:

37g
Fiber:

4g
Sugar:

9g
Protein:

5g
Nutrition information is an estimate only.
Don't Forget to Pin It for Later!