Get your day off to the right start with this healthy banana bread baked oatmeal recipe! Sweetened naturally using honey, and using whole food ingredients. It's a healthy breakfast the whole family can love.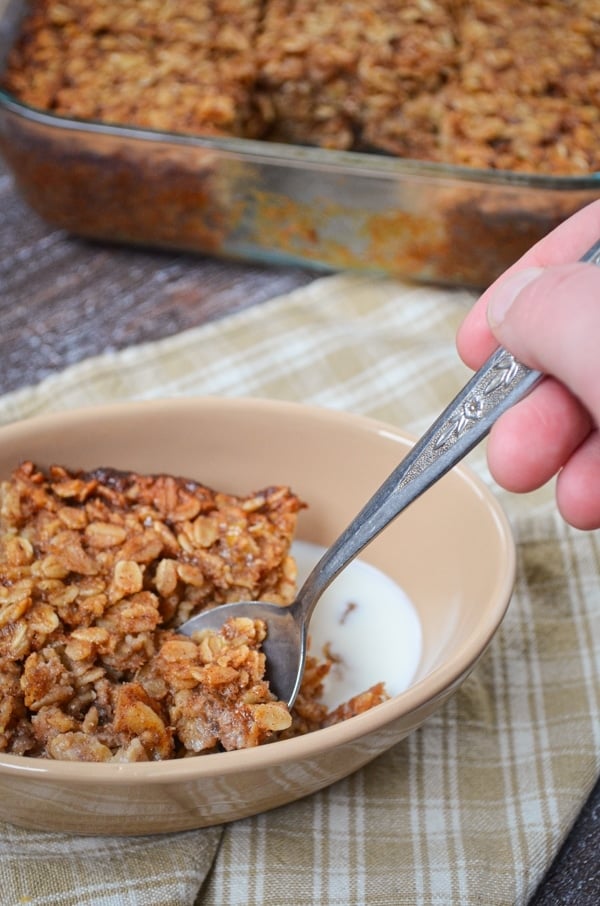 This post contains affiliate links, which means that if you click a link and make a purchase, we receive a commission at no additional cost to you. See our disclaimer for more information. Any nutritional information is for entertainment and informational purposes only, and is not intended as medical advice. Always seek the advice of your health provider.
---
Oatmeal is…everything. I absolutely love using oats in my home, for all manner of foods. Of course I love cooking up a nice bowl of warm, comforting oatmeal and topping it with chopped walnuts and real maple syrup. I adore making up big batches of granola (like my Healthy Cinnamon Granola) for topping yogurt, or using as a dry cereal with milk. I even love using old fashioned oats in baking muffins, breads, and cookies too! One of my absolute favorite ways to prepare oats is via Baked Oatmeal.
Baked Oatmeal: Perfect for Healthy Meal Prep
The reason I love baked oatmeal so much is because how easy it makes serving a healthy breakfast to my family. Since we are a small family, an 8X8 pan will serve us 2-3 breakfasts through the week. All I have to do is reheat it in the oven for 20 minutes or so before I plan on serving it, and then top with a little cold milk to serve.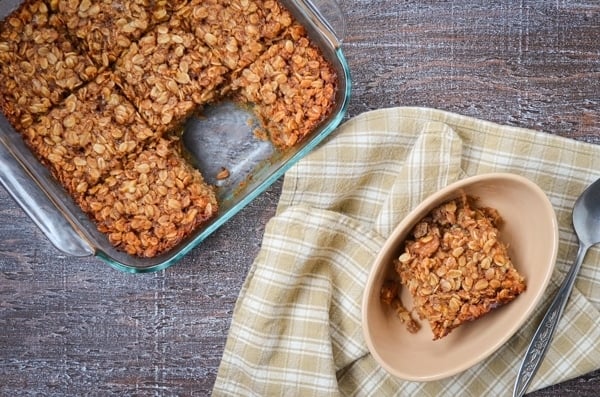 Naturally Sweetened with Honey and Banana
Since Baked Oatmeal is a drier than your traditionally prepared oatmeal, it's able to be sliced into squares. This makes an attractive presentation, and it honestly feels like you're eating a dessert! My husband named my Pumpkin Crisp Baked Oatmeal for me, insisting it was more of a dessert than a breakfast.
My pumpkin baked oatmeal, which uses refined sugars, is definitely a sometimes treat for our family now. But this healthy banana bread oatmeal is daily fare, since it is lightly sweetened with honey and mashed banana. I feel good serving this to my family for breakfast, since I know it's completely naturally sweetened. Natural sweeteners are still sugar of course, but by swapping out refined sugar in place of honey, I'm able to use less overall, resulting in less sugar grams (even if they are natural) total. That's a win in my book!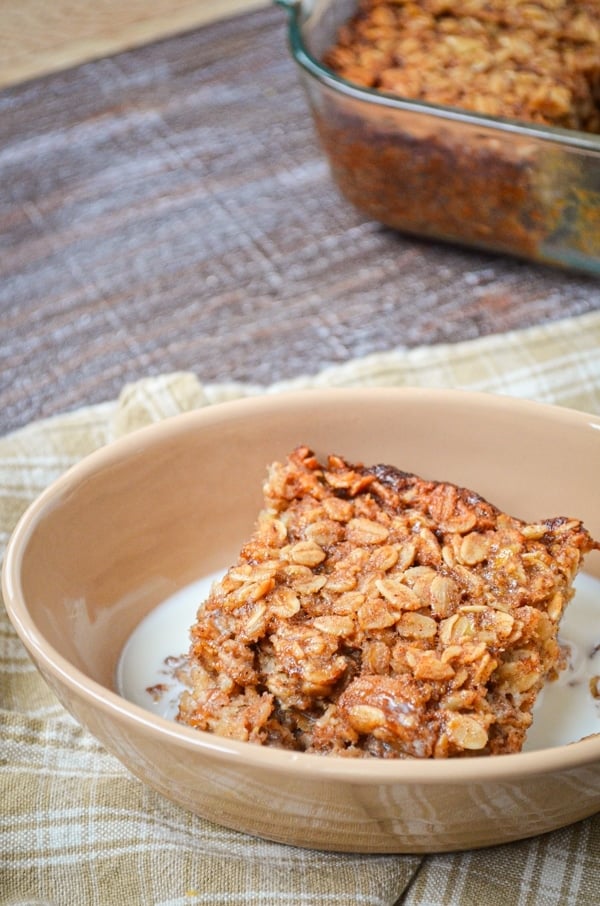 An Easy Way to Use Up Leftover Overripe Bananas
Another reason this is a new family favorite is that it uses leftover overripe bananas! The bane of every kitchen. There is some kind of weird banana math that goes on in kitchens all across the nation. You buy a bunch of bananas, and they are eaten up before you can even eat one yourself. So, the next time you get groceries, you get a slightly larger bunch of bananas since the last ones were gone in a matter of hours. Well, this time, the bunch of bananas just sits there until the flies move in. Perhaps it is the law of supply and demand in action, but there is definitely something odd going on.
Either way, sooner or later, you end up with too many bananas. You may commit to making Banana bread…eventually. That day never comes, and so they end up in the compost. If you're really smart, you toss them into your freezer for some day in the future when you have more banana-bread-fueled-ambition. Or until you clean out your freezer and you realize banana juice is stuck to the bottom and now you need to use a knife to scrape it out. Ask me how I know?
But there is a better way! Using your overripe bananas (either fresh, or frozen and thawed) in healthy baked oatmeal recipes is the BEST way to use them up. Not only are you making the most of the items you already have on hand, but you're also preparing a delicious breakfast for your family. On top of that? The overripe bananas have a lovely sweetness, meaning you don't have to load up on the sugar. Win-win-win!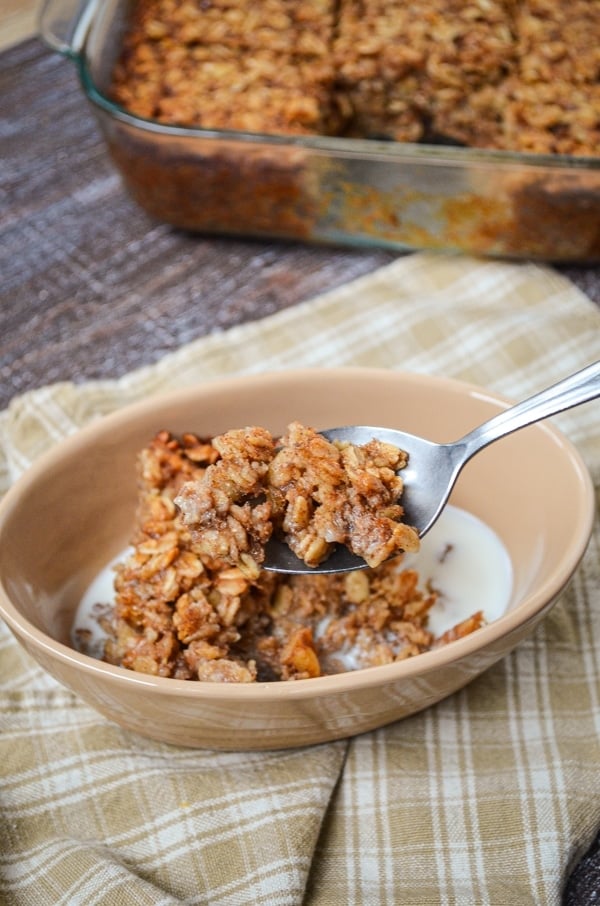 What Do I Need to Make Healthy Banana Bread Baked Oatmeal?
Oats: You want to use the Old Fashioned Rolled Oats in this recipe. They are large and flat, and perfect for all sorts of homemade oatmeal recipes.
Bananas: You want to use overripe bananas, either from your counter, or thawed from your freezer. The more ripe they are, the sweeter the flavor.
Honey: I love using honey in this recipe because it caramelizes nicely under the heat, making for a crisp crunch on top.
Butter: A little bit of melted salted butter adds the needed fat in this recipe. This makes it more filling, and adds more of that classic "Banana Bread" taste.
Milk: I like to use whole milk, and I recommend you do the same. If you have dairy issues, you could try subbing your favorite nut milk in place of the whole milk, and coconut oil in place of the butter.
Egg: Acts as a binder and keeps it all together!
Vanilla: This helps with the authentic baked banana bread taste, and is just a lovely way to add some luxury to your morning meal.
Baking Powder: Make sure you opt for aluminum free baking powder if that is important to you.
Mineral Salt: You can use pink Himalayan, Celtic sea salt, or real salt. If you don't have a mineral salt on hand, you can use table salt.
Seasonings: Both cinnamon and nutmeg are used in this recipe, creating a warm and delicious healthy baked oatmeal.
Chopped Walnuts: This is optional, but adds to the authenticity of banana bread, as well as some fat and protein to make your breakfast more filling.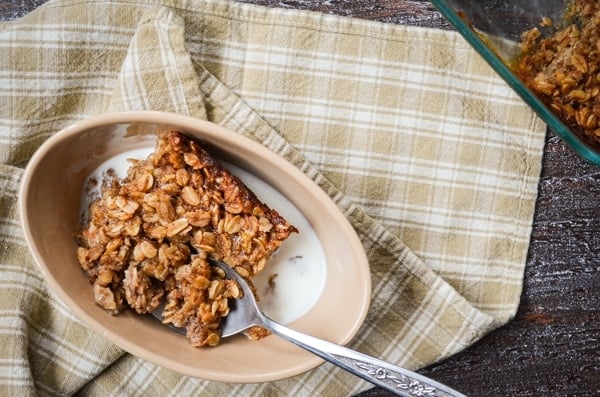 How Long Does Baked Oatmeal Last in the Fridge?
I keep mine for up to 5 days, and I would recommend that same time frame. Most of the time we eat it up within 2-3 days, especially if my husband is eating it along with us.
How Do I Reheat it Without a Microwave?
I don't own a microwave, so I can't give you specific instructions for that, but I can give you some instructions for reheating your healthy baked oatmeal in the oven.
Ensure your dish is covered: To prevent a very dry oatmeal, you'll want to make sure your dish is covered with something heat proof and oven safe. Foil or a glass lid are good options. I'm okay with foil personally since the foil does not touch the food.
Place your dish in a cold oven: Since the dish will be cold from the fridge, you don't want to shock it (and break the glass) by placing it in a hot oven. Placing it in a cold oven that gradually warms up, means your glass baking dish will gradually warm up as well.
Heat your oven to 350F: This is my all purpose reheating/warming temperature.
Once your oven (and your glass dish) are heated, start the timer. I like to bake mine for about 20 minutes from the time the oven has reached temperature.
Extra Tip: If you reheat this several times, or prefer a more moist oatmeal, add a little bit of water to the covered dish. Steam will form inside the dish and result in a more moist baked oatmeal. Just don't add too much! Maybe 2 tablespoons would be sufficient.
Scroll Down for the printable recipe 👇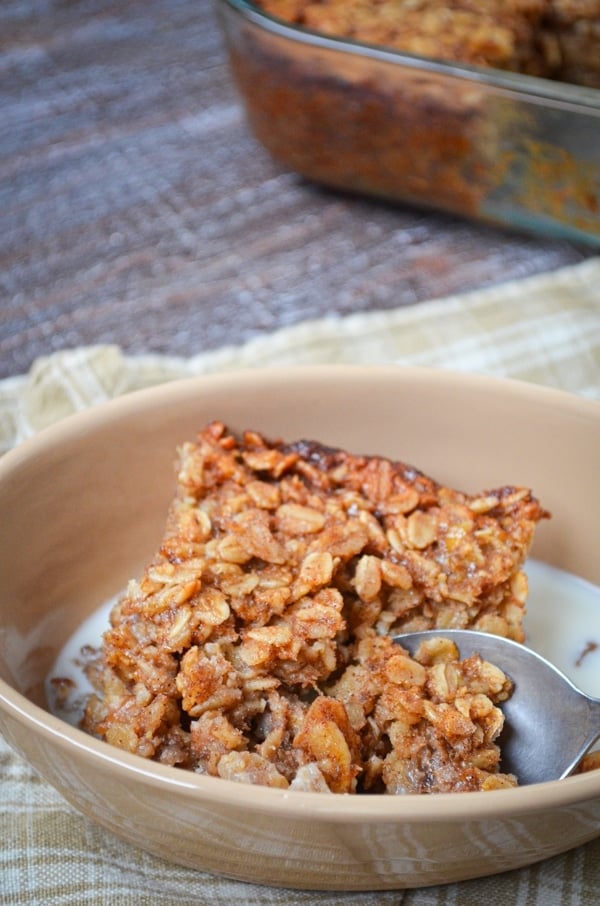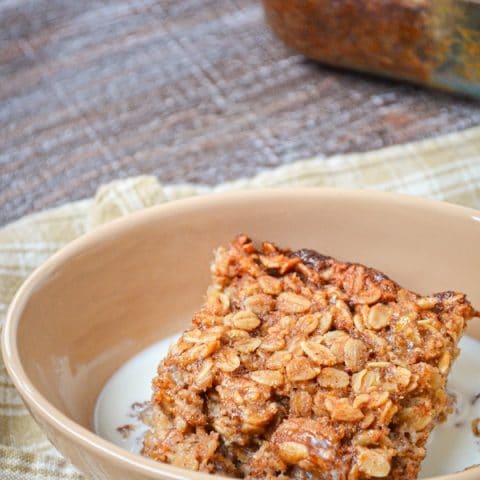 Healthy Banana Bread Baked Oatmeal
Get your day off to the right start with this healthy banana bread baked oatmeal recipe! Sweetened naturally using honey, and using whole food ingredients. It's a healthy breakfast the whole family can love.
Ingredients
3 cups Old Fashioned Rolled Oats
2 tsp. Baking Powder, aluminum free
1 tsp. Mineral Salt
1 ½ tsp. Ground Cinnamon
¼ tsp. Ground Nutmeg
2 medium Overripe Bananas
2 large Eggs, beaten
½ cup Honey
¾ cup Whole Milk
2 tsp. Vanilla Extract
½ cup Butter, melted and cooled
½ cup Chopped Walnuts
Instructions
Preheat the oven to 350F and grease an 8X8 glass baking dish.
Combine the oats, baking powder, mineral salt, cinnamon, and nutmeg in a medium bowl. Mix well.
In a separate bowl, mash the overripe banana. Stir in the beaten egg, honey, whole milk, and vanilla. Whisk until uniform.
Drizzle the melted butter into the egg and banana mixture, whisking as you incorporate the butter.
Add the dry ingredients to the wet ingredients, using a silicone spatula to mix until just combined.
Fold in the walnuts.
Pour the mixture into your prepared baking dish and spread it evenly.
Bake in the preheated oven for 40 minutes.
Allow to cool for 5-10 minutes before slicing and serving with milk or whipped cream.
Notes
You can reheat portions of this delicious healthy baked oatmeal through the week. We don't own a microwave, so I pop the dish into a cold oven and turn it to 350F for about 20-30 minutes and then serve. 
Nutrition Information:
Yield:

9
Serving Size:

1/9 of Recipe
Amount Per Serving:
Calories:

350
Total Fat:

18g
Saturated Fat:

8g
Trans Fat:

0g
Unsaturated Fat:

9g
Cholesterol:

70mg
Sodium:

475mg
Carbohydrates:

43g
Fiber:

4g
Sugar:

20g
Protein:

7g
Nutrition information is an estimate only.