Getting a healthy (and delicious) breakfast on the table can be HARD! It doesn't have to be that way! This Peanut Butter Chocolate Oatmeal is packed with protein, and is served up in less than 10 minutes. It's also naturally sweetened with maple syrup, but that can stay our little secret since your family will be none the wiser! This recipe makes 1 generous serving, but can be doubled, tripled, or quadrupled to feed your family this healthy, gluten-free, real food breakfast.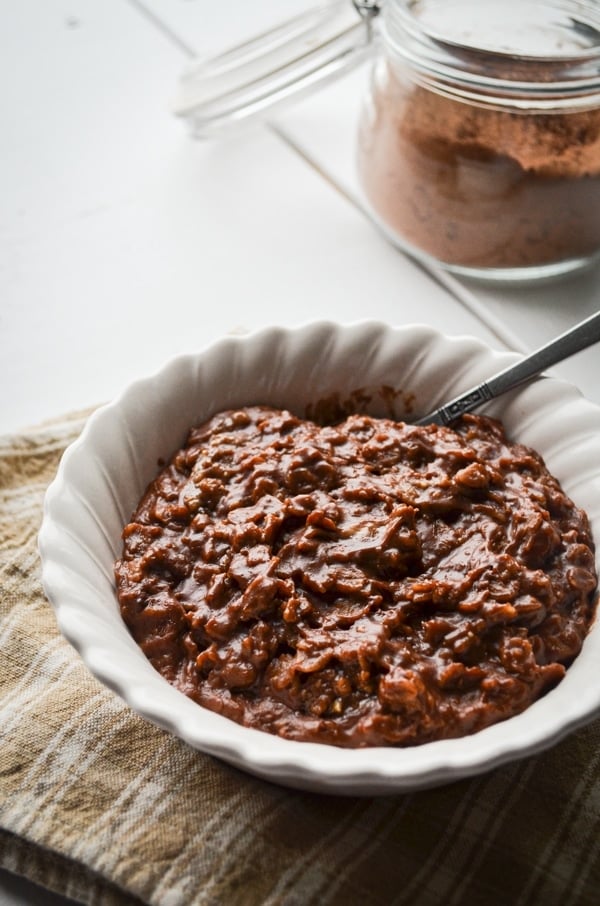 This post contains affiliate links, which means that if you click a link and make a purchase, we receive a commission at no additional cost to you. See our disclaimer for more information. Any nutritional information is for entertainment and informational purposes only, and is not intended as medical advice. Always seek the advice of your health provider.
---
Oats are kind of a big deal in my home. Since I cook our meals from scratch, and breakfast is no different, oats make a frequent appearance at our breakfast table. Most mornings here we are eating one of three things: oats, eggs, or smoothies. Occasionally it will be a combination of two of those things.
Oats on their own aren't exactly filling, although they do have some naturally occurring protein. The key to making oats a filling breakfast is all about how you cook them, and what you add in.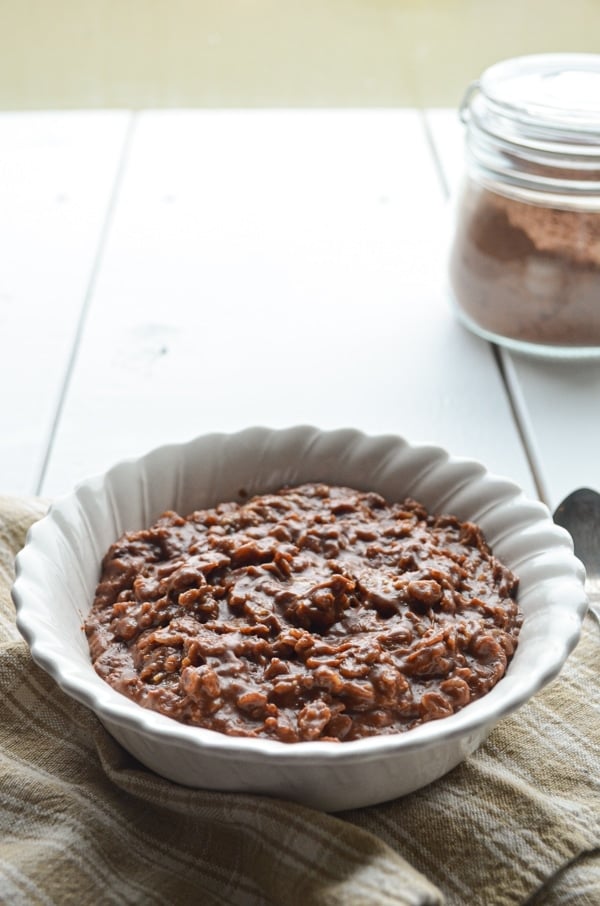 Boosting Protein and Fats in Homemade Oatmeal
Oats are primarily carbohydrates, meaning they need a boost of healthy fat and protein in order to be complete and filling breakfast option. I used to cook my oats in water and serve them with maple syrup, whole milk and chopped nuts, but I was always hungry an hour later. And my husband? Forget it. He was scouting around looking for something else to eat.
After a few attempts at various ways of cooking oats, including one with an egg cooked in it (😝🤢), I thought I would never find a way to make a bowl of oatmeal truly filling. Eventually I ended up trying a recipe that included a mashed banana and some milk cooked with the oats, rather than water. While this was certainly more filling, the banana was off-putting and I just didn't like it. I thought about cooking my oatmeal in milk, rather than water, and that was a starting point in making the perfect bowl of oatmeal.
Not only did cooking the oats in milk result in a more filling oatmeal breakfast, but it also made for a delicious, rich, and silky texture. I was absolutely converted. The addition of milk added about 8 grams of protein to the approximately 5 grams in the oatmeal. That made for about 13 grams of protein, which is perfectly good for a snack. For my body, I find I need at least 20 grams of protein to be truly satisfied with my meal, so I decided to experiment further.
Adding Peanut Butter to Oatmeal
Eureka! Of course, peanut butter! What could be a better fat and protein booster to a healthy whole food breakfast!? A few dollops of natural peanut butter was just the addition the perfect bowl of filling oatmeal needed. 2 tbsp. of natural peanut butter made for an additional 8 grams of protein, bringing this healthy breakfast recipe up to a whopping 21 grams of protein! All just in a bowl of oatmeal, and using regular, whole food ingredients that everyone has in their cupboards. No protein powder needed!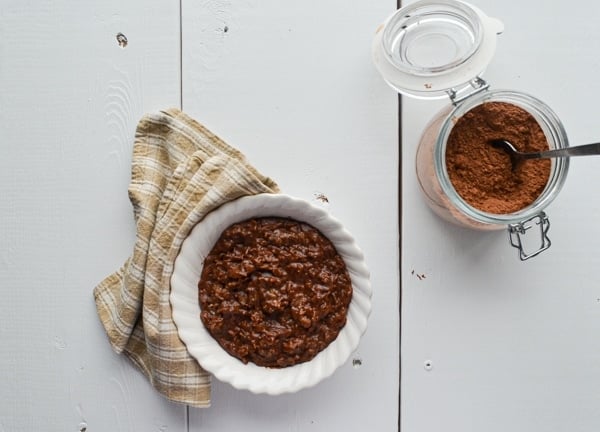 And Then: Chocolate Peanut Butter Oatmeal
What's a sure fire way to make peanut butter 1000% better? Well, chocolate of course! Since I wanted to keep this as healthy as possible, while still being an absolute delight to eat, I opted to use cocoa powder. Cocoa powder is low in calories, but high in chocolate taste. It's also free from sugar, making it a perfect way to add a healthy chocolate flavor without the sugar that you get from commercial chocolate chips.
But do not fear, you are not being deprived! This Chocolate Peanut Butter Oatmeal is absolutely delicious and full of whole food fats, ensuring it will keep you full until lunch time. It's abundant in calories, while not being excessive. The recipe as written is one very generous serving that I normally share with my toddler (and oatmeal is his favorite!), so if you have a smaller appetite you may only need half of a bowl. You could also try substituting half of the milk for water, although you will lose about 4 grams of protein.
This breakfast definitely isn't low in calories, but it is extremely filling, and you can feel good about the ingredients that you're using. The reality is, low calories generally means low satisfaction. What's the point of a low calorie breakfast if it sends you to the fridge an hour later looking for a snack?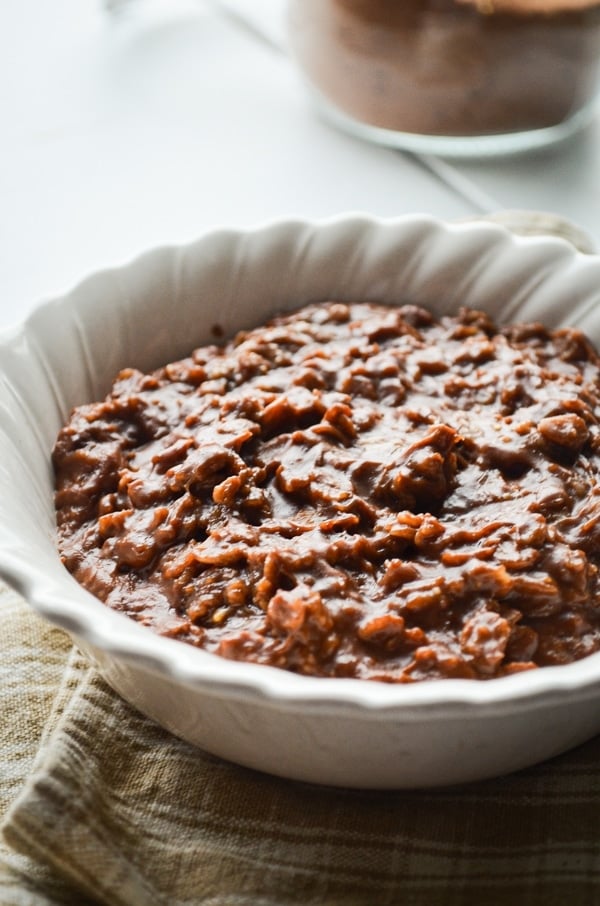 Preparing Chocolate Peanut Butter Oatmeal for a Large Family
The recipe as written is for 1 very generous serving, which I always share with my oatmeal-loving toddler. In order to prepare this for a larger family, just simply multiply the quantities. Account for 1 serving for each adult or teenager, knowing that some of that could feed a toddler. For kids, I would say a half serving each would suffice.
For example, if you have a family of two adults, two kids, and a toddler, I would triple the recipe. Each adult will eat almost one serving, the kids will split a serving, and the toddler will have a some from the adult servings. If you make too much, you can always reheat the leftovers on the stovetop with a little additional milk or water.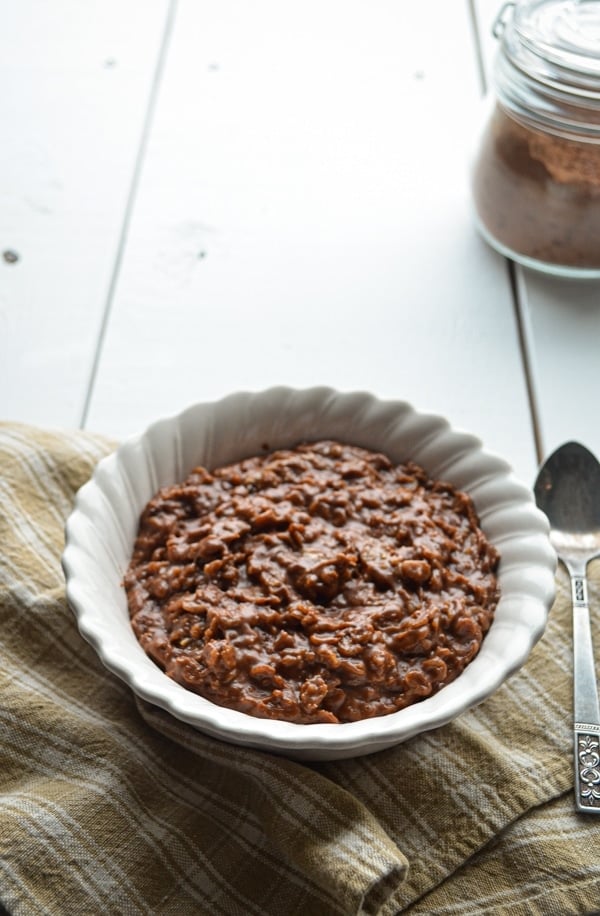 What Do I Need to Make Chocolate Peanut Butter Oatmeal
Oats: Old fashioned rolled oats are used in this recipe. They hold up well during cooking and are widely available.
Milk: I like to use whole milk in this recipe because our family prefers that, but if you use a lower fat milk in your home, feel free to opt for that instead.
Cocoa Powder: A little bit of cocoa powder whisked in makes for a delicious chocolate flavor.
Maple Syrup: We try to use natural sweeteners in my home, but you can sweeten however you like. Maple syrup is traditional with oatmeal, so I stick to that. The recipe calls for 2-3 tablespoons, but I find it is plenty sweet with 2 tablespoons. Just sweeten to your own taste.
Butter: This really makes a difference in your oatmeal! It turns oatmeal from a boring breakfast staple, to a delicious indulgence. I really didn't think it made that big of a difference until I tried it without it. While it's certainly still good, I much prefer it with the additional butter. It's also a great way to boost fats for kids and picky eaters.
Peanut Butter: I'm honestly not a big peanut butter fan, natural or otherwise. But this recipe has softened my heart towards peanut butter, especially natural peanut butter. While I probably will never be a peanut butter toast person, it is absolutely delicious in Chocolate Peanut Butter Oats. My husband, who actually hates natural peanut butter and keeps his favorite sugar and oil packed peanut butter on hand for snacking, totally loves this oatmeal. He couldn't believe it was natural peanut butter.
Mineral Salt: A little bit of salt helps round out the flavor, especially since most natural peanut butter is unsalted.
Vanilla Extract: This, along with the addition of butter, really brings the flavor from "bowl of oatmeal" to "I think this is a bowl of cookie ingredients" 🤣
Scroll Down for the Printable Recipe 👇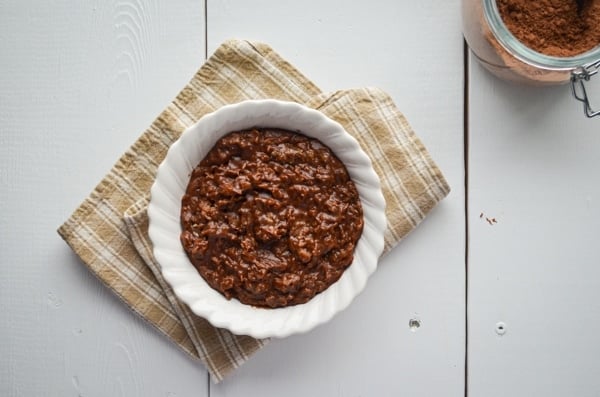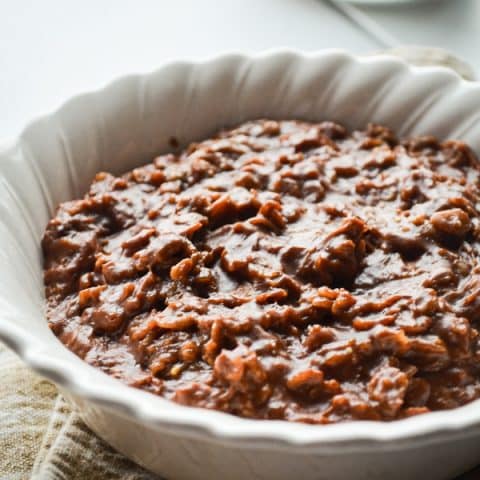 Chocolate Peanut Butter Oatmeal
A naturally sweetened, protein packed breakfast that makes for an easy healthy weekday breakfast! Tastes like a chocolate peanut butter no bake cookie!
Ingredients
1 cup Whole Milk
1 cup + 2 Tbsp. Old Fashioned Rolled Oats
⅛ tsp. Mineral Salt
2-3 Tbsp. Real Maple Syrup
1 ½ Tbsp. Cocoa Powder
1 Tbsp. Salted Butter
2 Tbsp. Natural Peanut Butter
¼ tsp. Vanilla Extract
Instructions
Add the milk, oats, salt, maple syrup, and cocoa powder in a small saucepan. Whisk until combined.
Heat the saucepan over medium-high heat until a low boil or high simmer begins. Stir and lower the heat to medium.
Cook the oats over medium heat for 5 minutes, stirring often to prevent sticking.
Remove the oats from the heat and stir in the butter until melted.
Add the peanut butter and the vanilla extract, stirring until smooth.
Serve immediately and enjoy!
Notes
Nutritional information calculated via MyFitnessPal and is an estimate only.
Nutrition Information:
Yield:

1
Serving Size:

1 Serving
Amount Per Serving:
Calories:

835
Total Fat:

38g
Saturated Fat:

15g
Trans Fat:

0g
Unsaturated Fat:

19g
Cholesterol:

55mg
Sodium:

609mg
Carbohydrates:

111g
Fiber:

5g
Sugar:

87g
Protein:

19g
Nutrition information is an estimate only.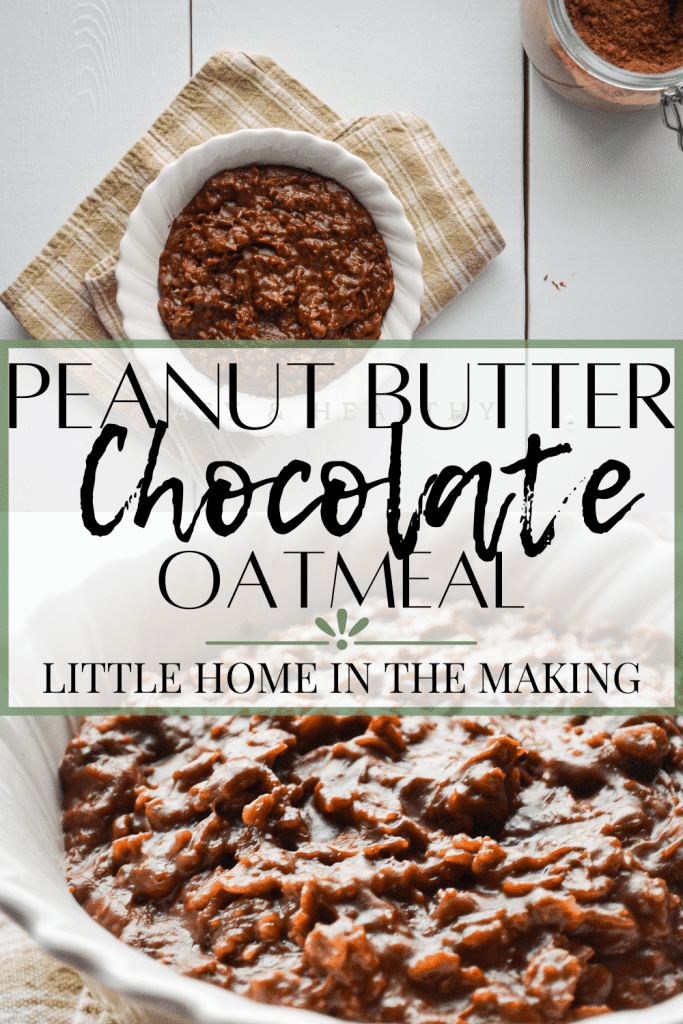 More Healthy Oatmeal Recipes: