Do you have extra sourdough discard in need of use? Try these delicious, naturally sweetened Apple Walnut Sourdough Discard Muffins. Soft chunks of apple, crunchy walnuts, tangy sourdough, and nourishing oatmeal all combine for an easy, healthy breakfast or snack option.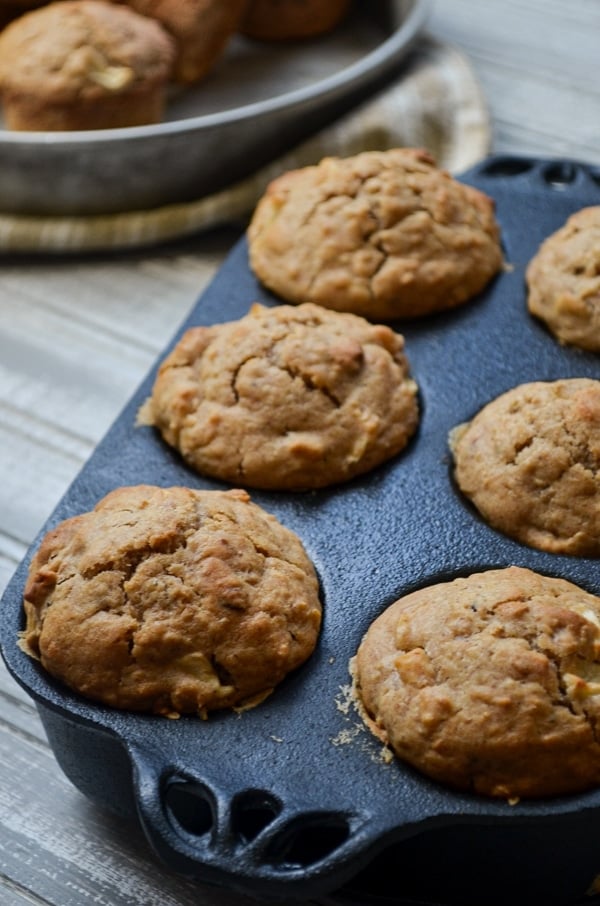 This post contains affiliate links, which means that if you click a link and make a purchase, we receive a commission at no additional cost to you. See our disclaimer for more information. Any nutritional information is for entertainment and informational purposes only, and is not intended as medical advice. Always seek the advice of your health provider.
---
For anyone who has had a sourdough starter going for even a few weeks knows: finding ways to use sourdough discard is essential. Some folks have no problem washing their discarded started down the sink, but I can't take the waste. Not to mention how that may affect your plumbing situation. In my opinion, it's best to use the sourdough discard for something delicious for your family!
If you feed your sourdough starter daily, you end up with a lot of small quantities of discard. Sure, you can make a new sourdough creation every day with that small quantity, OR you can do it my way.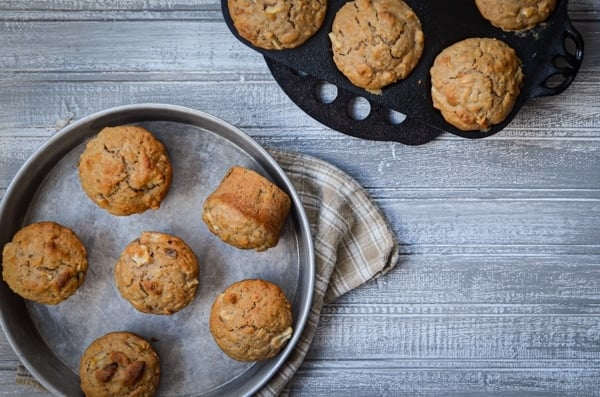 A Solution for Storing Sourdough Discard
Shortly after getting my sourdough starter established (psst: this method from The Perfect Loaf was the one that finally worked for me), I realized that sourdough discard was going to be a lot bigger of a problem than I realized.
In those first few weeks of getting my sourdough starter established, I loved making new sourdough creations each and every day…but I soon realized that I could not go on in such a way. So I did a little bit of searching, wondering if there was a way I could keep my sourdough discard in the fridge. Sure enough, I totally could!
So I grabbed a dedicated glass jar for my starter, and added my discard before every feeding. Because I don't let my starter completely starve in between feedings, I am able to stick this discard right in the fridge and continue to add to it each day. If your starter is completely deflated and strong smelling when it comes time to discard, you may want to give your discard a small amount of flour and water before storing in the fridge. It will most likely be fine either way, but you won't end up with that black, watery hooch on top a few days later due to a lack of food.
Using Cold Sourdough Discard
And then, when I'm ready to use my sourdough discard, I have a bunch waiting in the fridge for me. I try to use this up and start a new jar within 1-2 weeks. Because I end up with a good quantity of cold sourdough discard, I'm able to make larger recipes like my Blueberry Cream Cheese Sourdough Baked Pancake, and the strawberry version too. Cold sourdough discard happens to work extremely well for both biscuits and pie dough, since they require a chilled temperature to turn out properly.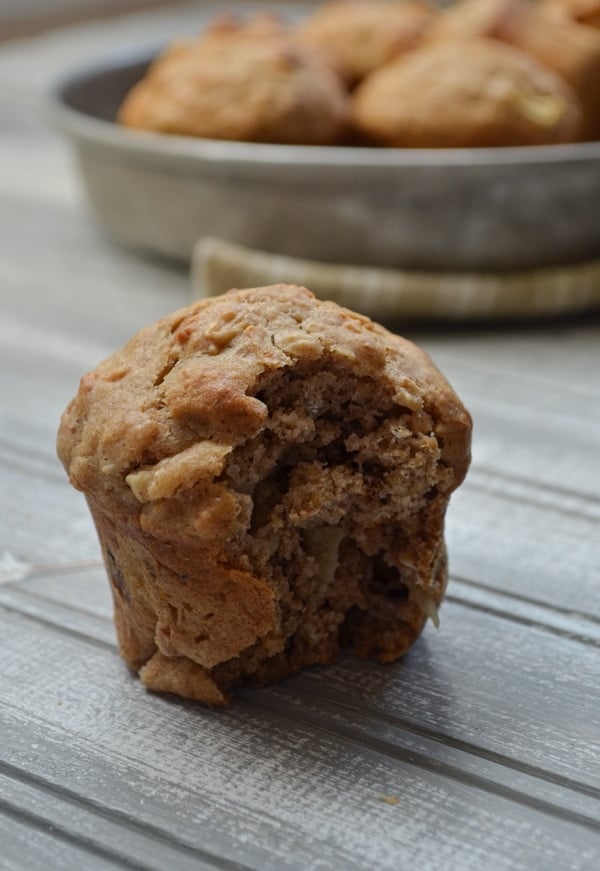 Recipes That Work Well with Cold Sourdough Discard: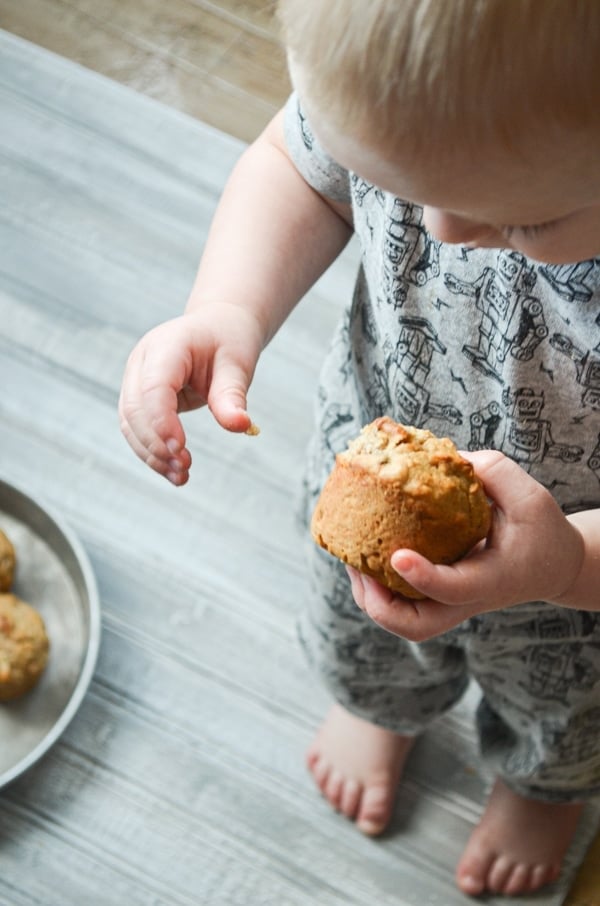 Apple Walnut Muffins: The Perfect Way To Use up Sourdough Discard
There are so many great ways to use up your sourdough discard. Today I'm bringing to you a new one: Apple Walnut muffins. They are such a wonderful treat, and a delicious way to welcome those classic fall and winter flavors into your kitchen. Just like with bananas, I always end up with a few extra apples to use up towards the end of the grocery cycle. They make great additions to oatmeal, for using in homemade applesauce, or just for slicing and dipping in some peanut butter.
Every once and a while, my creative juices get to flowing and I end up wanting to make something a little more interesting. And such was the case with these sourdough apple muffins.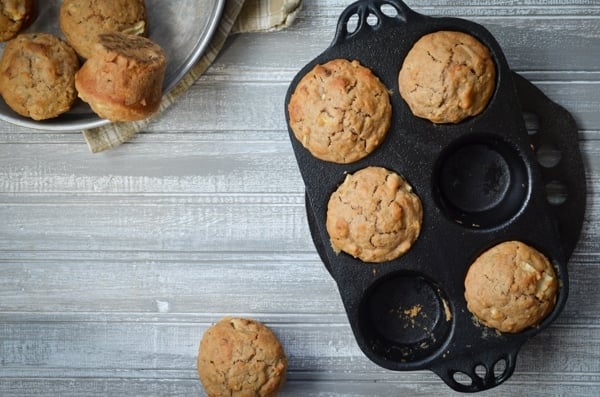 What Do I Need to Make Apple Walnut Sourdough Discard Muffins?
Oats: For the best texture, make sure you use Old Fashioned Rolled Oats in this recipe!
Apples: Just one apple, peeled, cored, and chopped is all you need for these delicious apple sourdough muffins.
Walnuts: You can use raw or toasted, but make sure they are chopped. You don't want big chunks of walnut in your muffins!
Sourdough Discard: You can use cold stored sourdough discard, or discard from a feeding. We don't need the leavening effect of sourdough for this recipe, so the starter need not be recently fed.
Whole Milk: Adds a nice richness to the muffin.
Butter: Salted butter is the best option here, and you will be melting it before adding it to the batter. Make sure you drizzle it in slowly while whisking. This ensures the warm butter doesn't begin to cook the egg in the recipe.
Honey: This is our sweetener of choice. Honey makes a great fit for a muffin since it is sweeter than sugar, and generally pretty thick.
Egg: Just one egg is all you need for this recipe.
Basic Baking Ingredients: Unbleached flour, baking powder, baking soda, and mineral salt will all be used.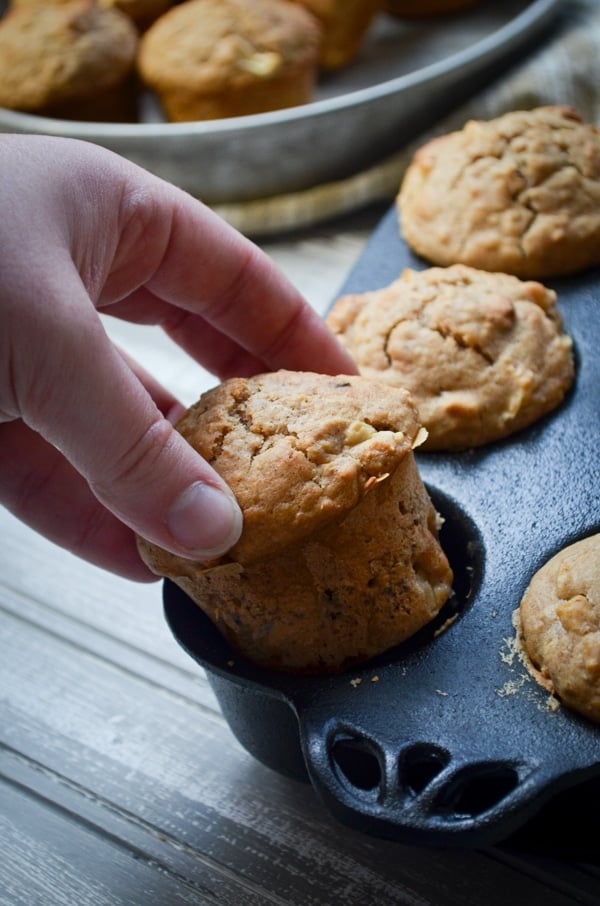 You may have noticed in some of my photos the use of a cast iron muffin pan. A lot of folks (my previous self included) are nervous about using cast iron pieces in their baking. I thought it might be helpful to include some tips for baking in a cast iron muffin pan!
Baking in a Cast Iron Muffin Pan
I love my cast iron cookware, and I even collect some different pieces. Early on, I avoided using some of those more interesting pieces because I had so much difficulty with sticking. After a good re-seasoning, I started from scratch early last year. As a result of that new fresh start, I've learned some tips and tricks for cooking with cast iron.
Grease Up: I always like to add a fine layer of lard just before getting ready to cook. Of course I do this after every use and cleaning, but I like to add that extra layer just before cooking.
Preheat the Pan: The secret to getting cast iron to be nonstick is to heat the pan before using it. I stick my muffin pan in the oven while it preheats, ensuring the pan gets nice and hot.
Add Your Food While It's Hot: Leave the muffin pan in the oven until it's time to pour your batter. You want to make sure you're pouring into a hot pan; this ensures it doesn't stick later on.
Let It Cool: Once the baking time is done, let the apple sourdough muffins cool in the pan for about 5 minutes. Then run a butter knife around the edge of each muffin and gently remove it to a cooling rack.
Scroll down for the printable recipe! 👇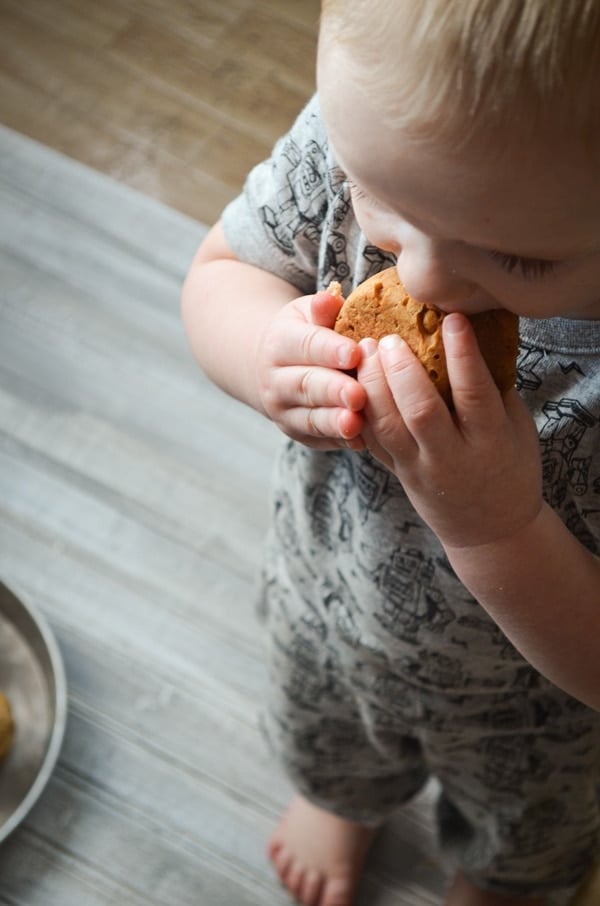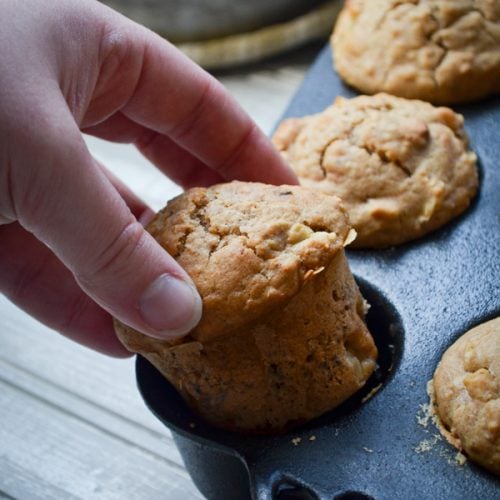 Apple Walnut Sourdough Discard Muffins
Soft chunks of apple, crunchy walnuts, tangy sourdough, and nourishing oatmeal all combine for an easy, healthy breakfast or snack option. A great use of sourdough discard.
Ingredients
1 cup Old Fashioned Rolled Oats
¾ cup Whole Milk
1 ½ cup Unbleached Flour
1 ½ tsp. Baking Powder
¼ tsp. Baking Soda
½ tsp. Mineral Salt
1 large Egg, beaten
½ cup Sourdough Discard
½ cup Honey
⅓ cup Salted Butter, melted and cooled
1 cup Chopped Apples, about 1 large apple
⅔ cup Chopped Walnuts
Instructions
Preheat the oven to 400F. If you're using a cast iron muffin pan, be sure to grease it well and place it in the oven to preheat. If you're using conventional muffin pans, line them with paper liners or grease the muffin cups well.
Combine the oats and the milk in a small bowl. Mix well and set aside to soak.
Add the flour, baking powder, baking soda, and mineral salt to a medium bowl. Whisk well to combine.
Add the beaten egg, sourdough starter, and honey in a separate medium mixing bowl. Whisk thoroughly, and then drizzle in the melted and cooled butter. Whisk again until uniform.
Add the oat and milk mixture to the egg, sourdough starter, honey, and butter mixture. Whisk well again.
Add the dry ingredients to the wet, whisking until just combined. Do not overmix the batter.
Fold in the chopped apples and walnuts.
If you are using a cast iron muffin pan, pull the pan out of the oven and add the batter to the hot muffin pan. If you are using a conventional muffin pan, evenly distribute the muffin batter between 12 cups.
Bake the muffins in the preheated oven for 20-23 minutes. Check the middles, using a cake tested, to ensure they are cooked through.
Cool and serve!
Nutrition Information:
Yield:

12
Serving Size:

1 Muffin
Amount Per Serving:
Calories:

273
Total Fat:

11g
Saturated Fat:

4g
Trans Fat:

0g
Unsaturated Fat:

0g
Cholesterol:

30mg
Sodium:

380mg
Carbohydrates:

39g
Fiber:

2g
Sugar:

15g
Protein:

6g
Nutritional information is calculated MyFitnessPal and is an estimate only.