Making your own salad dressings at home is the perfect way to start living a healthier lifestyle, as well as save money. By choosing quality ingredients, you can make this homemade buttermilk ranch dressing have fewer calories, fat, carbs, and sodium than its store-bought counterparts. Not only that, it's delicious and easy to make too!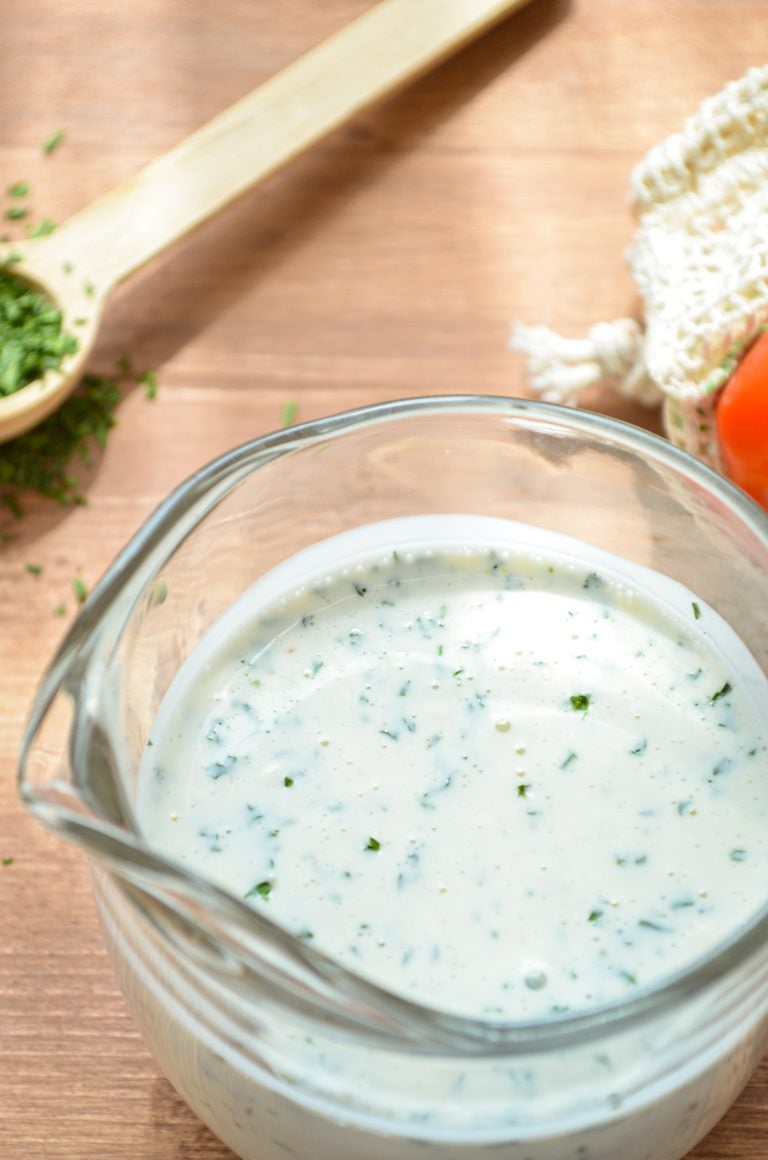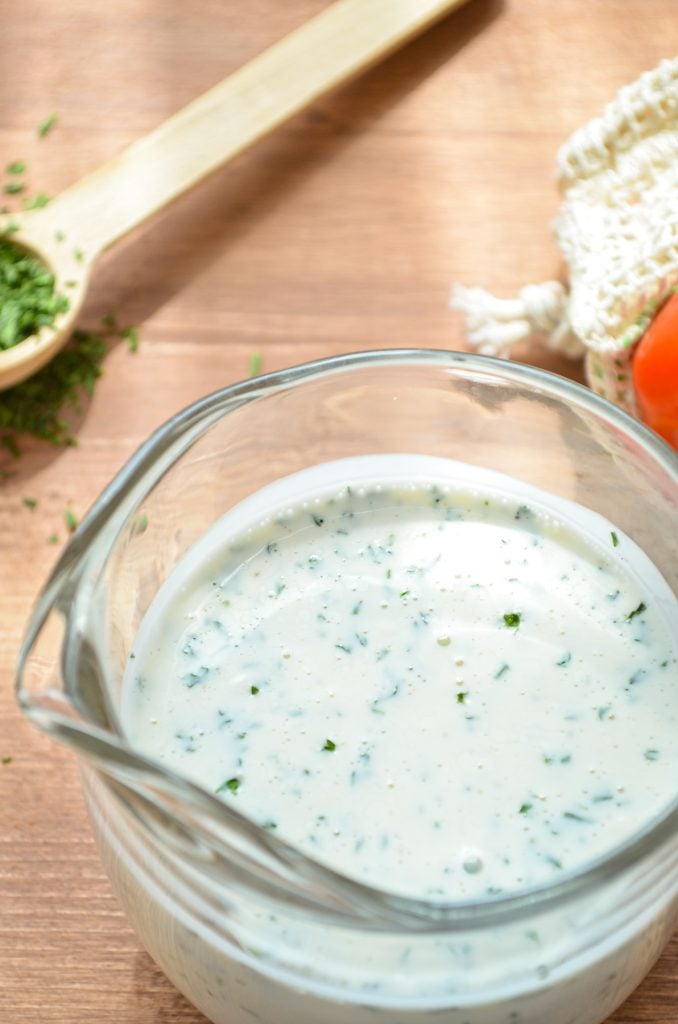 Please note that some of my blog posts here at Little Home in the Making may contain affiliate links. If you make a purchase through these links, I will get a small commission at no additional cost to you. Please see my Disclaimer for more information.
---
Years back, when we were living in our very first apartment, we were living on a super strict budget. I had just quit my job, and we needed to keep the grocery budget to a minimum. It was then that I started making a lot of foods from scratch to save money. Along the way I figured out that they taste a lot better too! Salad dressings were one of the first things I experimented with, and now I make the vast majority of our foods from scratch!
Choosing to Make Food From Scratch
Even though our budget has gotten a little bigger over the years, we are still aiming to be frugal and steward what we do have in the best way possible. For that reason I continue to make a lot of our foods from scratch. The added benefit of course, are healthier options. I can make mayonnaise at home and use avocado oil. For the same price as canola or soybean mayonnaise, I can make a WAY healthier option with a much higher quality. We couldn't afford the quality of food that we have now if I bought everything pre-made.
But even if I were awarded a lifetime supply of grocery store gift cards I would make our salad dressings from scratch. Why? Well, they taste SOOO much better and they are so easy to make too!
In just 5 minutes, I can have this tasty and classic buttermilk ranch mixed up and ready for our salad. It takes no special equipment, and really not much effort at all. In the same amount of time it takes me to read the labels at the grocery store, I could have my own batch of homemade dressing whipped up.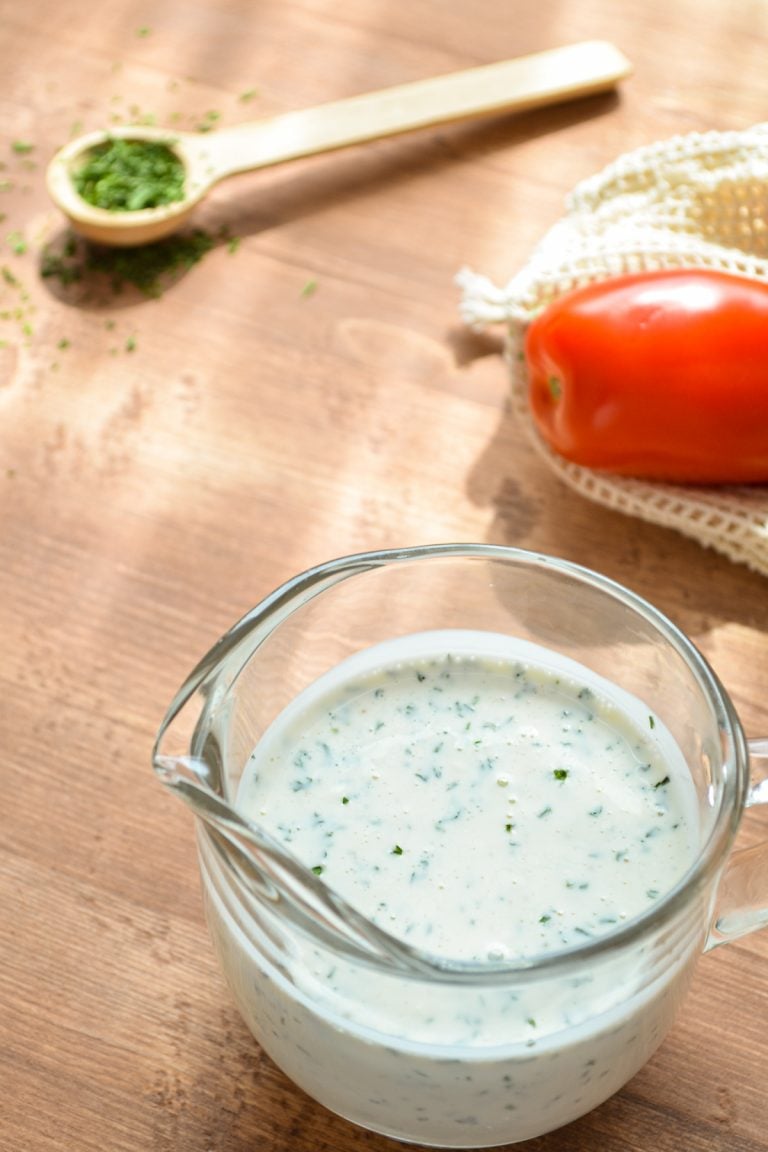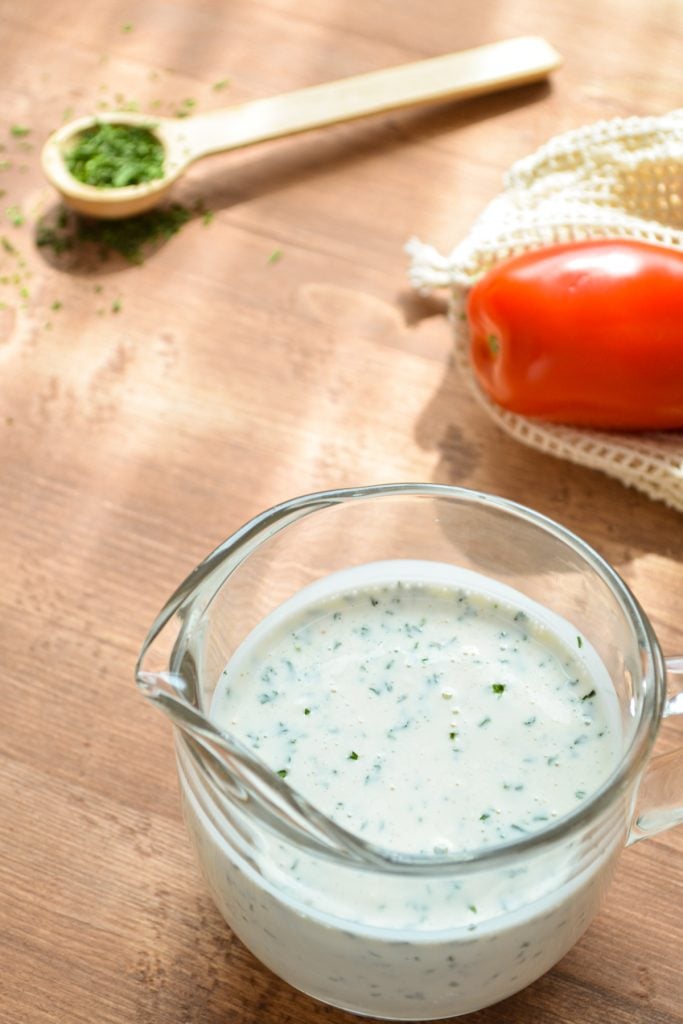 Ranch vs. Buttermilk Ranch: What's the Difference?
Although regular ranch dressing has a similar flavor profile to buttermilk ranch dressing, they are different in a few ways. Regular ranch dressing is often made with sour cream and mayonnaise as the base, while buttermilk ranch dressing uses mayonnaise and buttermilk. Both feature the same seasonings, but buttermilk ranch is quite a bit thinner in consistency while regular ranch dressing tends to be thick.
You can see my recipe for regular ranch dressing and dip here, which is similar to my buttermilk ranch in every way except the use of sour cream instead of buttermilk.
What Ingredients Do I Need?
Making your own buttermilk ranch dressing from scratch is SO simple. If you have a well stocked pantry + some buttermilk on hand, you have all you need to make buttermilk ranch salad dressing!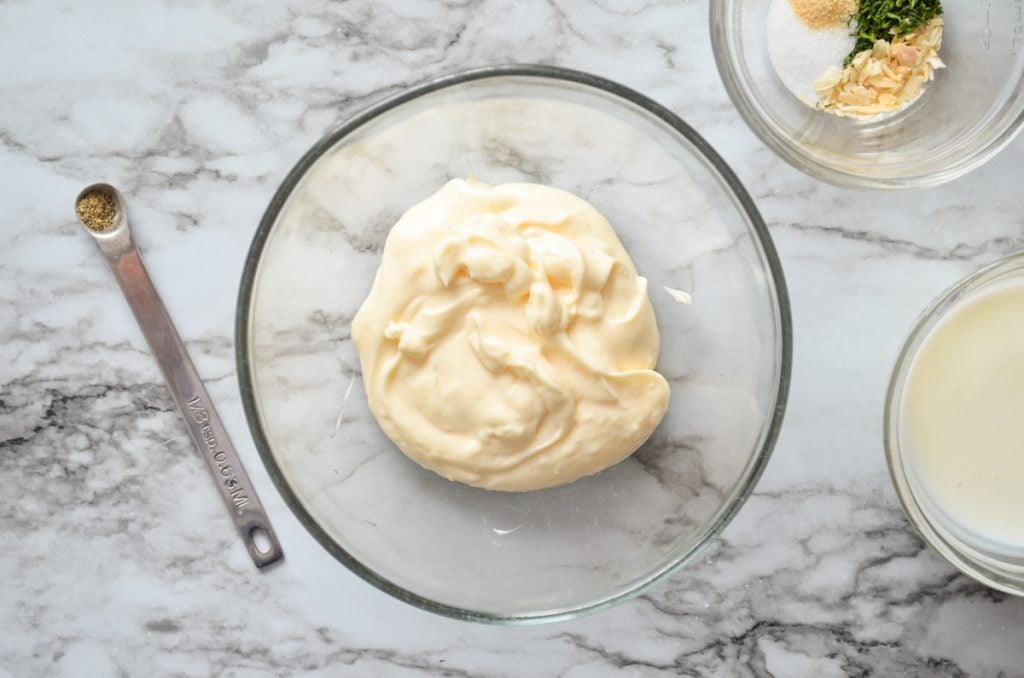 Buttermilk: Of course you need buttermilk! While using a buttermilk substitute is fine for most recipes, those that feature buttermilk as a key ingredient need the real thing.
Mayonnaise: You're going to want to use real mayonnaise for this dressing. Either store-bought or homemade is fine. If you opt for homemade, just make sure to keep it well refrigerated! Since we are trying to keep vegetable oils out of our diet, I opt for homemade avocado oil mayo. Chosen Foods makes a great version that you can buy in store and on Amazon.
Dried minced onion: This adds some texture. DO NOT use onion powder in place of the dried minced onion, because the onion taste will be too strong. You can find dried minced onion in store, and Amazon carries a great organic version.
Seasonings: Some dried parsley and a little bit of garlic powder is all you need!
Salt and pepper: A touch of salt and some ground black pepper finish off this easy dressing.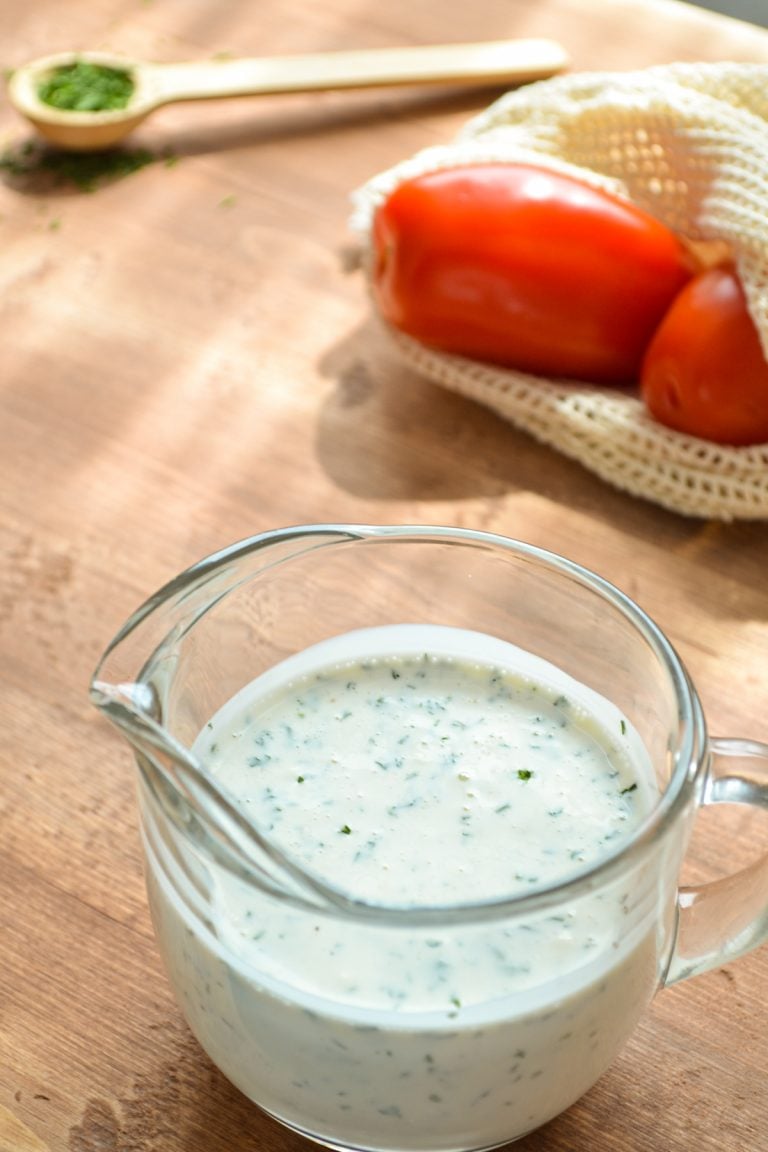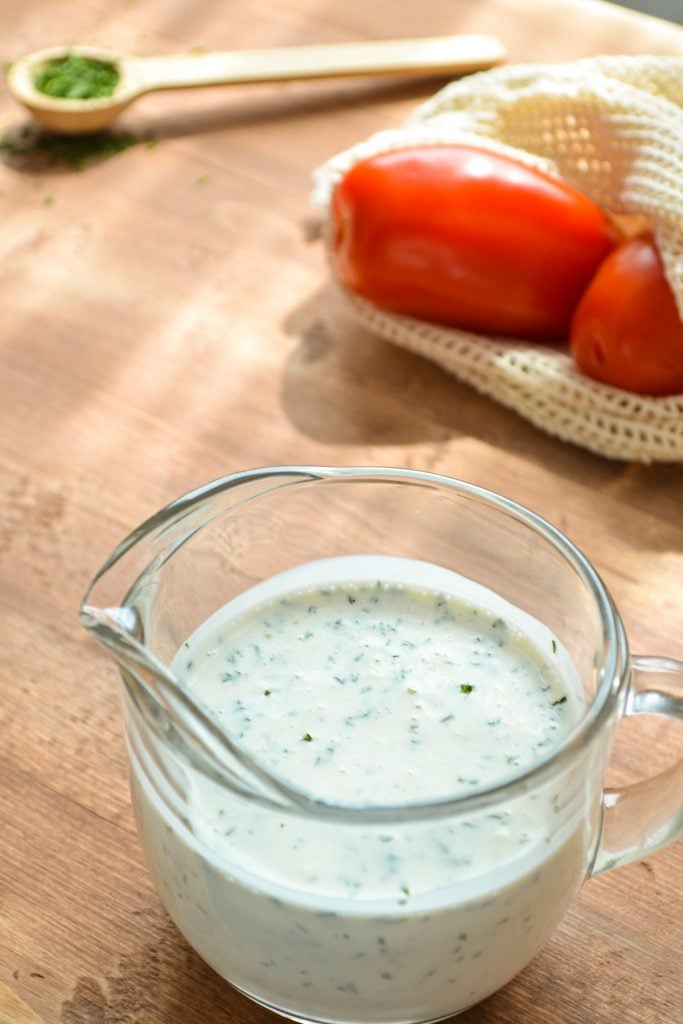 How Do You Make Buttermilk Ranch Dressing From Scratch?
Once you've started making some of your own foods at home, you'll wonder why you didn't start sooner! Once you have a well stocked pantry, you'll be able to whip up a tasty homemade dressing in less than 5 minutes! This buttermilk ranch dressing recipe is no different, and is SOOO much more delicious than the bottled stuff. Not only that, you can be selective about the quality of your ingredients and make sure they fit in with your way of eating and the choices you've made for your family. That's the power of making food from scratch!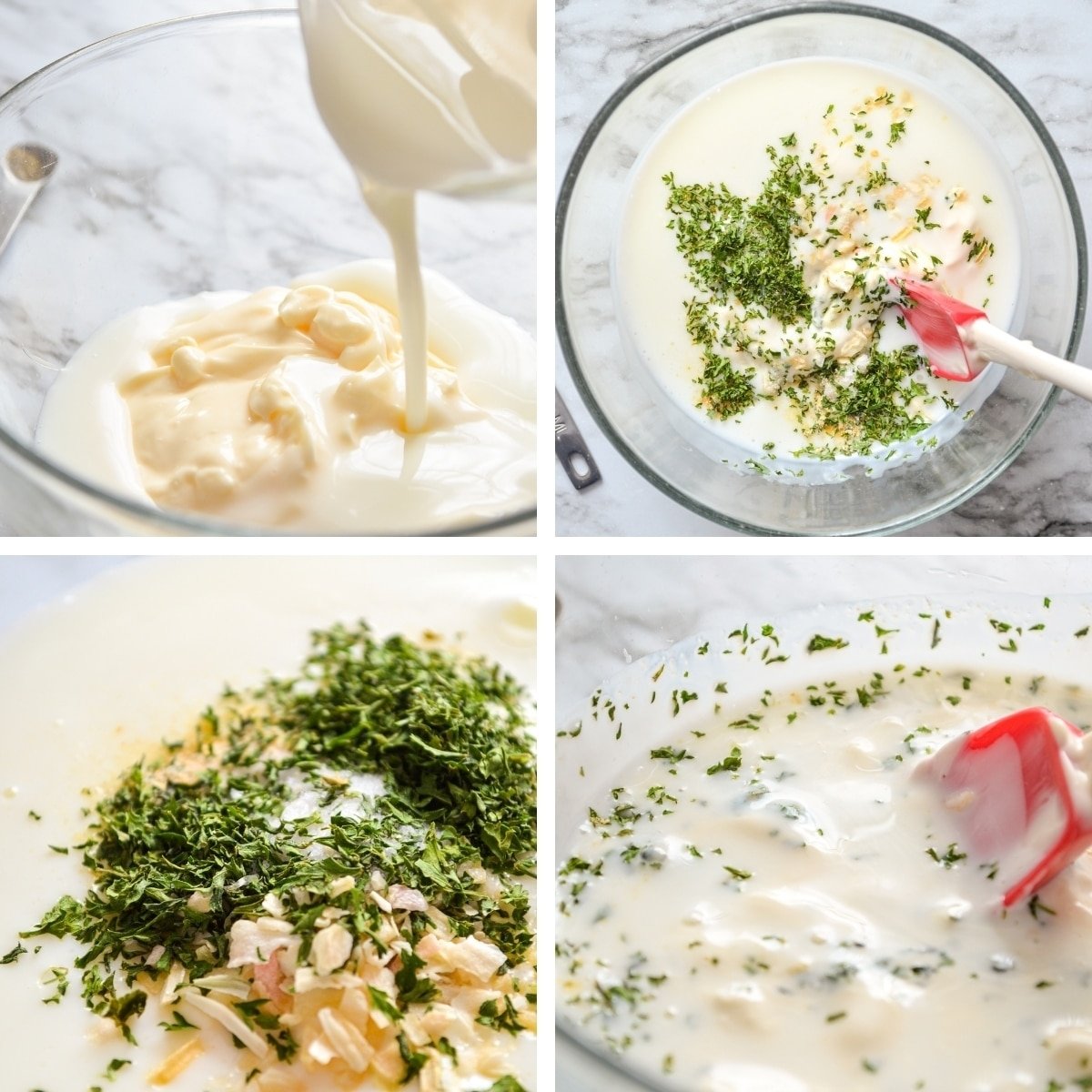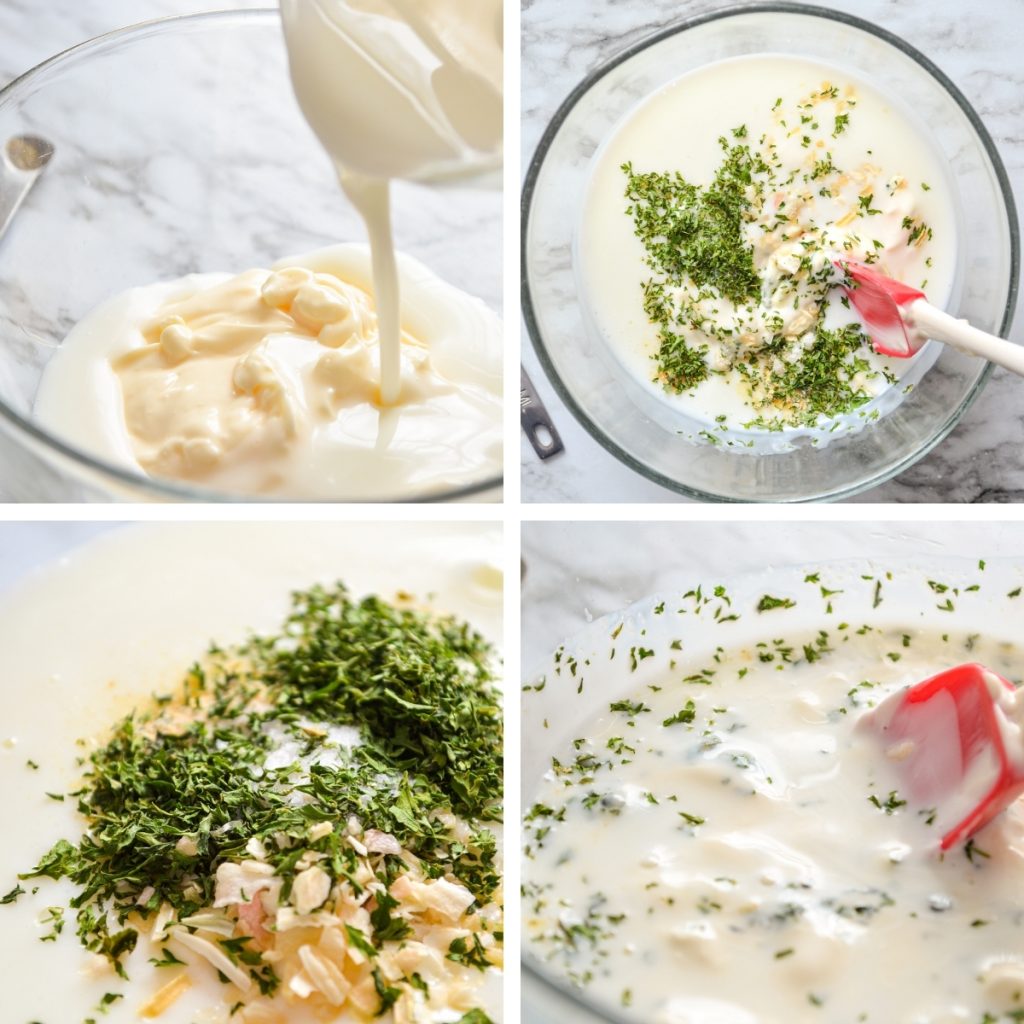 To make Buttermilk Ranch from scratch:
Combine 1/2 cup of real mayonnaise and 1/2 cup of buttermilk.
Add in your garlic powder, dried parsley, salt, pepper, and dried minced onion.
Stir well and taste, adjusting the seasonings as desired. Note that the flavors will strengthen over the next 30 minutes or so.
If possible, cover and chill your dressing for 30 minutes to 1 hour before serving.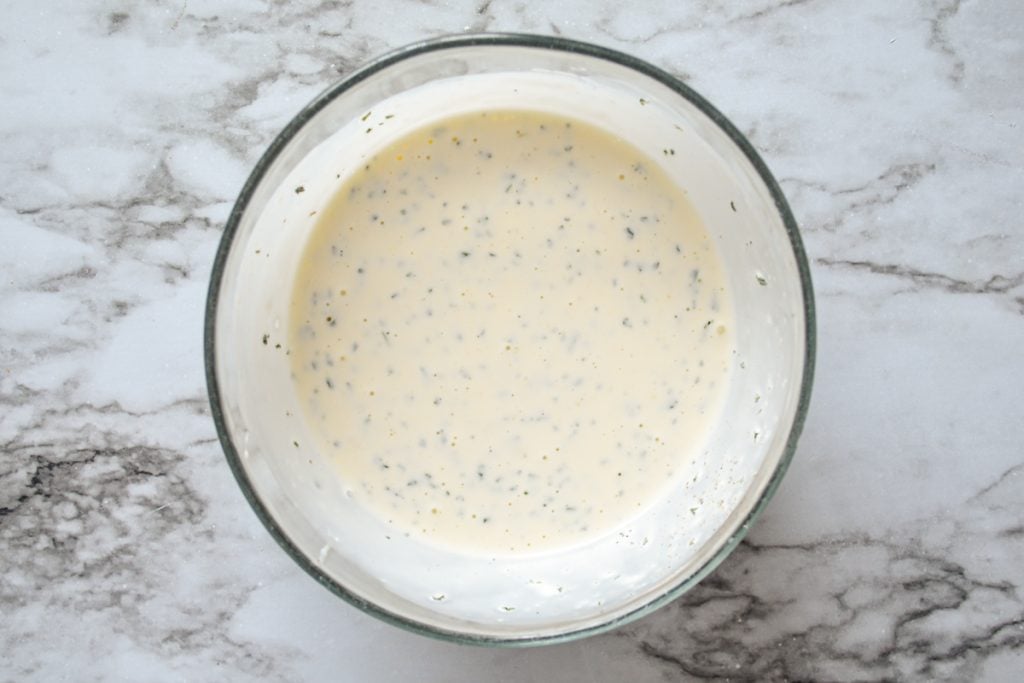 How Long Does Buttermilk Ranch Last?
While store bought buttermilk ranch dressing can last for months, you should eat up your homemade dressing within one week of preparation. If your buttermilk was less than fresh and close to date, you may want to consume it even more quickly than that. Be aware of the expiration date of your buttermilk, and ensure to use up your dressing before that date.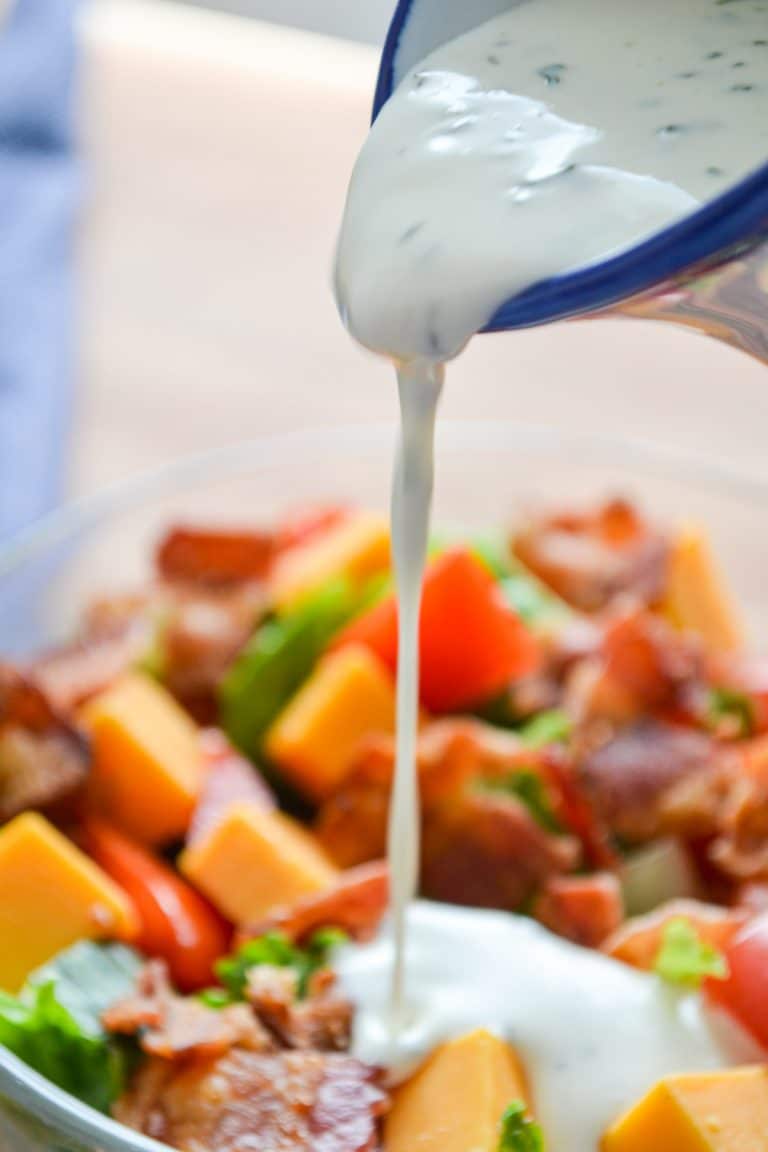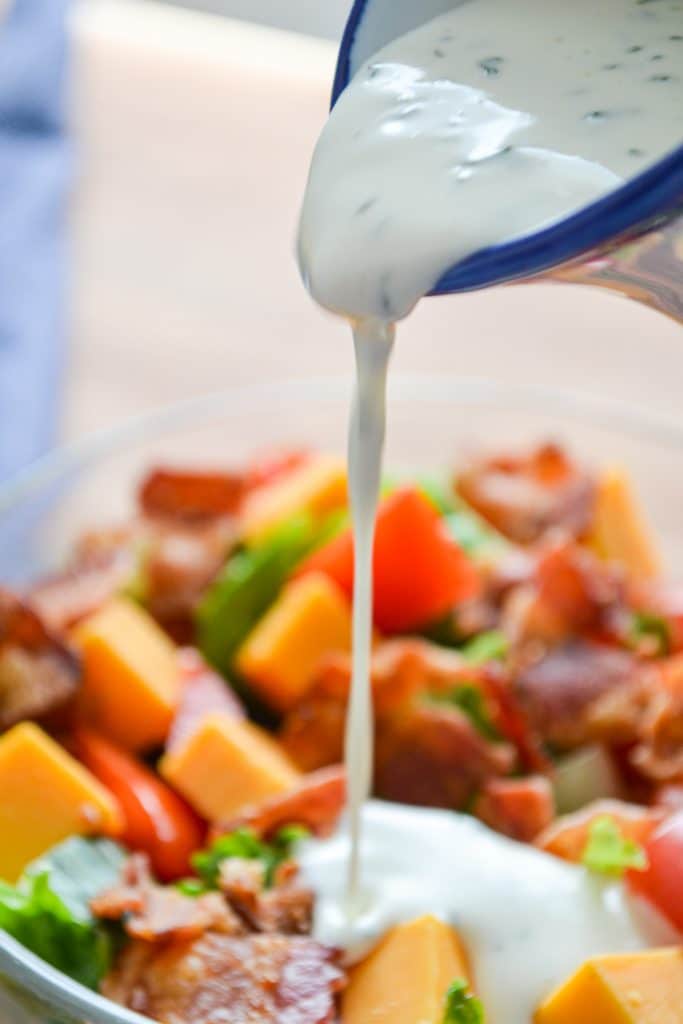 Recipes That Use Up Extra Buttermilk:
Using Buttermilk to Culture Dairy
I also have a few posts on my blog about how to use buttermilk to make cultured dairy products! There are more in the works, but for now I have: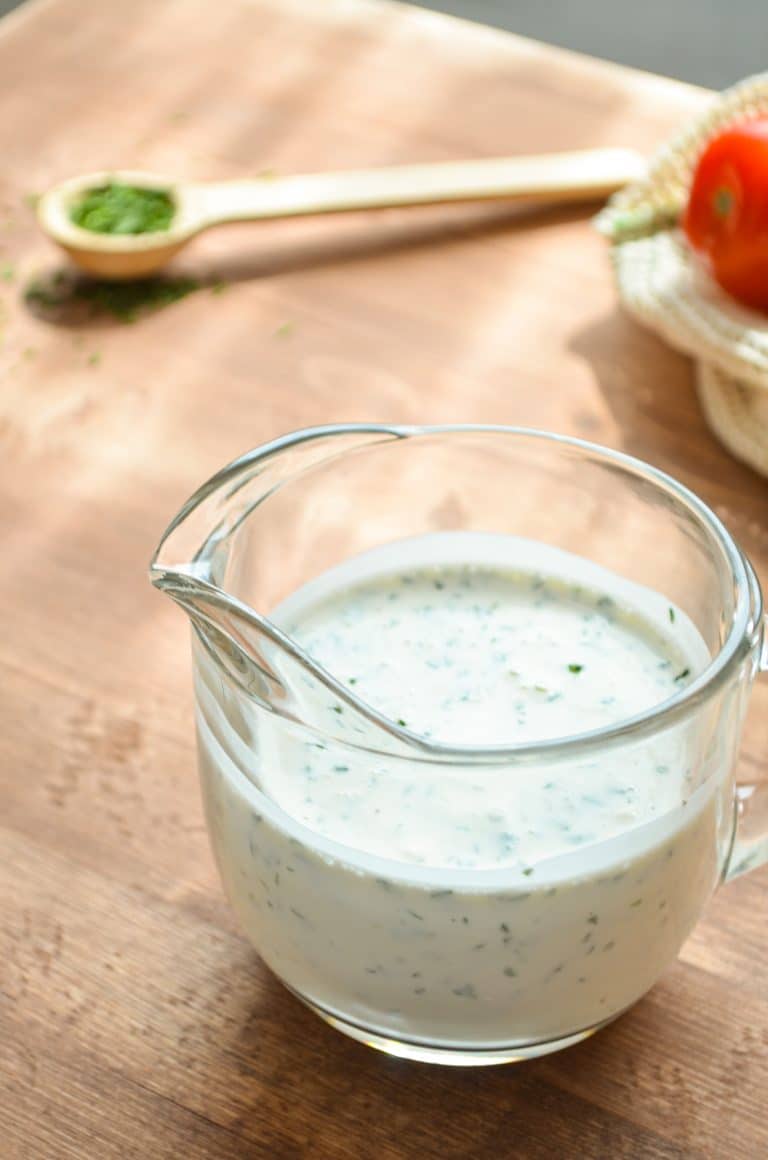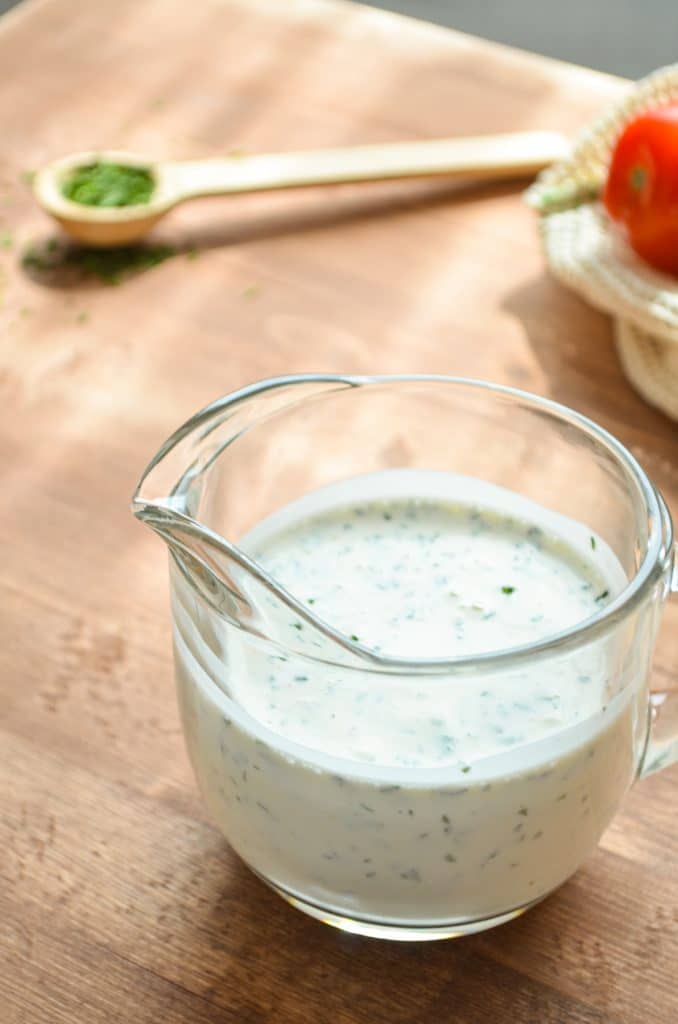 Buttermilk Ranch Nutrition
Store bought buttermilk ranch dressing averages for 2 tbsp: 150 calories, 16g of fat, 3g of carbs, 0g of protein and 320mg of sodium.
The estimated* nutritional information for 2 tbsp. of homemade buttermilk ranch dressing is: 100 calories, 10g of fat, 1g of carbs, 1g of protein and 153mg of sodium.
When comparing the two, the homemade version definitely has lower calories, fat, carbs, and sodium. It also has a slightly higher protein count (1g vs. 0). On top of the numbers, you can be sure to select the best quality ingredients for your homemade buttermilk ranch dressing, thereby making it more nourishing for your body as well as delicious.
*Nutritional information is calculated by Nutritionix and is an estimate only.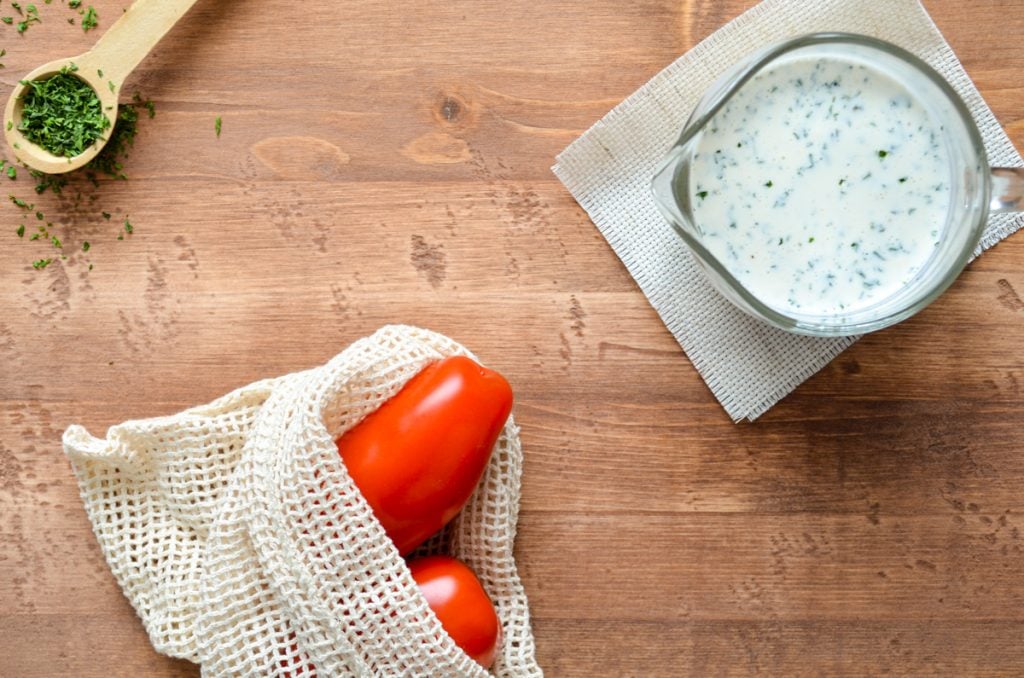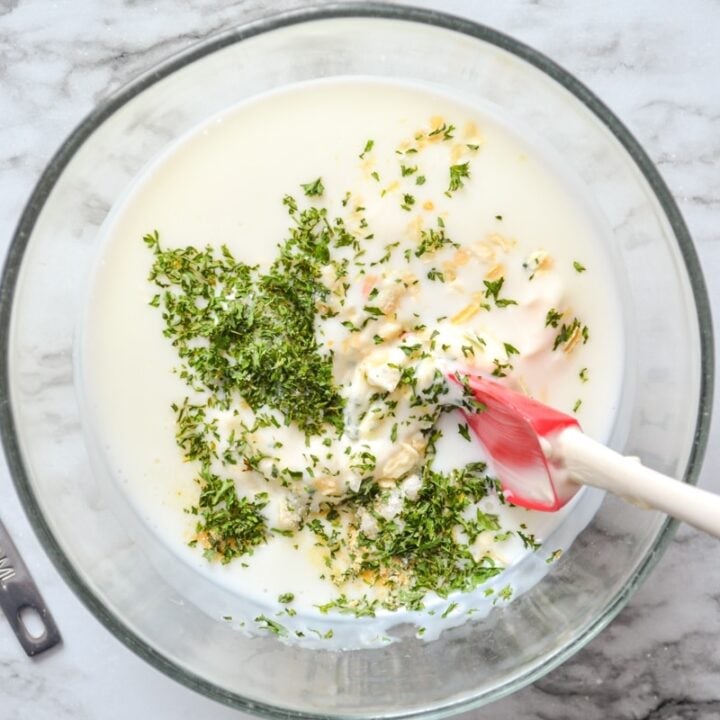 Homemade Buttermilk Ranch Dressing
Stop buying your salad dressings from the store and start making them at home! This lovely, fresh, and classic buttermilk ranch dressing is made from scratch and takes less than 5 minutes!
Ingredients
1/2 cup real mayonnaise
1/2 cup cultured buttermilk
1 tsp. dried parsley
1/2 tsp. dried minced onion flakes
1/4 - 1/2 tsp. salt
1/8 tsp. garlic powder
Pinch of ground black pepper
Instructions
Add the mayonnaise and the buttermilk to a small bowl and whisk until combined. Try to smooth out as many lumps as possible.
Add in the seasonings.
Stir well to combine. Taste and adjust seasonings to your liking!
Chill for 30 minutes before serving for best results!
Notes
For a Thicker Version:
This dressing is quite thin. If you'd like a thicker consistency, increase the mayonnaise to 2/3 of a cup and reduce the buttermilk to 1/3 of a cup.
Buttermilk Substitute:
Since this recipe is centered on Buttermilk, I wouldn't use a substitute in place. If you don't have buttermilk, you can make a fine classic ranch dressing by using sour cream as the buttermilk portion. I've also heard good things about buttermilk powder, but have not tested it myself.
Storage:
Store your buttermilk ranch dressing in an airtight container in the fridge for up to one week (providing the buttermilk was fresh). I would not recommend freezing homemade salad dressings, since the consistency is very important and the freezer will drastically change that.
Nutrition Information:
Yield:

8
Serving Size:

2 tbsp.
Amount Per Serving:
Calories:

100
Total Fat:

10g
Saturated Fat:

2g
Trans Fat:

0g
Unsaturated Fat:

9g
Cholesterol:

6mg
Sodium:

153mg
Carbohydrates:

1g
Fiber:

0g
Sugar:

1g
Protein:

1g
Nutrition information is an estimate only.
Pin it for Later