Sweet, satisfying, and bursting with fresh fruit, these Strawberry Buttermilk Muffins will become a new family favorite! Easy to make, easy to freeze, and easy to enjoy. All the succulence of strawberries, packed into a muffin and topped with cinnamon streusel. Can it get any better?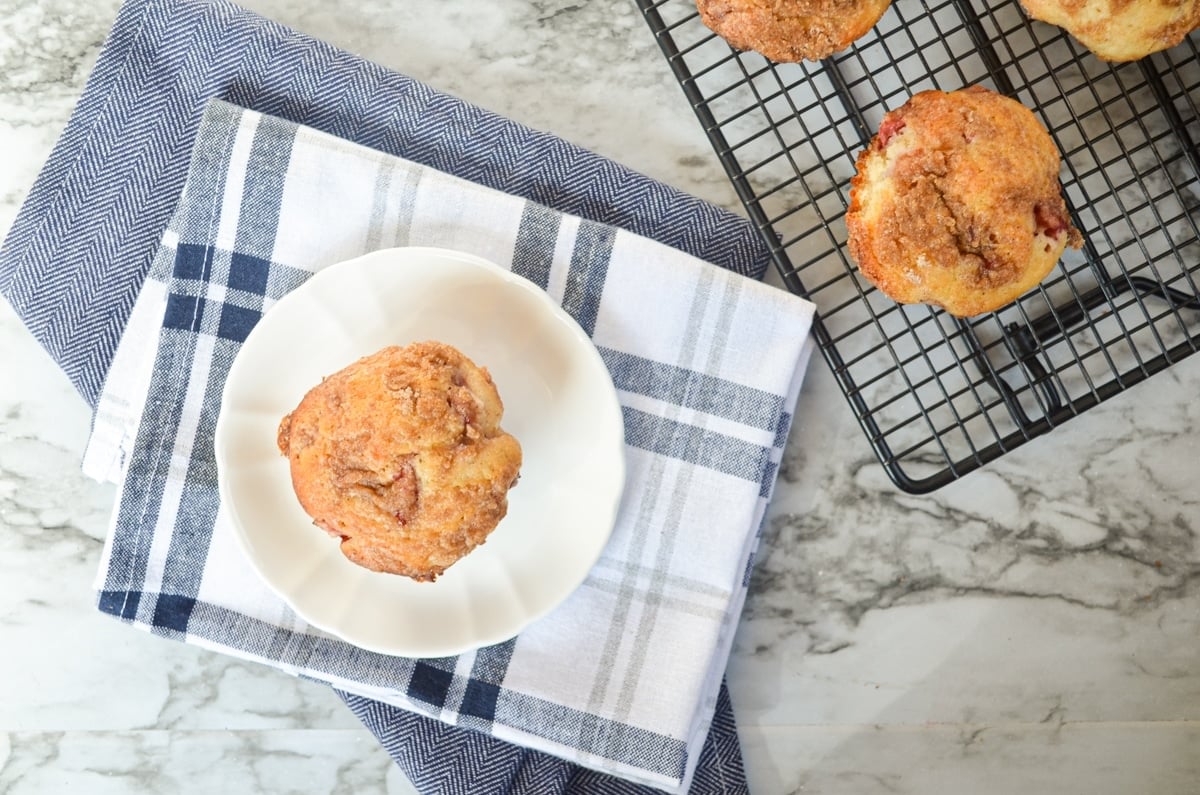 Please note that some of my blog posts here at Little Home in the Making may contain affiliate links. If you make a purchase through these links, I will get a small commission at no additional cost to you. Please see my Disclaimer for more information.
---
Muffins are a wonderful thing! A portable treat (or breakfast), individually packed and bringing joy to all who partake. Often made with delicious mix-ins like chocolate chips, blueberries, or (in this case) strawberries. Muffins are packed with flavor and texture. Is it any wonder they are such a popular food?
These Strawberry Buttermilk muffins are so moist, sweet, and springy. They are packed with scrumptious fresh strawberries, made with tangy buttermilk, and topped with cinnamon streusel. "Hello, it's your stomach calling, and I want you to give me allllllll the muffins!"
Best part? They are freezer friendly, which means you can make them ahead of time and thaw when needed. Perfect for those busy mornings or a last minute road trip. I love my freezer for stashing goodies like these muffins. It's like having my own personal bake shop!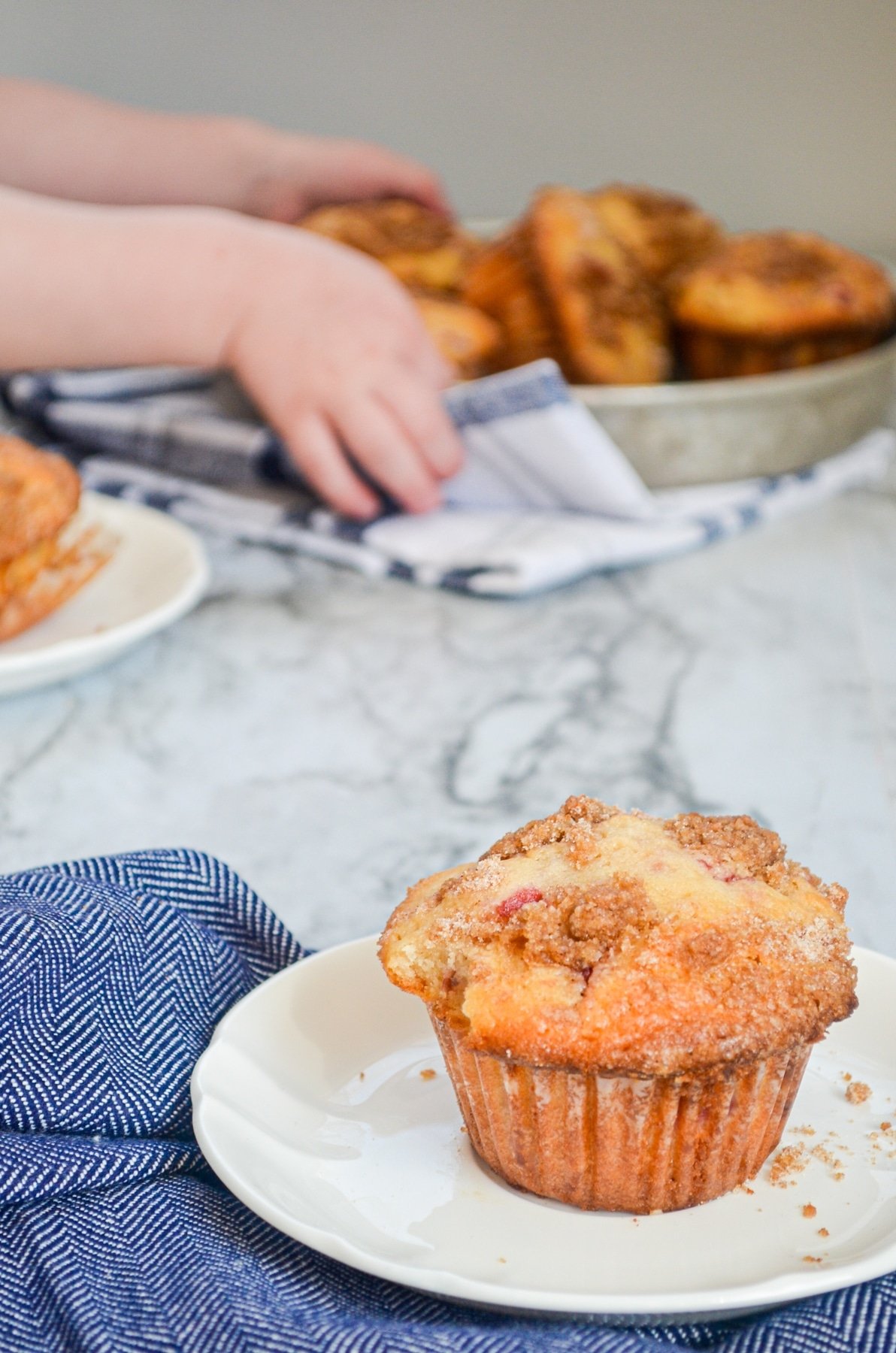 What's the Secret to Making Moist Muffins?
Buttermilk.
Yes, it really is that simple! Buttermilk is a magical baking ingredient, bringing moistness, acidity, and tang to a variety of baked goods. Once you start baking with buttermilk, you won't stop! I even make my own cultured buttermilk at home when the mood strikes!
In addition to using buttermilk as your liquid, muffins maintain their moistness when the ingredients are measured accurately and they are not overmixed after the addition of flour. I talk more about that in the section below. 👇
Another common mistake is to overbake your muffins. If you don't already use an oven timer, now is the time to start! You just need to bake your muffins until a cake tester comes out clean when inserted in the middle. For most ovens that is between 25-30 minutes for these Strawberry Buttermilk Muffins. The reason muffins dry out in the oven is because the liquid slowly evaporates through the cooking process. The key is to evaporate enough of the moisture, without completely drying it out. This is why using a quality recipe, following the instructions, and using a cake tester is so important to muffin (and baking) success!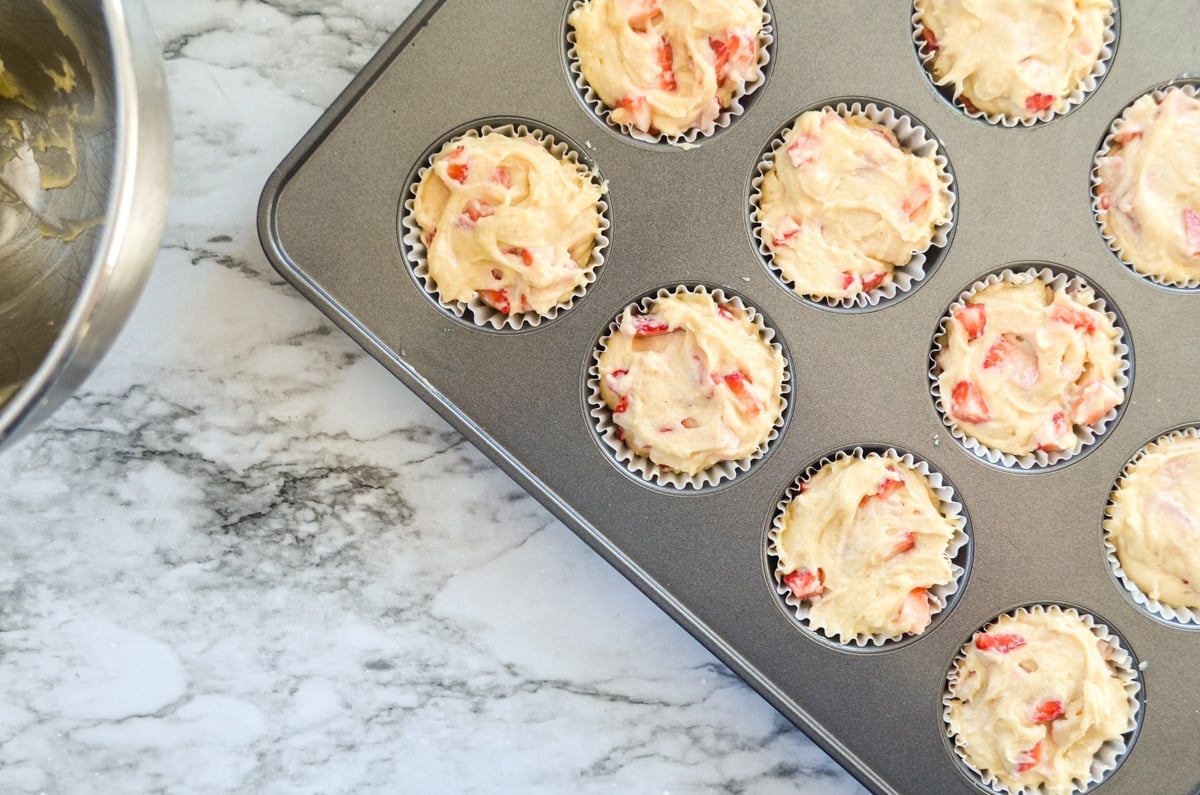 How Can I Make my Strawberry Buttermilk Muffins Light and Fluffy?
The key to making light and fluffy muffins is to whip the batter at the proper time, and fold gently later in the process. This sounds super confusing, but I promise you it's not that hard! One of the biggest mistakes people make when baking is overmixing their batters and doughs. Once the flour has been added to your batter, you have to be very careful not to overmix. This is because the gluten in flour is activated when it is mixed heavily (think kneading bread dough). While this is good for breads, it's not so good for softer baked goods like muffins and cookies.
They key to light and fluffy muffins is to whip the batter really well during the creaming of the butter and sugar. Once you add the eggs, beat until the mixture lightens in color. Then, when you add the flour, gently mix just until moistened. Add the fillings and fold in gently with a silicone spatula. By avoiding the overmixing of the batter after the addition of flour, you'll get light and fluffy strawberry buttermilk muffins every time!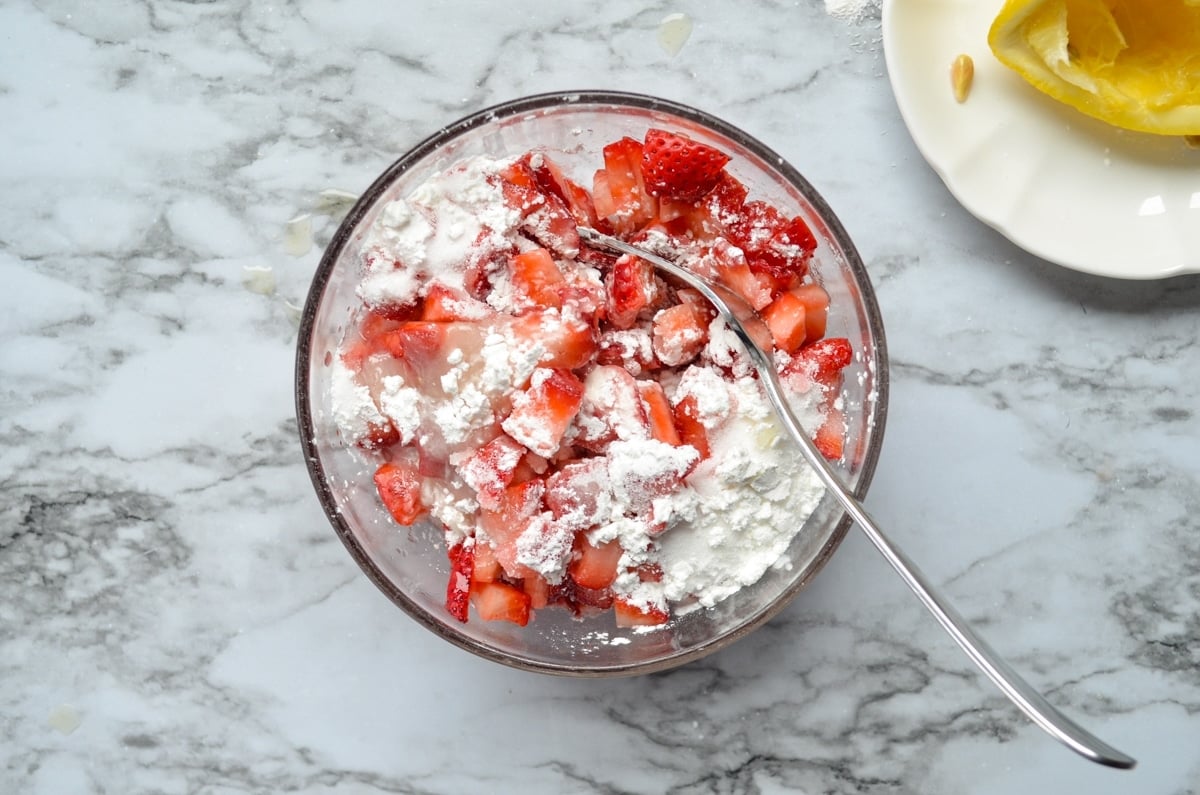 Preventing Fruit From Sinking to the Bottom
There's a simple trick for preventing fruit from sinking to the bottom of your favorite muffins, breads, and other baked goods! This also works well for chocolate chips and raisins. You simply toss them with a little bit of flour. The batter "grabs" onto the flour and binds with it. This keeps your fruit and add-ins suspended in your batter, rather than all at the bottom of your muffin, cookie, or bread. Nice!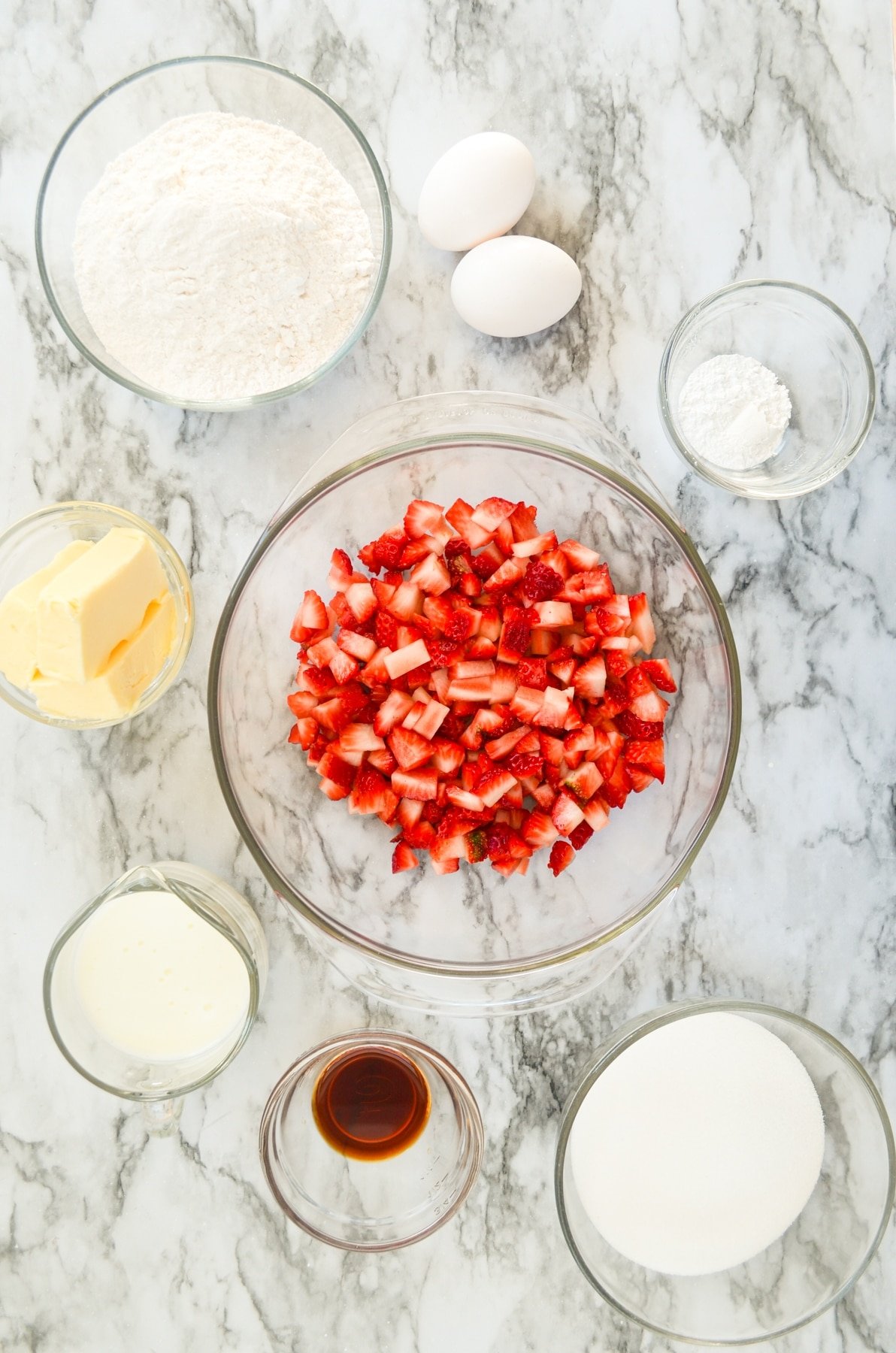 What Do I Need to Make Strawberry Buttermilk Muffins?
Fresh Strawberries: You will need a pint of fresh strawberries. If you can get them in season, that is ideal! You'll want to hull the strawberries and dice them into small pieces (about 1/2″ or smaller).
Flour: Regular all purpose flour works well in this recipe, but how you measure it matters. To keep these muffins light and fluffy, make sure you spoon and level your flour. This ensures you don't pack too much flour into the measuring cup, which will make for dense muffins.
Buttermilk: This adds a pleasant tang and moistness that makes these muffins absolutely to-die-for! If you are in a pinch, you can use a substitute for buttermilk, but I recommend purchasing store bought cultured buttermilk or making your own.
Butter: We use salted butter in this recipe. You are going to need to have your butter softened to be able to cream it together with the sugar. This means you will need to set your butter out to soften a few hours before the recipe. Do no substitute with melted butter or cold butter. If you need to soften your butter in a pinch, you can try this trick from Sally's Baking Addiction.
Sugar: The fresh flavor of strawberries works best with white granulated sugar. This is perfect for creating that light and fluffy texture and neutral flavor.
Eggs: You will need 2 large eggs. If you can have them at room temperature, you will have slightly better results, but cold eggs are totally fine too!
Plus: Baking powder, salt, and vanilla extract.
For the Cinnamon Streusel Topping:
Brown Sugar: Adds a more complex flavor and a wonderful texture to the top of the strawberry muffins.
White Sugar: Creates a balanced flavor and finer crumb for your streusel topping.
Flour: A key ingredient in every streusel! Blends with the sugar, brown sugar, and butter for a flaky, crispy texture.
Butter: For your topping, you will need COLD butter, rather than the softened butter required for your batter. When you take out your butter to soften, measure out the amount needed for your streusel topping and place it back in the fridge. Simply cube it when you're ready to prepare your topping.
Cinnamon: A wonderful complimentary flavor to the fresh strawberries, and a classic addition to streusel toppings.
Recommended Equipment: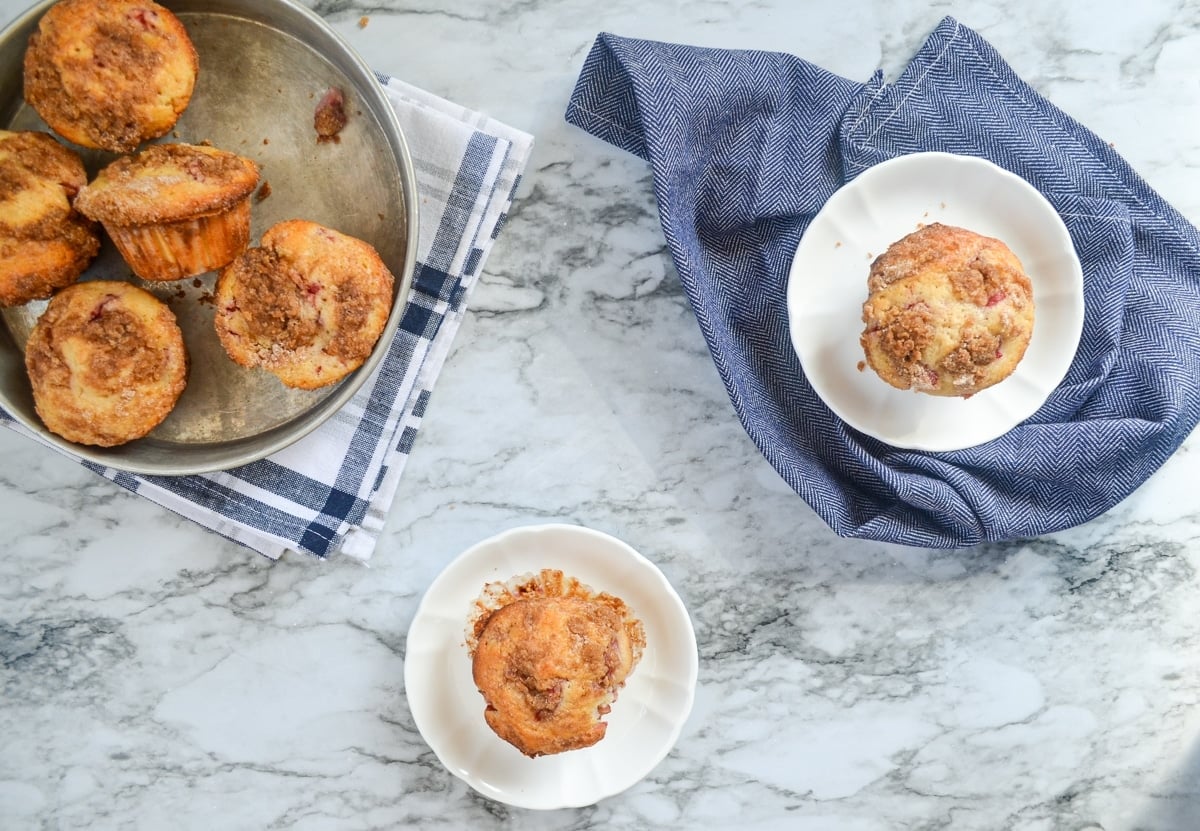 How Do You Make Strawberry Muffins From Scratch?
Although using boxes mixes is pretty common, it's actually incredibly easy to make strawberry muffins from scratch! As long as you follow the recipe and are sure to use quality ingredients, and good techniques, you'll have light and fluffy muffins with an addictive homemade taste.
These strawberry buttermilk muffins are made using a stand mixer, but you can use a hand mixer, or even a whisk if you have a strong arm for creaming butter! For the most foolproof results, I recommend a mixer.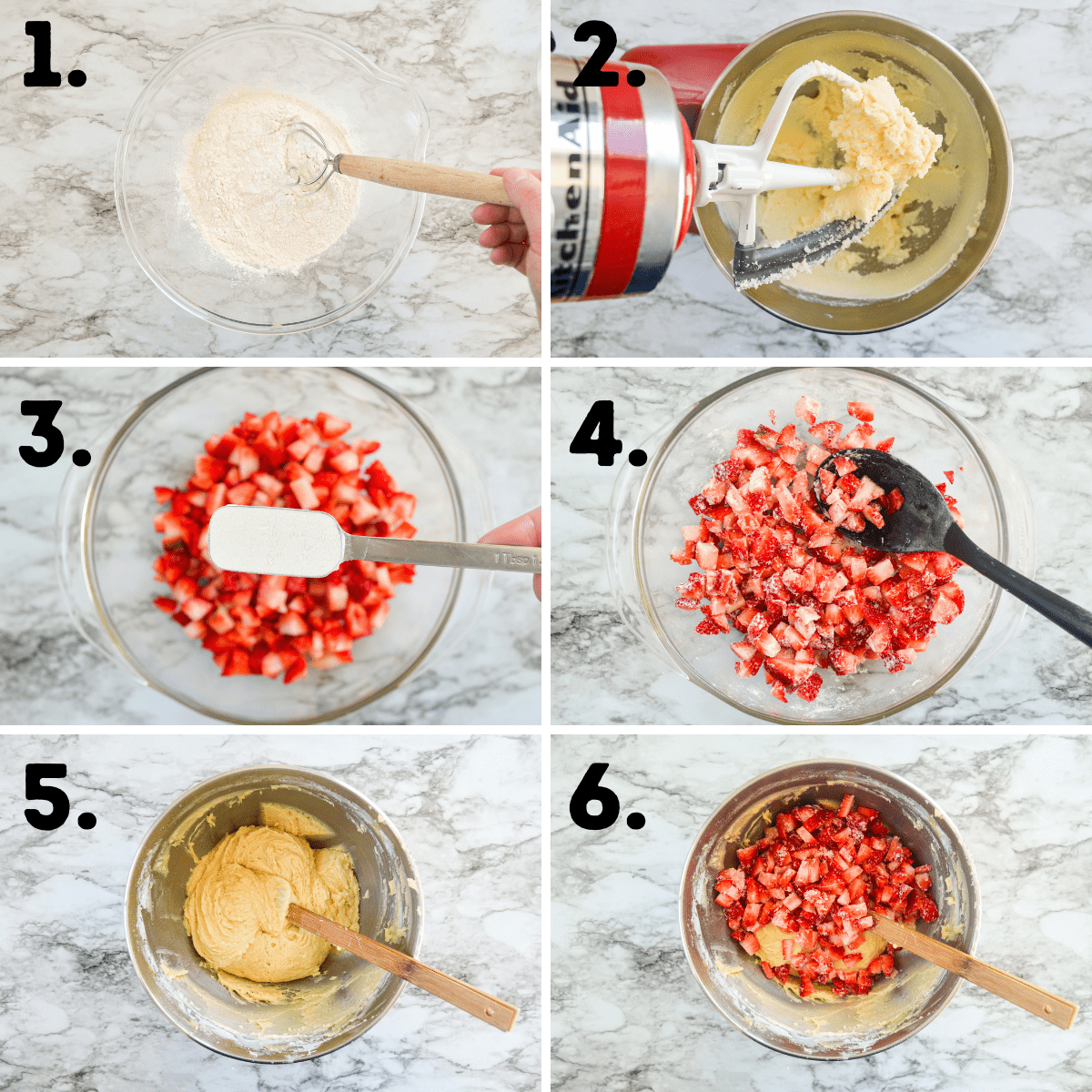 Step One: Combine the flour, baking powder, and salt. Set aside.
Step Two: Cream the butter and sugar until fluffy and smooth.
Then, Step Three: Add diced strawberries to a medium sized bowl.
Step Four: Add 1 tbsp. of flour to the strawberries and toss well to coat. Set aside.
Step Five: Finish mixing up the batter by adding the eggs and vanilla and beating until lighter in color. Alternate adding the flour mixture and buttermilk until all the flour and buttermilk have been added. Mix just until moistened, being careful not to overmix the batter.
Finally, Step Six: Add the strawberries to the muffin batter and fold gently to combine. Add the butter to a muffin tin lined with paper liners and top with the cinnamon streusel topping. Bake for 25-30 minutes, or until a cake tested comes out clean.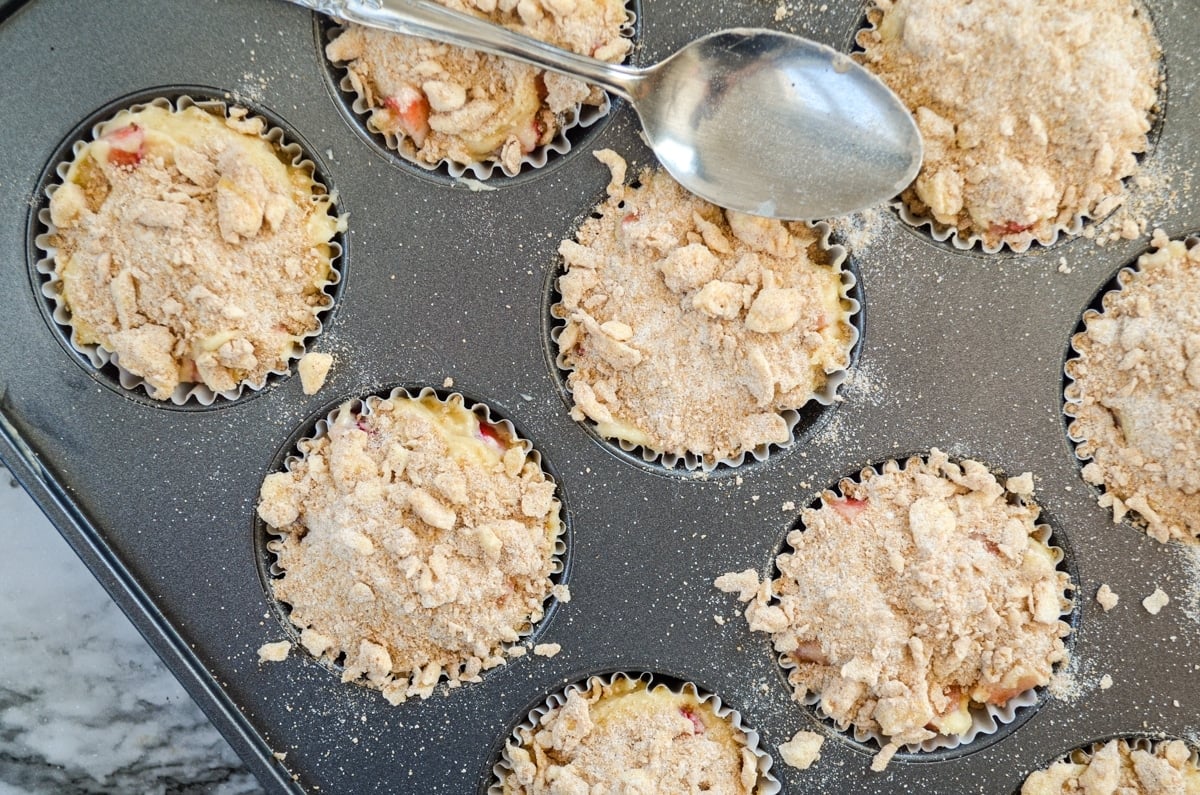 A Final Touch: Cinnamon Streusel Topping
What really makes these muffins extra special is the cinnamon streusel topping! This is an easy addition, but it adds the subtle taste of cinnamon, which compliments the fresh strawberries in the most wonderful way! Making a streusel topping is a basic baking skill that every home cook should know how to do, because it adds such a nice crunch and flavor with minimal effort.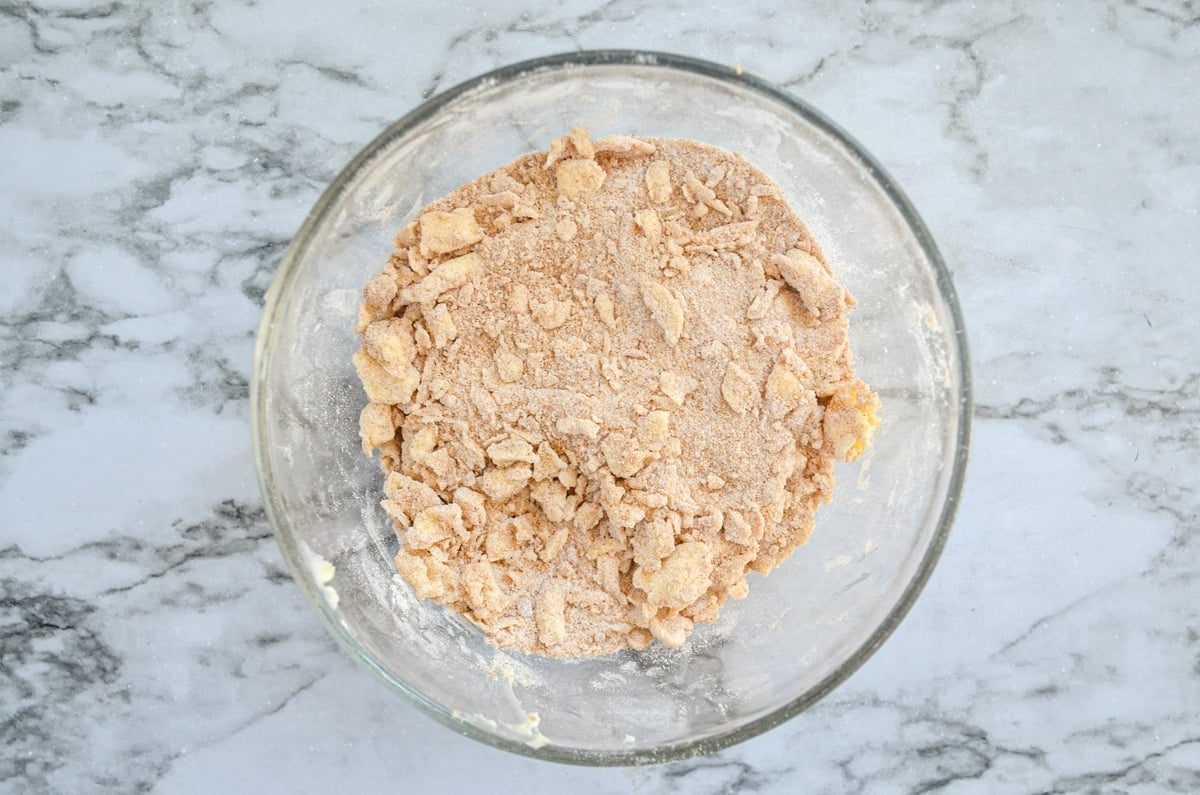 Add you have to do is combine brown sugar, white sugar, flour, and cinnamon. Whisk it really well and then cut in the cold, cubed butter. This is a similar technique you see in pie crusts and other pastries. For a streusel, you don't need to cut the butter in until the crumbs are coarse. You can merely cut them in until flaky. This uneven texture makes for a really interesting topping for muffins, breads, and crumbles! Give it a try with one of your favorite recipes, you'll love it!
Questions and Answers
Can I use Frozen strawberries?
I would strongly recommend using fresh strawberries, but you can substitute frozen strawberries if needed. Completely thaw the strawberries, drain off the excess juices, and cut into smaller (1/2″ or smaller) pieces. Drain the strawberries again and measure out 2 to 2 1/2 cups of your diced, thawed strawberries. Toss the strawberries with the 1 tbsp. of flour called for in the recipe.
Can I use a buttermilk substitute?
Again, I strongly recommend using an authentic buttermilk, but in a pinch you can use a buttermilk substitute recipe like this one from My Baking Addiction. Or, if you plan on doing a lot of baking, you can get your own buttermilk culture started. See my post on making real cultured buttermilk at home.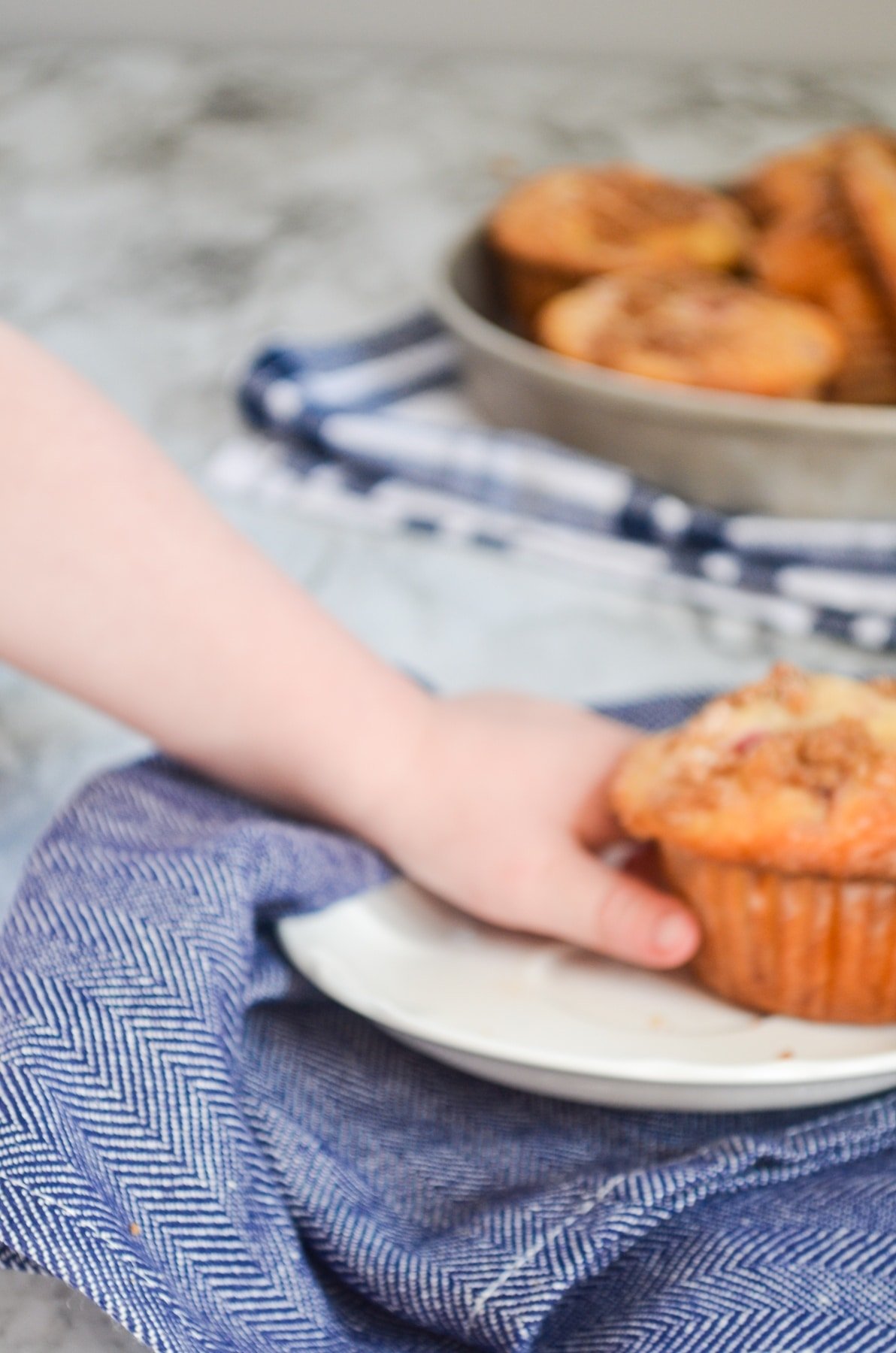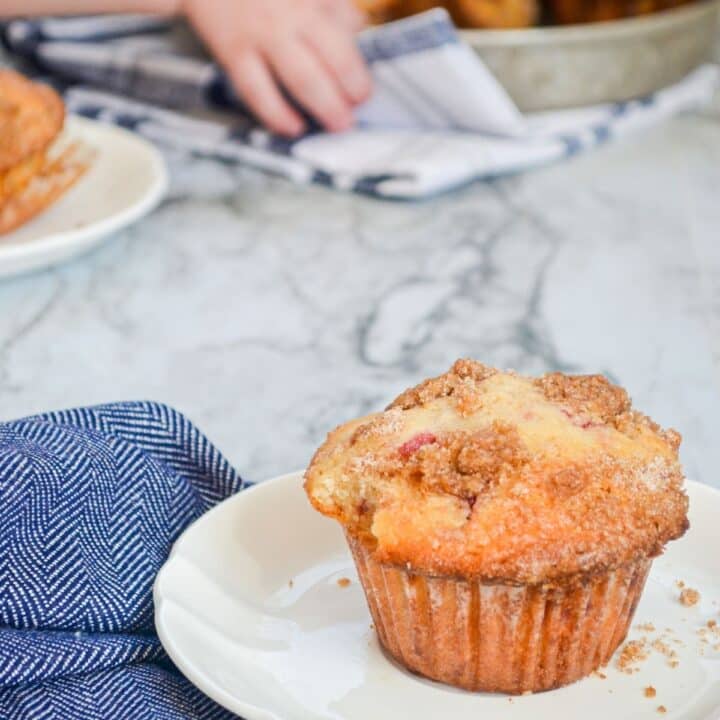 Strawberry Buttermilk Muffins with Cinnamon Streusel Topping
These Strawberry Buttermilk Muffins are tender, sweet, and perfect for a lunch box treat or spring time snack. Loaded with fresh strawberries and topped with a cinnamon streusel, you know this is going to be a recipe that will be requested again and again!
Ingredients
2 cups All Purpose Flour (scooped and leveled)
2 tsp. Baking Powder
1/2 tsp. Salt
1/2 cup Salted Butter, softened
1 cup White Granulated Sugar
2 large eggs
1 1/2 tsp. Vanilla Extract
1/2 cup Buttermilk
1 pint strawberries, hulled and diced (about 2 - 2 1/2 cups)
1 tbsp. All Purpose Flour
Streusel Topping
1/2 cup Brown Sugar (light or dark is fine)
1/2 cup White Granulated Sugar
1/2 cup All Purpose Flour
1 tsp. Ground Cinnamon
1/4 cup Cold Salted Butter, cubed
Instructions
Preheat the oven to 375F and line a 12-cup muffin tin with paper or parchment liners.
Add the flour (scooped and leveled), baking powder, and salt to a medium sized bowl. Whisk well until combined. Set aside.
Add the butter and sugar to the bowl of a stand mixer fitted with the paddle attachment. Cream together until light and fluffy, about 2 minutes. If you do not have a stand mixer, you can use a large mixing bowl and a hand mixer.
Add one of the eggs to the butter and sugar mixture and beat until combined. Scrape down the edges of the bowl and add the second egg. Beat again until well combined. Add the vanilla extract and beat until lighter in color, about 1 minute.
Add 1/3 of of the flour mixture to the bowl and mix just until combined. Add 1/4 of the buttermilk, and mix again. Add another 1/3 of the flour mixture, mix, and then the remaining 1/4 cup of the buttermilk. Add the last of the flour blend and mix just until moistened and combined. Scrape down the edges of the bowl with a rubber spatula.
Add your diced strawberries to a medium bowl and sprinkle with 1 tbsp. Of all purpose flour. Toss well to coat the strawberries with the flour. This will prevent them from sinking to the bottom as the muffins bake.
Add the strawberries to your muffin batter and fold them in gently using your rubber spatula. Be careful not to over mix.
Use a large cookie scoop to portion the batter evenly between the 12 muffin cups. Start by filling your muffin cups 3/4 of the way, and then top them up with the remaining batter. They should be almost full.

Streusel Topping:
Add the brown sugar, white sugar, flour, and cinnamon to a medium sized bowl. Whisk well to combine.
Add the cold, cubed butter to the streusel mixture and use a pastry cutter or fork to cut the butter into the mixture until it resembles flaked crumbs.
Top each muffin with the streusel mixture and spread it out evenly without packing it down.

Baking the Muffins:
Bake the muffins for 28-30 minutes, or until a toothpick or cake tester comes out clean when stuck into the center of your muffins.
Let the muffins cool in the pan for 25-30 minutes, and then use a butter knife to loosen and remove the muffins from the pan.
Place the muffins on a wire cooling rack, and cool completely.
Notes
Adapted from Once Upon a Chef
Storage: Place in an airtight container and keep at room temperature for 2-3 days, in the fridge up to 1 week, or tightly wrapped and placed in a freezer bag in the freezer for up to 3 months.
Nutrition Information:
Yield:

12
Serving Size:

1
Amount Per Serving:
Calories:

353
Total Fat:

13g
Saturated Fat:

8g
Trans Fat:

0g
Unsaturated Fat:

4g
Cholesterol:

62mg
Sodium:

304mg
Carbohydrates:

56g
Fiber:

1g
Sugar:

34g
Protein:

4g
Nutrition information is an estimate only.