Try this delicious Easy Ranch Dip with some veggies or tossed with a salad. Made from pantry ingredients and comes together in a snap!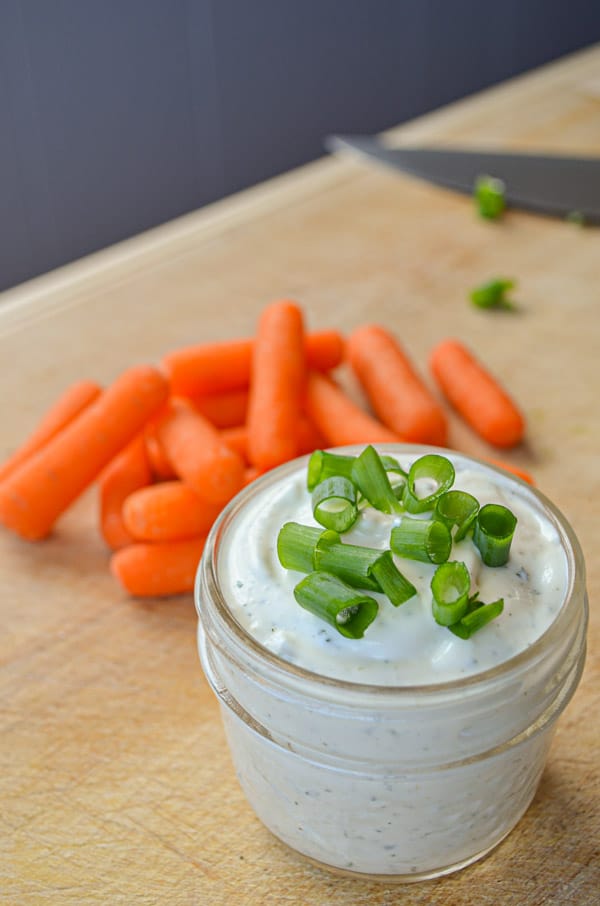 Please note that some of my blog posts here at Little Home in the Making may contain affiliate links. If you make a purchase through these links, I will get a small commission at no additional cost to you. See our disclaimer for more information.
---
Who doesn't love Ranch dip and veggies? I know I do! If anything in this world is certain, it's that kids will eat their veggies if it involves ranch (and maybe cheese sauce). I'm 31 years old and there's nothing more exciting to me than some sliced mushrooms and a cup of ranch dressing!
Ranch dressing can be expensive if you go through it quickly. Maybe you have the opposite problem and only have it occasionally and then forget about the bottle in the back of the fridge. Either way, chances are you have the ingredients you need to make this Easy Ranch Dip.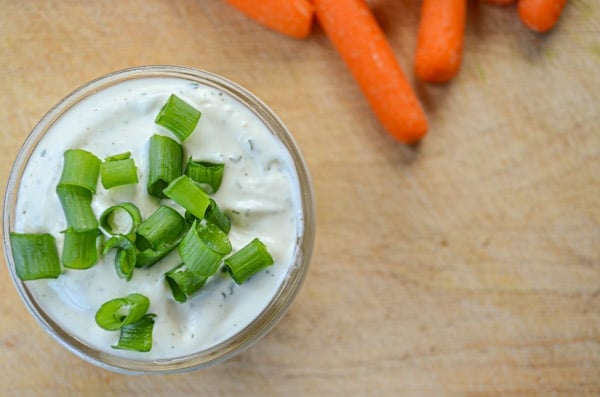 What About Seasoning?
I always keep a well stocked supply of spices and seasonings. This is especially important when you're making a lot of your own things (which I often do). I keep my spices and seasonings labeled in containers and stock up at the bulk food store when I'm running low. More often than not, I have everything I need on hand to make whatever recipe I've found or dreamed up. I strongly recommend you do the same if you want to have a well stocked pantry.
This particular recipe for Easy Ranch Dip doesn't contain any strange spices or seasonings, and the creamy base is made from Mayo and Sour Cream, which are items I think most every family has in their fridge at any given time. If you don't happen to have sour cream you can use thick greek yogurt in place of it.
How Do I Serve Easy Ranch Dip?
This Easy Ranch Dip is delicious served with a variety of sliced vegetables. It can also be used as a salad dressing! I personally find it a bit thick for pouring on salad, but if you would like to toss it with some salad before serving it will be absolutely delicious! This is how my husband eats Deluxe Cheeseburger Salad and many other salads. I also have an adaptation that makes for a more pourable dressing: substitute the sour cream for buttermilk! Absolutely delicious.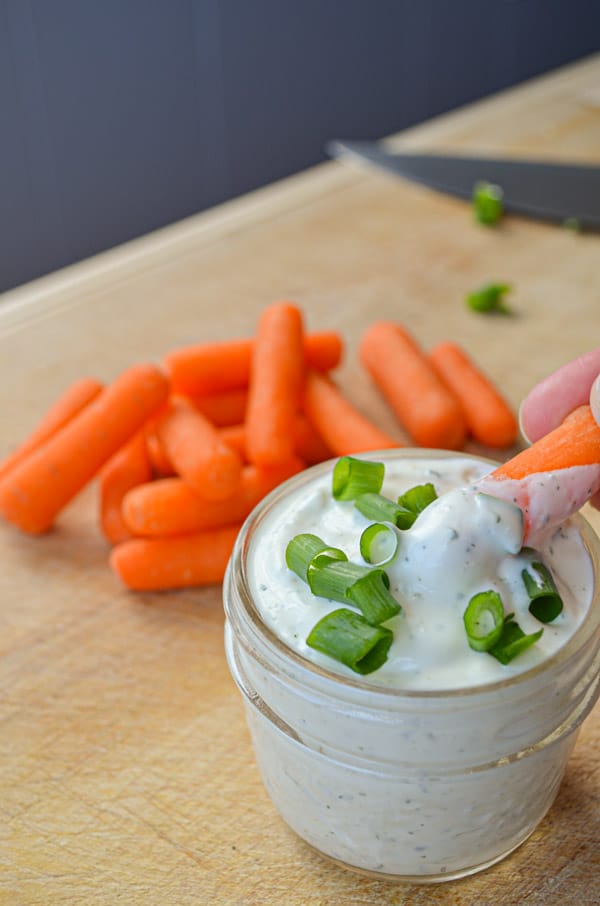 What Do You Need to Make Easy Ranch Dip?
Since this dip is intended to be made of pantry ingredients, I've tried to keep the recipe for Easy Ranch Dip as simple as possible! This is what you need:
Mayonnaise: I always use REAL mayonnaise in dips and dressings. The flavor doesn't compare.
Sour Cream: Most folks have sour cream in the fridge, but if not you can use thick greek yogurt.
Garlic Powder: This is what I would consider a cornerstone seasoning in my pantry!
Dried Parsley: Provides those signature little flecks of green.
Dried Minced Onion: This may be something that is less common, but I love and use it often in my kitchen. This provides nice chunks of dried onion that soften and add a lovely texture.
Salt: Just a little bit to round out the flavor.
Pepper: A pinch will do!
Easy Ranch Dip
Try this delicious Easy Ranch Dip with some veggies or tossed with a salad. Made from pantry ingredients!
Ingredients
1/2 cup Real Mayonnaise
1/2 cup Sour Cream
1/4 tsp. Garlic Powder
1 tsp. Dried Parsley
1/2 tsp. Dried Minced Onion
1/2 tsp. Table Salt
pinch Black Pepper
Instructions
Add the mayonnaise and sour cream to a medium bowl and combine well.1. Add the mayonnaise and sour cream to a medium bowl and combine well.
Add the remaining ingredients and mix well to combine.
Taste and adjust seasonings to personal taste.
Chill for at least 30 minutes before serving with your favorite cut veggies.
Nutrition Information:
Yield:

8
Serving Size:

1 grams
Amount Per Serving:
Calories:

123
Total Fat:

13g
Saturated Fat:

3g
Trans Fat:

0g
Unsaturated Fat:

9g
Cholesterol:

14mg
Sodium:

237mg
Carbohydrates:

1g
Fiber:

0g
Sugar:

1g
Protein:

1g
Nutrition information is an estimate only.
Make Sure to "Pin It" for Later!
More Recipes to Try: