Make your very own cultured Crème Fraiche at home! All you need is two ingredients, a warm spot, and a passion for making your own foods! Crème Fraiche is a creamy, rich cultured dairy product that works very much the same as sour cream does. An excellent addition to your fridge and your kitchen skills repertoire.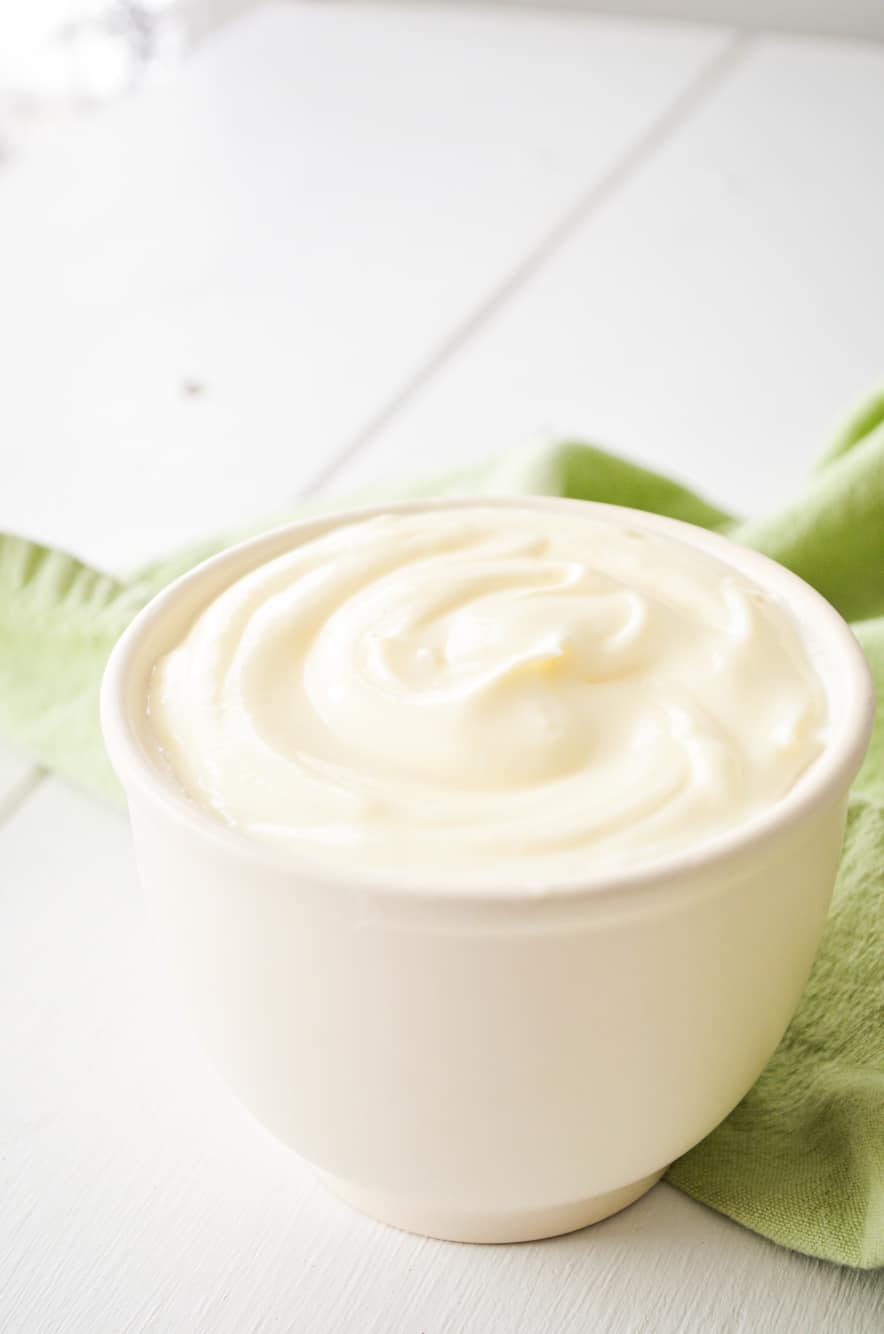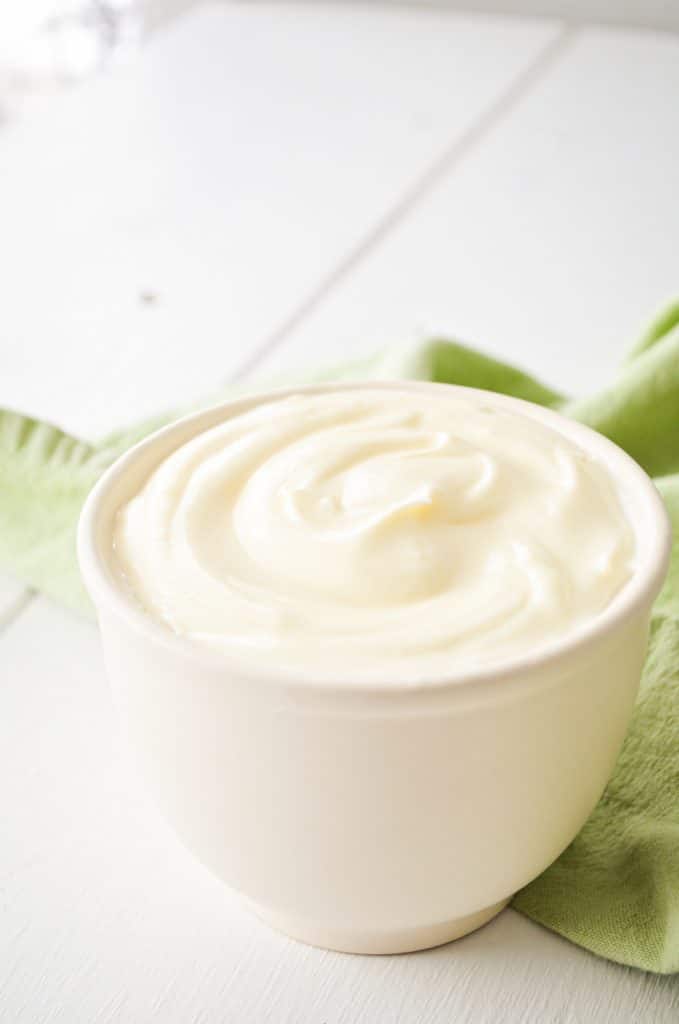 What is Crème Fraiche?
Crème Fraiche is a cultured sour cream with a high fat content. This makes it excellent for a variety of uses, including emulsifying in sauces. The higher fat content allows it to more readily heat, meaning you won't get the same amount of curdling you get when you heat sour cream. It is also a little "sweeter" than sour cream, and certainly less "tangy". If you or a family member would rather not have the "sour" in sour cream, crème fraiche may be for you!
Because crème fraiche is high in fat, it makes for an excellent addition to sauces, dressings, and even cooked recipes like my Grown Up Hamburger Helper. This high fat content binds with other fats in the dish and makes for a smooth, creamy, and consistent consistency. Once you try crème fraiche, you'll never go back.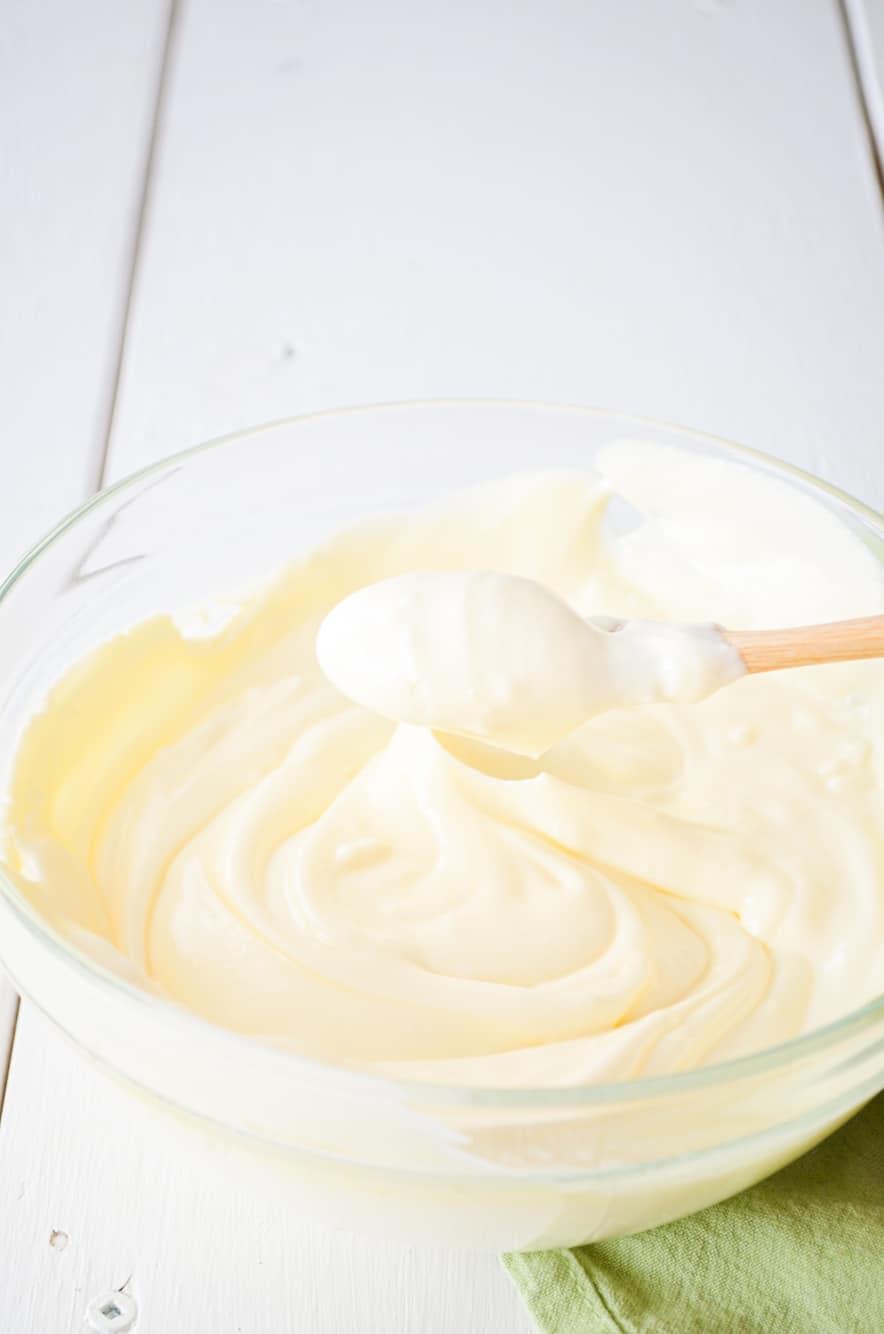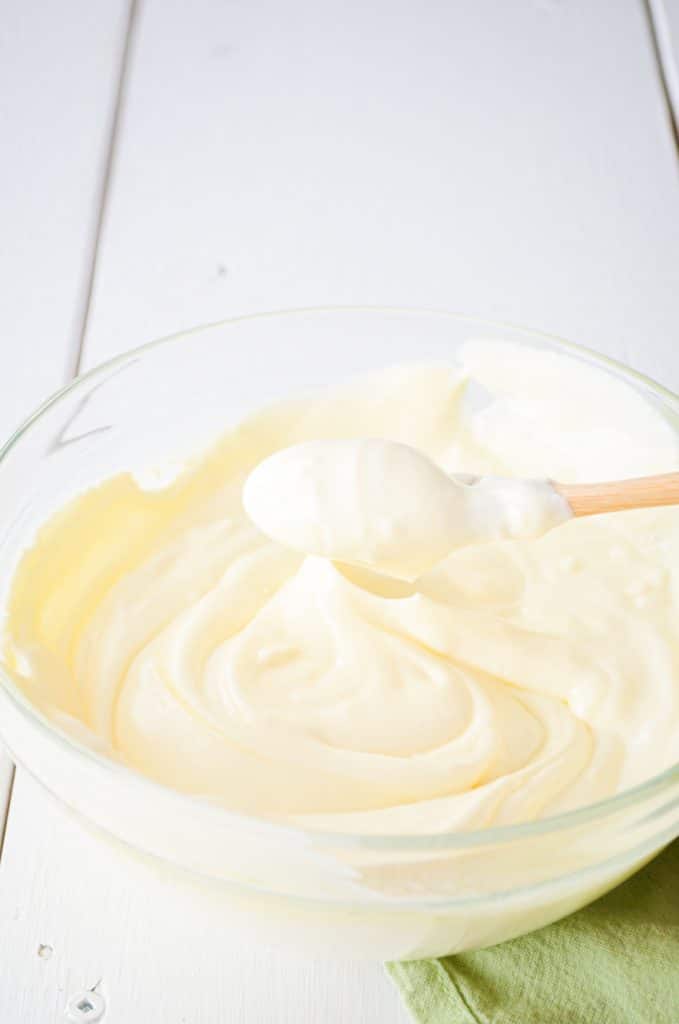 What is the Difference Between Cream and Crème Fraiche?
Cream is the thick, slightly yellow liquid that rises to the top of unhomogenized milk. It is often used to make butter, or diluted to make the various varieties of cream at the grocery store that we are familiar with. True French Crème Fraiche is a high fat cream that is left to culture on its own. Raw cream is used for true Crème Fraiche, since raw cream and milk will culture on their own if given the proper environment.
In much of North America, we use pasteurized dairy products, and raw cream is rarely, if at all, available. Because there is no active bacteria in pasteurized milk, we need to introduce and inoculate our cream in order to transform it into crème fraiche. That is done, in this case, using cultured buttermilk.
Thus, the difference between cream and crème fraiche is that cream is a uncultured liquid, and creme fraiche is that same liquid, but cultured and thickened.
Different Types of Cream:
Half and Half or Blend Cream: This is about

10% fat

and contains a blend of milk and whole cream. While a great choice for adding to coffee, I wouldn't recommend it for culturing.
Table Cream or Coffee Cream: Most often used in coffee, and can be a good choice for baking and cooking when a lower fat content is desired. It is normally between

15-18% fat

and although it can be cultured, if you want true cultured crème fraiche, you will have to use something with a higher fat content.
Heavy Cream or Whipping Cream: Generally

32-36% fat

, this will be your best choice for making cultured crème fraiche.
Double Cream: This is most common in Britain and the UK and can contain as much as

48% fat!

Used most often for clotted cream, it's not typical to find here in the North America. Thus, I haven't tried making crème fraiche with it and cannot recommend at this time! As soon as I get my hands on some, I just may try it!
What is the Difference Between Sour Cream and Crème Fraiche?
Sour cream often uses a cream that is 18-20% fat, versus crème fraiche which uses a much higher fat content (32% and above). Sour cream is inoculated with lactic acid, and the result is a sour and slightly tart thickened cream. Crème fraiche, using higher fat, is often made from raw cream and is comparably sweet and far less sour. Although they are different, they can be used almost interchangeably. Crème fraiche is better for cooking, as its high fat content keeps it stable during the cooking process and far less likely to curdle.
How Do I Substitute Crème Fraiche in a Recipe?
If you are substituting sour cream for crème fraiche, or crème fraiche for sour cream, you can substitute at a 1:1 ratio. This means that if your recipe calls for 1 cup of sour cream, you can use 1 cup of crème fraiche in its place, and vice versa. If you are substituting sour cream for crème fraiche, be sure to use a higher fat sour cream, rather than a lower fat variety.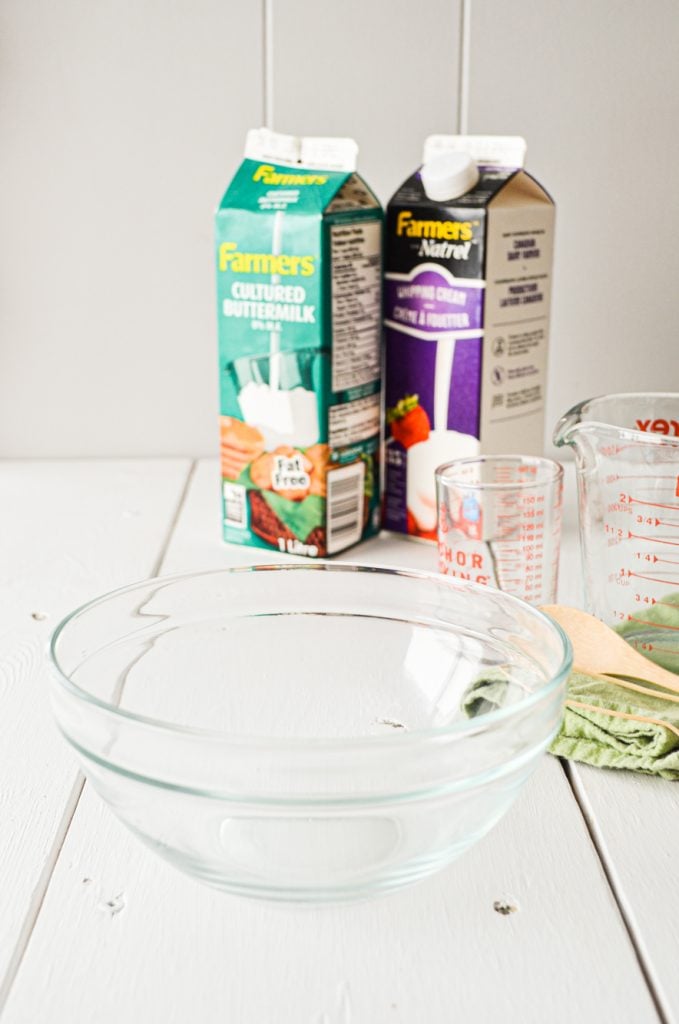 What Do I Need to Make Homemade Cultured Crème Fraiche?
Heavy Cream: Opt for 35% or higher fat content. This makes for the richest possible crème fraiche. Do not use half and half or table cream. These may work and culture, they will be a lower fat content and not the same end product as cultured crème fraiche.
Buttermilk: Don't use a buttermilk substitute. Instead, for the best results, use a store-bought cultured buttermilk. You can see my post on How to Make Your Own Real Cultured Buttermilk for more information about the different types of buttermilk. You're going to want the modern day version that is available in stores. If you don't need the whole carton, you can freeze your remaining buttermilk in 1/4 cup portions, which are perfect for future baking projects. You could also make some of my favorite buttermilk recipes like my Strawberry Buttermilk Muffins or this recipe for Farmhouse Buttermilk Cake from The Café Sucre Farine.
Equipment:
A Glass Bowl or Container: I prefer glass because it doesn't hold residues to smells. It's very easy to clean, as well as sterilize. Glass is perfect for any fermenting or culturing project because of these factors. I like to use a glass container that has a fitted lid. This way I make my cultured crème fraiche in the exact same container I will store it in. All I have to do is secure the lid after culturing. My favorite glass storage containers are these ones.
Tea Towel or Cheesecloth: I like to use a fine woven tea towel secured with a rubber band, but you can use several layers of cheesecloth if you prefer. You want the weave to be tight enough that bugs and dust will stay out, but air can freely move.
How Do I Make Cultured Crème Fraiche at Home?
Making your own cultured creme fraiche is so incredibly easy. You're not going to believe how easy, in fact! If you have a specialty grocery store in your area, chances are you've noticed that crème fraiche isn't exactly cheap! Because it is a culturing process and a niche product, the cost can be on the higher side. I think all people should be compensated for their hard work, and so I'm not going to say the prices at the grocery store are "unfair" per say, but I will say that you can make your own at home for a lot less money. In fact, in my experience, the homemade cost is even less than generic brand sour creams! Now that's a reason to learn how to make your own cultured crème fraiche if there ever was one!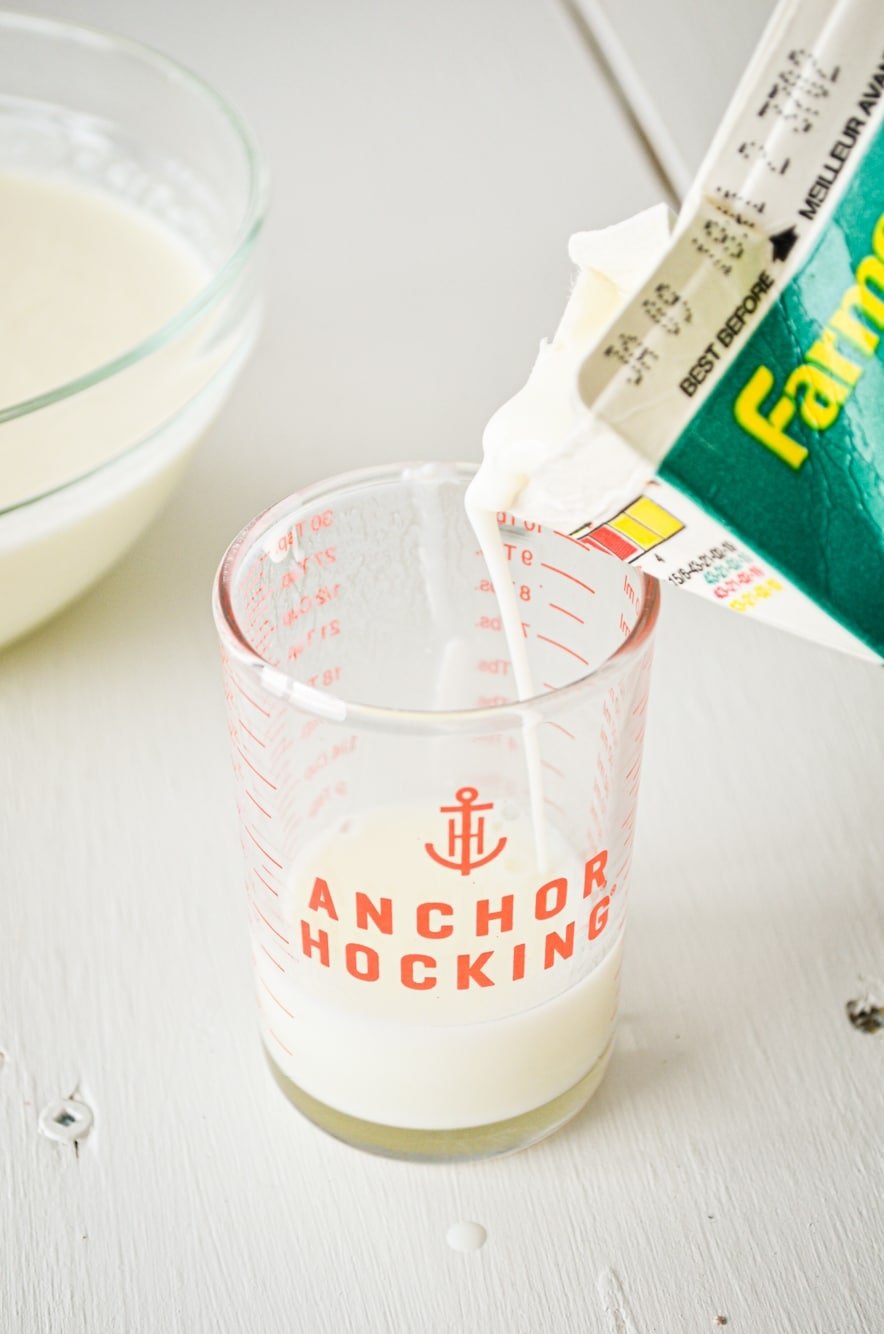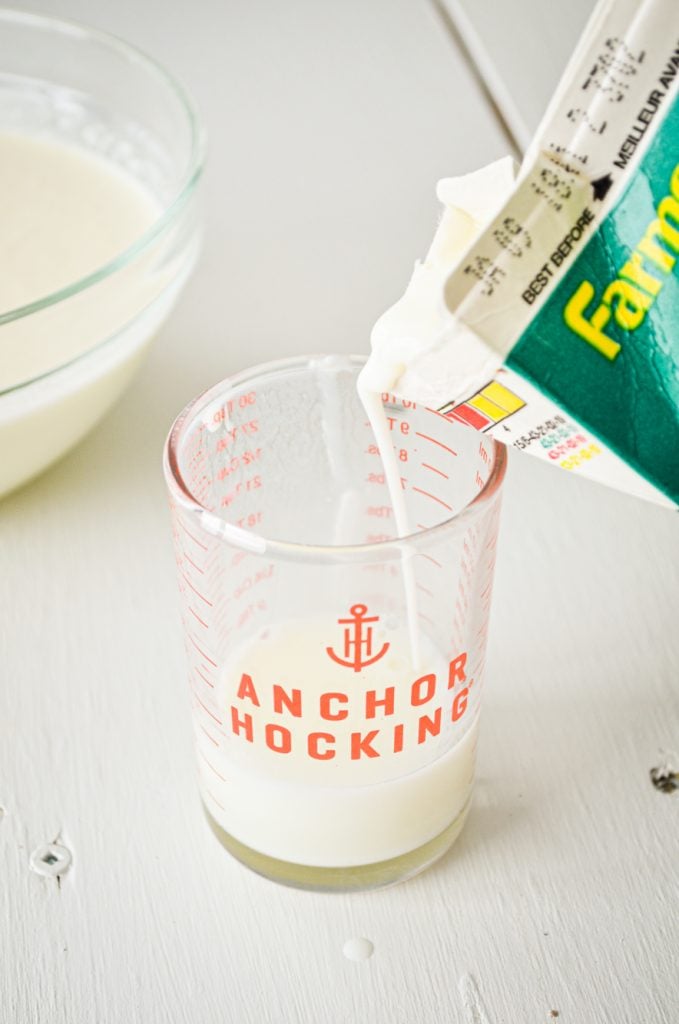 Step One: Combine the Heavy Cream and Buttermilk
Yes, it really is that easy! Place your measured heavy cream in a clean glass bowl (sterilized if desired). Measure out your buttermilk and add that into the heavy cream.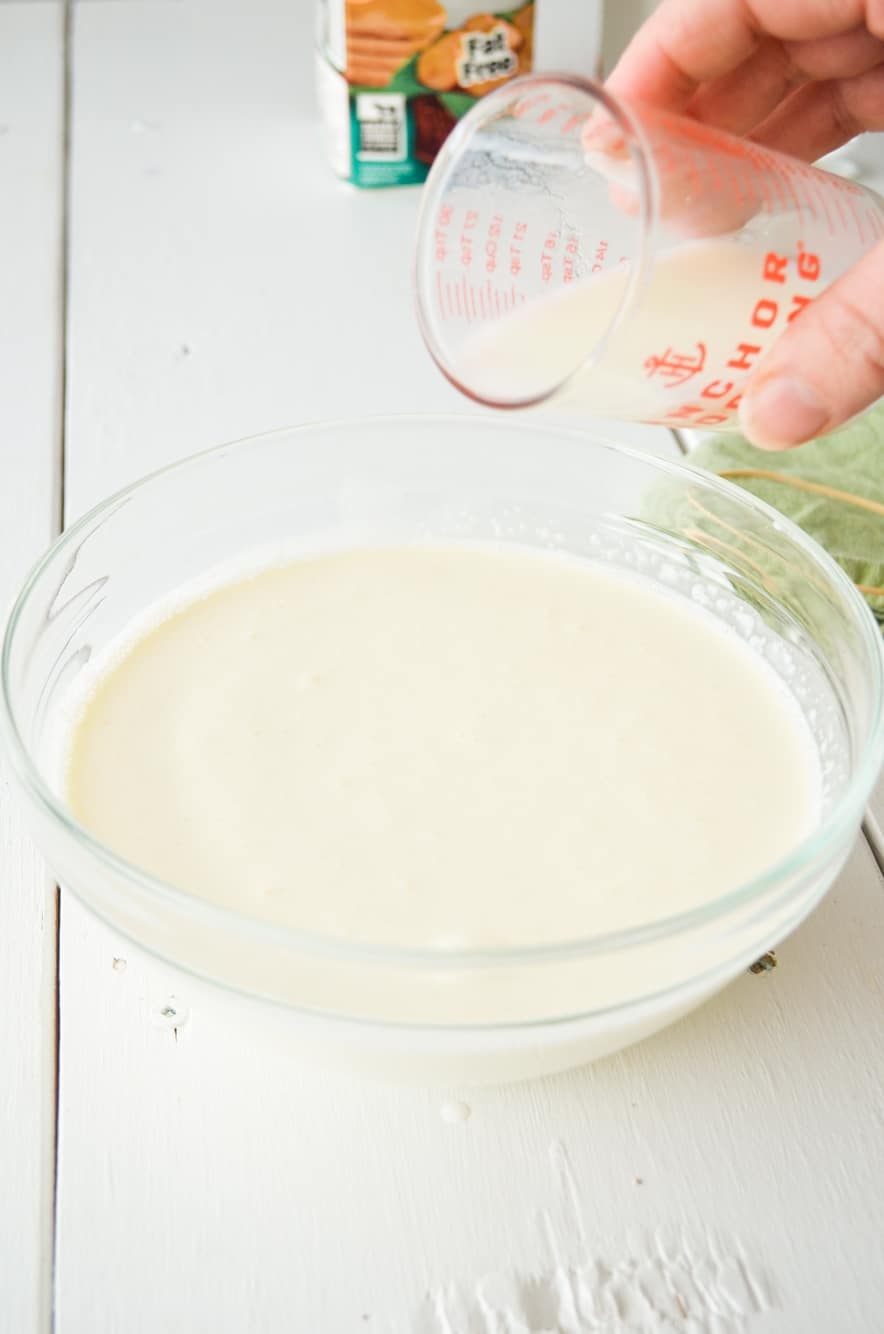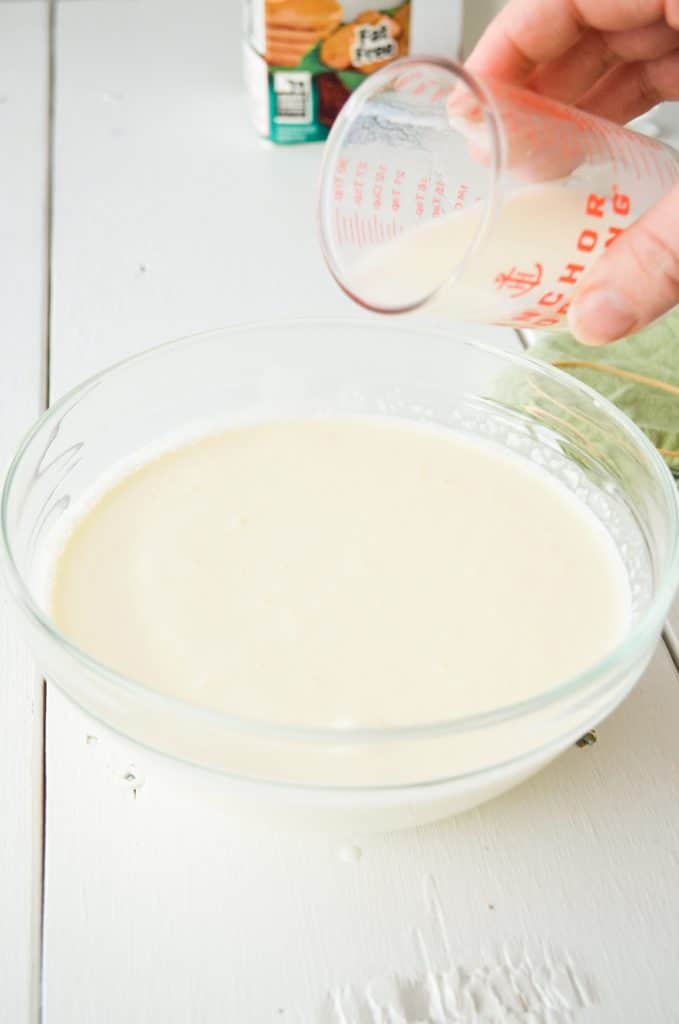 Step Two: Give it a Stir
Stir your buttermilk and heavy cream with a wooden or plastic utensil to disperse the buttermilk evenly throughout the cream. The buttermilk is what "inoculates" your heavy cream, and so you want to make sure it is evenly distributed.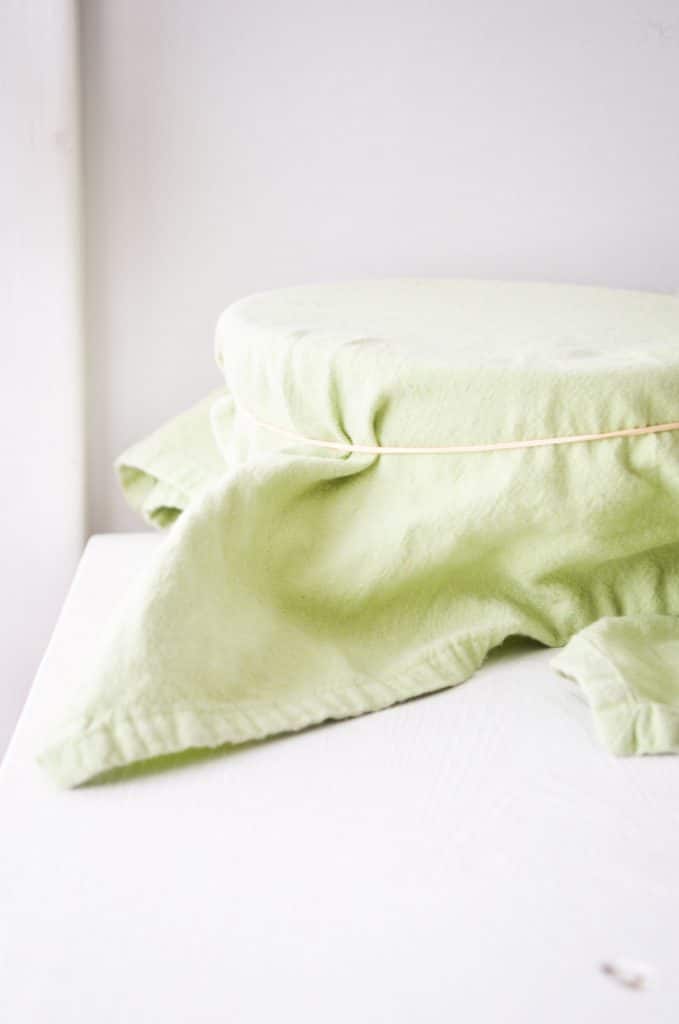 Step Three: Cover and Set Aside
Cover your glass bowl or container with a tea towel or a triple thick layer of cheesecloth. Secure it with a large rubber band. Set it in a warm spot out of direct sunlight for 18-24 hours to culture.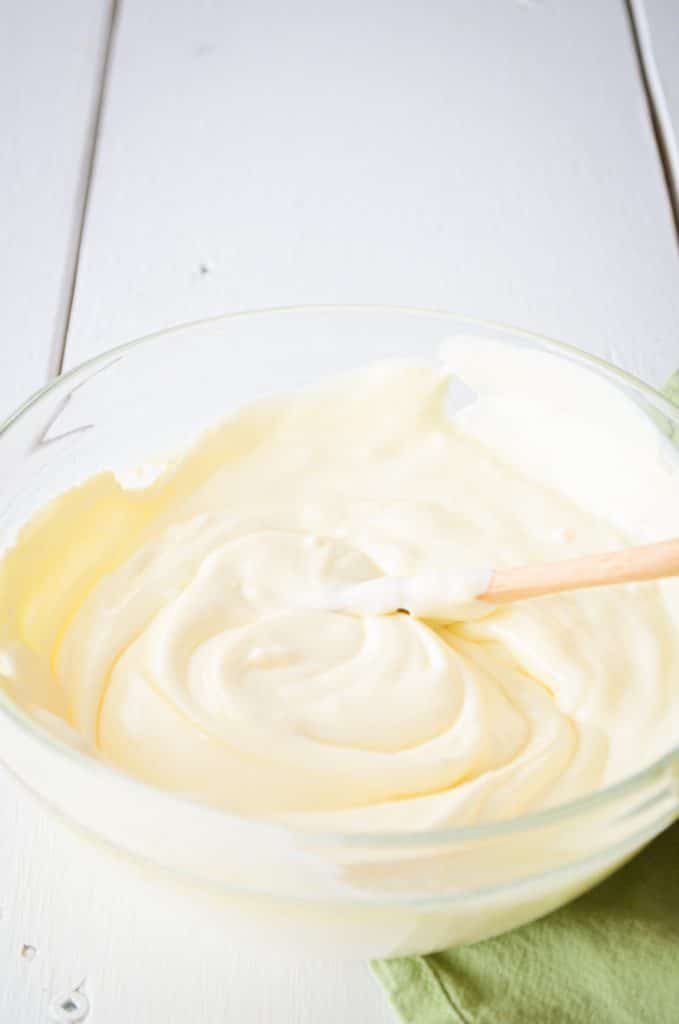 Step Four: Stir, Cover, and Store
Once the crème fraiche is done it will be thick and smell pleasantly sour. Stir it well to ensure it has thickened. Cover it with an airtight lid or transfer it to a clean storage container. Place it in the fridge and use within 2 weeks (provided the initial ingredients were fresh).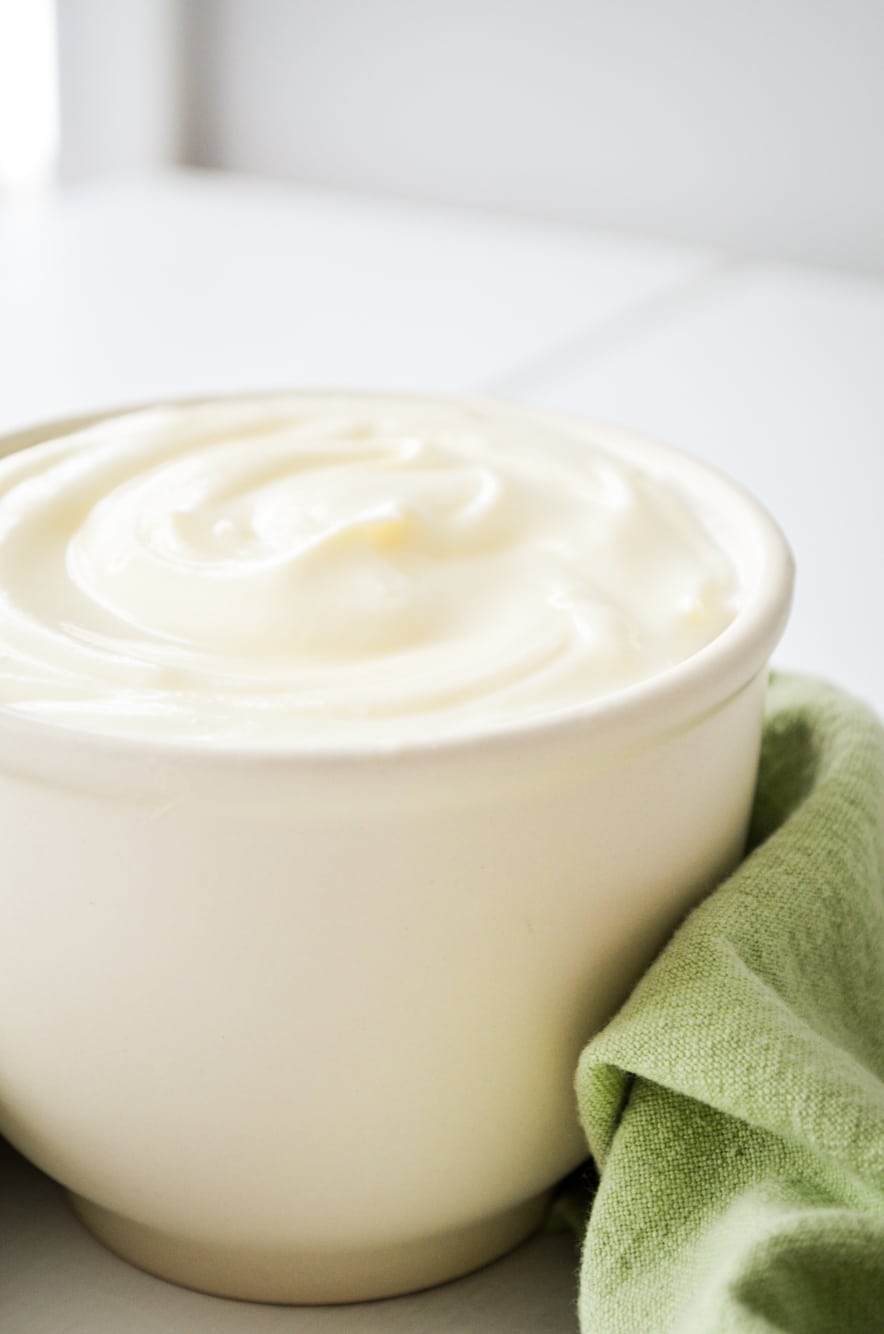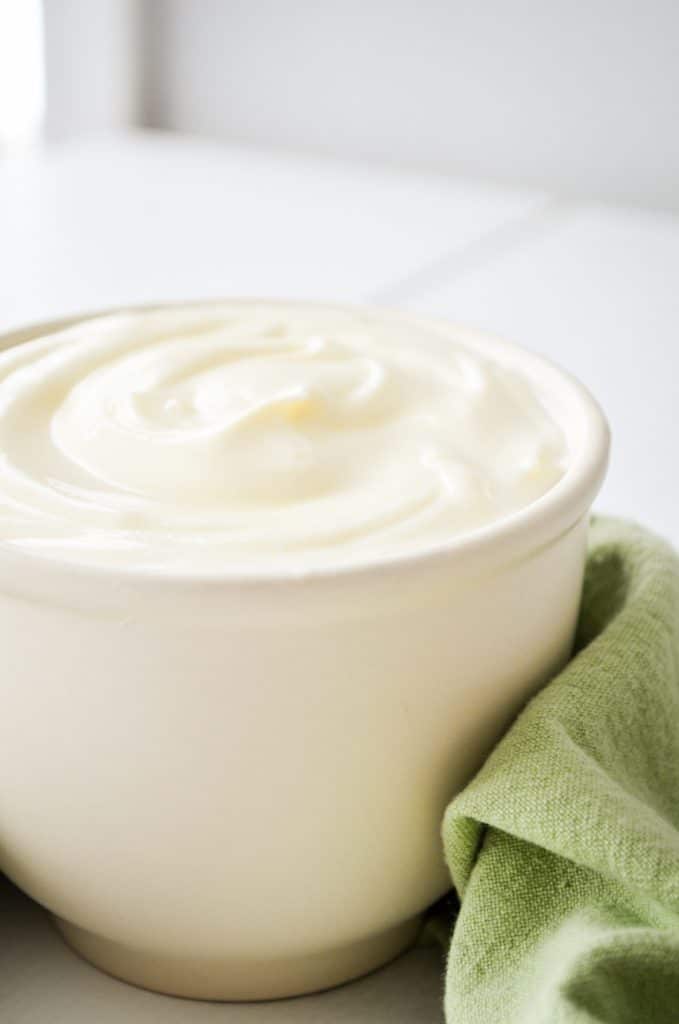 Yes, that's it! Making my own cultured crème fraiche is one of my favorite little kitchen projects because it is soooo easy, and yet the payoff is huge. Now I can feel super fancy while I add a little crème fraiche to just about everything the light touches.
And now you can do it too! ♥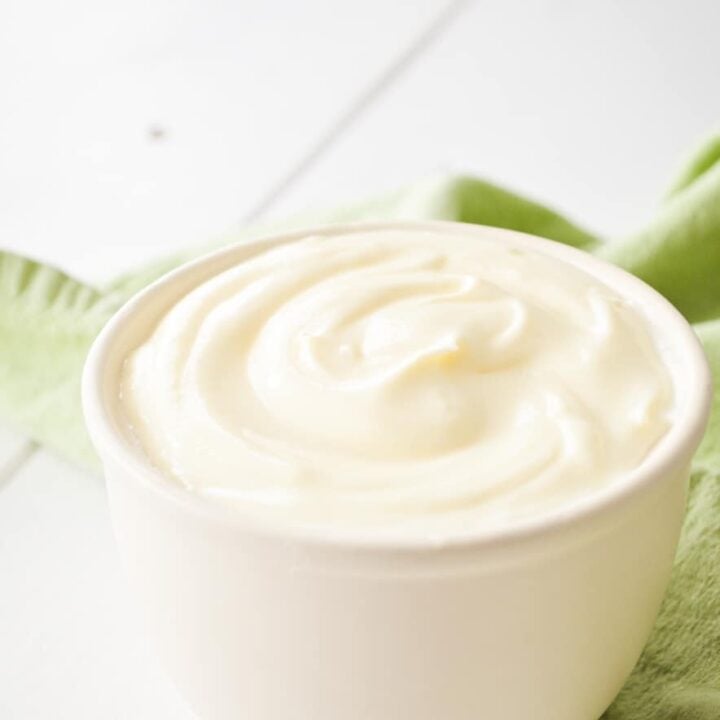 How to Make Real Cultured Crème Fraiche at Home
Total Time:
1 day
5 minutes
Make your very own upgraded version of sour cream: Creme Fraiche. All you need is two simple ingredients, a warm spot, and about 24 hours.
Ingredients
2 cups Heavy Cream
2tbsp - 1/4 cup Cultured Buttermilk***
Instructions
Add the heavy cream to a clean, dry glass bowl.
Add the cultured buttermilk, and gently stir with a wood or plastic utensil.
Cover with a tea towel or several layers of cheesecloth. Secure with a large rubber band.
Place your covered dish in a warm place out of direct sunlight. An ideal temperature is 78-80F. I like to use the inside of my oven with the oven light turned on. This only works if you know you won't accidently turn your oven on in the next 24 hours.
Leave this to culture for 18-24 hours. If your culture is in a warm spot, it will tend to be finished more quickly. If your home is cool (during the Winter, for example), your crème fraiche may take 24 hours or even longer. Although if it is sluggish, you may want to find a warmer spot.
Once your crème fraiche is done, it will be thick and smell pleasantly sour. Stir it gently and store with an airtight lid in the fridge for up to two weeks, provided the cream and buttermilk you used were not close to expiration.
Notes
***If it is Winter or your home is cool, use the 1/4 cup to culture your buttermilk. If it's Summer or your home is warm, opt for 2 Tbsp.
Nutrition Information:
Yield:

16 Servings
Serving Size:

1
Amount Per Serving:
Calories:

103
Total Fat:

11g
Saturated Fat:

7g
Trans Fat:

0g
Unsaturated Fat:

3g
Cholesterol:

34mg
Sodium:

15mg
Carbohydrates:

1g
Fiber:

0g
Sugar:

1g
Protein:

1g
Nutrition information is an estimate only.
Pin for Later