This buttermilk coleslaw is the perfect potluck or BBQ side dish. Not only is it a delicious, creamy coleslaw, but it's so easy to make ahead too! Most buttermilk coleslaws are soggy, but this one is crisp and delicious for days thanks to a special technique. A sure hit at your next summer event!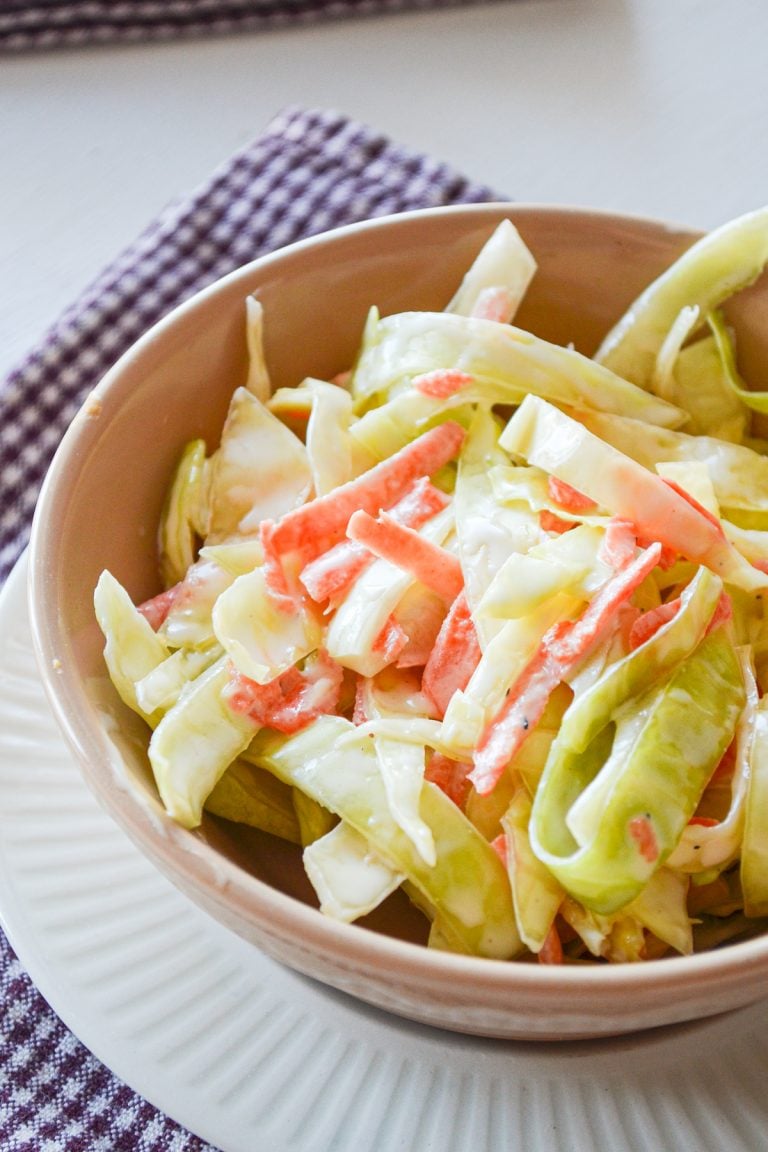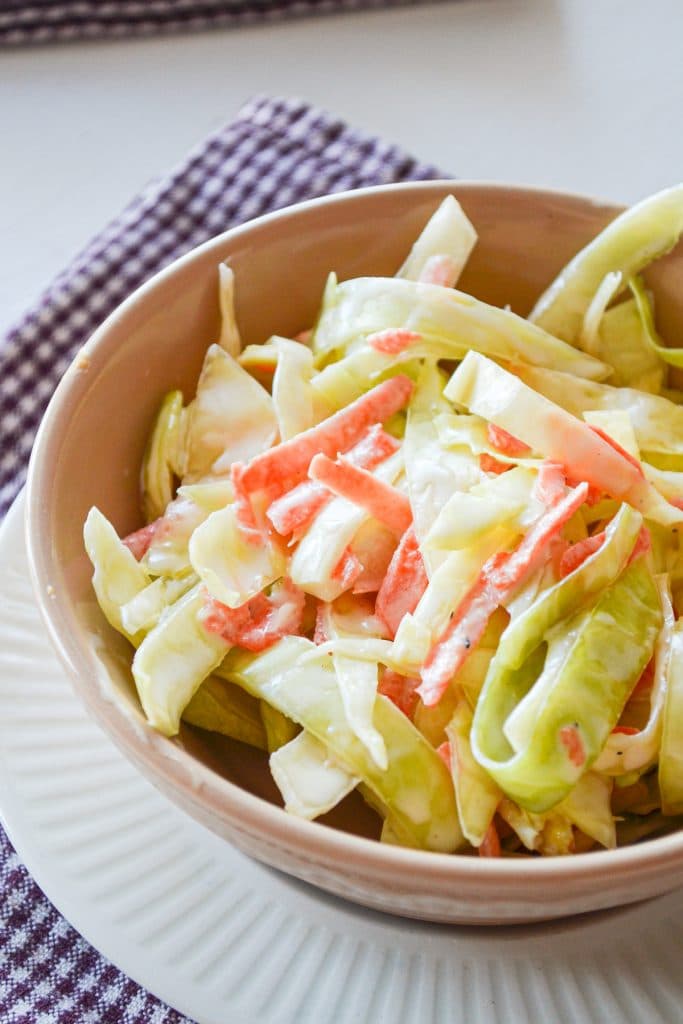 Please note that some of my blog posts here at Little Home in the Making may contain affiliate links. If you make a purchase through these links, I will get a small commission at no additional cost to you. Please see my Disclaimer for more information.
---
There is just something about coleslaw that says "Summer" to me, how about you? The crisp cabbage, creamy dressing, and slight sweetness are a classic combination. Just something about coleslaw is reminiscent of hot summer days and the smell of a charcoal grill. For me at least, it's not summer unless I'm eating coleslaw!
Coleslaw: The BEST Summer Side Dish
This buttermilk coleslaw is crunchy, creamy, and slightly sweet like all classic coleslaws, but it employs a special technique to ensure the coleslaw stays crunchy for several days. This makes it perfect for making ahead, as well as a family meal prep option for summer side dishes. This technique results in a perfectly crisp, never soggy result every single time. This is especially important with Buttermilk Coleslaw, since buttermilk is lot more liquid than your typical all mayonnaise based coleslaw dressing.
Keep reading, because I've got lots of tips to share with you to help you make the BEST Buttermilk Coleslaw ever!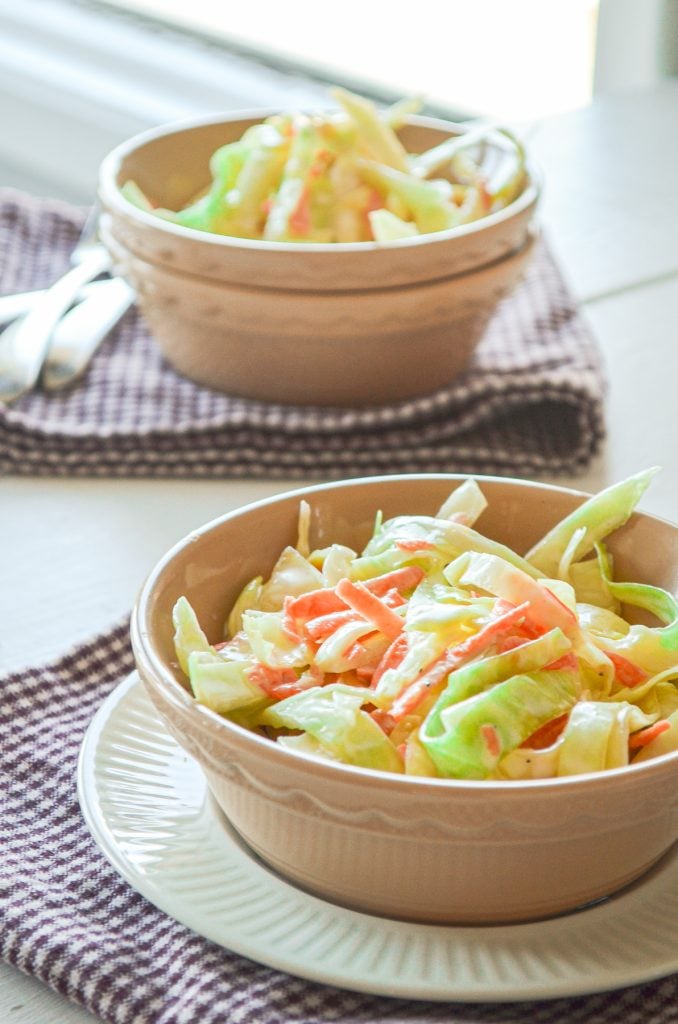 How Do You Make Creamy Buttermilk Coleslaw From Scratch?
I've got you covered with this southern style recipe! I'm going to give you all the best coleslaw tips from how to shred your cabbage to how to make the best homemade buttermilk coleslaw dressing. You're not going to believe how easy it is to make this BBQ and potluck favorite, and you're going to love how crisp, cool, and refreshing it is.
The basic steps include:
Shred your cabbage and carrots.
Salt your cabbage and carrots, and let them drain to remove excess liquid.
Rinse and spin your cabbage and carrots.
Toss with homemade buttermilk coleslaw dressing.
Chill and serve!
How to Shred Cabbage for Coleslaw
If you would like, you can cut and core your cabbage and run it through a food processor or shred it with a box grater. The food processor method is quick and efficient, but does tend to yield smaller cabbage pieces and plenty of liquid, which will need to be drained off. You can also use a box grater, which yields more traditional sized pieces.
My favorite method is to use a chef's knife. I like to core and cut my cabbage into quarters, and slice thicker pieces for a nice hearty coleslaw. My husband prefers the traditional sized coleslaw, and so he isn't as much of a fan of the coleslaw when I use the knife method. This post from Fifteen Spatulas demonstrates how to cut a cabbage with a chef's knife, perfect for using in homemade coleslaw recipes like this one.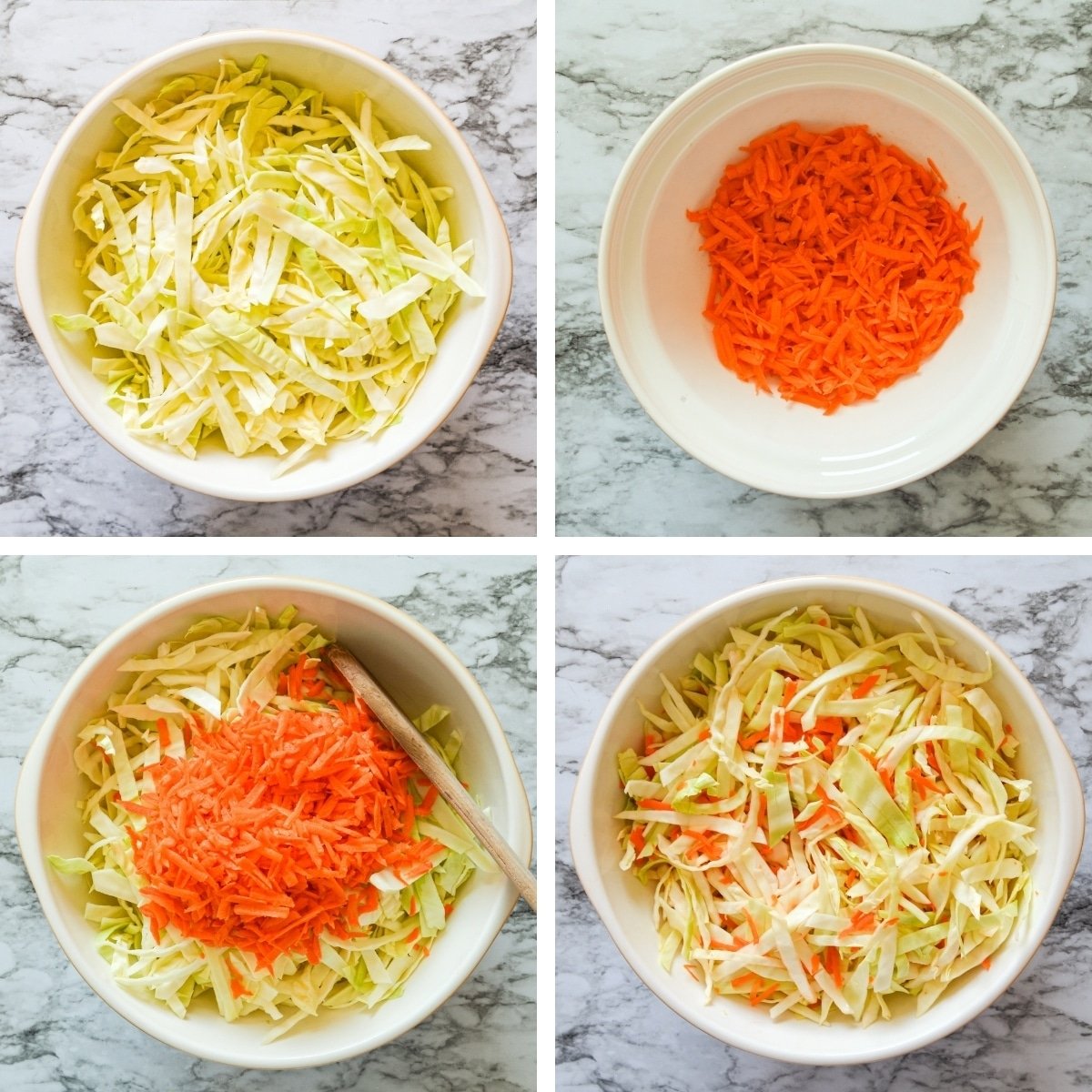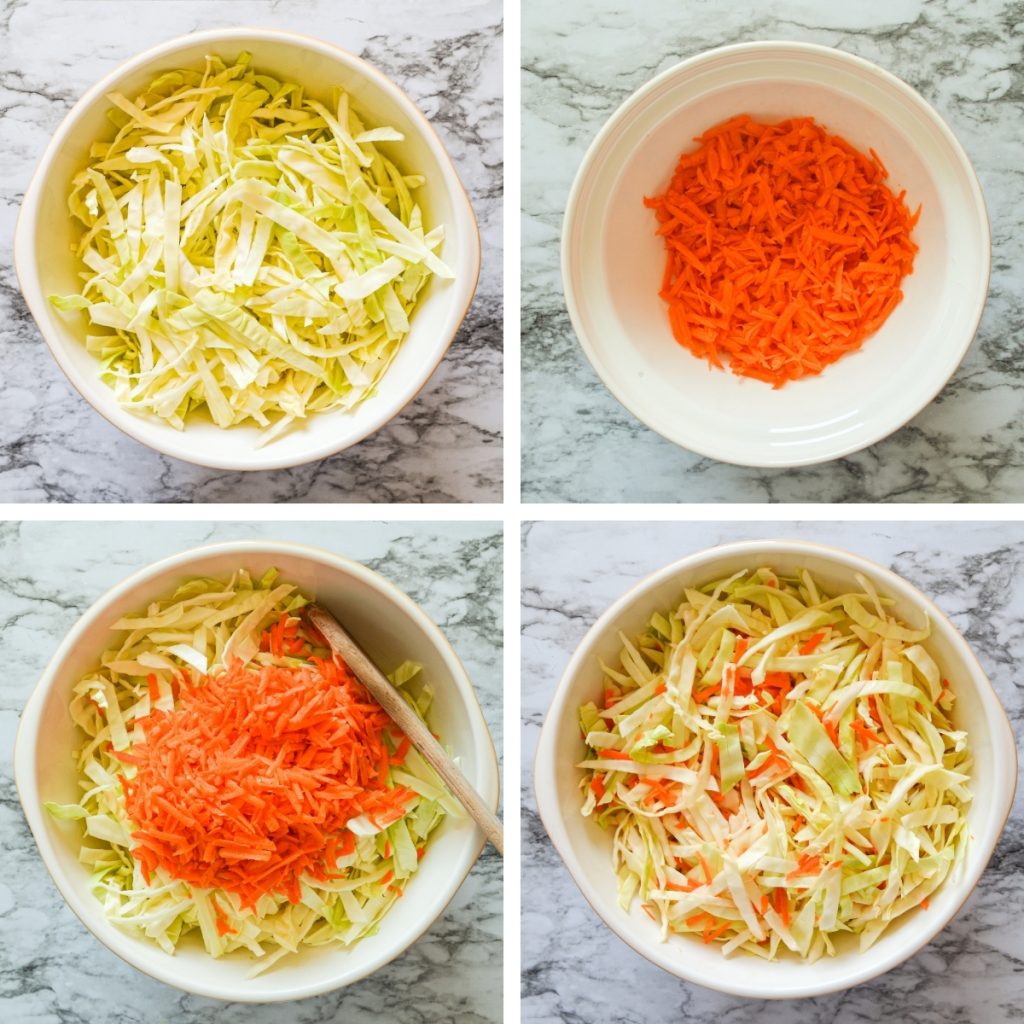 How to Shred Carrots for Coleslaw
The large holes of a box grater work very well for shredding carrots for coleslaw. Make sure you carrot is washed and peeled, and then simply grate your carrot on an angle. Discard the last piece, since it is difficult to grate the entire carrot without hurting yourself. A food processor fitted with the shredding attachment works great for this as well.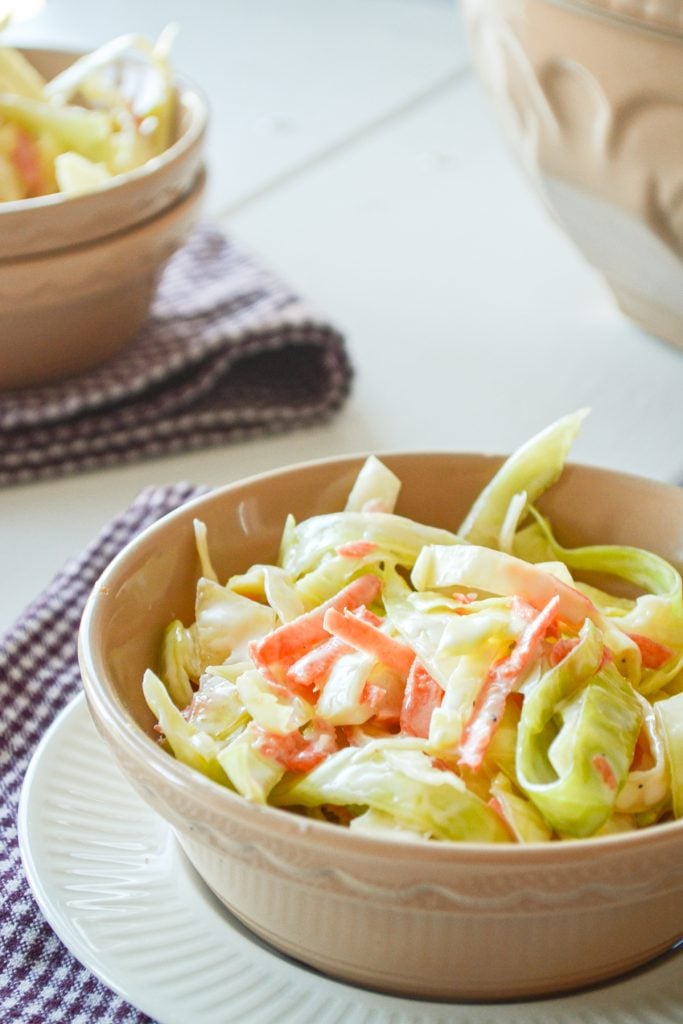 How to Get Perfectly Crisp Buttermilk Coleslaw
Coleslaw isn't known the be the most "crisp" salad at the backyard BBQ, and certainly less so when liquidy buttermilk is involved. That doesn't have to be the case though! I have a technique to share with you that makes for ultra crisp buttermilk coleslaw every single time.
If you've ever made sauerkraut, you're probably familiar with the technique of salting your cabbage. With sauerkraut, we use the liquid that is leftover at the end of the process as a salty brine, perfect for fermenting our shredded cabbage. While we use a similar technique for creating crisp coleslaw, we actually discard the liquid, ensuring that we have a perfectly crunchy salad as a result.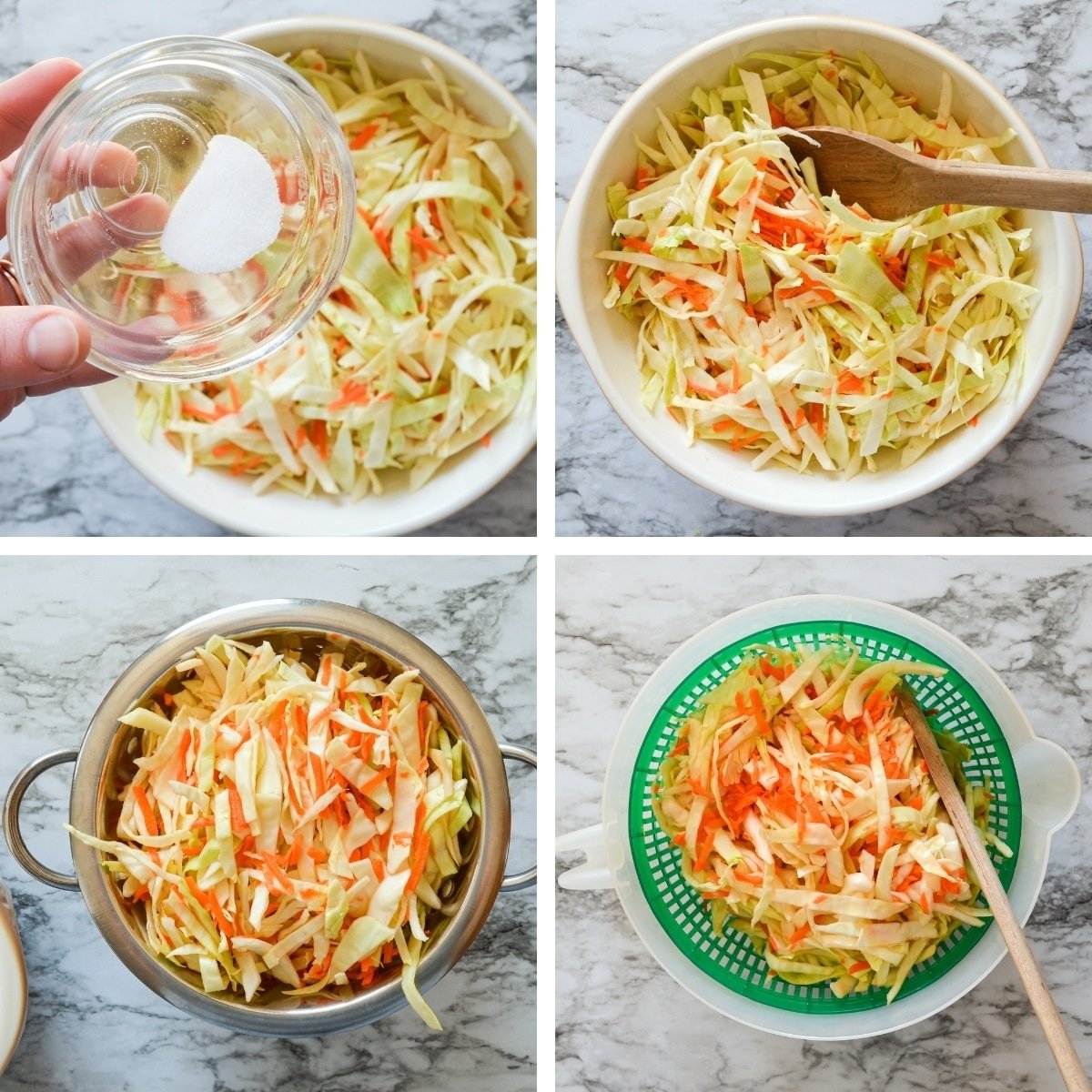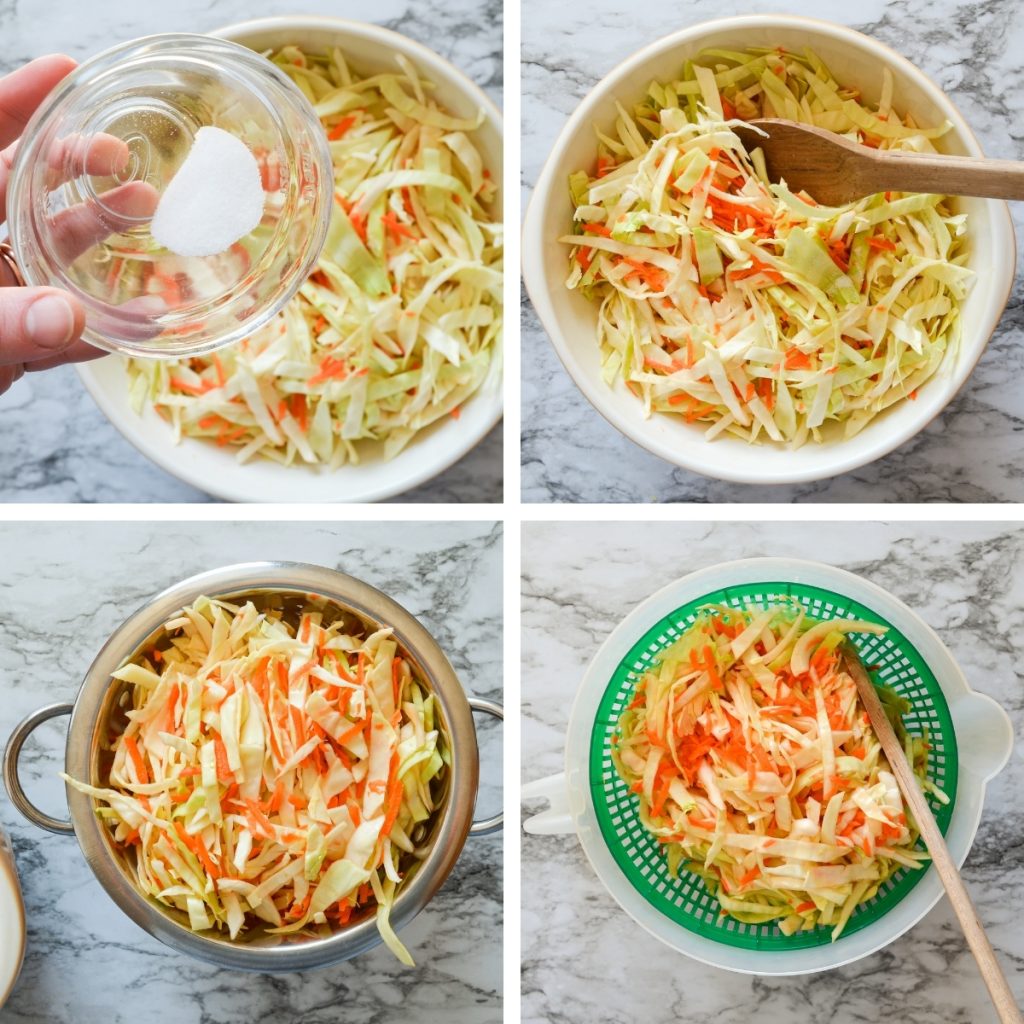 How to Salt Your Cabbage For Crisp Coleslaw
As you can see in the grid above, we are going to start out by adding a small amount of salt to our shredded cabbage and salt. This salt breaks down the cell wall structure of the cabbage, and helps release any excess liquid that it is holding onto. Older heads tend to have less liquid, while fresh summer and fall cabbages tend to have a lot of liquid. This is a similar process to that we employ during pickling of cucumbers and fermenting sauerkraut.
Once the cabbage and carrots have been salted, we set them in a colander over a bowl so that the excess liquid can drain. Even better is a large salad spinner, since this will help you in the process of rinsing your cabbage, which we will do later on in the recipe to remove any excess saltiness. This is the salad spinner I have and recommend for its large size. It was able to handle the 8+ cups of cabbage in this recipe with ease.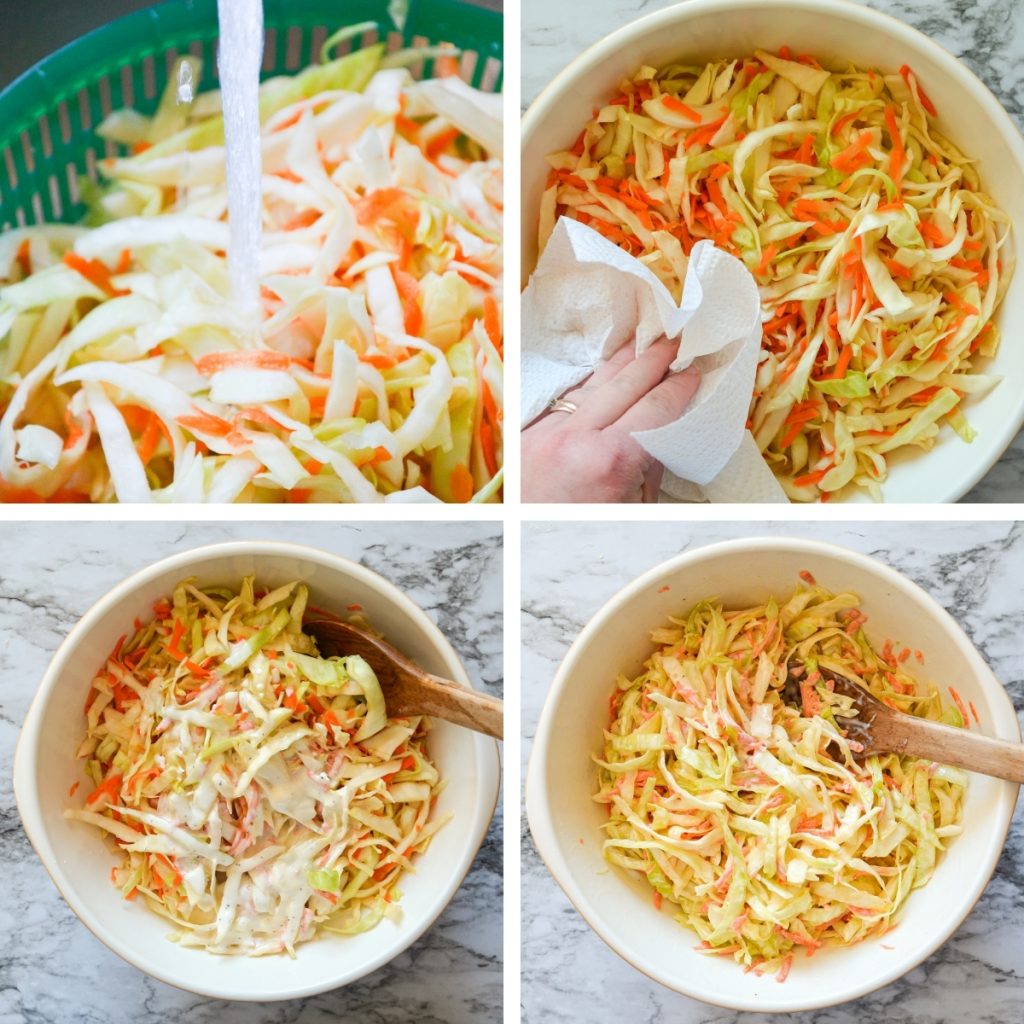 Once your coleslaw has been salted and left at room temperature for around an hour or so, it's time to remove the excess water and saltiness left behind. Simply drain off any liquid that has accumulated in the bowl under the strainer or basket of your salad spinner.
Now you must rinse your cabbage well under running water, or with cool filtered water if your tap water is not drinkable. Rinse very well, using your hands to massage the cabbage and rotate it so that all of your coleslaw mixture will be thoroughly rinsed. If you've used a salad spinner for this task, you're at an advantage. Once your cabbage is rinsed, you can simply spin it well and pour off the excess liquid. If you've used a strainer, you're going to have more work to do in the next step.
Use Paper Towels to Remove Excess Moisture
Now, pat your shredded cabbage and carrots with clean paper towels. If you used a colander instead of a salad spinner, you will have to be more thorough with your use of the paper towels since there will be a lot more liquid left to deal with. The goal is to remove all of the excess liquid. Dab your salad with clean paper towels until completely dry.
Now you're ready to add your buttermilk coleslaw dressing, chill, and serve up to your family!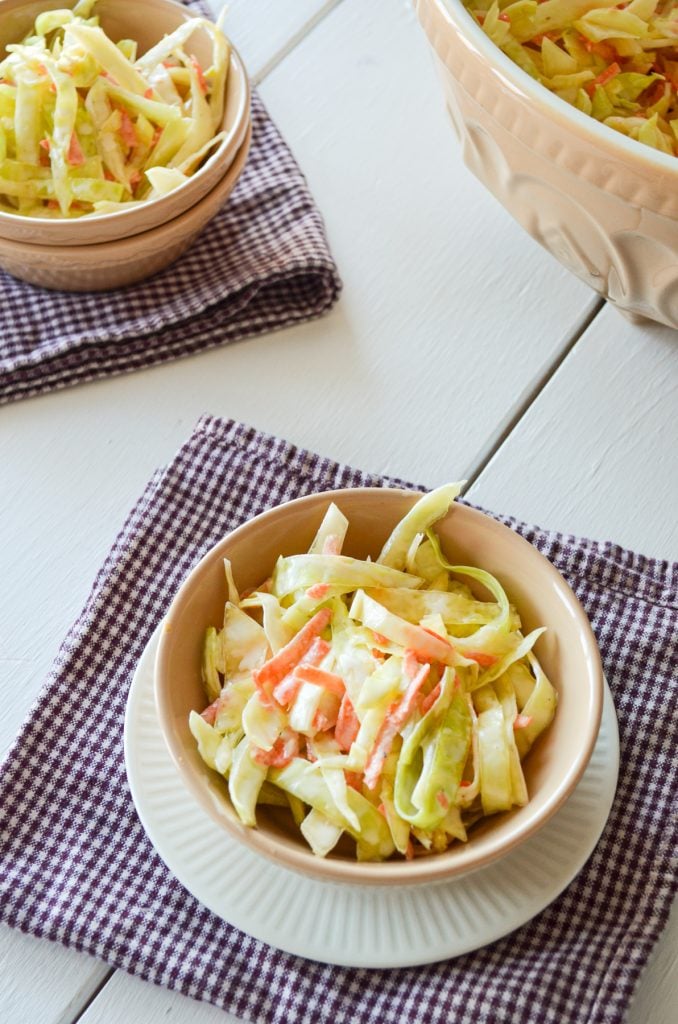 How to Make Buttermilk Coleslaw Dressing From Scratch
Purchasing salad dressing at the grocery store is a pretty common practice, but many don't realize how easy it is to make your very own dressings at home! This recipe includes how to make your own buttermilk coleslaw dressing from scratch, and you're not going to believe how easy it is!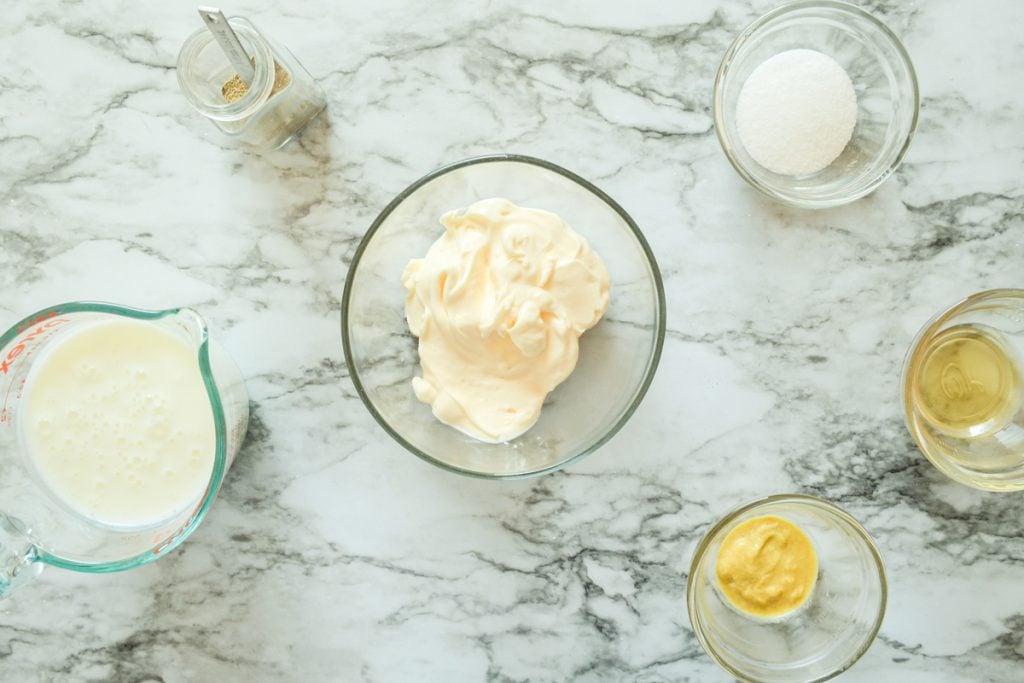 First, Gather Your Ingredients
You will need:
Mayonnaise: Always use real mayonnaise like Duke's, Hellman's or homemade.
Buttermilk: Store bought cultured buttermilk or homemade cultured buttermilk work great in this recipe. Do not use the leftover liquid from making butter, as this is not the type of buttermilk that is used in this recipe.
Sugar: I like to use granulated white sugar because it has the most neutral taste. We are not going for a "sweet" coleslaw here, so the sugar is much lower than you see in some popular coleslaw recipes.
Cider Vinegar: To balance the sweet and creamy, we need a bit of sour. Cider vinegar adds a nice zip without a strong flavor. You could also use apple cider vinegar, white vinegar, or lemon juice, although each will change the flavor slightly.
Dijon Mustard: A way to kick up the flavor a notch and create a more well rounded homemade buttermilk coleslaw recipe.
Celery Seed: This is a must in summer salads of all kinds for me! Adds a subtle celery flavor, and the little flecks are reminiscent of everything a summer BBQ should be.
Ground Black Pepper: Just a touch for seasoning.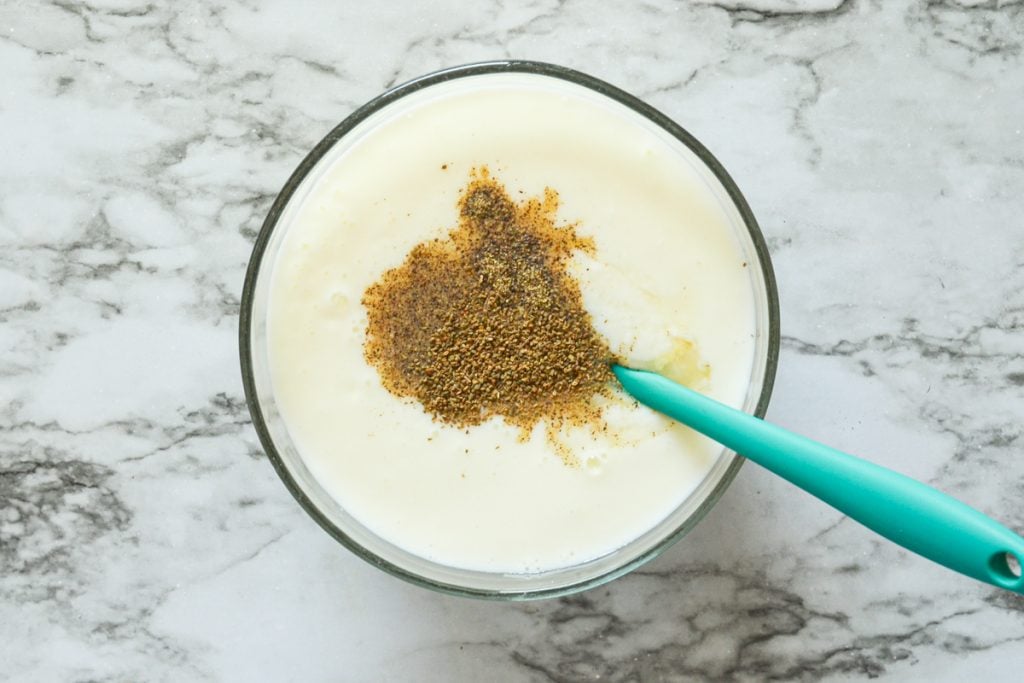 Then, Mix Up Your Buttermilk Coleslaw Dressing
Add all of the dressing ingredients to a small bowl and mix well to combine. Taste and adjust your seasonings as desired.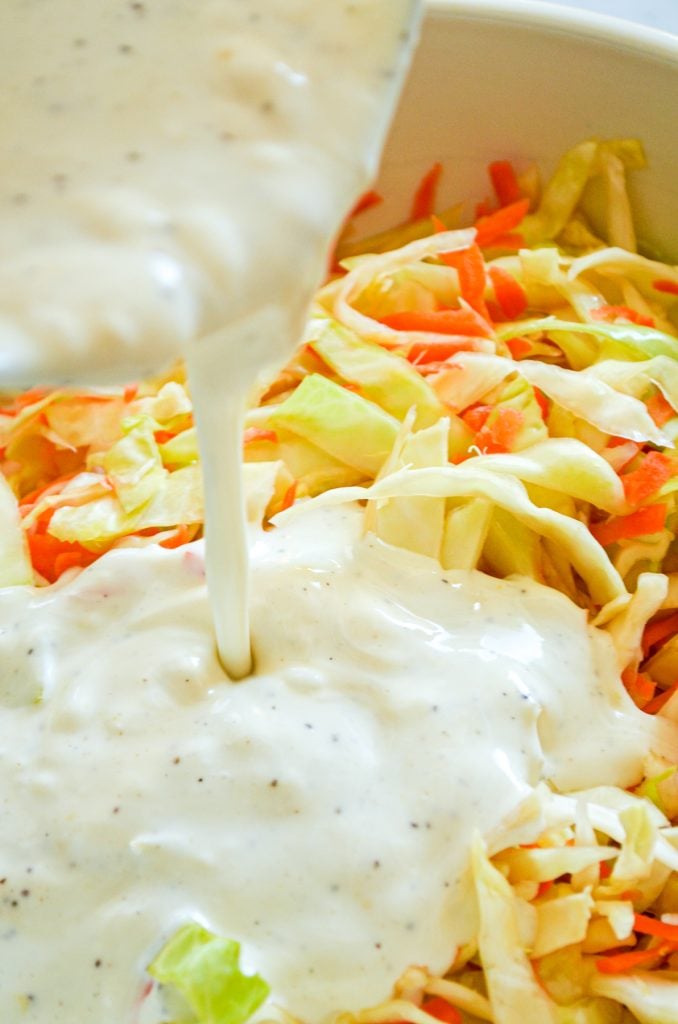 Then pour your dressing all over your shredded cabbage and carrot mixture.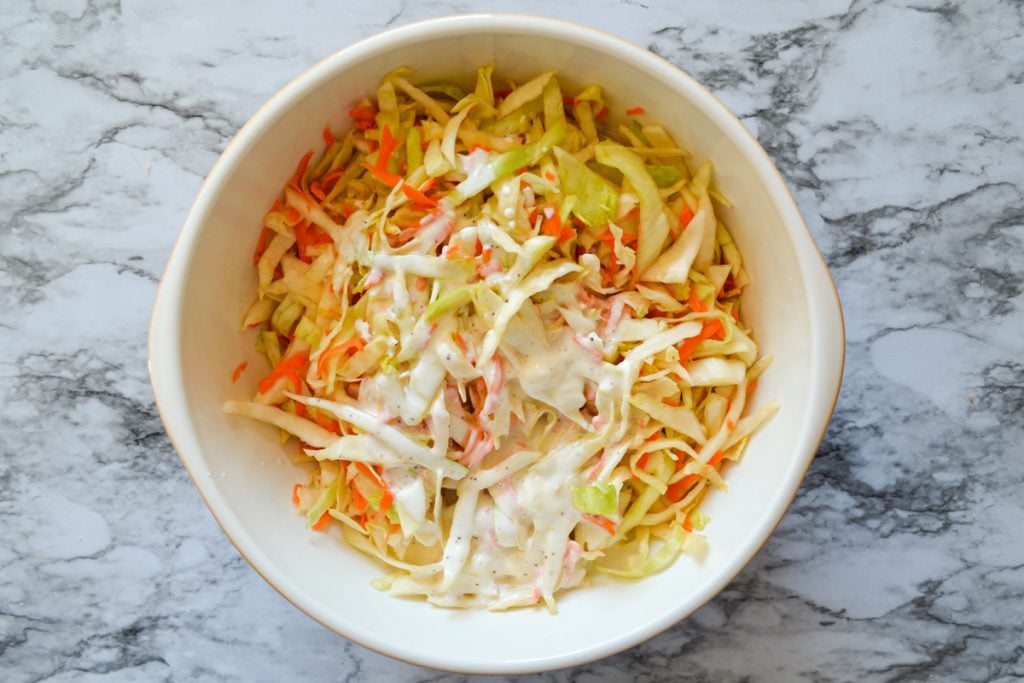 And toss well until combined.
Flavor Tip for the BEST Coleslaw Ever
If you want the best flavor for your coleslaw, I recommend letting your salad chill for at least 30 minutes in the fridge once tossed with the dressing. This lets the flavors develop and meld, and is a much better taste experience than simply tossing and serving. Either way, you're going to have a great coleslaw, but that chilling period makes it just that extra bit special!
Frequently Asked Questions
Can I freeze homemade coleslaw?
I would not recommend freezing coleslaw. In my experience, cabbage does not freeze well, and salads even less so.
Why does my coleslaw get watery?
Cabbage can have a high water content, and so excess moisture should be removed before making coleslaw. You can do this by salting and draining your cabbage throroughly.
How do you keep shredded cabbage crisp?
The best way to keep shredded cabbage crisp is by salting, draining, and rinsing the shredded cabbage. This breaks down the cell wall structure of the cabbage and allows the excess moisture to be removed.
What is coleslaw mix made out of?
Coleslaw mix is often made out of a combination of shredded green or red cabbage (or both) and shredded carrots.
Can I substitute coleslaw mix for the cabbage and carrots in this recipe?
Yes you can! You will need to substitute approximately 9 cups of coleslaw mix for the shredded cabbage and carrots in this recipe. If you opt for using store bought coleslaw mix, you may be able to skip the step of salting since much of the moisture is removed from bagged coleslaw mixtures. If the coleslaw mixture feels at all moist, be sure to salt and drain the mixture as directed in the recipe.
How much shredded cabbage will I get from one head?
You should get approximately 8 cups of shredded cabbage, depending on how large you shred your cabbage. Larger shredding will yield 8-9 cups, while smaller shredding may yield 6-7 cups or less.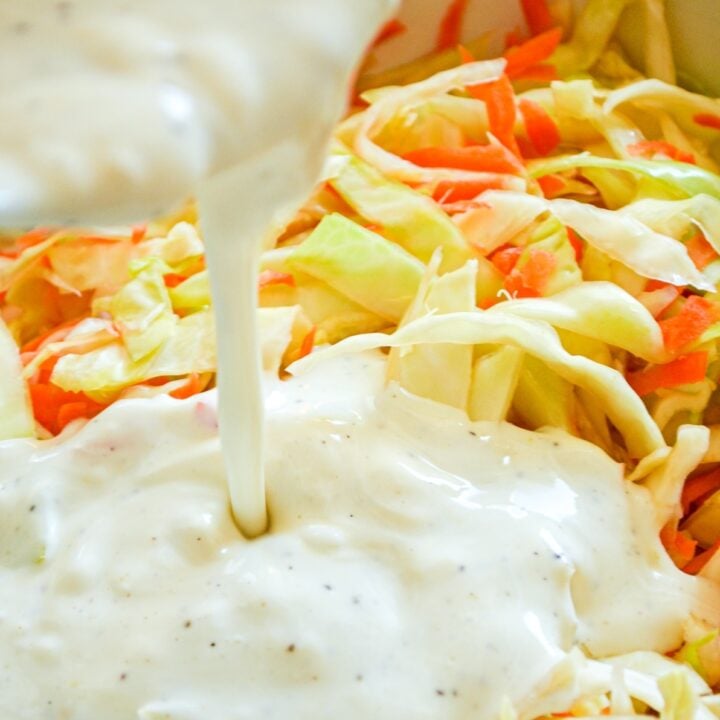 Homemade Southern Style Buttermilk Coleslaw
Total Time:
2 hours
20 minutes
This creamy buttermilk coleslaw is perfectly crisp, creamy, and sweet. All the things a southern style coleslaw should be!
Ingredients
3 lbs (1 head) Green Cabbage, cored and finely shredded or chopped
3 large Carrots, peeled and shredded
1 tsp. Salt
Buttermilk Coleslaw Dressing
1 1/2 cups Buttermilk
2/3 cup Real Mayonnaise
1/3 cup Granulated White Cane Sugar
1 tbsp. Cider Vinegar
1 tsp. Dijon Mustard
1/4 tsp. Ground Black Pepper
1/4 tsp. Celery Seed
Instructions
Add the finely shredded cabbage and shredded carrots to a very large bowl. Sprinkle the cabbage and carrots with salt and toss well to combine. Massage with your hands if needed.
Let the cabbage and carrots sit at room temperature for at about 1-2 hours.
Drain off any liquid that pools at the bottom of the bowl. Transfer your cabbage and carrot mixture to a salad spinner and rinse well with cold water. Spin the cabbage and carrots to remove the excess water. This helps rinse off the salt. You may repeat this process to further remove salt, if desired.
Combine the buttermilk, mayonnaise, sugar, cider vinegar, and Dijon mustard. Whisk well until smooth and uniform.
Add the ground black pepper and celery seed to the buttermilk mixture. Taste and adjust seasoning according to your taste.
Pour the dressing over the drained cabbage and carrots. Toss well to combine. Taste and adjust any seasonings further if desired.
Chill for at least 30 minutes before serving.
Notes
This is a large batch of coleslaw, and because of the extra step of salting and rinsing the cabbage and carrots, it does not get soggy like other buttermilk based coleslaws. This makes it perfect for potlucks or large family meals. If you don't need a large batch of coleslaw, feel free to cut this recipe in half. It works just as well!
Storage: Keep in a tightly covered bowl in the fridge for up to three days. The best day for serving is the first day, preferably within 24 hours.
Nutrition Information:
Yield:

12
Amount Per Serving:
Calories:

131
Total Fat:

10g
Saturated Fat:

2g
Trans Fat:

0g
Unsaturated Fat:

8g
Cholesterol:

6mg
Sodium:

351mg
Carbohydrates:

10g
Fiber:

1g
Sugar:

8g
Protein:

2g
Nutrition information is an estimate only.