If you're looking for a healthy homemade swap for store bought mayonnaise, you have to try this easy avocado oil mayo recipe. It's easy to make, and it's also paleo and whole30 compliant.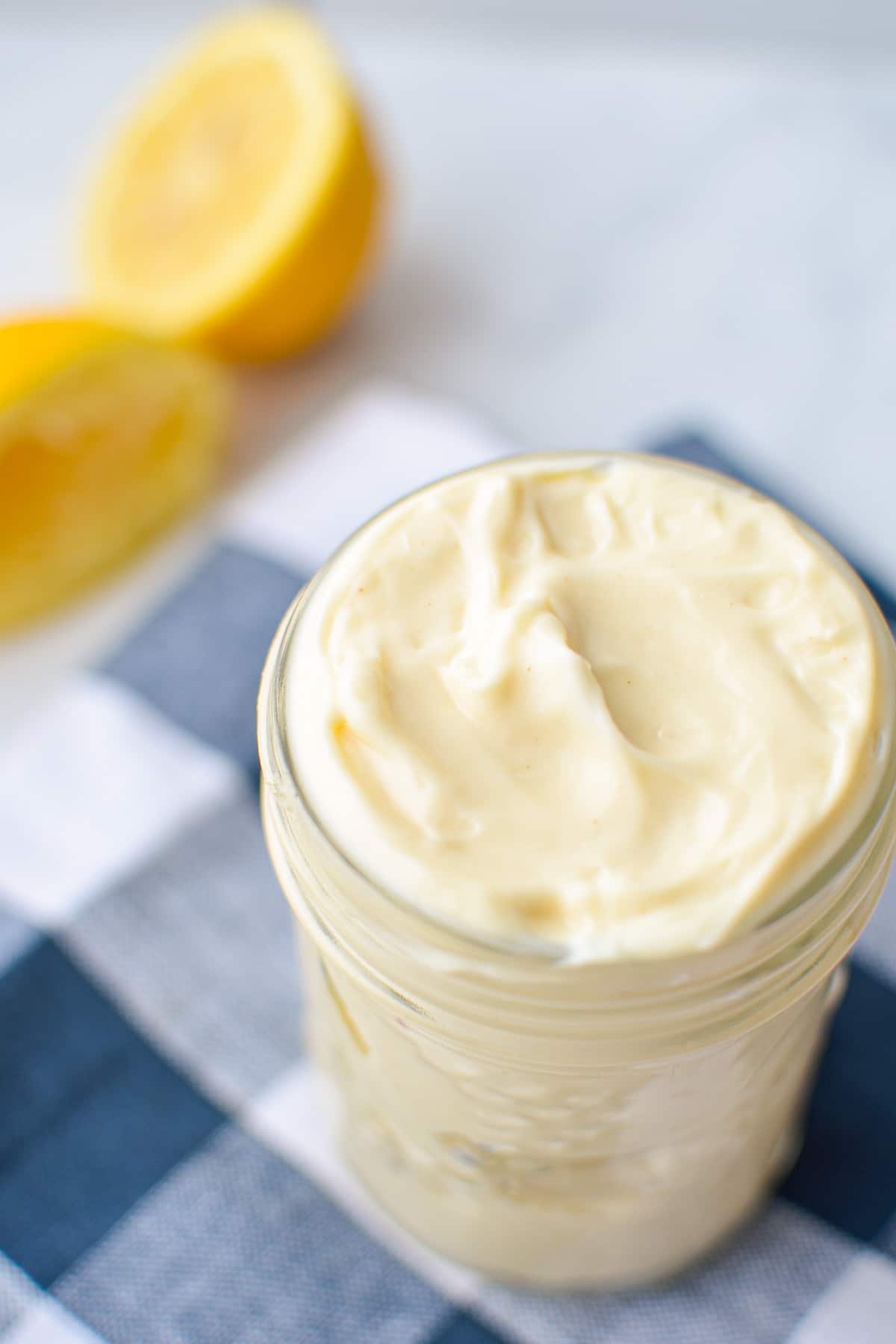 If you've been experimenting with making healthier versions of store bought condiments, sauces, and more, it's about time you try this easy avocado oil mayo recipe!
Made with avocado oil, this homemade mayo is a great healthy swap for the regular stuff, which is filled with seed and soybean oils. Avocado oil is mild in flavor, relatively inexpensive, and has a high smoke point. This means you can easily use your finished avocado oil mayo in cooked recipes, as well as your favorite sandwiches and salad dressings.
I love this avocado oil recipe because I can use it as a starting point for so many of my favorite dressing recipes like my Buttermilk Ranch Dressing, or even in my Sourdough Tuna Melts for a quick and easy meal.
Best of all? It's SO easy to make with just a immersion blender and a few simple ingredients.
Let me show you how!
Ingredients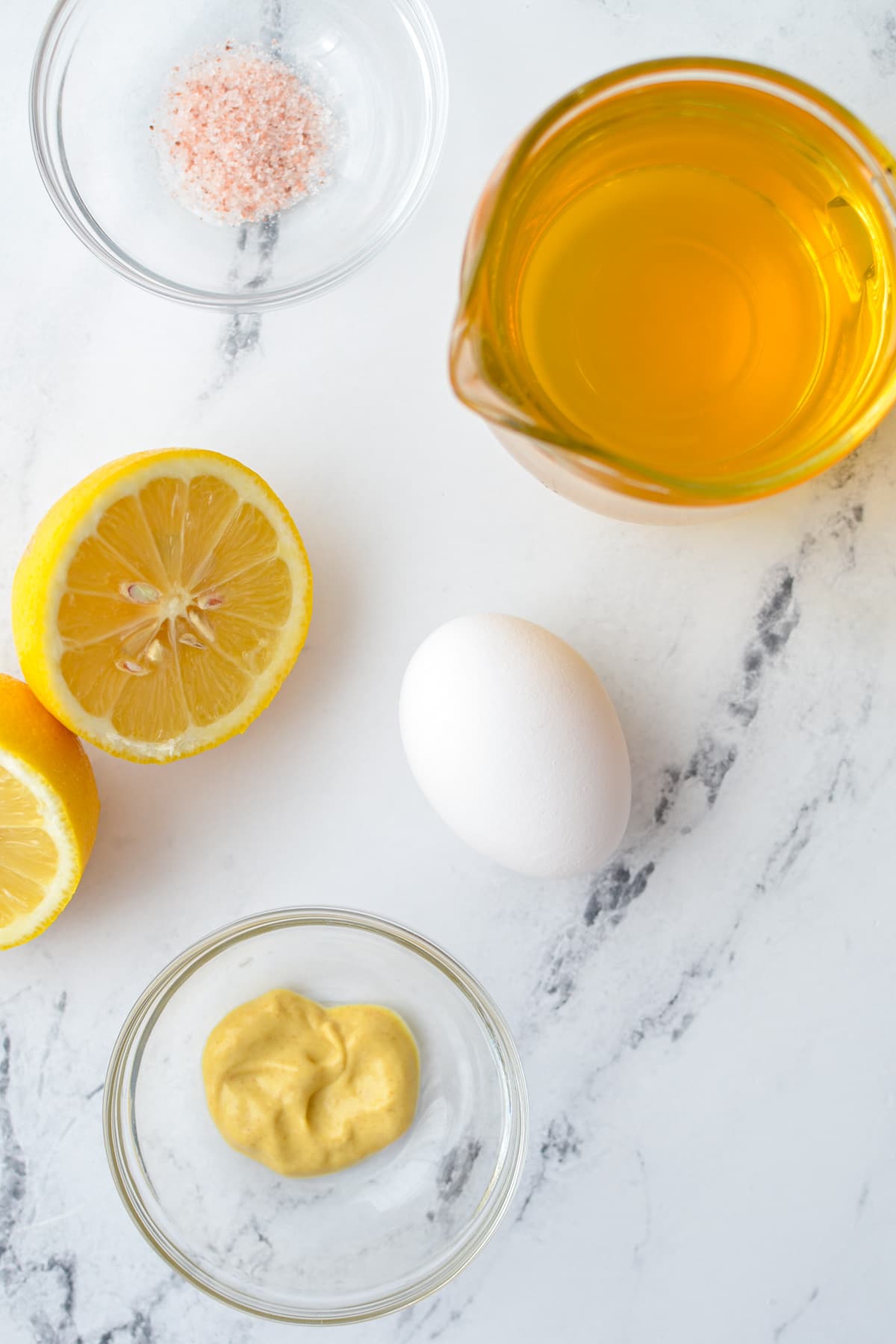 Avocado Oil: I like to buy mine in bulk from Costco, but you can use whatever avocado oil you can find! I like the Chosen Foods brand.
Egg: Use good quality, clean, and pasture raised eggs if possible.
Lemon: I like to use fresh lemon juice, but you can opt for good quality bottled lemon juice if that's what you have on hand.
Dijon: Just a touch adds a lovely flavor!
Salt: I recommend starting with 1/2 teaspoon, but add more if you like it a bit salty!
Equipment
Immersion Blender: This inexpensive tool comes in handy for all kinds of dressings, soups (like my Butternut Squash and Coconut Milk soup), and sauces. I use mine very often!
Food Processor: If you don't have an immersion blender, you can make this recipe using a food processor instead.
How to Make Avocado Oil Mayo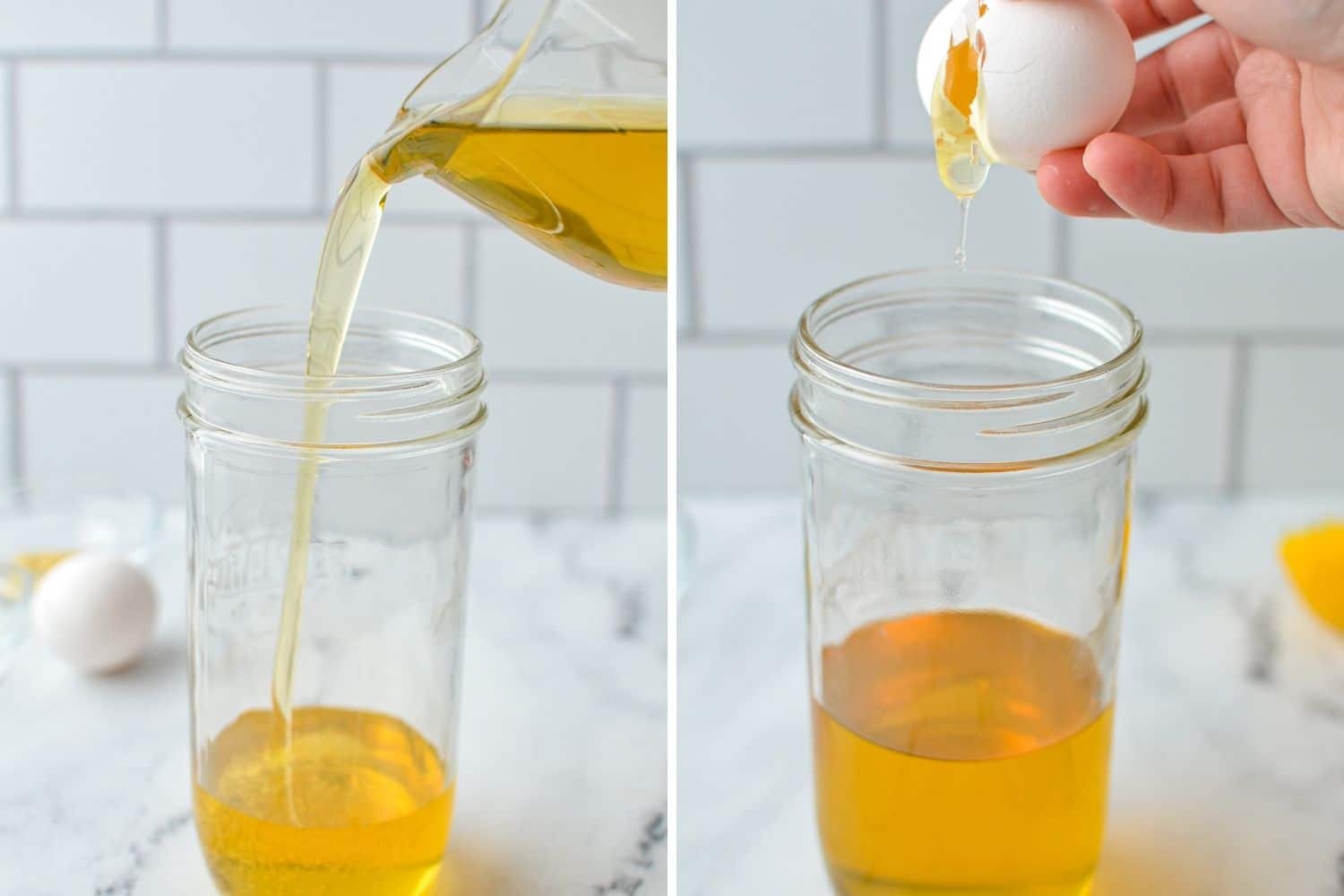 Pour your avocado oil into a clean, quart sized wide mouth mason jar.
Crack in a clean, fresh egg. (*see notes about egg quality and risk)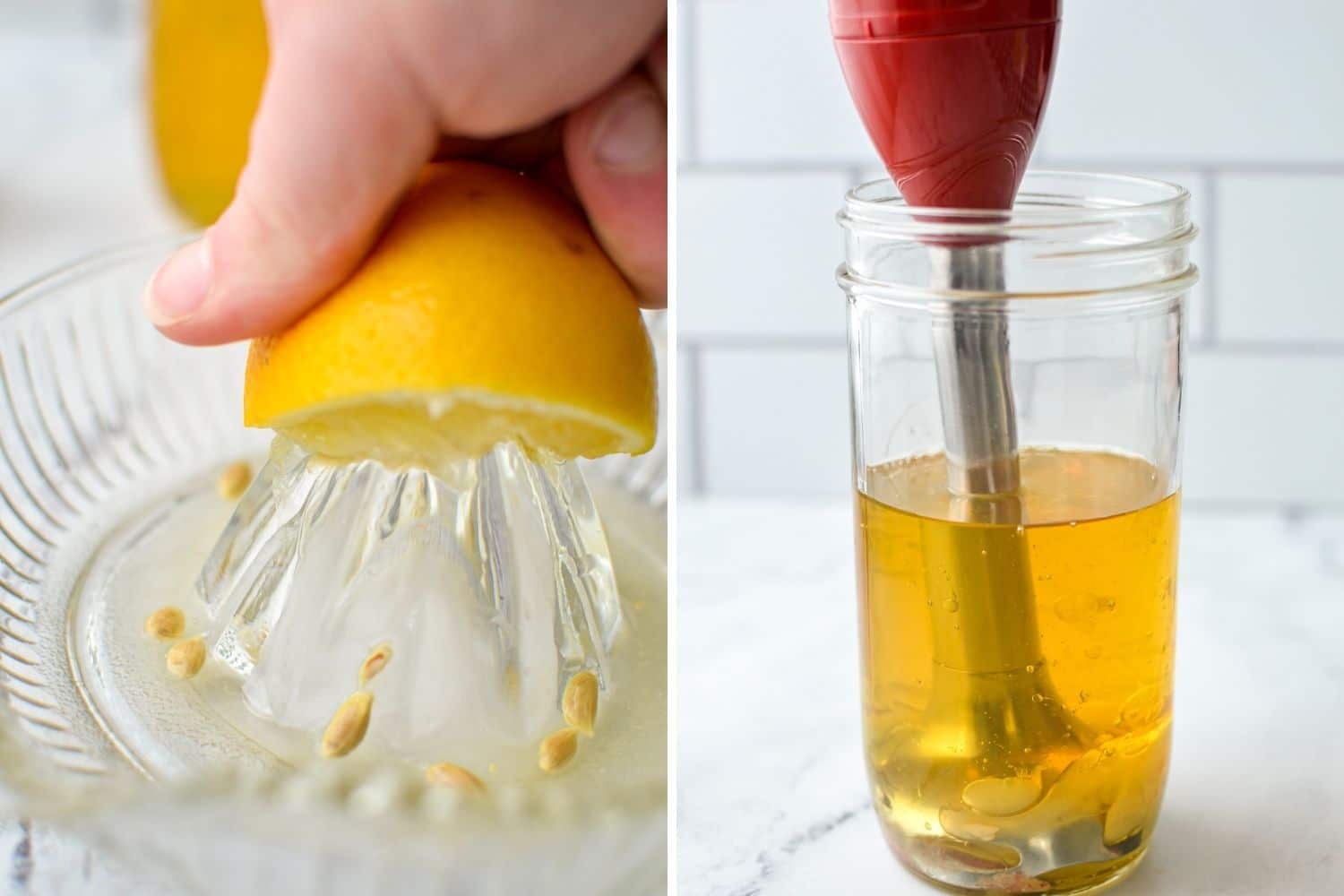 Add in some fresh lemon juice, dijon mustard, and some salt to your taste.
Place a stick immersion blender in the jar, all the way to the bottom. Turn it on, leaving it where it is while allowing it to run.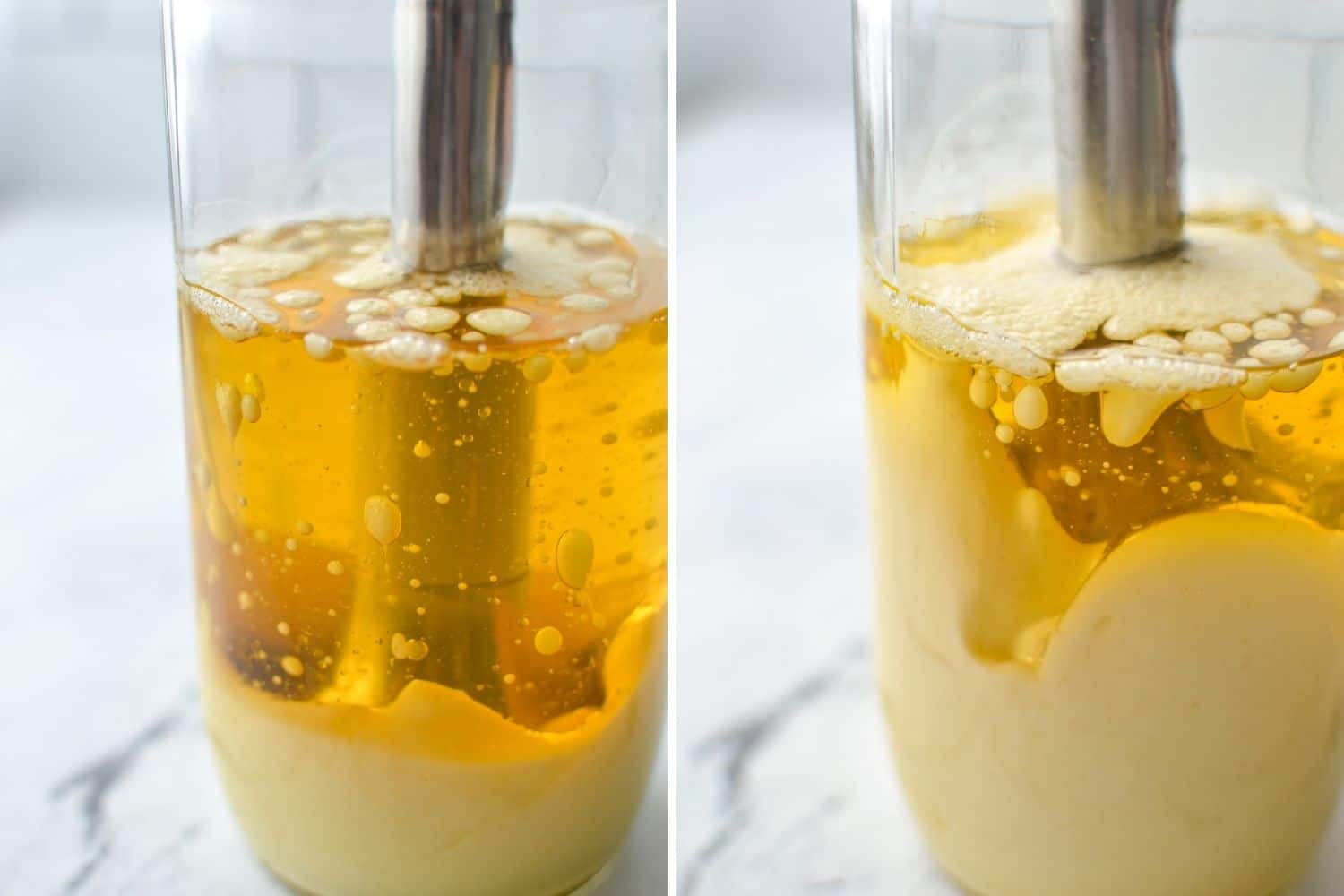 Gradually, you will see your oil, egg, and other ingredients slowly emulsify.
Slowly begin moving the blender up, in stages, to emulsify the next level of your avocado oil mayonnaise.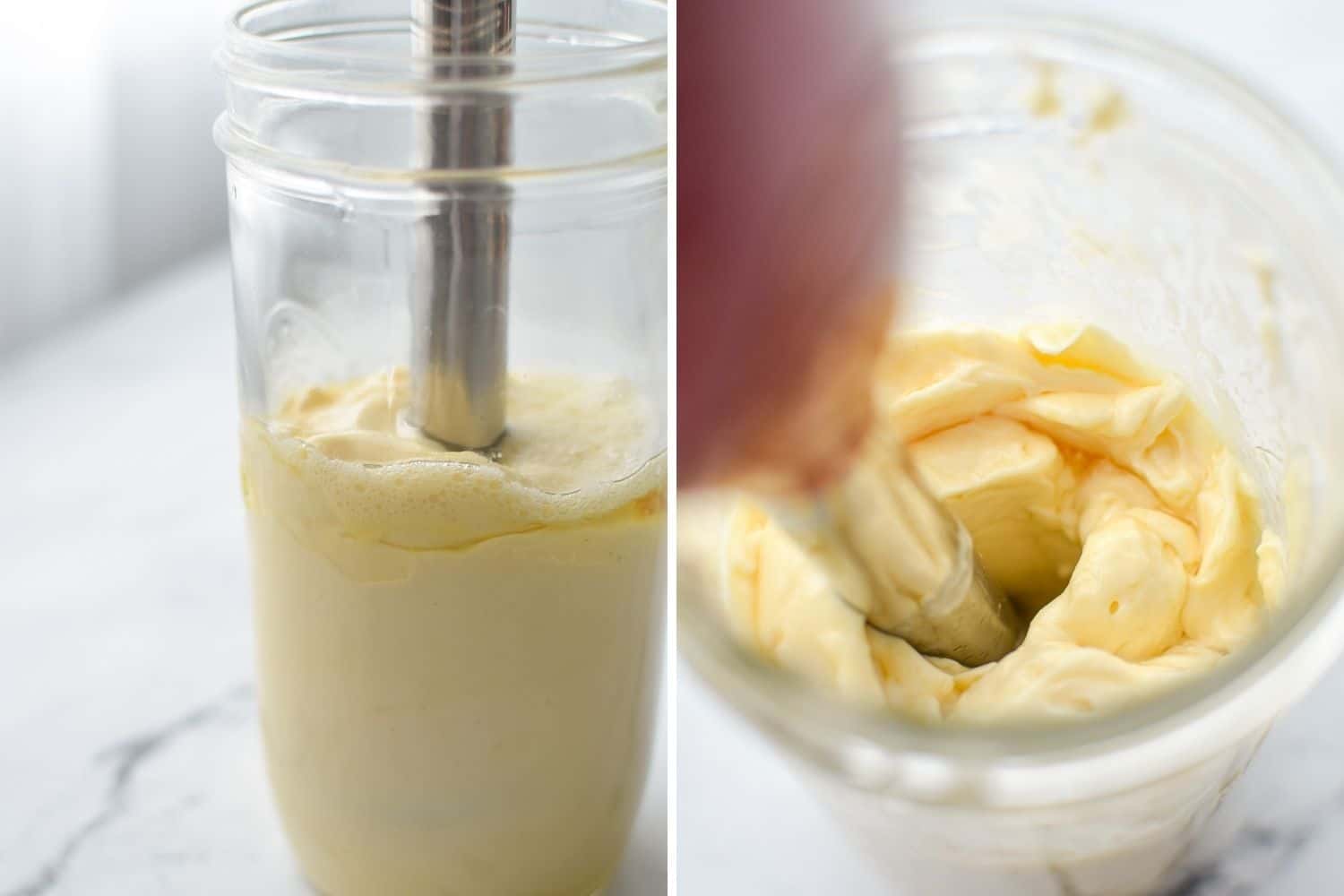 Keep moving your stick blender up, emulsifying each layer of the mayonnaise, until you get to the top.
Continue to blend at the top until all of the oil is emulsified (there may be small pockets left, this is okay).
Stir your mayonnaise well and top with an airtight lid (I love these lids for Ball mason jars) and store in the fridge for 1-2 weeks.
Homemade Mayo and Raw Eggs
All raw eggs carry the risk of Salmonella. If this is something you're uncomfortable with, instead choose to purchase a quality pasteurized avocado oil mayo (like Primal Kitchen).
I am personally comfortable using raw egg, so long as it is clean and comes from a quality source like a pasture raised farm.
It is not recommended by the USDA, so use raw eggs in your mayo at your own risk.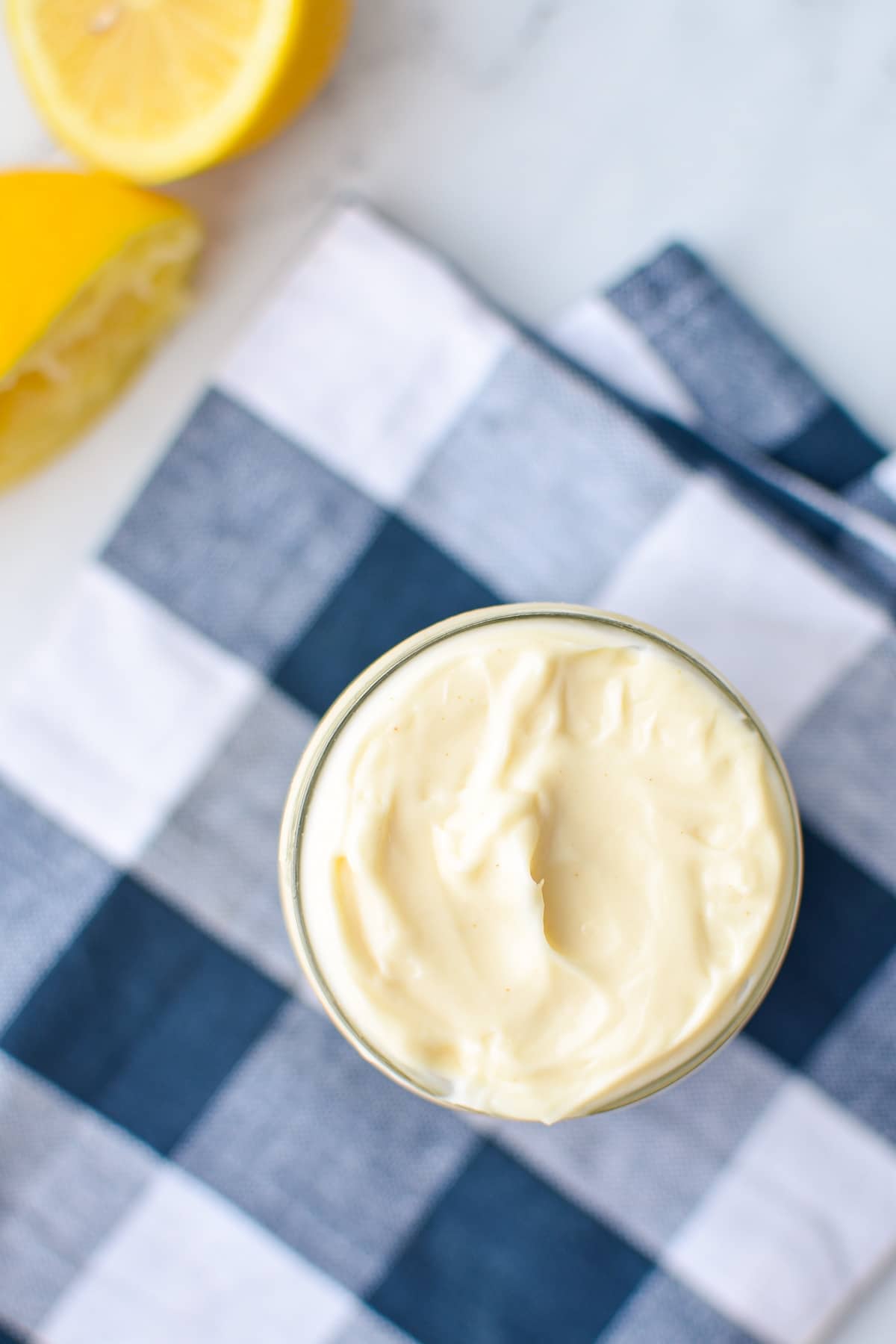 Frequently Asked Questions
Does avocado oil mayo taste different?
Yes, avocado oil mayo tastes somewhat different from standard mayonnaise available. While avocado oil has a mild flavor, it is not completely neutral and does impart some taste onto your finished homemade mayonnaise. It isn't unpleasant, and is something you will easily get used to!
What is the healthiest oil to use for mayonnaise?
Both avocado oil and olive oil have a great lipid profile, but avocado oil has a milder flavor and a high smoke point. This makes avocado oil an ideal choice for homemade mayonnaise.
Is avocado oil mayo Whole30 compliant?
Yes! Since avocado oil is Whole30, and the other ingredients in mayonnaise are compliant, most avocado oil mayonnaise recipes and brands are also whole30 compliant. Be careful of national brands that show avocado on the packaging, but dilute the mayonnaise with seed and soybean oils.
Is avocado oil mayo paleo friendly?
Yes, most homemade and store bought avocado oils are paleo friendly! If you are purchasing store bought, be sure to check the label to ensure that your mayonnaise has not been diluted with seed or soybean oils. Primal Kitchen is a good brand that is 100% paleo.
More Healthy Condiment Recipes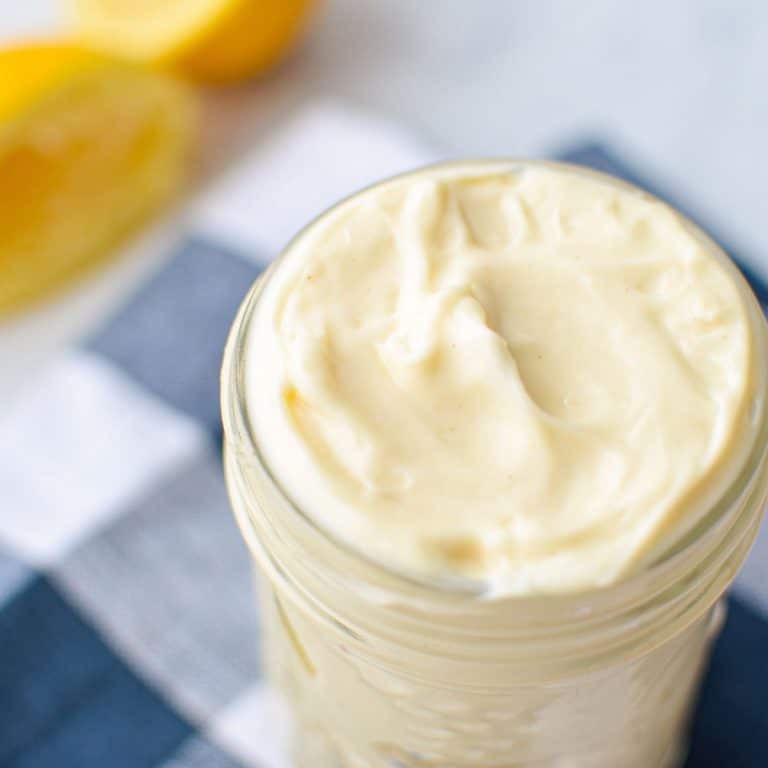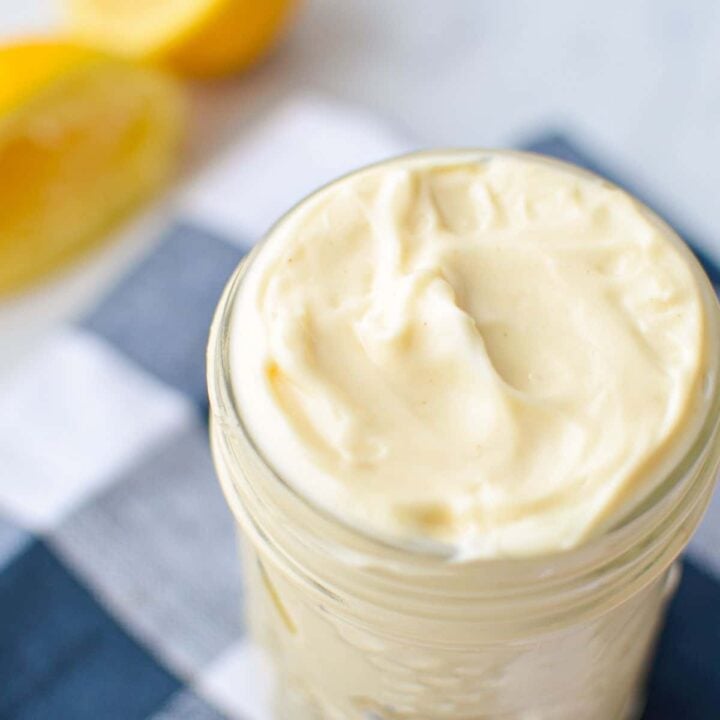 Avocado Oil Mayo Recipe
If you're looking for a healthy homemade swap for store bought mayonnaise, you have to try this easy avocado oil mayo recipe. Keto, Paleo, and Whole30 compliant.
Ingredients
1 cup avocado oil (room temperature)
1 pasture raised egg, whole (room temperature)
1 teaspoon dijon mustard
1 tablespoon lemon juice
1/2 teaspoon salt
Instructions
Add your avocado oil to a wide mouth quart size mason jar.
Add the egg, dijon mustard, lemon juice, and salt.
Allow to rest for 5 minutes to allow the egg to float to the bottom and settle.
Once the egg stays at the bottom, insert the want of a hand held immersion blender all the way to the bottom and turn on.
Blend constantly, until you begin to see the mixture emulsify.
As all of the oil emulsifies at the bottom, slowly begin moving the blender want further up in the jar to help the next level come together.
Keep going, moving up a little bit at a time, until all of your oil, egg, and other ingredients have come together.
Stir well and add an airtight lid to the jar.
Store in the fridge for 1-2 weeks.
Notes
Warning about raw eggs: Raw eggs carry the risk for salmonella. If this concerns you, don't use this recipe. Instead seek out a store bought avocado oil mayonnaise which will have a pasteurized egg in it. To minimize the risk, I use clean eggs from a good source.
Storage: Keep refrigerated at all times and store for 1-2 weeks in an airtight container in the fridge.
Other Oils: Avocado oil is used for this mayo recipe, but you can use whatever neutral flavored oil you prefer.
Nutrition Information:
Yield:

12
Serving Size:

~2 Tablespoons
Amount Per Serving:
Calories:

167
Total Fat:

19g
Saturated Fat:

2g
Trans Fat:

0g
Unsaturated Fat:

16g
Cholesterol:

16mg
Sodium:

106mg
Carbohydrates:

0g
Fiber:

0g
Sugar:

0g
Protein:

1g
Nutrition information is an estimate only.
Please note that some of my blog posts here at Little Home in the Making may contain affiliate links. If you make a purchase through these links, I will get a small commission at no additional cost to you. See our disclaimer for more information.