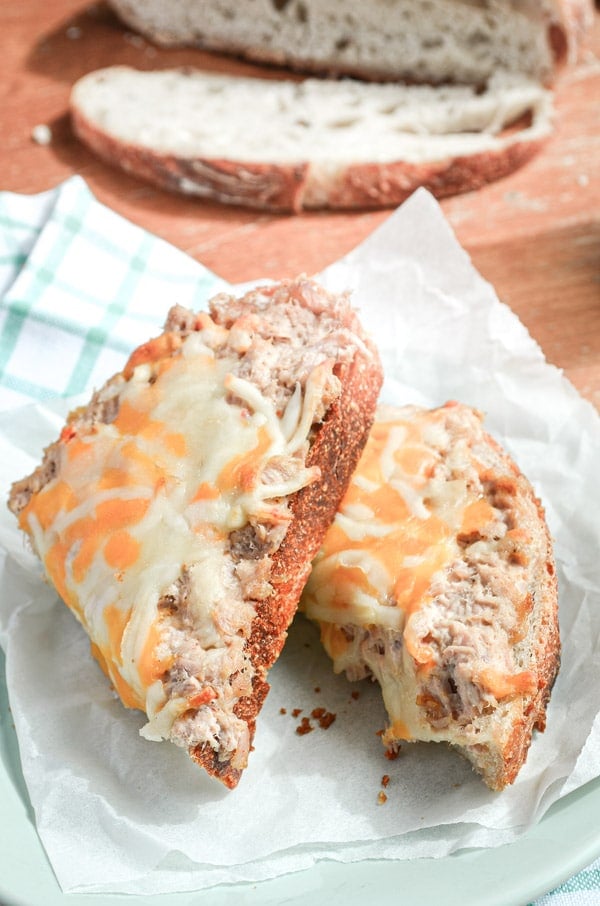 It doesn't get much more frugal than Sourdough Tuna Melts! Budget friendly and you're ready to serve dinner in less than 20 Minutes!
Please note that some of my blog posts here at Little Home in the Making may contain affiliate links. If you make a purchase through these links, I will get a small commission at no additional cost to you. See my disclaimer for more information.
When I think of Tuna Melts, I think of my childhood. Not necessarily because I ate a tonne of Tuna Melts or anything, but rather the entire idea of the can of chunk or light tuna. Tuna was having a real moment in the 90's. From Tuna Fish Sandwiches, to Tuna Casserole and Tuna Helper, Tuna was seemingly everywhere.
I don't know if Tuna truly was a "90's food" in the same sense that something like a pizza roll or a pop tart is a 90's food, but it certainly had its presence. It may have been residual from the Home Economics classrooms of our Boomer parent's youth. I recall a story in particular about my mother making a Tuna Casserole so astonishing that her 8th Grade Home Economics teacher declared it the best she ever had (she crushed potato chips on top, don't you know?). Whether tuna has it's roots in 1960's or the 1990's is perhaps up for debate, but from my perspective, the humble can of tuna reminds me of those neon-filled days of my youth.
What Is a Tuna Melt?
The Tuna Melt is truly just a warm, melty, toasty rendition of the Tuna Fish Sandwich. Open faced, and covered with cheese, it turns a simple can of tuna into something a little extra. Typically served on anything from an english muffin to a kaiser bun, the Tuna Melt is a versatile option that can present itself as either a lunch or a supper. Served with a salad or a side of peas and carrots, it can be considered a complete meal. Perhaps the most wonderful thing about Tuna Melts is that they are so stinking cheap! A can of tuna the world over seems to be inexpensive, and a pantry staple that can often go unused.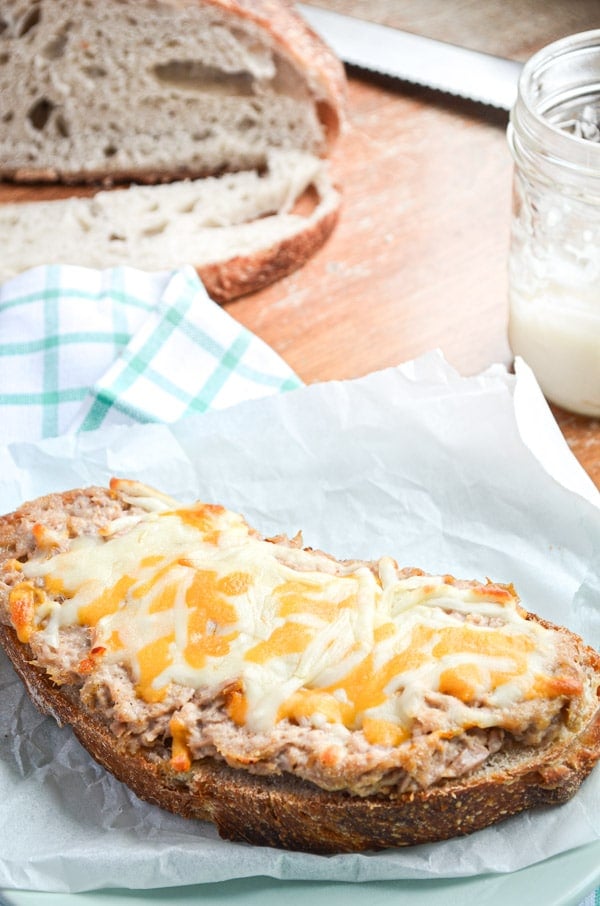 What Do You Need to Make Sourdough Tuna Melts?
I would say the star of this particular tuna melt is not the tuna itself, nor the delicious cheese that is melted on top, but the thick layer of crusty sourdough that serves as a tasty vessel. I don't like to give absolutes in recipes, but you absolutely MUST use a nice crusty sourdough. At the very least a crusty loaf of Italian or French bread. The $1 loaves at Wal-mart will even do in this situation. The thick, crusty bread really gives the Tuna Melt a chewy, yet crunchy texture that the tuna melts of my youth lacked.
The wonderful thing about Tuna Melts is how absolutely easy they are to make, and how fast they come together.
All You Need to Make Tuna Melts is:
Sourdough or Crusty Bread: Like I mentioned above, even the $1 loaves of French bread from Wal-Mart will do, but homemade Sourdough is the absolute best. This recipe from The Clever Carrot is such an easy beginner loaf and absolutely delicious.
Flaked Light Tuna: Sure, you can use chunk tuna, but flaked is just easier and has a smooth texture once mixed together with the mayonnaise.
Real Mayonnaise: I was just saying I don't like absolutes in recipes, but I must confess that I have lied. Real mayonnaise is an absolute must for me. Sure, you can get away with "Whipped Dressing", but why would you if you have real mayonnaise available? I use Hellman's because that is what I have access to, but Duke's would be great too.
Cheddar Cheese: Pre-shredded, or shredded from the block, it doesn't really matter. All that is important is that your tuna melt has a nice layer of shredded cheese. Cheese is, after all, the "melt" part of "Tuna Melt"
Seasonings: Most tuna melts lack in the seasoning department. A tuna melt perhaps doesn't even truly require seasoning, but on principle alone I have to add a little seasoning to mine, I strongly encourage you to do the same.
How Do You Make Sourdough Tuna Melts?
Tuna Melts are sooooo easy to make, and once you've made them a few times you'll absolutely love whipping them up for a quick lunch or a light supper.
The steps are simple:
Mix up the Tuna, Mayo, and Seasonings
Spread on a thick, crusty slice of Sourdough or French bread.
Sprinkle on shredded cheddar cheese.
Bake in the oven for 10 minutes.
Enjoy!
It really is that easy!
Sourdough Tuna Melts - Quick, Easy, and Budget Friendly Recipe
It doesn't get much more frugal than Tuna Melts! With the right seasonings and a thick slice of crusty sourdough bread, you're ready to serve dinner in less than 20 Minutes!
Ingredients
4 1" thick Slices of Sourdough Bread, or other crusty bread
2 5oz cans Flaked Light Tuna, drained
6 tbsp. Real Mayonnaise
1/8 tsp. Ground Black Pepper
1/8 tsp. Paprika
1/4 tsp. Onion Powder
1 cup Shredded Cheddar Cheese
Instructions
Preheat the oven to 450F and line a sheet pan with a silicone liner or parchment paper.
Slice 1" thick slices of sourdough bread or another crusty bread. Lay four slices on your parchment, evenly spaced.
In a small bowl, combine 2 drained cans of tuna and the mayonnaise. Mix well. Add the seasonings and mix again.
Spread the tuna mixture evenly on all 4 slices of bread.
Top with 1/4 cup of shredded cheese each, keeping the cheese to the middle of the bread so it doesn't melt off.
Place the sheet pan in the oven and bake for about 10 minutes, or until the tuna is bubbly, cheese is melted, and bread toasted lightly.
Slice in half and serve immediately.
Notes
We like to serve a simple veggie side of peas and carrots with tuna melts. This keeps your side dish easy peasy!
Nutrition Information:
Yield:

4
Serving Size:

1/4 of Recipe
Amount Per Serving:
Unsaturated Fat:

0g
Ready to try Tuna Melts? Want to save them for later? Don't forget to "Pin it" for later!
More Recipes to Try: