This simple rosehip syrup recipe is made with just 3 simple ingredients and lasts for months. A great source of vitamin C and perfect for adding to cocktails, yogurt, kombucha, and more!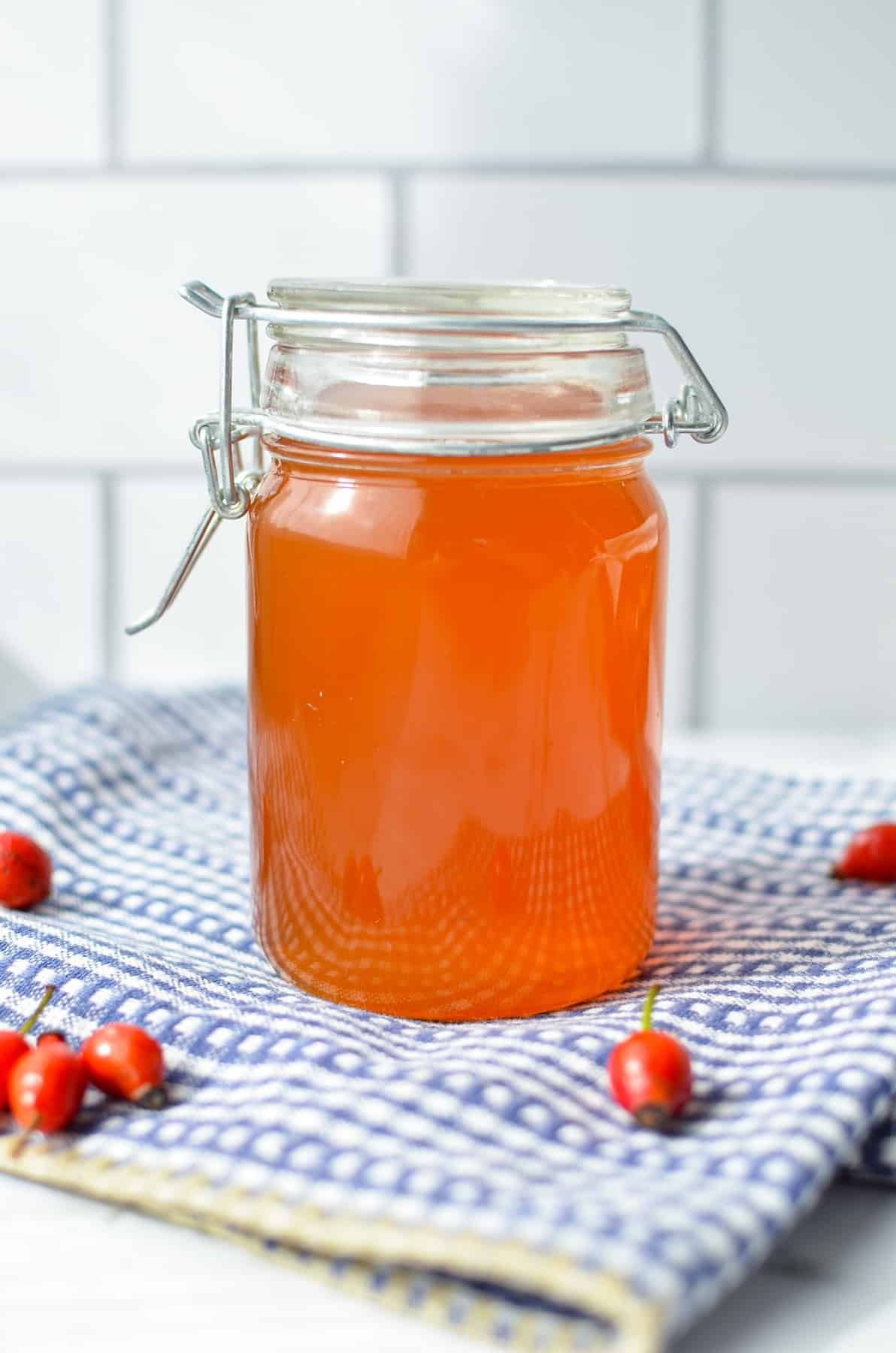 Rosehips are one of the most popular foraged foods that are available in the early to late Fall months. While much of what can be foraged is available throughout the summer months, this vitamin C rich food is best right after a frost or two.
And while it's easy to dry your rosehips to make a rosehip tea, I wanted to try another way to prepare (and preserve) the Fall bounty to make it last for several months. Thinking first of elderberry syrup, I knew there had to be a way to make a light and lovely rosehip syrup. Since the flavor is delicately floral, I knew I wanted it to be easily added to everyday foods.
I first found a recipe for rosehip syrup at the Grow Forage Cook Ferment blog, and I wanted to recreate it with a less hands on approach. It's not that the original recipe is difficult at all, but I wanted to adapt it to a distracted mom version. You know, something I could walk away from and come back hours later and it's still okay.
This version uses a 1-3 hour steep instead of a short simmer. This makes the recipe foolproof, meaning you can come back to it after a few hours of changing diapers, baking sourdough, and fitting in a little work or reading time too.
Why Make Rosehip Syrup?
A great way to use and preserve a popular Fall forage.
Rosehips are high in vitamin C, which has been shown to help fight off Fall and Winter colds.
Raw honey has a ton of benefits, not the least of which is antioxidants. By adding it to a cooled rosehip tea, you preserve all of the benefits of honey.

Easy to make

, even for beginners. You need just 3 ingredients: honey, water, and rosehips.
Ingredients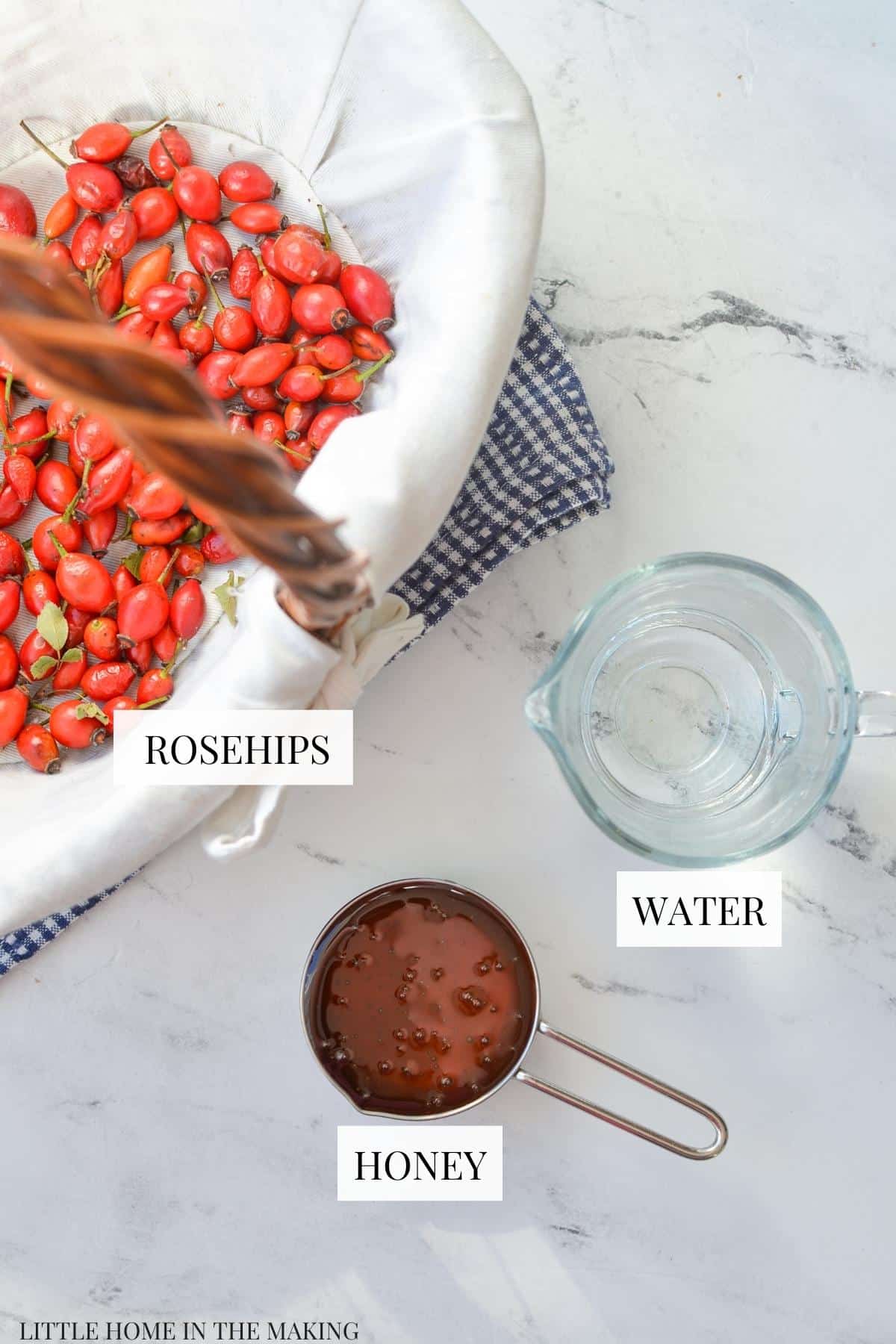 Rosehips: The most common way to source rosehips is to forage them from homegrown or wild rose bushes. The hips form in the Fall long after blooming, and boast a radiant red color. These are the seed heads, but are also a great source of vitamin C and are used in a variety of culinary and herbal preparations. You can also use dried rosehips if you can't source them locally.
Honey: You can use either standard or raw honey for this recipe. Since the honey is added once the tea has had a chance to cool, you can be sure that most of the honey's health benefits are preserved.
Water: This is used to steep the chopped rosehips and form a tea, which becomes the base of your rosehip syrup.
Equipment:
Food processor: This makes easy work of chopping up the hard hips. If using dried, you won't need to use a food processor, and you could chop the hips finely by hand if needed. But it certainly is a time saver!
Strainer: Any type of strainer that can be lined with a coffee filter or cheesecloth will work well here. I enjoy using a stainless funnel that fits over a mason jar, since this makes for fewer overall dishes later on.
Harvesting and Preparing Rosehips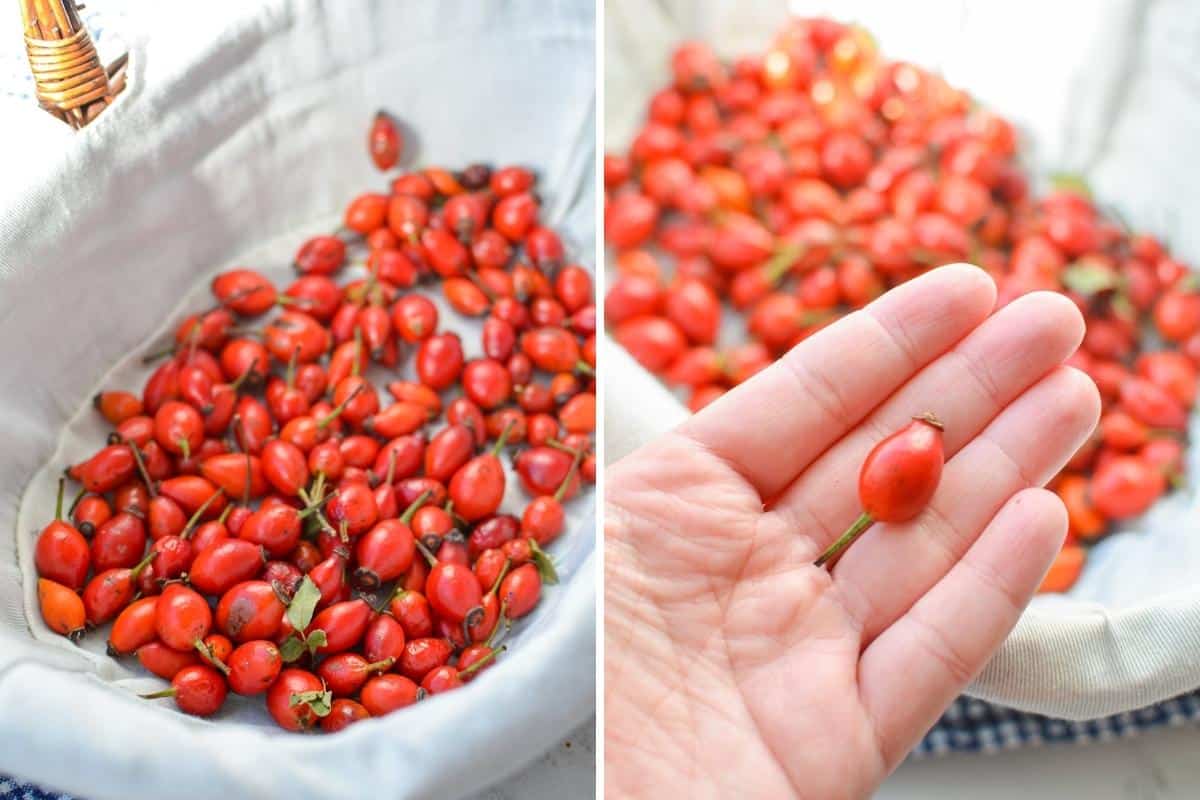 It's pretty easy to spot a rosebush – wild or cultivated. Their leaf pattern is distinct, and in the Fall, you begin to see bright red rosehips pop up everywhere!
The good news is that rosehips are easy to forage, widely available, and there is no close imitator that can harm you. This makes it an ideal forage for beginners! If you need information on how to identify rosehips, check out this great informational post.
It's recommended that you harvest them after there has been at least once frost. Like many Fall seasonal foods, this improves their flavor and sweetness.
Once you harvest them, you will need to remove the calyx and the stem (the little bits at either side), give them a good wash, and then pat them dry.
How to Make Rosehip Syrup
Add your prepared rosehips to the bowl of a food processor and process until well broken down. If you don't have a food processor you can finely chop them with a knife or use a blender.
Note that if you're using dried rosehips you can skip this step! They are already broken down, so no need for you to do it again.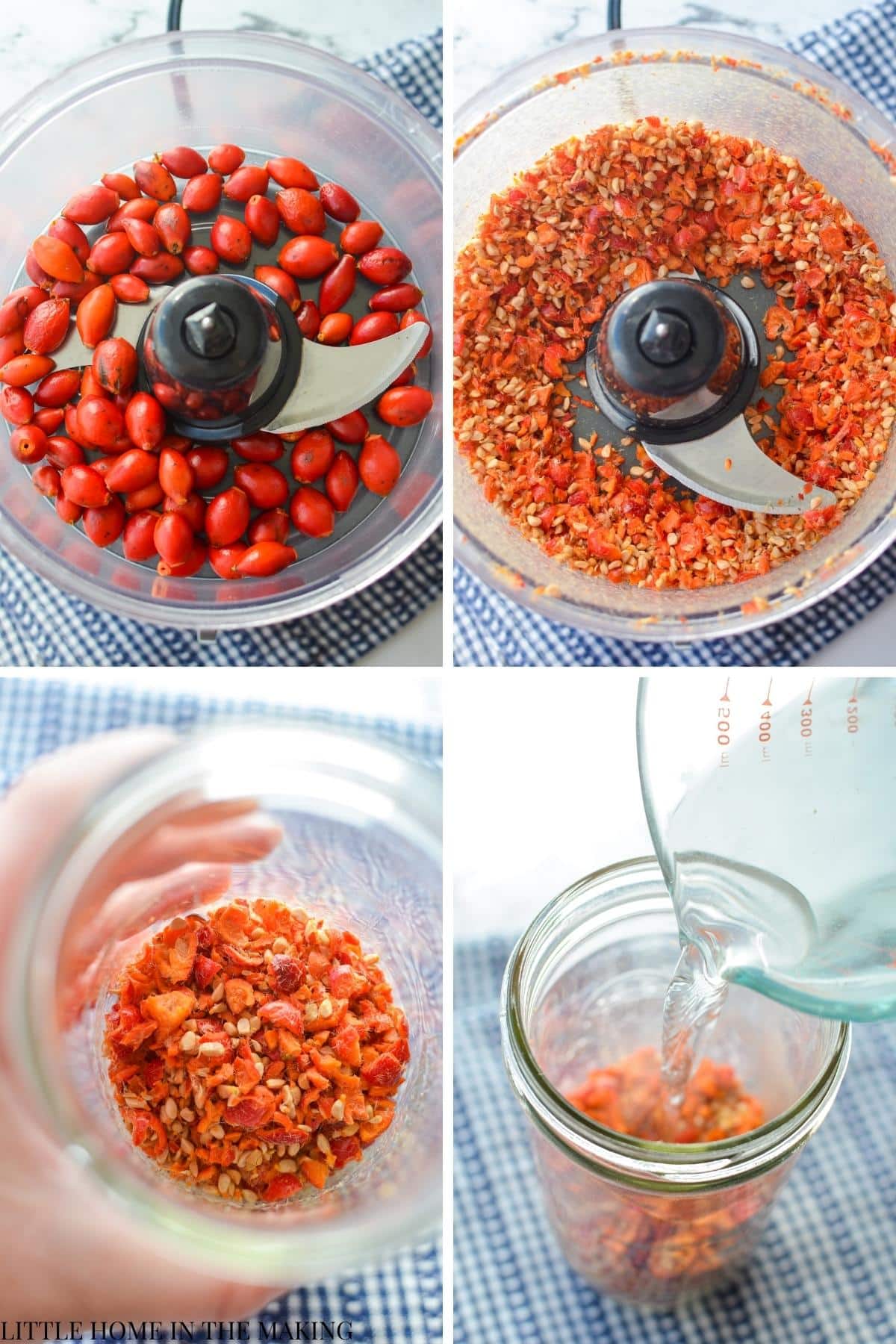 Add your rosehips to a heatproof jar (like a canning jar) with a lid. Bring the water to a boil, and add it to the chopped hips to cover.
Steeping the Mixture
Add a lid to the jar and allow for the mixture to steep at room temperature for 1-3 hours, shaking the jar gently once or twice if possible. Steeping it for longer will give you a more concentrated tea, while steeping it for less time results in a slightly less concentrated tea. Do whatever you have time for!
Alternatively, you can prepare it using a stovetop method (more information on that below).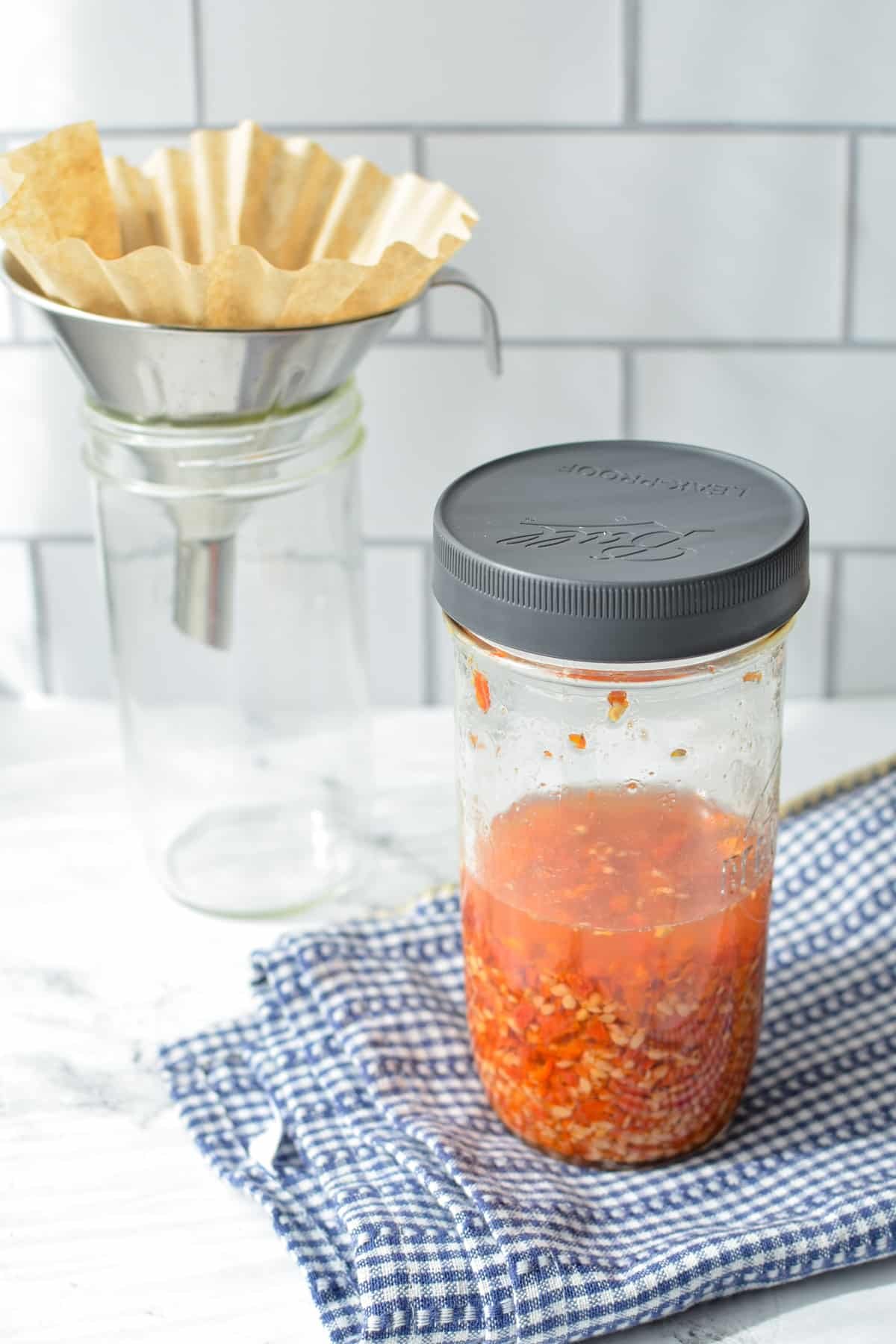 Straining the Mixture
Once your "tea" has steeped for at least 1 hour, but for up to 3 hours, you're ready to strain it. This removes the irritating hairs, as well as all the bits and seeds, just leaving you with the collected liquid.
Prepare a bowl or jar with a strainer set over it. Line the strainer with layers of cheesecloth or a coffee filter. Pour the mixture into the strainer, allowing the pieces to collect at the top and the liquid in the jar or bowl below.
I like to transfer the pieces to another strainer and press them firmly, releasing additional juices. I then pass this through the first strainer to remove any bits that fell through.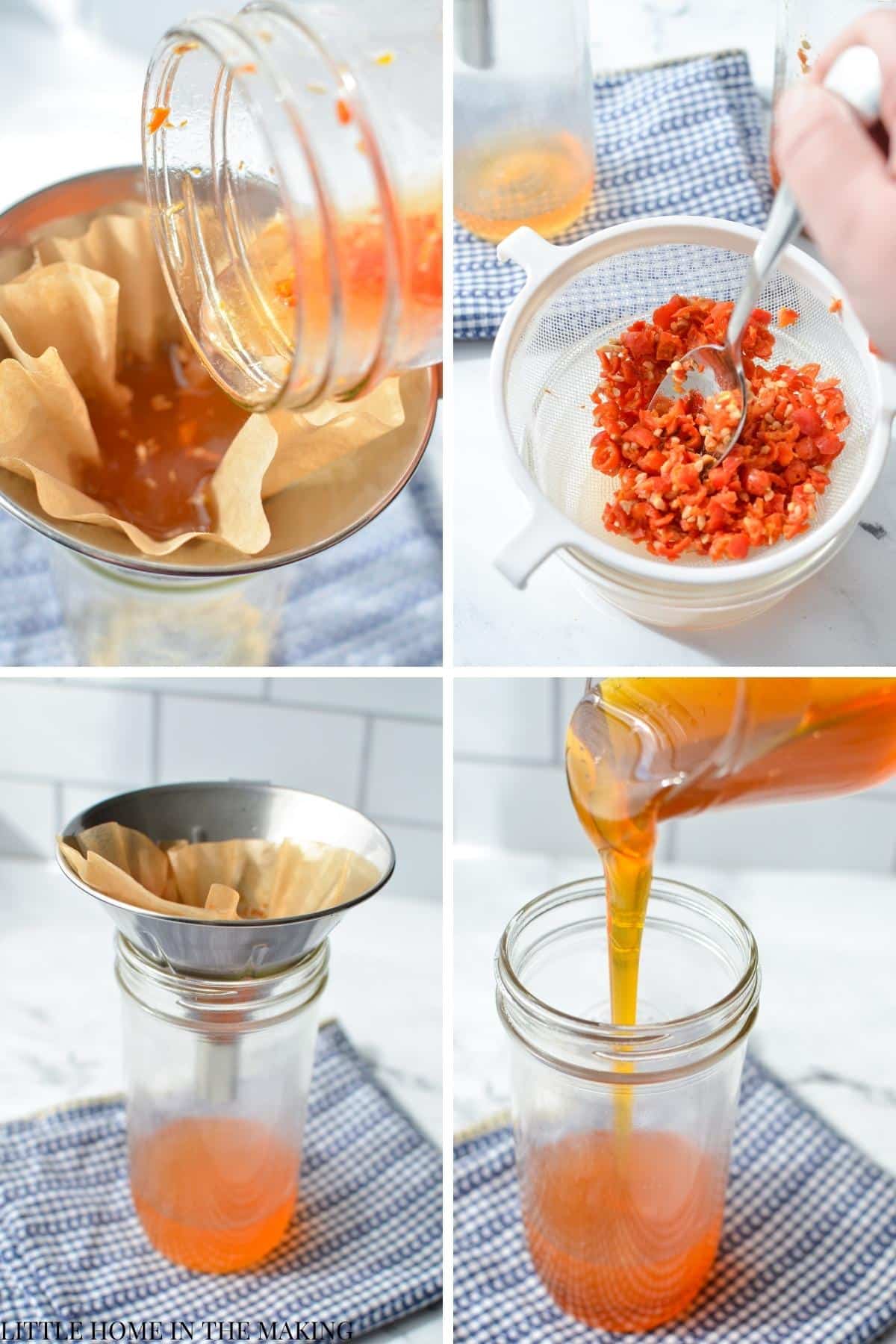 Once the liquid has been collected, transfer it to a storage jar or container with enough room to accommodate the honey that will be added in.
Finally, add the honey to the jar and stir vigorously to combine. Once the honey is thoroughly combined with the liquid, you can top the jar with a lid and move it to cold storage in the fridge.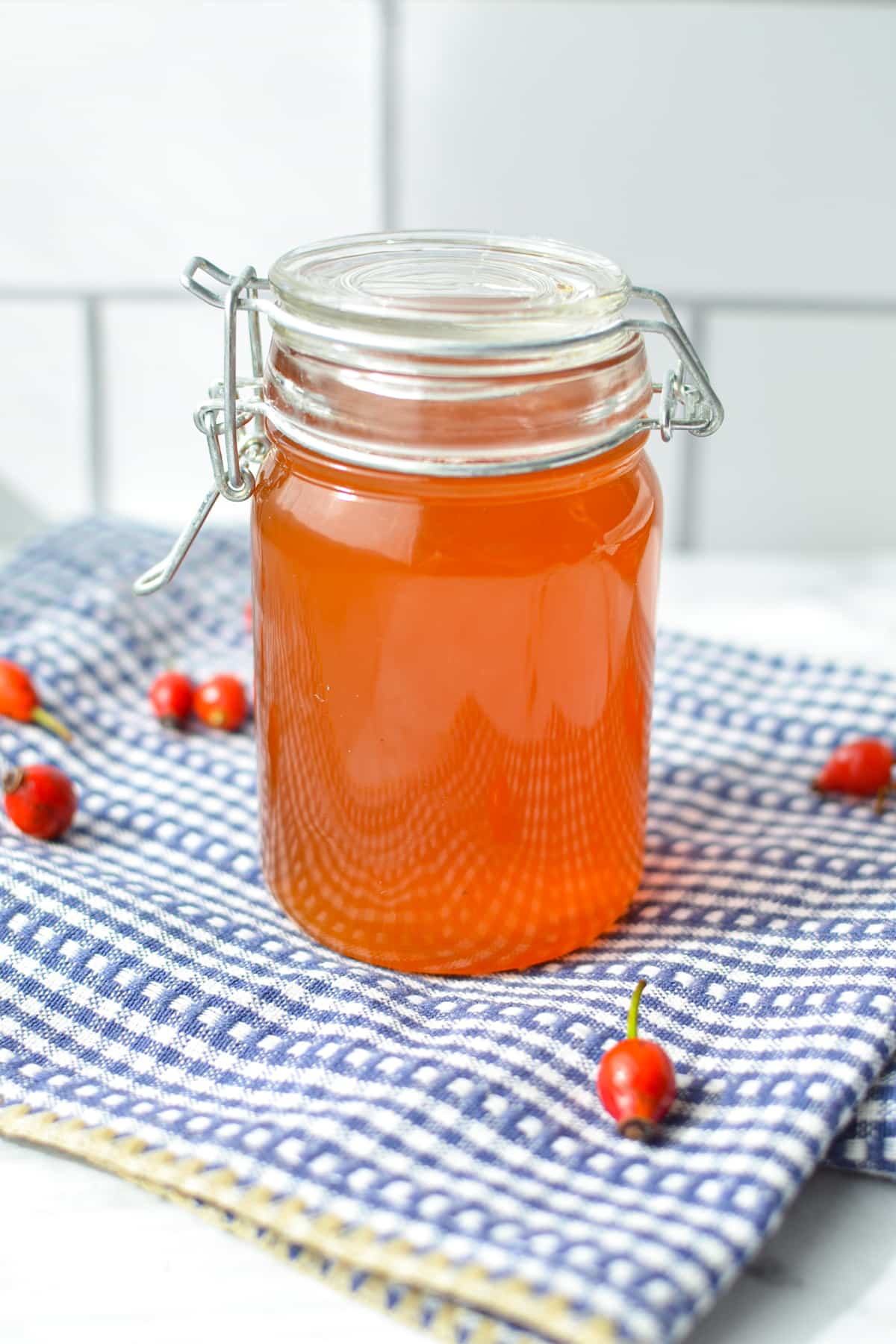 Storing Your Syrup
Keep in an airtight container in the refrigerator for 1-4 months, discarding if you see (or smell) any signs of spoilage. To extend the shelf life, I recommend using a very clean utensil each time you retrieve the syrup. This will prevent you from introducing any food particles or bacteria into the jar.
Stovetop Method
If you have a little bit of time to do some hands on work, you can use a stovetop method instead.
Combine the rosehips and water in a small saucepan and bring to a boil.
Reduce the heat to low-medium and simmer for 15 minutes.
Strain the rosehips and water, discarding the solid pieces and reserving the liquid.
Allow the liquid to cool until safe to touch.
Add in the honey and stir vigorously to combine.
Allow to cool completely before transferring to cold storage.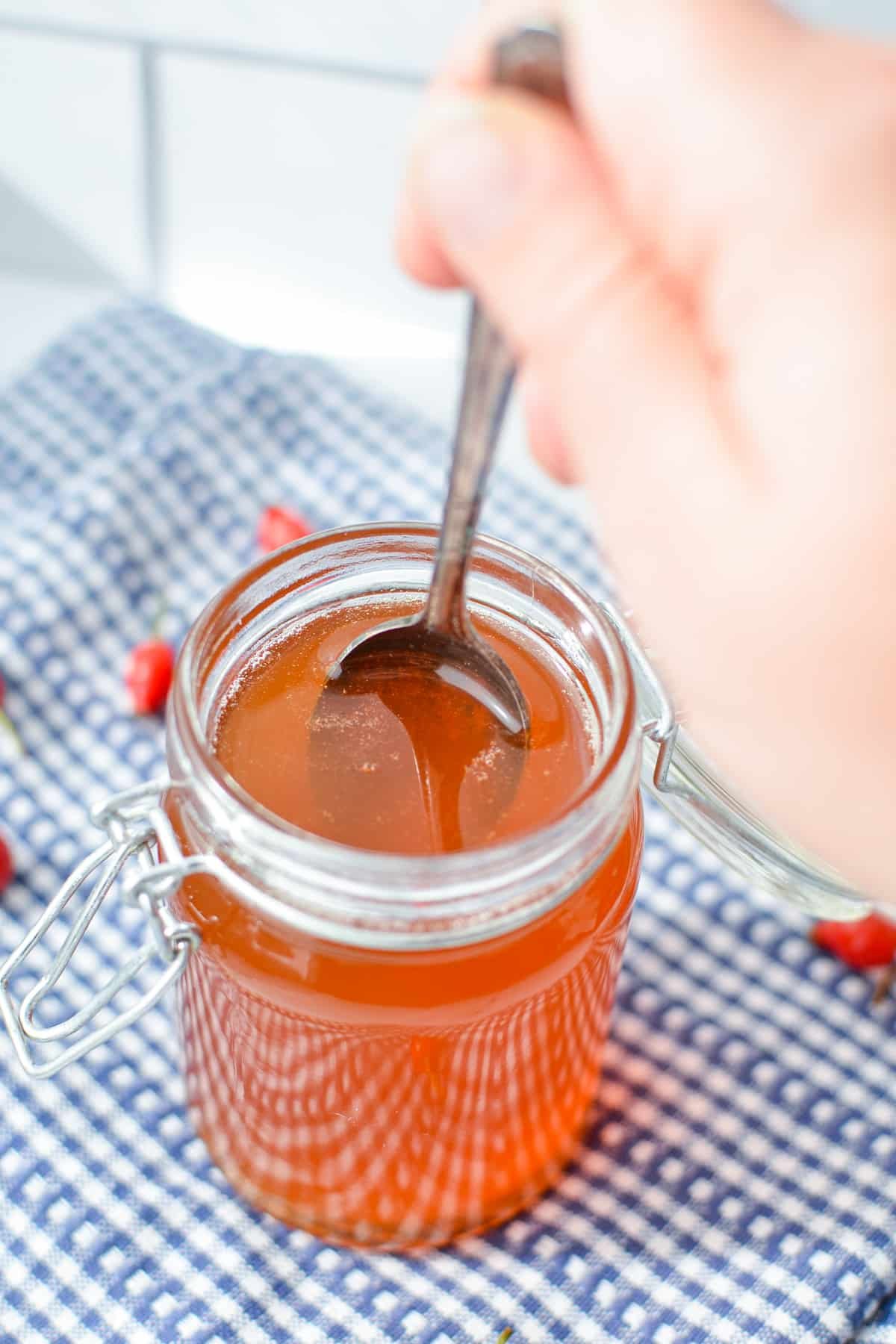 How to Use Rosehip Syrup
While rosehip syrup is most often used medicinally as a great source of vitamin C and antioxidants (thanks to the honey), it also has a variety of culinary uses. Here are some creative ways to use your homemade syrup:
In cocktails
Added to smoothies
To sweeten and flavor tea
Added to kombucha or water kefir (just before serving)
Used to sweeten and flavor homemade yogurt
As a cold preventative
As a great source of vitamin C
Frequently Asked Questions
What is rosehip syrup used for?
Rosehip syrup is used primarily as a source of vitamin C and antioxidants, but can also be used in culinary applications. Use it to sweeten yogurt, kefir, kombucha, or even a cup of brewed tea. It's also delicious when added into cocktails or smoothies.
What does rosehip syrup taste like?
Rosehip syrup has a slightly floral, fruity taste. If it is made with honey it will have the flavors of the particular honey used. If it is made with maple syrup, you will notice some maple flavors as well.
Can babies have rosehip syrup?
Babies cannot have rosehip syrup made with honey since honey cannot be consumed under 1 year of age (due to risk of botulism). If you prefer, you can make the syrup with maple syrup or granulated sugar, but be sure to consult a healthcare provider to ensure that it is safe.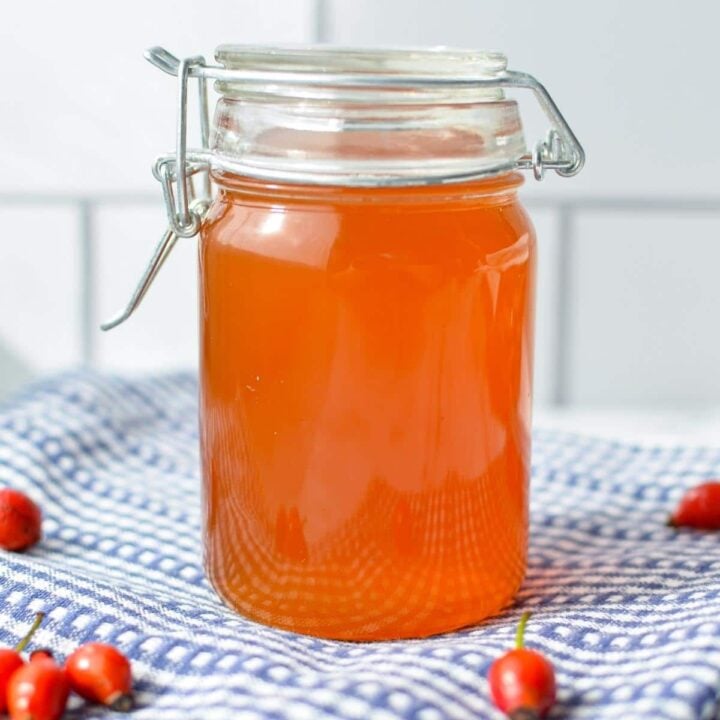 Rosehip Syrup
Total Time:
1 hour
10 minutes
This homemade rosehip syrup is packed with antioxidants and vitamin C. It's easy to make with just 3 simple ingredients.
Ingredients
1 cup fresh rosehips, calyx and stem removed
1 1/2 cups boiling water
1 cup honey (or maple syrup)
Instructions
Remove the calyx and stem from your rosehips (the parts attached to each end) and wash them thoruoughly. Pat dry and add to the bowl of a food processor.
Process the rosehips until they are well broken down into very small pieces.
Add the chopped rosehips to a large heatproof jar (like a canning jar).
Bring 1 1/2 cups of water to a boil and pour it over the rosehips. Place a lid on the jar and allow to steep at room temperature for 1-3 hours.
Once you've allowed your mixture to steep, fit a bowl with a strainer lined with a coffee filter or several layers of fine cheesecloth.
Pour the mixture through the strainer, with the rosehip pieces collecting at the top, while the "tea" or "juice" collects in the bottom.
Press the rosehips to extract as much liquid as possible.
Compost the spent rosehips and reserve the collected liquid.
Add the honey to the jar and stir vigorously to combine.
Once everything is well mixed together, transfer your rosehip syrup to an airtight storage lid and move to cold storage.
Store for 1-4 months in the refrigerator. Always use a clean utensil to retrieve the syrup and you should get a very long storage term. Discard if there are any signs of spoilage.
Notes
Adapted From: Rosehip Syrup - Grow Forage Cook Ferment
Using Dried Rosehips: Since dried rosehips are already broken down and naturally take up a smaller space, you can use just 1/2 of a cup instead of the full cup called for in the recipe.
Large Rosehips: If you foraged very large rosehips, you will need to use about 1 1/2 cups instead of the 1 cup called for in the recipe. This will give you a better concentration of flavor.
Stovetop Method: If you would prefer to boil the water and rosehips together for a quicker syrup, just combine the broken down rosehips and water in a small saucepan. Bring to a boil, then reduce the heat to low-medium and simmer for 15 minutes. Strain and allow the juice to cool until no longer hot. Add in the honey and stir to combine.
Alternate sweeteners: If you don't have honey on hand you can us maple syrup or even granulated sugar. If using granulated sugar, use the stovetop method and stir it in to dissolve immediately after the rosehips are strained.
Medicinally: Since rosehip syrup is high in vitamin C, it may help fight off an oncoming or existing cold. Take 1-2 teaspoons several times a day during the onset of cold symptoms.
For babies: Since this recipe contains honey, it cannot be consumed by babies under the age of 1 year old.
Nutrition Information:
Yield:

32
Serving Size:

1 Tablespoon
Amount Per Serving:
Calories:

32
Total Fat:

0g
Saturated Fat:

0g
Trans Fat:

0g
Unsaturated Fat:

0g
Cholesterol:

0mg
Sodium:

1mg
Carbohydrates:

9g
Fiber:

0g
Sugar:

9g
Protein:

0g
Nutrition information is an estimate only.
Please note that some of my blog posts here at Little Home in the Making may contain affiliate links. If you make a purchase through these links, I will get a small commission at no additional cost to you. See our disclaimer for more information.