If you're looking to have bigger yields, deal with fewer pests, and face less disease with your celery plants this year, you have to try companion planting! Using this popular gardening method can help make your vegetable gardening ambitions a little easier to achieve. Find out what the best celery companion plants are and how to work them into your garden plans.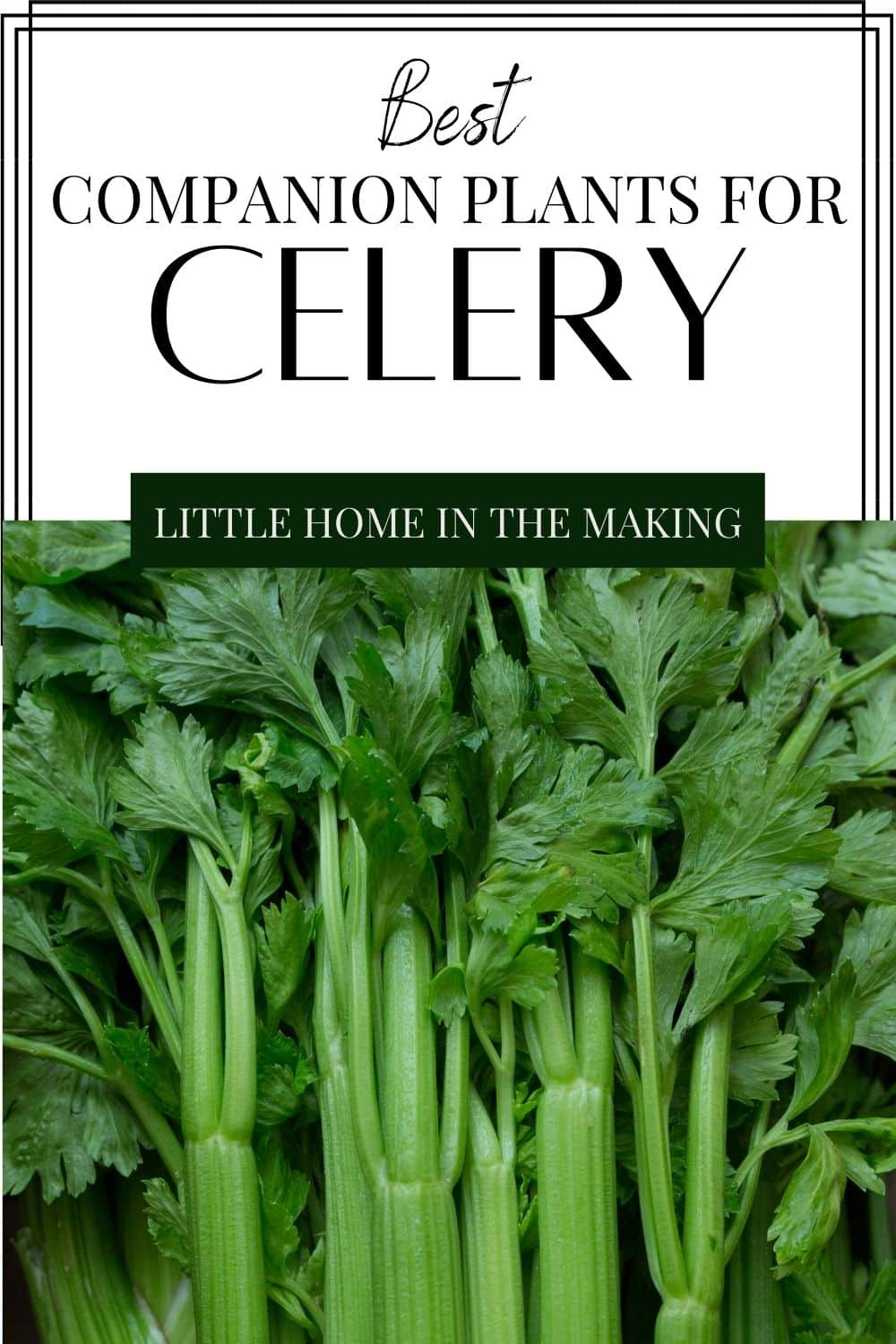 If you've been gardening for any amount of time, it's likely that you've heard about the idea of companion planting. Companion planting is a method of gardening that pairs certain plants together, while avoiding other plant combinations. This practice has been used for many generations of gardeners, and has been passed down mostly based on observation and experience – the greatest teacher, after all!
If you're growing celery this year, you're probably wondering how you can get the best yields while having few pests. Since celery can be a finnicky plant to grow, you want to make sure all that hard work is worth it, right!? The easiest and cheapest way to do that is to using the best companion plants for celery!
Best Companion Plants for Celery
Taking care to plant celery with its close friends, and avoiding its worst enemies, is one of the easiest ways to get better yields, fewer bests, and more abundant growth. Finding the best companion plants for celery can make growing this popular vegetable so much easier!
Friendly Plants:
Leeks
Tomatoes
Beets
Cauliflower
Cabbage
Bush beans
Scarlet Runner beans
Kale
Kohlrabi
Broccoli
Collards
Brussels sprouts
Onions
Plants to Avoid
Strawberries
Cucumbers
Turnips
Carrots
Parsnips
Parsley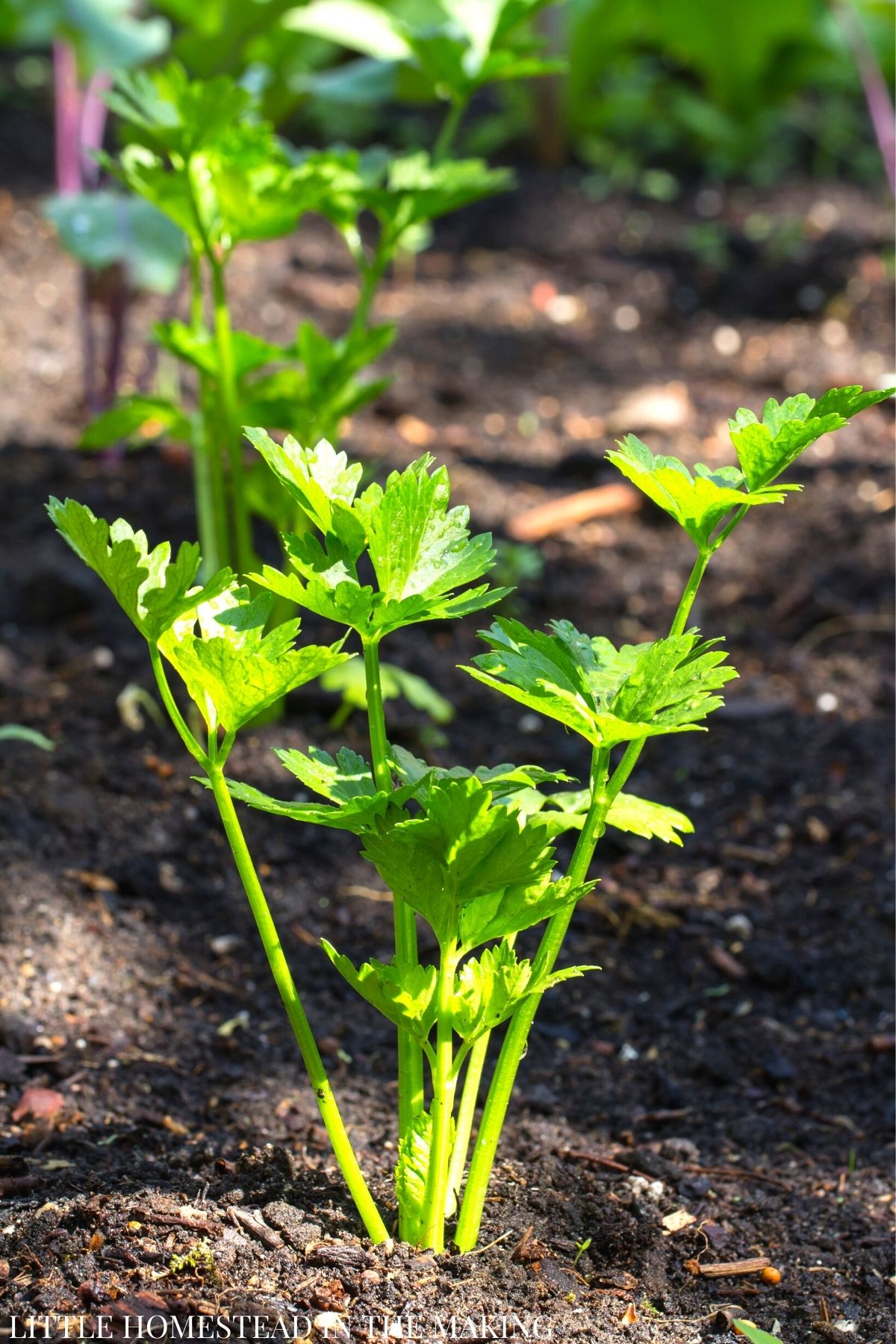 Growing Celery From Seed
If you would like to grow celery from seed, it's really quite simple to do if you start it indoors to give it a head start. Here are the best tips and tricks for growing celery from seed:
Start indoors in peat pots or cell trays. Celery takes 20-30 days to germinate, so starting 8-12 weeks before the last frost date for your area is ideal.
Sow the seeds no more than 1/4″ deep, since they are very small seeds.
Plant 2-3 seeds per pot, thinning to the strongest plant after the seeds germinate. Since the seeds take so long to germinate, this is an insurance policy to make sure each cell has a plant.
Transplant your plants into the garden 2-3 weeks before the last frost date, hardening them off for several days before you make the transplant.
Celery does best in cool climates, so those in southern regions may have more success growing it as a Fall crop.
When should celery be planted?
Celery should be transplanted into the garden 2-3 weeks before the last expected frost for your zone (use this map to find your growing zone).
If starting your celery from seed, you will need to start it indoors 8-12 weeks before your last expected frost date.
How far apart should celery be planted?
Individual plants should be spaced at least 12″ apart, with rows being at least 18″ apart, or more if you plan on harvesting between them.
In square foot gardening, you will need 1 square per celery plant.
Does celery need full or partial sun?
Celery requires full sun, which works out to at least 6-8 hours of direct sunlight per day.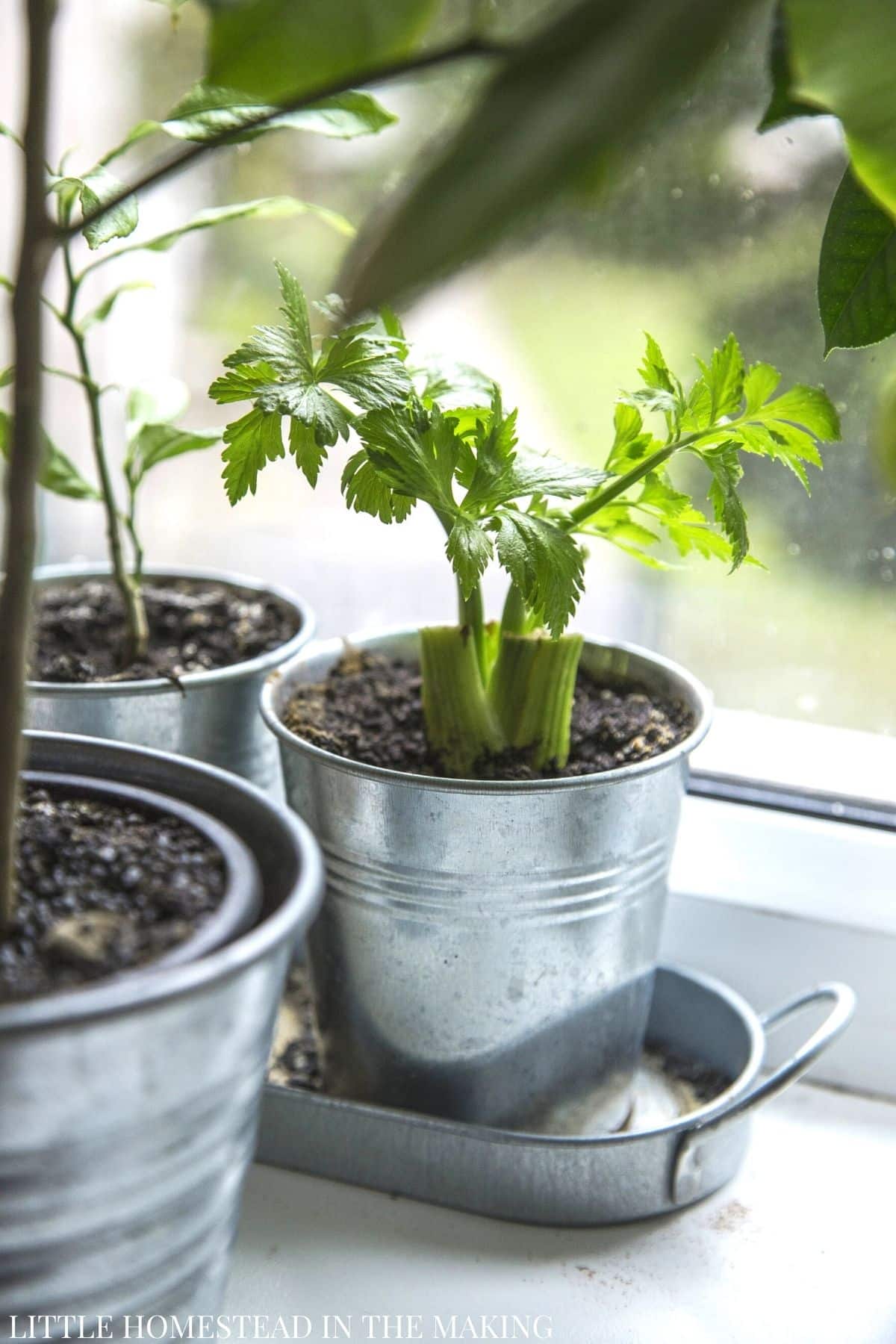 Growing Celery in Containers
If you would like to grow celery in containers, you can absolutely do that with a few tips, tricks, and best practices.
Container width – choose a container or pot that is at least 10″ in diameter. Celery is a large plant, and needs plenty of room to grow in.
Pot depth – select a pot that is at about 8″ deep. While celery does not have long roots, it is a heavy feeder and will need lots of compost to pull nutrients from.
Fertilize frequently – since celery is a heavy feeder, growing it in a container is going to mean frequent applications of all purpose garden fertilizer. Once every 1-2 weeks is a good place to start.
Water frequently – the unique challenge of container gardening is that it requires frequent watering unless there has been significant rainfall. Water any time you notice the top 1″ of soil has dried out.
Location – set your container outside in a spot that gets 6-8 hours of direct sun per day. A south facing slope is always the best option, but any sunny spot will do.
Harvest – You can either remove the plant completely, or cut off the stalks and leave the bottom root in place in the hopes of getting some regrowth and a second, smaller harvest.
Frequently Asked Questions
Will celery regrow after harvest?
If you just remove the stalks, leaving the roots and bottom half intact, you will typically see some regrowth after harvest. While it will not be a full harvest, you should see several new, smaller stalks come up that can be harvested and used in your favorite meals.
Are celery leaves edible?
Yes, celery leaves are completely edible. Due to their appearance and slight bitterness, they are not popular for snacking on, but they can be added to many dishes with delicious results. Add celery leaves to soups, stocks, stir fries, or smoothies. For stocks and broths, leave them whole. For other dishes, mince your celery leaves finely like parsley.
Can celery go bad?
Yes, celery can go bad. It will often wilt and get limp, signaling that its time has come and gone and its time to be composted. In order to keep your celery fresh for longer, store it in a container with some fresh water poured into the bottom. This will keep your celery fresh for weeks.
Can you grow celery in a raised bed?
Celery can very easily be grown in a raised bed. As long as your raised bed has at least 6″ worth of soil, your plant will have plenty of room to put down roots and grow happily alongside your other plants. Just ensure the soil has been enriched with plenty of compost, as celery is a heavy feeder and requires extra nutrition.
What grows well beside celery?
Celery grows well with a variety of plants, including leeks, tomatoes, onions, cabbage, cauliflower, kale, bush beans, scarlet runner beans, and broccoli.
What should not be planted with celery?
Celery does not have many enemies, but there are a few that you should avoid planting with celery if at all possible. These include strawberries, cucumbers, turnips, carrots, and parsnips.
More Helpful Gardening Posts
Please note that some of my blog posts here at Little Home in the Making may contain affiliate links. If you make a purchase through these links, I will get a small commission at no additional cost to you. See our disclaimer for more information.