Whether you have some extra shallots from your garden or Farmer's market haul, dehydrating shallots is the easiest way to preserve the harvest. The delicate flavor of shallots is perfectly preserved when dried and lasts for up to 12 months in storage.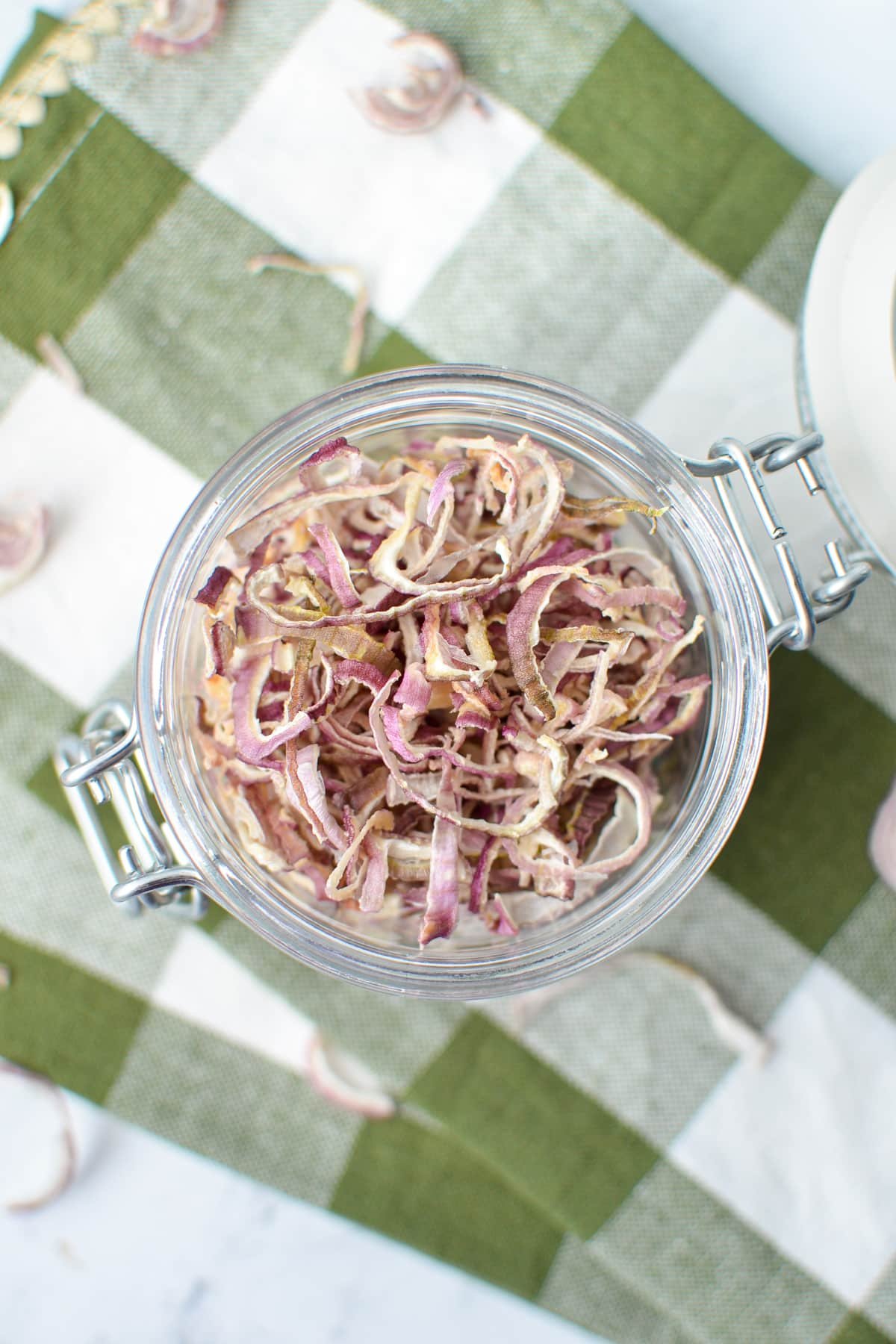 As both an avid gardener and food preservation enthusiast, dehydrating is one of my favorite methods of preserving the harvest. Just a few months back I shared how I dry basil for long term storage, and today I'm bringing to you this easy method for dehydrating shallots.
I've been dehydrating since I first set off learning essential homesteading skills back when we lived in a tiny apartment in the city. Now our view is a little more hayfield and a little less gridlock traffic, and so I've been able to put those learned skills into practice over the past 5 years.
The pleasant sound of my dehydrator humming in the background as I bake a loaf of sourdough bread is a pleasant one indeed – It's a sure sign we will have delicious food to enjoy for the months to come. This recipe for dried shallots is a real favorite. Their delicate flavor is a welcome addition to a variety of dishes and a real treat!
Why Dehydrate Shallots?
Dehydrating is a great way to preserve extras – no refrigeration needed!

An easy way to preserve

excess homegrown shallots from your garden (or the farmer's market).
Shallots are a delicious and delicate addition to your favorite dishes. The downside is that they can be pricey to buy at the grocery store. Instead, buy them in bulk and make dried shallots so you always have them on hand!
You can use the dried shallots to make shallot powder. This is a super special ingredient that is typically only found online or in gourmet food shops.
Ingredients & Equipment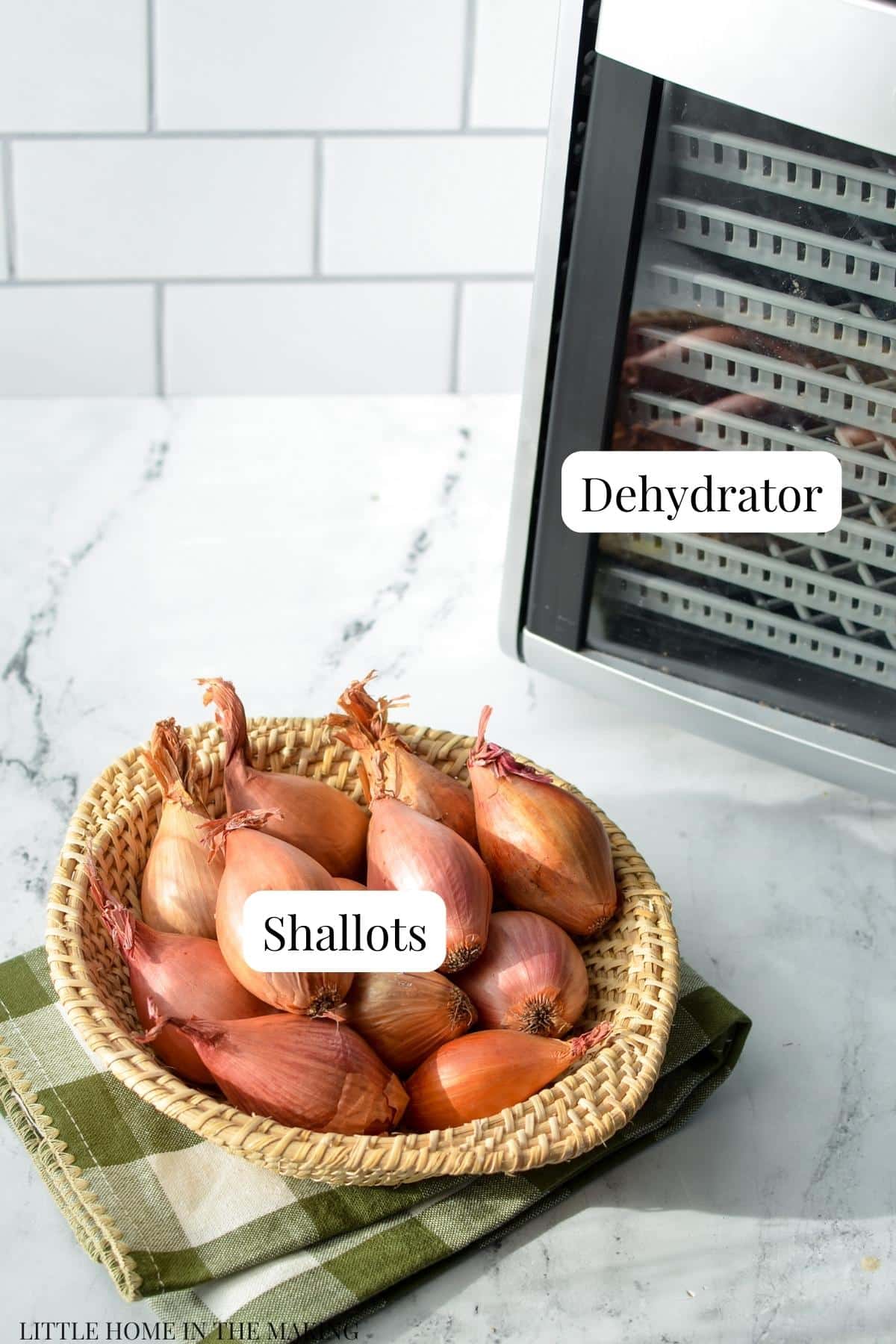 Shallots: These can either be from your garden, purchased from the farmers market, or bought in bulk from the grocery store. Take care to wash and remove any dirt before peeling, as dirt from the peel can easily fall onto the surface of the shallot.
Equipment
Dehydrator (or Oven): A dehydrator works best (I'm ordering the Excalibur), but you can use your oven set to the lowest temperature (check your manual) and rotate baking sheets if you're in a pinch.
Sharp knife: In order to get super thin slices, I highly recommend working with a sharp knife.
Parchment paper (or mesh trays): If your dehydrator has large holes, you can make sheets of parchment paper to keep the smaller shallot pieces in place. OR you can use mesh trays or fruit leather trays if they are available for your model.
Glass jar: This is used for conditioning, but can also be used for long term storage.
Lid: You will also need lid that fits your glass jar – a mason jar with a two piece or plastic lid works great.
Spice grinder (for shallot powder): If you want to make shallot powder with some of your dried shallots, you'll also need a clean spice or coffee grinder. I have this one and I use it for making all of my homemade vegetable powders and blends.
How to Dry Shallots with a Dehydrator
Preparing Shallots for Drying
While the actual dehydrating process is very hands off, you will need to take a little bit of time upfront to prepare the shallots for drying. Thankfully, they are not as tear-inducing as onions, so you get some reprieve from that!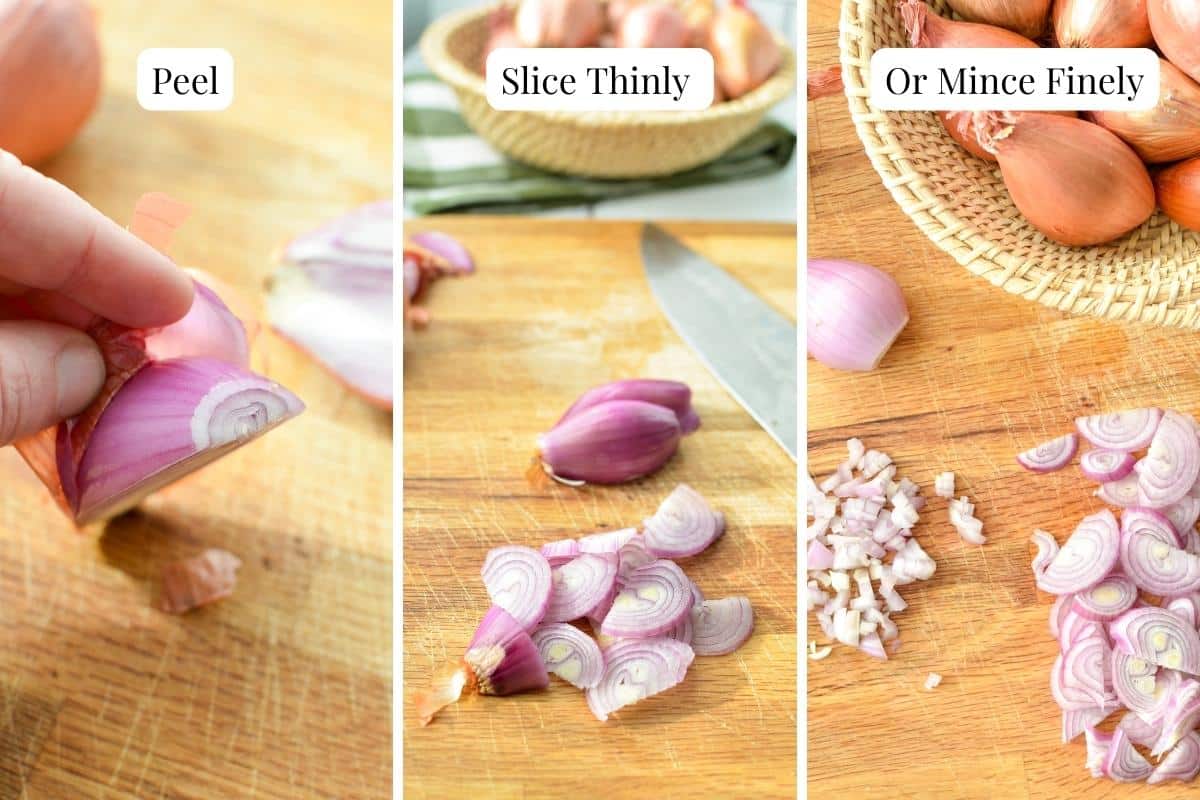 To start, cut the tip off the end of your shallot, and then gently peel back the onion skin.
Hold the root end with your fingers tucked under and use a sharp knife to thinly slice the shallots, or mince them finely.
Repeat with the remaining shallots until all of the shallots you want to prepare have been peeled and sliced (or minced).
Preparing the Dehydrator Trays
Once your shallots have all been sliced or minced, you're ready to prepare the dehydrator trays. To get started, line each tray with parchment paper and cut to size (if your model has large holes).
If you have a dehydrator model (like my dream dehydrator: Excalibur) that has mesh trays, you can absolutely skip this step and use the mesh screens or fruit leather trays instead.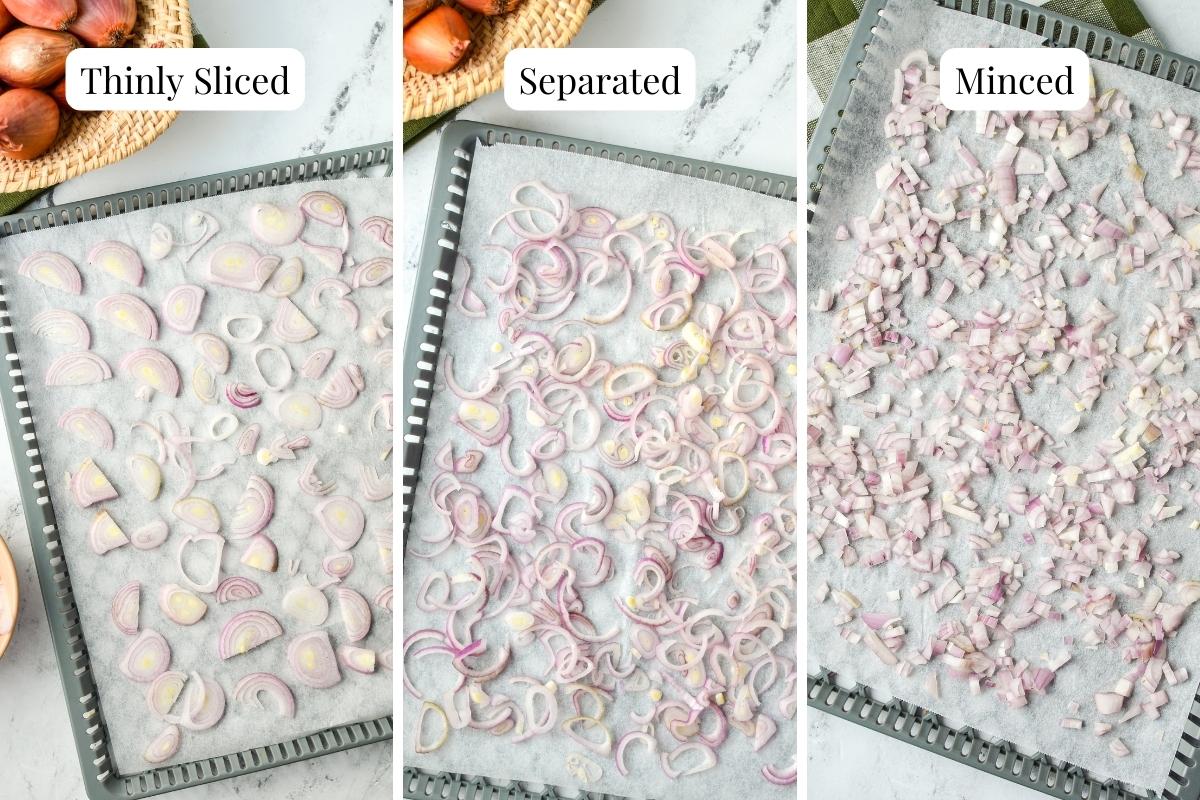 Once the trays are lined with parchment (if necessary), start spreading your sliced or minced shallots in a thin and even layer on the trays.
If you are using finely sliced shallots, I highly recommend separating each ring from the slices. They dry more quickly and evenly this way, saving a lot of time when compared to drying whole slices.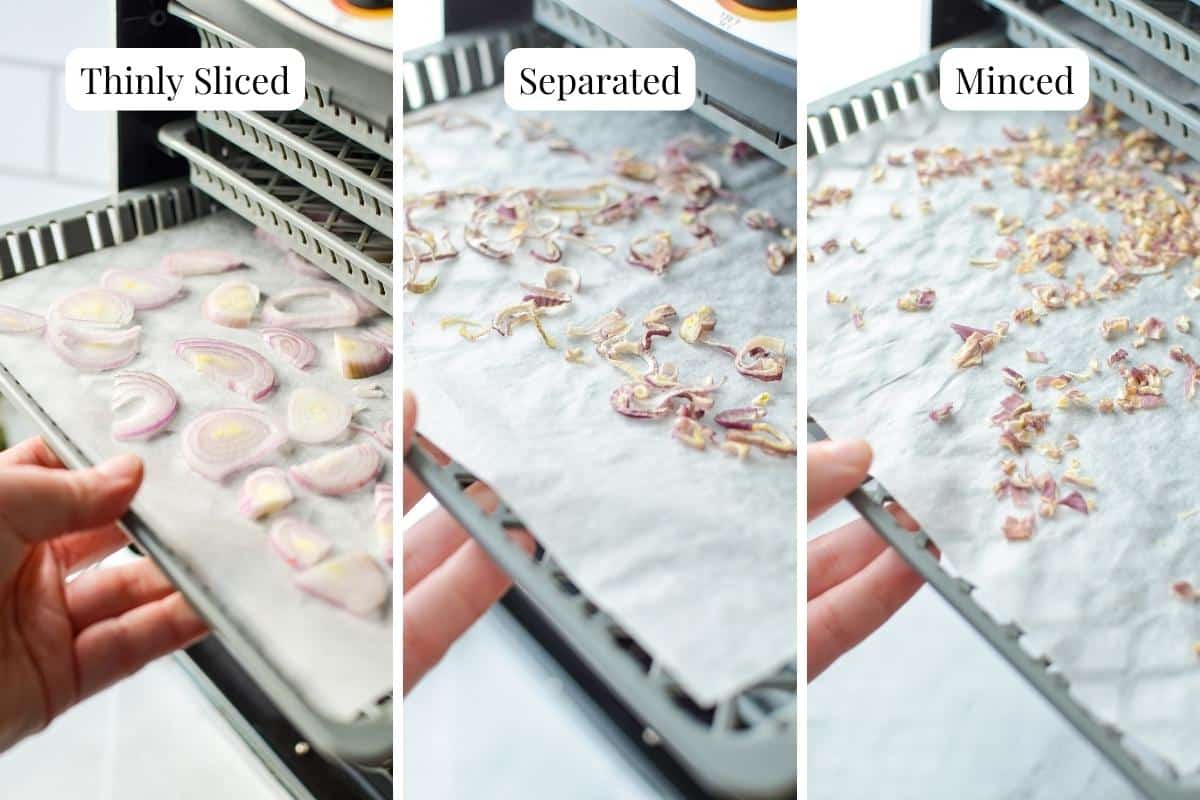 How to Dehydrate Shallots
Peel your shallots and finely slice them or mince them. Optionally, separate the rings to help the shallots dry more quickly.
Fill parchment lined dehydrator trays with sliced or minced shallots, spreading them out into a thin and even layer.
Set the dehydrator to 125ºF.
Dry for 10-24 hours, or until the thickest pieces easily snap in half without bending.
Turn off the dehydrator and allow the food to cool inside until room temperature, approximately 3-4 hours (or overnight).
Transfer the dried shallots to storage, or glass jars for

conditioning.
Conditioning Dehydrated Shallots
An optional processing step that I like to include in all of my dehydrating recipes is one that is called "conditioning." This checks to ensure the food is completely dry and free from excess moisture. This additional step helps confirm it is safe to move to food storage.
Conditioning is not 100% foolproof, but it is an added insurance. It increases the probability of your dried foods staying dry, mold free, and fresh for the months to come.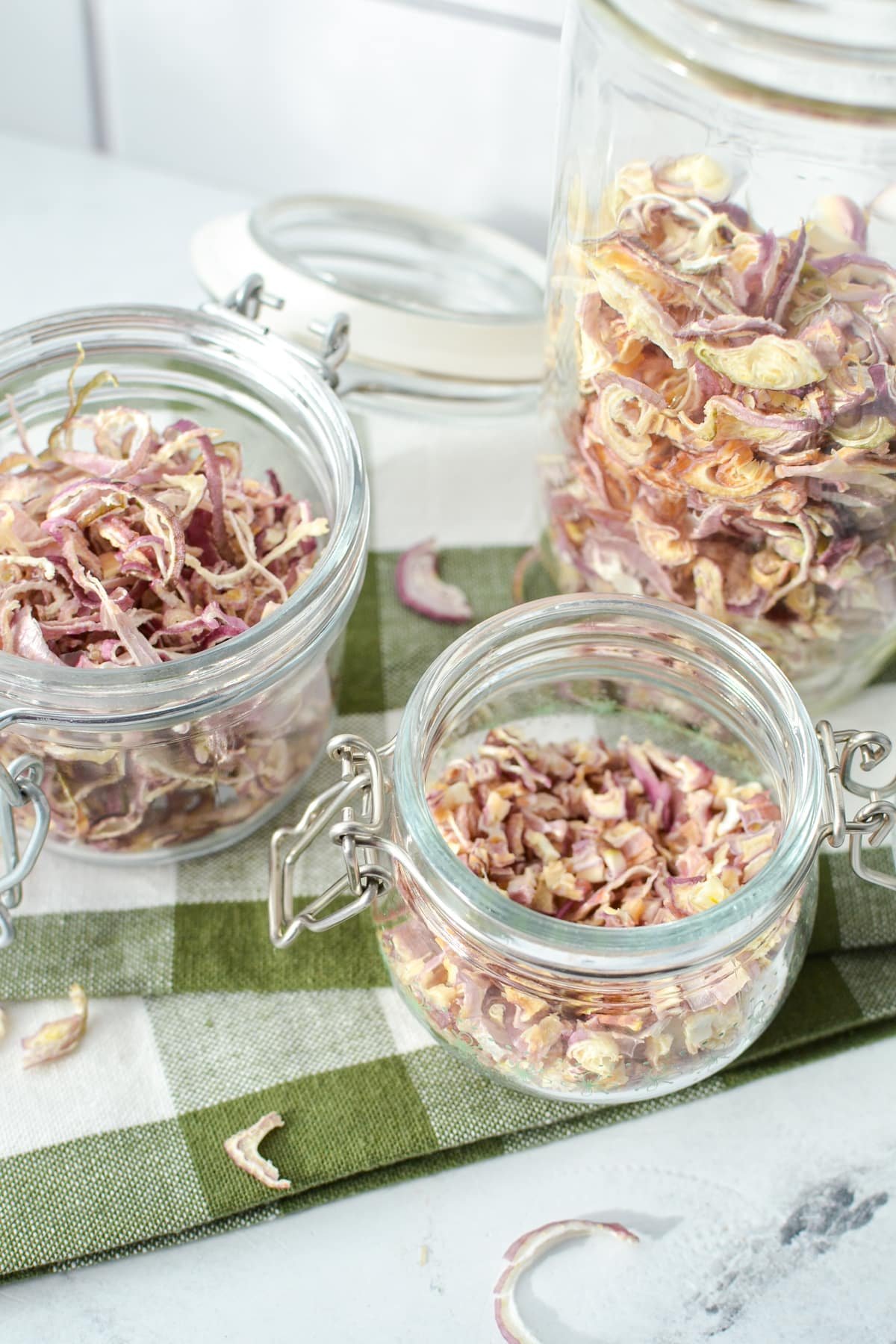 How to Condition Home Dried Foods:
Once the items are completely dry, allow the trays to cool down in the dehydrator until they come to room temperature. This takes approximately 4 hours, but they can be left overnight. You could also remove the trays and cool for about 1 hour at room temperature.
Remove the trays from the dehydrator and transfer the cooled food into a glass jar fitted with a lid.
Place the jar in an area on the counter where you can see it, but it's out of direct sunlight.
Allow the jar to rest for 24 hours, shaking it once or twice if you remember to.
After 24 hours have passed inspect the jars for any cloudiness or signs of moisture.
If there are signs of moisture, return the food to the dehydrator and repeat the process until completely dried.
If the food has passed conditioning, transfer it into permanent storage such as an airtight container or mylar bags.
How to Make Shallot Powder
Once your shallots are completely dry, you may be wondering if you can use them to make shallot powder (similar to how you would make onion powder or garlic powder). The answer is yes!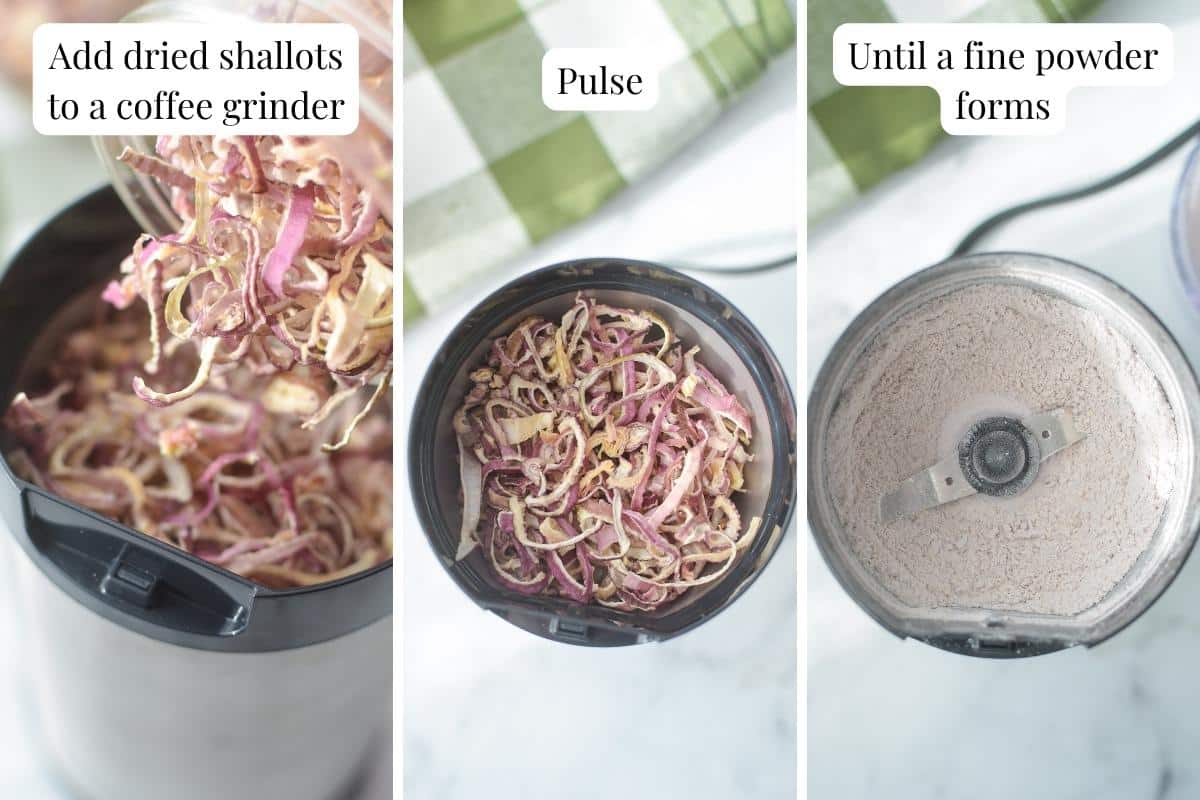 Add your completely dry shallots to a clean spice or coffee grinder, working in small batches.
Place the lid on and pulse the shallots, allowing them to begin to break down.
Continue to pulse until they form a fine powder.
Transfer the powder to a spice jar or airtight container.
Repeat with remaining shallots until the desired amount of shallot powder is made.
Secure with a lid and store until needed.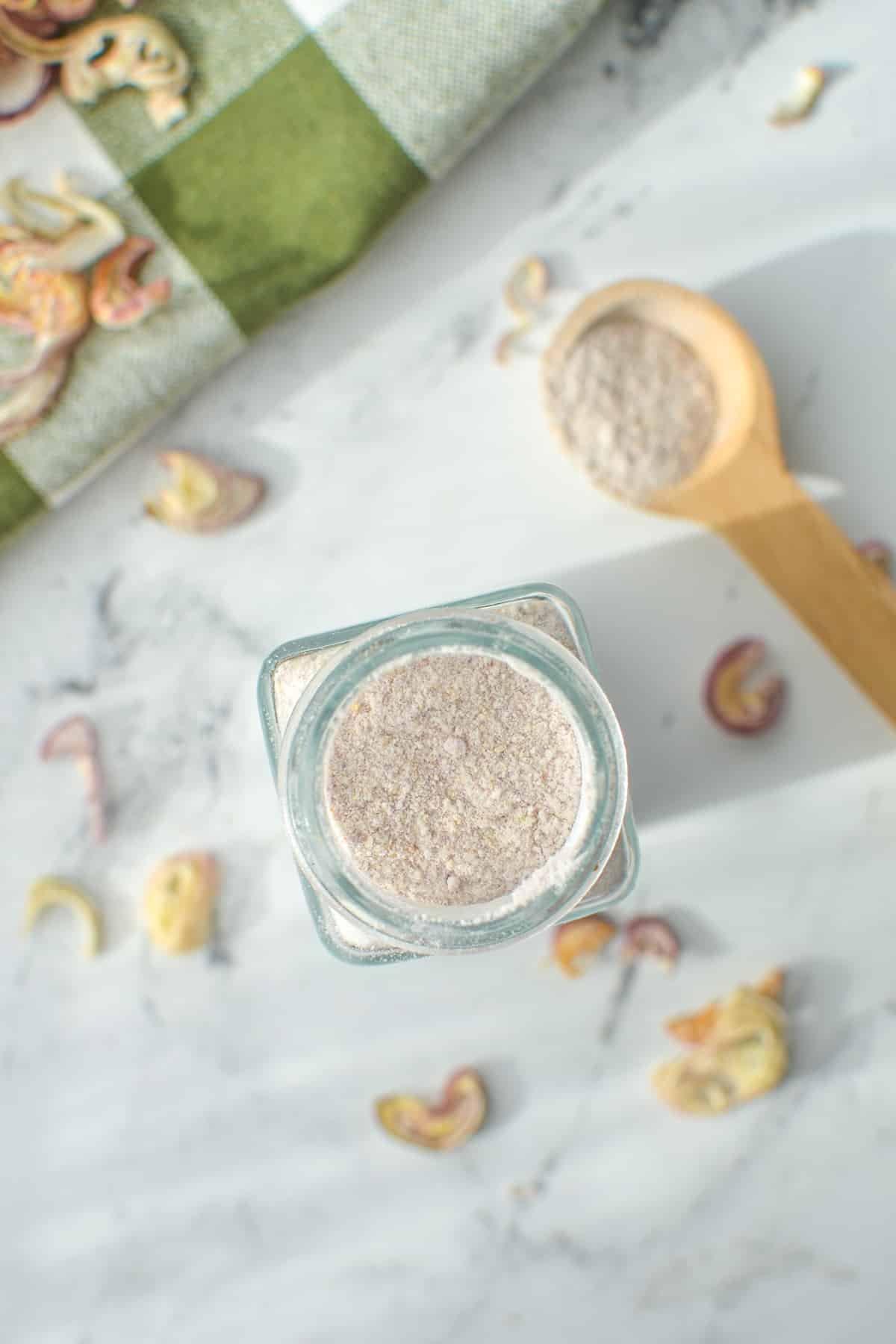 Storing Dried Shallots and Shallot Powder
Both dried shallots and shallot powder can be stored for several months in an airtight container, although dried shallot pieces will store for much longer (and with better flavor) than processed shallot powder.
I recommend only making enough shallot powder that you will use in the next 1-2 months, and then make more with your remaining dried shallots if you need some. This will make for the freshest flavor, and help with clumping since all homemade vegetable powders can start to clump in storage.
For dried shallots: Place in an airtight container or mylar bag and seal. Store in a cool, dry location for 4-12 months. Discard if there are any signs of spoilage.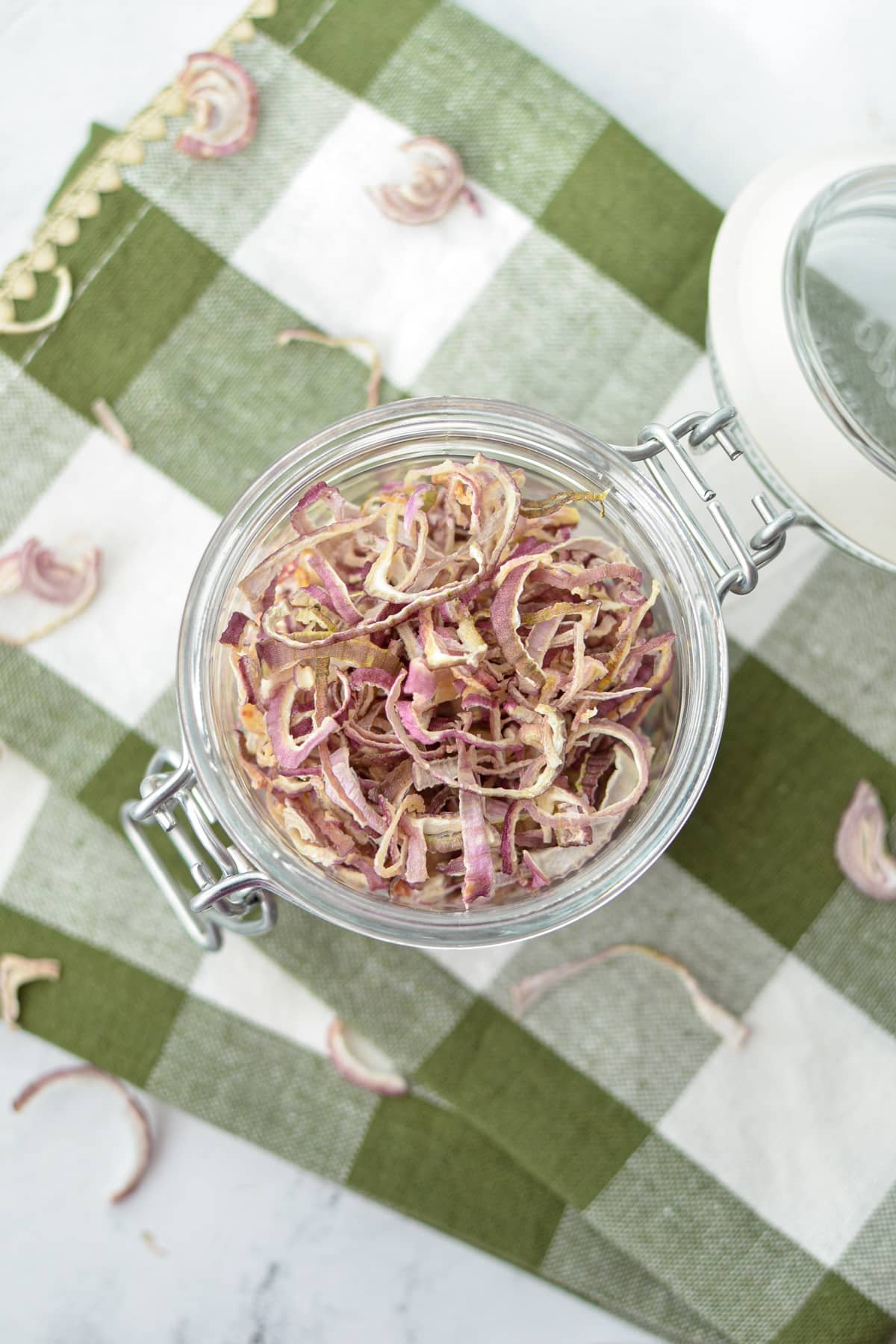 How to Use Dehydrated Shallots in a Recipe
If you would like to use your dried shallots in a recipe, it's actually pretty easy to do! They work best in recipes where there is some moisture so they can become rehydrated and plump.
Good uses include soups, stews, casseroles, or pasta dishes.
If you want to use them without adding them to a liquid-heavy recipe, try giving them a quick soak in some warm water to rehydrate them. Drain and use as desired.
Keep in mind that you can use dried shallots the same way you would use dried onions. They have a very similar flavor, but it just is a bit more on the mild side with less bite.
Dried Shallots to Fresh
Since dehydrated shallots are about half the size of their fresh counterparts, I recommend starting by using half the amount of dried to fresh. So if your recipe calls for 1/4 cup of minced shallots, try 2 tablespoons of dried minced shallots.
Using Shallot Powder
Shallot powder is much more concentrated than either fresh or dried shallots, so if you would like to use it in a recipe you will have to use far less powder to fresh. I recommend starting with 1/2 teaspoon of powder for every 1 fresh shallot called for in the recipe, and then tasting and adjusting for your preferred flavor.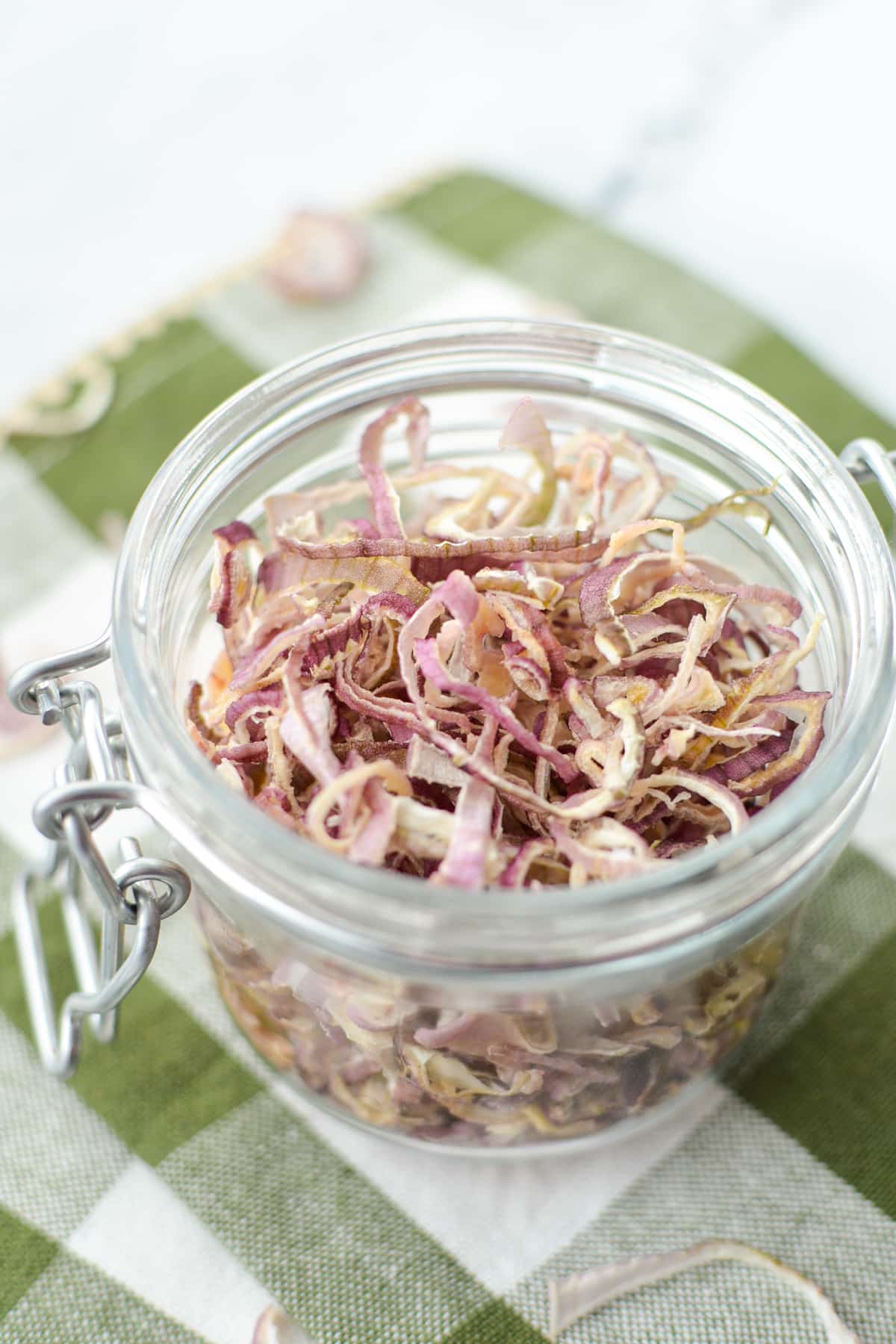 Frequently Asked Questions
How do you use dehydrated shallots?
Dehydrated shallots can be used in any recipe where you would use a dried onion. They work very well in recipes with liquid such as soups, stews, and casseroles. The liquid allows them to rehydrate and become plump, giving them the perfect texture.
How long do dried shallots last?
When stored in an airtight container in a cool, dry location your dried shallots should store for 4-12 months. Check them periodically for any signs of spoilage and discard if you suspect they are no longer fresh or if there is moisture present.
Are dried shallots the same as shallots?
Dried shallots are simply shallots that have been dehydrated, thus removing any moisture. This allows them to be shelf stable, preserving them for long term food storage. They can be used in the same way as fresh shallots, so long as they are either added to a liquid-based recipe or have been briefly rehydrated with warm water and drained.
Are dried shallots the same as dried onions?
Dried shallots are not the same as dried onions, but they do have a very similar flavor and can be used interchangeably. Shallots are a milder member of the allium family, and are often used in delicate dishes. You can easily substitute dried shallots for onions, but you may need to increase the amount to get a comparable flavor.
More Dehydrating Recipes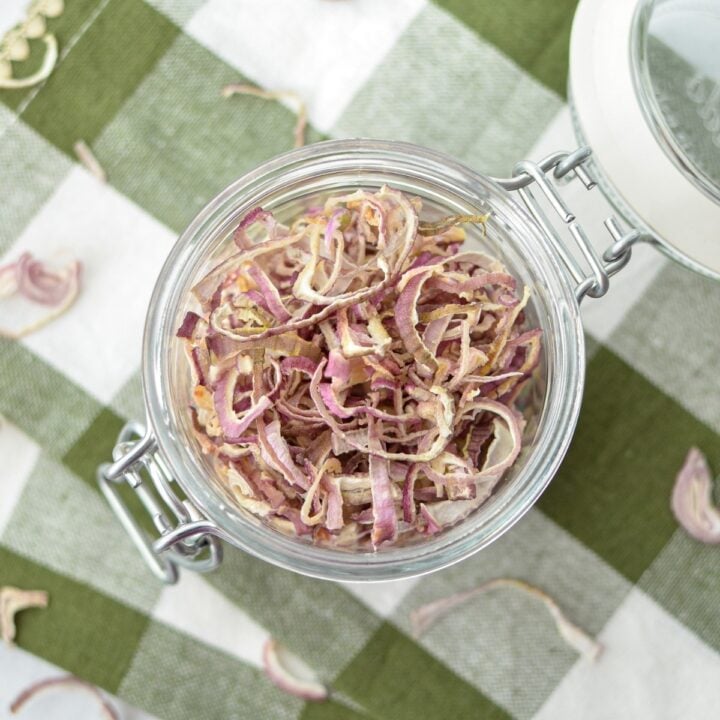 Dehydrating Shallots
Additional Time:
12 hours
Total Time:
12 hours
30 minutes
Dehydrating shallots is the easiest way to preserve the delicate flavor of shallots for long term storage.
Ingredients
Equipment
Dehydrator
Knife
Parchment paper (or mesh liners)
Spice or coffee grinder (optional; for making shallot powder)
Instructions
Peel each of your shallots by slicing off the top, and peeling back the skin and the first thin layer.
Hold the root end of the shallot with your fingers tucked under your fist and slice the shallots with a sharp knife. Cut the shallots into whatever shape you would like to dehydrate them in - sliced or minced. If slicing, aim to get the pieces as thin as possible.
If your dehydrator has large holes on the tray, line each tray with a piece of parchment paper that is cut to fit it, OR use a fine mesh tray insert if your dehydrator has that option.
Spread the shallots out onto each tray in an even layer. For slices, I recommend separating the rings and spreading them on the tray. Whole slices will eventually dehydrate, but they take much longer.
Once your shallots are spread in a thin, even layer on each of the dehydrator trays, insert them into the dehydrator.
Set the temperature to 125ºF and dry for 10-24 hours, or until you can easily snap the largest pieces in half without them bending. Shallots that are completely dry will feel hard and make a sound when you break them in half. Whole, unseparated shallots will take longer to dry than the individual rings, as will minced shallots.
Once all of the trays are completely dry, turn off the dehydrator and allow it to cool down for 3-4 hours (or overnight).
Conditioning: Transfer your dried shallot pieces to glass jars and secure them with a lid. Leave them on the counter out of direct sunlight and allow them to rest for 24 hours. Shake the jar once or twice if you can. After the 24 hours is up, check the jar for any clouding or signs of moisture. If there is none, you are good to either make shallot powder OR move your dried shallots into storage containers. If there is clouding, return them to the dehydrator to dry further and repeat the process until the conditioning step is passed.
Once your shallots are dried and ready for storage, transfer them to airtight storage containers, mylar bars, OR process into shallot powder for use in the kitchen.
Notes
Making shallot powder: Add your dried shallots to a clean spice or coffee grinder in batches. Pulse until a fine powder forms. Transfer the powder to a spice container or jar and repeat with the remaining dried shallots until you have the desired amount of powder processed.
Storage: Add the completely dried shallots to an airtight container and store in a cool, dry location. Stores for 4-12 months. Discard if there are any signs of moisture or spoilage.
Nutrition Information:
Yield:

1
Serving Size:

1
Amount Per Serving:
Calories:

31
Total Fat:

0g
Saturated Fat:

0g
Trans Fat:

0g
Unsaturated Fat:

0g
Cholesterol:

0mg
Sodium:

5mg
Carbohydrates:

7g
Fiber:

1g
Sugar:

3g
Protein:

1g
Nutrition information is an estimate only.
Please note that some of my blog posts here at Little Home in the Making may contain affiliate links. If you make a purchase through these links, I will get a small commission at no additional cost to you. See our disclaimer for more information.