Whether you're a new or seasoned gardener, using companion planting can help you get a better harvest and fewer pests and diseases. Here is a list of the BEST horseradish companion plants so you can have the best garden possible!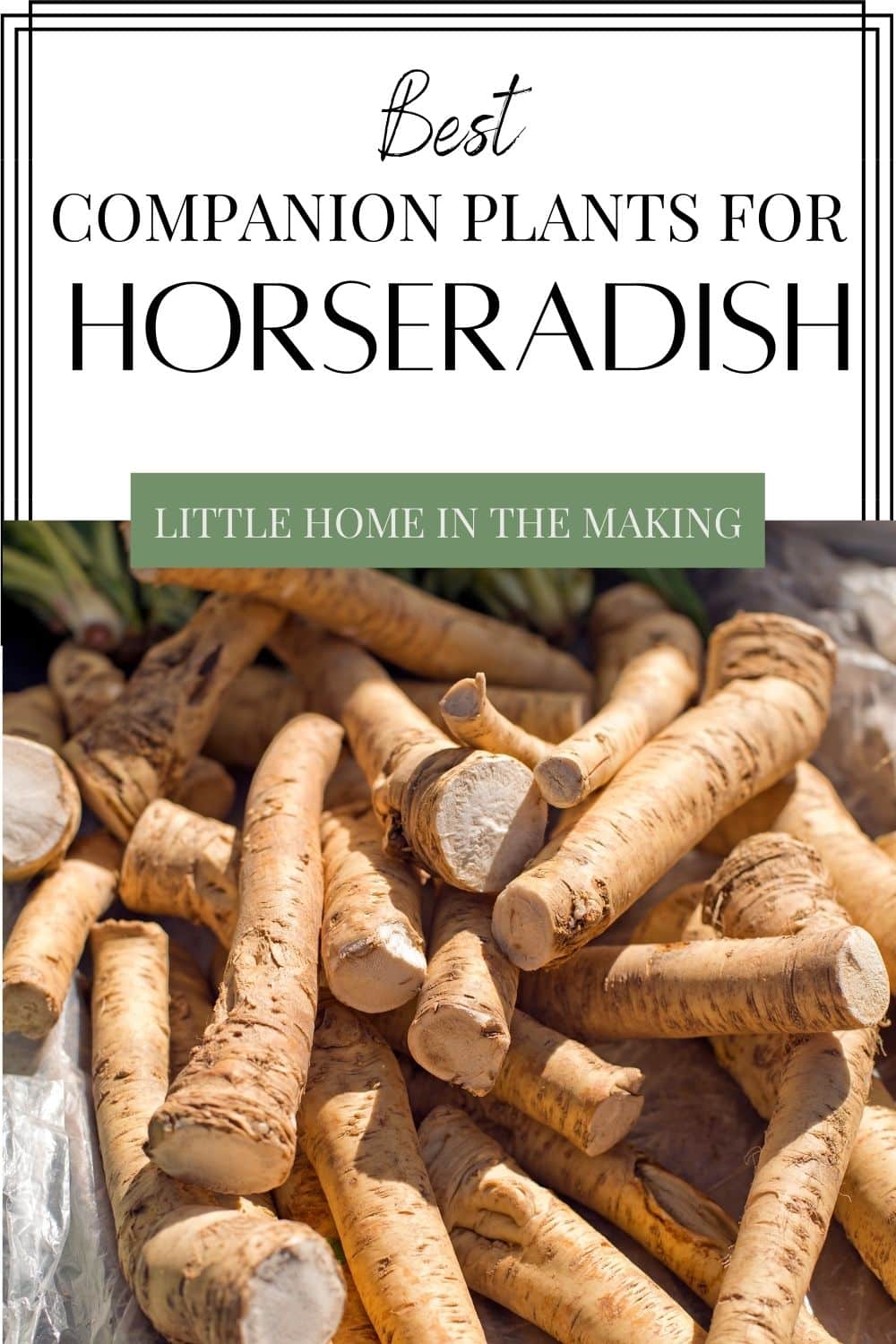 Please note that some of my blog posts here at Little Home in the Making may contain affiliate links. If you make a purchase through these links, I will get a small commission at no additional cost to you. Please see my Disclaimer for more information.
For those of us who love gardening, we really love gardening. There is something about spending the Winter months absorbed in book after book about companion planting, gardening design, and compost that just brings joy to the gardener's soul.
One of the best tools in the gardener's toolbox is the concept of companion planting. Companion planting is the idea that some plants thrive when placed next to each other (think tomatoes and basil), while others can wither up and die (think juglone produced from black walnut trees).
One of the best practices to ensure you have the best garden possible is to use companion planting to your advantage. This list for the BEST horseradish companion plants will get you started, but be sure to check out my entire companion planting archive or the resources listed at the bottom of the page for more companion planting tips.
Best Horseradish Companion Plants
If you're planning on adding horseradish to your garden this year, you may be wondering what the best horseradish companion plants are. Here's a quick and easy list for reference!
Best For Companion Planting with Horseradish
Rhubarb
Strawberries
Asparagus
Sweet potatoes
Jerusalem Artichoke
Potatoes: horseradish and potatoes both benefit from being planted with each other. It is recommended to plant a horseradish plant in the corner of each potato patch, and dig it up and replant at the end of each season to prevent spreading.
Plants to Avoid
The great thing about horseradish is that it is friendly to all plants in the garden! Just be sure to plant it somewhere where it can easily be dug up, or you don't mind it spreading out a bit from year to year.
What Insects and Pests Does Horseradish Repel?
Blister beetle
Aphids
Whiteflies
Potato beetles
Moles
Mice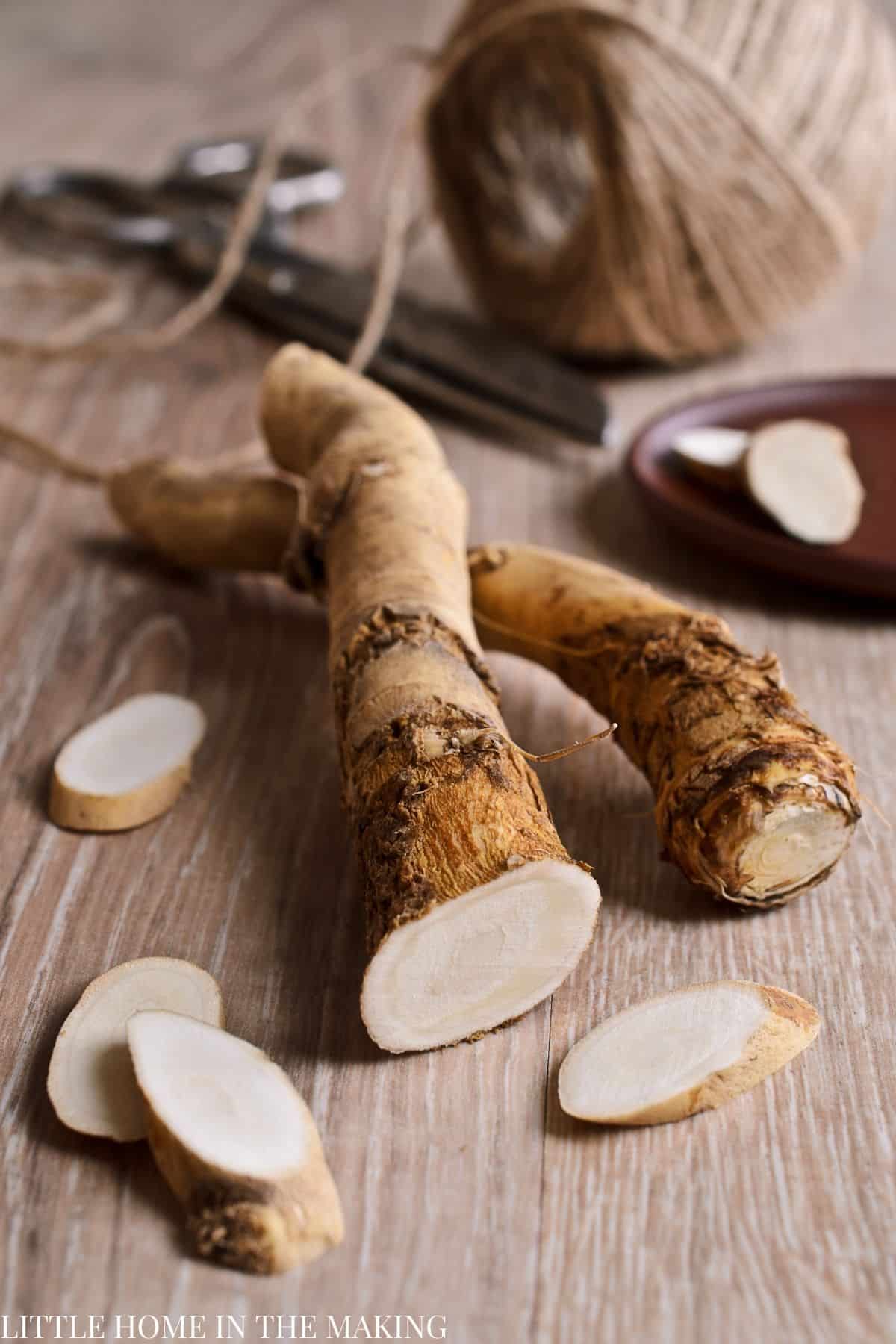 Horseradish in the Home Orchard
Since horseradish helps repel insects and pests, it is recommended enthusiastically for the home orchard. Since mice and voles often plague fruit trees, the presence of horseradish between the rows of trees will ward off these troublesome pests. Interplanting with one of their companion plants — Jerusalem artichoke — will provide the mice and voles something to eat other than your valuable fruit and nuts.
Horseradish Tea for Apple Trees
Horseradish, like rhubarb, has protective compounds that help ward off various pests and diseases. Since horseradish is a low maintenance and hardy perennial root crop, it's great to keep in the garden for making your own remedies. One such use is in the home orchard, particularly for apple trees.
Apple trees can become afflicted with a fungus called Monilia (or brown rot). This causes the fruit to completely rot, long before harvest begins. The signs of Monilia include dried flowers, dried and brown branches, and fruit rot upon the onset of ripening.
To prevent Monilia, make a tea from horseradish by steeping chopped or grated fresh horseradish in water, and applying as a spray to the surface of the tree. Ensure any cuts or gouges in the tree are adequately sprayed with this mixture, and prune during the early spring to increase air flow around the tree.
Horseradish vs. Radish
While horseradish and radish are both part of the Brassicaceae family, they are two different species and cannot be used interchangeably. Radishes (Raphanus sativus) have a slightly spicy flavor and are great for fresh eating and salads. Horseradish (Armoracia Rusticana) have a strong and pungent taste which I would not recommend for fresh eating. Most of the time, horseradish is served "prepared" with vinegar, salt, and sugar.
More About Companion Planting
Companion planting is a great tactic in the Gardener's toolbox! In addition to my companion planting archive, here are a few in-print books that I keep for reference in my home library:
I hope you found this list of horseradish companion plants helpful! Be sure to sign up for my e-mail list for more home and garden tips to help you grow what you eat, and eat what you grow.