This tangy, rich and buttery recipe for Buttermilk Cornbread makes excellent use of sourdough discard. A no wait recipe that can be mixed up and put in the oven, it is the perfect way to surprise your family with a new sourdough creation. Perfect to serve with summer classics like pulled pork, buttermilk coleslaw, and ribs. And of course, Chili!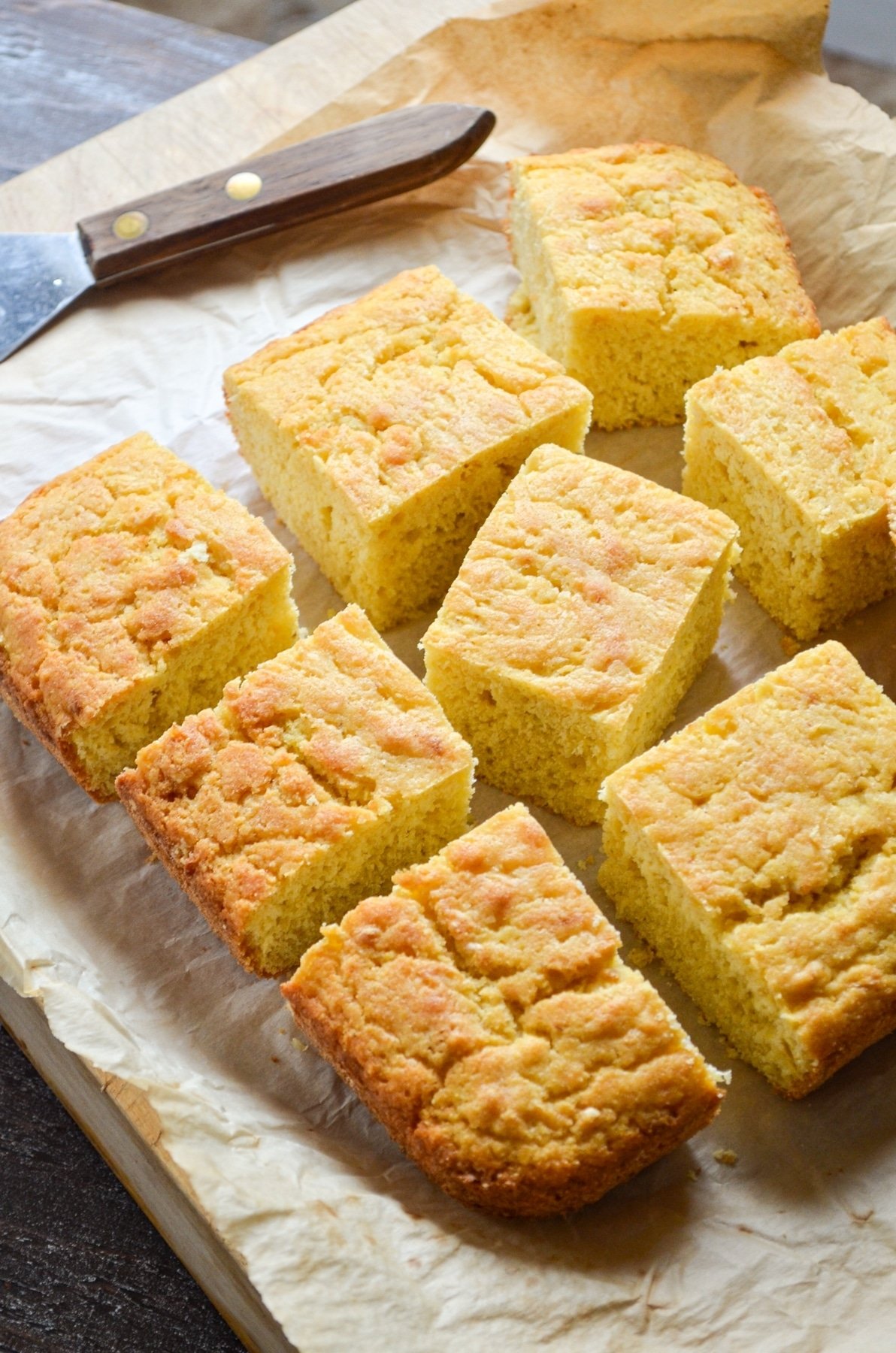 Please note that some of my blog posts here at Little Home in the Making may contain affiliate links. If you make a purchase through these links, I will get a small commission at no additional cost to you. Please see my Disclaimer for more information.
---
There is much debate in this world about cornbread. Some insist that it must be free from sugar, while others like theirs almost cake-like. Do you use white cornmeal, stone ground cornmeal, yellow cornmeal? Cornbread is something that many people have a strong opinion on, and so it can be a tough topic to tackle.
Being the compromising type, I figured there was a way we could meet in the middle. This cornbread offering is an attempt at peace. Just a little brown sugar added to appease the sweeties, and that concentrated corn flavor for the cornbread purists. I think this is something we can work through, don't you?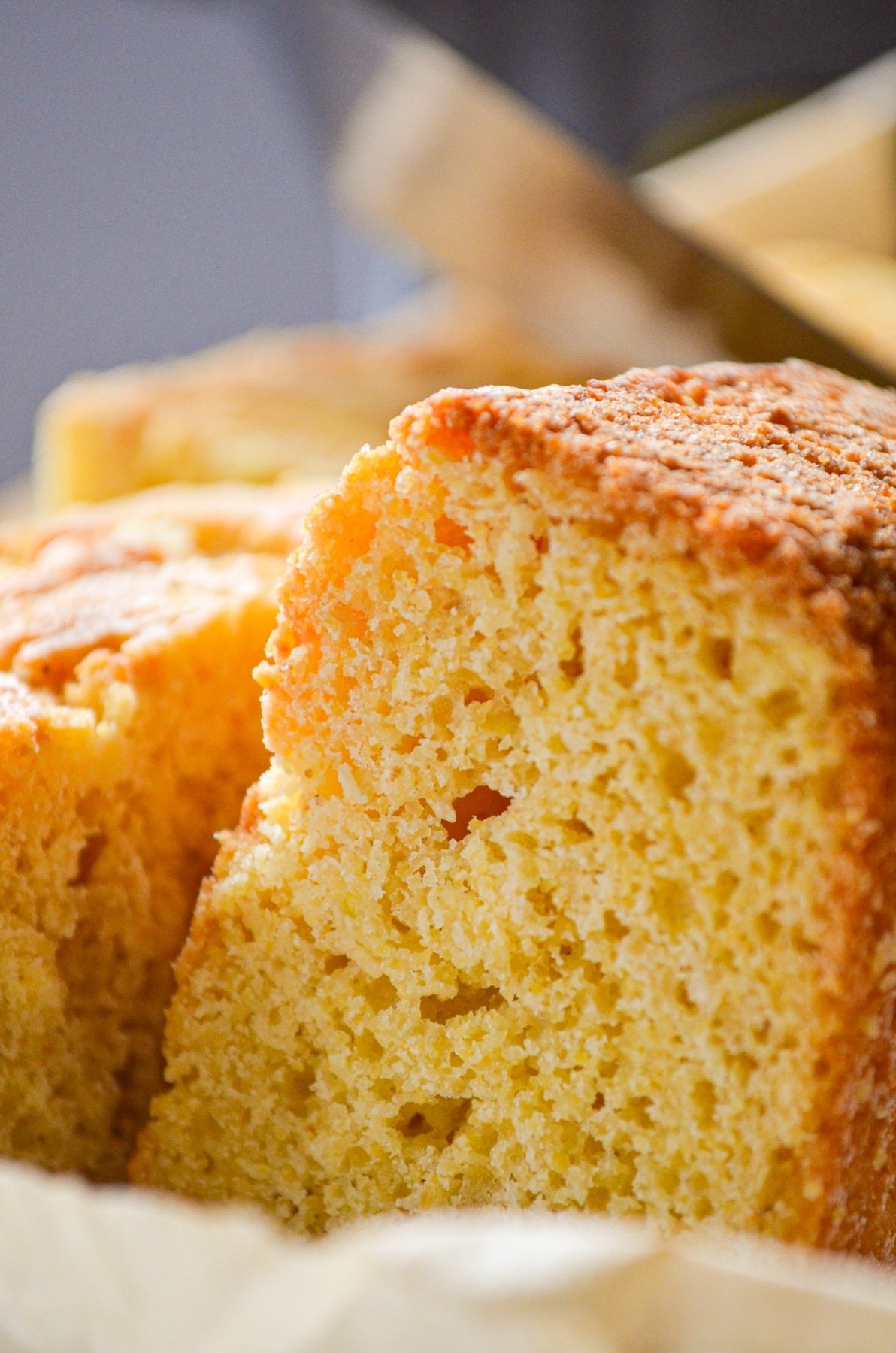 Using Sourdough Discard
Now another major feature of this recipe is that is involves using sourdough discard. If you don't know what I'm talking about, you can check out this post from The Perfect Loaf to see if establishing a sourdough starter is something you'd like to do. Most of you will be here because you were specifically looking for a sourdough discard cornbread. I got you.
This recipe for Sourdough Discard Cornbread is perfect because it is a no wait recipe. That means you can make it at any time, without waiting for the batter to ferment or for it to rise. This is a rarity in the sourdough world, so it's a nice reprieve from the usual planning ahead (like when I make my Sourdough Pizza Bianca). All you have to do is measure out your sourdough discard and add it into your wet ingredients, as directed in the recipe. Easy peasy!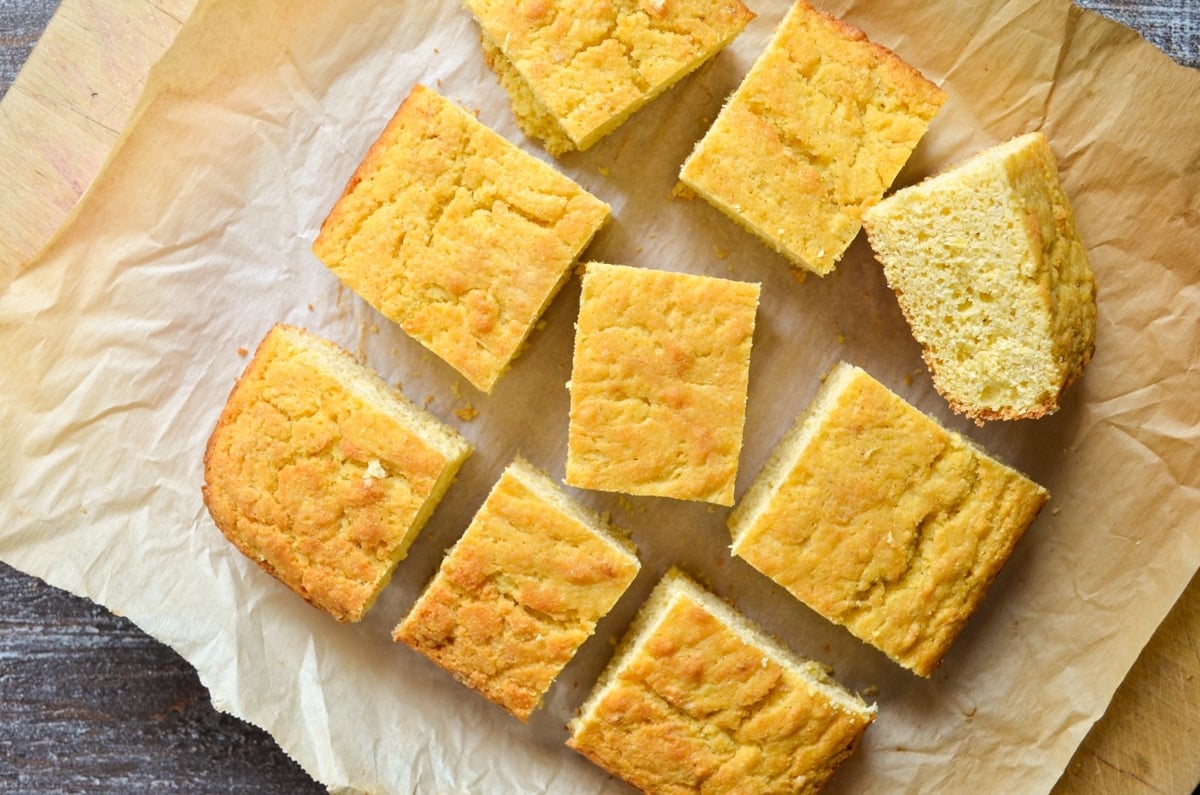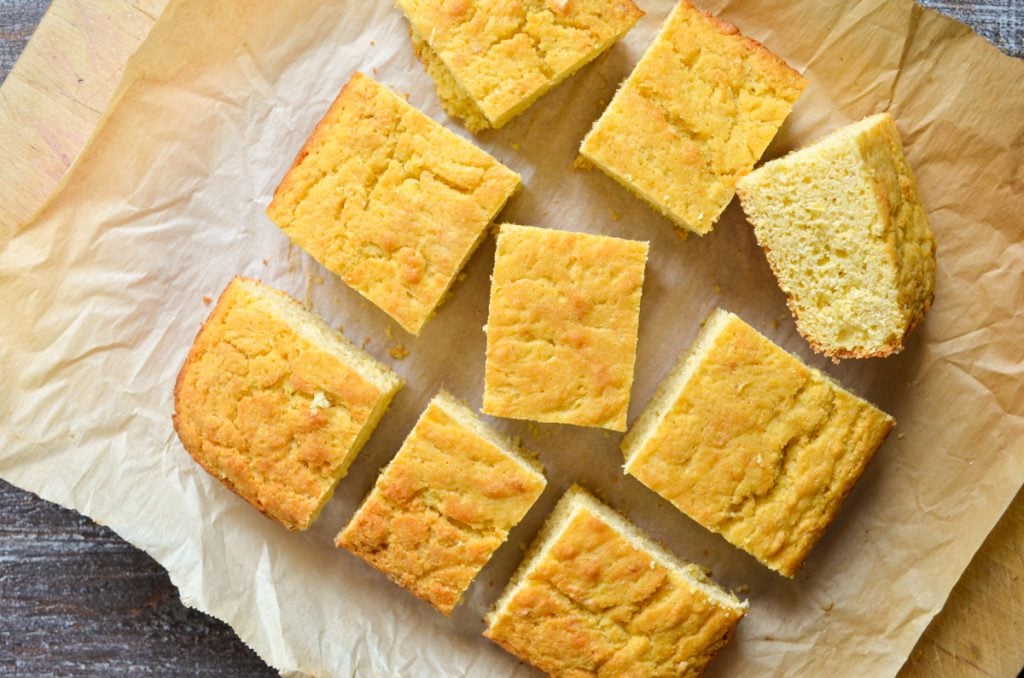 What Kind of Sourdough Discard Do I Need?
Since this is a discard recipe, you will need sourdough starter that has been discarded or fully fermented. This means that your starter has already been fed, has risen, and has sank back down. If you store your extra discard in the fridge like many sourdough bakers do, feel free to use your cold discard. You can also use bubbly, active starter if that's what you have on hand. This recipe is very versatile!
Hydration
The one stipulation is that your sourdough discard should be at 100% hydration. This is standard for most starters, so if you're not sure what I mean don't worry, you're probably already using a 100% hydration starter. Basically, it means that you feed your starter at a 1:1:1 ratio: 1 part starter, 1 part flour, 1 part water. For me that looks like 50g starter, 50g flour, and 50g water.
The reason we are somewhat picky with hydration levels in this recipe is because we need to ensure our batter is not too wet, or too dry. Cornbread can easily become too crumbly or too dense, so it's important to measure your ingredients correctly. This includes the measuring of the added flour. To get the correct measurement of flour, you will want to use a spoon to scoop the flour into the measuring cup, and a knife to level off the top.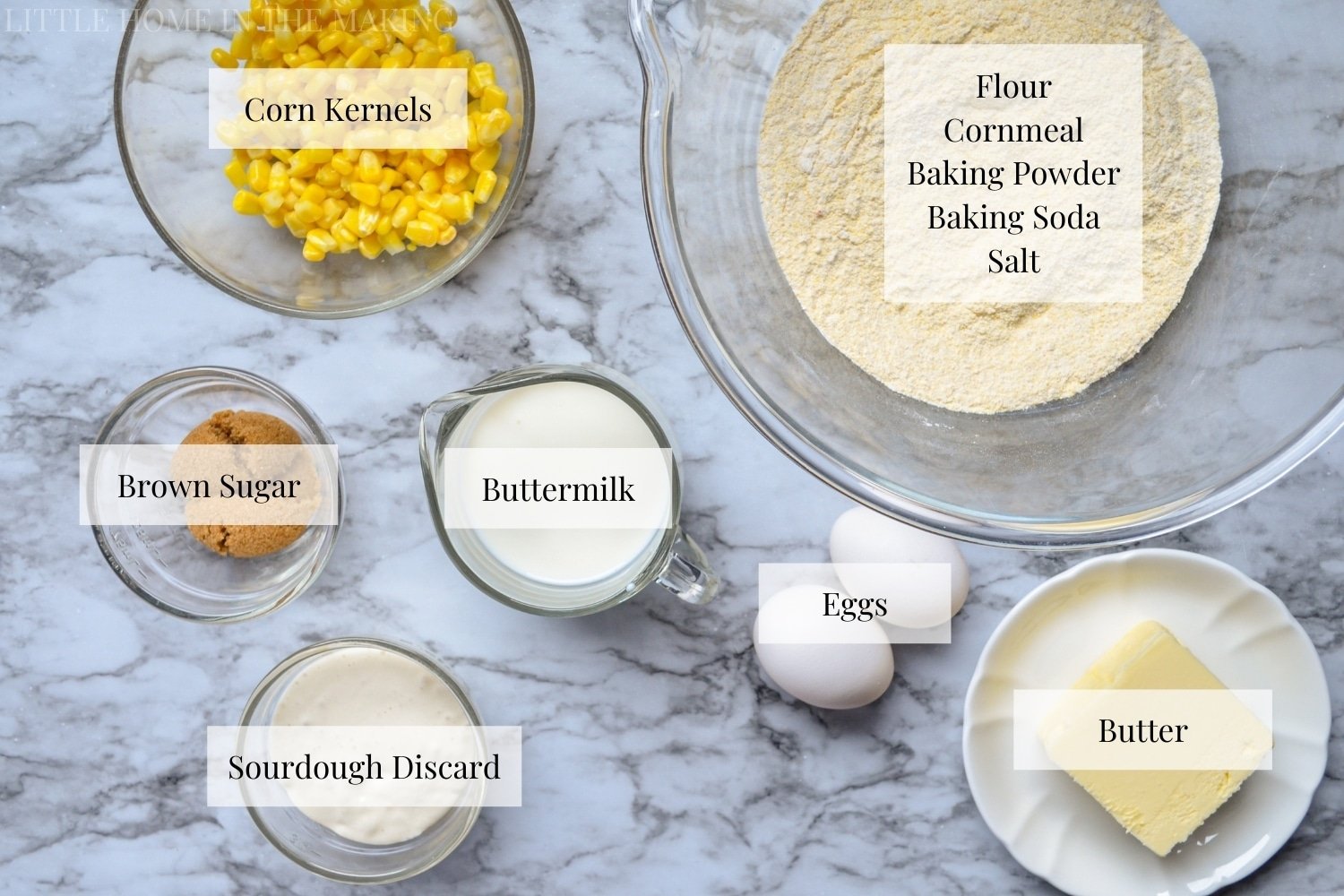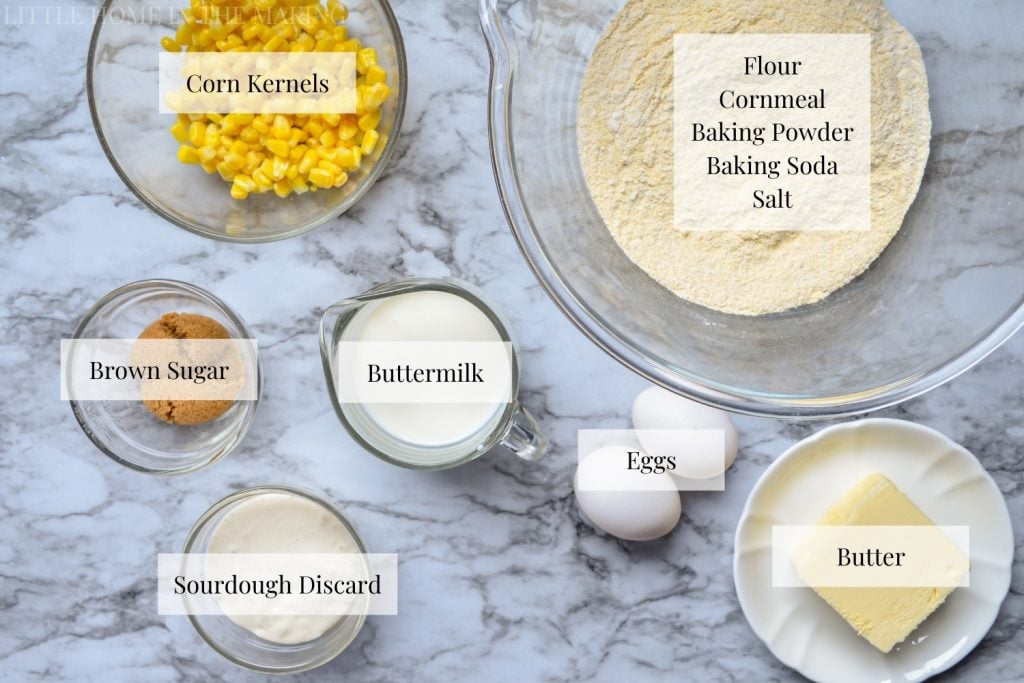 What Do I Need to Make Sourdough Discard Cornbread?
Flour: All purpose flour is your best bet for this recipe. You can use regular all purpose, or unbleached if desired.
Cornmeal: We are sticking with basic yellow cornmeal for this recipe since it is easy to find and widely available.
Buttermilk: A classic ingredient in southern-style cornbread, buttermilk provides a lovely texture and tang.

You can use a substitute in a pinch if needed.

Brown Sugar: Just a touch of sweetness is added to this cornbread.

If you like sweet cornbread, this is not the recipe for you

. Although true Southern style recipes often omit sugar completely, these Northern taste buds need at least a tiny bit of sweetness.
Corn Kernels: Kick it up a notch by adding corn kernels into your sourdough cornbread! We used frozen corn kernels that had been thawed, but you can use canned corn kernels so long as they are drained before measuring.
Sourdough Discard: You just can't have sourdough discard cornbread without it!
Butter: We opted for unsalted butter in this recipe, but if you only have salted butter on hand you can just reduce the additional salt in the recipe to accommodate that.
Additional basic ingredients: baking powder, baking soda, salt, and eggs.
How to Make Cornbread with Sourdough Discard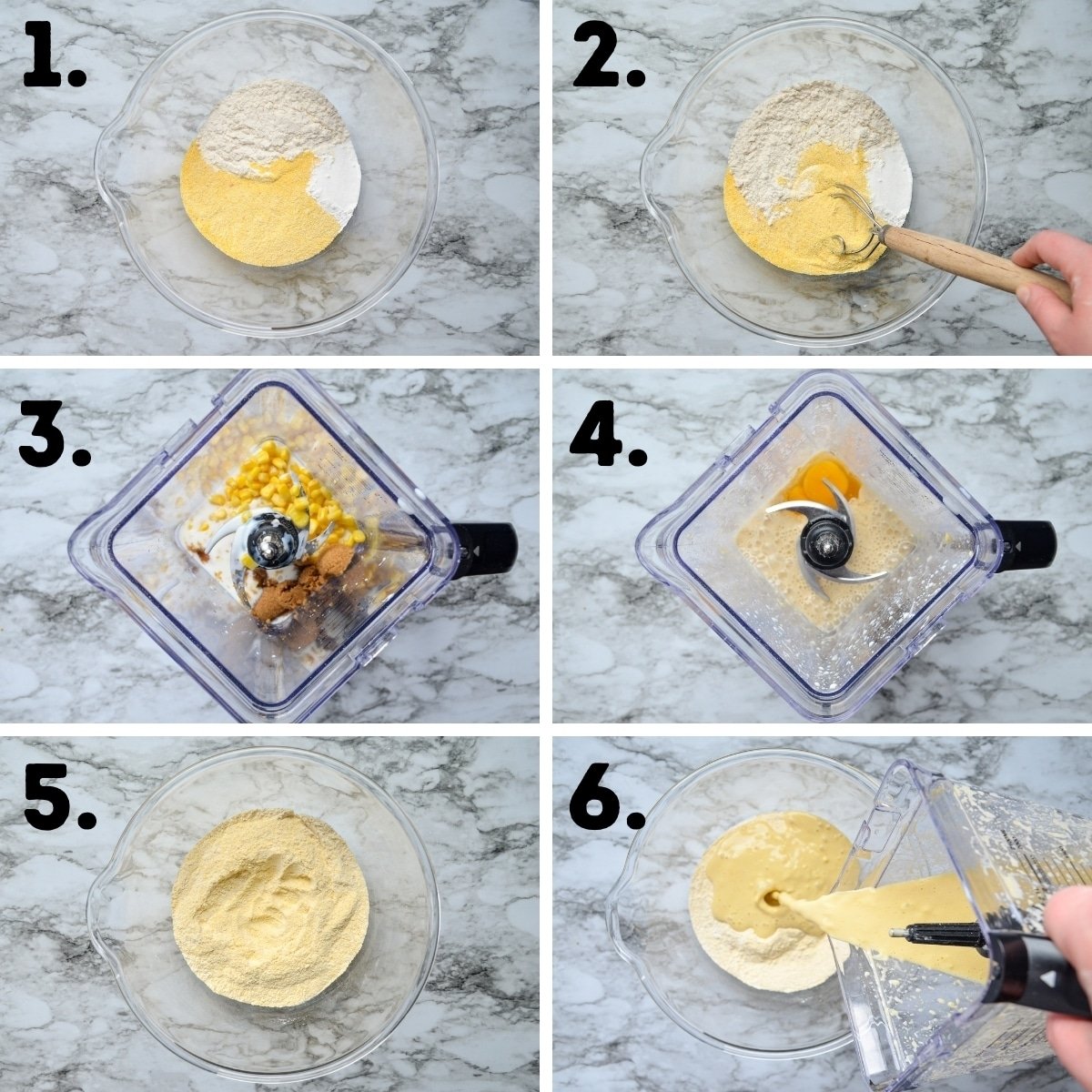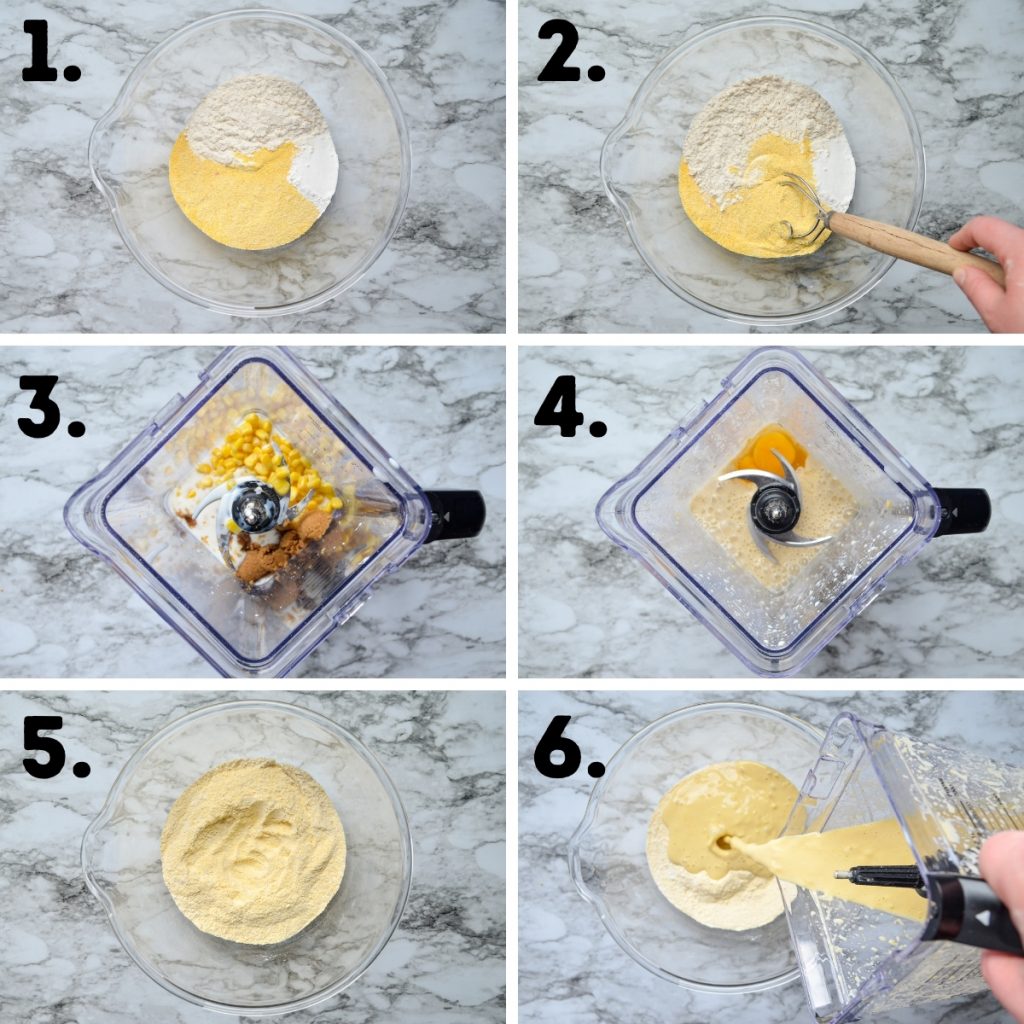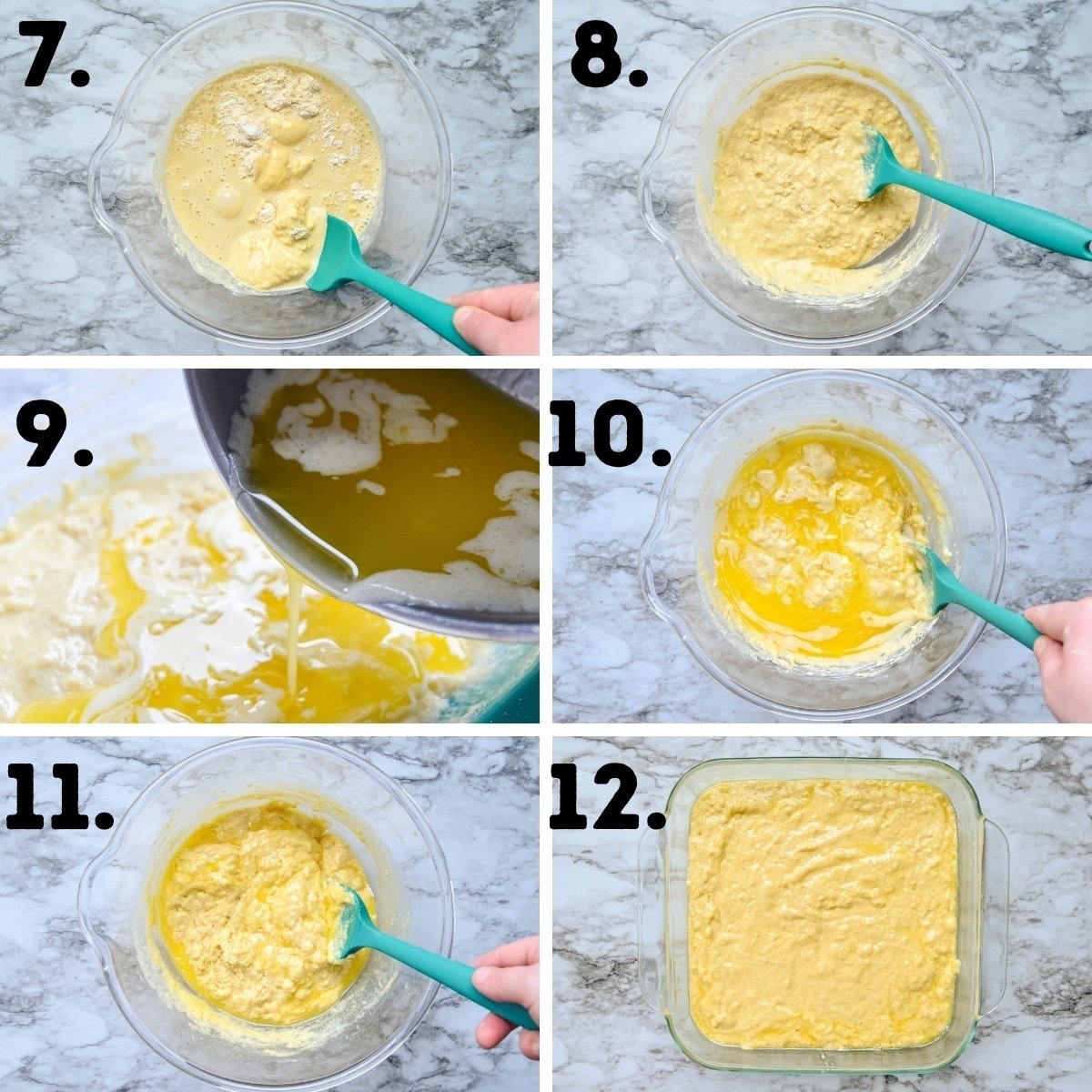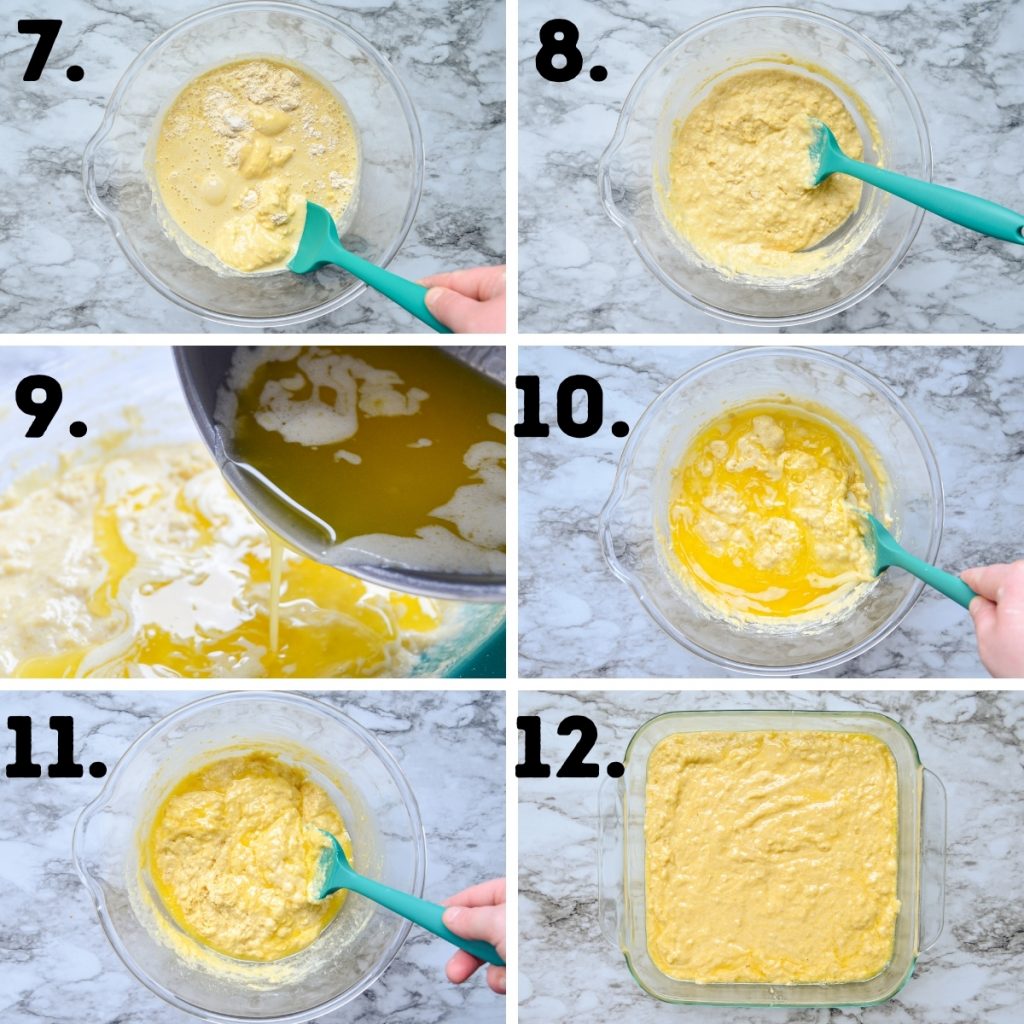 Preheat the oven to 400F and grease an 8X8 glass baking dish with butter. Add your cornmeal, flour, baking powder, baking soda, and salt to a medium glass bowl.
Use a whisk (like this Danish Dough Whisk; pictured) to combine the dry ingredients.
Add the buttermilk, thawed corn kernels, brown sugar, and sourdough discard to the jug of a high powered blender. Blend for 5 seconds to combine.
Add the eggs to the blender and blend for another 5 seconds.
Make a well in the center of the dry ingredients.
Pour the blended wet ingredients into the well you made.
Gently fold the dry and wet ingredients together.
Continue to do this until well combined, but still slightly lumpy.
Place your butter in a small saucepan and melt it over medium heat. Gradually pour the melted butter into the batter.
Gently fold the butter into the batter.
As you're folding the butter, be sure to leave plenty of streaks of butter for a classic rustic texture. The butter should not be worked into the batter, and should instead look like image #11.
Pour your batter into the prepared 8X8 baking dish and bake on the middle rack for 35 minutes, or until a cake tester comes out clean.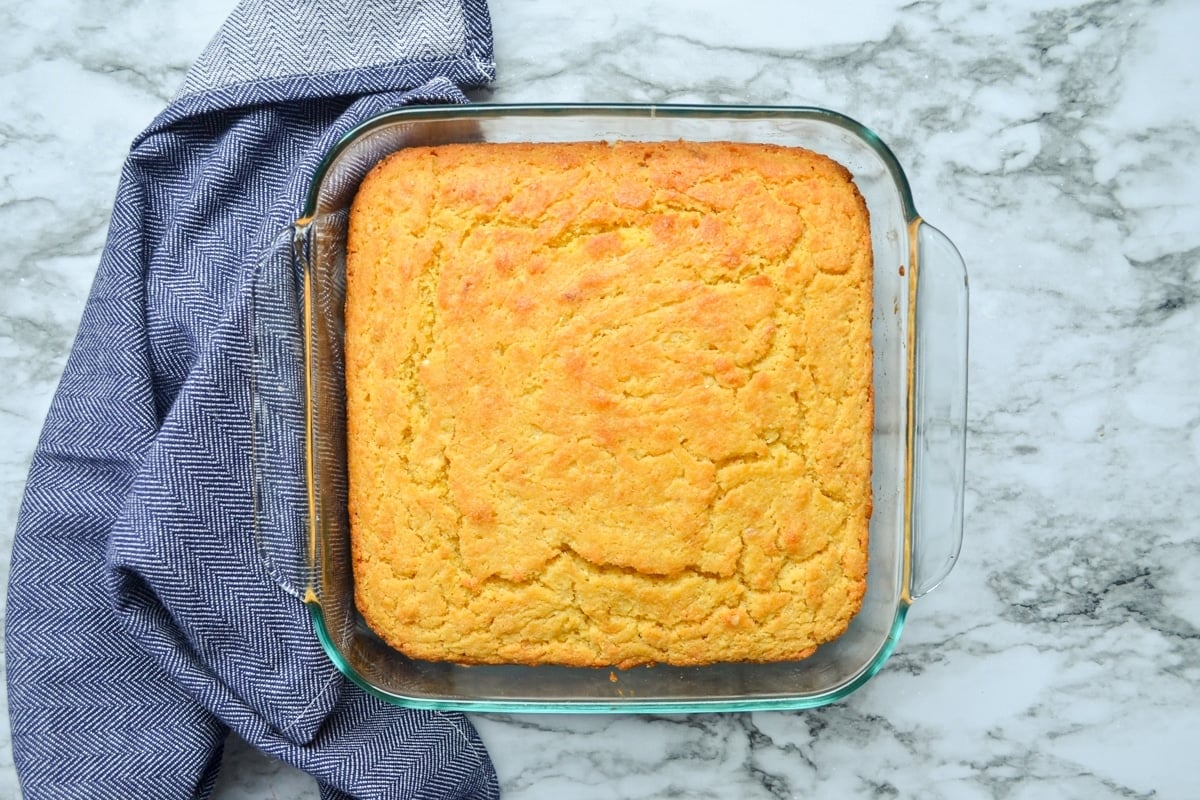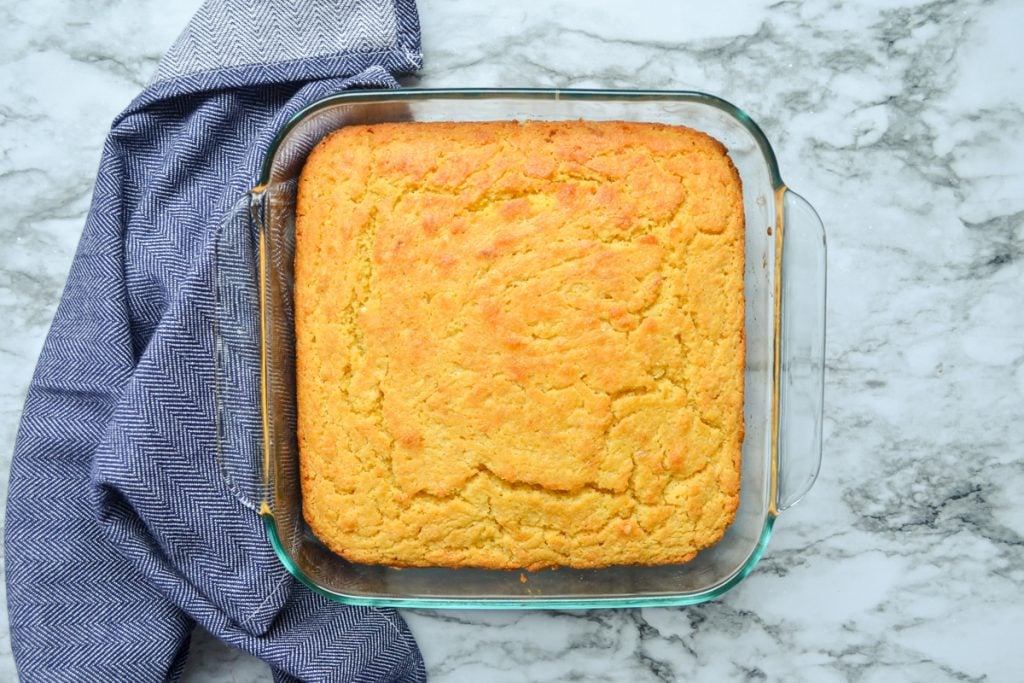 Bake and Cool
Once your cornbread is baked thoroughly, you are going to want to cool it before slicing. Ensure that you let your cornbread cool for 10-15 minutes before cutting into thirds lengthwise, and widthwise. This creates a total of 9 squares.
If you prefer your cornbread to be chilled, let your baking dish cool completely at room temperature before covering it tightly and placing it in the fridge. Do not cut squares until you're ready to serve your chilled cornbread. This helps create a nice square that is not at all crumbly, and prevents your cornbread from drying out.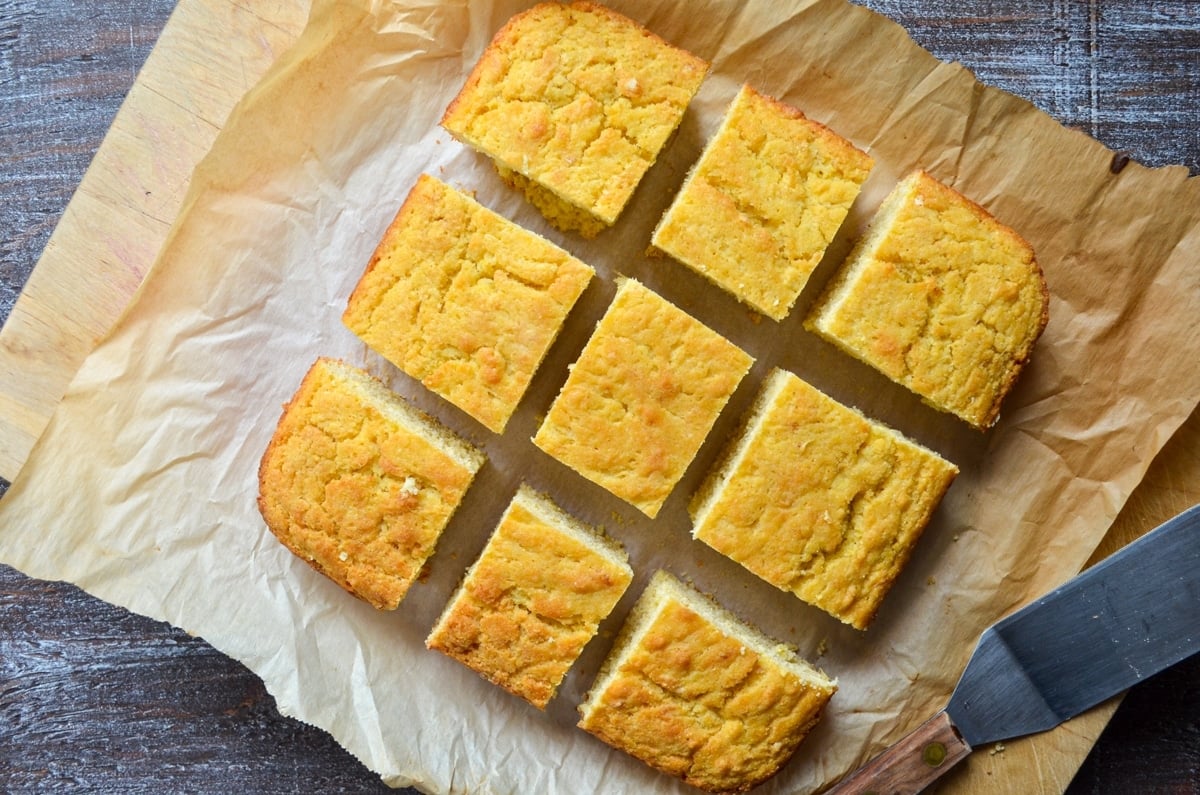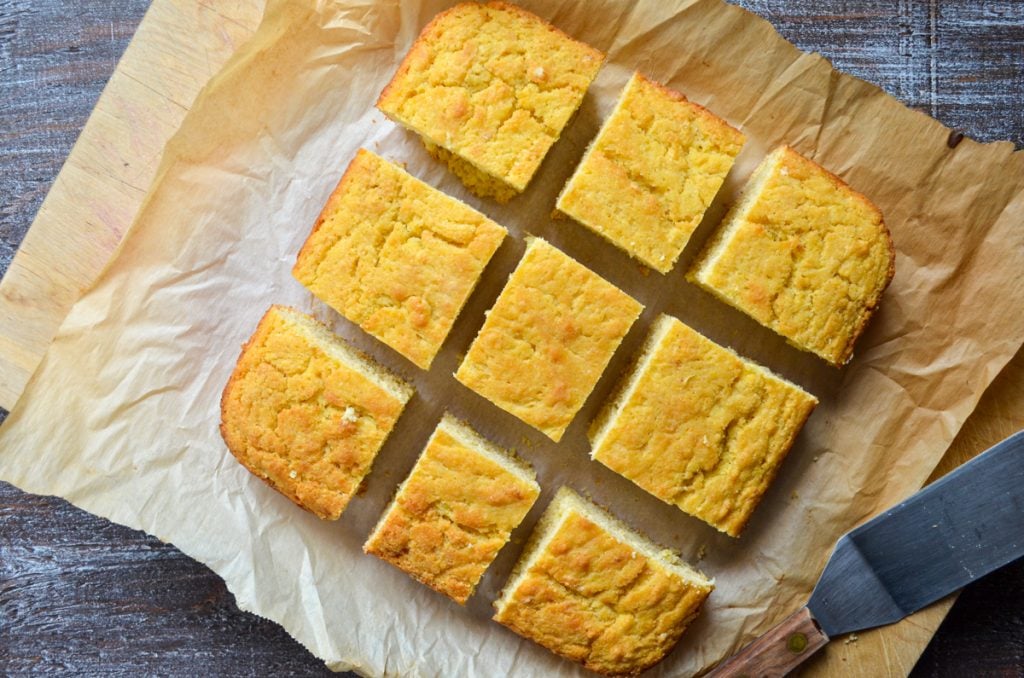 Frequently Asked Questions
How do you make cornbread that's not crumbly?
In order to have a good texture, it is very important that you follow the directions for baking your cornbread, as well as maintain accuracy in measuring your ingredients. Ensure that you scoop and level your flour, rather than using the measuring cup to scoop the flour. Also, ensure that you do not overmix the batter. Once the liquids have been added to the dry ingredients, you need to be quick and gentle with mixing the two. This ensures the gluten development is minimal, making for a tender cornbread that slices perfectly.
How do you keep cornbread moist after baking?
Once your cornbread has cooled to room temperature, place it in an airtight container or wrap it tightly with plastic wrap.
How do I store leftover cornbread?
Wrap your cooled cornbread tightly with plastic wrap or place it in an airtight covered container. Store on the counter for up to 4 days, or in the fridge for approximately one week.
What type of cornmeal is best for cornbread?
There is much debate over what type of cornmeal is best for cornbread. Many in the South swear by white cornmeal, while others say stone ground cornmeal is best. This is all a matter of preference. Regular yellow cornmeal has all the flavor of the other types of cornmeal, but is widely available and inexpensive, making it a perfect option for making cornbread.
Can I substitute the buttermilk in this recipe?
Yes. You can substitute the buttermilk by souring your milk with a bit of an acidic medium. Place 1/2 cup + 1 tbsp. milk in a small bowl and stir in 1 tbsp. of lemon juice or vinegar. Set this mixture aside for 5 minutes, and then use it in place of the buttermilk in this recipe.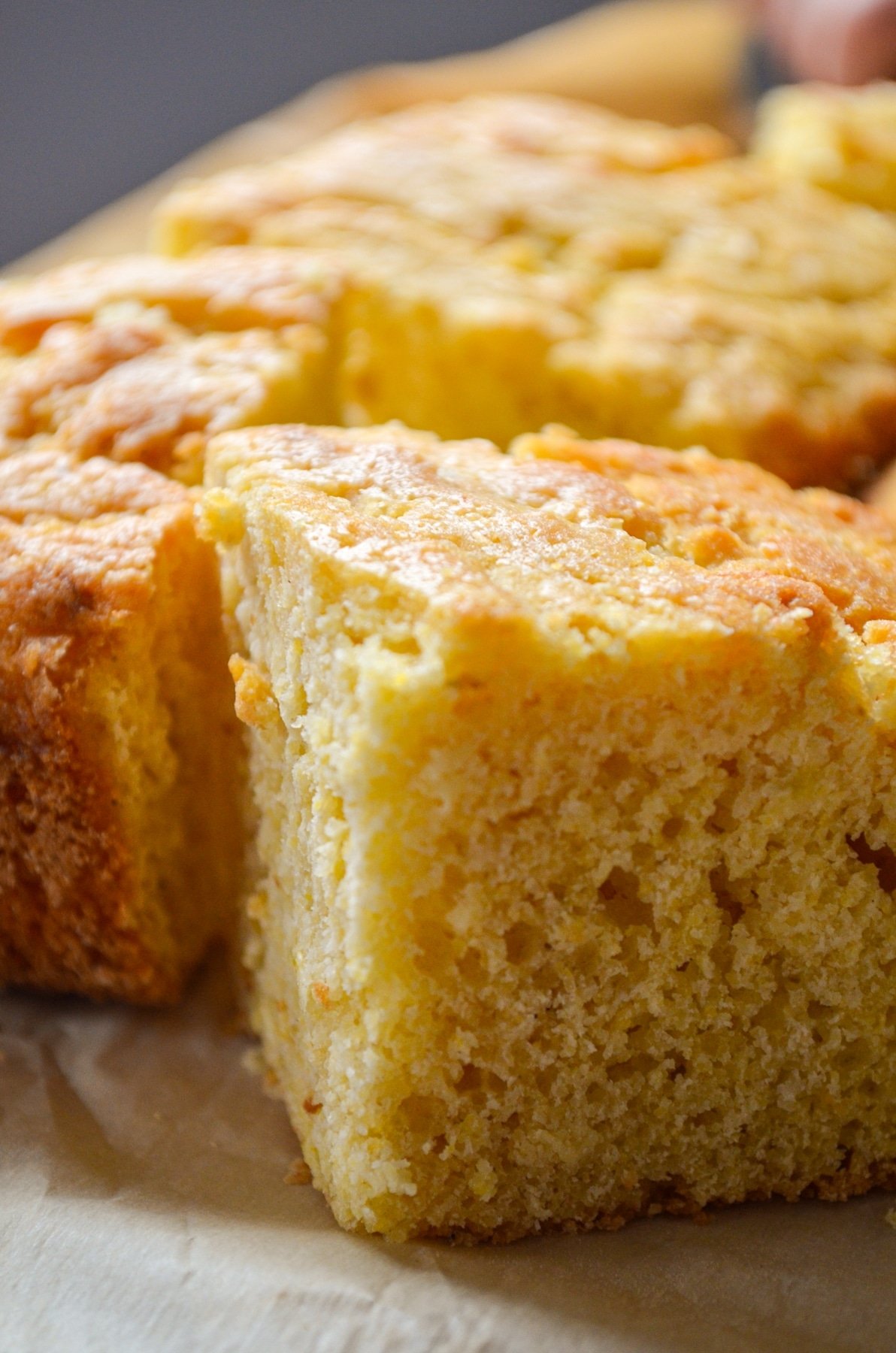 What to Serve with Cornbread
There are many classic dishes that are served with cornbread. Some even use cornbread as a star ingredient!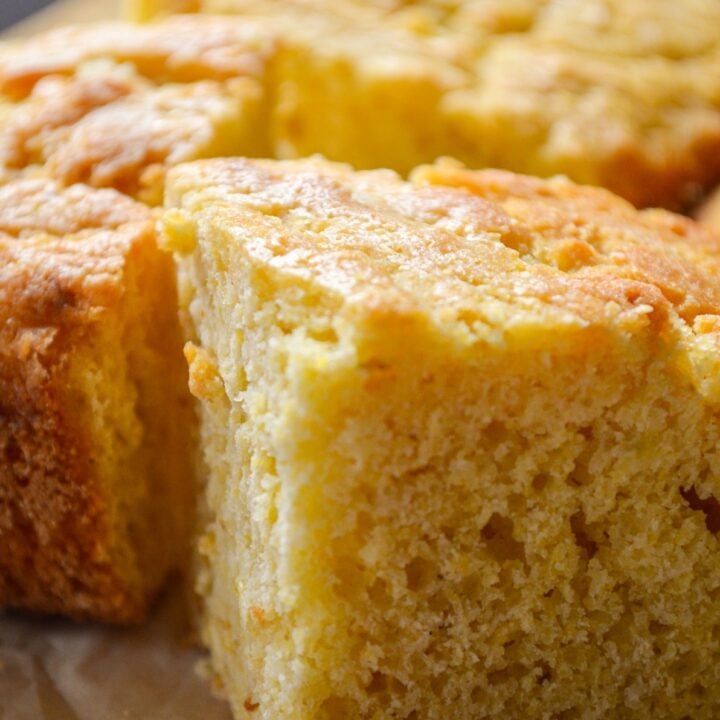 Sourdough Discard Buttermilk Cornbread
This classic buttermilk cornbread is made using sourdough discard and packed with corn flavor. Just a little bit of sweetness for balancing the flavors, but not so much that your Southern Grandma would disown you.
Ingredients
1 1/4 cup All Purpose flour, scooped and leveled
1 cup Yellow Cornmeal
2 tsp. Baking powder
1/4 tsp. Baking soda
3/4 tsp. Salt
1/2 cup + 2 Tbsp. Buttermilk
3/4 cup Frozen corn kernels, thawed
3 tbsp. Packed dark brown sugar
1/2 cup Sourdough discard
2 large eggs
1/2 cup Unsalted butter, melted and cooled slightly
Instructions
Preheat the oven to 400F and adjust the rack to the middle position. Grease an 8x8 glass baking dish with butter.
Add the flour, cornmeal, baking powder, baking soda, and salt to a medium bowl. Whisk well to combine.
Add the buttermilk, corn kernels, and brown sugar to a blender or food processor and process for 5 seconds, or until the corn is broken down. Add the eggs and process for an additional 5 seconds.
Add the buttermilk to a glass measuring cup or small glass bowl. Add the sourdough discard and whisk gently until the two are combined and uniform.
Make a well in the center of the dry ingredients and add the buttermilk and sourdough discard mixture. Use a silicone spatula to fold the dry ingredients into the center of the well. Fold just until the dry ingredients are moistened, but still slightly dry.
Add the melted butter to the batter and fold it in with a few turns, just until the batter is slightly less try. You still want streaks of melted butter, so the goal is to incorporate without making the mixture uniform. This will give it that classic rustic cornbread texture.
Pour the batter into the prepared baking dish and bake in the preheated oven for 35 minutes, or until a cake tester inserted in the middle comes out clean.
Remove the pan from the oven and let cool for 10-15 minutes before slicing and serving.
Notes
Although buttermilk is preferred for this sourdough discard cornbread recipe, you can use a substitute in a pinch.
Buttermilk Substitute:
Add 1/2 cup + 1 tbsp milk to a small measuring cup. Pour in 1 tbsp. lemon juice or vinegar. Stir and let stand about 5 minutes before using.
Nutrition Information:
Yield:

9
Serving Size:

1
Amount Per Serving:
Calories:

253
Total Fat:

12g
Saturated Fat:

7g
Trans Fat:

0g
Unsaturated Fat:

5g
Cholesterol:

69mg
Sodium:

381mg
Carbohydrates:

32g
Fiber:

2g
Sugar:

5g
Protein:

5g
Nutrition information is an estimate only.
More Sourdough Discard Recipes:
Apple Walnut Sourdough Discard Muffins
Strawberry Cream Cheese Baked Sourdough Pancake
Blueberry Cream Cheese Baked Sourdough Pancake
Sourdough Discard Irish Soda Bread
Resources and Information:
Making an Incredible Sourdough Starter From Scratch – The Perfect Loaf