Whether it's for St. Patrick's Day or a comforting winter meal, this sourdough discard Irish Soda Bread has got you covered! A quick bread made without the use of yeast, it's the perfect addition to a traditional corned beef and cabbage dinner.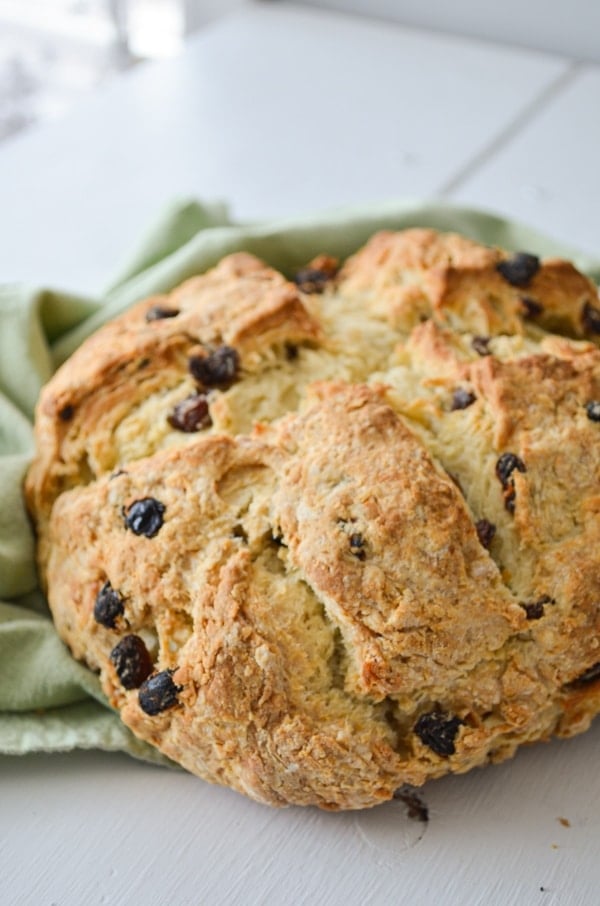 This post contains affiliate links, which means that if you click a link and make a purchase, we receive a commission at no additional cost to you. See our disclaimer for more information. Any nutritional information is for entertainment and informational purposes only, and is not intended as medical advice. Always seek the advice of your health provider.
---
Mmm…Bring on the Bread
One odd thing about being a mother, is your new appreciation (perhaps, obligation) towards obscure holidays. I have never been the "Type A" kind of woman, and so I'm largely unorganized when it comes to those special days. This means, in the case of St. Patrick's Day, I'm left wearing my usual set of neutral colors, rather than a shocking and vibrant green. Although I do have Irish heritage (don't we all?), I'm left looking like the odd woman out in my every day attire.
For the most part, this is insignificant now that I'm a mother. Now that I have a little one under foot, I spend a good deal of time at home. Where no one can see if I am, or am not sporting a fresh green t-shirt to tout my (very distant) Irish heritage. The funny thing seems to be, that now that I have a little one to care for and love on, I'm more motivated to spend those holidays doing fun activities and partaking in all of the things associated with said holiday. I go unseen by most of the world, but in my own little corner, I'm making (some) efforts to make the day special.
While I'll probably never be that Pinterest mom with the matching cupcakes, hats, and Leprechaun punch (is that a thing?), if you knew me, you'd notice that I'm making subtle changes to do more fun and exciting things. You know, those "mom" things. So, for me, baking up a loaf of Irish Soda Bread is the beginning of that steady climb. If you noticed, I even chose a lovely green cloth napkin to photograph my loaf with. Very festive, if I do say so myself. 😂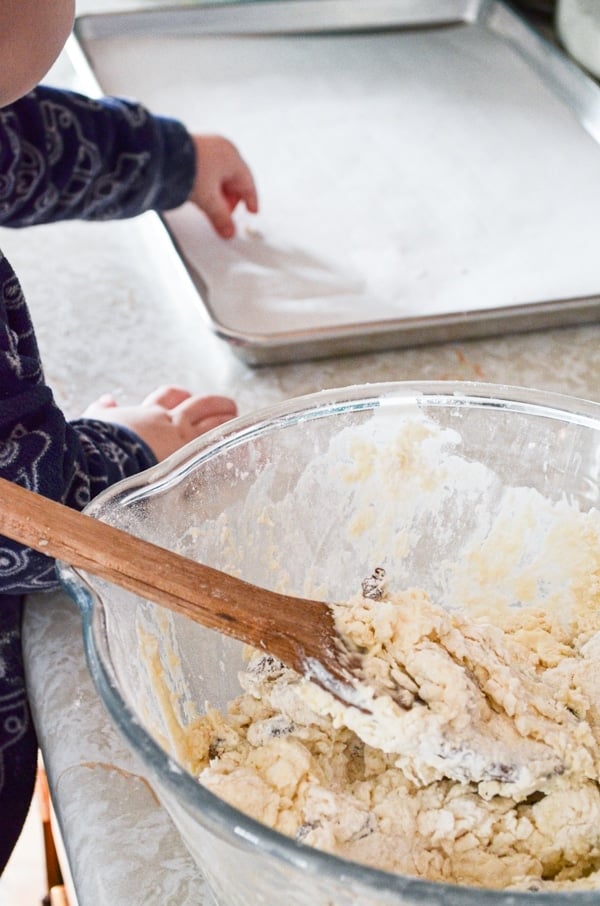 Baking With Our Children
Another…joy I have found in being a mother is baking with my son. While he is largely destructive, he has the best of intentions. If I'm careful, I can spend some quality time baking with him. If he had his choice, I don't know if much of the ingredients would end up in the bowl. With my care and guidance, I can help him help me. Showing him how to gently dump the measured flour in the bowl, pour in the thick buttermilk, and stir the stiff dough with a vigor only a toddler could manage. It does make extra work for me, but I know that if I plant the seed in him now, it will bear fruit later. We are making memories, and building a desire for him to help in the kitchen. I think that's a beautiful thing, and a quality in children we don't often nurture.
How to Serve Sourdough Irish Soda Bread
Arguably the best part of baking with your family, is being able to eat and enjoy the fruits of your labor after the job is done. This much is true when it comes to the sourdough Irish soda bread we baked on this day. We toasted our Irish Soda Bread and spread it with generous pats of salted butter. 😋 When I see a bread, and it has raisins, it must be toasted with butter. No other way will do.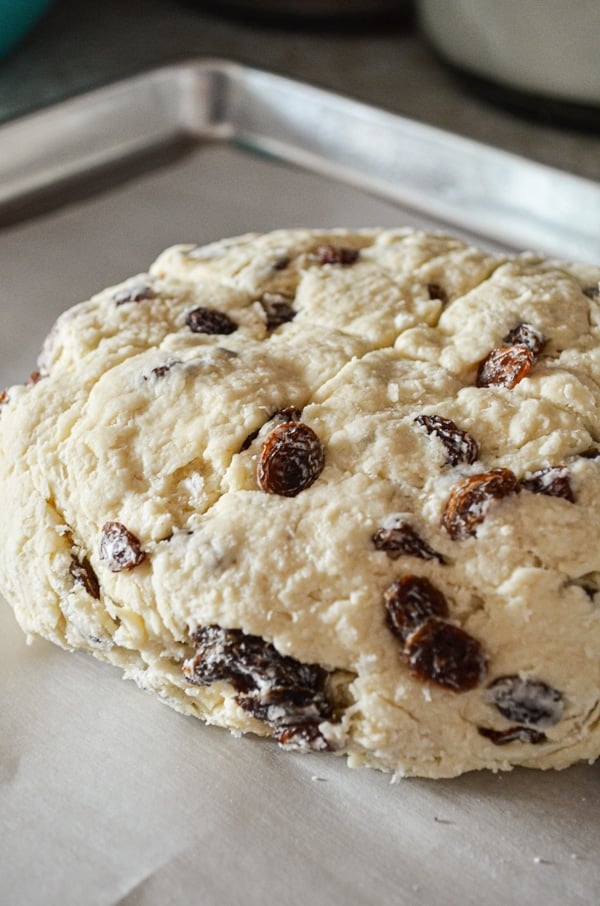 How to Cut Irish Soda Bread
Many folks serve Irish Soda bread in various ways. While reading an article in preparation for writing this post, I learned that how the bread is cut is largely the result of the region of Ireland in which it was made. Irish soda bread is cut into wedges in the North, and sliced with a cross in the top in the South. Oddly, I never considered baking it up any other way than with a cross through the top. I suppose you could do both, if you felt so inclined and wish to show no allegiance to either region of Ireland. Remain neutral, if you will.
In addition to how you cut it, there are many ways to eat it. You could toast it and spread it with butter as I have done, or you could serve it with a thick and rich bowl of stew. While the sweetness of the bread can seem odd with soup, it can be a lovely balance of flavors. I served our bread with soup on the second day, and while it was certainly different than our typical soup nights, it was pleasant all the same.
Of course, the most common way to serve it will be alongside a St. Patrick's Day dinner. Or supper as we call it in these parts. For most folks, that means a corned beef and cabbage main dish. Below, you'll see I've linked several recipes for Corned Beef and Cabbage, as well as some other traditional Irish recipes. Don't forget the Irish Stout if you are the beer-drinking type!
Some Recipe Ideas for a St. Patrick's Day Meal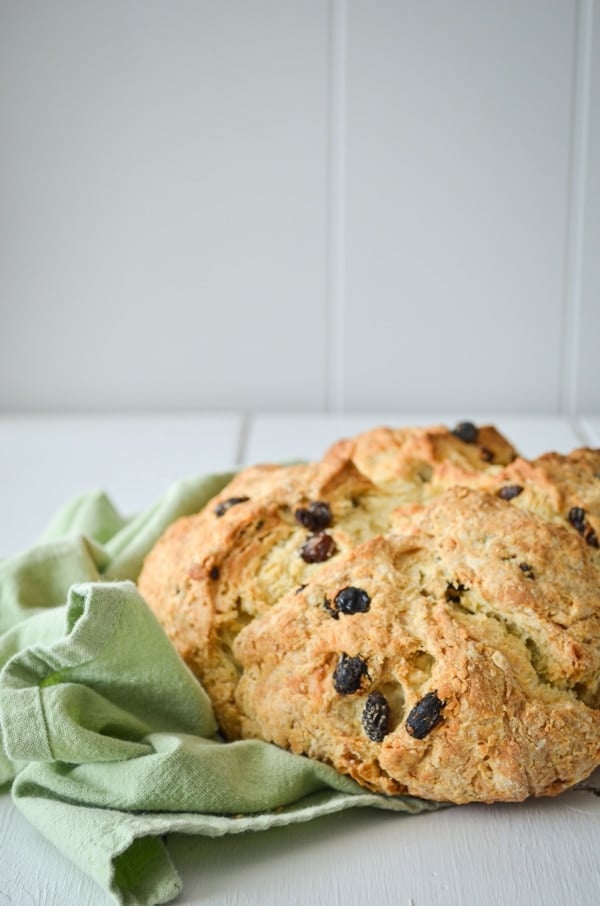 How To Make Irish Soda Bread
And so now we get to the bread and butter (get it?) of this post: how to make Irish Soda Bread. One of the most enchanting things about this Sourdough Irish Soda Bread is how astonishingly easy it is to make. This bread requires NO YEAST. While we have added some sourdough discard to this recipe, for tang and for prudence, it is not needed in order to leaven the dough. It is the baking soda that provides rise to the dough, thus the name: Irish Soda Bread.
I have used a portion of cold, spent sourdough discard in this recipe. Like I said above, mostly for prudence. If you have a sourdough starter, no doubt you are aware of the need for sourdough discard recipes to make the absolute best use of your yeasty friend. I like to sneak the discard into recipes that require little or no leavening, making for a good use of my discard, and resulting in a recipe that requires no wait time for rising. A good example of that would by my Apple Walnut Sourdough Discard Muffins.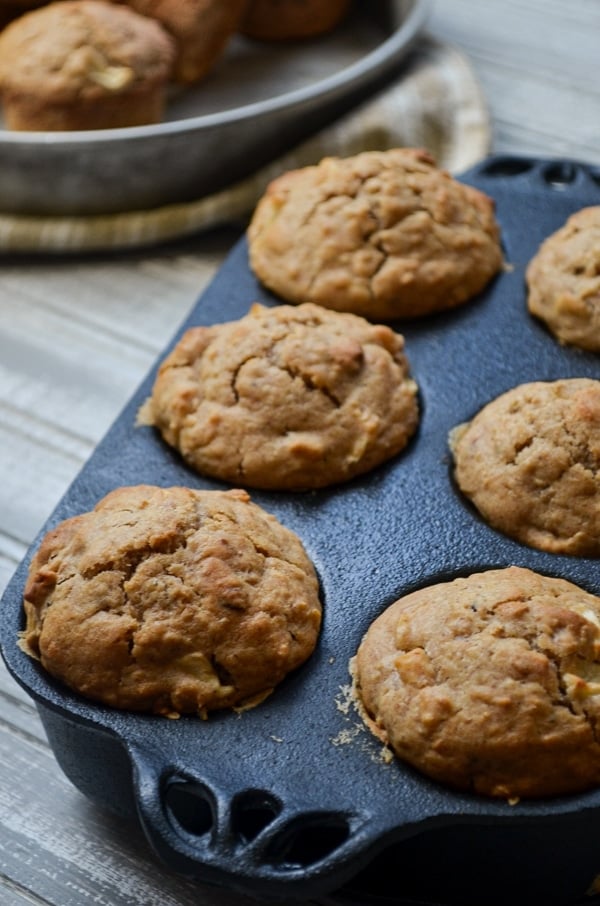 Can I Make Sourdough Irish Soda Bread Without Sourdough Discard?
Yes…and no. I will certainly provide some adaptation tips and tricks for you to do so, but it would no longer be "Sourdough" Irish Soda Bread. Rather, it would be Irish Soda Bread. Still, a fine recipe. But you just have to tweak the title a bit, and I would find it a little odd that you happened upon this page without a sourdough starter. Odd, but not impossible!
If you'd like to make this into a regular Irish Soda Bread recipe:
Omit the Sourdough Discard
Increase the flour to 4 1/4 cups
Increase the buttermilk to 1 3/4 cups
For all intents and purposes, I'm going to assume from here on out that you are making the recipe as written (with sourdough discard).
Making Irish Soda Bread with Sourdough Discard
Step One: Combine your Dry Ingredients
Bringing me back to home ec over here! Combine your dry ingredients in a bowl using a whisk. Stir it up until it's pretty uniform.
Next Step: Cut in your Butter
Cube your (cold) butter and add it to the dry ingredients. Use a pastry cutter, a fork, or your fingers to cut the butter into the flour. You know you're done when it resembles course crumbs. If you're familiar with pastry, you know the look you're going for.
Step Three: Fold in the Raisins
The heading says it all. But does anyone else remember the California Raisins? I had to stop mid-post and watch this video just for the sake of nostalgia. I am not at all a distractible person. Nope. Not me.
Step Four: Combine the Wet Ingredients
Ms. B would be so proud of me. Mix up your wet ingredients in a small bowl. For the purposes of this recipe, the sourdough discard counts as a wet ingredient.
Next Step: Make a Well
Use your fingers to make a deep well in the center of your flour, butter, and raisin mixture. Pour in the wet ingredients.
Step Six: Mix it Up
Use a wooden spoon to begin stirring the wet ingredients into your crumbly dry ingredients. This should be done gradually. The dough will be stiff and difficult to work after a minute or so of mixing.
Step Seven: Use your Hands
Use your clean hands to form the dough, gently kneading it to ensure all of the flour is absorbed. Note that this will still be a dry and stiff dough, and you should not strive to make it smooth. You want to knead it enough just to come together. If it is too sticky, add more flour. If it is much too dry and won't absorb all the flour, add a splash more of buttermilk. It really is about feel.
Step 8: Form and Cut
Pat your dough into a uniform circle about 8″ in diameter. Place it on a parchment lined baking sheet and use a sharp knife to cut a deep "X" shape in the top of the loaf.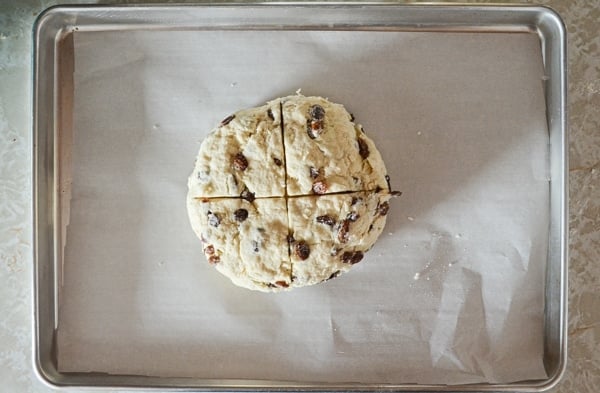 Step 9: Bake it
Place it in a pre-heated 425F oven and bake for 40-45 minutes, or until the bread is cooked through to the center. You can test this with a cake tester. If it comes out clean, you know your bread is done. You can also tap the bottom of the loaf. If it sounds hollow, your bread is done.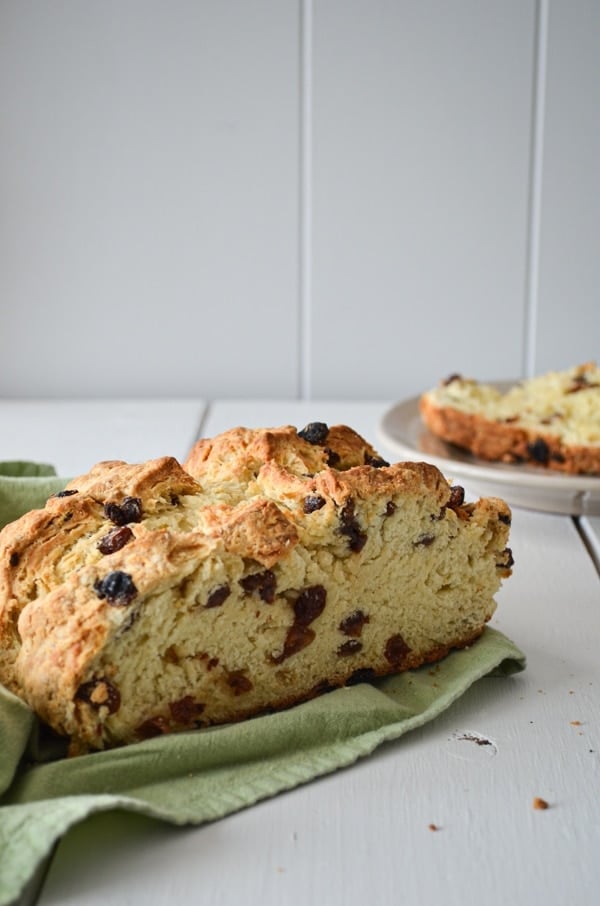 Final Step: Cool, Slice, Serve.
Let the loaf cool on the baking sheet for 5 or so minutes, and then transfer to a wire cooling rack for the remaining cooling time. I like to let mine cool for at least an hour, that way it is much easier to slice. Since it is a crumbly bread, it can be difficult to slice when it's fresh out of the oven. Serve it slightly warm if serving with soup, or toast it with butter for a lovely snack.
Can You Make Irish Soda Bread Without Buttermilk?
Traditionally, no. Practically, you can make some adaptations. These are the ones I would recommend:
Use yogurt thinned with milk in place of the buttermilk
Sour your milk by adding 1 Tbsp. of lemon juice to 1 cup + 3 tbsp. of milk and letting it set for 5 minutes
Scroll down 👇 for the printable recipe card!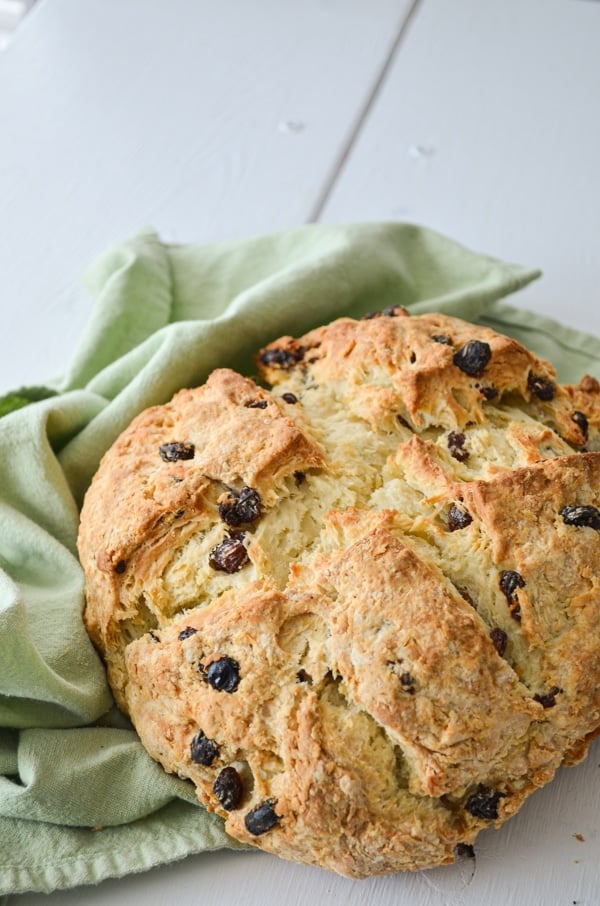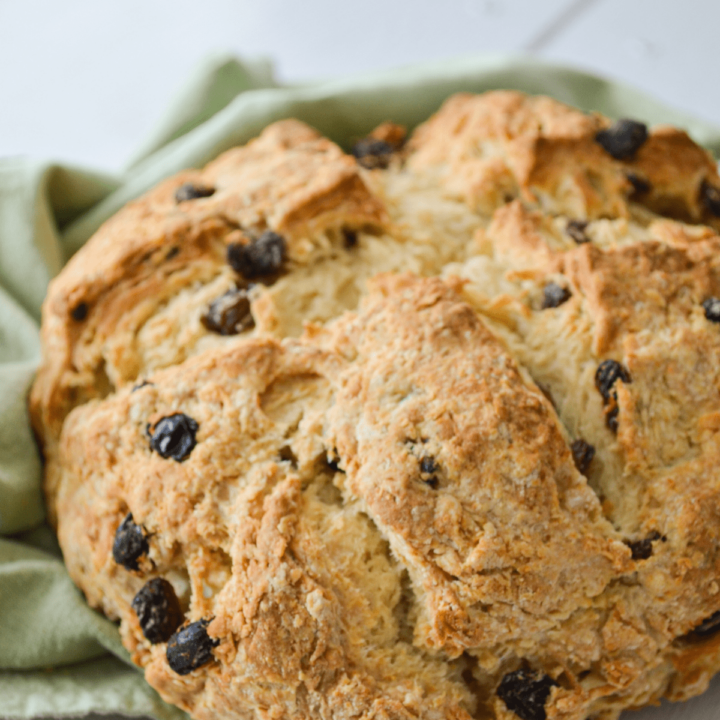 Sourdough Discard Irish Soda Bread
Whether it's for St. Patrick's Day or a comforting winter meal, this sourdough discard Irish Soda Bread has got you covered! A quick bread made without the use of yeast, it's the perfect addition to a traditional corned beef and cabbage dinner.
Ingredients
3 ½ cup All Purpose Flour, plus a little more for kneading and adjusting the consistency of the dough
1 tsp. Salt
1 tsp. Baking Soda
¼ cup Salted Butter, cold
1 cup Raisins , seedless
1 ¼ cup Buttermilk
½ cup Sourdough Discard
1 large Egg, lightly beaten
1 tbsp. Honey
Instructions
Preheat the oven to 425F and line a half size baking sheet with parchment paper or a silicone baking mat.
Add the flour, salt, and baking soda to a large mixing bowl. Using a whisk, stir the dry ingredients until uniform.
Cut your cold, salted butter into 1/2" size cubes. Add them to the flour mixture and use a pastry cutter, a fork, or your fingers to cut the butter into the dry ingredients until it resembles coarse crumbs.
Stir in the raisins, ensuring to coat them in flour so they do not clump together in the dough.
Create a well with your fingers in the flour, butter, and raisin mixture.
Use a small bowl to combine your wet ingredients: buttermilk, sourdough discard, egg, and honey. Whisk until smooth.
Pour your wet ingredients into the well of your flour mixture. Use a wooden spoon to combine the wet and dry ingredients gradually.
Once your dough is too stiff to stir, use well floured hands to gently knead the dough together. The dough will be a dry and stiff one, and will not feel like a traditional bread dough. If the dough is too dry and not picking up the remnants of flour as you need, add a tiny splash of buttermilk to moisten the dough and continue. If the dough is too sticky, add a little more flour. You will have to be careful to not overwork the dough, so be gentle with your kneading.
Once the dough has come together, form it into a circular mound about 8" in diameter. Place the loaf on your prepared baking sheet and pat it into a uniform shape. Use a sharp knife to score a deep cross in the top of the loaf.
Place the baking sheet in the oven and bake until the center is cooked through and the bottom of the loaf sounds hollow when tapped, about 40-45 minutes. You may use a cake tested to see if the loaf is cooked through. If the cake tester comes out clean, the bread is done.
Remove the loaf from the oven and allow it to cool on the baking sheet for 5-10 minutes before transferring to a wire cooling rack.
I like to wait for the bread to cool for at least an hour before slicing, since it is very crumbly. You may serve warm if you like, but allow it to cool for at least a half of an hour. We love ours toasted with plenty of butter!
Notes
To store: wrap tightly in plastic wrap and store on the counter for 2-3 days, or in the fridge up to one week.
Adapted from Simply Recipes.
Nutrition Information:
Yield:

8
Amount Per Serving:
Calories:

374
Total Fat:

7g
Saturated Fat:

4g
Trans Fat:

0g
Unsaturated Fat:

1g
Cholesterol:

40mg
Sodium:

395mg
Carbohydrates:

67g
Fiber:

3g
Sugar:

11g
Protein:

9g
Nutritional information is an estimate only.
For Further Reading:
The Short but Fascinating History of Irish Soda Bread – Trafalgar
Who Was St. Patrick and Should Christians Celebrate St. Patrick's Day – Ligonier