You are just going to LOVE this Blueberry Cream Cheese Sourdough Baked Pancake! This uses up a lot of sourdough discard, is full of protein, refined sugar free, and delicious!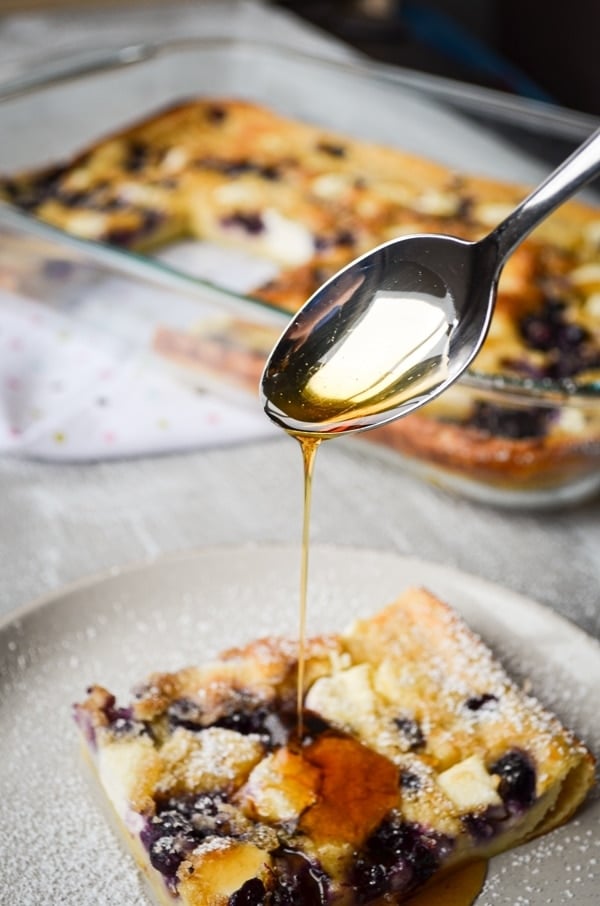 Please note that some of my blog posts here at Little Home in the Making may contain affiliate links. If you make a purchase through these links, I will get a small commission at no additional cost to you. Please see my Disclaimer for more information.
My son hates eggs. I mean hates eggs. I have tried every which way to prepare them: fried, scrambled, hard boiled, soft boiled, omelette, baked omelette, and the list goes on! Eggs are loaded with protein, ample fats and plenty of vitamins as well, so naturally: he hates them. I have to laugh to keep myself from crying.
Do you know how I can get him to eat eggs? Baked Pancakes. That's right, dutch baby pancakes, german pancakes, puffy pancakes, whatever it is you call them: he will eat them! That's because these baked pancakes don't actually taste like eggs! The consistency certainly is different than you average pancake, but they are not at all like eggs, which makes them ideal for the discerning toddler. I've adapted an active sourdough recipe I found to use sourdough discard (anyone with a starter knows they have a lot of this hanging around!), and added a fun addition to keep things interesting: cream cheese! My adaptation to use discard makes it more of a "baked pancake" than a classic dutch baby, but the result is similar.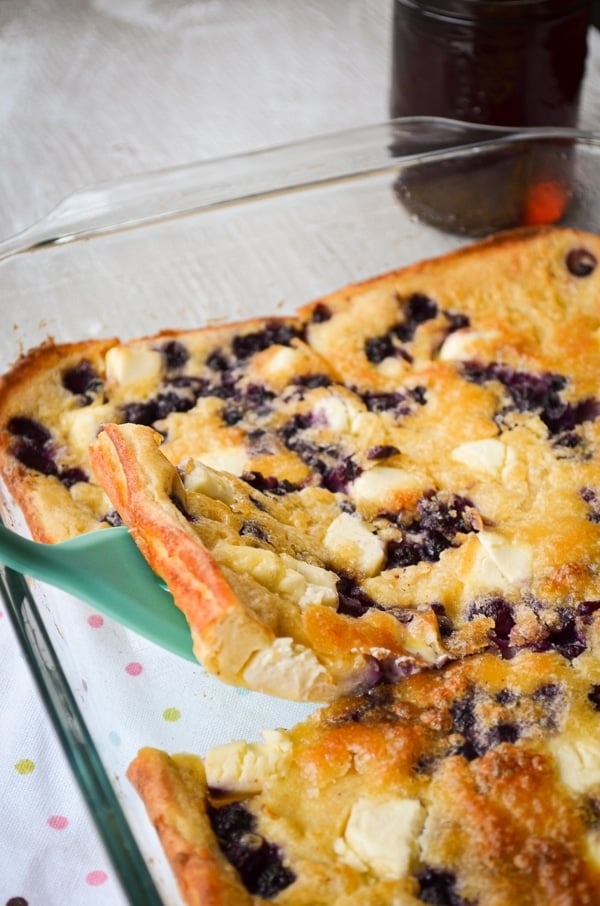 A Fun Sourdough Breakfast Recipe
Oddly enough, my son hates eggs, but welcomes sourdough like an old friend. A child that hasn't had a lot of sourdough may feel differently, so I'm not going to pitch this as "kid-friendly". Rather, this recipe is a great one to try if you have lots of sourdough discard hanging around and you want to try something fun and different for breakfast. Since I spend most of my time at home, I find it pretty easy to pull together for a weekday breakfast. For those that work outside the home, it may be easier to have this on a morning off. This recipe reheats very well, so you could prepare it early in the week for a quick breakfast later on.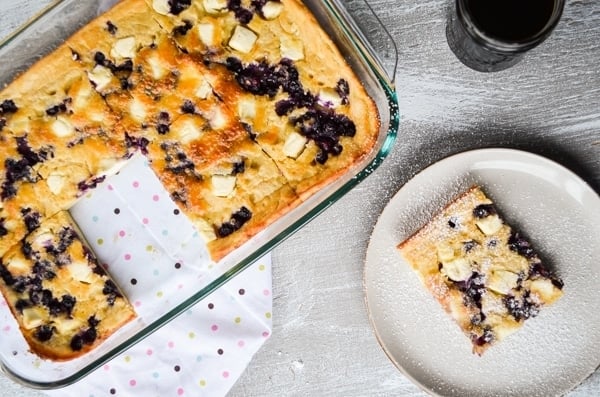 How Do I Get Enough Sourdough Discard?
If you maintain a smaller starter, or are new to sourdough, you may not have enough sourdough discard for this recipe. If you don't, you can feed a portion of your starter several times, which will build up your sourdough discard, although you'll have to wait a bit before trying this recipe.
Have you been washing your discard down the sink? Try a new way: store it in the fridge. Each time you discard from your starter, add it to a glass jar that is covered and stored in the fridge. Once you have enough for a recipe, you can use it straight from the fridge. This is the method I use, so I know I'm not letting any of my sourdough starter go to waste.
If you don't know what all this sourdough starter talk is about, check out this post from The Perfect Loaf. This was the method that finally worked for me in getting an established sourdough starter.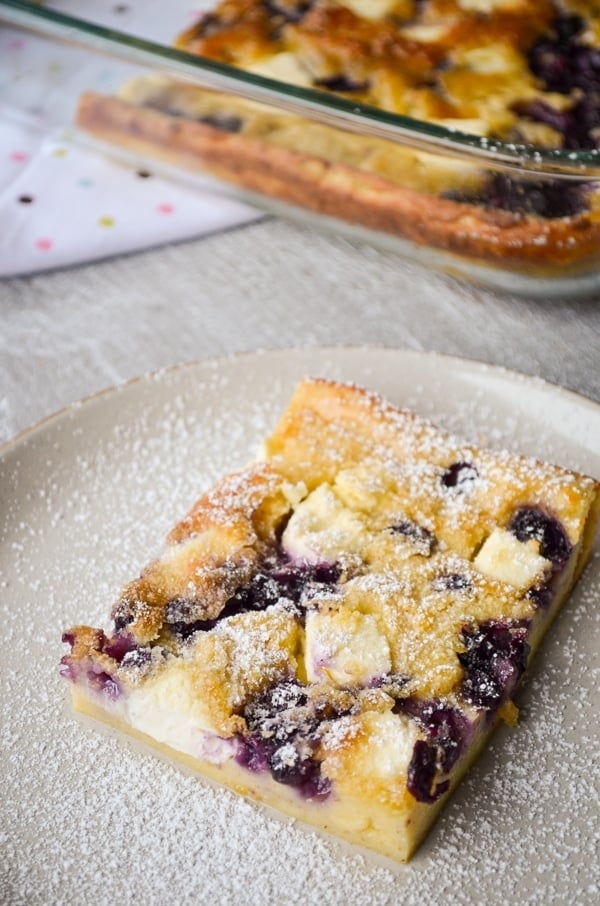 What Do I Need to Make This Sourdough Discard Recipe?
Sourdough Discard: Since this recipe is for sourdough discard, you'll need an established sourdough starter, and a significant amount of discard available for this recipe.
Eggs: 6 large eggs provide some structure (and protein!) for this yummy baked pancake.
Milk: Since there is a high water content in the sourdough starter, whole milk is essential.
Salted Butter: Why use unsalted butter when you can use salted?
Wild Blueberries: I use frozen wild blueberries in this recipe. Since they are small, they don't let off a lot of water during cooking, and cook through quickly. Do not use regular frozen blueberries in this recipe, they will let off a lot of liquid, and may not cook through.
Cream Cheese: I like to use brick cream cheese in this recipe because I find it maintains a nice shape.
Maple Syrup: In order to keep this recipe refined sugar free, maple syrup is used. You could also use brown sugar if desired. I find honey has a stronger flavor, and you'll be using maple syrup for topping and serving anyway! I use real maple syrup in this recipe, and I recommend you do the same.
Vanilla Extract: Just a little bit goes a long way!
Salt: I like to use Real Salt, but any salt of your choice will work here.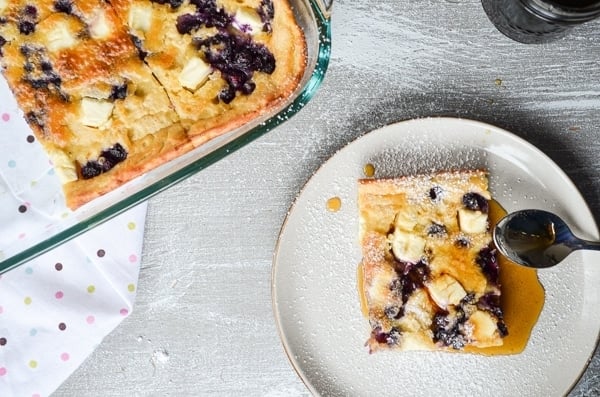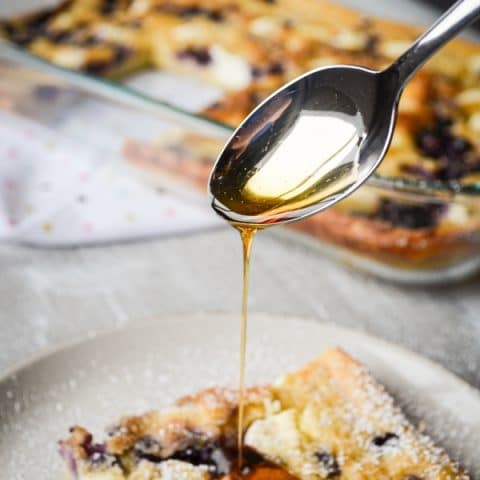 Blueberry Cream Cheese Sourdough Baked Pancake
You are just going to LOVE this Blueberry Cream Cheese Sourdough Baked Pancake! This uses up a lot of sourdough discard, is full of protein, and totally delicious!
Ingredients
6 large Eggs
300g Sourdough Discard
⅓ cup Whole Milk
2 tbsp. Maple Syrup
1/2 tsp. Salt
1 tsp. Vanilla Extract
6 tbsp. Salted Butter
¾ cup Frozen Wild Blueberries
4 oz Cream Cheese, cubed into ½" cubes
Instructions
Preheat the oven to 425F.
In a large bowl, whisk the eggs well. Add in the sourdough discard, milk, maple syrup, salt, and vanilla. Whisk well to combine, or use a hand mixer on medium speed until completely smooth.
Add the Salted butter to a 9X13 glass baking dish and place it in the oven.
Once the butter has melted, pull the baking dish out of the oven.
Swirl the butter around the baking dish and pour in the sourdough batter.
Sprinkle the surface evenly with the wild blueberries, then the cubed cream cheese.
Bake in the preheated oven for 20-22 minutes.
Remove from the oven and serve with maple syrup.
Nutrition Information:
Yield:

6
Serving Size:

1 grams
Amount Per Serving:
Calories:

413
Total Fat:

24g
Saturated Fat:

13g
Trans Fat:

0g
Unsaturated Fat:

9g
Cholesterol:

237mg
Sodium:

724mg
Carbohydrates:

35g
Fiber:

2g
Sugar:

8g
Protein:

13g
Nutrition information is an estimate only.