Fun, bubbly, and crisp, Pizza Bianca can serve as a side dish, bread option, or even main course. It all depends on how you choose to top it! This recipe is made with sourdough and is fully fermented overnight for a complex flavor and better digestibility,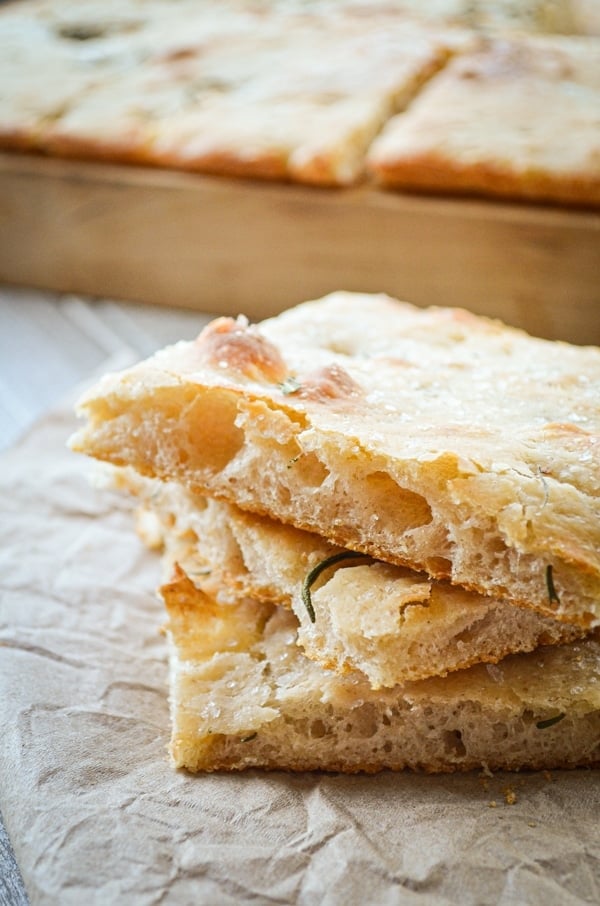 This post contains affiliate links, which means that if you click a link and make a purchase, we receive a commission at no additional cost to you. See our disclaimer for more information.
As we faced a yeast shortage earlier this year as a result of stockpiling during lockdowns, the recipe and food blogging world saw a huge surge of interest in sourdough recipes. So many people were looking for ways to get their own starter going (I recommend this method from The Perfect Loaf). Thankfully, I had a reliable starter waiting for me in the fridge. I also had an ample store of flour to feed it in the pantry. Many weren't so lucky, and we saw massive shortages of yeast, flour, and general baking goods.
Yeast Shortages = Sourdough Revival
I consider myself relatively chill, but I have to be honest: this kind of scared me. To think we could be that close to being completely disconnected from our food supply had me doing some serious thinking. I can see that it is so important to be able to provide for yourself, in multiple ways, and this time of uncertainty has made that more clear than ever before.
One small way of being able to provide for yourself includes being able to make some of your staples. Things like bread, tortillas, biscuits, and scones are all easy things that can be made at home. If you have an active sourdough starter, you can even make those basic items with active or discarded sourdough starter.
A New Sourdough Recipe: Pizza Bianca
This Pizza Bianca is not at all "basic" and probably something you've never heard of, but also a delicious bread that is made even more delicious via sourdough.
I first heard of Pizza Bianca in a copy of Cook's Illustrated (my fav cooking magazine). After having success with it, I knew that I needed to adapt it to be made with sourdough. Although it required some math and experimentation on my part, it was an absolute success and we love this delicious Sourdough Pizza Bianca!
But Is It Pizza?
Yes. And no.
In this particular instance, it is indeed pizza, but not the type we often enjoy here in North America. As is, I enjoy it as a delicious bread served with soup (like a fun, bubbly, crispy focaccia). I have also dressed it like what we would consider a "typical" pizza. Toppings like: sauce, cheese, meats, and other traditional pizza elements. It's absolutely delicious both ways, but completely different. It's great to have a recipe in your arsenal that can go in a few different directions!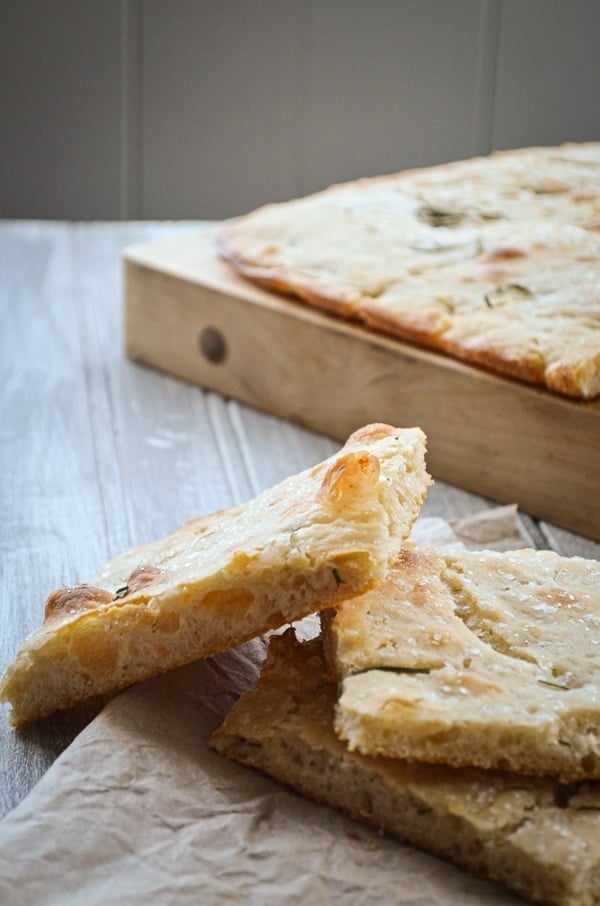 Equipment You May Need:
What Do I Need to Make Sourdough Pizza Bianca?
Sourdough Starter: This recipe requires leavening from the sourdough starter, so ensure it is an active starter (you can't use sourdough discard in this recipe). If you don't have a sourdough starter yet, check out this method from The Perfect Loaf to get started.
Flour: Unbleached all purpose flour is totally fine in this recipe.
Olive Oil: I use extra virgin olive oil because it is what I keep on hand, but virgin will do just fine too. I like the flavor of the olive oil, and I think it is authentic to pizza bianca. Although there are better oils for heating, olive oil lends a lovely flavor to this sourdough pizza recipe.
Salt: Both mineral salt and kosher salt are used in this recipe. The mineral salt in the dough, and the kosher salt for topping (unless you're using this as a traditional pizza crust).
Sugar: Just a little bit of sugar to activate the yeast! You can use unrefined cane sugar, but I haven't tried this recipe with honey yet.
Rosemary: Some fresh chopped rosemary is a traditional topping for Pizza Bianca. If you're opting to top this like a traditional pizza, forgo the rosemary.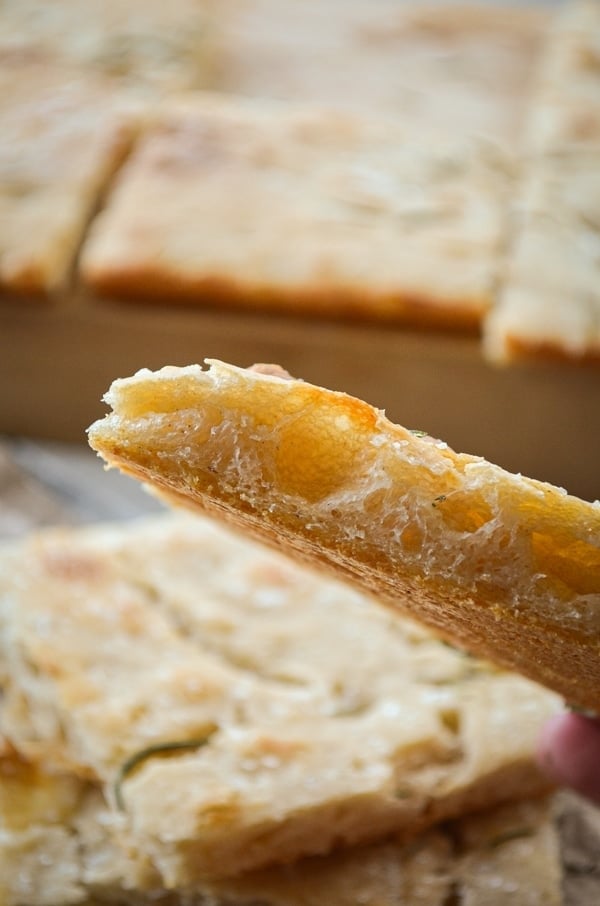 Sourdough Pizza Bianca
Fermenting Time:
15 hours
Total Time:
16 hours
15 minutes
Fun, bubbly, and crisp, Sourdough Pizza Bianca can serve as a side dish, bread option, or even main course. It all depends on how you choose to top it! This recipe is made with sourdough and is fully fermented overnight for a complex flavor and ease of preparation.
Ingredients
1 cup Active Sourdough Starter
2 ½ cups All Purpose Flour
1 ¼ cup Water, room temperature
1 ½ tsp. Salt
1 ½ tsp. Sugar
4 Tbsp. Extra Virgin Olive Oil
Topping
1-2 tsp. Kosher Salt
2 tbsp. Fresh Chopped Rosemary Leaves
Instructions
Overnight Method
In a large glass bowl, combine the sourdough starter, unbleached flour, and room temperature water using a Danish dough whisk, or lightly floured fingers. Once the dough comes together and no dry bits remain, cover with plastic wrap and let it ferment for 10-12 hours.
In the morning, or 10-12 hours later, transfer the sticky dough to the bowl of a stand mixer. Add the mineral salt and sugar. Using the dough hook attachment, knead the dough for 6 to 10 minutes, or until the dough begins to form a large mass and pulls away from the side of the bowl. This dough is extremely sticky, and will look very different than any other dough you've worked with.
Add 1 tbsp. of Olive oil to a clean large glass bowl, and rub it all over the bottom and sides of the bowl using your fingers.
Grease a silicone spatula and use it to transfer the sticky dough from the stand mixer to the prepared glass bowl. Pour 1 tbsp. of olive oil over the top of dough, spread it out with your fingers, then turn the dough over to coat.
Cover the bowl with plastic wrap and let rise for 2-3 hours before you proceed with baking. If this is in the morning and you wish to prepare your Pizza Bianca for supper, simply place your dough in the fridge until 3 hours before your projected baking time. Take the dough out of the fridge to let rise on the counter for 3 hours prior to baking.
When you are ready to bake, add a pizza stone to the middle rack of your oven. Preheat the oven to 450F.
Add 2 tbsp. of olive oil to a rimmed baking sheet, using your fingers to grease the sides and bottom thoroughly.
Pour the dough onto the greased baking sheet, and use your finger tips to press the dough out flat and into the corners of the baking sheet. If the dough resists stretching, let it rest for 10 minutes before continuing.
Once the dough has been formed to the shape and size of the pan, prick the surface with a fork 40-50 times. I just prick every 1-2" in rows all over the surface of the dough.
Sprinkle the dough with the desired amount of kosher salt, and place the baking sheet on top of the pizza stone in the oven.
Bake for 20 minutes, then sprinkle the chopped rosemary over the surface, rotate the baking sheet, and return to the oven for an additional 10 minutes.
Slice into squares and serve.
Notes
This, as noted, is the original Pizza Bianca. I have also made this as a what we in North America understand to be a pizza. Top with sauce, cheese, and toppings. I omit the kosher salt and rosemary when I do this. As is, I serve this as a side bread with soup. You can also make a more-pizza-like Pizza Bianca by sprinkling with olive oil, salt, garlic, Kalamata olives and goat cheese or feta cheese.
Nutrition Information:
Yield:

6
Serving Size:

1/6th of Pizza
Amount Per Serving:
Calories:

271
Total Fat:

10g
Saturated Fat:

1g
Unsaturated Fat:

7g
Sodium:

955mg
Carbohydrates:

39g
Fiber:

2g
Sugar:

1g
Protein:

5g
Nutritional Information is an estimate only and is calculated using MyFitnessPal.
Don't Forget to "Pin It" for Later!
More Sourdough Recipes: