It doesn't have to be expensive or time consuming to get started making sourdough bread. If you have just a few basic tools, you can make excellent bread right from the start! These are the absolute best tools for sourdough beginners, and you probably have a few of them already in your kitchen.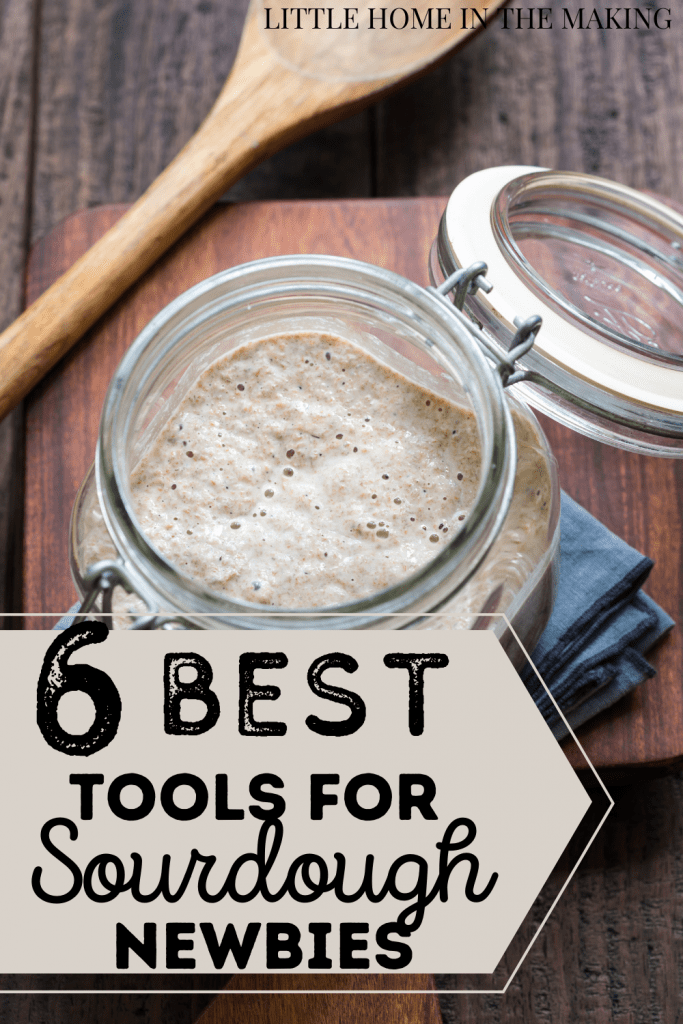 Please note that some of my blog posts here at Little Home in the Making may contain affiliate links. If you make a purchase through these links, I will get a small commission at no additional cost to you. Please see my Disclaimer for more information.
---
If you're just getting started with sourdough, the chances of feeling overwhelmed are pretty high! There is all this new lingo to learn (what is an autolyze? What are those basket thingies called?), new techniques to master, and new flavors to enjoy and experience. Sourdough is a whole new world, whether you've been baking for years or baking for months.
Welcome to the wonderful world of sourdough!
And while this world can feel overwhelming at first, it's one that you will come to love and understand. Soon enough, you'll be talking about high hydration loaves and scoring, and maybe even experimenting with your own recipes (like I did with Pizza Bianca, Apple Walnut Muffins, Strawberry Cream Cheese Baked Pancake, and more!). Even though it feels confusing and scary right now, it won't always be that way!
That's why I've decided to write a post on the 6 best tools for sourdough newbies! You can easily be tricked into thinking you need a bunch of new fancy gadgets and equipment to get started, but you really only need a few simple tools. Several of these are not even must haves, but rather nice to haves! You can start baking sourdough on a budget, in a small kitchen, or even if you don't have a lot of time!
What Tools are Needed to Make Sourdough Bread?
You really only need a few tools to start baking your own sourdough bread: a vessel for baking, a way to score your bread, and a bowl to make it in. All the rest is optional, although they will make your sourdough journey significantly easier. Not only that, the proper tools can help you have successful loaves much earlier than you would if you were just using the bare bones basics.
This list is comprised of my recommendations for the best sourdough tools to get your started as a beginner. I'm convinced that if you take the time to learn about the process of sourdough, and use these basic tools, you can have success very early on in your sourdough journey!
The Best Tools for Beginner Sourdough Bakers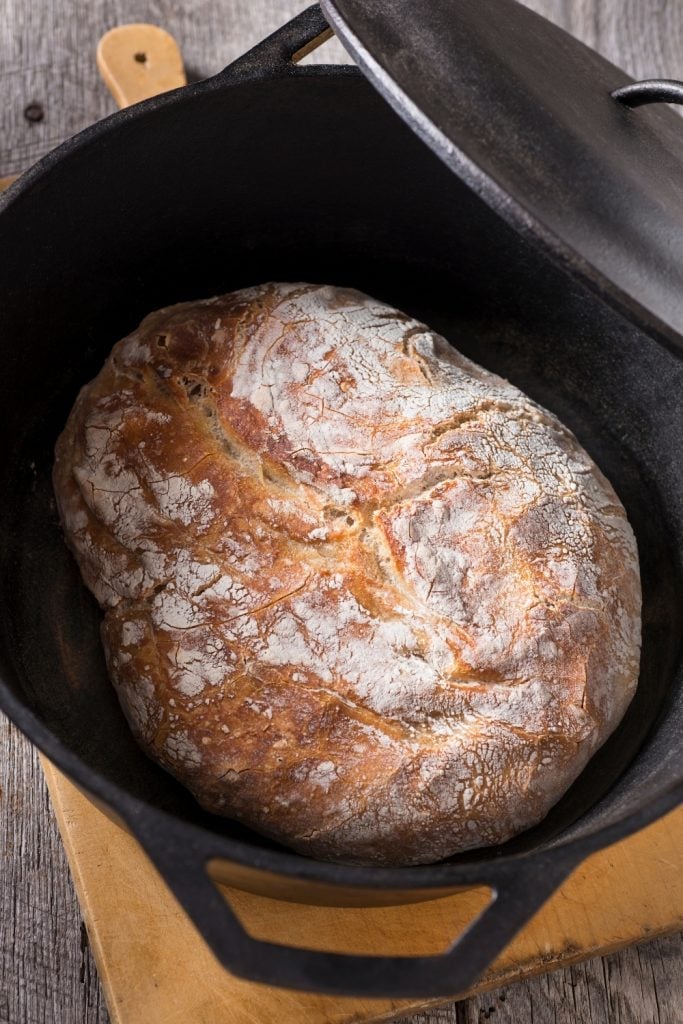 Dutch Oven
While not all sourdough bakers use a Dutch oven for baking their bread, I do. While I do employ other baking techniques (such as baking on a pizza stone), this is the method I prefer because it is the most foolproof. Baking your bread in a Dutch oven is perfect for sourdough newbies because it provides both the rising vessel (no banneton baskets needed!) and the baking vessel. The heavy lid helps trap moisture inside, making for a tender loaf with a great rise. I recommend this Lodge Dutch Oven. I own LOTS of Lodge Cast Iron cookware and it truly is awesome stuff.
Digital Scale
Not all sourdough bakers use weights, but I do. I happen to think that this is key in having early success with making sourdough bread. While discard recipes (like my muffins) call for volume amounts of sourdough discard, recipes that rely on sourdough to provide rise should be weighed rather than measured. Flour is one of the most fickle ingredients when it comes to consistency. Depending on the time of year, relative humidity, and how you measure your flour, there can be great discrepancies. Sourdough bread is an art and a science, which means that consistency is key to good results. The best way to achieve consistency is with a digital scale. This one from Amazon basics is less than $11 and has a 4 1/2 star rating with over 30,000 reviews. You just can't beat that price!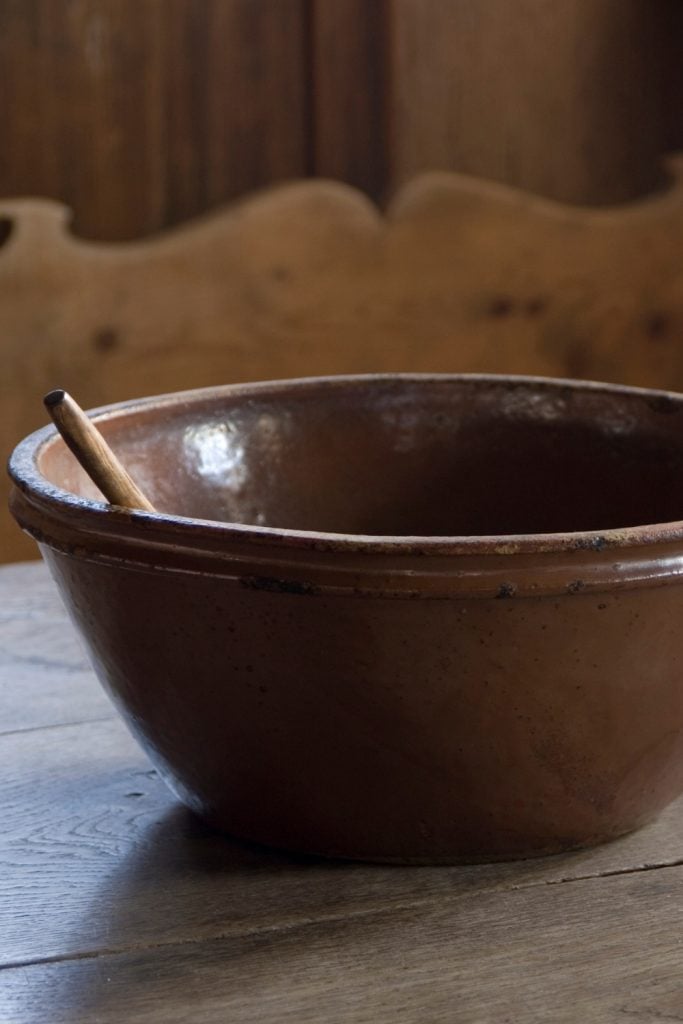 Glass or Ceramic Bowl
Sourdough bread dough is very sticky! Because of this (and because of the fermentation process), it's best to use glass or ceramic bowls for mixing and rising your dough. Glass and ceramic are easier to clean, and don't acquire sticky residue like other bowls do. Chances are you have a glass or ceramic bowl you love. If you don't, I highly recommend you acquire one! I tend to opt for the larger sizes to allow room for the dough to rise. But a set of various sizes is great if you plan on experimenting with discard recipes, pancakes, etc. This Pyrex set from Amazon is under $20 and comes with 3 different sized glass bowls.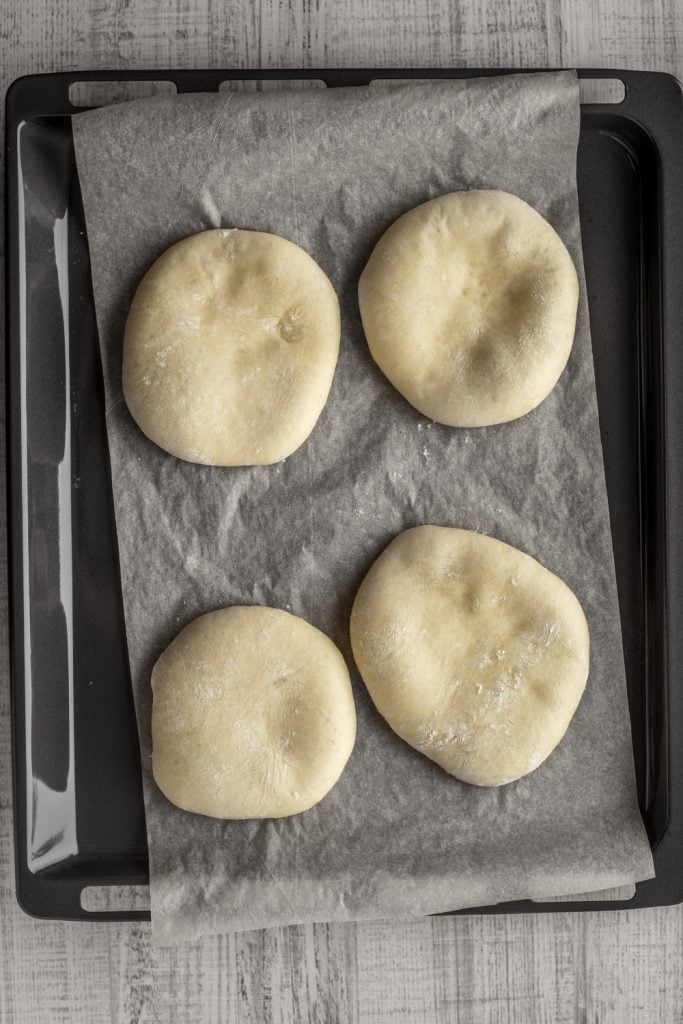 Parchment Paper
I used to be so cheap that I would NEVER buy parchment paper. That all changed one fateful day when I made my first sourdough loaf using parchment paper. Now I am totally sold out for parchment paper. I would sell my left hand for an unlimited supply of parchment paper (well, not really). Parchment paper helps keep your cookware clean, and prevents baked goods from sticking. I could never go back to my pre-parchment paper life, and certainly not with sourdough.
While you can bake sourdough without parchment paper, it's a wonderful addition to your tool collection and costs a whopping $3 or so 😂. Using parchment paper to line your Dutch oven means you will be able to easily remove your bread AND avoid all the scrubbing that comes with forgoing the use of parchment. I buy mine from Costco now, but you can find it at your local grocery store.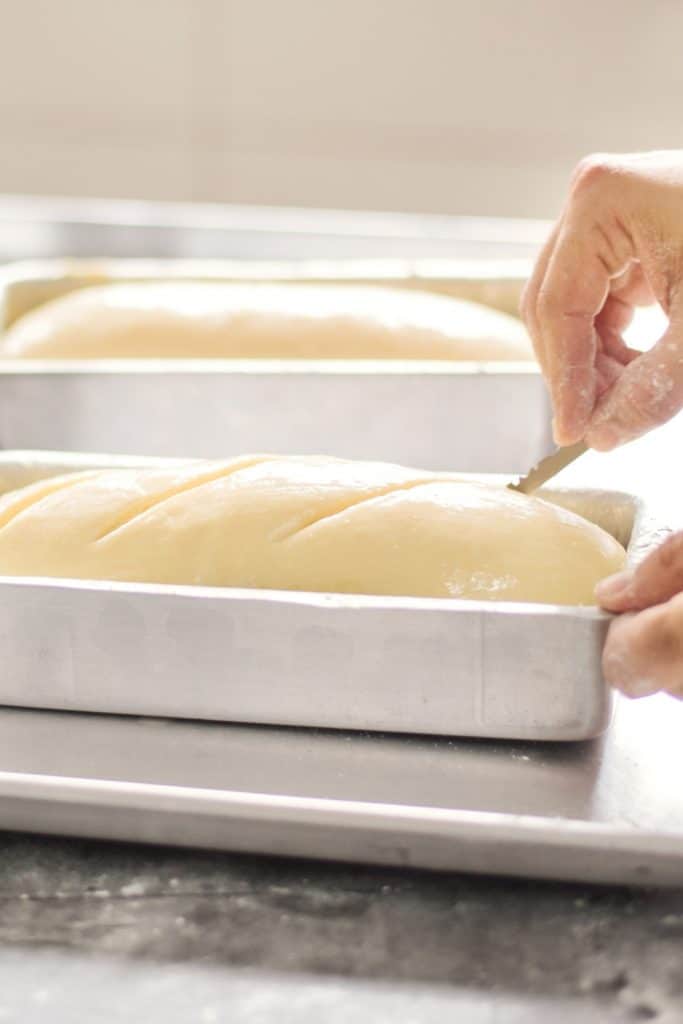 Bread Lame
While you don't need a bread lame specifically, you do need something to score your bread. Sourdough bread needs to be scored to prevent cracking and explosions! Scoring your bread is a controlled cut, which helps you achieve the shape you want and allow for even baking. While there are other ways to score your bread (sharp knife or loose razor blade), a bread lame (pronounced lahm) is probably the safest and most effective. This bread lame comes with 10 extra blades and is around $11!
Danish Dough Whisk
This is definitely a "nice to have" item rather than a must have item, but it really is a lovely tool for sourdough baking. It's very inexpensive (just $12 for this set of 2), which makes it the perfect little treat for your new hobby. It's also a great gift for those you know who love to bake sourdough bread. I had my set long before I started baking sourdough, but I've definitely used it most of all for mixing up sticky, tacky, high hydration loaves. I don't really like getting my hands too dirty, so this is the perfect tool for mixing up the first stage of dough and leaving your hands (relatively) clean.
Frequently Asked Questions About the Best Tools for Beginner Sourdough Bakers
Can I score sourdough with a knife?
If you use a very sharp knife, and move very quickly, you can effectively score sourdough with a knife. While a bread lame (or razor) work a little better, a knife can definitely do the trick in a pinch.
Do I need a banneton to make sourdough?
No! While a banneton makes for a lovely shaped loaf, you can very easily make sourdough in a Dutch oven or in a round glass baking dish with a lid. If you'd like to bake your loaf on a flat surface like a pizza stone or a sheet pan, you will need to first shape it, which will require a banneton basket.
Can I bake sourdough on a sheet pan?
Yes, you can. While a pizza stone is better option because it is nonstick, you can use a sheet pan lined with parchment. You will need to ensure it heavy duty to prevent warping in the oven. Better yet is a pizza stone, which can be preheated in the oven at high temperatures. This makes for a great oven spring in your sourdough bread.
Cutting Your Sourdough Bread
If you don't already have a good quality serrated edge bread knife, be sure to pick one up! My husband reminded me of this when I told him I was writing this list. Sourdough bread is quite a bit more crusty than typical bread and really requires a good bread knife to cut through. This one from Amazon is highly rated and fairly inexpensive if you don't already have one that is up to the task.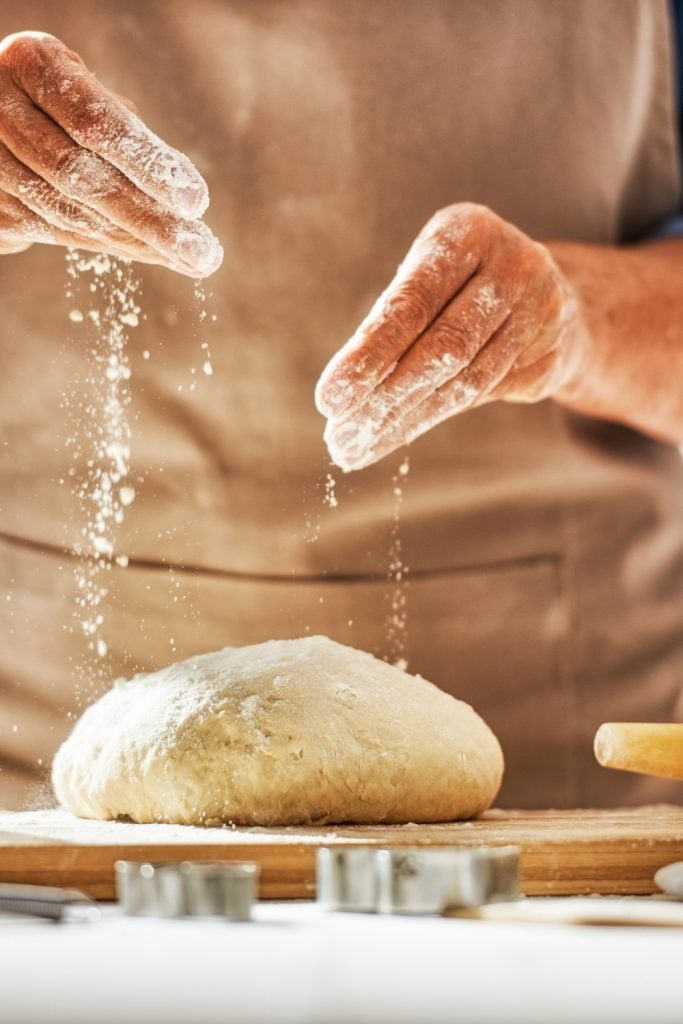 My Favorite Beginner Sourdough Resources
Making Your Own Starter:
After many attempts at trying (and failing) to create my own sourdough starter, this guide from The Perfect Loaf helped me create a successful starter that has been going strong for close to 2 years now!
Baking Your First Loaf:
The Clever Carrot's Sourdough Bread: A Beginner's Guide – A thorough resource and recipe that will guide you through creating your first sourdough loaf. This method is essentially foolproof. I made this bread with great success for many months before purchasing her cookbook and making more advanced loaves.
Beginner Sourdough Recipes:
Artisan Sourdough Made Simple by Emilie Raffa – This book is the one I mention above, and I highly recommend it. It comes packed with a great variety of recipes that can be made using sourdough starter, as well as discard. The process of making the dough for each recipe is well illustrated and simple for beginners. I've made countless recipes from this book, and I'm totally obsessed with the bagels! (and the Chocolate Chip Sourdough Bread 🤤).
King Arthur Flour's Sourdough Discard Recipes – When you first get started making sourdough bread, you'll have a lot of discard to use up! While I have some discard recipes on my blog, you can also find some on the King Arthur Flour website. I have tried many of these, and particularly love the Buttery Sandwich Biscuits. They make the perfect breakfast sandwich!
Where to Buy the Best Sourdough Tools
I buy most of my sourdough tools from Amazon, but you may be able to find some of them at a specialty store or restaurant supply store. I've linked my Amazon recommendations below for convenience!