The only thing that can make a sourdough baked pancake (AKA Dutch Baby/German Pancake) better is the addition of decadent cream cheese cubes! Add in some fresh strawberries, and you're going to LOVE this dessert-style breakfast that uses a whopping 320grams of Sourdough Discard! Cream Cheese and Sourdough are a perfect match!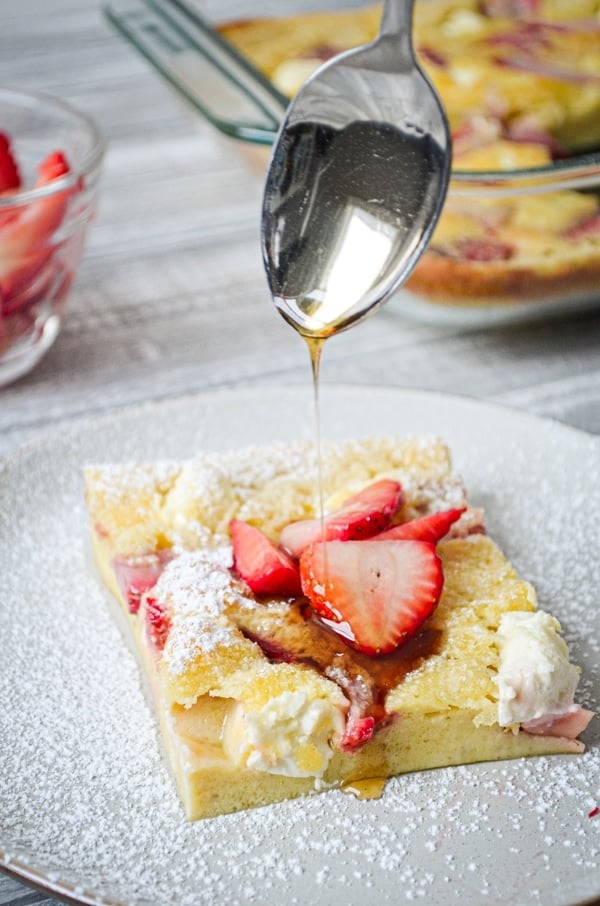 Please note that some of my blog posts here at Little Home in the Making may contain affiliate links. If you make a purchase through these links, I will get a small commission at no additional cost to you. Please see my Disclaimer for more information.
Anyone who has had a sourdough starter for an even short interval of time, knows the struggle. What's the struggle you ask? The struggle against the sourdough discard.
Each time you feed your sourdough starter, you must also discard some of your sourdough starter. This prevents it from getting too large (and demanding larger feedings) and keeps it less acidic. When you've invested so much time and flour into maintaining that sourdough starter, you don't want to just rinse that discard down the sink! So what does one do?
Finding Sourdough Discard Recipes
Once you realize you have this problem of sourdough discard that needs to be used, you also realize that you need to find a way to solve it. Enter in the world of sourdough discard recipes. King Arthur Flour has an entire page dedicated to sourdough discard recipes, and many can be found on Pinterest as well. Many of these recipes are great, but many use just 50-100g of sourdough starter. If you store your excess discard in a glass jar in the fridge like I do, you probably have a lot more discard to get rid of than that.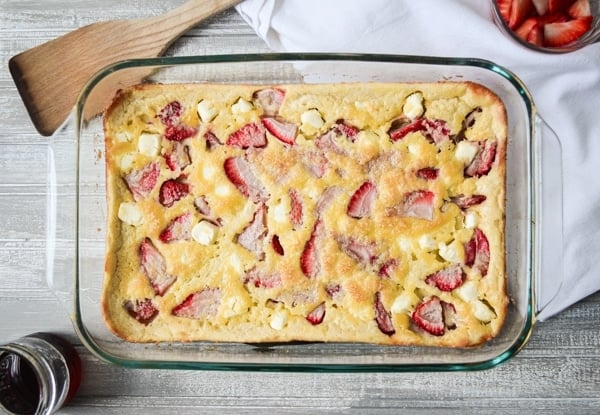 This recipe for Strawberry Cream Cheese Sourdough Discard Pancake uses A LOT of sourdough discard. This recipe uses 320 grams of discard, to be exact. There is no addition of unfermented flour, so this is a fully fermented recipe, which is pretty beneficial if you have issues with unfermented grains.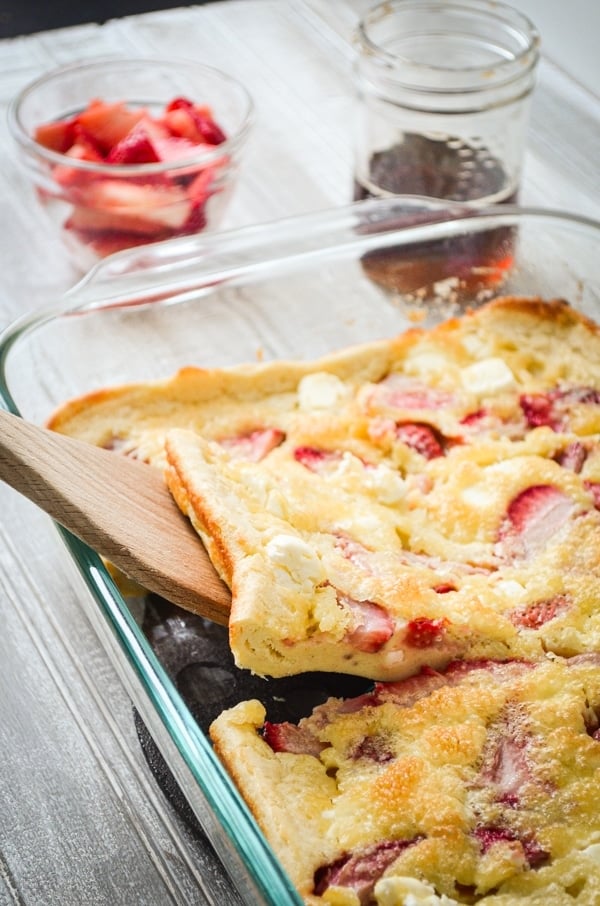 How Do I Get Enough Sourdough Discard?
If you have an active sourdough starter, you have a regular means of acquiring sourdough discard. The thing that not a lot of people are aware of, is that you don't need to use that discard right away. You can save up your sourdough discard, provided you refrigerate it while you're waiting for the discard to accumulate. I use an extra glass jar (like this tulip jar) to pour my discard into after each feeding, and then secure the lid and keep it in the fridge until I have enough for the recipe I want to try (or until I have the time).
If you don't have enough discard for this recipe, and want to try it you can:
Use active starter (the recipe I adapted this from does).
Feed your discard or starter enough to produce the required amount of sourdough discard.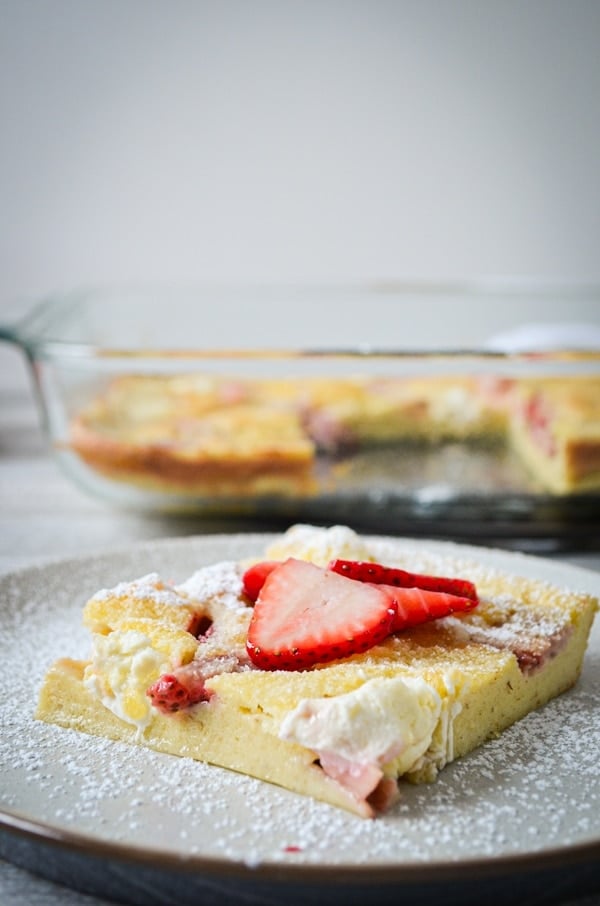 What Do I Need to Make It?
Sourdough Discard: You can also use active sourdough starter in this recipe, but I like using discard because it's a great way to use up a "waste" product.
Eggs: Like a typical German pancake, this recipe uses 6 eggs. One of the reason I love these baked pancakes is because they use up a lot of eggs, and are a great source of protein as a result. My toddler doesn't like eggs, so this is a way I kind of sneak them in.
Whole Milk: This adds a nice richness to the pancake.
Maple Syrup: For just a touch of sweetness in the batter. I also like to serve the pancake with maple syrup, so make sure you have extra on hand.
Salted Butter: Since sourdough discard is pretty low fat, it's important to add a source of fat for flavor, structure and satiety. I like to use salted butter because it lasts longer and tastes better!
Vanilla Extract: A little touch of vanilla goes a long way.
Sliced Strawberries: I haven't tried this recipe with frozen strawberries. I think the use of frozen strawberries may add too much liquid for this to be successful.
Cream Cheese: I like using the bricks of cream cheese. I find the bricks have a thicker cream cheese and the cubes stay intact. If you have spreadable cream cheese on hand, so long as it's a plain flavor, feel free to go ahead and use that.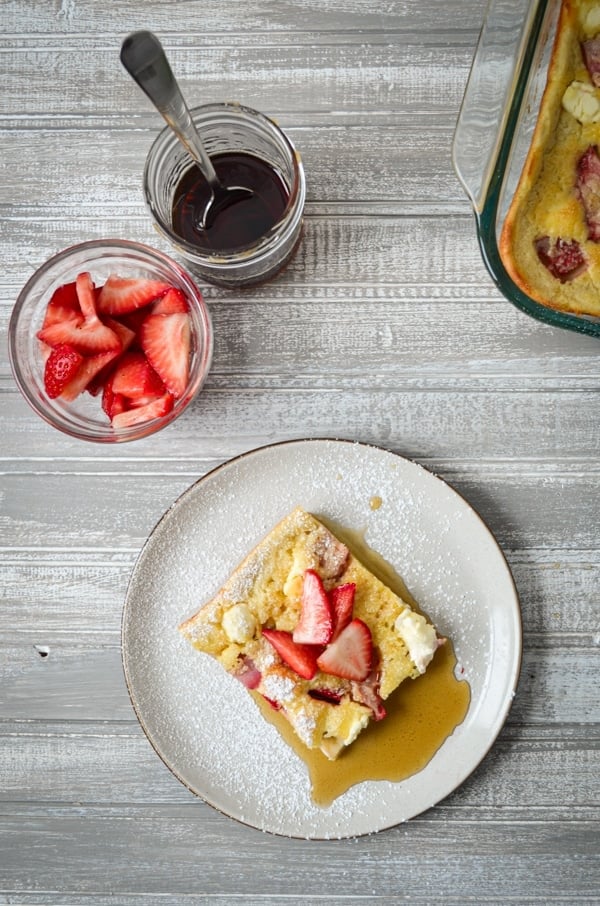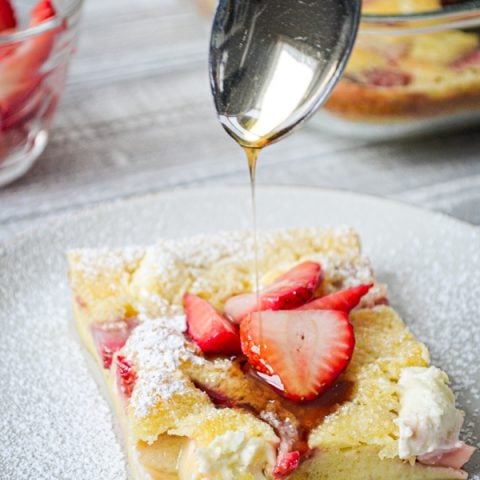 Strawberry Cream Cheese Sourdough Baked Pancake
Use up a whopping 320 grams of sourdough discard and serve up this delicious cream cheese sourdough creation. Filled with fresh strawberries and drizzled with maple syrup, it's a sourdough dream come true!
Ingredients
6 Large Eggs
320 gram Sourdough Discard
1/3 cup Whole Milk
1 Tbsp. Maple Syrup
1/2 tsp. Salt
1 tsp. Vanilla Extract
6 Tbsp. Salted Butter
1 cup Sliced Strawberries
4oz Cream Cheese, cut into 1/2" cubes
Instructions
Preheat the oven to 425F.
In a large bowl, whisk the eggs well. Add in the sourdough discard, milk, maple syrup, salt, and vanilla. Whisk well to combine, or use a hand mixer on medium speed until completely smooth.
Add the Salted butter to a 9X13 glass baking dish and place in the oven.
Once the butter has melted, pull the baking dish out of the oven.
Swirl the butter around the baking dish and pour in the sourdough batter.
Sprinkle the surface evenly with the sliced strawberries, then the cubed cream cheese.
Bake in the preheated oven for 20-22 minutes.
Remove from the oven, slice, and serve with maple syrup.
Nutrition Information:
Yield:

6
Serving Size:

1/6
Amount Per Serving:
Calories:

360
Total Fat:

23g
Saturated Fat:

13g
Trans Fat:

0g
Unsaturated Fat:

6g
Cholesterol:

235mg
Sodium:

384mg
Carbohydrates:

26g
Fiber:

1g
Sugar:

5g
Protein:

11g
Nutritional information is calculated using MyFitnessPal and is an estimate only.
Don't Forget to "Pin It" For Later!