If you're looking for a way to make your homemade baked goods even healthier and more nutritious, try making your own sprouted oat flour! Naturally gluten free, whole grain, and perfect for all of your oat flour baking needs. Easily made with just sprouted oats and a blender, this is an easy and healthy swap you can make using all organic and affordable ingredients.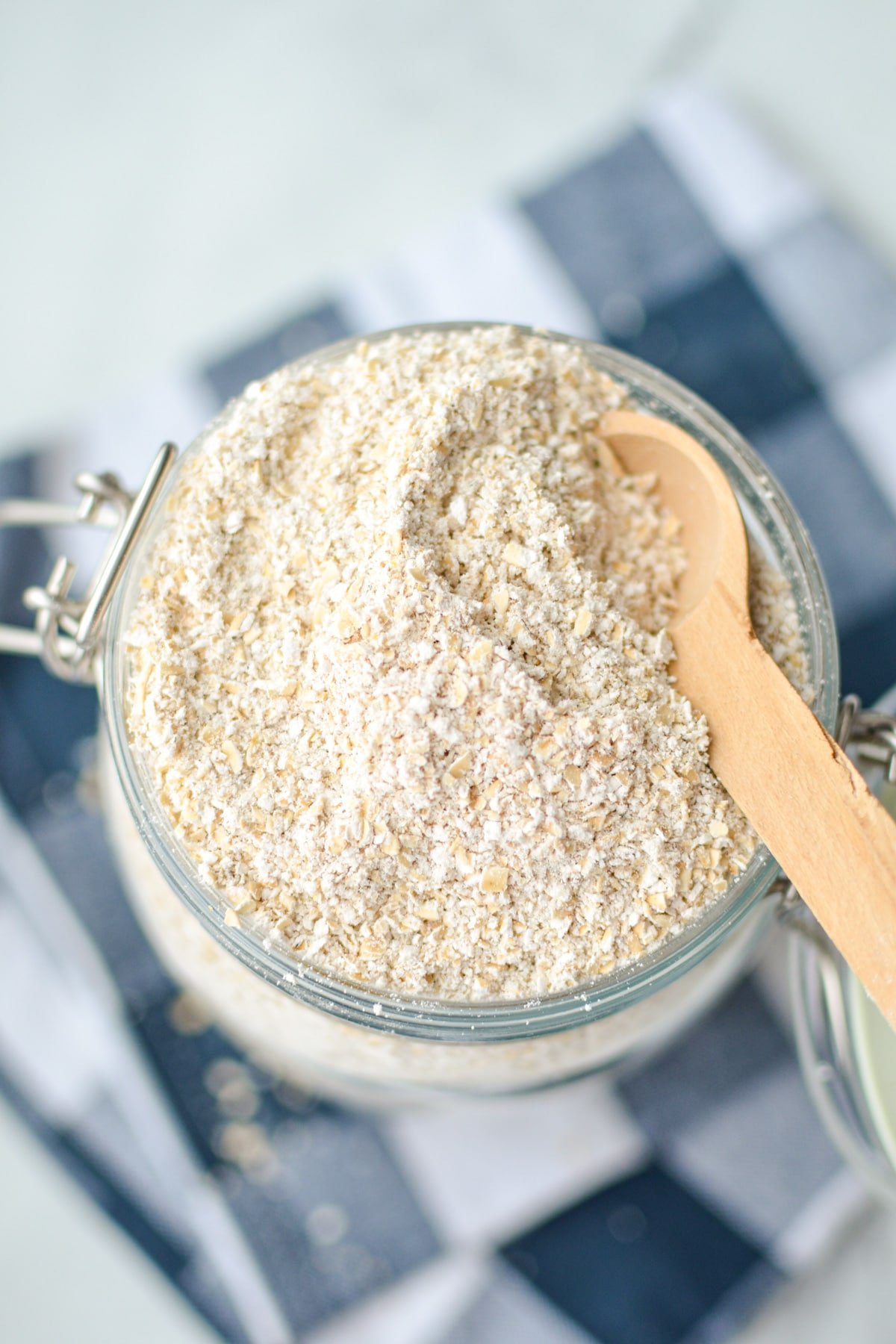 Please note that some of my blog posts here at Little Home in the Making may contain affiliate links. If you make a purchase through these links, I will get a small commission at no additional cost to you. Please see my Disclaimer for more information.
It's no secret that I love making food from scratch! I've been passionate about creating my own pantry basics since I had my very first kitchen over 10 years ago.
It was a tiny apartment kitchen in a small city, and now I'm out here in the middle of nowhere with a large kitchen, gardens, and a this blog where I share all about my homemaking and home cooking adventures.
Today I'm sharing with you this easy recipe for homemade sprouted oat flour. Not only is it crazy simple to make, but it's downright delicious too! Naturally gluten free, healthy, and great for avid bakers like myself.
Let's get started!
What is Sprouted Oat Flour?
Sprouted oat flour is very similar to regular oat flour, in that it is oats that have been ground to a consistency fine enough to resemble a coarse flour.
Sprouted oat flour, in comparison to regular oat flour, is made with sprouted oats. While you can sprout oat groats, dry them, and use a grain mill (I recommend NutriMill Grain Mills) to make your own, for most people it tends to be much easier to buy your oats already sprouted. Sprouted oats typically come in a form most similar to old fashioned rolled oats, and this is the perfect form to start with to make sprouted oat flour.
What Do I Need?
The beauty of making your own sprouted oat flour is that you really don't need much in the way of supplies and equipment!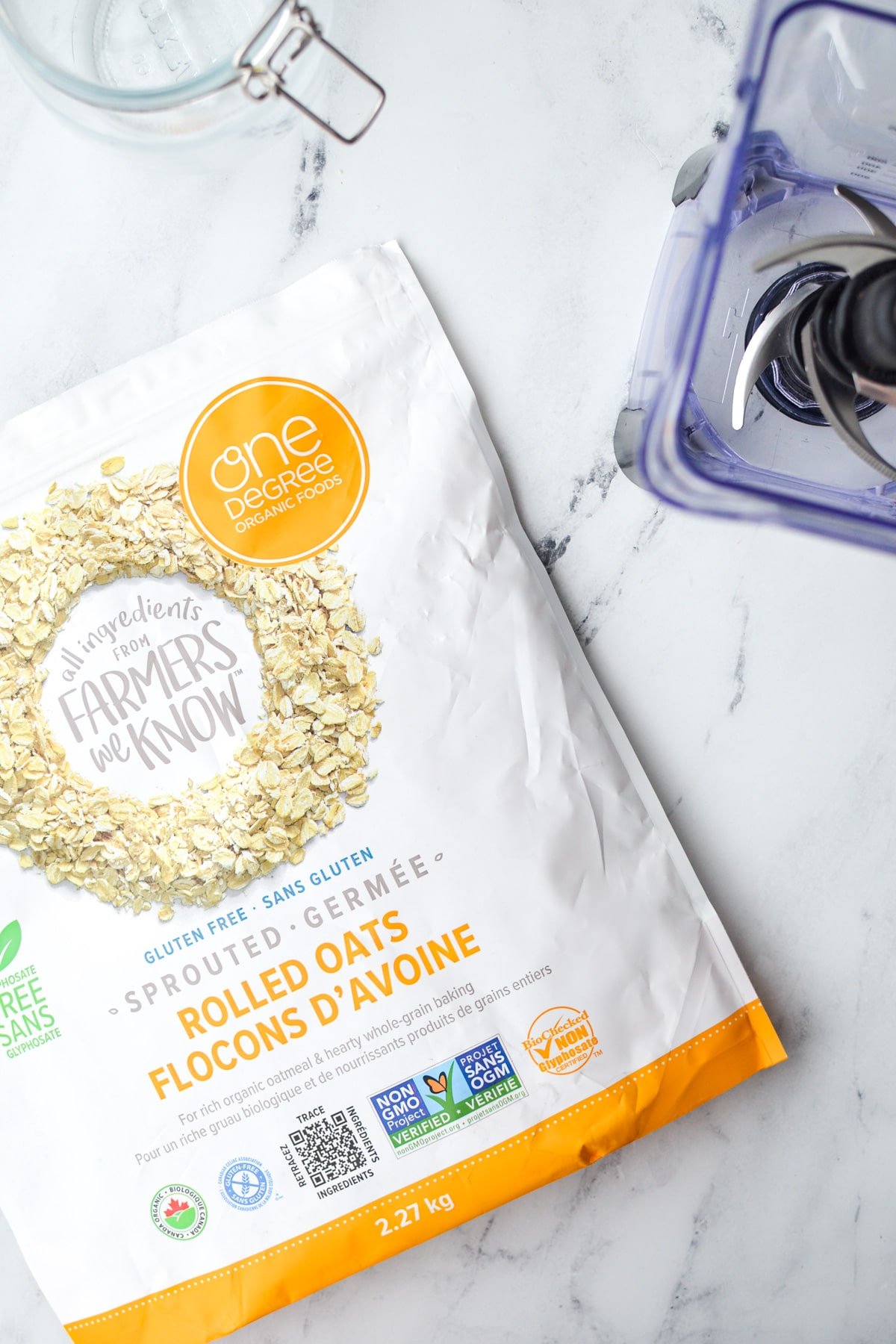 You will need:
Sprouted Oats: If you're using a blender, you'll want to purchase sprouted rolled oats. If you have a grain mill, you can purchase sprouted oat groats or sprouted steel cut oats. You could also opt to sprout your own oats.
High Powered Blender: This will grind your oats to a small enough grind to use in place of most oat flour. I recommend high quality models like Ninja, Blendtec or Vitamix.
Container For Storage: You'll want to store your sprouted oat flour in an airtight container for the longest shelf life possible. A glass style with a swing top, or a plastic style with a locking lid are great options.
How to Make Sprouted Oat Flour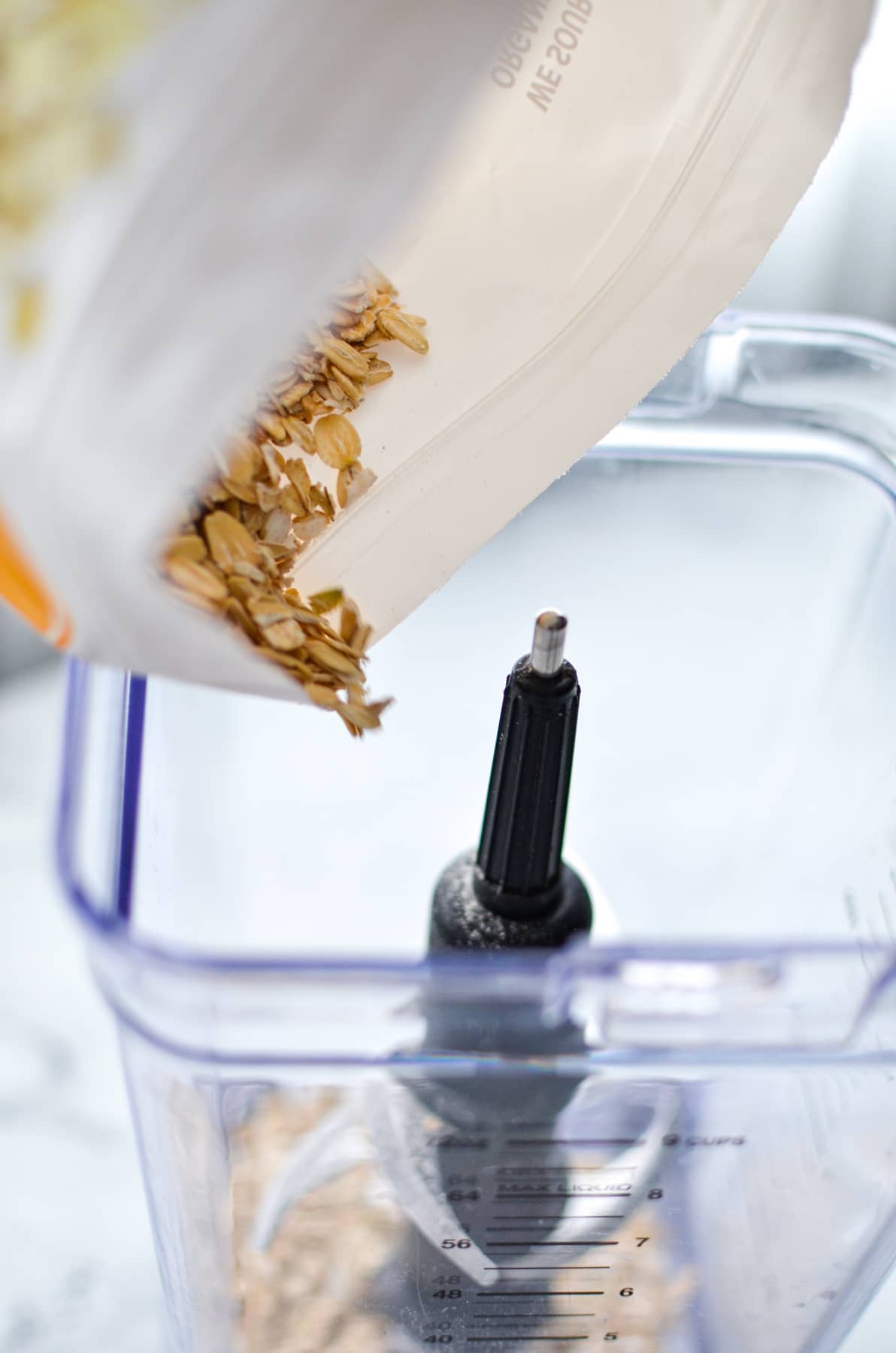 Once you're ready to get started, gather your equipment and place approximately 2 cups of sprouted oats into the jar of your blender of choice (or the hopper of a grain mill).
2 cups is just a recommended starting point, but you can use as much or as little as you desire. Note that overfilling the blender will make for a very slow blending (and possibly may start heating your flour), so it may be better for you to work in batches of 1-3 cups until all of your desired amount of sprouted oat flour is finished.
Also, since this isn't a super hard process, you don't necessarily need to prep a lot of oat flour at once to store for an extended period of time. It's probably best for you to make as much as you'll need for the next week or so, especially if you bake infrequently with oat flour.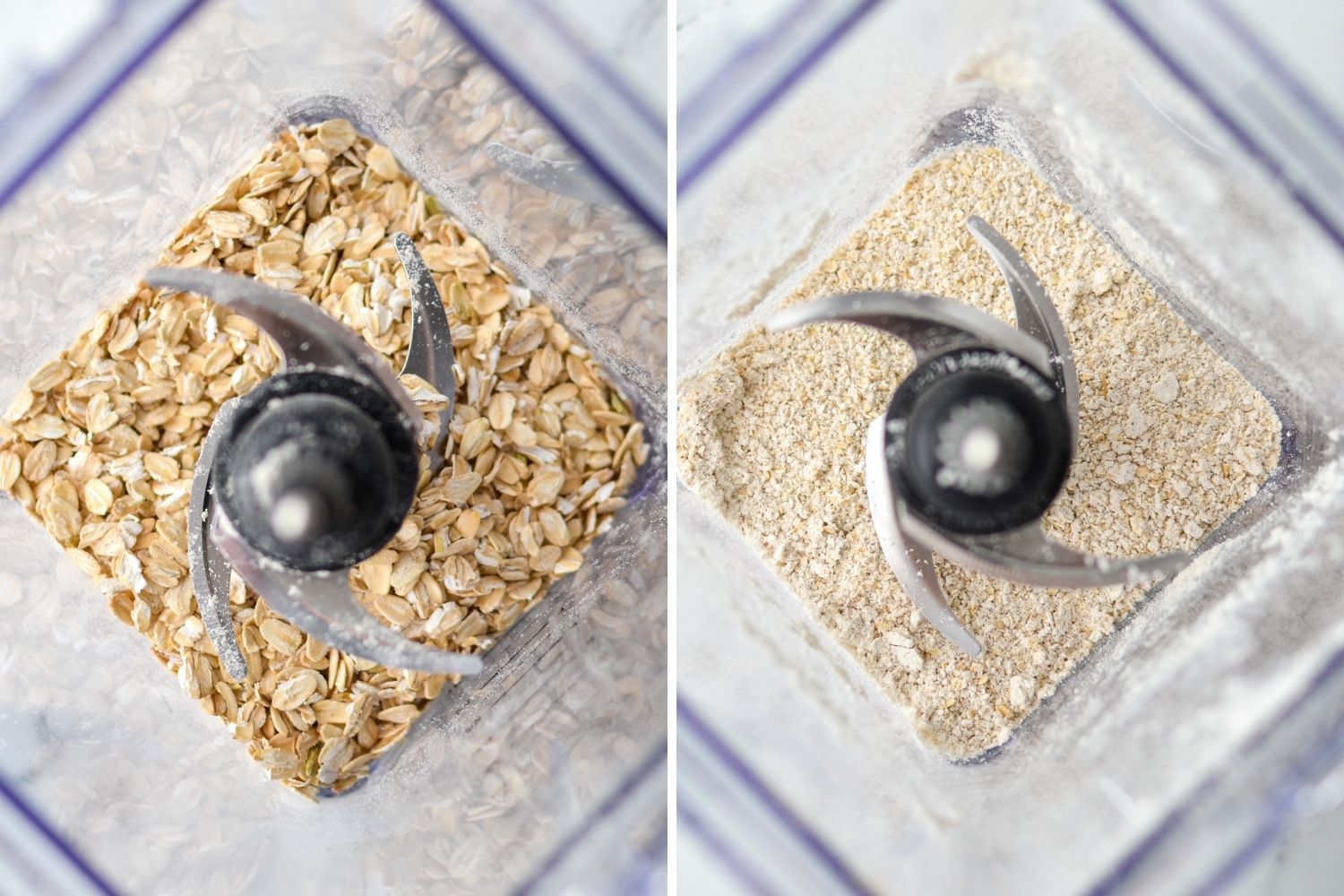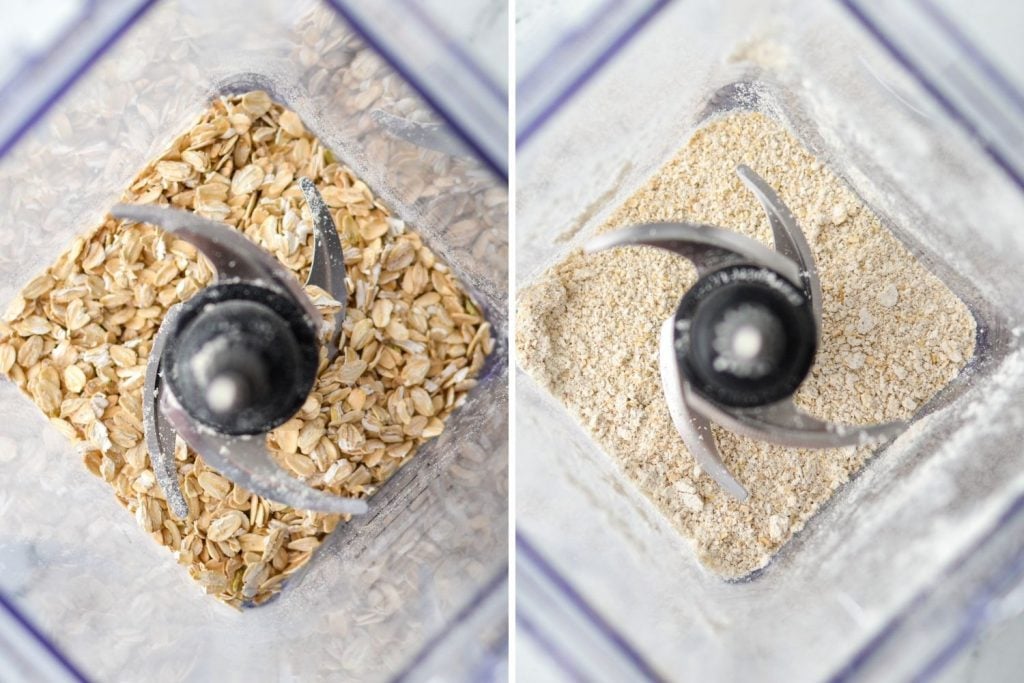 Place the lid securely on top of your blender, and blend on high speed until the oats are broken down into a fine flour.
If you require an ultra fine flour, you can keep blending OR you can use a plastic strainer to "sift" the larger pieces of oats out of your homemade sprouted oat flour blend.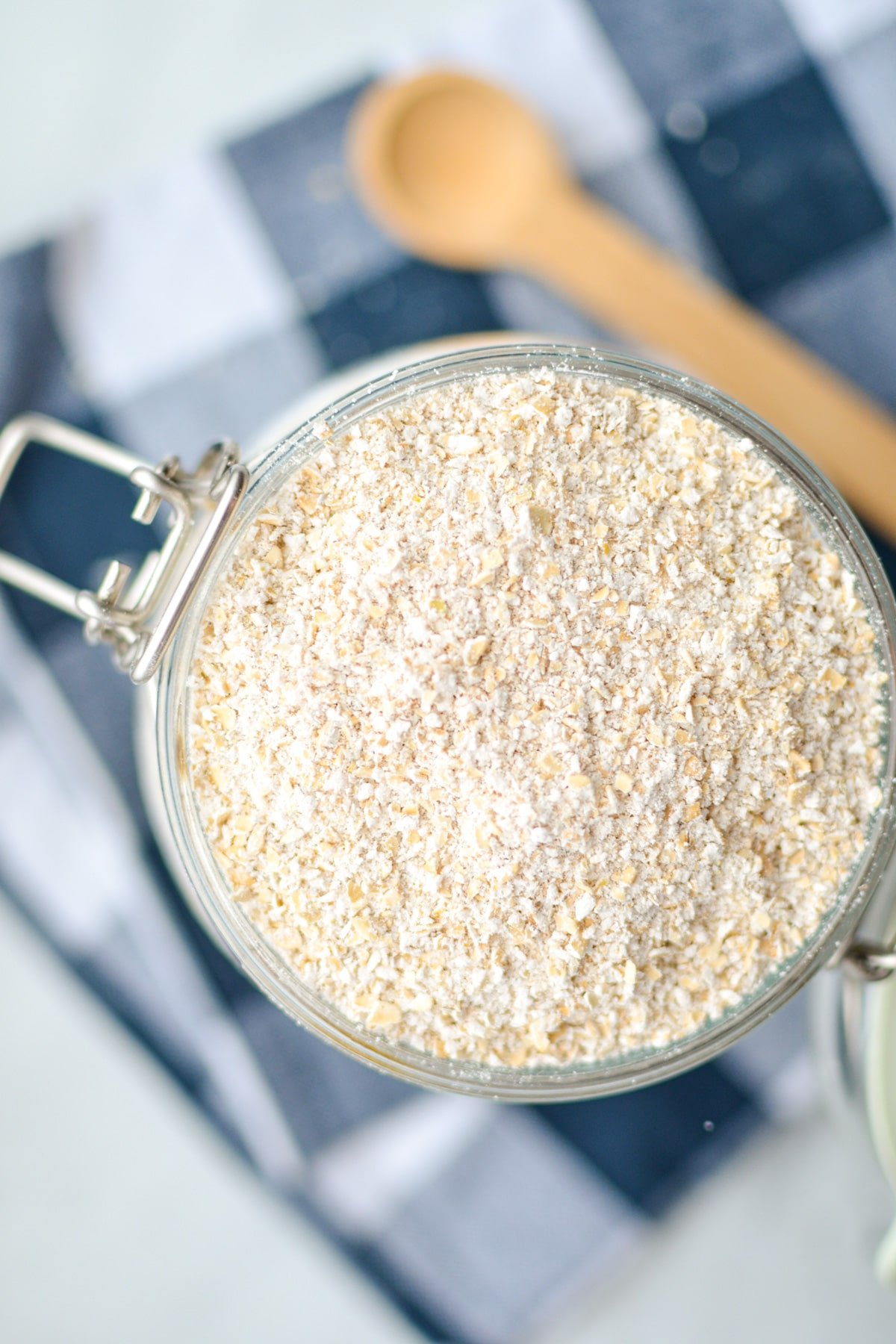 Storage
Transfer your homemade sprouted oat flour to an airtight container with a lid. Secure the lid and keep stored at room temperature for up to 2 months in a cool, dry location.
You may transfer your ground oat flour to a plastic freezer bag and keep in the freezer for up to 6 months if you need an extended storage life.
Where to Find Sprouted Oats
Now that more and more folks are interested in traditionally prepared foods, it's a lot easier to source special ingredients than it was even just a few years ago.
Sprouted oats are relatively easy to find, and the most popular brand is One Degree. I've been using their sprouted flour products for years, and they are always a great quality. You can find them on Amazon, health food stores, and in some Costco warehouses.
No sponsorship here, just a big fan!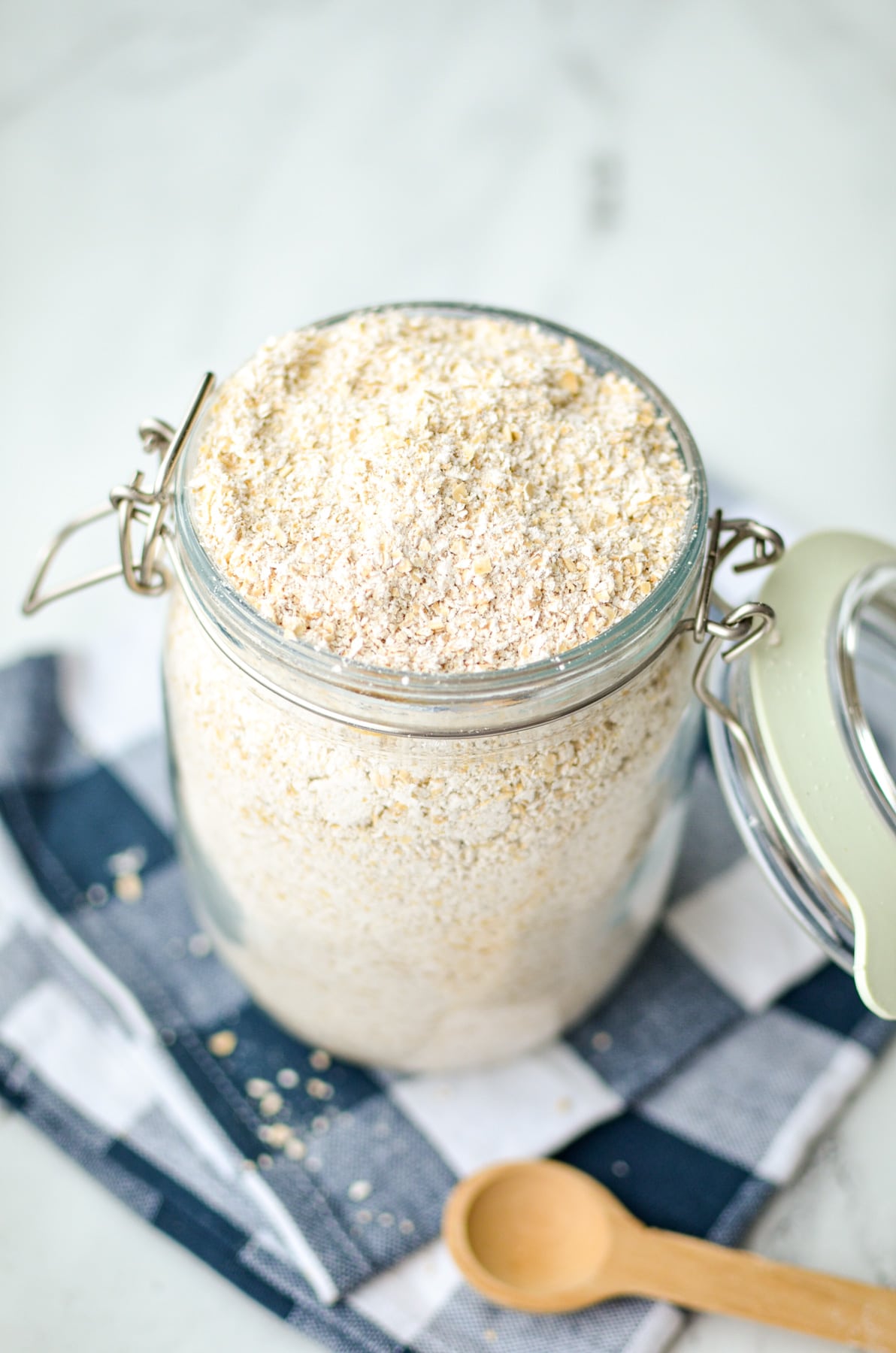 Frequently Asked Questions
What is the difference between sprouted rolled oats and regular oats?
Sprouted rolled oats are made from oat grouts that have been soaked and sprouted before being dried, and finally rolled. Regular rolled oats do not have a soaking or sprouting process, and instead head directly to be rolled. Sprouting and soaking grains helps reduce phytic acid, make nutrients more available, and increase digestibility.
Can you use sprouted oats in baking?
Yes! As long as you use the sprouted form of the oats called for in the recipe, you're okay to make all of your favorite baked goods with sprouted oats. If your recipe calls for rolled oats, use sprouted rolled oats. If your recipe calls for oat flour, you can use sprouted oat flour or make your own with a blender.
How do you eat sprouted oats?
Sprouted oats can be eaten in any way that you use regular oats! Simply substitute them in your favorite recipes that use regular oats.
Is sprouted oatmeal good for you?
Yes, sprouted oatmeal is good for you! Sprouted oats are lower in the glycemic index than typical oats, and their nutrients are more available thanks to a breakdown in phytic acid that the sprouting process ushers in. They are also naturally gluten free, which makes them a great choice for those that have gluten sensitivities and intolerances.
How do you store sprouted rolled oats?
Sprouted rolled oats should be stored in a cool, dark place in an airtight container. For the best results, store for 2-3 months at room temperature or for several years in an unopened airtight bag in the freezer.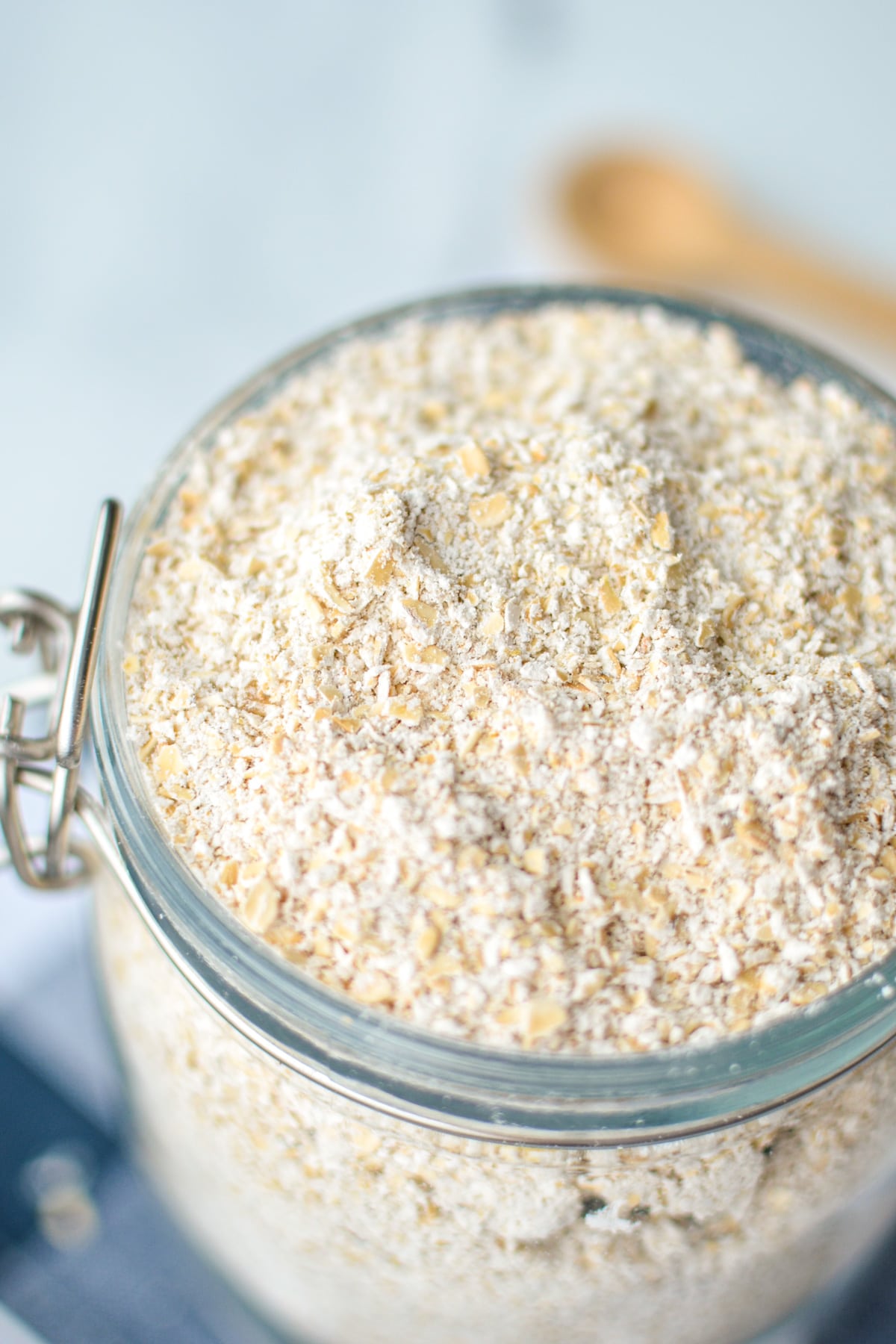 More Ways to Use Sprouted Oats: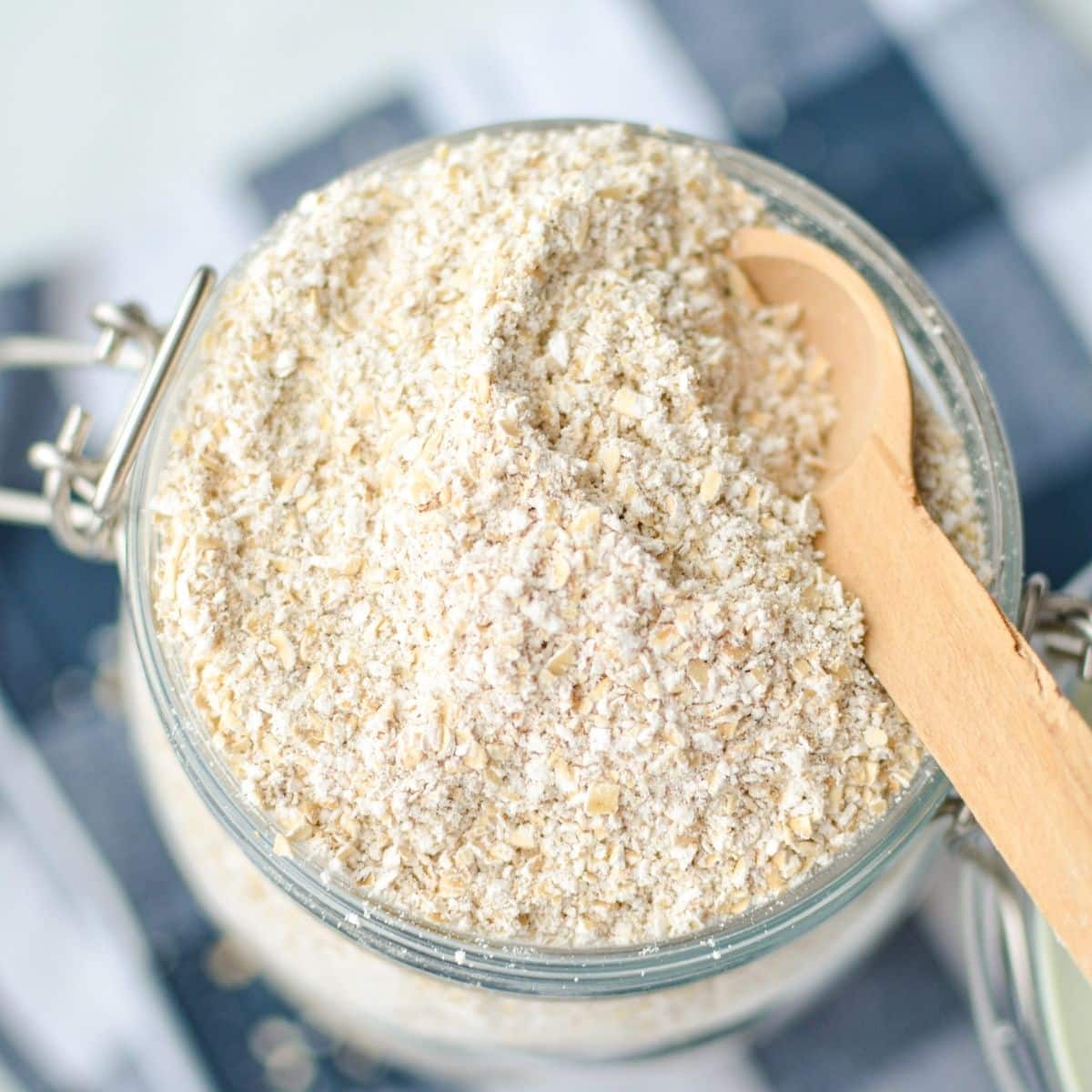 How to Make Sprouted Oat Flour
Yield:
Approximately 1 1/2 cups
If you like to consume your grains sprouted for maximum nutrient absorption and digestibility, you're going to love using sprouted oat flour in your favorite recipes. Best part? You can make it at home easily with just a blender!
Ingredients
2 cups sprouted rolled oats
Instructions
Add your sprouted rolled oats to the jug of a high powered blender.
Blend on high until the sprouted oats are broken down into a fine flour-like consistency.
Turn the blender off and transfer your sprouted oat flour to an airtight container.
Store for up to 2 months in a cool, dry place, or longer in the freezer.
Notes
For a finer flour: If you require an ultra fine oat flour, pass your blended sprouted oats through a fine mesh sieve, and discard (or use in smoothies) the rougher, larger pieces.
With a grain mill: If you have a grain mill, you can use your mill to grind sprouted oat groats into a fine flour. It will also work with rolled oats, like described in the recipe.
Where to find sprouted oats: You can find sprouted oats on Amazon, health food stores, and some Costco warehouses.
Nutrition Information:
Yield:

6
Serving Size:

1
Amount Per Serving:
Calories:

103
Total Fat:

2g
Saturated Fat:

0g
Trans Fat:

0g
Unsaturated Fat:

1g
Cholesterol:

0mg
Sodium:

2mg
Carbohydrates:

18g
Fiber:

3g
Sugar:

0g
Protein:

4g
Nutrition information is an estimate only.