This naturally gluten free Gingerbread oatmeal is made with rolled oats, maple syrup, and a selection of gingerbread spices. Warm, comforting, and SO satisfying. This from scratch breakfast recipe is surprisingly quick and simple, yet packs all the comfort and flavor that comes from a home cooked meal. You'll want to make this seasonally inspired breakfast over and over again!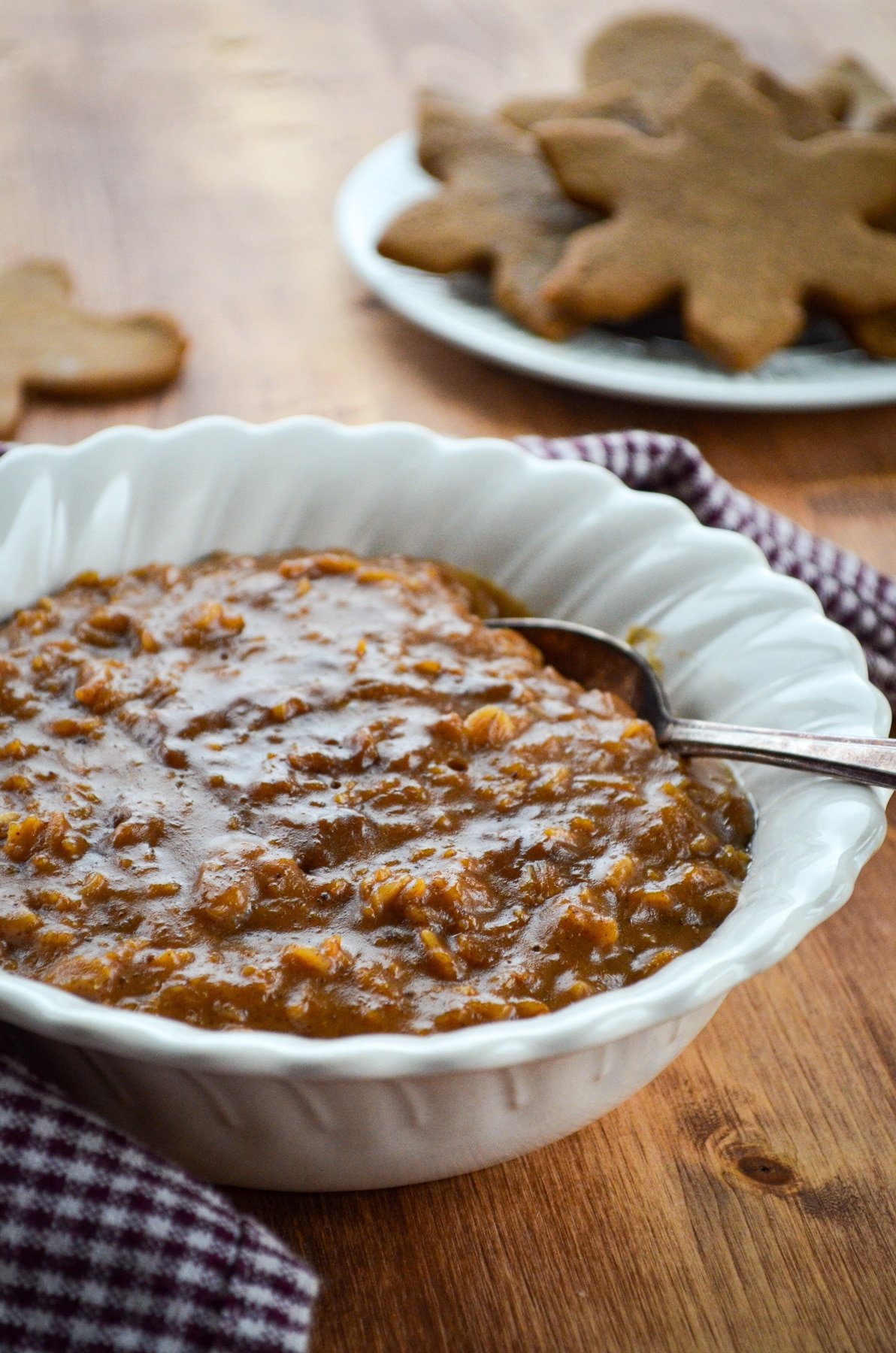 Please note that some of my blog posts here at Little Home in the Making may contain affiliate links. If you make a purchase through these links, I will get a small commission at no additional cost to you. Please see my Disclaimer for more information.
I make breakfast every morning, and 9 out of 10 times I'm making eggs or oatmeal. These are inexpensive and nourishing options, that are also ultra satisfying and filling. While my Peanut Butter Cookie Oatmeal is by far the most popular in my home, when the weather starts to cool and the snow starts to fall, I get requests to make my ultra comforting Gingerbread Oatmeal.
I actually meant to post this recipe LAST winter, but I didn't get around to it until this point! It's hard to believe I've been blogging here now for over a year, but I'm loving it and I'm loving sharing recipes with the world. This one is near and dear to my heart, since it's an idea my husband had and asked me to make for him. I pretty much nailed it on my first attempt, but did tweak the recipe to include more molasses for that authentic gingerbread experience.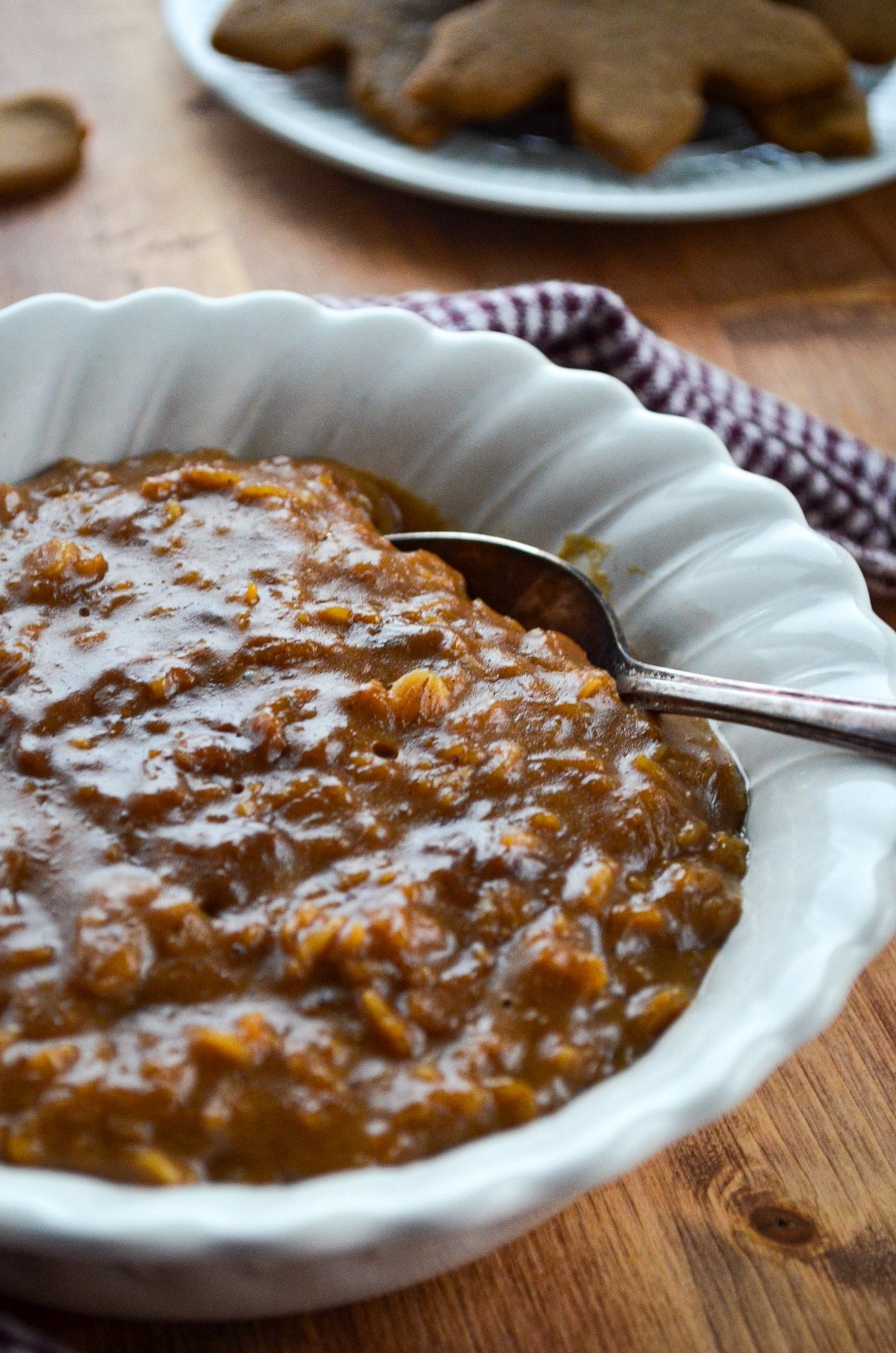 Why Maple Syrup?
My preferred sweetener for my homemade oatmeal recipes tends to be maple syrup. Not only is it the classic oatmeal sweetener, but it is readily available where I live, and I love supporting local industry and economy when possible. If you don't live in the Northeast, OR Maple Syrup is crazy expensive where you live, you can certainly try out honey, but note that the flavors can be off because honey has a very strong taste.
If you do opt to use honey, especially raw honey, I recommend adding the honey in after the cook time to preserve any of the benefits that come from unheated honey. You will also need to scale back the amount a bit, since honey is much sweeter than the typical maple syrup.
Let's get started!
Ingredients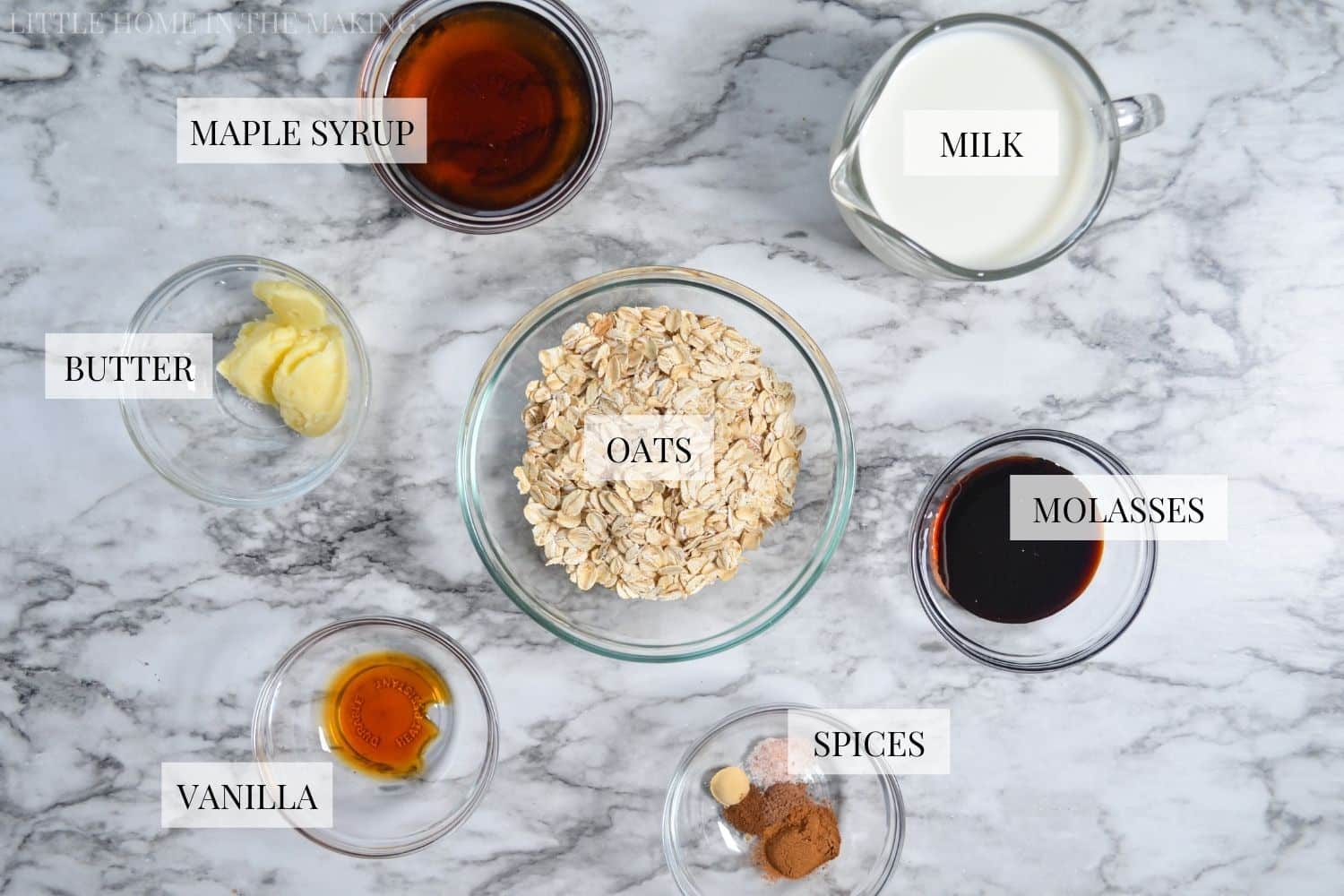 Oats: You will need rolled oats for this gingerbread oatmeal recipe. Also known as old fashioned oats, they are large flakes that work perfectly for hearty oatmeal bowls like this one.
Molasses: An essential ingredient that gives it that authentic gingerbread taste!
Maple syrup: I like to sweeten most of my oatmeal recipes with this all natural sweetener. It's a classic addition to oatmeal, with a pleasant taste. Honey can be substituted, but it does have a much stronger taste that doesn't work for all flavors.
Milk: Cooking your oats in milk is the secret to creamy oatmeal, PLUS it adds a healthy punch of protein. This makes for an ultra satisfying bowl of oats.
Butter: This is another secret ingredient that I include in all of my oatmeal recipes. It adds a whole other level of deliciousness to humble porridge.
Spices: We use small amounts of all of the classic spices that are included in gingerbread recipes. You will use cinnamon, nutmeg, cloves, and (of course) ginger.
Other ingredients: You will also need a small amount of salt, and a touch of vanilla extract.
Instructions
Add the oats to a small saucepan and pour in the milk.
Add in the spices, salt, maple syrup, and molasses.
Stir well to combine, and heat over medium-high heat until you reach a low boil.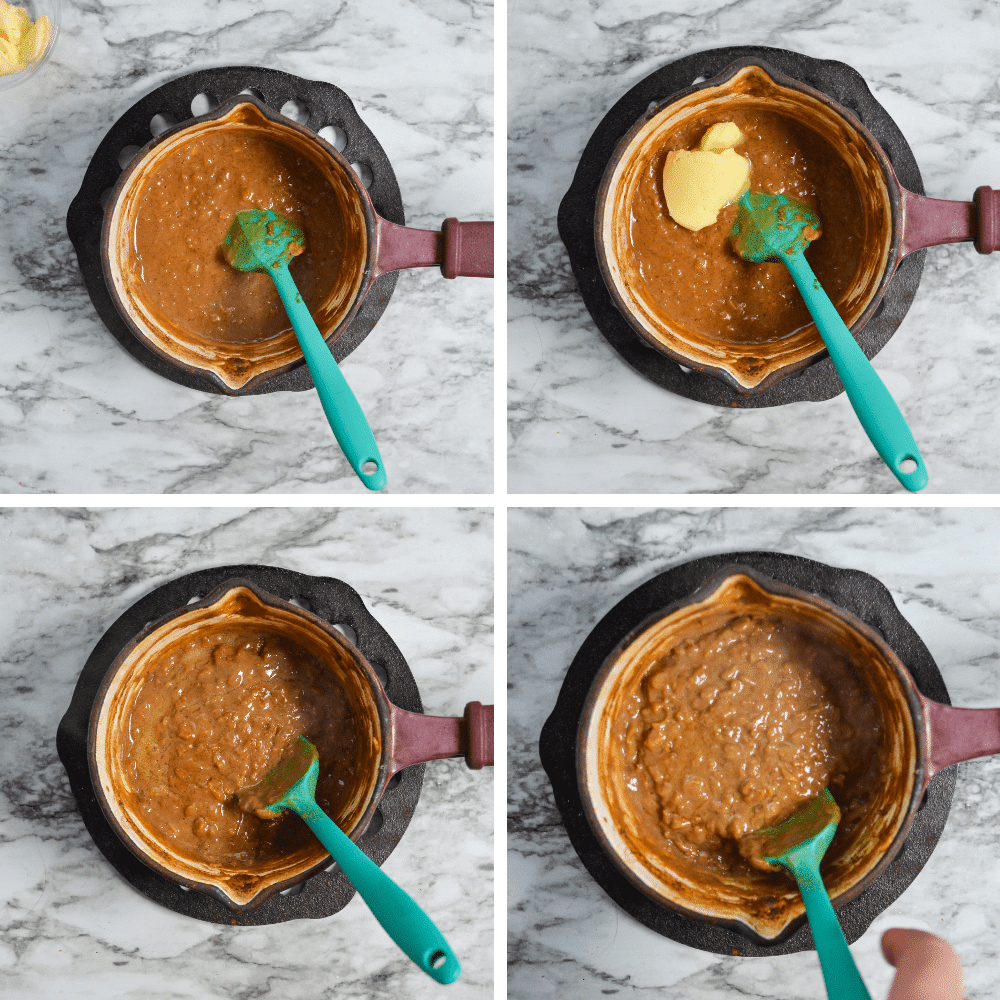 Reduce the heat to medium and simmer, stirring often, for 5 minutes, or until thickened.
Remove the gingerbread oatmeal from the heat and add in 1 tablespoon of butter. Stir until melted, and then add in your vanilla extract. Stir to combine.
Serve immediately and enjoy! A generous dollop of whipped cream would make this a truly special seasonal breakfast.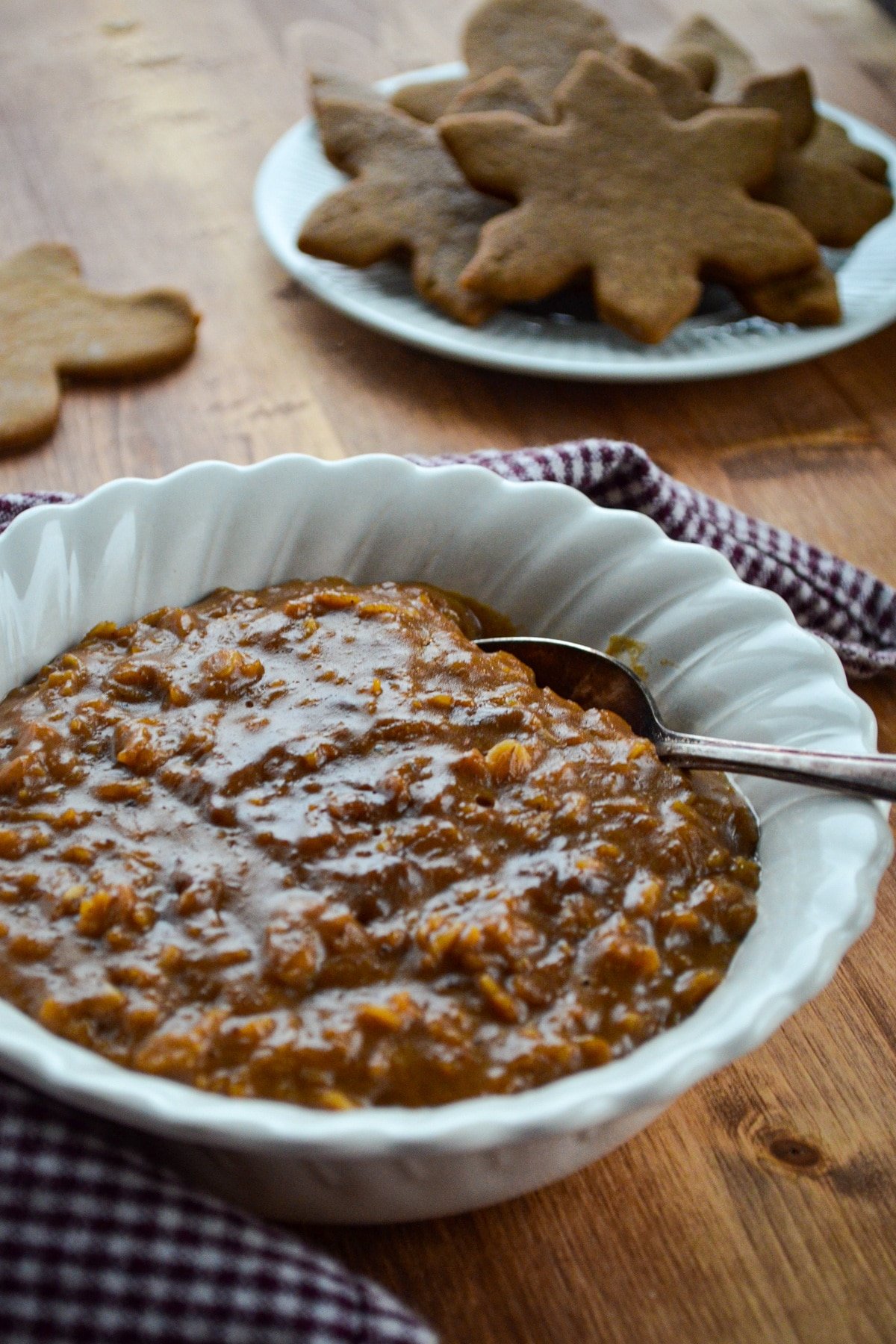 Substitutions
Dairy Free: substitute the milk for your favorite dairy free milk substitute, and the butter with dairy free butter OR butter-flavored coconut oil.
Gluten free: This recipe as written is gluten free, but if you are celiac you will want to purchase certified gluten free rolled oats, since standard rolled oats may be cross contaminated with wheat or other gluten containing grains.
Without milk: substitute the milk in the recipe for a nut milk of your choice, coconut milk, or water.
Without maple syrup: You can substitute honey or brown sugar for the maple syrup in this recipe if desired.
Tips and Tricks for Creamy Oatmeal
It's important to stir your oatmeal often to help prevent sticking and promote even cooking.
Oatmeal can be super sticky and difficult to clean up, so I recommend adding a touch of dish soap to your saucepan after cooking and filling with hot tap water. Allow to soak until you're ready to wash your dishes.
Add the butter after the cook time is up; this makes for a creamy oatmeal that has that delicious "melted butter" taste that we all know and love.
Add your vanilla extract after the cooking time is up and the oatmeal is removed from the heat. This will prevent the alcohol from evaporating, and taking the luscious vanilla taste along with it.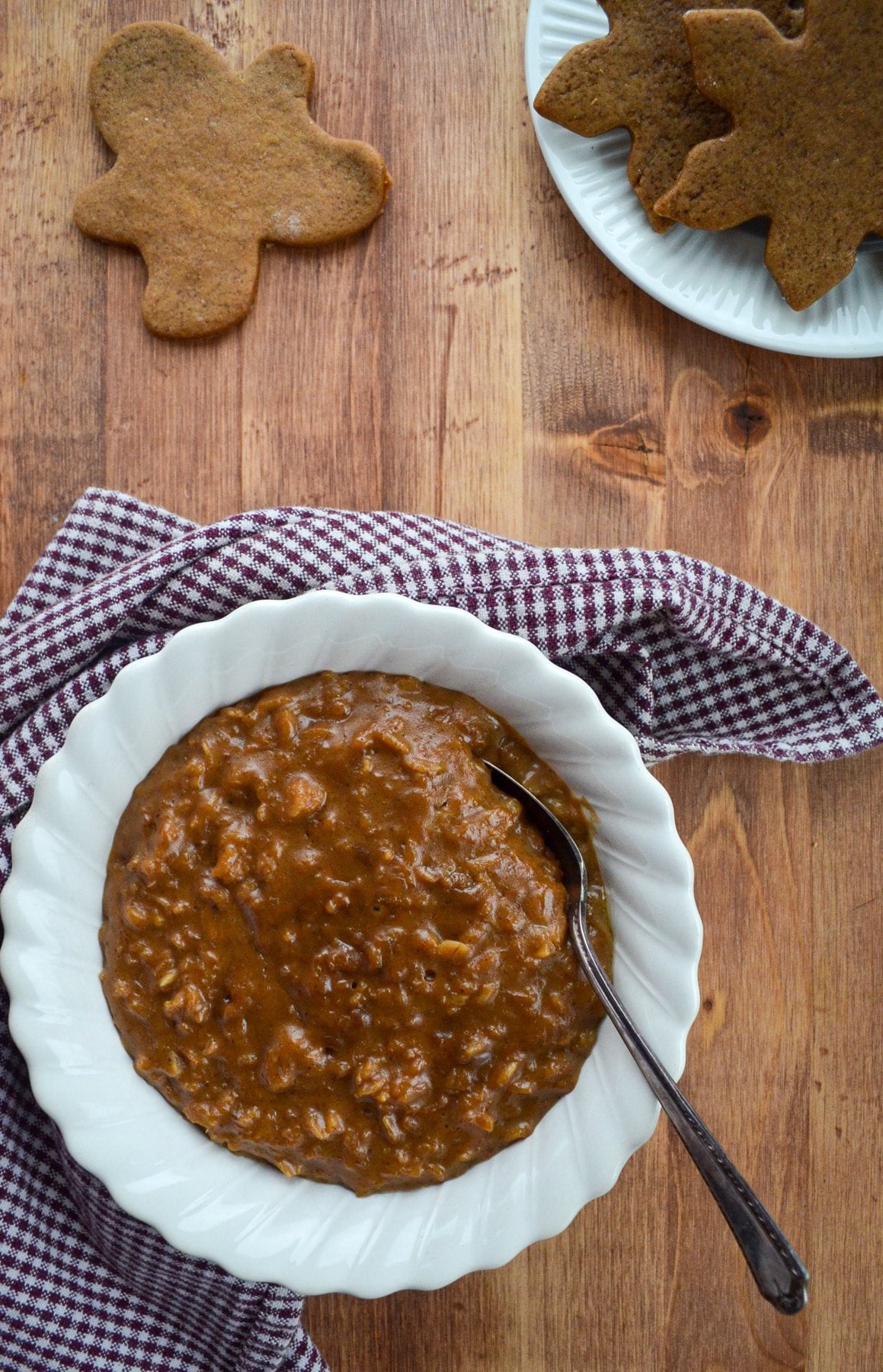 More Tasty Oatmeal Recipes: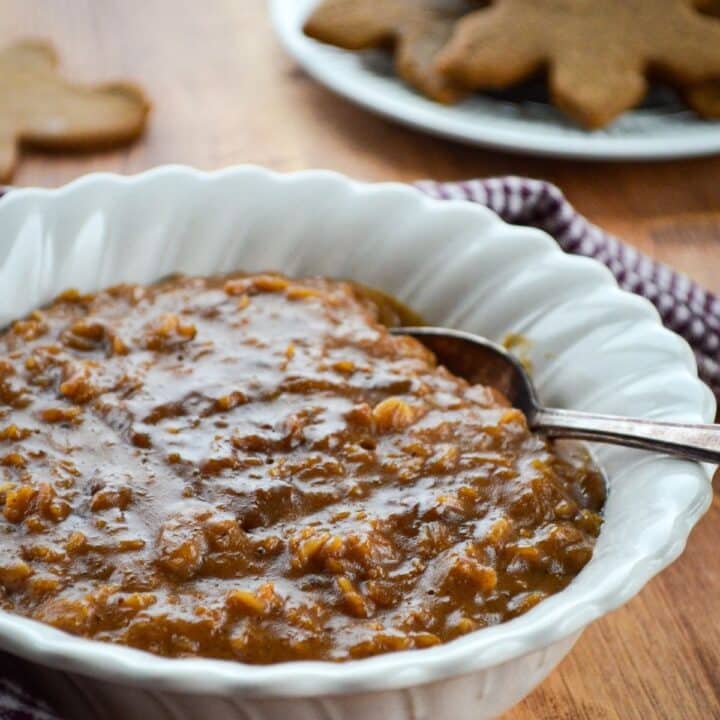 Gingerbread Oatmeal
This hearty and homemade Gingerbread Oatmeal is perfect for serving up for a weekday breakfast during those chilly months! Warm, comforting, and full of gingerbread inspired spices. Naturally sweetened with maple syrup, and cooked on the stove top in just 5 minutes. This is a filling and protein rich breakfast you'll want to make again and again!
Ingredients
1 cup whole milk
1/2 cup + 2 tablespoons rolled oats
1/2 teaspoon ground cinnamon
1/8 teaspoon ground ginger
1/16 teaspoon allspice
1/16 teaspoon cloves
1/8 teaspoon salt
1 tablespoon molasses
2 tablespoons real maple syrup
1 tablespoon butter
Dash of vanilla extract
Instructions
Combine the milk, oats, spices, salt, molasses, and maple syrup in a small saucepan. Stir well to combine.
Heat over medium-high heat until the oats come to a low boil. Reduce the heat to medium and simmer, stirring often, for 5 minutes.
Once the oats are thickened and the liquid is mostly absorbed, remove the oats from the heat and stir in the butter until melted.
Add the vanilla extract and stir again. Taste and adjust the sweetness or spices to your taste.
Serve, garnished with chopped walnuts or a dollop of whipped cream, if desired.
Notes
Gluten free: If you are celiac, you will need to ensure the oats you purchase are labeled gluten free and free from cross contamination. Otherwise, the recipe is gluten free as written!
Maple syrup substitute: if you don't have access to quality maple syrup, you may use honey or brown sugar as a substitute.
Doubling: If you have a large family, feel free to double, triple, or quadruple this recipe! You may need to cook for a slightly longer time, but it should not be significant.
Serving size: This is one very generous serving, or two smaller servings. I share this with my toddler, and it works great for us as is. When my husband is home I double the recipe.
Nutrition Information:
Yield:

1
Serving Size:

1 bowl
Amount Per Serving:
Calories:

459
Total Fat:

20g
Saturated Fat:

12g
Trans Fat:

0g
Unsaturated Fat:

6g
Cholesterol:

55mg
Sodium:

464mg
Carbohydrates:

62g
Fiber:

2g
Sugar:

52g
Protein:

9g
Nutrition information is an estimate only.