Lacto fermented jalapenos are the ultimate spicy condiment. They add a touch of heat to your favorite dishes, as well as a probiotic punch! Eat them on salads, soups, or just on the side of a traditional meat and potatoes meal. Fermenting jalapenos is the perfect way to preserve a summer crop, or extend the storage life of a few leftover in your crisper drawer.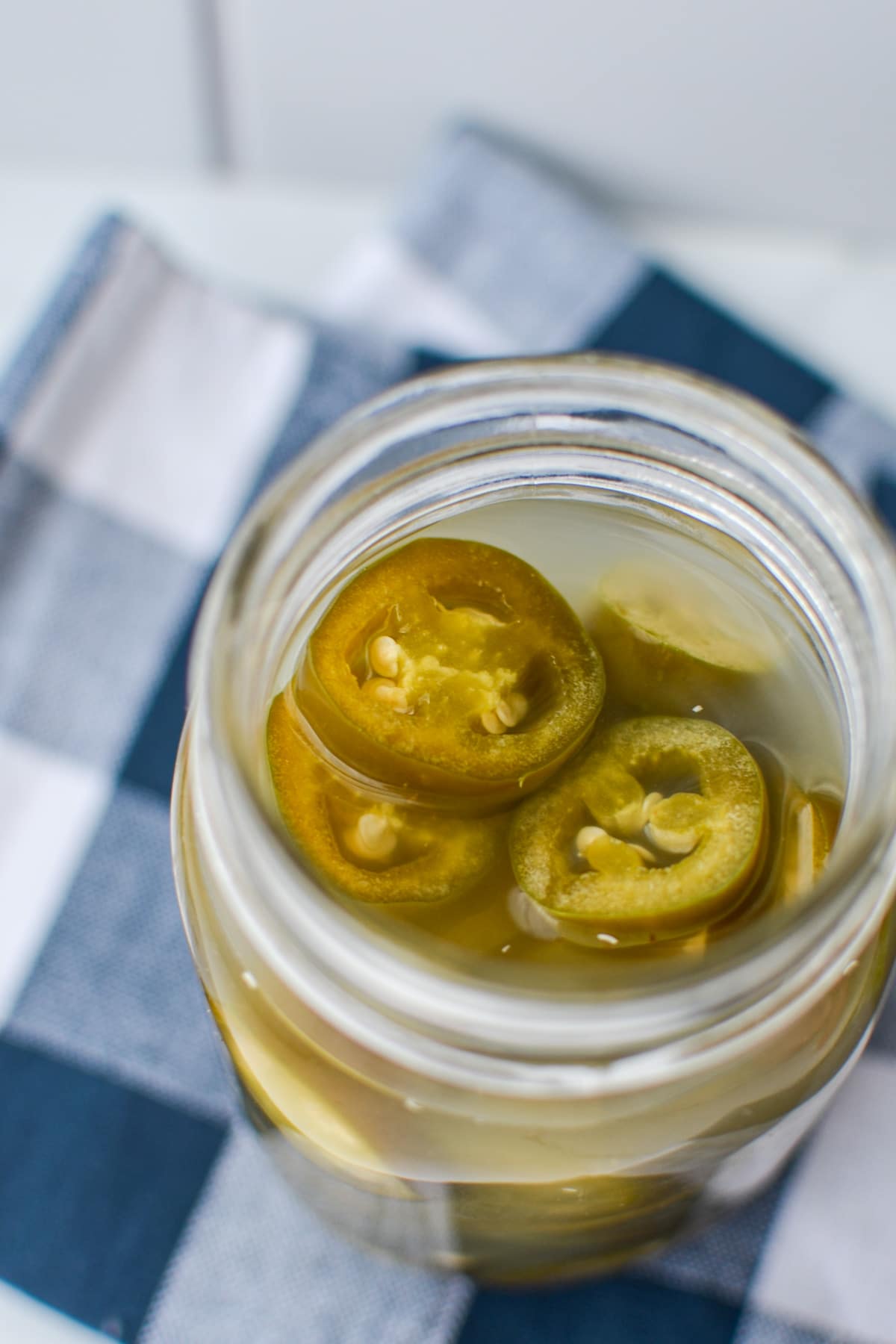 One of the benefits of having a garden is having an abundance of foods at your finger tips, ready for preserving. A major downside of having a garden is that very same thing, because now you are faced with the weight of preserving those foods, or forever living with the guilt of allowing the fruits of your labor to go to waste.
Enter in the ages old art of fermentation. Fermentation makes preservation possible, easy, and generally more nutritious than the original fruit or vegetable. It does that through the process of lacto-fermentation, which utilizes lactic acid (lactobacillus) to both preserve the food, and produce beneficial bacteria. This beneficial bacteria is more commonly known in our culture as "probiotics".
Probiotic Benefits
That's right! Those little bottles of probiotics you find in the refrigerated section of your supplement store can actually be made at home. But it's not just fermented jalapenos that contain beneficial probiotics; cultured foods like yogurt, crème fraiche, cultured buttermilk, and milk kefir do as well. You can also find probiotics in other fermented foods like sauerkraut, kimchi, kombucha, traditional ginger beer, and even sourdough bread!
Once you start cooking using traditional cooking methods, you'll see that so many foods contain this beneficial bacteria that is so crucial for gut health. And soon, if you're like me, you'll start craving those foods! I'm totally obsessed with a fully fermented slice of sourdough bread, and drool over the prospect of a cool and fruity kefir smoothie. And absolutely nothing measures up to a generous dollop of crème fraiche on a baked potato. Try it! You'll get hooked too!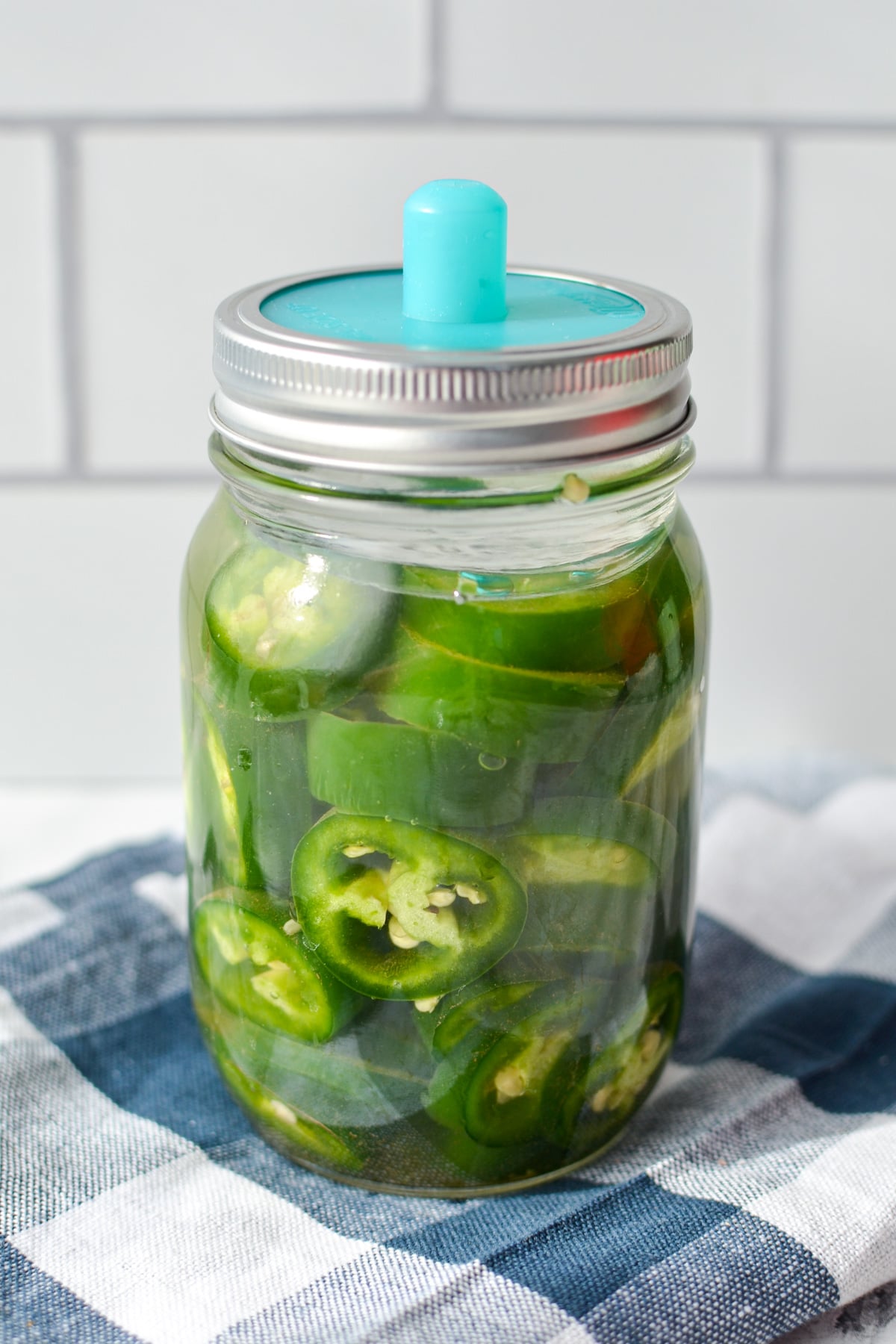 Fermented Jalapenos vs. Pickled
While fermented jalapenos and pickled jalapenos look very similar, they are very different products, and taste significantly different too.
Lacto Fermented
Fermented jalapenos have undergone a process where they have been covered with a salt water brine, covered, and fermented at room temperature for 5-14 days. Once they are finished, the liquid is cloudy, and the jalapeno rings are just lightly crisp. There may be a slightly bubbly or effervescent effect when you eat the peppers and their brine, but that isn't always the case.
Pickled
Contrast that with pickled jalapenos, which are covered in a salt and vinegar brine, and then immediately heat processed to seal the jar and remove oxygen. The vinegar based brine makes for jalapeno rings that are acidic, slightly salty, crisp, and shelf stable for a long period of time.
History of Fermentation and Pickling
As you can see, the two are very different! The modern process of pickling is actually rooted in the traditional art of fermentation, but since fermentation is so unpredictable, when pickling moved out of homes and into the factory, a vinegar brine was used for consistency and ease.
"…when the pickling process became industrialized, many changes were made that rendered the final product more uniform and more saleable but not necessarily more nutritious. Chief among these was the use of vinegar for the brine, resulting in a product that is more acidic and not necessarily beneficial hen eaten in large quantities; and of subjecting the final product to pasteurization, thereby effectively killing all the lactic-acid-producing bacteria and robbing consumers of their beneficial effect on digestion."

Sally Fallon Morell, Nourishing Traditions
If you're looking for beneficial bacteria, and you want to revive the traditional arts, you're going to love small scale fermenting! Let's get started with these fermented jalapenos!
You Will Need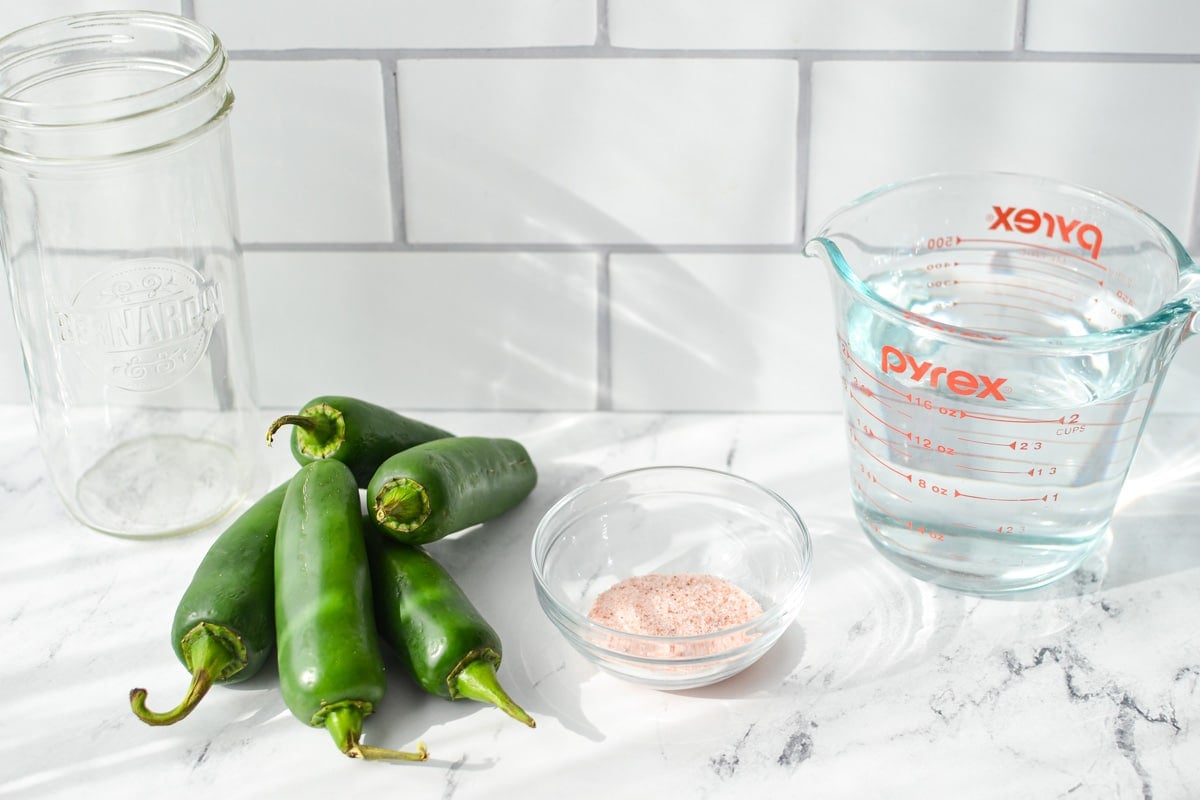 Jalapenos: Freshly harvested jalapeno peppers work best, but you can use store bought if that's what you have available! Just give them a good washing.
Salt: This forms the brine to ferment the sliced jalapenos, and helps preserve them for an extended period of time. I like to use Real Salt or Celtic Sea Salt.
Water: This combines with the salt to make the fermenting brine. If you have treated water where you live, opt for filtered water. Chlorinated water does not work well for fermenting.
Equipment
Jar: You will need a jar large enough to contain your sliced jalapeno peppers, as well as the brine that will ferment your peppers. The smallest size I recommend is 1 pint, but you can double the recipe to make 1 quart.
Fermentation weight (optional): This is an optional, but recommended tool! If you're planning on doing plenty of fermenting, this is an essential tool that will help you have success. They work by keeping your food submerged below the brine, reducing the risk of mold or spoilage. You can find them for both wide mouth mason jars, as well as regular mouth mason jars.
Pickle Pipe or fermentation lid (optional): Another optional tool, but it's a great investment if you plan on doing lots of fermenting. If you don't have a pickle pipe, airlock, or fermentation lid, you'll have to burp your jars every so often to make sure they do not explode. Having one of these handy lids makes fermenting basically hands off once you've filled the jars.
How to Ferment Jalapenos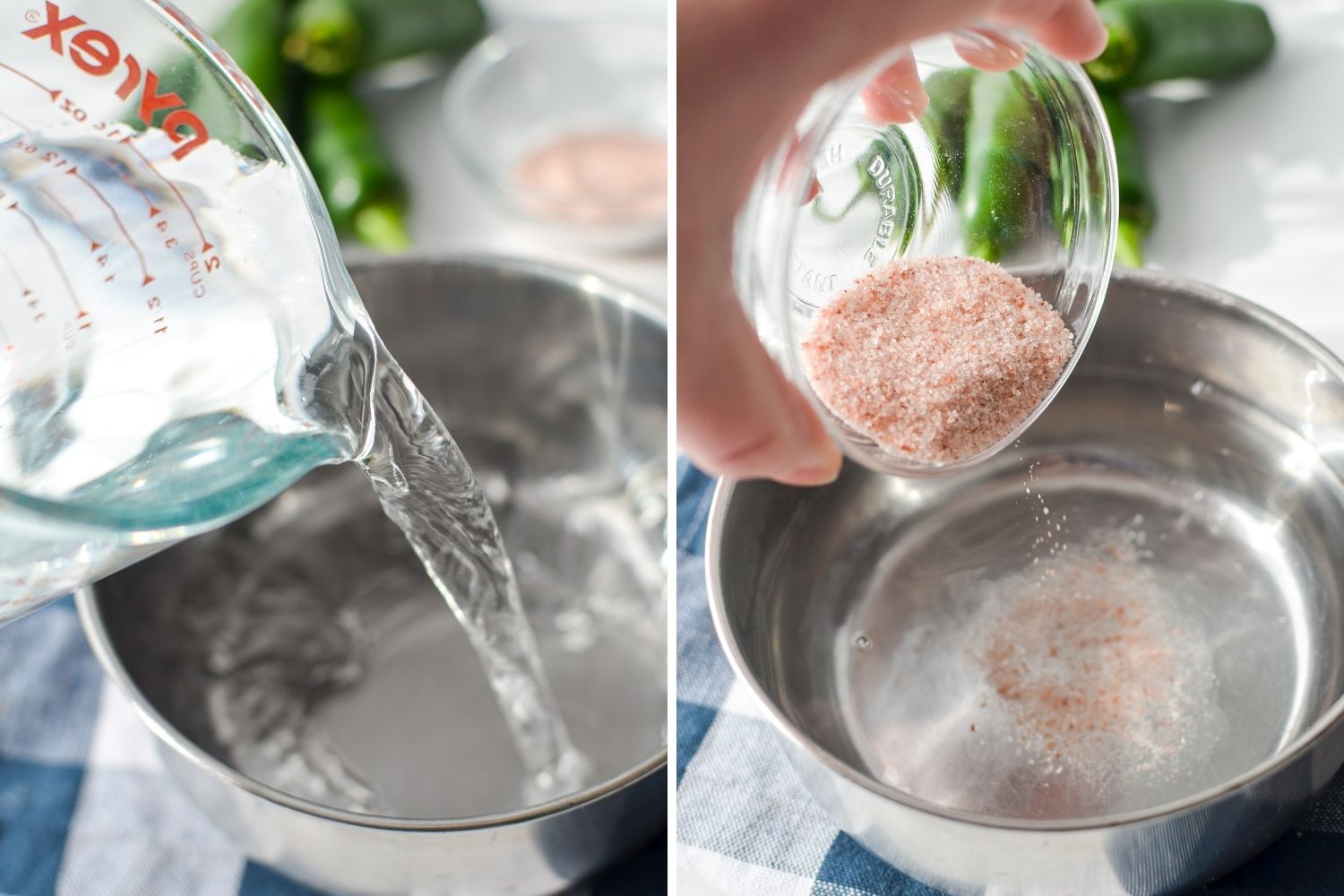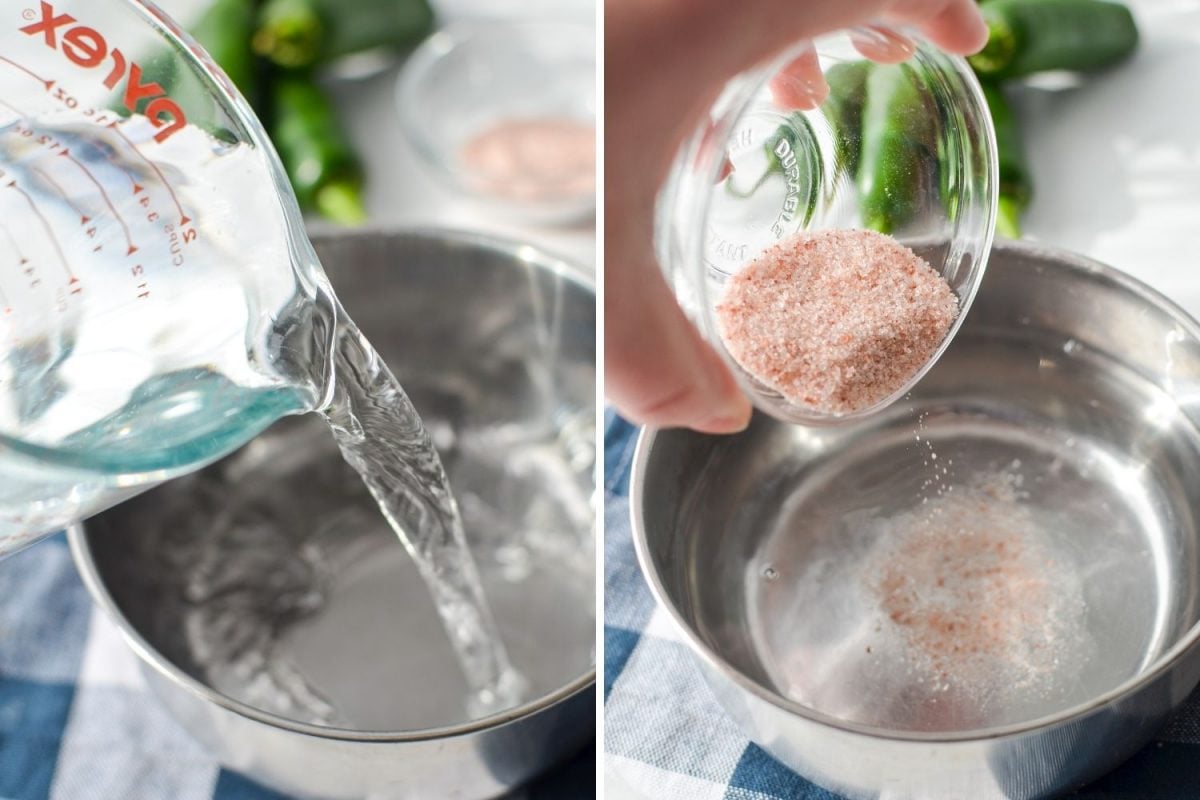 Prepare the Brine
Get started by adding your filtered water to a small saucepan.
Add in the mineral salt. Whisk everything together and heat over medium heat until it reaches a low simmer and most of the salt is dissolved.
Remove from the heat and allow to cool to room temperature.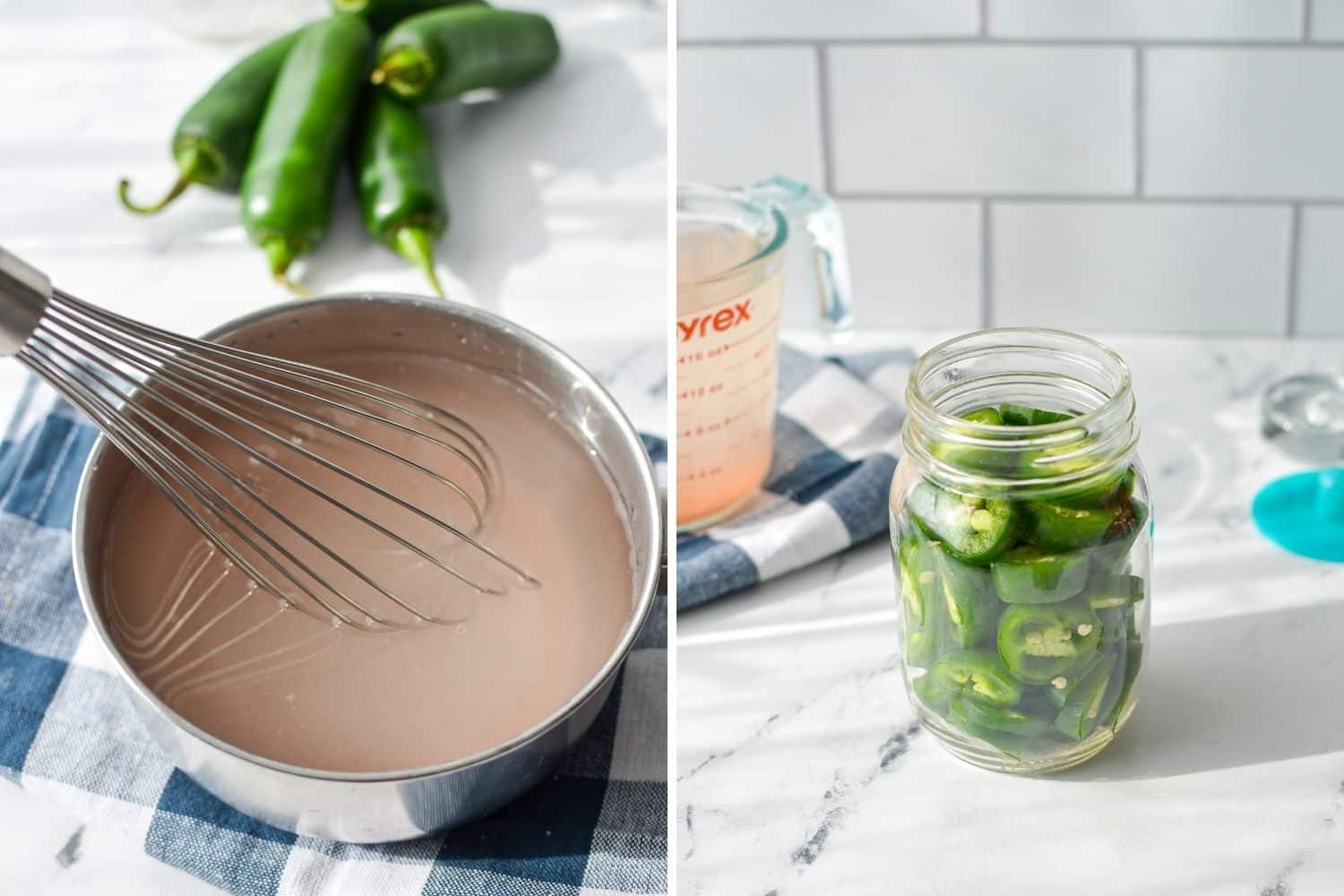 Once your fermenting brine has cooled to room temperature, give it a good whisk to stir up the salt granules.
Slicing the Jalapenos
Slice the stems off of your jalapeno peppers, and slice them into 1/4″-1/2″ slices.
Pack the slices into a clean pint size, or 1 1/2 pint size jar.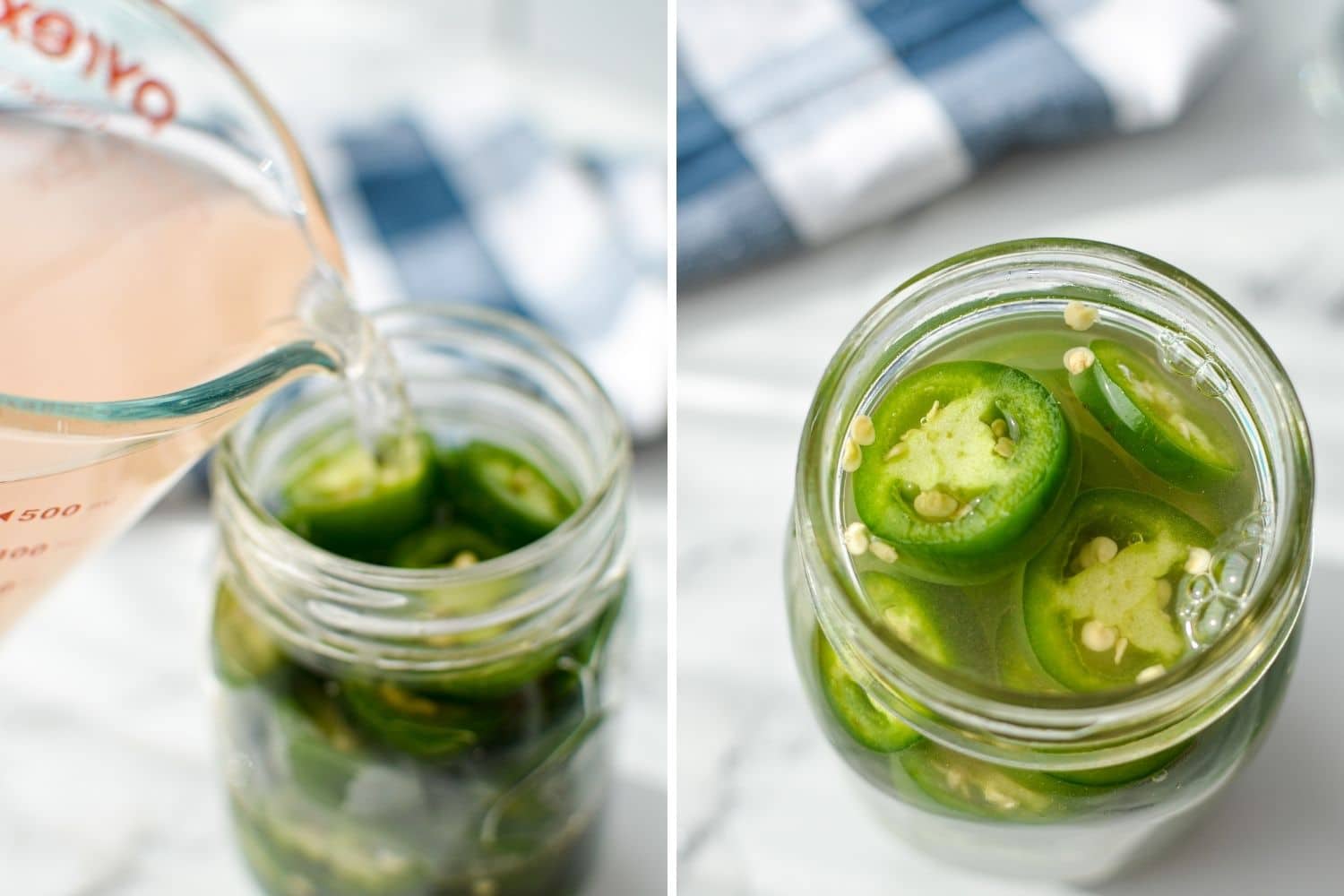 Adding the Brine
Pour the brine on top of the sliced jalapeno peppers, leaving a 1 1/2″ headspace at the top of the jar.
The mixture will bubble during the fermentation time, and some liquid will overflow. To minimize this, it's best to leave a little bit of room for the liquid to rise. Adding the fermentation weight will further increase the liquid level, so ample headspace is needed.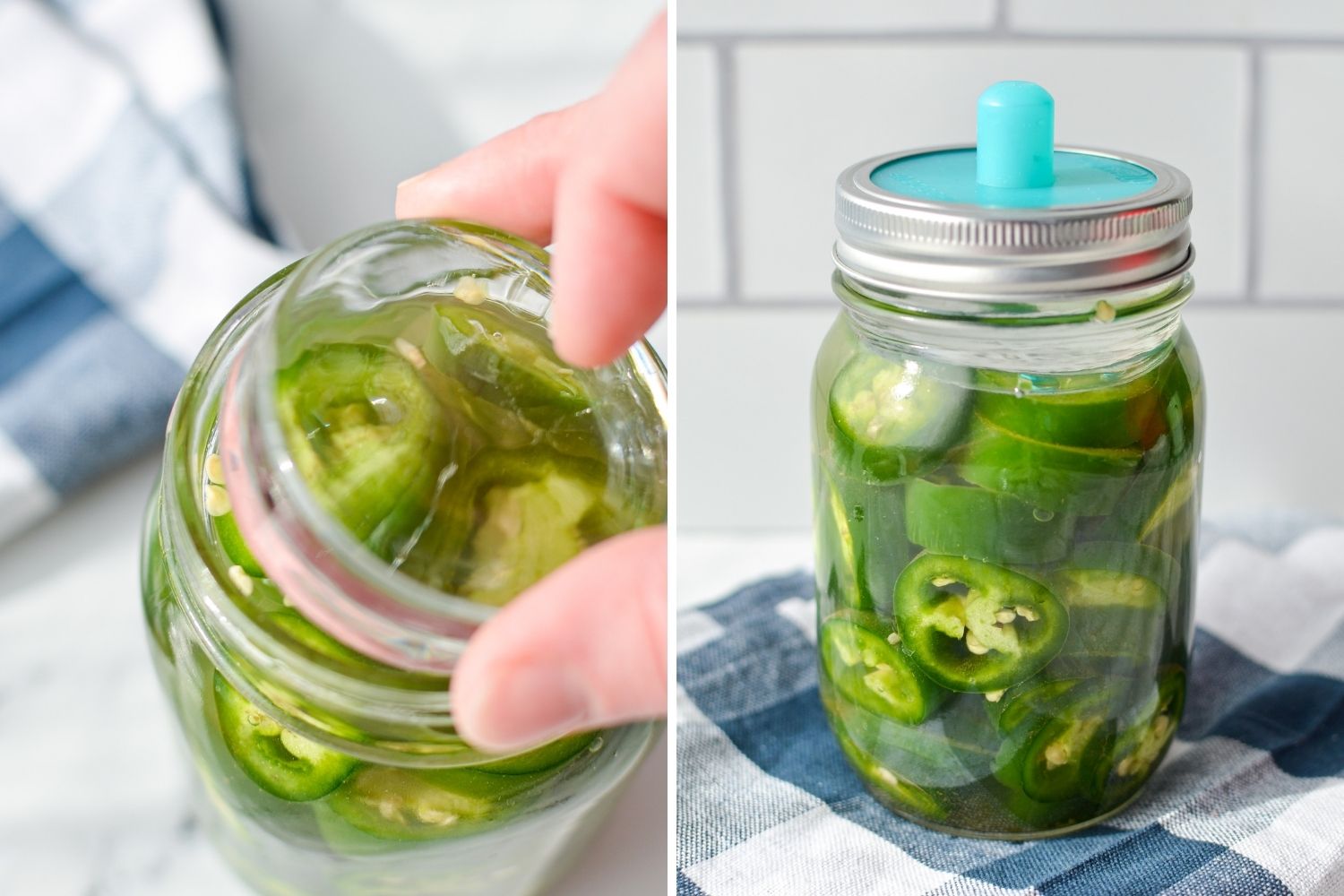 Fermenting Your Jalapeno Slices
Add the fermentation weight (if using) and press down to fully submerge the sliced peppers. If the liquid level is very high, pour off some of the fermentation brine to leave a small amount of headspace.
Wipe the rim of the jar with a clean towel, and wipe down the sides of the jar.
Place a pickle pipe or airlock lid on top of the jar, and secure with the screw band that came with your mason jar.
Place a thick hand towel under your jar and place in a warm spot in your kitchen that is out of direct sunlight. Allow to ferment for 5 days, or up to 2 weeks. The time will vary based on the time of year, how hot your kitchen is, and how fresh the jalapeno peppers are.
You will know your fermentation time is complete when you have had several days of bubbly action and the brine has turned very cloudy.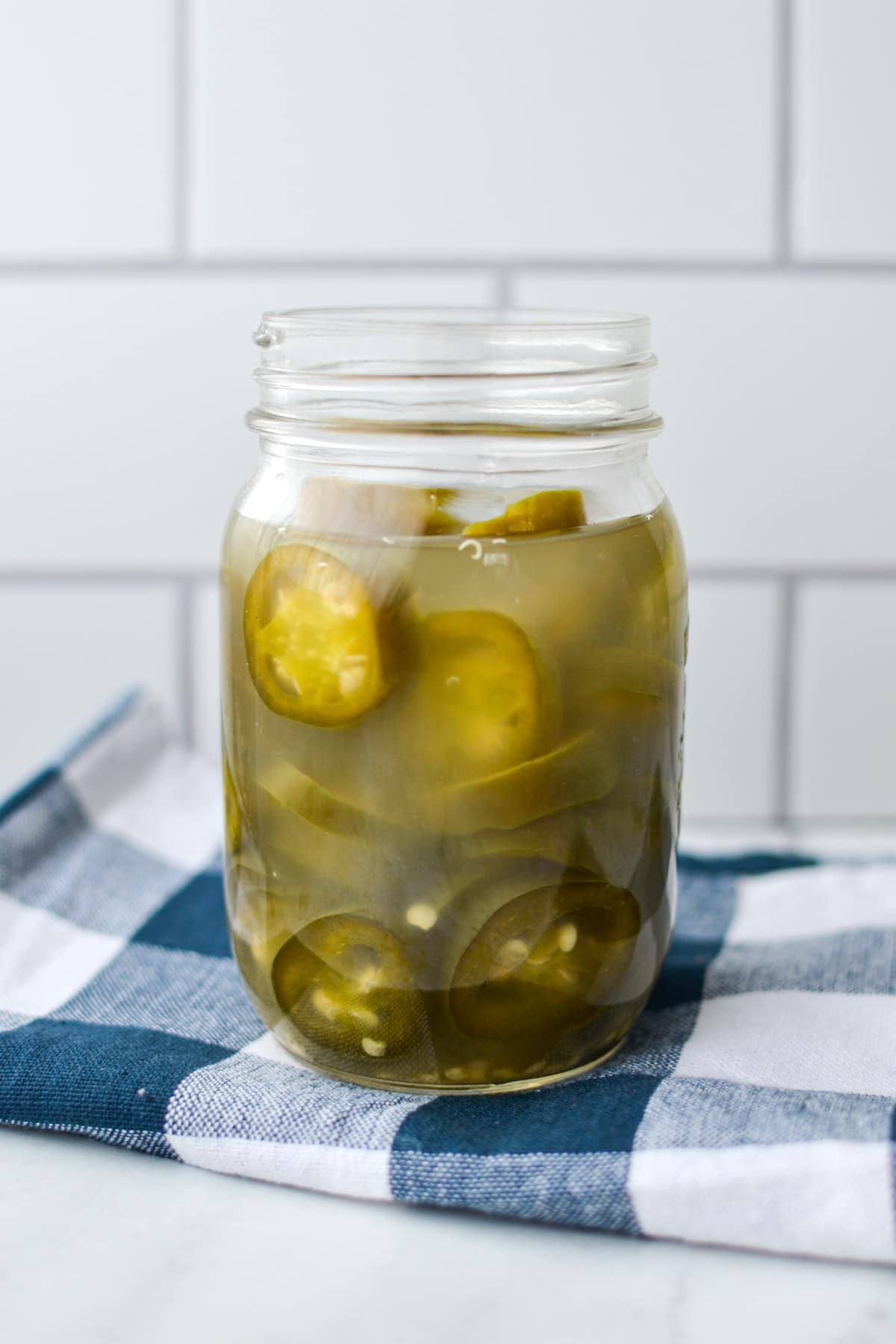 Fermenting Q & A
How can you tell if your jalapenos are fermenting?
You will be able to tell that your jalapenos are fermenting after you begin to see bubbles form. This typically happens on day 2-3 if your room is warm. The amount of bubbles will gradually increase as the peppers continue to ferment. Once the mixture has had several days of very active bubbles and the brine has turned cloudy, the peppers are finished and ready to be stored in the fridge.
How long does it take for peppers to ferment?
Peppers will generally take anywhere from 5 days, and up to 2 weeks to ferment. The room temperature, season, and freshness of the peppers all play into how quickly your peppers will ferment. The best way to tell is to keep a close eye on them, looking for signs of activity such as bubbles and a bulging pickle pipe (if using).
I don't have fermentation weights or a pickle pipe, can I still make fermented peppers?
Yes! There are options for fermenting without special equipment. The goal is to keep the peppers submerged in the brine, and air contained in the jar (without exploding), and this can be done through other means. As long as your peppers are under the brine, and your jar is well covered, you can make fermenting work for you!
What are the little white worm like things in my jar of fermented peppers?
These are not worms at all, don't worry! Unless they are actually wiggling, they are likely sprout fragments from the seeds in your fermenting peppers. When seeds are given moisture, their instinct is to sprout, so in the early stages of fermentation, the seeds will sprout and you will see their fragments later on in your finished ferment. Don't worry, it's completely safe to eat!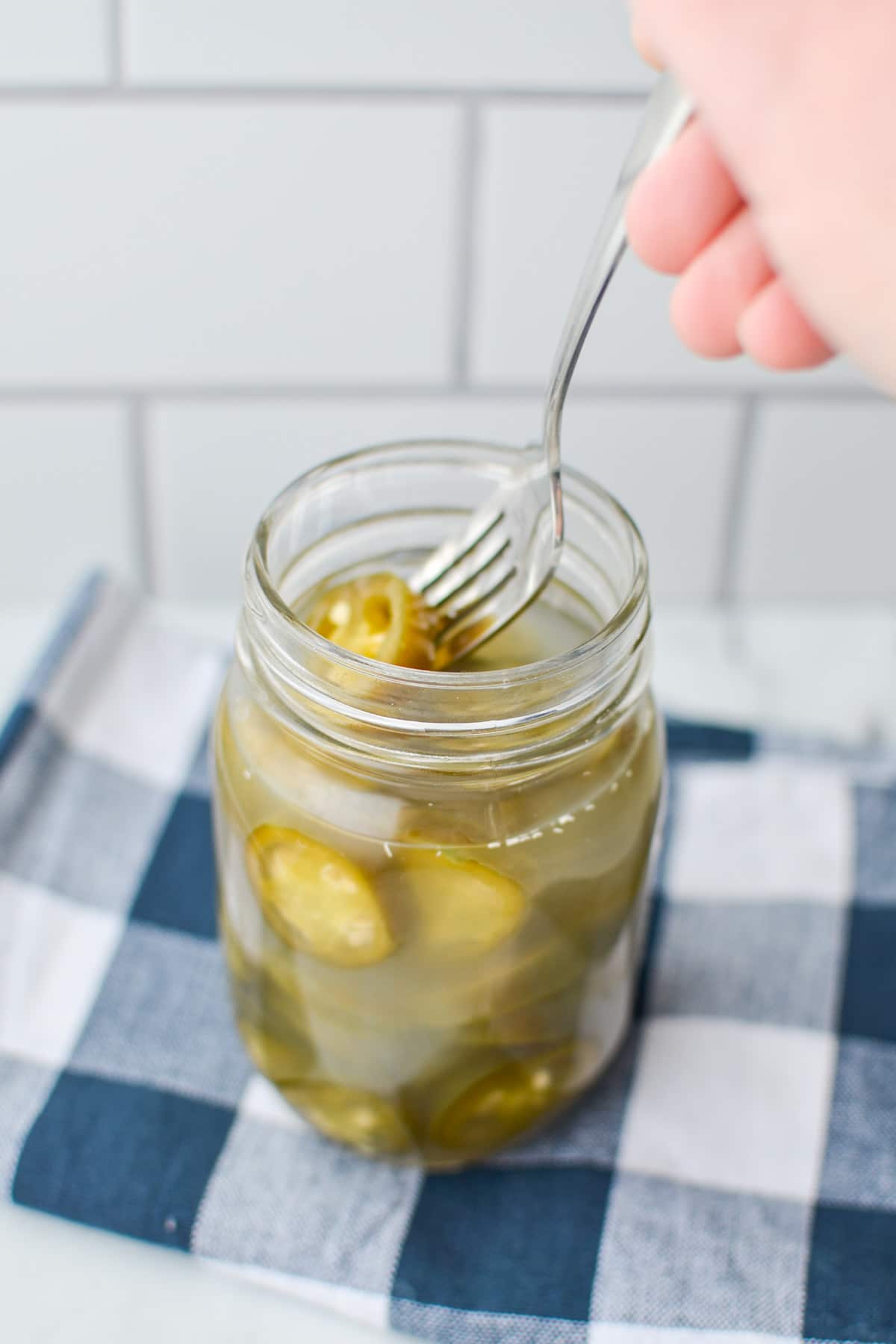 Fermenting Without Weights or Lids
If you don't have any special fermenting equipment, you can still make these fermented jalapenos! Try your best to keep the peppers from floating. You can weigh them down with a very small prep bowl, plate, or a plastic bag filled with brine.
For the lid, place a loose lid that is tight enough to keep bugs out, but loose enough to let some air out. "Burp" the jar by unscrewing the lid and letting out any air every few days, or daily if your home is hot in the summer months.
Frequently Asked Questions
Are fermented jalapenos good for you?
Yes, they are! Fermented jalapenos are full of beneficial bacteria known as probiotics, and they are often produced with little ingredients. Just water, jalapenos, and salt are the most common ingredients, and you will never see sugar or grains added. They are low in calories and high in nutrition, making them the ultimate condiment.
Are jalapenos good for gut bacteria?
Jalapenos, when lacto-fermented, are great for gut bacteria! The fermentation process builds beneficial bacterial, as well as preserves the peppers. The result is a delicious, spicy, and slightly effervescent condiment that is perfect for adding to your favorite dishes for a probiotic boost.
How long do fermented jalapenos last?
Fermented jalapenos should last anywhere from 2 months to 6 months when kept in the fridge. For the best results, keep them tightly sealed with a plastic lid to prevent rust.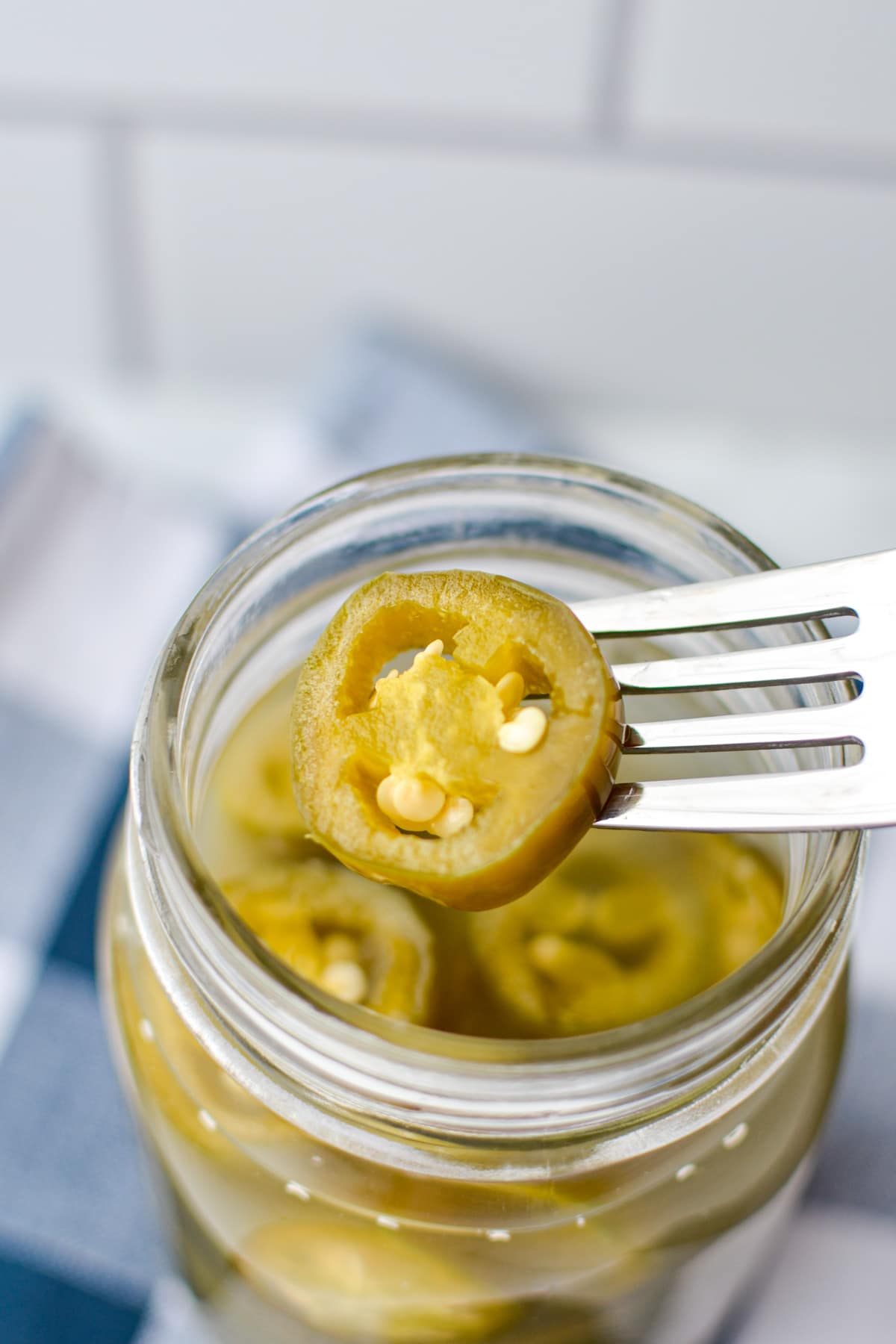 Ways to Eat Fermented Jalapenos
These can be eaten in any way that pickled jalapeno peppers are, but note that if they will be cooked, they will lose their probiotic benefit. I like to serve them as-is to my husband, since he's not as fond of sauerkraut, and this is a fun and spicy way to get a regular dose of probiotics.
Here are a few suggestions:
With scrambled eggs, salsa, and cheese as a fun and spicy "breakfast burrito bowl"
On pizza
On subs and sandwiches
On homemade nachos
On the side of your favorite meals
In tacos and fajitas
On salads
More Culturing and Fermenting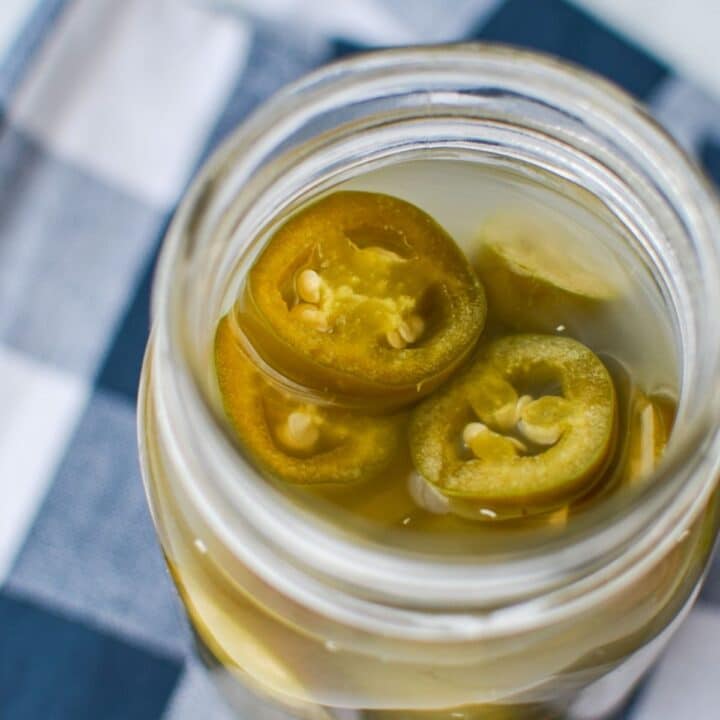 Fermented Jalapenos
Additional Time:
20 minutes
Don't let your Jalapenos go to waste! Make these fermented jalapenos for long term storage, and get the probiotic boost that comes with all fermented foods!
Ingredients
5-6 jalapenos, stemmed and sliced
2 cups water
2 teaspoons mineral salt
Instructions
Add the water to a small saucepan, and whisk in the salt. Heat over medium-high heat until the mixture comes to a low simmer and the salt is dissolved.
Remove from the heat and allow to cool to room temperature. This will take approximately 20-30 minutes.
Once your brine is finished cooling, slice your jalapenos and pack them into a clean pint sized jar. You may use a jar up to 1 1/2 pints as long as your jalapenos reach near the top. If you would like to make a quart jar, double the recipe.
Add the cooled brine to the jar of sliced jalapeno peppers, leaving a 1" headspace at the top of the jar. Use a butter knife to remove any air bubbles that have formed in the jar. They are okay to leave in, as they will settle as the jalapenos ferment, but they may reduce the liquid level significantly if there are many air bubbles.
Place a clean fermenting weight on top of the jalapeno peppers, and press down to ensure the peppers stay submerged under the brine at all times.
Wipe the edges of the jar with a clean cloth, and place a fermentation lid like a pickle pipe on top. Add a mason jar screw band and tighten. If you don't have a fermentation weight and lid, see the **notes for modifications.
Place the jar of sliced jalapenos and brine on a warm spot on your counter, out of the way of direct sunlight. Allow to ferment for 5 days up to 2 weeks, or until the brine is cloudy and several days of gentle bubbles have occurred.
Place a lid on your fermented peppers and store in the fridge for 3-6 months!
Notes
Without fermentation weights or lids: If you don't have any special fermenting equipment, you can still make these fermented jalapenos! Try your best to keep the peppers from floating. You can weigh them down with a very small prep bowl, plate, or a plastic bag filled with brine. For the lid, place a loose lid that is tight enough to keep bugs out, but loose enough to let some air out. "Burp" the jar by unscrewing the lid and letting out any air every few days, or daily if your home is hot in the summer months.
Brine: The brine as prepared is between 2% and 3%, but you can use whatever strength brine you prefer, so long as it is a minimum of 2%, which would be approximately 1 1/2 teaspoons of salt for every 2 cups of water.
Nutrition Information:
Yield:

8
Serving Size:

1
Amount Per Serving:
Calories:

3
Total Fat:

0g
Saturated Fat:

0g
Trans Fat:

0g
Unsaturated Fat:

0g
Cholesterol:

0mg
Sodium:

531mg
Carbohydrates:

1g
Fiber:

0g
Sugar:

0g
Protein:

0g
Nutrition information is an estimate only.
Please note that some of my blog posts here at Little Home in the Making may contain affiliate links. If you make a purchase through these links, I will get a small commission at no additional cost to you. See our disclaimer for more information.