This easy recipe for Fermented Lemons requires just 2 ingredients, and is perfect for beginners! This lacto fermented fruit is perfect for adding to your favorite Moroccan and Middle Eastern dishes, serving antipasto style, or incorporating into your meals for a boost of lemony flavor.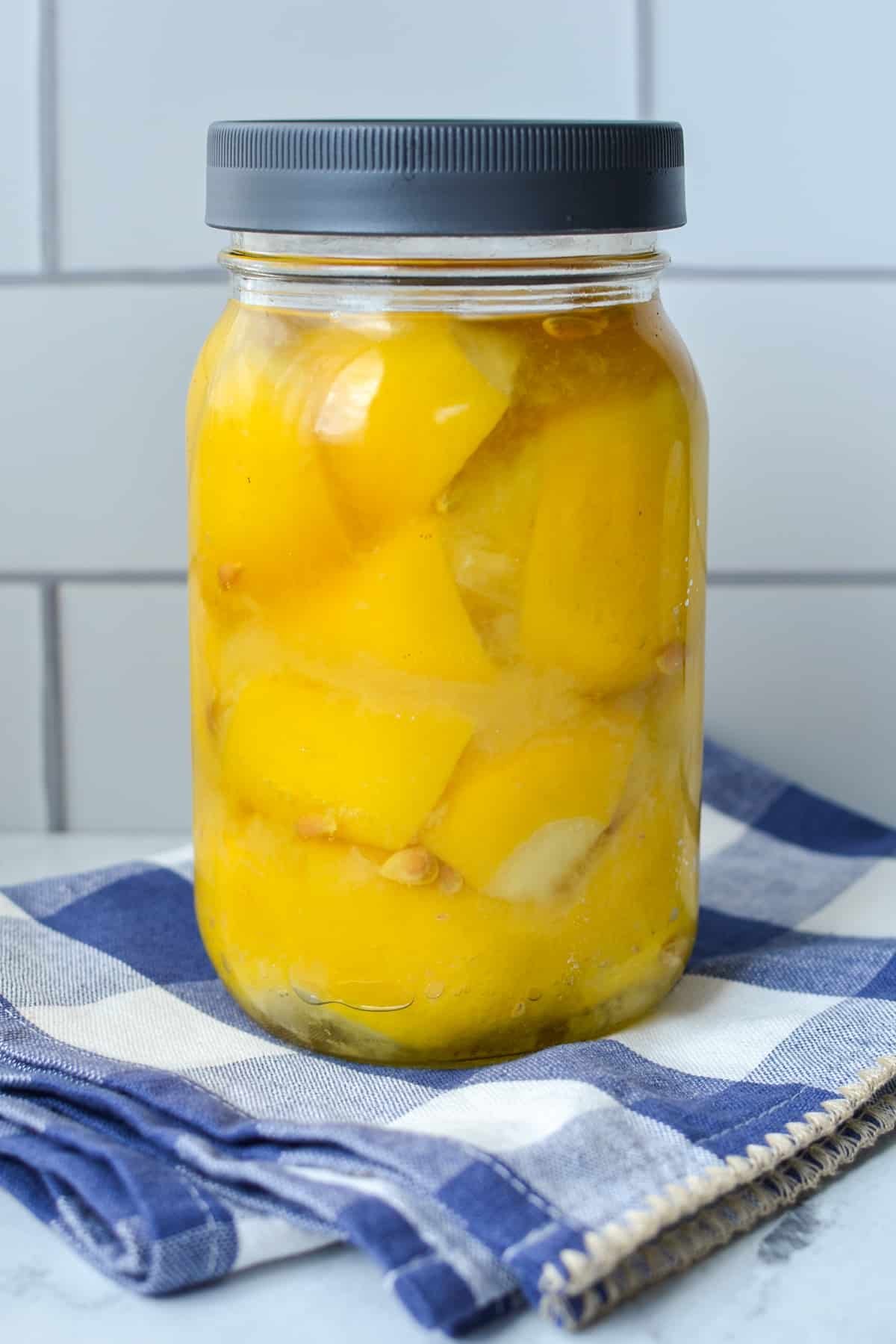 I'm an avid enthusiast for all things preservation, canning, and fermenting. I love old fashioned recipes of all sorts, and most of our traditional recipes actually use the process of fermentation to preserve and produce those beloved flavors. Think sourdough bread, fish sauce, beer, wine, and sauerkraut. All of those things use fermentation and our taste buds absolutely crave them after a few exposures to their complex flavors.
These fermented lemons (also known as preserved lemons) are a cornerstone of Moroccan and Middle Eastern cuisine, but they can be used in many types of recipes to add a tangy, slightly salty umami flavor with a burst of lemony goodness. It's the perfect way to preserve fresh lemons without heat treating them, leaving them rich in enzymes and probiotics.
Why You'll Love This Recipe:
It's an EASY fermentation project that is perfect for beginners.
Requires no starter culture or special ingredients – just lemon and salt!
A great way to preserve fresh lemons for the off season.
Full of beneficial bacteria and packed with vitamin C.
Ingredients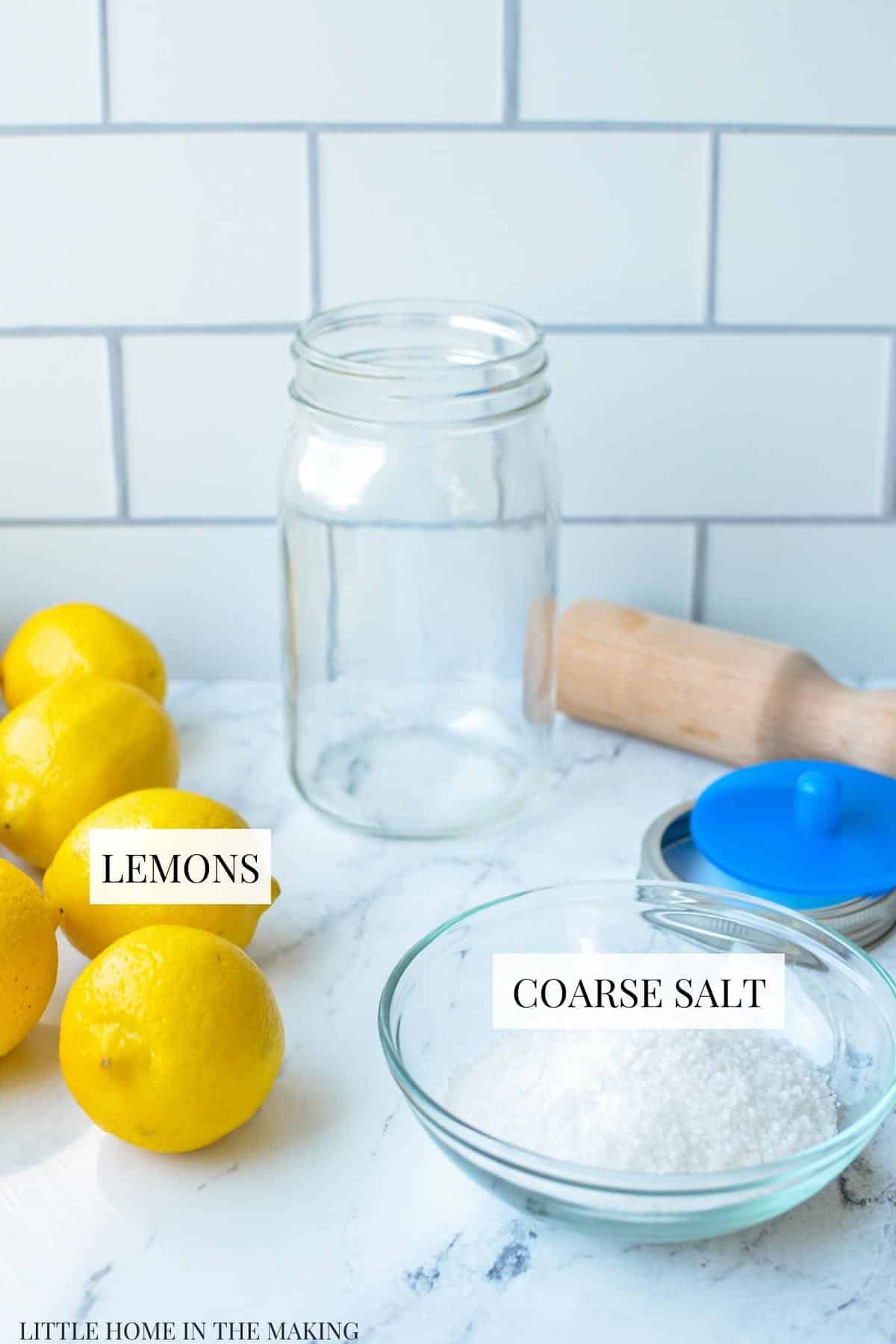 Lemons: You'll need about 8 large lemons to fill a quart size jar. If they are smaller, you might want to have 10 or so available. They should be in good condition with no obvious spoilage or bruising.
Coarse salt: Any type of coarse salt will work well, but an unrefined kosher salt like Redmond's tends to work best in ferments. I didn't have enough time to order some, so I just used what I had on hand.
Equipment:
Quart jar: Any jar that has a lid will work well, but I prefer the wide mouth style since it is easy to add food into the wide opening.
Fermentation weight: These are glass weights that hold down food as they ferment, reducing the risk for mold and bacteria. I use them in most of my fermentation recipes and projects! If you don't have a weight, you can use a small 4oz jar filled with water to hold down the floating fruit.
Fermentation lid: I tend to prefer using the pickle pipes, but you could try an airlock lid if you prefer. These are great for frequent fermenters, as they gradually release excess gases in your ferments. Otherwise, you'll need to "burp" the jar every few days or so.
Kraut pounder: You can use the end of a wooden spoon if you prefer, but a kraut pounder will help you macerate the lemons and get the juices out very easily. I highly recommend purchasing one if you enjoy doing ferments, but if you have a wooden spoon and some elbow grease you will be just fine for this singular project.
Instructions
Once you realize how easy it is to make your own preserved lemons at home, you're going to wonder why you haven't tried it sooner! This recipe for fermented lemons requires just two ingredients, and you don't need a starter culture in order to make it.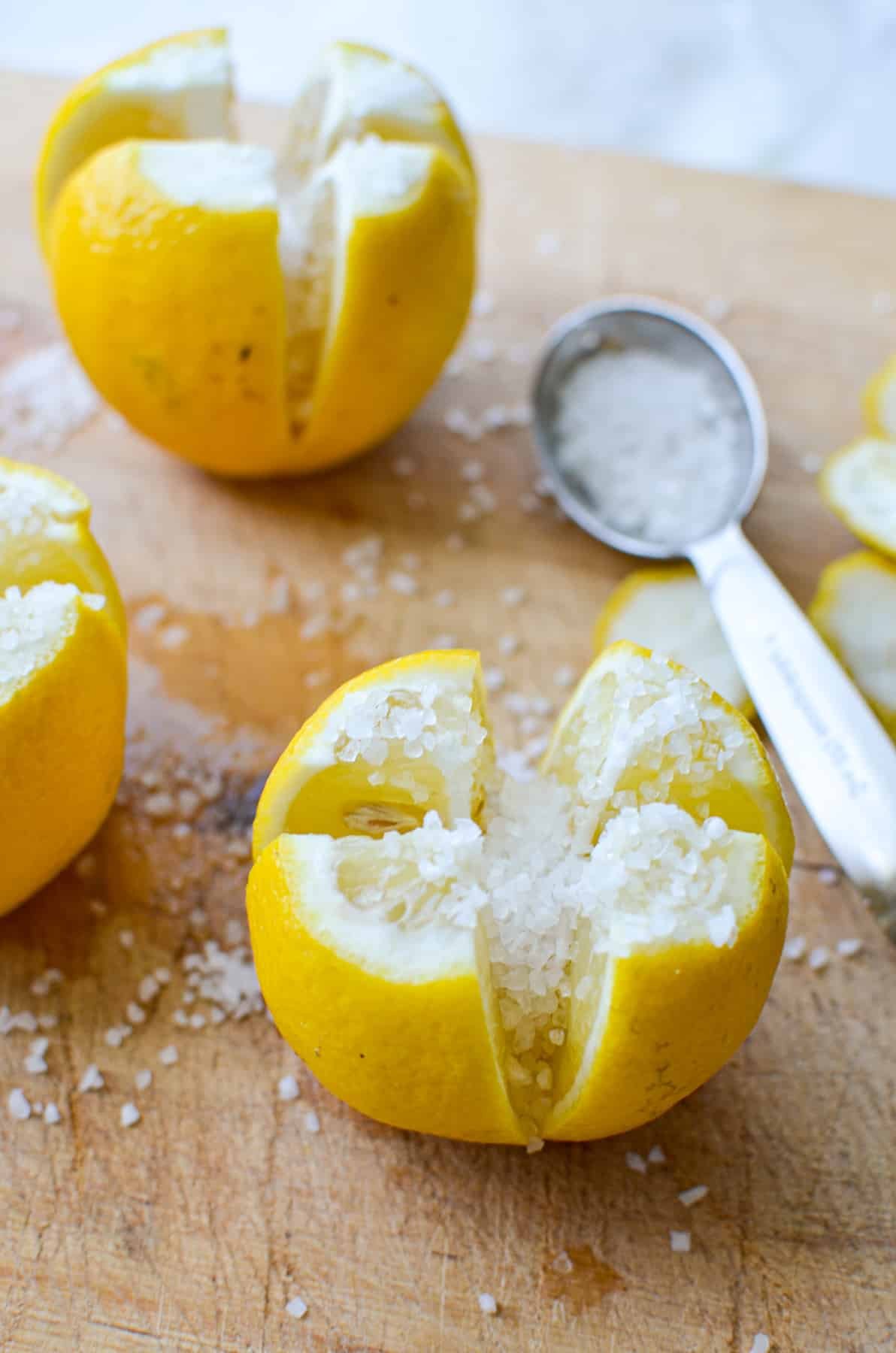 How to Ferment Lemons
To get started, prepare the lemons by washing them and drying them thoroughly. Then, use a sharp knife to cut just the ends off of each side of the lemon. Just enough that you see the pith and flesh, but not so much that you start cutting into the lemon itself.
Place the "bottom" side down on a cutting board, and use a sharp knife to cut an "X" into the lemon, making sure not to cut all the way to the bottom. You want to leave at least 1/4″ intact so that the lemon will stay whole.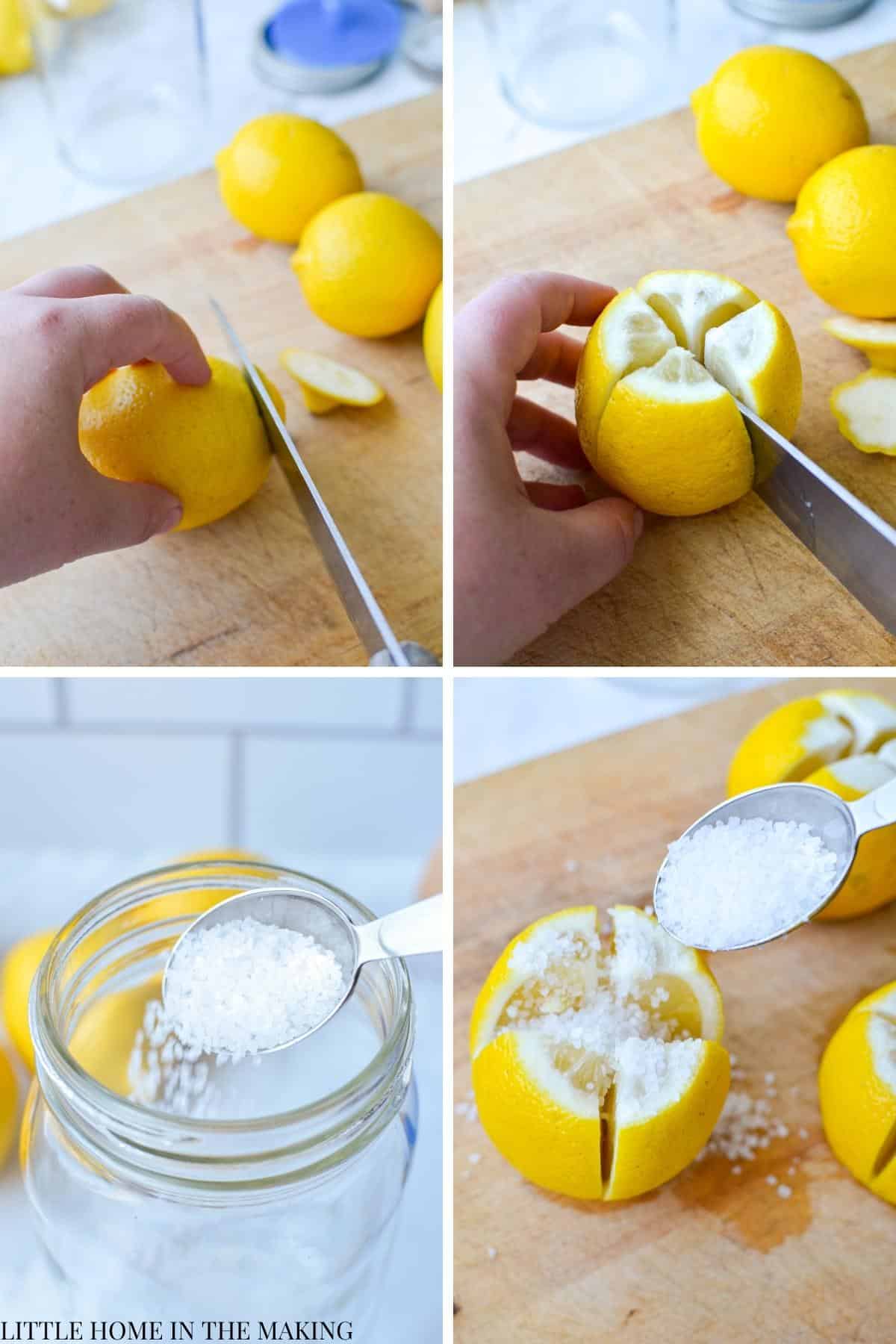 Then, add about 1 tablespoon of coarse salt to the bottom of your fermentation jar. Set aside.
Gently open up the cross sectioned lemons and add approximately 1 tablespoon of coarse salt to the inside. Repeat with 6-7 of the remaining lemons.
Add two of the lemons to the jar, alternating which ones are facing down and those that are facing up.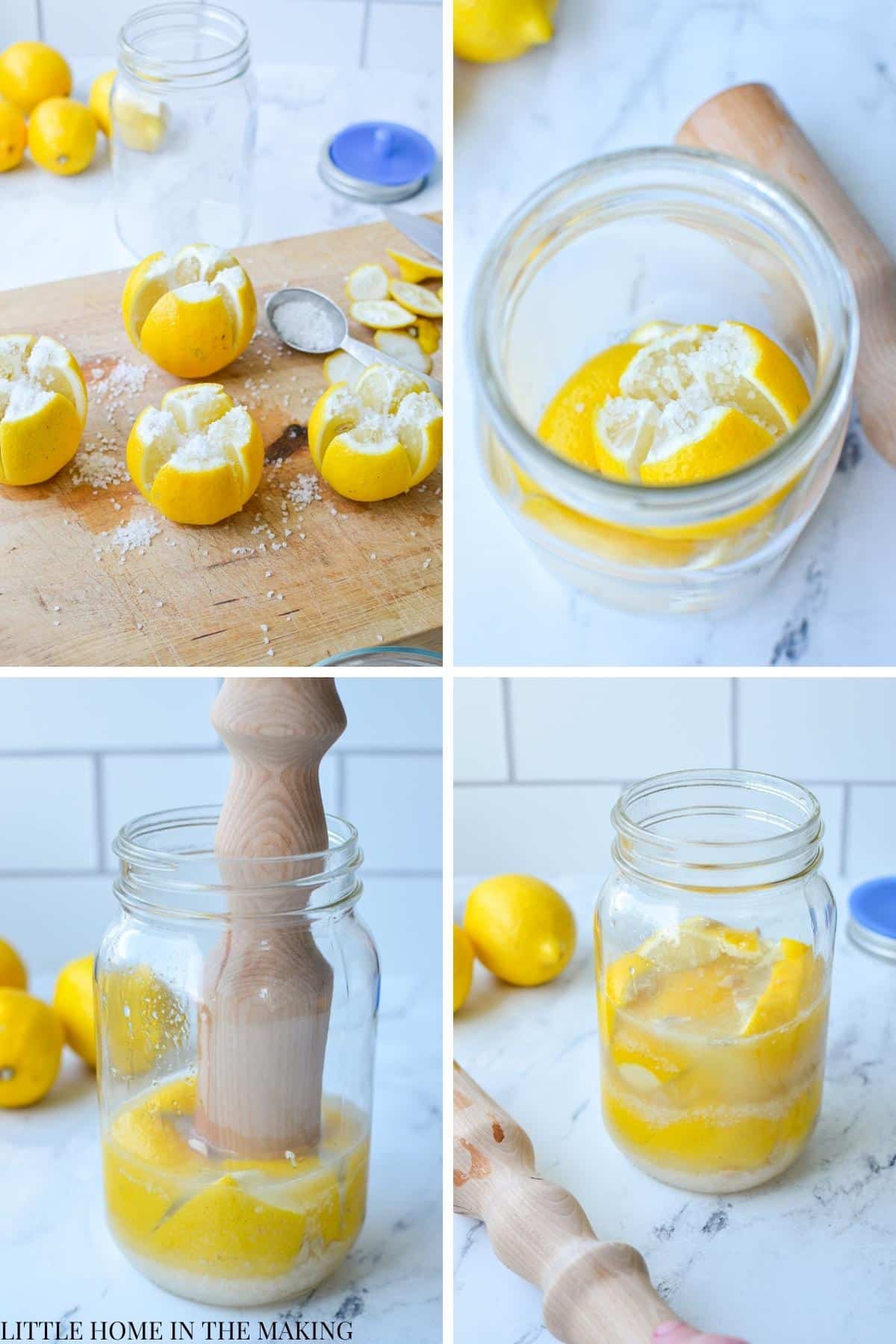 Use a kraut pounder or a wooden spoon to press down on the lemons, causing them to crush and the juice to collect around the edges of the jar.
Add the lemons, one at a time, alternating those facing up with those facing down, and macerate each one after its addition.
Continue to add lemons and pressing to extract the juices until you reach the neck of the jar.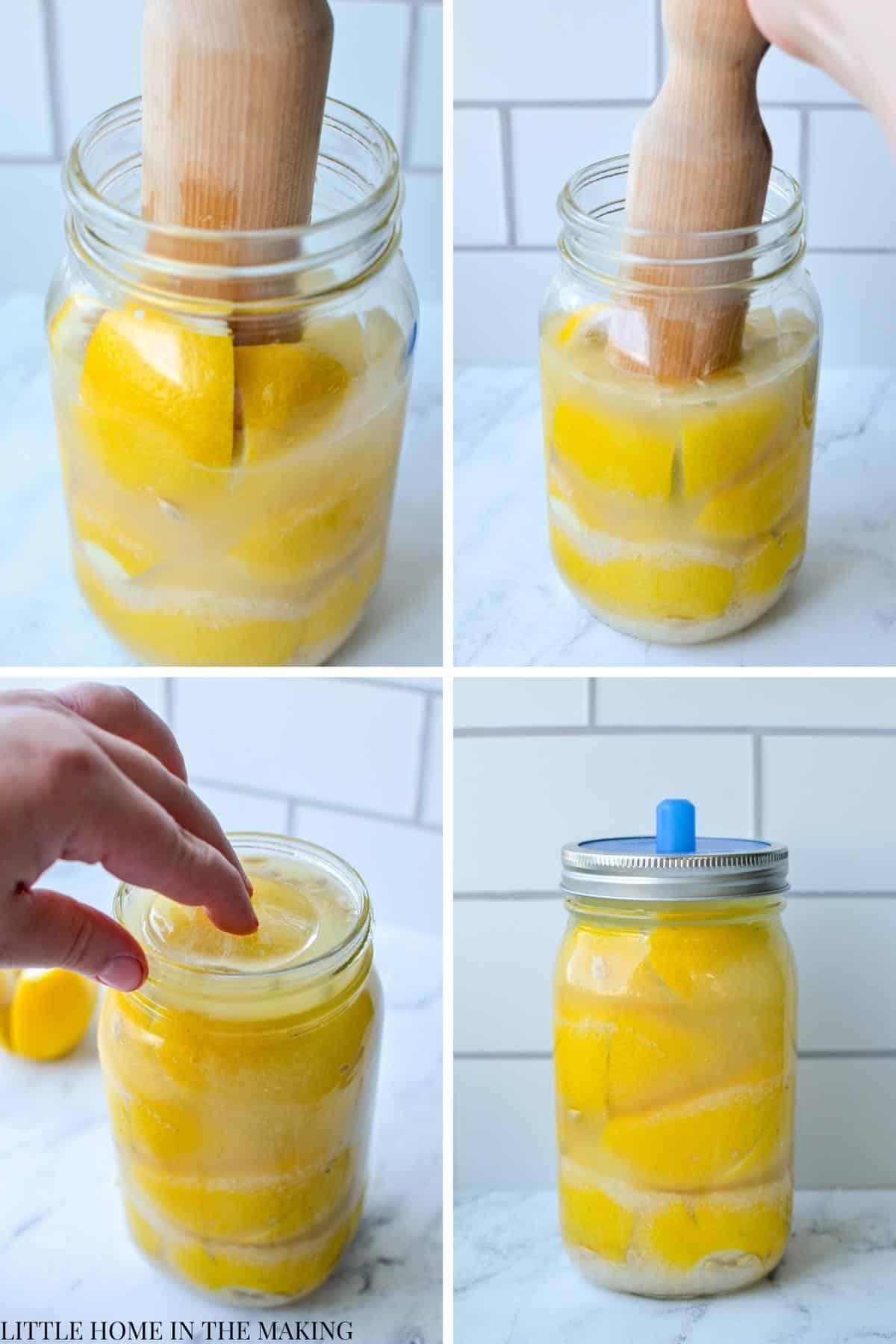 The lemon juice should easily cover the lemons, but if it does not, you can add a bit of additional lemon juice to water to help the liquid level.
Add a fermentation weight OR a 4oz glass jar filled with water, pressing down to submerge the lemons until the liquid. Discard any excess liquid if needed.
Fermentation
Add a fermentation lid – pickle pipe or airlock – to the jar, and leave it on the counter for at least 2-3 weeks, but most often for 5-6 weeks.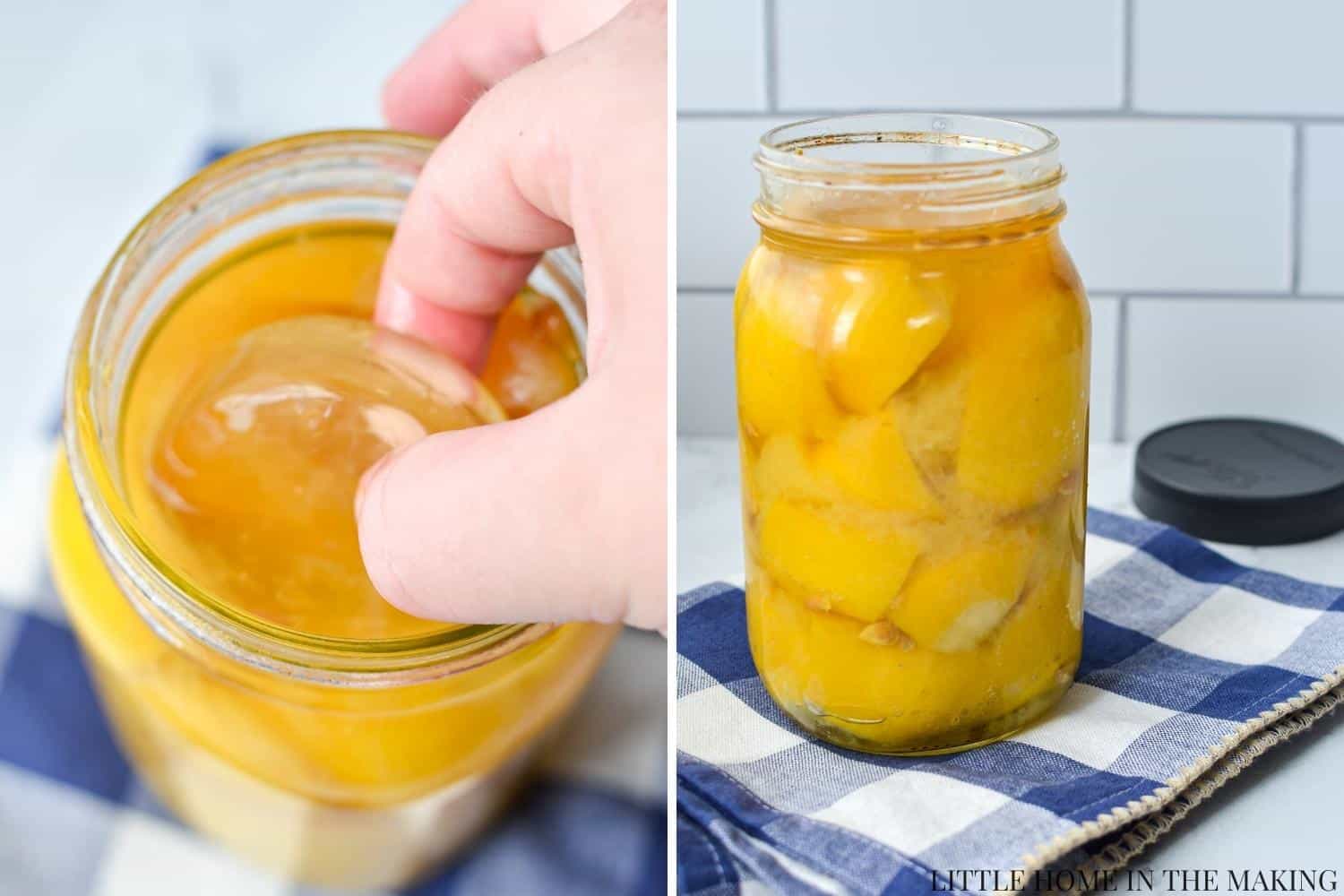 Your fermentation is complete when activity has slowed in the jar and the lemon peel is no longer bitter to taste. As with all ferments, you're encouraged to taste throughout the process to find the perfect spot that you enjoy it at!
The peel should be very soft, and just a bit sturdier than a sun-dried tomato preserved in oil. That is, slightly smooshy but still firm.
Storing
Once the fermentation is done to your liking, remove the fermentation weight if possible (if you can maintain a high liquid level) and add an airtight lid. Store in the fridge for up to 6 months, or as long as there are no signs of spoilage.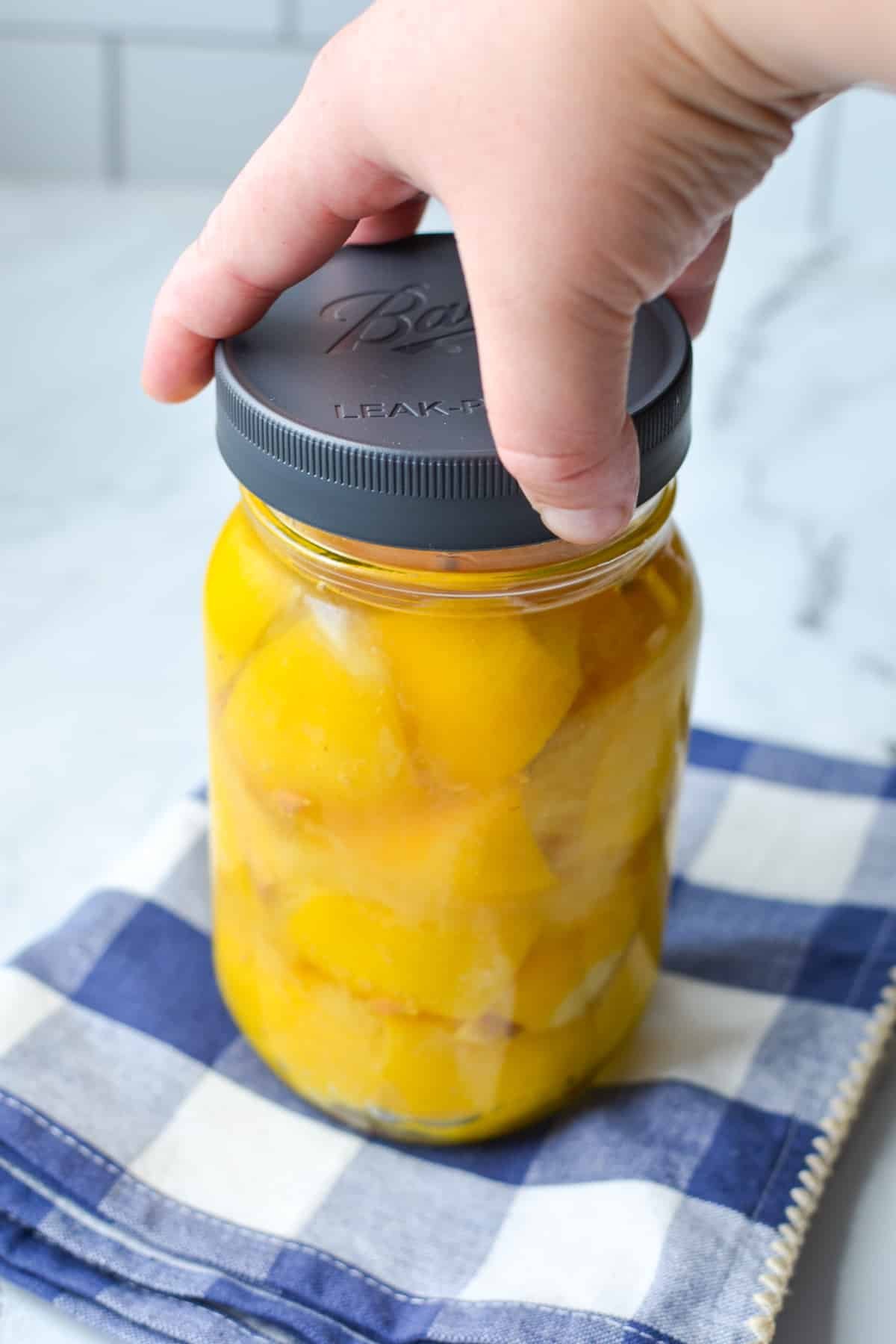 Benefits of Fermented Lemons
Full of gut-friendly bacteria
Packed with vitamin C
A raw food that is full of enzymes
Adds a deep, true lemon flavor to all of your favorite dishes
A great way to add fresh lemon flavor when they are not available or in season
Like many fermented foods, it has a umami taste that the body tends to crave
How to Use Fermented Lemons
After you've made your very first batch of fermented lemons (also know as preserved lemons), you may be wondering how you can use them. Here are a few of the most popular ways to use fermented lemons:
In traditional Moroccan dishes like Chicken Tagine.
Added to salsas
Added to sauces
Served antipasto style
In your favorite Middle Eastern dishes
Added to marinades
In place of fresh lemon in your favorite dishes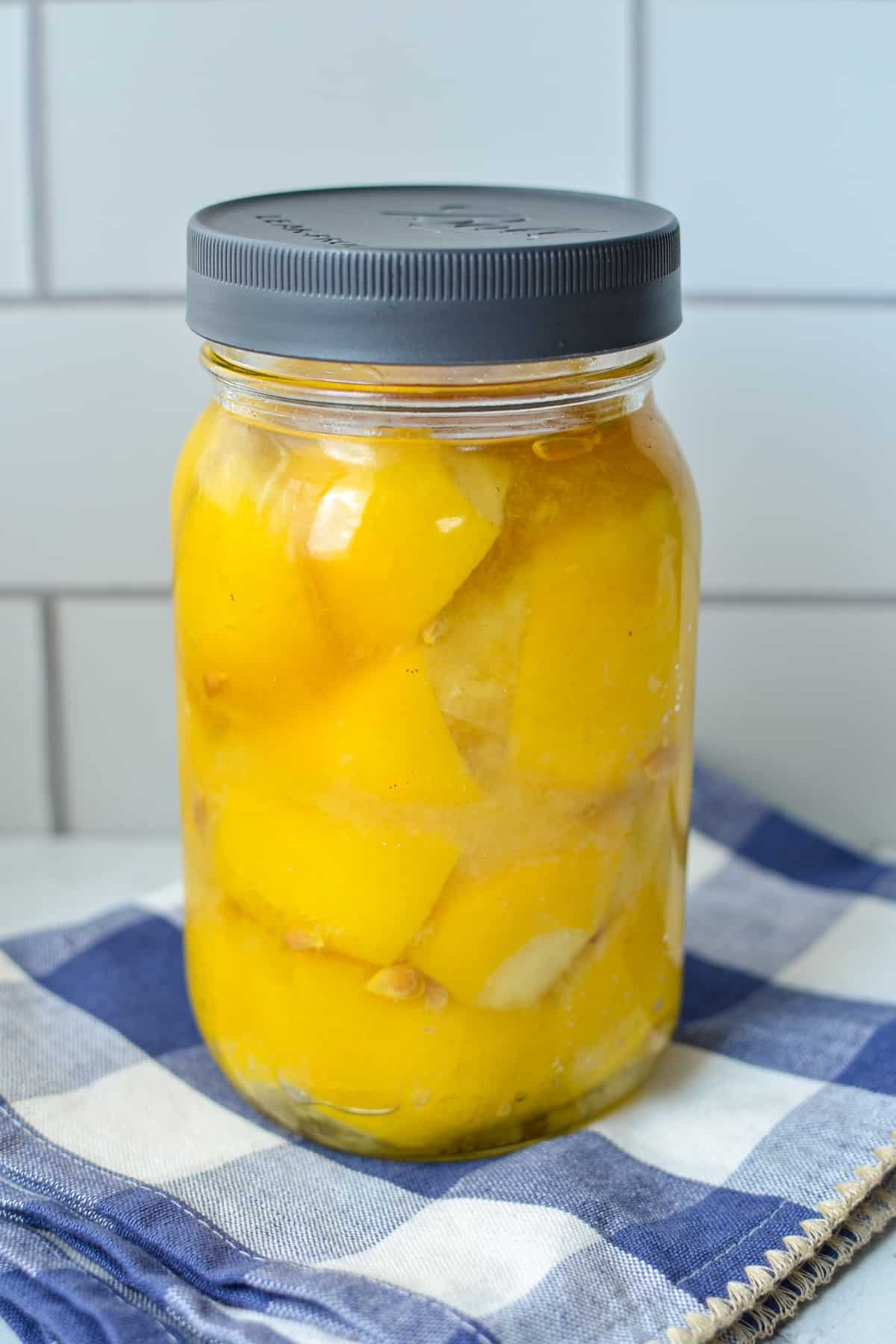 Frequently Asked Questions
Are fermented lemons healthy?
Yes! Not only do fermented lemons contain no added sugar, they are also full of vitamin C and beneficial probiotics thanks to the fermentation process. They are the perfect addition to your favorite meal to add a boost of flavor with no added sugar and very few calories.
Do fermented lemons have probiotics?
Yes, like all fermented foods, fermented lemons contain probiotics. During the fermentation process, the "good" bacteria overpowers the bad bacteria, therefore creating a group of beneficial bacteria we most often refer to as probiotics.
Can you get botulism from preserved lemons?
No, the risk for botulism from preserved lemons would be extremely low (most likely zero). Since botulism thrives in a low acid environment, it cannot survive in a highly acidic environment like that which is created from fermenting lemons. Botulism typically effects low acid foods that have been inappropriately canned or preserved without the addition of acid.
More Fermentation Recipes
Fermented Red Cabbage
How to Make Sauerkraut in a Crock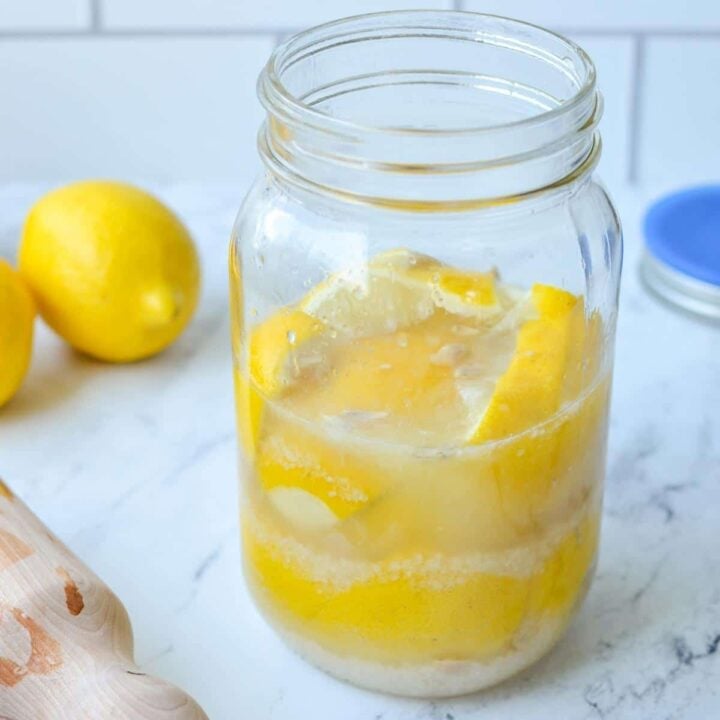 Fermented Lemons (Preserved Lemons)
Total Time:
30 days
20 minutes
This easy recipe for fermented lemons is perfect for beginners and requires just 2 ingredients!
Ingredients
8-10 lemons
1/2 cup kosher or coarse salt
Additional lemon juice or water (if needed)
Equipment
Wide mouth quart jar with lid
Fermentation weight
Fermentation lid (optional)
Kraut pounder (optional)
Instructions
Slice a small amount off of the top and the bottom of each lemon, just enough to create a flat surface on either side.
Place the lemons on a cutting board and cut an "X" shape into each lemon, slicing ¾ of the way through to the bottom, but leaving the bottom intact.
Add 1-2 tablespoons of coarse kosher salt to the inside of each lemon.
Sprinkle a small amount of salt in a clean quart jar, and place one of the salt-filled lemons into the bottom of the jar, open side down. Press down gently with a kraut pounder.
Add the lemons, 1-2 at a time, and pressing down on them with the kraut pounder to release the juices and create a brine. Alternate the lemons by placing one with the cut side down, and the other with the cut side up. Repeat.
Once the lemons have reached the neck of the mason jar, press down firmly to release as much lemon juice as possible. You should have enough liquid to cover the lemons, but if you don't, add a small amount of filtered water OR additional lemon juice.
Place a fermentation weight on top of the lemons and press down firmly, causing the brine to rise and cover the lemons.
Place a regular lid, fermentation lid, or pickle pipe on top of the jar. Ferment at room temperature for 2 weeks to 1 month in a warm climate, or 4-6 weeks in a cooler climate. You will know your lemons are done when the peel has lost any bitterness and the lemons are soft and well broken down.
Add an airtight lid and store your preserved lemons in cold storage or the refrigerator for 3-6 months, or until there are signs of spoilage. Keep the lemons submerged in brine at all times.
Use in your favorite recipes calling for preserved lemons.

Notes
Without a fermentation lid: If you don't have a fermentation lid, you can use a standard lid. Just be sure to "burp" the jar every few days by cracking it open abnd allowing the gasses to release.
Without fermentation weights: If you don't have fermentation weights, you can use a 4oz jar filled with water to hold the lemons down below the surface of the liquid.
Without a kraut pounder: If you don't have a kraut pounder, use a wooden spoon and some elbow grease to macarate the lemons.
Nutrition Information:
Yield:

16
Serving Size:

1
Amount Per Serving:
Calories:

17
Total Fat:

0g
Saturated Fat:

0g
Trans Fat:

0g
Unsaturated Fat:

0g
Cholesterol:

0mg
Sodium:

7134mg
Carbohydrates:

5g
Fiber:

2g
Sugar:

1g
Protein:

1g
Nutrition information is an estimate only.
Please note that some of my blog posts here at Little Home in the Making may contain affiliate links. If you make a purchase through these links, I will get a small commission at no additional cost to you. Please see my Disclaimer for more information.