This easy and delicious recipe for fermented apples is probiotic rich, easy to make, and ready to go in just 48 hours! These lacto fermented apples are the perfect tasty way to incorporate more fermented foods, AND is an excellent way to preserve fresh apples for up to 2 months.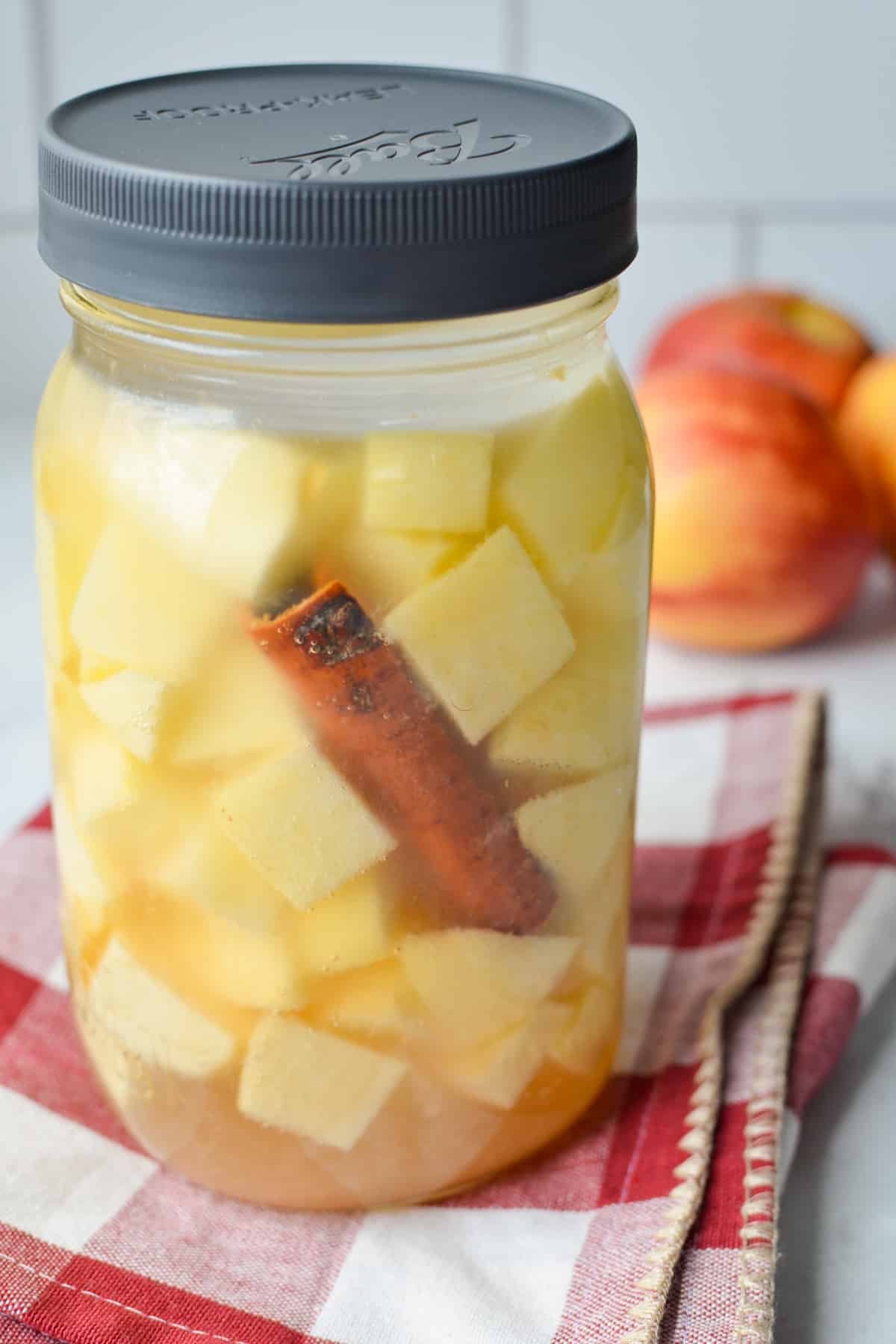 I'm a big fan of home fermentation, and I love fermenting as both a means of food preservation as well as a way to create probiotic rich foods to serve my family. The most frequent fermented food we enjoy (other than sourdough!) is milk kefir, but I also love serving up some fermented condiments like sauerkraut, ginger carrots, and these fermented apples.
It is SO easy to make these simple fermented apples! They are filled with cinnamon-y flavor, making their taste slightly reminiscent of apple pie. They are great for adding into your favorite desserts and breakfast foods for a probiotic punch.
Why You'll Love This Recipe:
It's an easy fermentation project that is ready in mere days.
Like all fermented foods, it's rich in probiotics and beneficial bacteria which supports gut health.
It's the perfect way to preserve seasonal apples without canning, drying, or freezing.
An easy and tasty way to sneak probiotics into smoothies, ice cream, waffles, pancakes and more!
Ingredients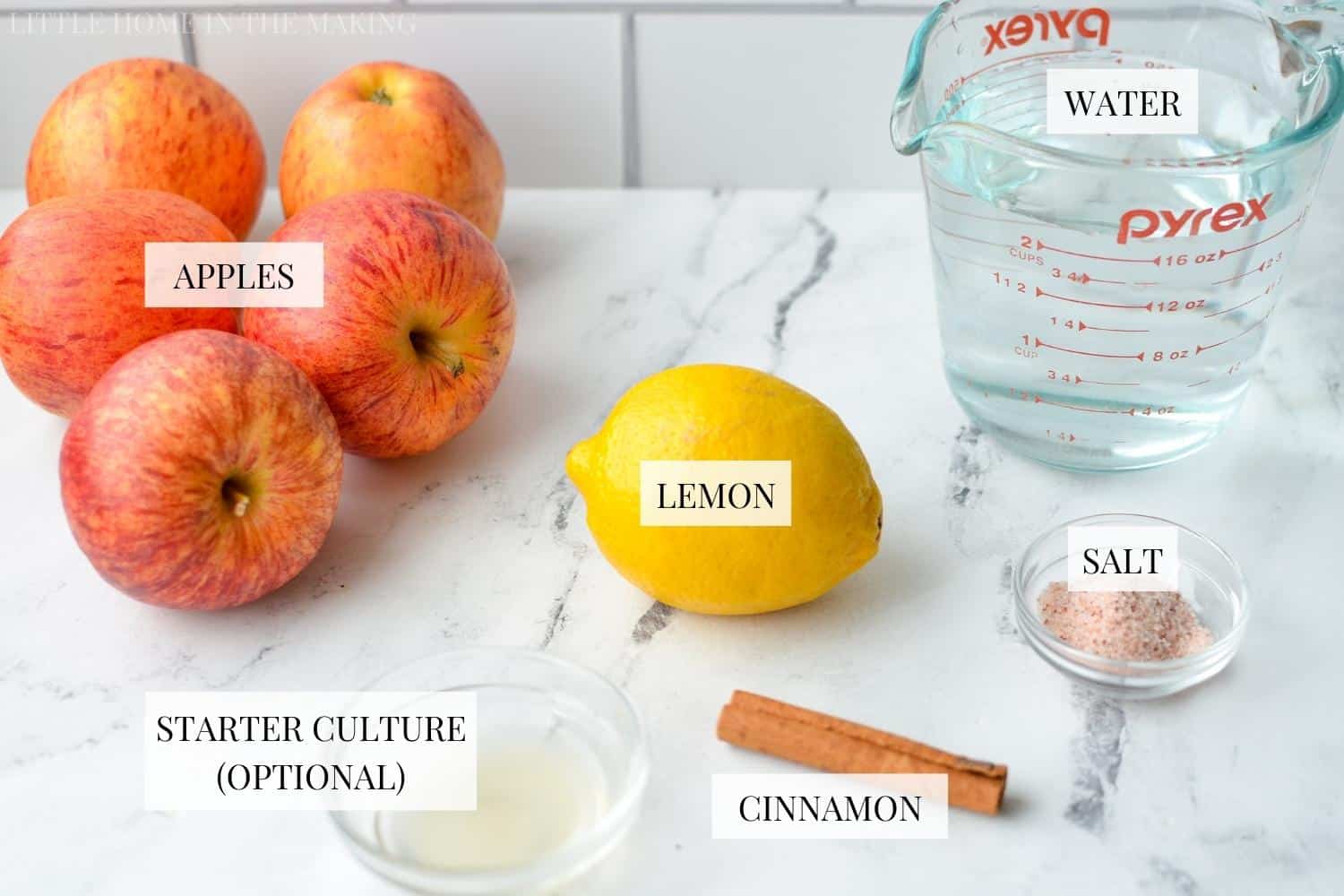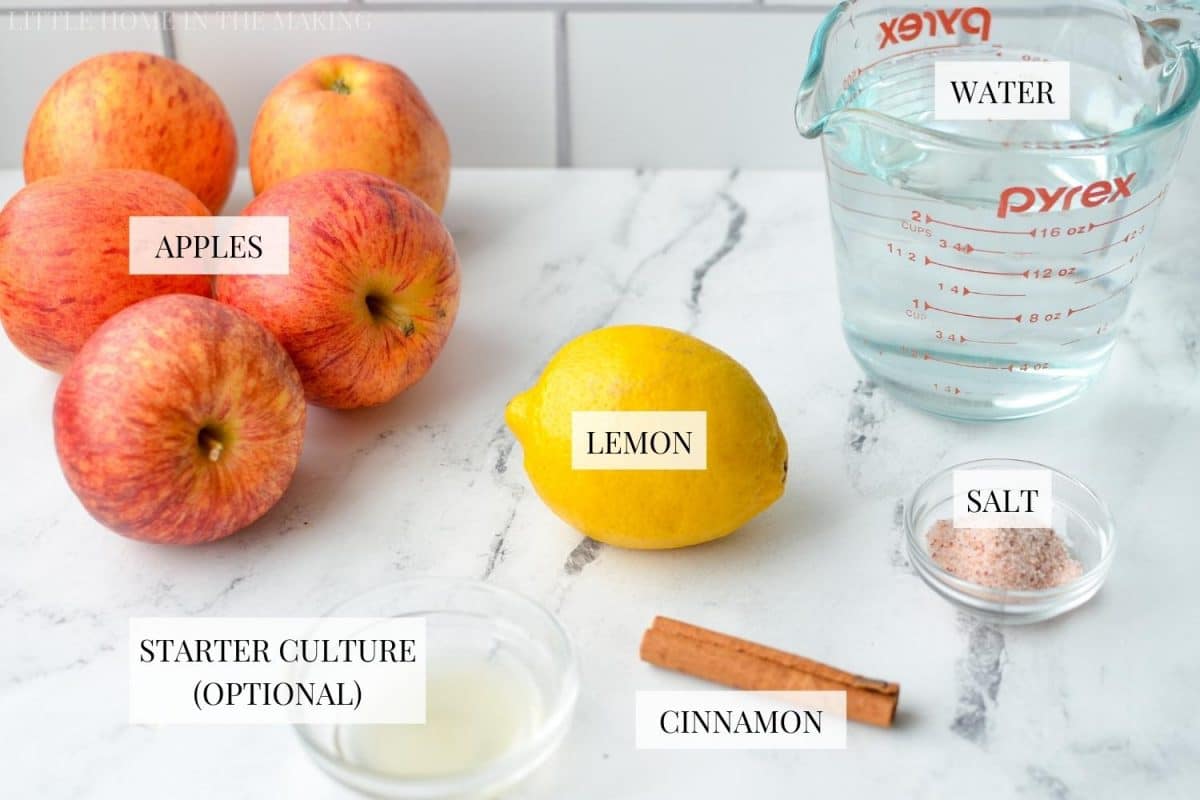 Apples: Select the best quality apples you can find. Organic is preferable, but since the peel will be removed anyway it's not absolutely essential. Try to use a sturdy variety that you would use for baking (like Honeycrisp, Granny Smith, Gala, etc).
Salt: You'll need some unrefined sea salt. I love to use Redmond's Real Salt in all of my fermentation recipes, but any unrefined salt will work well.
Cinnamon: You can use either a cinnamon stick OR 1 tablespoon of ground cinnamon. If you're using ground cinnamon, make sure to whisk it into the brine rather than adding to the jar of apples.
Lemon: You'll need the juice of 1 lemon. This helps provide acidity, but also helps the apples keep their color in the beginning stages of fermentation before the culture takes over.
Starter: This is optional, but recommended. You don't need to find a fancy purchased starter (although those work great!), instead you can use some from another project that you may already have done in your home. Sauerkraut juice, kombucha, water kefir, whey, and ginger bugs all make great starter culture for these fermented apples.
Equipment:
Mason jar or Weck jar: You'll need a clear jar that is quart sized (or holds about 4 cups).
Fermentation weight: These handy fermentation weights keep the food below the brine, making for a more consistent end product with less chance for bacteria or mold to sneak in. If you don't have fermentation weights, I highly recommend you invest in some. As an alternative, you can use a 4oz mason jar filled with water or fermentation brine.
Fermentation lid: If you're a frequent fermenter, I highly recommend using a fermentation lid of some sort. I really like pickle pipes, but airlock lids work great too. They are inexpensive and make it so you don't have to "burp" the jars constantly.
How to Make Lacto Fermented Apples
It's SO easy to make lacto fermented apples with just a few simple ingredients and a straight forward process. You're going to love how easy this probiotic rich ferment is to make, especially when compared to other longer fermentation projects like sauerkraut.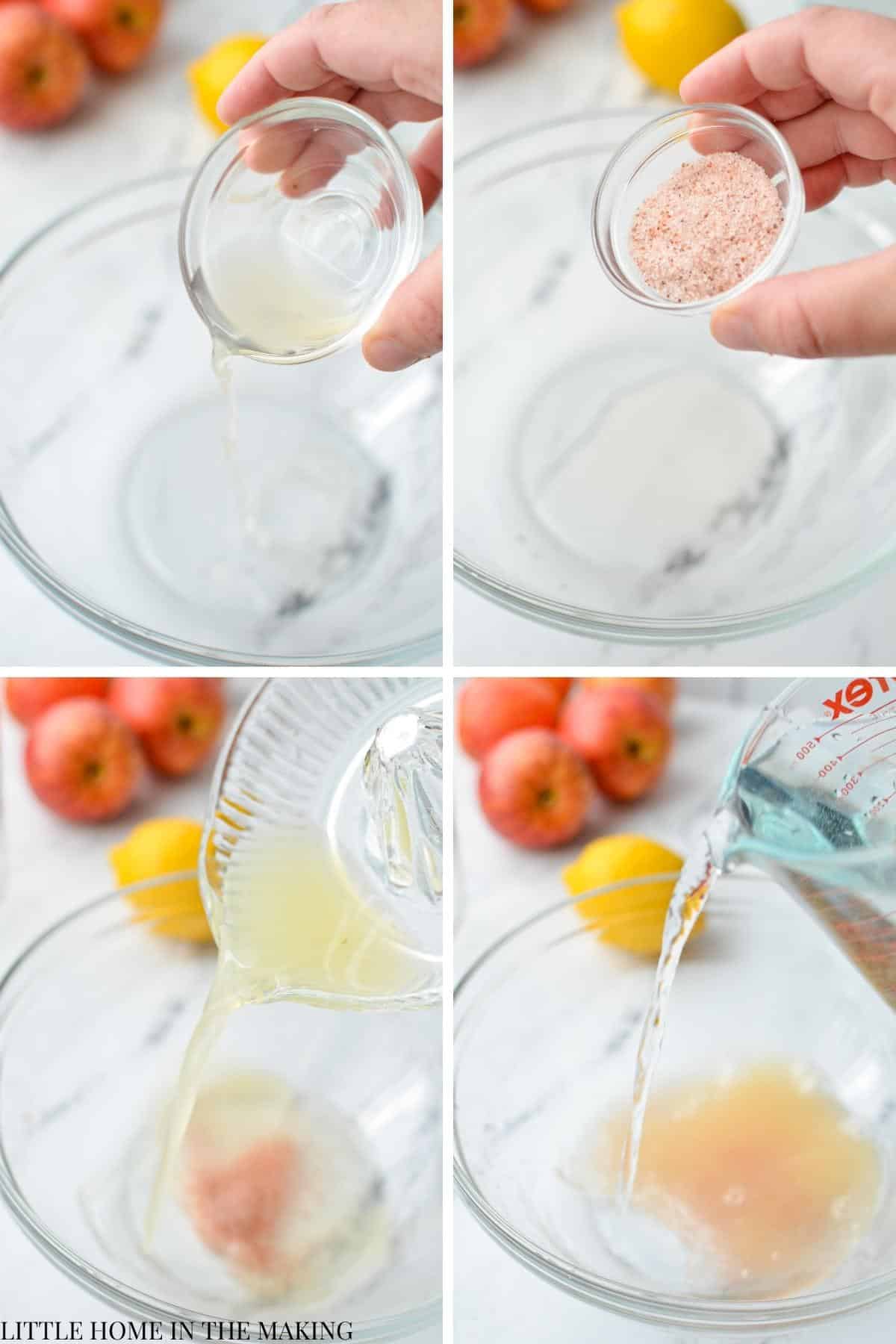 Prepare the Brine
To start off, you're going to want to prepare your fermentation brine. Grab a medium bowl and add in your starter culture (if using), unrefined salt, juice of 1 lemon, and about 1/2 cup of unfiltered water.
Whisk everything together really well, and set aside.
Adding the Apples
Peel and chop about 3 large apples for a total of 3 1/2 cups or so of chopped apple chunks. Add them to a clean quart sized mason jar.
Then add in a cinnamon stick OR whisk about 1 tablespoon of ground cinnamon into the fermentation brine.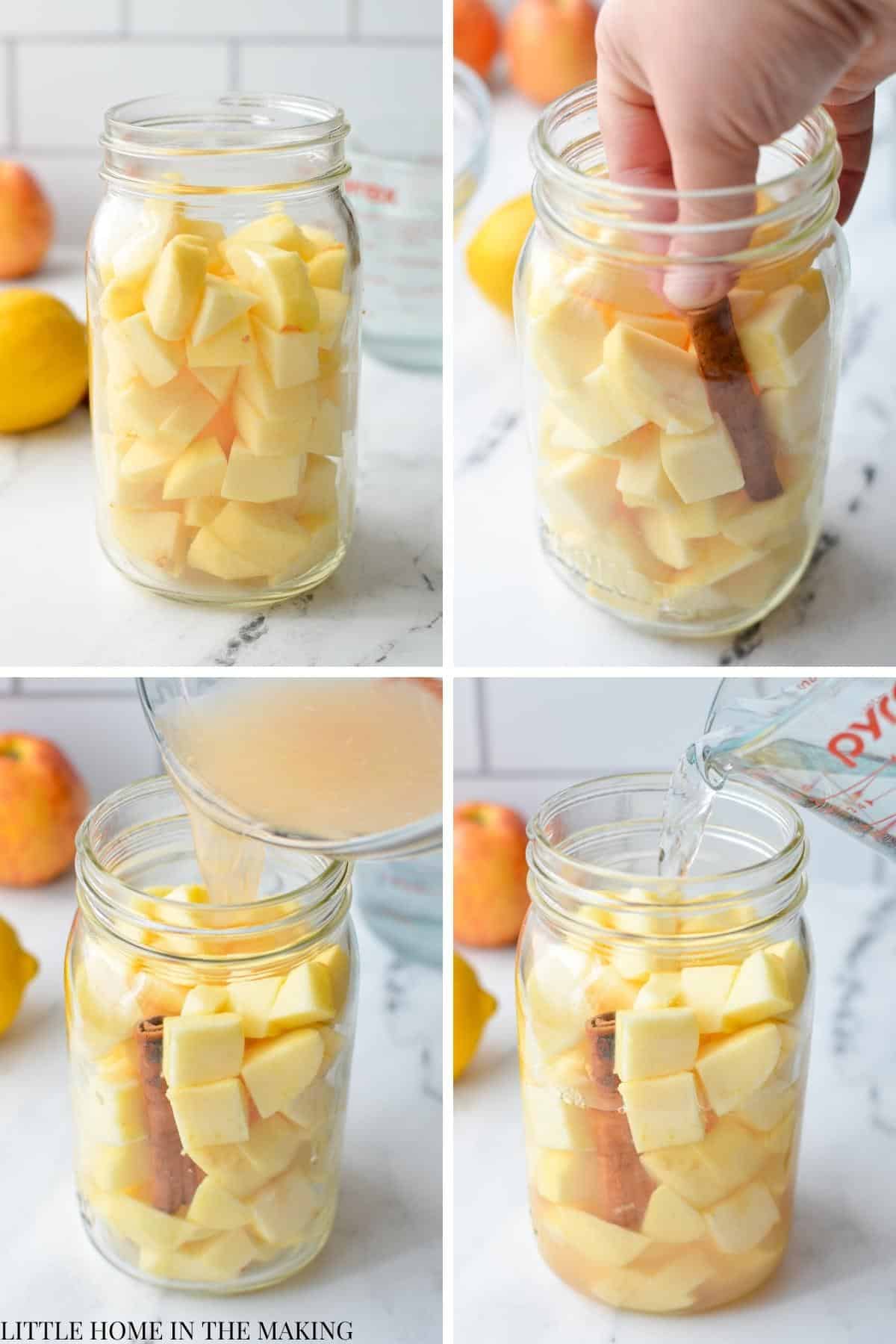 Pouring in the Brine
Pour the prepared brine into the mason jar, and then top off with filtered water until there is enough liquid to cover the apples.
Weigh the apples down with a fermentation weight (OR a 4oz mason jar filled with water or brine), ensuring the apples stay submerged under the liquid.
Top with a pickle pipe OR airlock fermentation lid. If you don't have either of these, you can use a standard lid but you will need to "burp" the jar 1-2 times per day to help let out excess gases.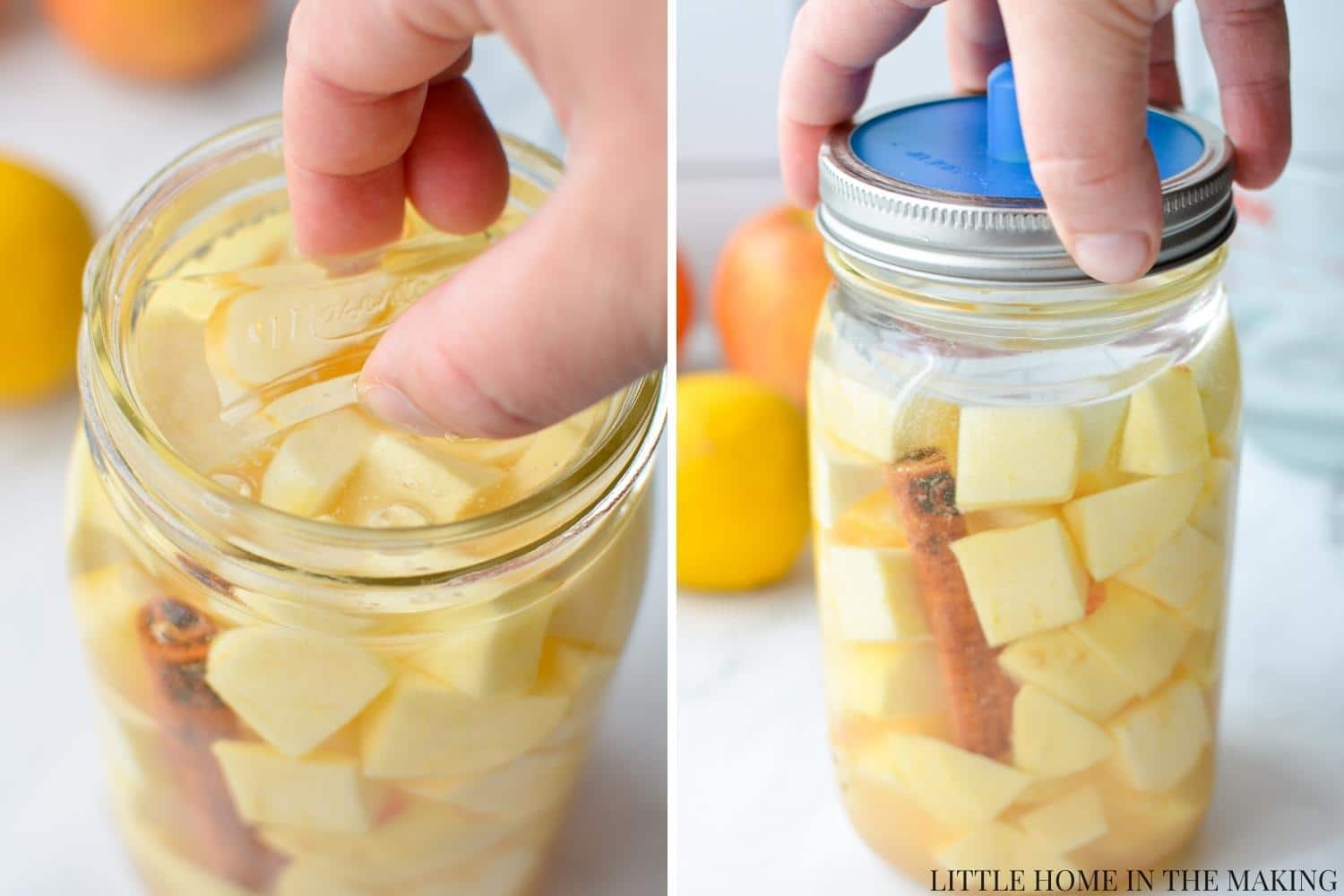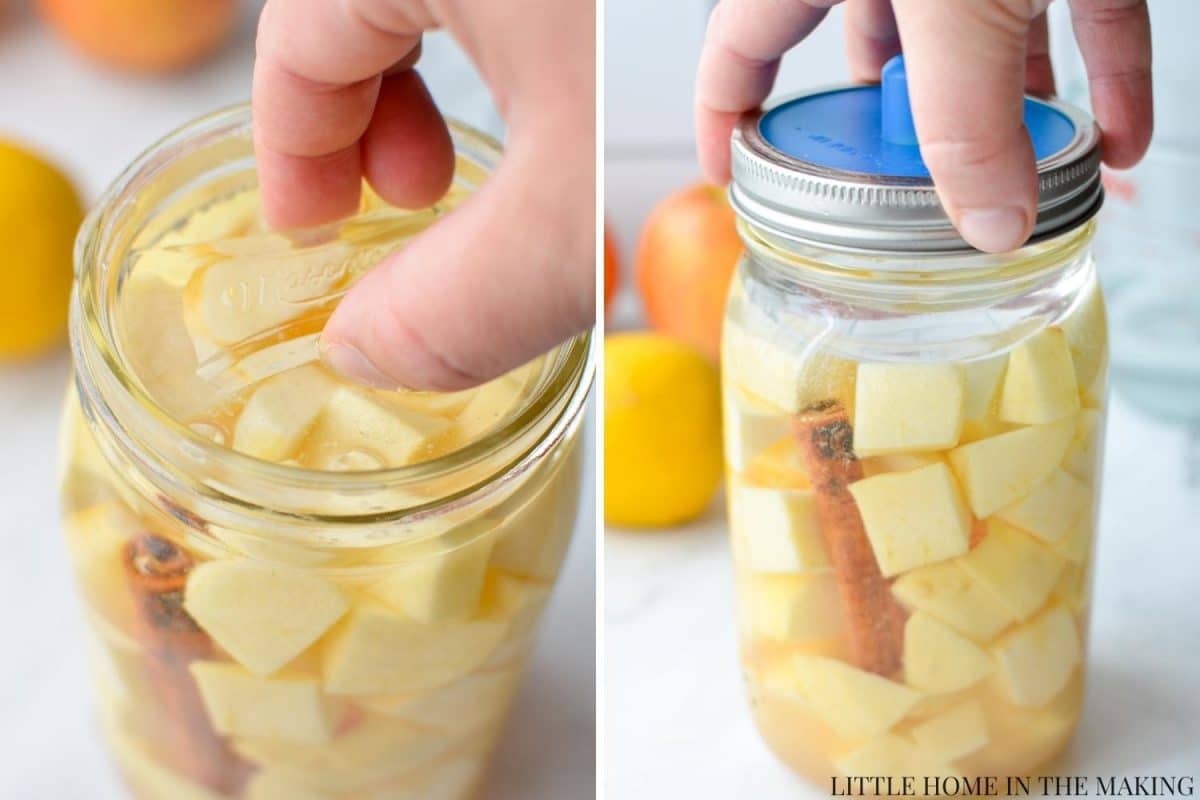 Fermentation
Add the prepared jar to the counter to ferment at room temperature, ensuring you leave the jar out of direct sunlight.
Ferment for 2-5 days, or until bubbly and slightly alcoholic smelling. The smell shouldn't be overly pungent, but it should be relatively strong compared to other ferments (like sourdough and kombucha).
Once the apple chunks are fermented to your liking, top them with an airtight lid and store them in a "warmer" area in your fridge like the door.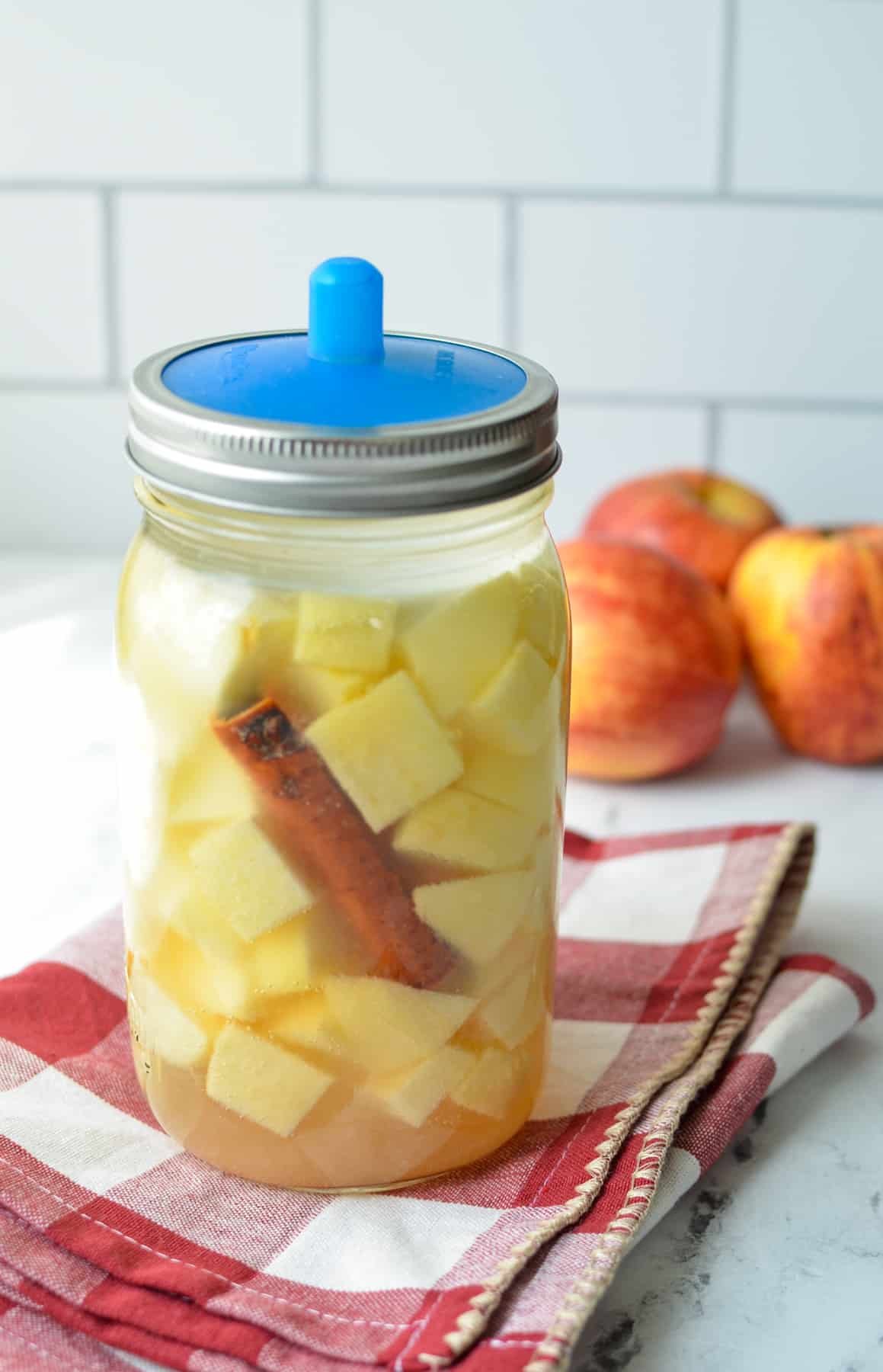 Fruit Fermentation Tips:
Use good quality fruit, free from blemishes or obvious signs of decay. Choose organic if possible, and remove the peel to reduce any residues.
To give your fermentation the best chance, keep it out of direct sunlight. This helps the food retail color and prevents it from becoming too hot to maintain the delicate balance of bacteria that occurs during fermentation.
If you're not using a pickle pipe or airlock lid, make sure to "

burp" the jar 1-2 times per day.

This is done by gently opening the lid and allowing excess gases to escape.

Compared to vegetables, fruits – which are higher in sugar – ferment very quickly and should be watched closely for signs of activity.
Storing Fermented Apples
Once your apples have fermented to your liking, keep them in the same jar you fermented them in.
Top the jar with an airtight lid.
Store in warmer area in your fridge (like the door) for 2 weeks or up to 2 months if no signs of spoilage occur.
If you see mold or an off-putting smell, discard the fermented apples and make another batch.
If the utensils used to retrieve the apples were clean, you shouldn't have any issues with spoilage for at least 1 month or so.
Freezing is not recommended.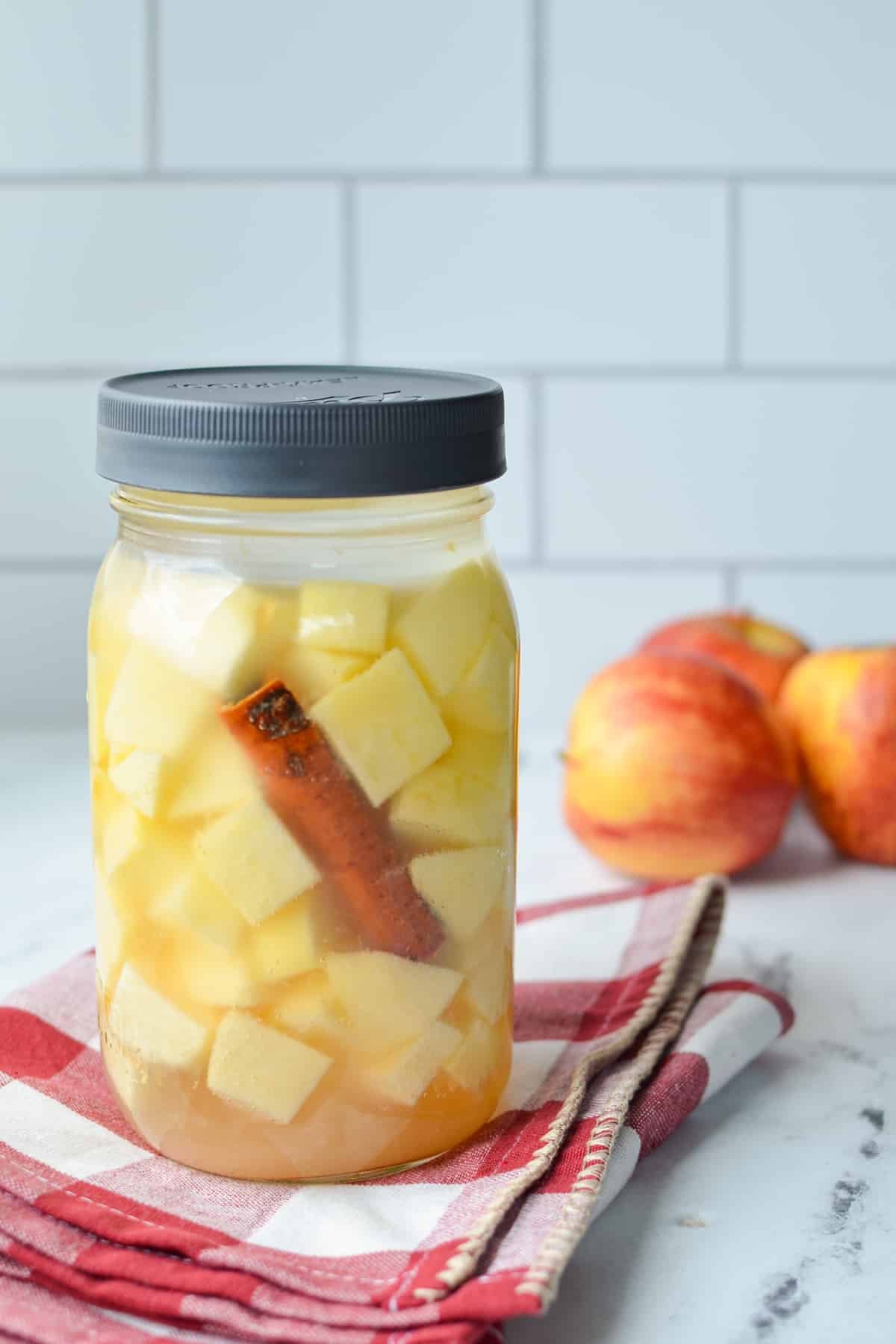 Fermented Apples without Starter or Culture
You don't need to purchase a fancy starter culture for this easy recipe, BUT if you have a natural starter culture from fermenting your own foods at home, you can use 1-2 tablespoons of that to get these probiotic rich fermented apples going.
Possible starter cultures:
Sauerkraut juice
Kefir whey
Whey from straining yogurt
Kombucha
Water kefir
Ginger bug
Brine or liquid from other ferments
Without a Starter or Culture
If you want to make these apples but don't have a starter culture available, no problem! Although the results can be a little less consistent, you should still be able to get a good fermentation going.
With the sugar and salt content, it should be pretty simple to have fermented apples without a culture. You may just need to add 1-3 days onto the total process in order for everything to get established, and just temper your expectation since fermenting like this isn't as reliable as using some sort of starter culture is.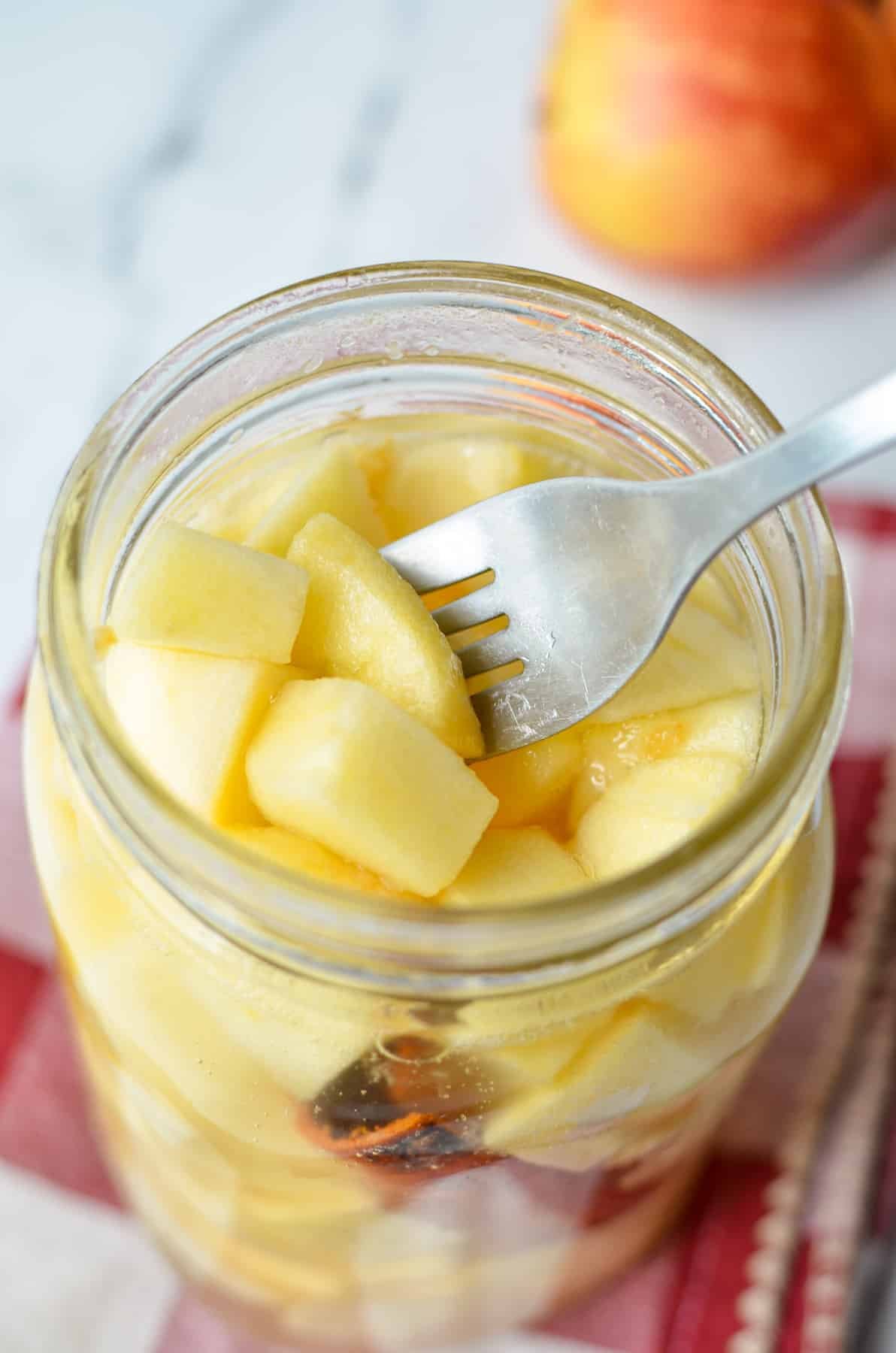 How to Use Fermented Apples
Now that you've made these delicious and probiotic rich fermented apples, you might be wondering how you can use them. Here are some simple suggestions:
Tossed into smoothies
Added into oatmeal
On top of sourdough waffles or pancakes
As an ice cream topping
Blended and added to homemade fermented beverages like water kefir or kombucha
Frequently Asked Questions
Can you eat fermented apples?
Yes, you can eat apples that have been fermented intentionally. When fermented with a starter culture and in a clean environment, fermented apples are perfectly fine to eat and rich in probiotics! When the apples are found on the ground or have started to ferment in a container, they may not be safe (or pleasant) to eat.
How long does it take to ferment apples?
When fermented with a starter culture and an unrefined salt brine, apples should ferment in 2-5 days. Since fruit ferments quickly, this type of ferment will gain activity very quickly.
Do fermented apples contain alcohol?
All fermented foods contain a small amount of alcohol, but often this is extremely negligible. In order for there to be a high enough alcohol percentage, your apples would have to ferment for an extended period of time (a month or longer). Countertop ferments often contain a fraction of a percent of alcohol and are considered safe to consume.
More Fermentation Recipes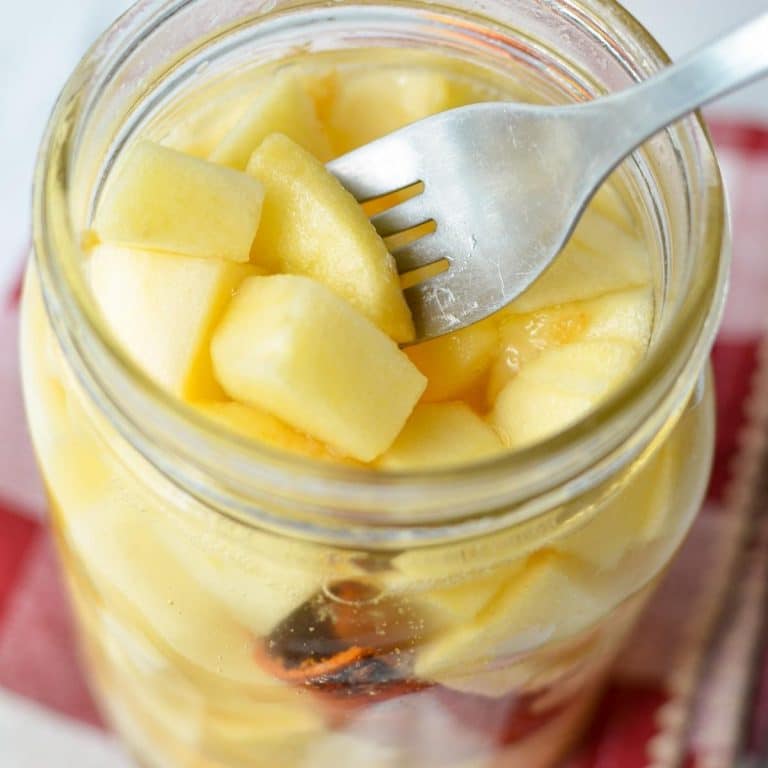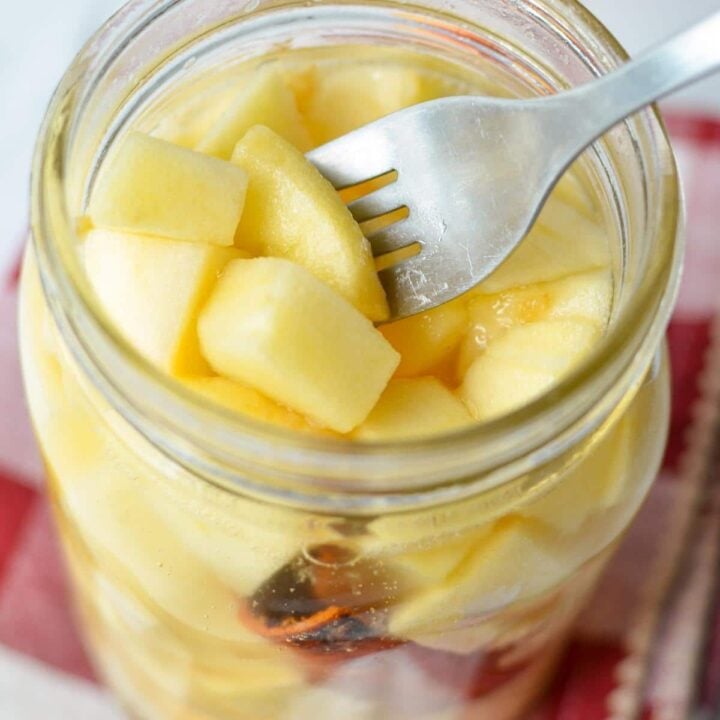 Fermented Apples
Total Time:
2 days
10 minutes
These fermented apples are packed with probiotics and are SO easy to make!
Ingredients
3 1/2 cups peeled and chopped apples (approximately 3 large apples)
1 stick cinnamon (or 1 tablespoon ground)
1/2 - 1 teaspoon unrefined salt
Juice from 1 large lemon
1-2 tablespoons starter culture* (optional)
Water
Equipment
Quart Jar
Fermentation weight** (optional)
Fermentation lid (optional)
Instructions
Add your starter culture (if using), unrefined salt, juice of 1 lemon, and 1/2 cup of water to a small bowl. Whisk well to combine. If using ground cinnamon instead of a stick of cinnamon, add to the liquid mixture and whisk again.
Pack your peeled and chopped apples into a clean quart jar, and add the cinnamon stick (if using).
Pour the liquid mixture over the apples.
Add in enough filtered water to completely cover the apples. The apples will float, but once the weight is in place they will stay below the surface of the brine.
Add a fermentation weight** (or a 4oz canning jar weighted with water or brine) and press down to keep the apples submerged.
Fit the jar with a pickle pipe, airlock fermentation lid, OR a screw on lid.
Ferment for 2-5 days, or until bubbly and active. Fruit ferments very quickly, so it's important to keep a close eye! Your apples are ready when they smell slightly alcoholic, but not overly pungent.
Once your apples are fermented to your liking, remove the weight and add an airtight lid. Store in the fridge for 2 weeks or up to 2 months as long as there are no signs of spoilage. Enjoy!
Notes
*Starter cultures: This is an optional ingredient, but does increase your rate of success when it comes to fermentation. You can use a purchased starter culture, or you can use leftover sauerkraut juice, kombucha, water kefir, liquid from a previous ferment, whey from kefir, or whey from strained yogurt.
**Fermentation weight: These can be purchased from Amazon and are a great tool if you frequently ferment and make your own sauerkraut and other ferments. It weighs down the food, greatly reducing the chance for mold or bacterial growth. If you don't have a fermentation weight, you can use a 4oz canning jar filled with water or brine.
Fermentation Lid: If you do lots of fermenting, you probably have an airlock fermentation lid OR pickle pipes. This makes it so excess gases can escape during the fermentation process. If you don't have one of these, just ensure to "burp" your jar daily, or twice daily if it is warm. This simply means to crack the lid enough for the gases to escape. Otherwise, they can build up and the jar could even explode!
Nutrition Information:
Yield:

8
Serving Size:

1
Amount Per Serving:
Calories:

27
Total Fat:

0g
Saturated Fat:

0g
Trans Fat:

0g
Unsaturated Fat:

0g
Cholesterol:

0mg
Sodium:

283mg
Carbohydrates:

7g
Fiber:

1g
Sugar:

5g
Protein:

0g
Nutrition information is an estimate only.
Please note that some of my blog posts here at Little Home in the Making may contain affiliate links. If you make a purchase through these links, I will get a small commission at no additional cost to you. Please see my Disclaimer for more information.