This Sourdough Breakfast Casserole is the perfect way to use leftover sourdough bread. This make ahead breakfast casserole recipe can be made the night before and popped into the oven in the morning, making it an ideal farm breakfast, and perfect for special occasions or holidays.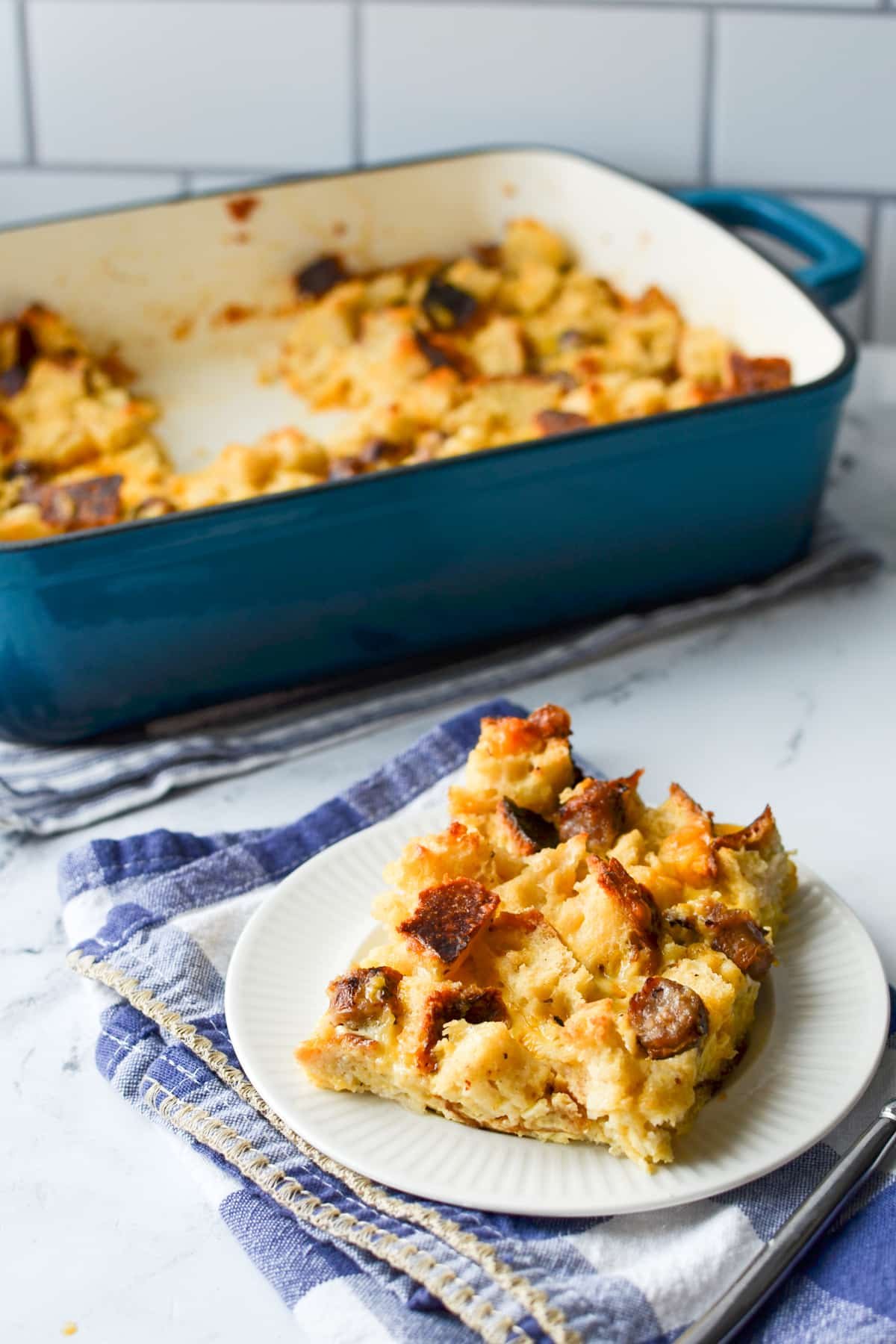 While most often our breakfasts consist of something simple like some fried eggs with some buttered sourdough toast, oatmeal, or a fruit-filled kefir smoothie, every now and then you want something hearty and rustic.
This sourdough breakfast casserole is perfect for those occasions when you want something more than the standard fare, but you still want a streamlined breakfast routine. This sourdough egg casserole can easily be made the night before, stored in the fridge, and baked in the morning.
If you're like my family and you like breakfast for dinner, you could even prep this in the morning so it's ready for a delicious dinner later on in the evening. Honestly, the possibilities are endless!
Reasons to Love This Recipe
It's a make ahead recipe that can be prepped the night before. Just slide it into the oven in the morning!
Like my recipe for Sourdough Bread Pudding, it

uses leftover sourdough bread

, meaning nothing will go to waste.
Since it can be made in advance, it's perfect for an early morning farm breakfast, or for holidays and special occasions.
A great way to use up extra farm-fresh eggs in the Spring (another good one is my Sourdough Dutch Baby recipe).
Ingredients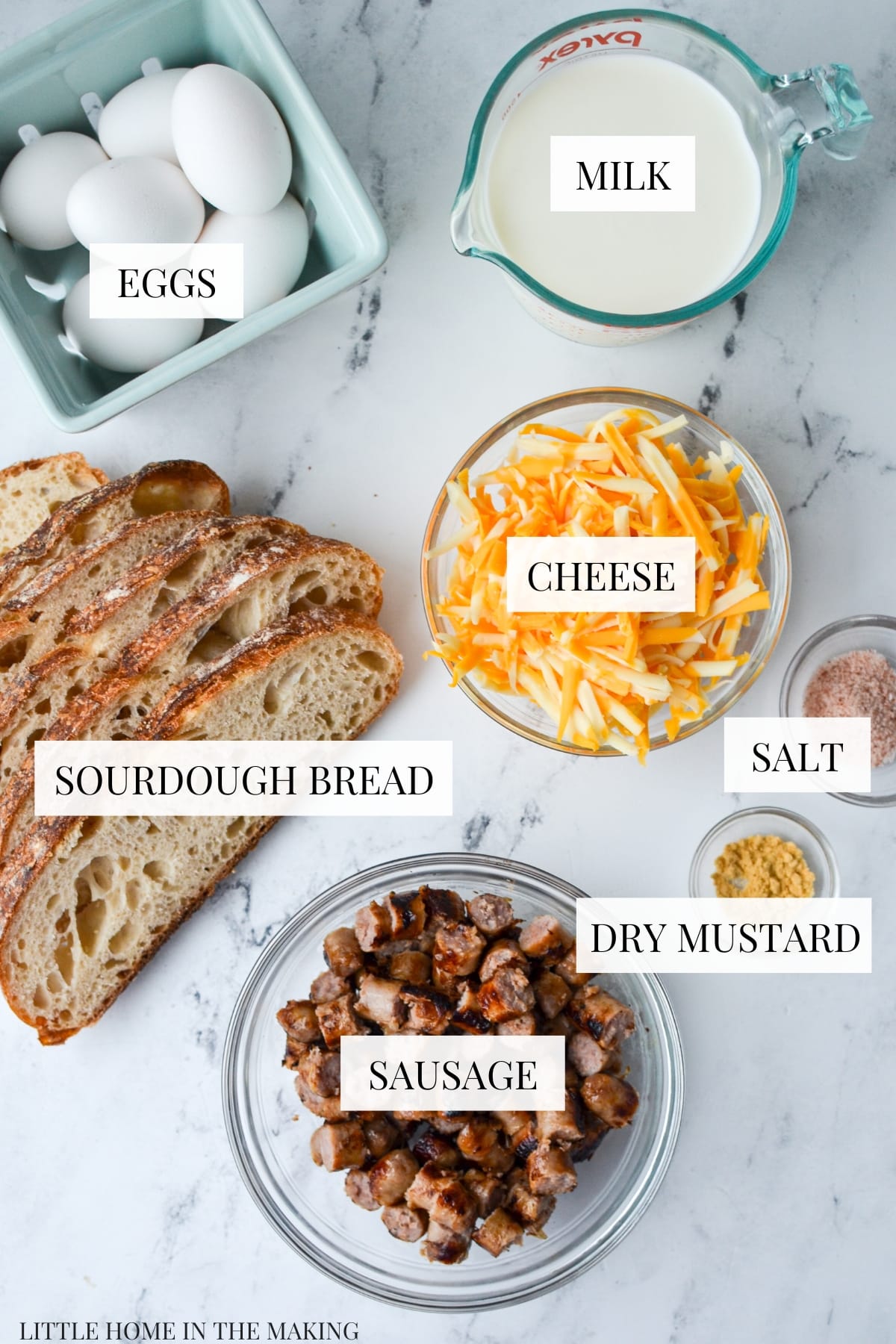 Sourdough bread: You'll need 6 slices of leftover sourdough bread (or about 6-7 cups of cubed bread). I make it at home, so I always have a bunch of sourdough bread to use, but you can use store-bought if you prefer. Cut your slices into 1/2″-1″ cubes using a serrated knife.
Eggs: This breakfast casserole is inspired by a classic hearty breakfast: sausage, eggs, bread and cheese. You'll need 6 large eggs to make this recipe, and they can be farm fresh or from the grocery store.
Sausage or bacon: For added protein and flavor, you'll need to add either cooked and chopped breakfast sausage or bacon. I prefer sausage because it has flavors like sage, marjoram, and cloves.
Milk: You'll need 2 cups of whole milk. This helps soak and soften the bread, and adds plenty of protein, calcium, and satisfying fats.
Cheese: Use whatever cheese you like best, although I recommend shredded it yourself (it melts better and has no additives). Gruyere, raw or sharp cheddar, and muenster are all great options.
Seasoning: Since sausage has so many flavors already, you'll need just a bit of salt and dry mustard powder.
Your Choice of Bacon or Sausage
This hearty sourdough bread breakfast casserole can be made with either breakfast sausage or bacon, depending on what you have on hand and what you like best. You could even use leftover chopped ham if you wanted to!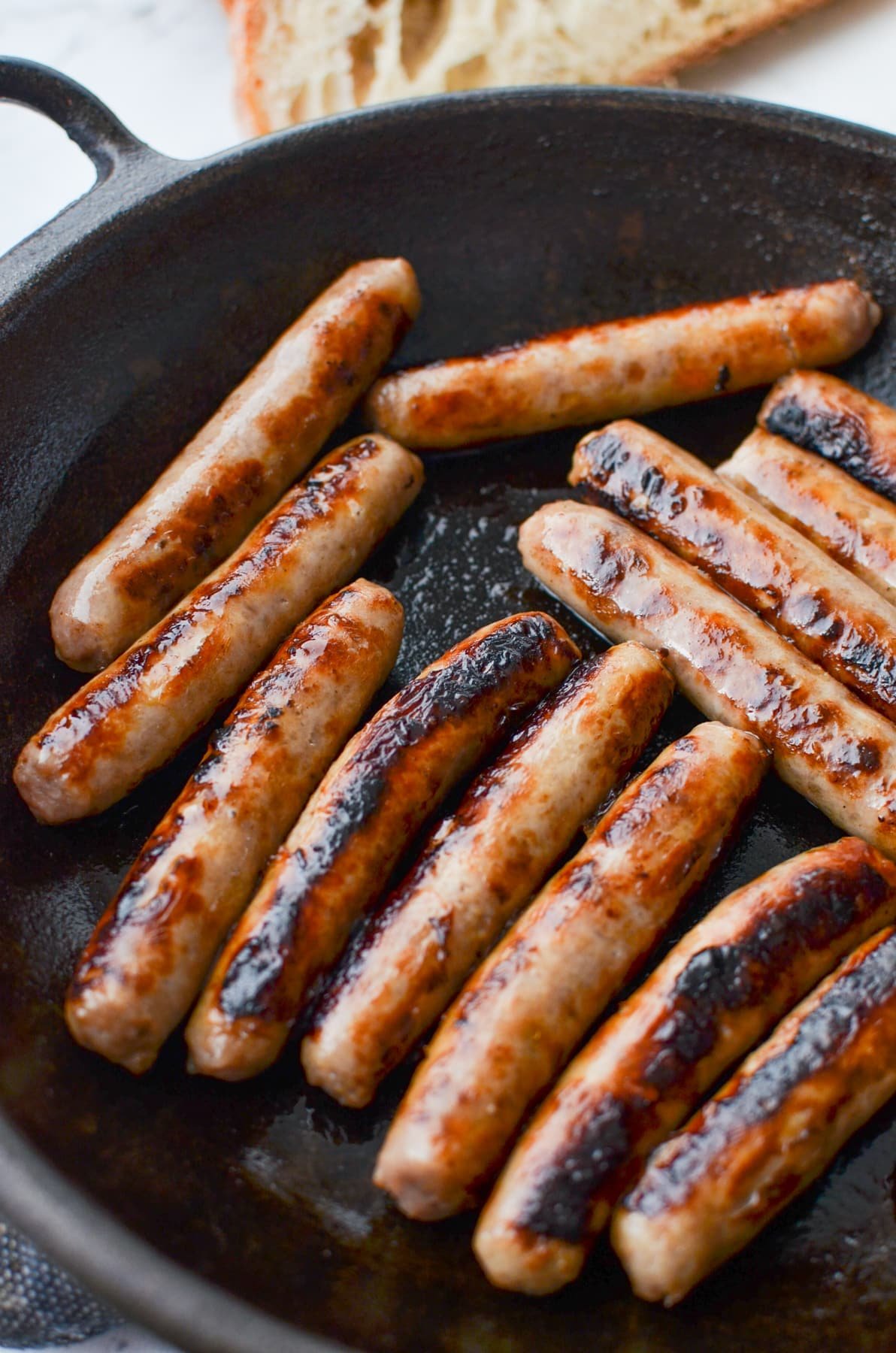 Using sausage: Cook breakfast sausage links in a skillet heated over medium-low heat for 12-16 minutes, turning often to encourage browning. Once the sausages reach an internal temperature of 160ºF, they are fully cooked. Remove from the heat and place on a paper towel lined plate to absorb excess grease. Cut each link into 1/2″ or smaller pieces.
Using bacon: Cook the bacon in a skillet or in the oven until crisp (but still tender). Drain the bacon on a paper towel lined plate to absorb excess grease. Then chop into bite-sized pieces.
How to Make Breakfast Casserole with Sourdough Bread
This is a make ahead recipe, so you won't need to start off by preheating the oven or anything like that. Instead I recommend that you prepare the casserole the night before you need it, then cover and place in the fridge overnight. Then you'll be ready to bake in the morning! If you can't do an overnight soak, I recommend at least 2 hours.
Making the Casserole
To get started, whisk together the eggs until the yolks are broken. Then pour in the milk, and add in the salt and dry ground mustard.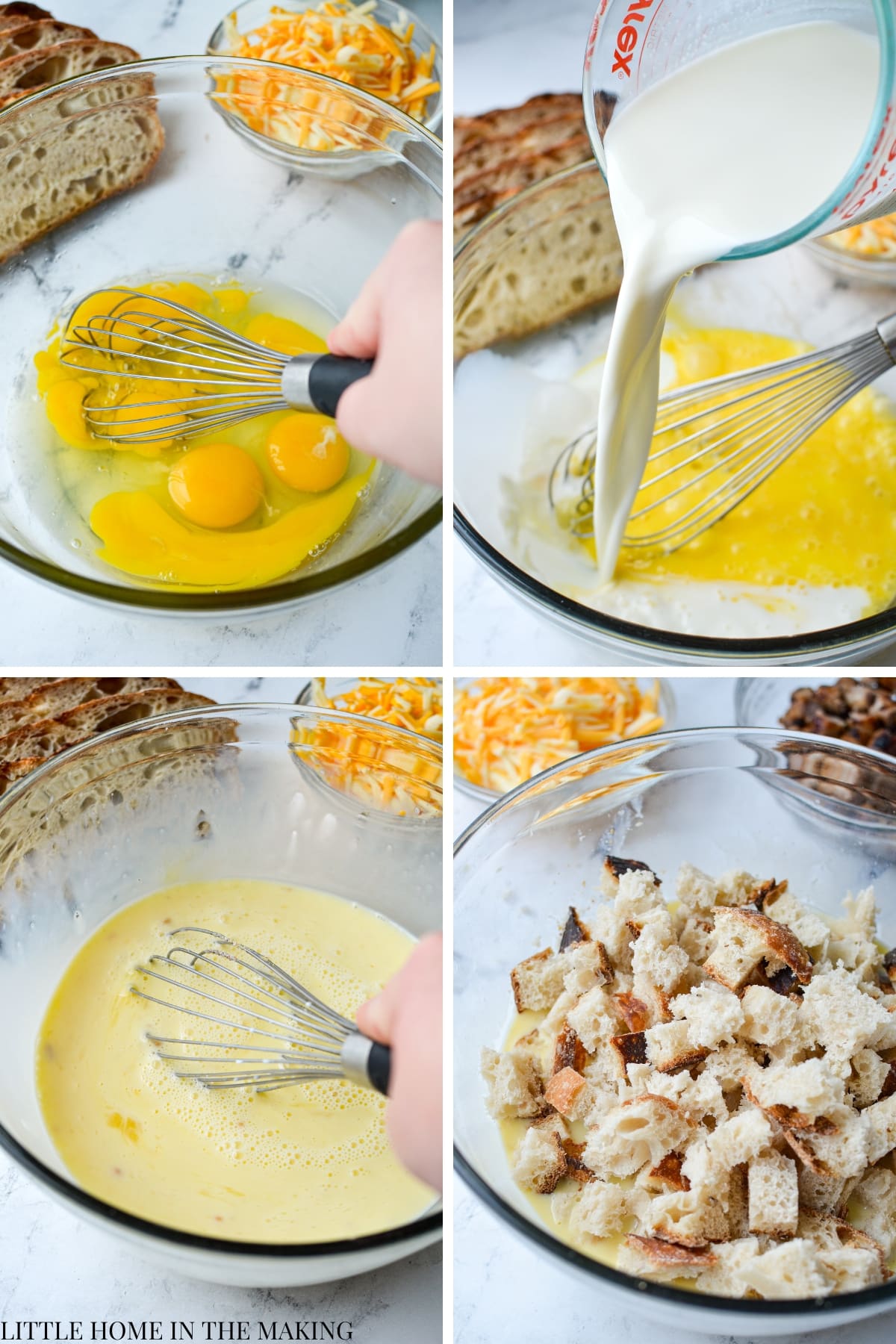 Whisk the eggs, milk, salt, and dry mustard together until completely uniform.
Add in the cubed sourdough bread, then the chopped breakfast sausage (or bacon), and the shredded cheese.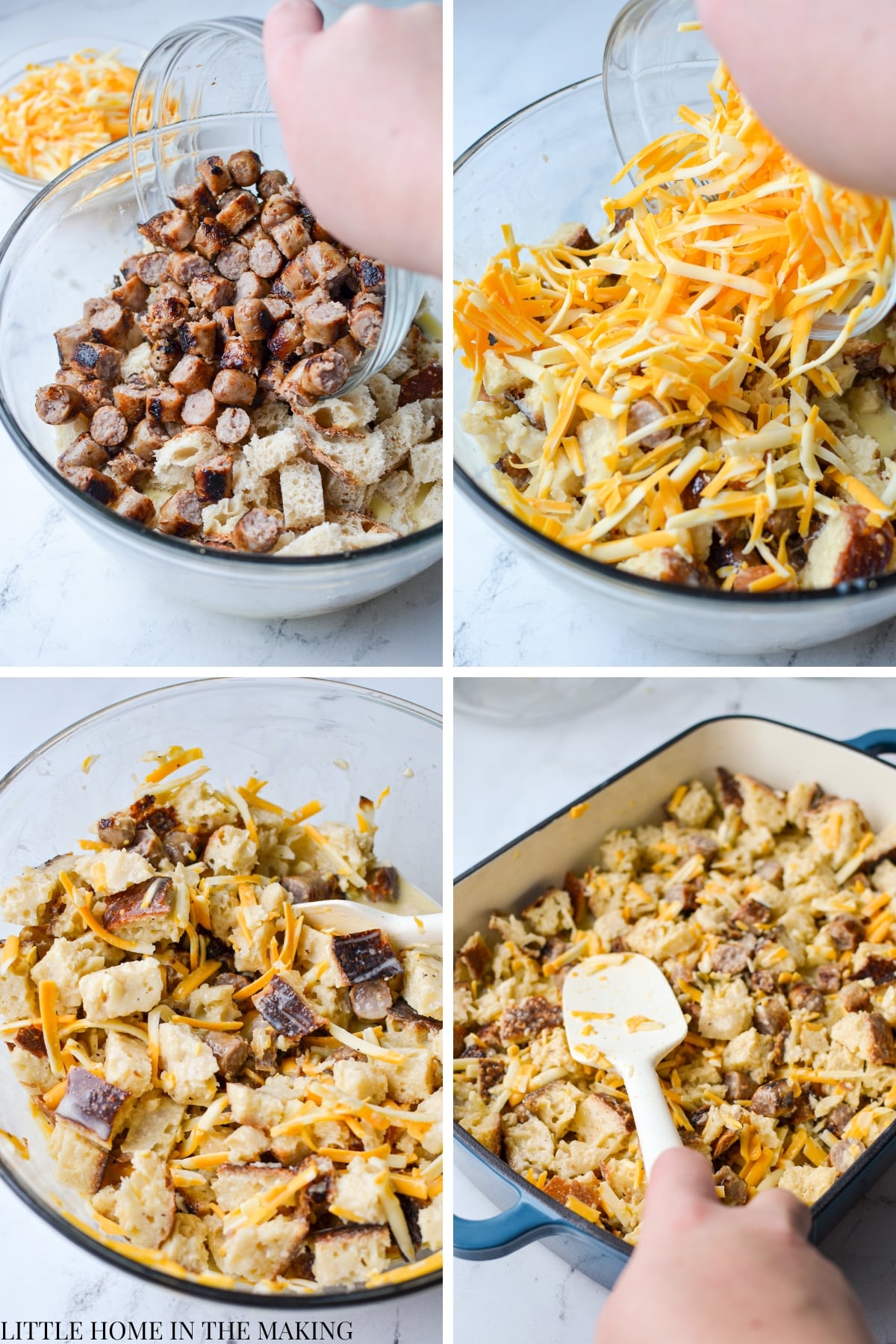 Fold everything together, ensuring the sourdough bread cubes, meat, and cheese are evenly distributed and coated in the egg and milk mixture.
Grease a 9X13 baking dish with butter or avocado oil, and spread the breakfast casserole mixture out in an even layer.
Allowing the Breakfast Casserole to Soak
Once the mixture has been spread into a greased baking dish, cover it with a lid, plastic wrap, or foil. Place it in the fridge to soak and rest for several hours, or up to overnight.
Since this is a breakfast casserole, it's really convenient to prepare it the night before and place it in the fridge to soak overnight. This is a great method to use for early morning breakfasts, special occasions, and holidays.
Baking After Chilling
Once your sourdough breakfast casserole has had the chance to soak and chill for at least several hours, you're ready to bake. Since it is coming out of the fridge, the dish is very cold and can break when placed into a hot oven.
In order to prevent breaking, either let your casserole dish come to room temperature OR place it in a cold oven. Then, set your oven temperature to 350ºF and allow the dish to warm in the oven gradually as it comes up to temperature.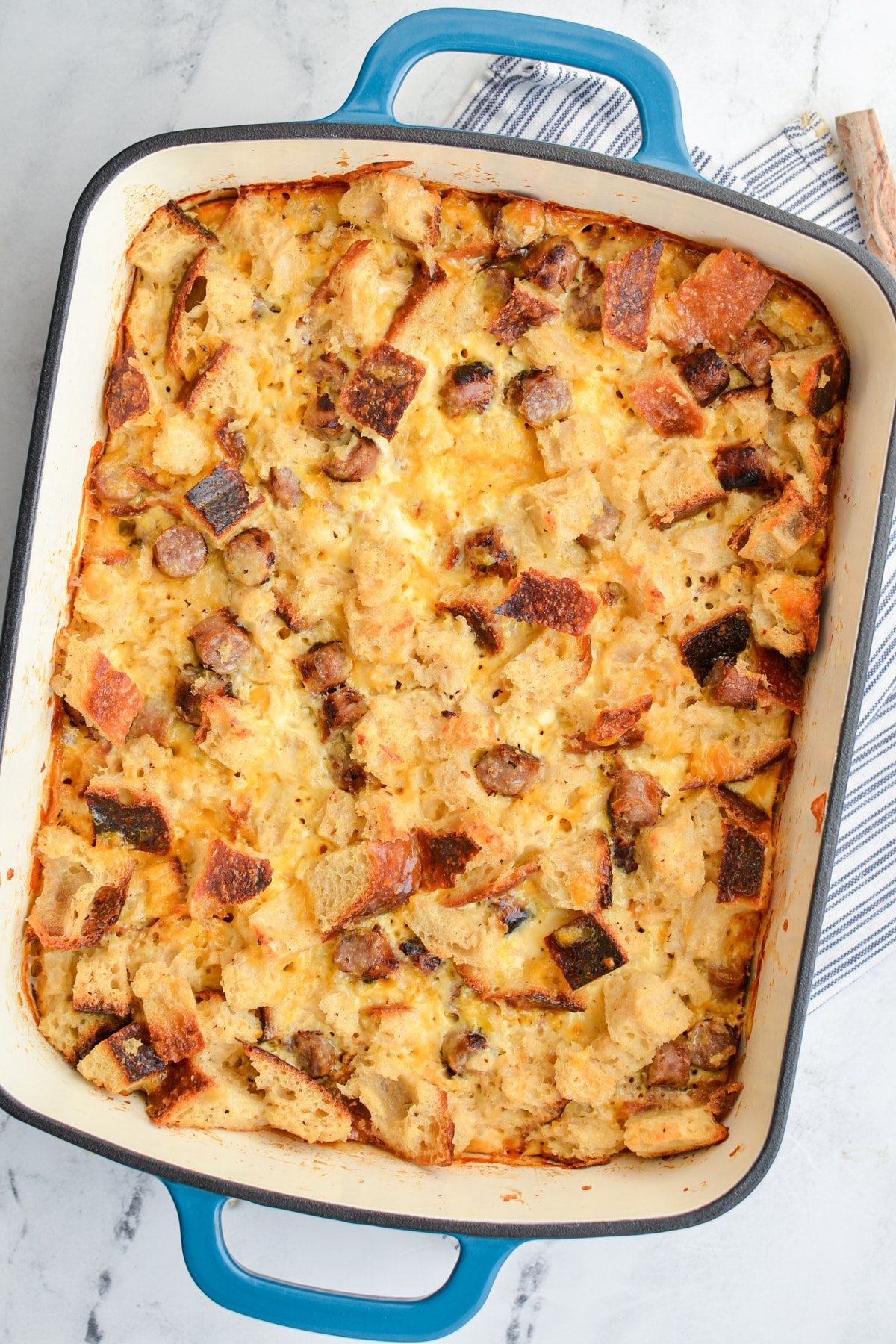 Once the oven has fully preheated, start the baking time. You'll want to bake your sourdough egg casserole for 35-40 minutes, or until the center is completely set.
Bake with a lid (or covered with foil) if you like a softer texture, or uncovered for a crispy bread texture. You could also bake half uncovered and half covered for the best of both worlds.
Serving
Once the casserole has set in the center, remove it from the oven and allow it to cool for 5 minutes before slicing and serving.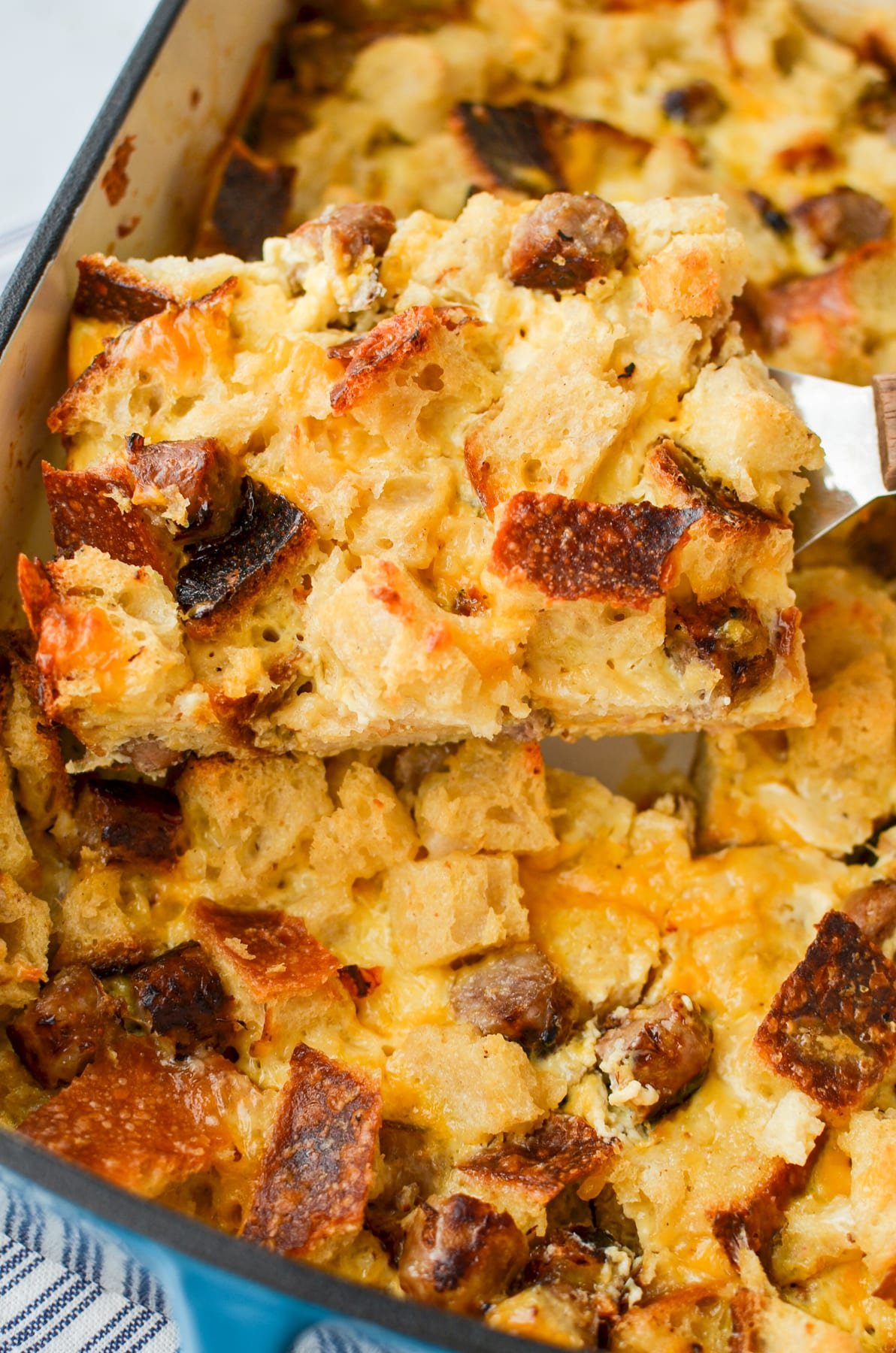 Tips and Tricks
Feel free to use your favorite breakfast meat: bacon, sausage, or even leftover ham! Just make sure whatever you use it is fully cooked prior to adding to the casserole, and drained of any excess grease.
For the best texture, cut your sourdough bread into 1/2-1″ cubes.
Allow to soak and rest for at least 2 hours, although overnight is best. This gives the bread the chance to soak up the egg and milk mixture.
Place the dish in a cold oven, then gradually heat the oven. This prevents the cold dish from cracking in a hot oven. Alternatively, you can leave the dish at room temperature for 30 minutes or so to come to room temperature.

Cover the dish if you don't like a lot of crispy edges or toppings

, and leave it uncovered if you like the texture very crispy.
More Ways to Use Leftover Sourdough Bread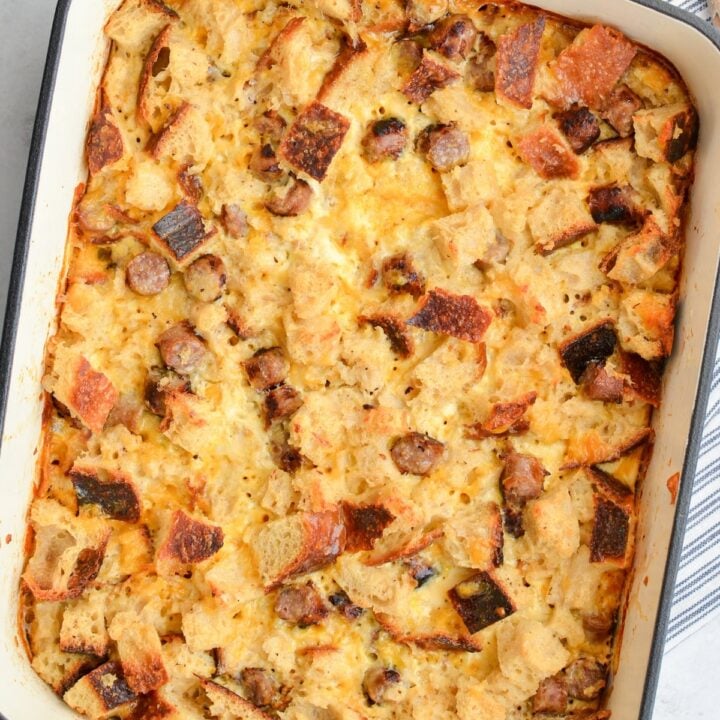 Sourdough Breakfast Casserole
Ingredients
6 eggs
2 cups whole milk
1 teaspoon salt
½ teaspoon ground dry mustard
6 slices sourdough bread, cut into 1" cubes (approximately 6-7 cups)
1 pound breakfast sausage links, cooked and cut into 1" pieces (or bacon)
1 ½ cups shredded cheese
Instructions
Add the eggs to a very large bowl, and whisk them until all of the yolks are broken.
Pour in the milk, add the ground dry mustard and salt, and whisk to combine.
Add in the cubed sourdough bread, as well as the cooked and diced sausage (or bacon). Stir well to combine and coat the bread with the egg and milk mixture.
Add in the shredded cheese, and fold it in until well combined.
Grease a 9X13 baking dish with butter or avocado oil, and pour the breakfast casserole mixture into the dish.
Cover the casserole and place it in the fridge for at least 2 hours, or up to overnight.
When you're ready to bake, place the dish in a cold oven, and then heat it to 350ºF.
Once the oven has preheated (with the dish inside), start the cook time. Bake for 35-45 minutes, or until the center is set.
Bake covered with foil or a lid if you like a soft texture, or uncovered if you like crispy edges and a crispy top.
Once the egg is set in the center, remove from the oven and allow to cool for 5 minutes before slicing and serving.

Notes
Leftovers: Reheat leftovers by placing the covered dish in a cold oven and heating it to 300ºF. Once the casserole is warmed through, serve and enjoy.

With bacon: If you prefer, you can use 1 pound of bacon (cooked and chopped) in place of the sausage links in this recipe.

Type of bread: Sourdough works very well for this recipe, but you can use 6-7 cups of any cubed bread you prefer. Italian or French style loaves work very well, and loaves that are a day old (or older) are preferred.

Make ahead: Prepare this casserole the night before and store in the fridge overnight. Place the dish into a cold oven in the morning and bake as directed.

Nutrition Information:
Yield:

6
Serving Size:

1
Amount Per Serving:
Calories:

656
Total Fat:

39g
Saturated Fat:

15g
Trans Fat:

0g
Unsaturated Fat:

20g
Cholesterol:

287mg
Sodium:

1644mg
Carbohydrates:

39g
Fiber:

1g
Sugar:

8g
Protein:

36g
Nutrition information is an estimate only.
Please note that some of my blog posts here at Little Home in the Making may contain affiliate links. If you make a purchase through these links, I will get a small commission at no additional cost to you. See our disclaimer for more information.