If you're looking for the best way to use up some of your leftover sourdough bread, you have to try this homemade sourdough bread pudding. The perfect way to transform your bread into dessert!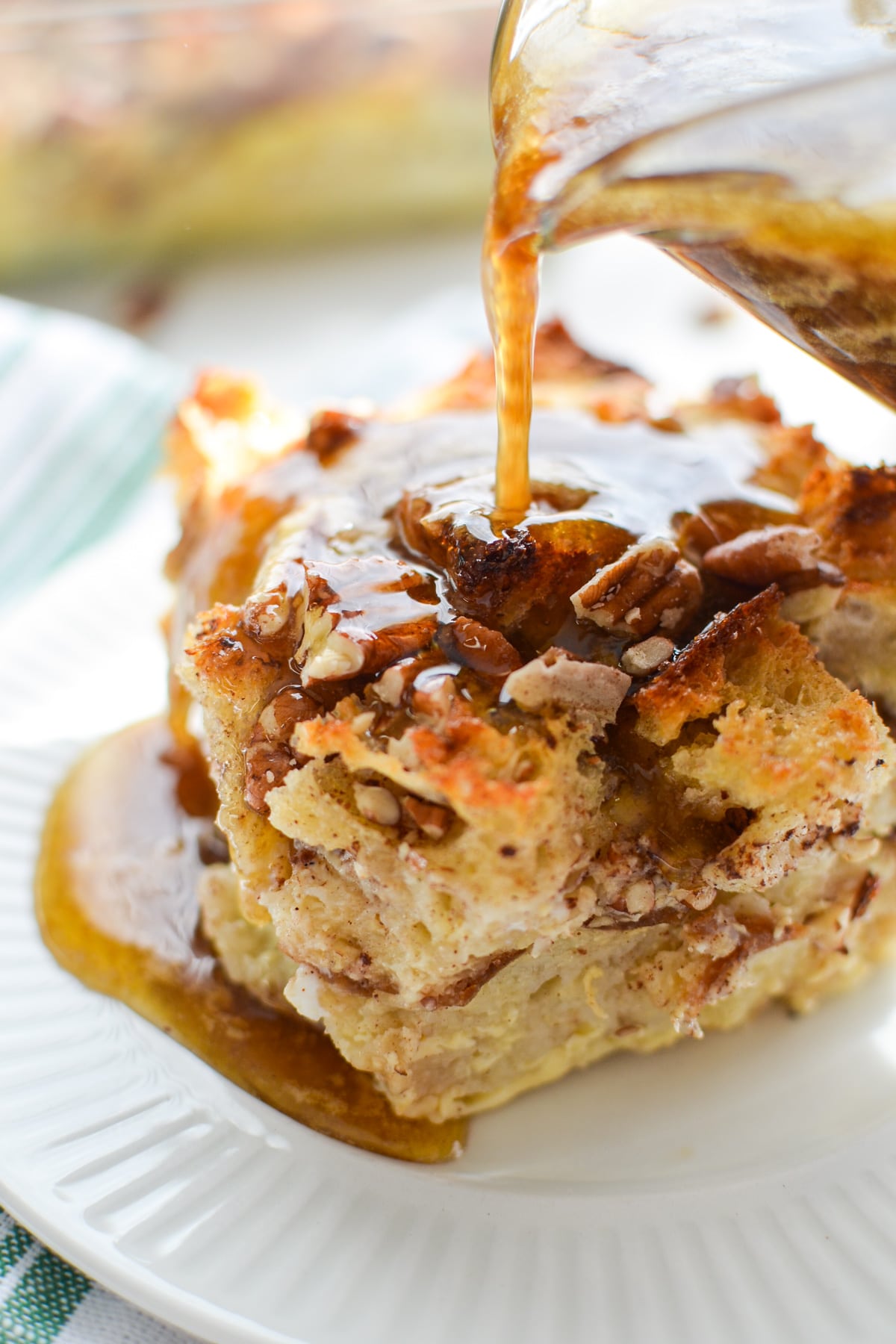 There's plenty of talk around here about making the best use of extra starter by incorporating it into sourdough discard recipes. What I don't often talk about is ways to use up your already baked sourdough bread.
While one could be tempted to eat the entire loaf alongside a stick of butter and a cup of tea, common sense (and hunger and fullness cues) dictates otherwise. And so, for those of us with smaller families, we may have a little extra bread kicking around.
Most often I use a few leftover slices from the day before to make some delicious sourdough croutons or garlic toast, but I've also turned it into tasty meals like tuna melts and pizza toast.
This recipe for sourdough bread pudding takes a sweeter spin with leftover sourdough bread, and I'll show you how to use those day old (or several days old) pieces of bread to make a delicious baked dessert.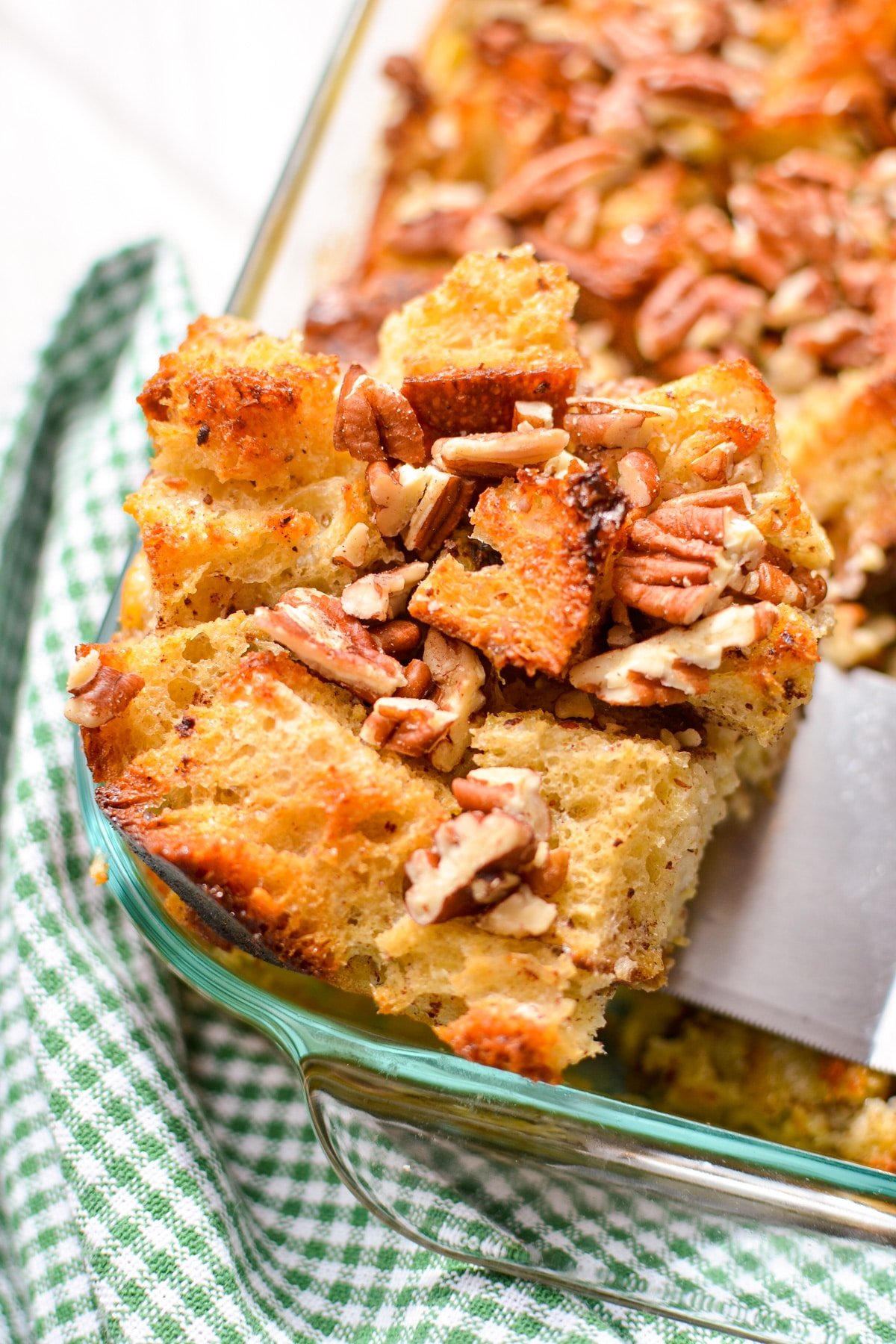 What makes this a pudding?
For those of you in the United States, you may not be as familiar with baked puddings as I am. While I'm Canadian and much of our culture overlaps with US culture, some of our British roots remain, and so there are plenty of things that we have in common with the UK. And while you won't catch us calling chips "crisps" anytime soon, many of us have encountered what the UK calls puddings in several forms. This bread pudding being one of them, and another would be the classic Christmas plum pudding.
These are not puddings as we have come to recognize them in North America – A sort of thick, creamy, and sweet custard-like dessert that can be eaten with a spoon. Instead they are often steamed, but sometimes baked. This bread pudding was most likely supposed to be steamed at one point, but I like a variety of textures and baking does just fine by me. There are some soft, tender pieces, as well as a few crispy and crunchy pieces. Just like the bread puddings I ate growing up.
And so today I'm sharing with you my interpretation of a sourdough bread pudding. Baked until set, with some toasty bits on top, and then drizzled with a homemade brown sugar sauce and toasted pecans. It's a dessert lovers dream come true and is perfect for brunch, breakfast, or hearty dessert!
Let's get started.
Ingredients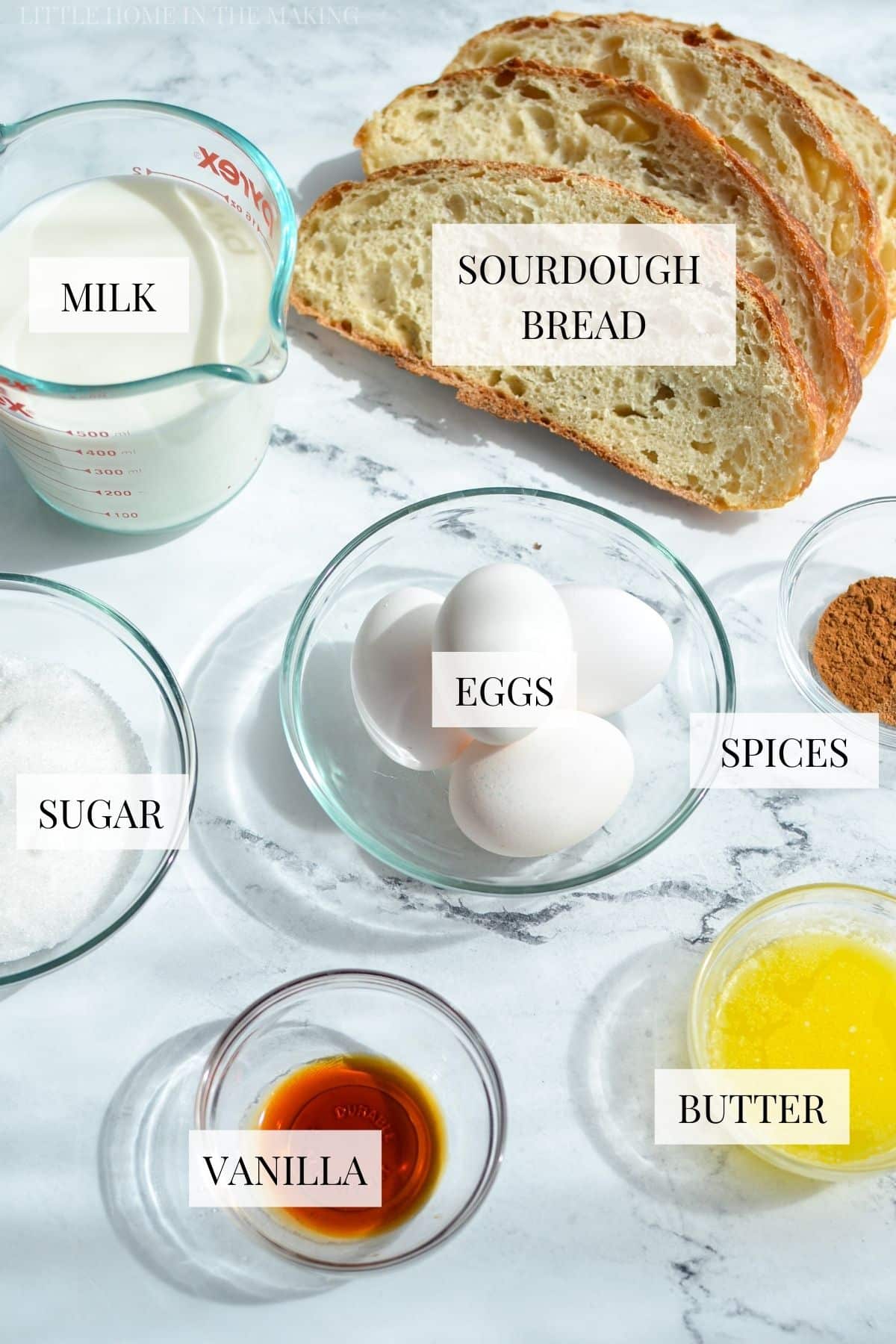 Sourdough bread: You will need about 4-6 slices of homemade sourdough bread. If you make large boules, 4 slices will be plenty, but if you make sandwich style loaves, you'll need about 6 slices. The recipe itself isn't too fussy, so don't worry too much about an exact amount!
Milk: I like to use whole milk so it will be super creamy but not too decadent. If you need to eat dairy free, you could easily substitute your favorite non-dairy milk.
Eggs: One thing that all bread pudding recipes have in common is eggs! They bind everything together and create structure.
Butter: Just a little bit of melted butter adds that signature flavor we all know and love. If you're dairy free, you could use coconut oil instead.
Sugar: Since most of the sweetness will come from the brown sugar topping, you won't need a whole lot of sugar in the bread pudding itself. Just enough to make it a tiny bit sweet.
Spices: Cinnamon and nutmeg give this sourdough bread pudding a warm, comforting flavor.
Vanilla extract
For the Brown Sugar and Pecan Topping
Chopped toasted pecans
Brown sugar
Butter
Milk
Lemon juice
Salt
How to Make Bread Pudding with Sourdough
To get started, cut your sourdough bread into cubes that are 1/2-1″ in size. This works best with leftover bread, but you can use freshly baked bread if that's what you have available.
Then, add your eggs to a large bowl and whisk them just enough to break up the yolk. I like to use a Danish dough whisk for a lot of my sourdough baking, and they work great for this recipe too.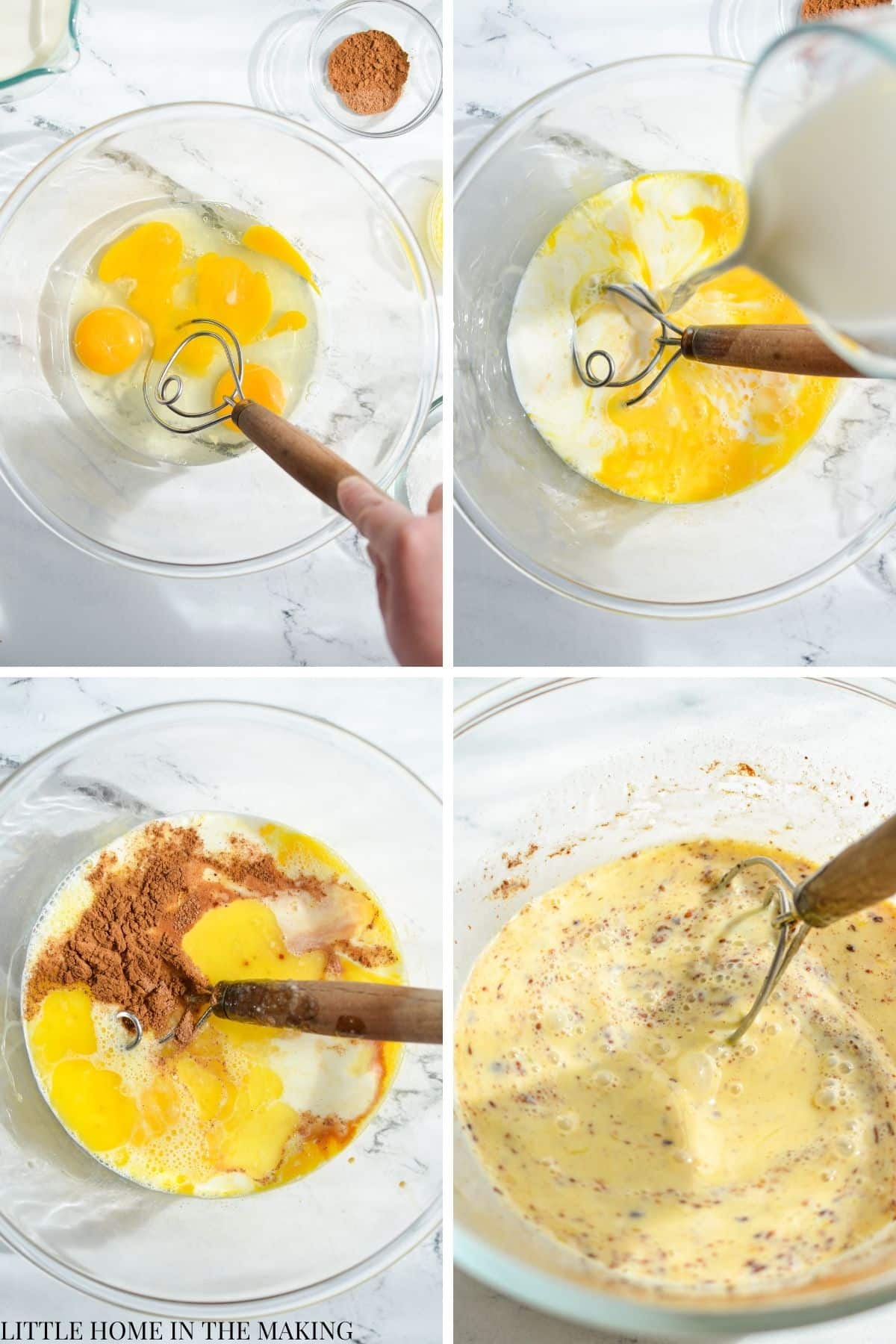 Add in the milk and sugar and give it another good whisk.
Add in the melted and cooled butter, and the cinnamon, nutmeg, and vanilla extract. Whisk vigorously to combine.
Add your sourdough bread cubes to an 8X8 glass baking dish that has been lightly greased with butter.
Pour in the milk, egg, and sugar mixture evenly over the sourdough bread cubes.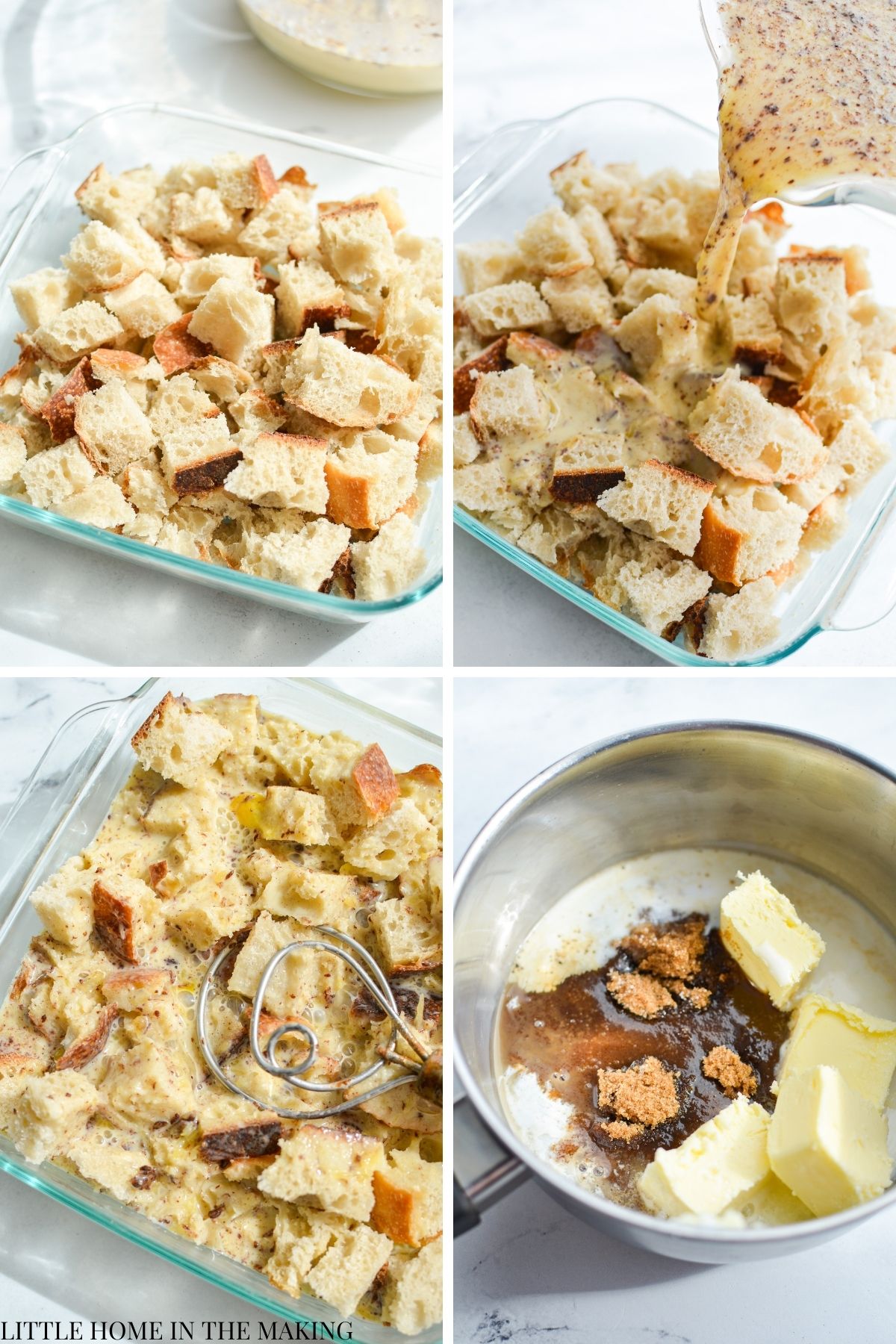 Press the bread cubes down into the liquid mixture, aiming to have each cube lightly coated in the milk and egg, or submerged where possible. Allow your cubes to rest for 10-15 minutes to soak up as much of the liquid as possible.
Bake for 50-60 minutes, or until the bread pudding is set in the middle. It may be a bit jiggly, but it shouldn't be very liquidy.
Remove from the oven, and get started on the brown sugar topping.
Making the Brown Sugar Topping
Add all of the ingredients to a small saucepan. Heat over medium-high heat, stirring often to prevent burning and to help the butter melt.
Once the sauce is fully combined, remove from the heat.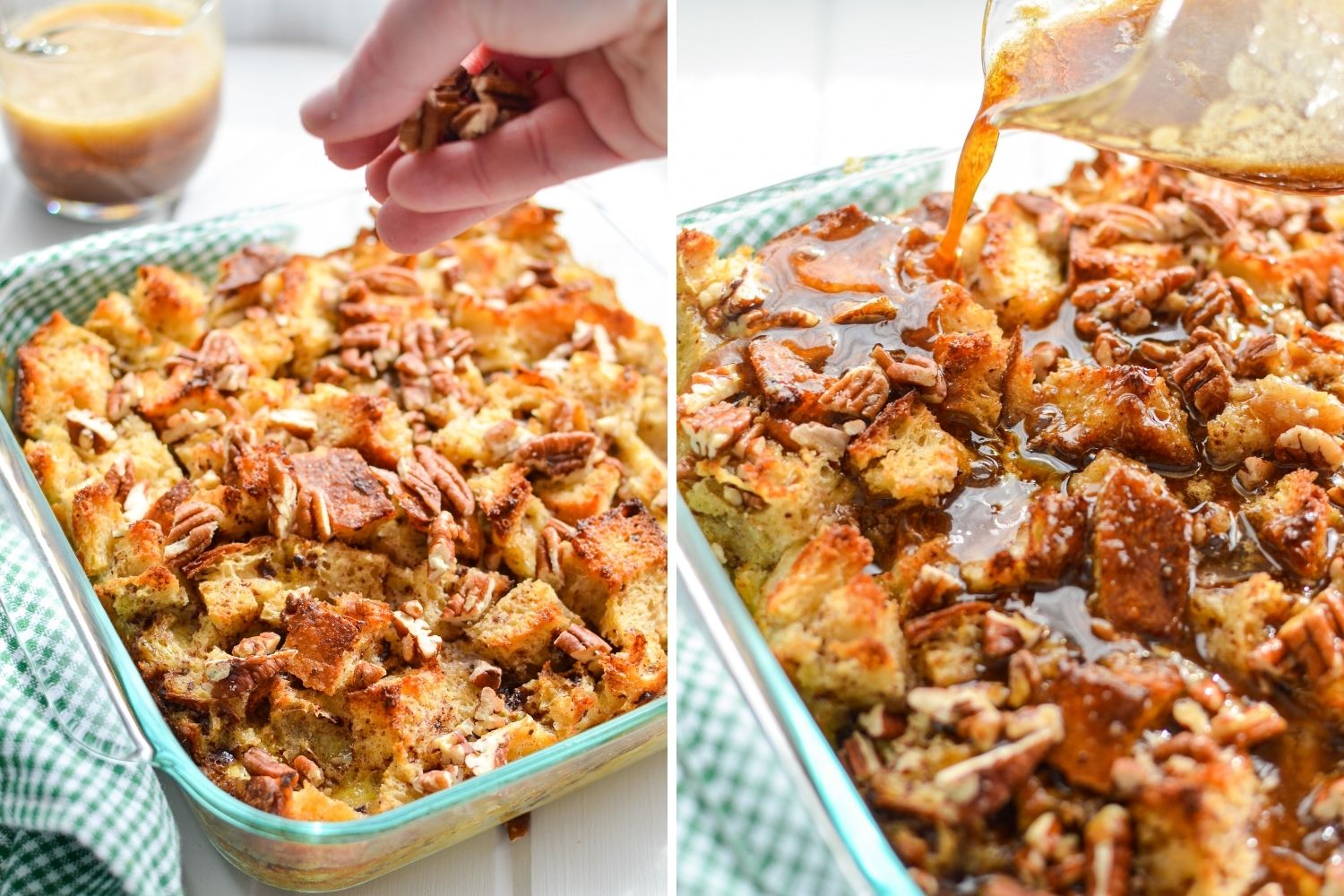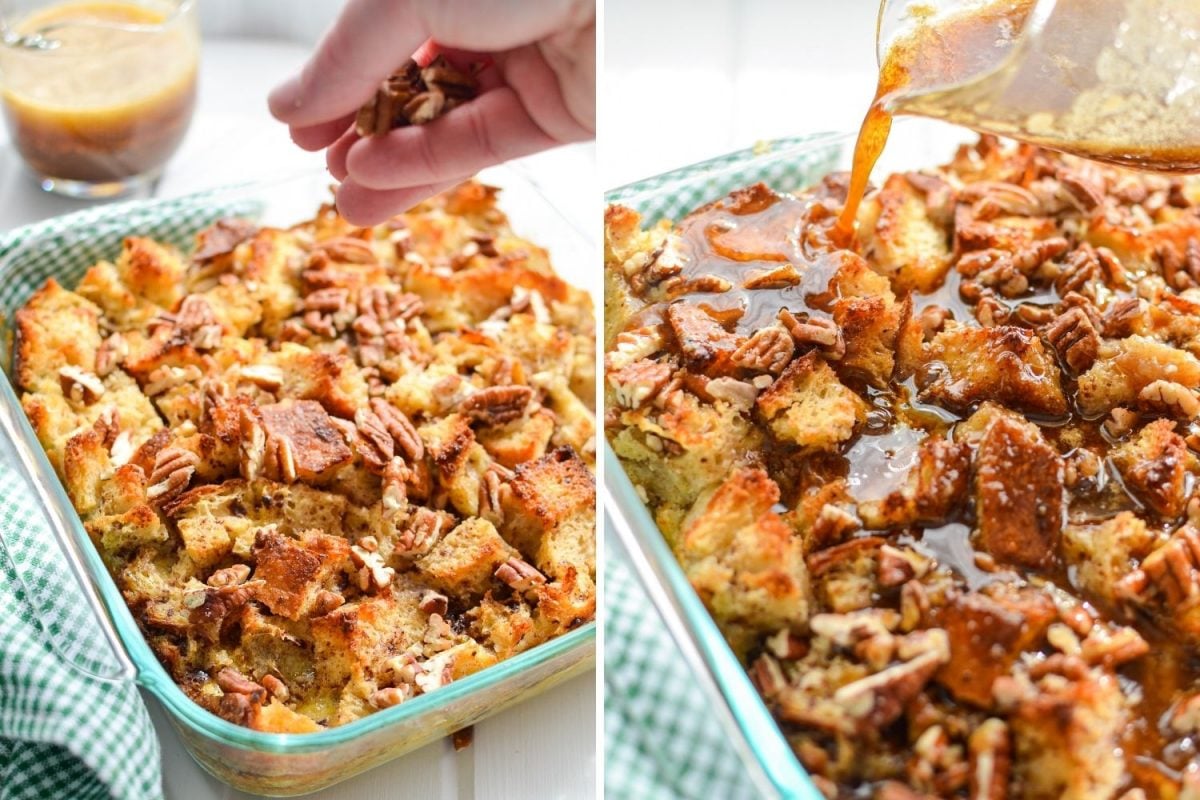 Sprinkle the bread pudding with chopped pecans (if using), and then top with the reserved brown sugar topping.
Alternatively, you can serve the bread pudding as is and offer pecans and brown sugar on the side. It's totally up to you!
This sourdough bread pudding is sweet enough that it can be eaten without any additional sauce or topping, but most people like a little something sweet added! If you don't use the brown sugar topping, a custard or some maple syrup is a nice touch.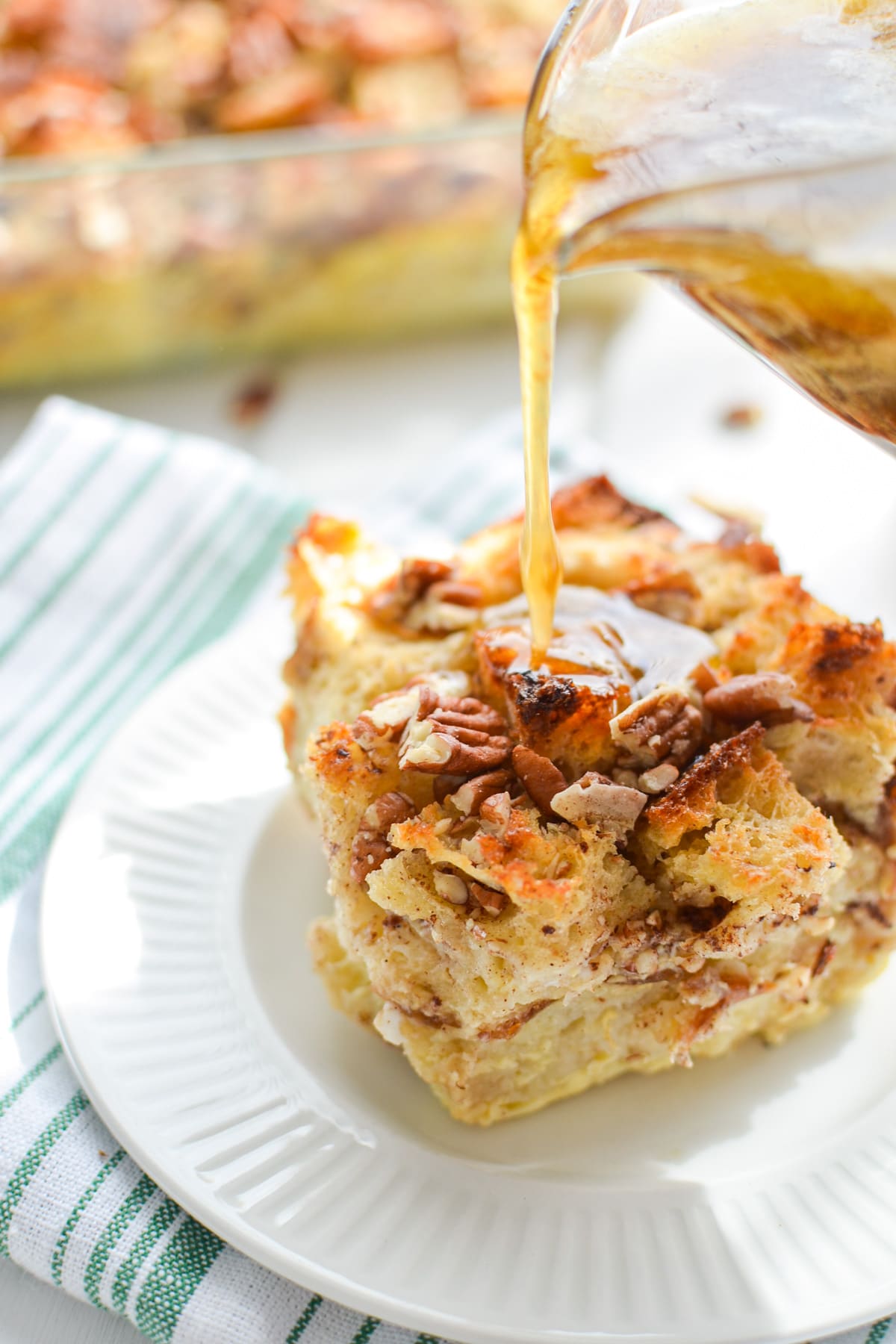 How to Reheat Bread Pudding
While you can reheat your bread pudding in a microwave quickly, the best results come from reheating it in the oven.
Reheating bread pudding:
Preheat the oven to 350F.
Add a small amount of milk to the bread pudding, trying to spread it out evenly. This will help moisten the bread during baking.
Cover with a glass lid or a tent of aluminium foil.
Bake in the preheated oven for 15-20 minutes, or until completely warmed through.
Once heated through, remove the lid and broil for 1 minute, just enough to toast the very tops of the bread pudding. This step can be skipped if you prefer your bread pudding very soft.
Serve as desired!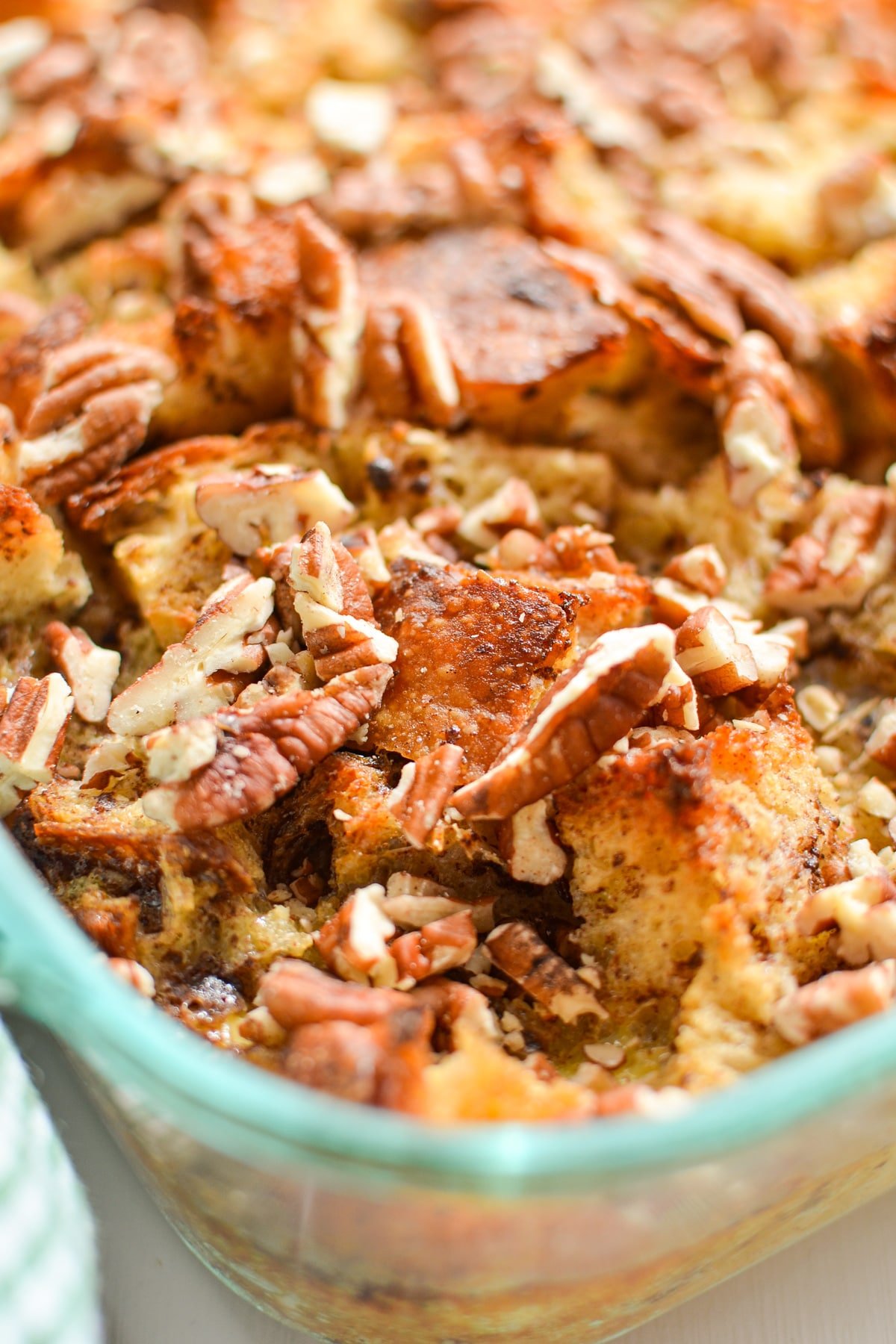 Variations and Substitutions
Dairy Free: To make this recipe dairy free, substitute the milk for a non-dairy milk of your choice. I recommend richer milks like canned coconut milk or cashew milk. Substitute the butter for a butter flavored coconut oil, virgin coconut oil, or melted ghee if only dairy sensitive.
Gluten Free: Substitute the sourdough bread cubes for gluten free bread cubes of your choice. You will need about 5-6 cups total.
With Eggnog: For a fun seasonal breakfast, brunch, or dessert, you can easily make this sourdough bread pudding with eggnog. Just replace the milk in the recipe for eggnog.
Frequently Asked Questions
Does bread pudding freeze well?
Yes, bread pudding does freeze well! To avoid it from becoming mushy, it's recommended that you freeze your bread pudding after it has been baked. Once it has cooled completely, wrap it in a double layer of plastic wrap and a final layer of foil OR a very large freezer bag, and place in the freezer for up to 2 months. Leave off any additional toppings or sauces, and add those after baking your frozen bread pudding.
Does bread pudding need to be refrigerated?
Since bread pudding contains moist ingredients like eggs and milk, it's recommended that you store your bread pudding in the refrigerator. Cover tightly with plastic wrap and store in the fridge for up to 1 week.
What's the best way to store bread pudding?
The best way to store bread pudding is to wrap it tightly with plastic wrap, OR sealing it with an airtight lid and placing it in the fridge. It's not recommended that you store your bread pudding at room temperature, since the moisture and warm temperature can cause rapid bacterial growth.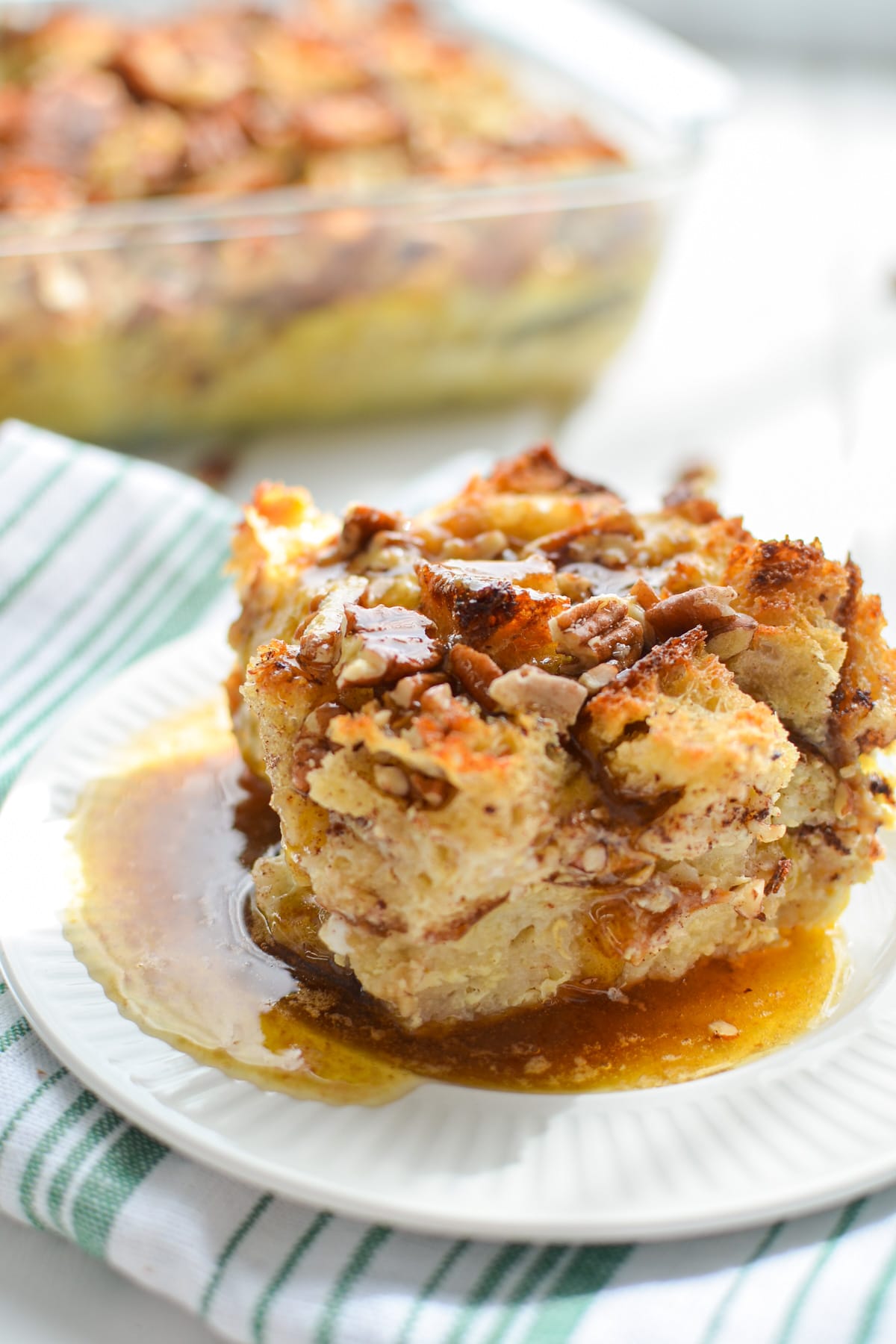 More Leftover Sourdough Bread Recipes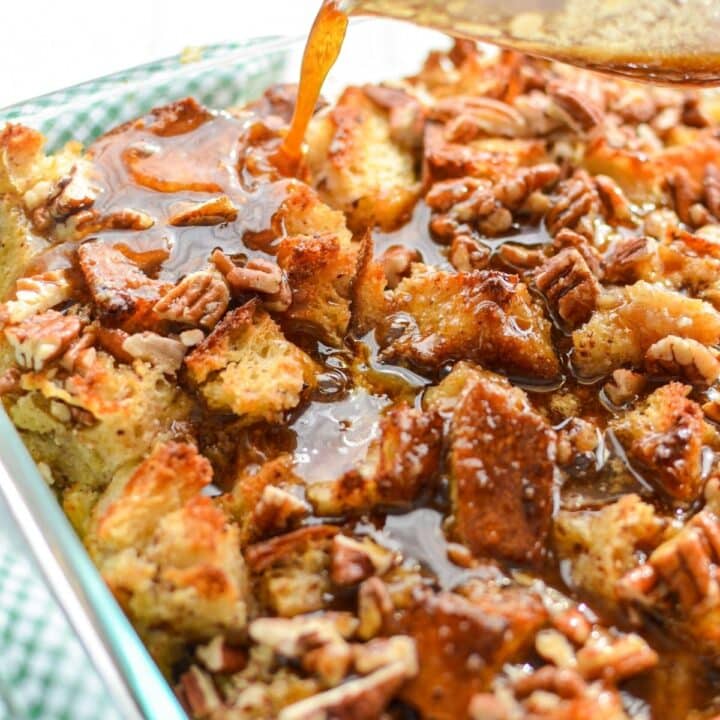 Sourdough Bread Pudding
If you're looking for ways to use up leftover sourdough bread, you have to try this homemade sourdough bread pudding. You'll love it!
Ingredients
4-6 slices day old sourdough bread, cut into 1" cubes
2 tablespoons butter, melted and cooled
4 eggs, beaten
2 cups whole milk
1/2 cup cane sugar
1 teaspoon ground cinnamon
1/8 teaspoon ground nutmeg
1 teaspoon vanilla extract
Topping (optional)
1/2 cup brown sugar
1/4 cup butter
2 tablespoons milk
1 teaspoon vanilla extract
1/2 teaspoon lemon juice
1/4 teaspoon salt
3/4 cup chopped pecans
Instructions
Preheat the oven to 350F and prepare a glass 8X8 baking dish by greasing it with a small amount of butter or oil.
Add the bread cubes to the prepared baking dish, spreading them out evenly.
In a large mixing bowl, combine the melted butter, eggs, milk, sugar, cinnamon, nutmeg, and vanilla extract. Whisk well to combine.
Pour the egg and milk mixture on top of the bread cubes evenly, pressing the cubes down until the bread is covered and has been dampened by the milk mixture and is soaking up the liquid. Set aside for 5 minutes or so, and then press the bread cubes down again.
Bake in the preheated oven, uncovered, for 50-60 minutes, or until the mixture has set in the middle, but is still slightly jiggly.
Remove from the oven and allow to cool while you prepare the brown sugar and pecan topping.
Add the brown sugar, butter, milk, vanilla, lemon juice, and salt to a small saucepan and bring to a simmer over medium-high heat. Whisk well to combine, and stir often to prevent burning.
Once the mixture is fully combined, remove from the heat.
Sprinkle the top of the bread pudding with the chopped pecans, and then drizzle with the brown sugar sauce. Alternatively, you can serve serve individual portions and offer the brown sugar sauce and pecans on the side as an option.
Notes
Toasting Pecans: Add your pecans to a cold skillet and heat over medium heat, stirring very often to prevent burning. Once the nuts become fragrant, remove them from the heat and add to a plate or bowl to cool further.
Nutrition Information:
Yield:

9
Serving Size:

1
Amount Per Serving:
Calories:

398
Total Fat:

19g
Saturated Fat:

7g
Trans Fat:

0g
Unsaturated Fat:

10g
Cholesterol:

109mg
Sodium:

436mg
Carbohydrates:

48g
Fiber:

2g
Sugar:

26g
Protein:

10g
Nutrition information is an estimate only.
Please note that some of my blog posts here at Little Home in the Making may contain affiliate links. If you make a purchase through these links, I will get a small commission at no additional cost to you. See our disclaimer for more information.