The best way to use up leftover sourdough bread is to make sourdough breadcrumbs! These can be used in a variety of ways, and are super easy to make and store! If you've ever had a failed or flat sourdough loaf, THIS is the best way to avoid letting it go to waste.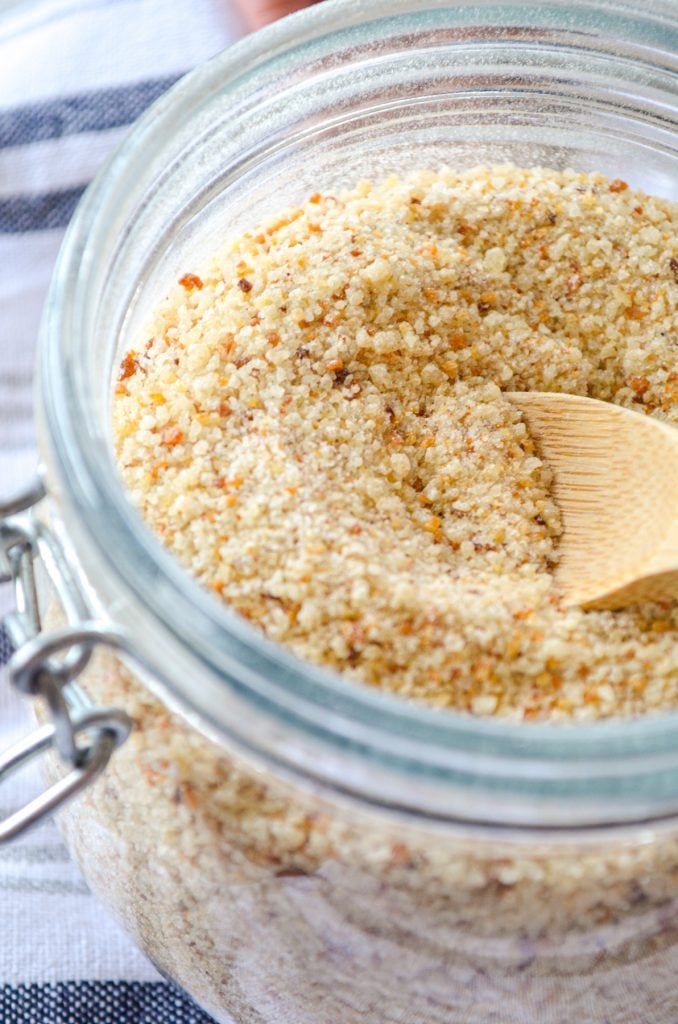 Please note that some of my blog posts here at Little Home in the Making may contain affiliate links. If you make a purchase through these links, I will get a small commission at no additional cost to you. Please see my Disclaimer for more information.
Have you been bitten by the sourdough bug? I know I have! I've been making sourdough for several years now, and haven't managed to kill my starter yet. I'm pretty proud of myself, if you couldn't tell. With sourdough baking though, there are some drawbacks, if you can call them that. One of which is that there always seems to be an abundance of discard (which is why I have these recipes that use sourdough discard) and/OR leftover sourdough tidbits that aren't quite suitable for eating, but not exactly fit for the pit either.
Since I'm all about solutions, I've learned how to transform those sad and odd shaped bits of sourdough bread into sourdough breadcrumbs. They make a lovely addition to casseroles, pastas, meatballs, meatloaf, and even breakfast sausage patties! While I've made fresh breadcrumbs many a time and for many years now, taking the extra few steps to prepare a dried breadcrumb means for much longer storage. This means I can keep them in my pantry to freezer, just as you would store-bought breadcrumbs. Since I cook from scratch 90% of the time, it's handy when I can make those items that function just the same as their processed or packaged counterparts.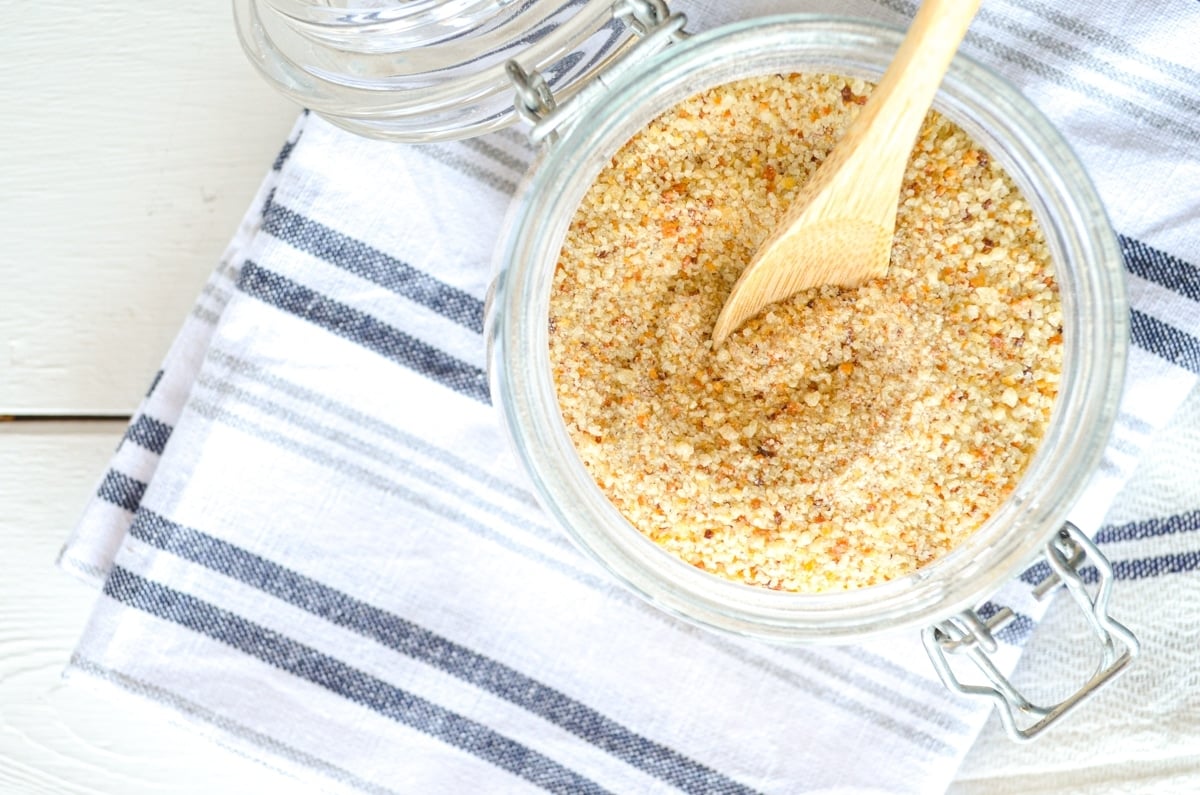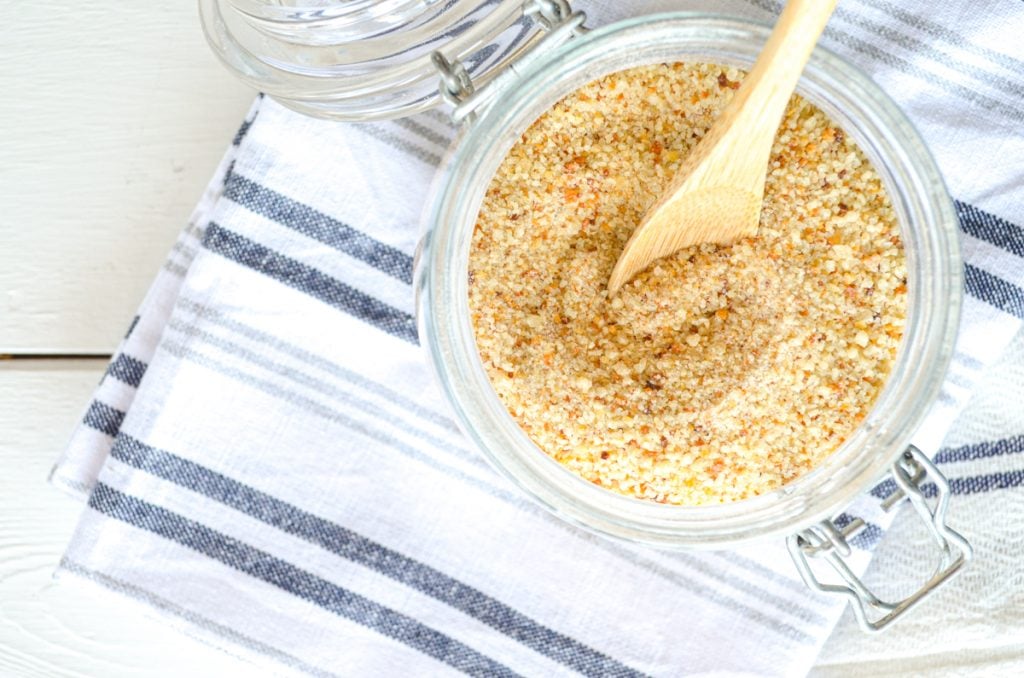 Can I Use Sourdough for Breadcrumbs?
Yes! In fact, sourdough bread makes some of the best homemade breadcrumbs out there! Since it is a sturdy bread, often without added fats (which soften the bread and prevent it from drying out), it crushes up perfect into homemade dried sourdough breadcrumbs.
Sourdough and Gluten Sensitivity
Not only does sourdough bread make for excellent breadcrumbs, but it's a great option for those that find themselves more sensitive to grain and gluten. While sourdough isn't gluten free and shouldn't be consumed by those with celiac, those of us with some grain sensitivities (rather than allergies) find that it's easier on our digestive systems, and totally okay to consume in moderation. This makes it an excellent addition to meatloaf and meatballs, while still ensuring you won't have a bad reaction to consuming unfermented gluten. You can see this article from Bon Appetit for more information on why some gluten sensitive individuals can eat sourdough bread without adverse effects.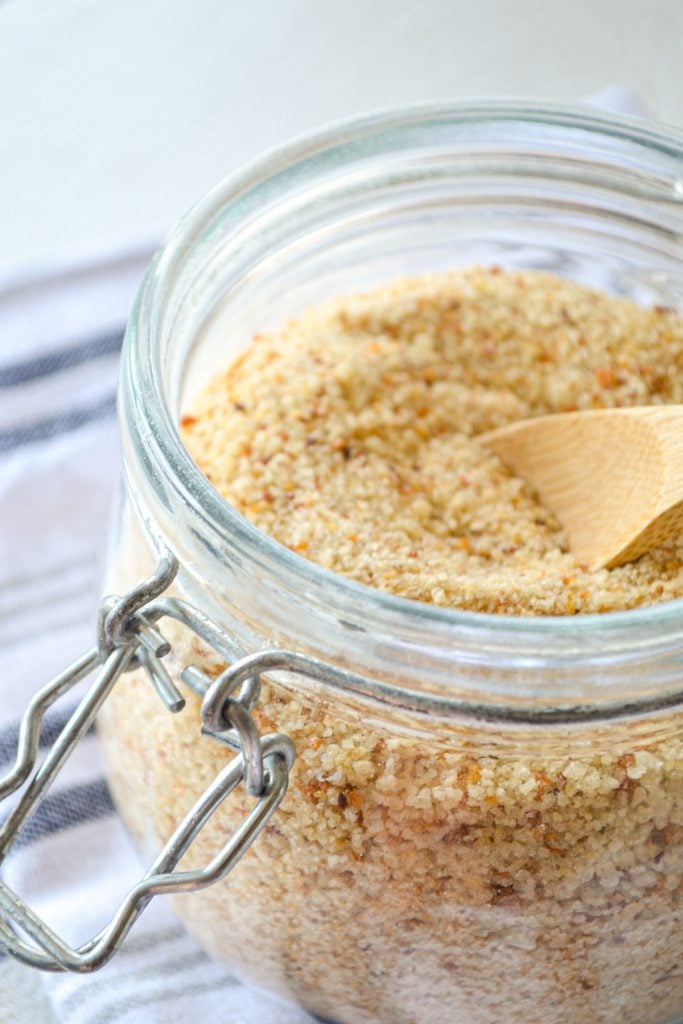 How to Make Sourdough Breadcrumbs
Once you've made sourdough breadcrumbs for the first time, you won't believe that you ever wasted your money on store-bought breadcrumbs! Its so easy to make, and since it uses a waste product (dried up pieces, leftovers, ends, etc), you're saving money AND avoiding waste. It can't get much better than that!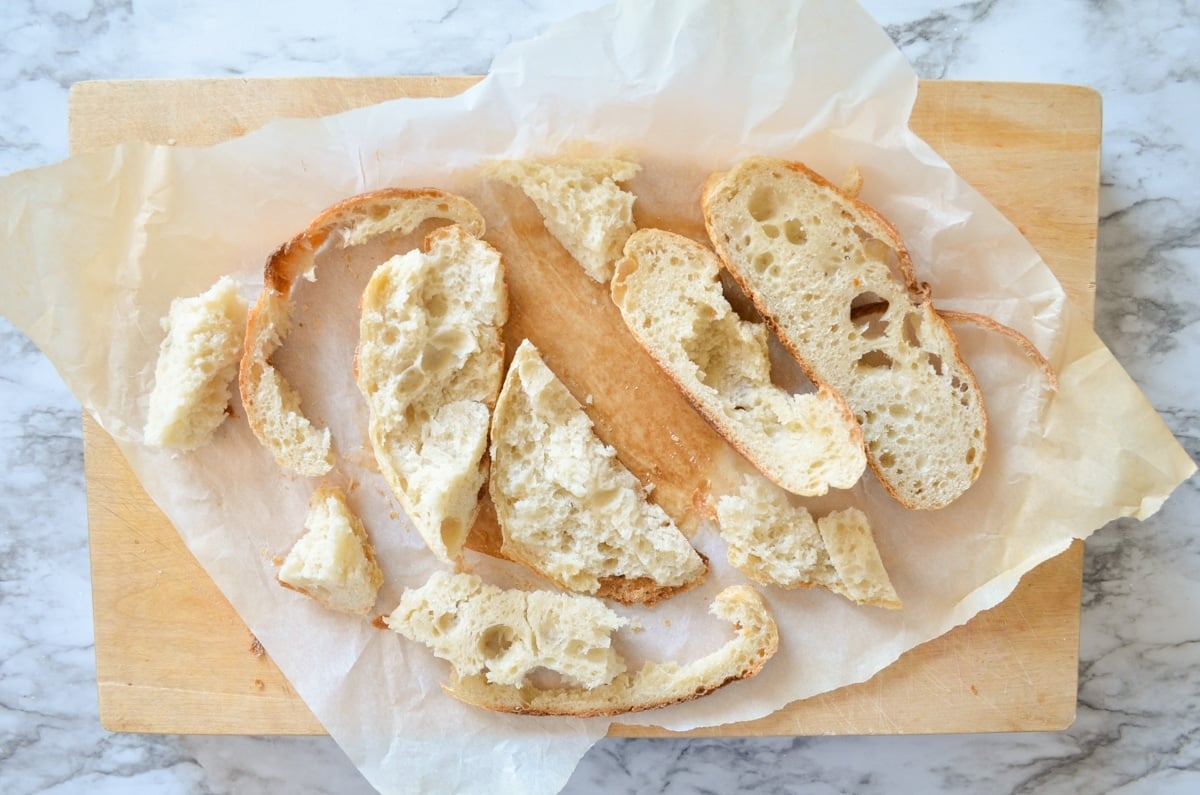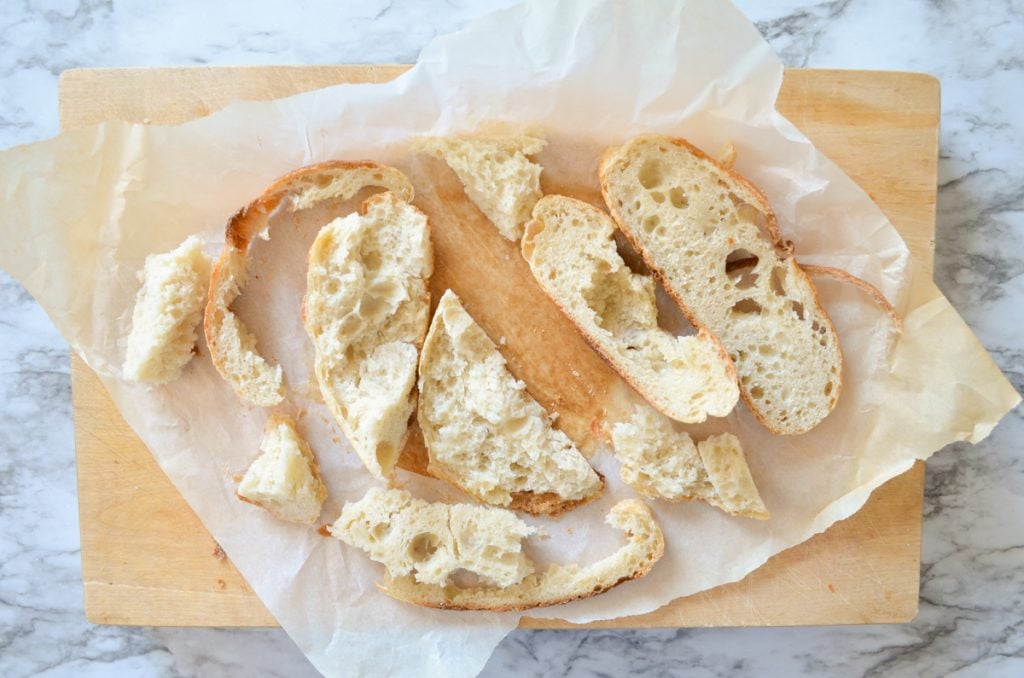 Selecting the Bread
The first thing you need is leftover sourdough bread. You can see that my pieces in the photo above vary in size and shape. Some are crusts left behind from my toddler, there's an end, and some dried out slices and nibs. As you can see, it's not important to have pretty looking sourdough to end up with great sourdough breadcrumbs!
If your leftovers are larger in size, use a good quality bread knife to cut them into smaller pieces. This will help them dry more quickly.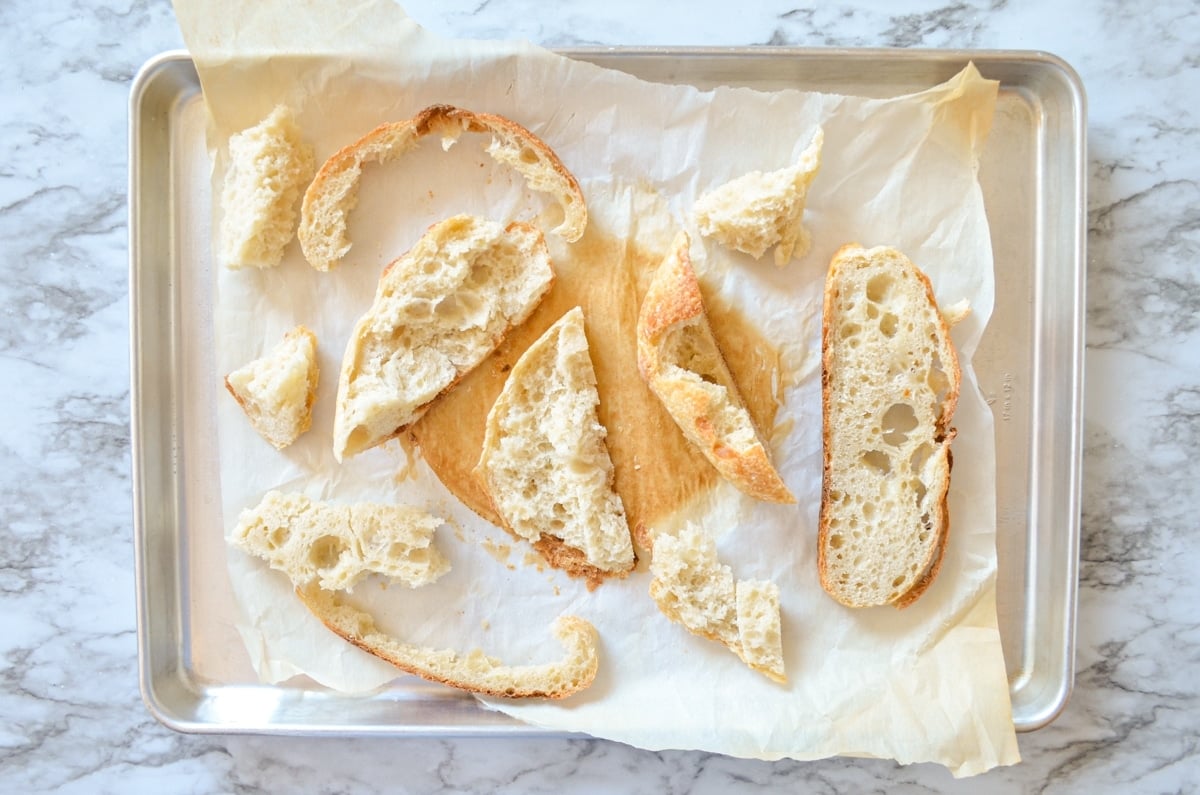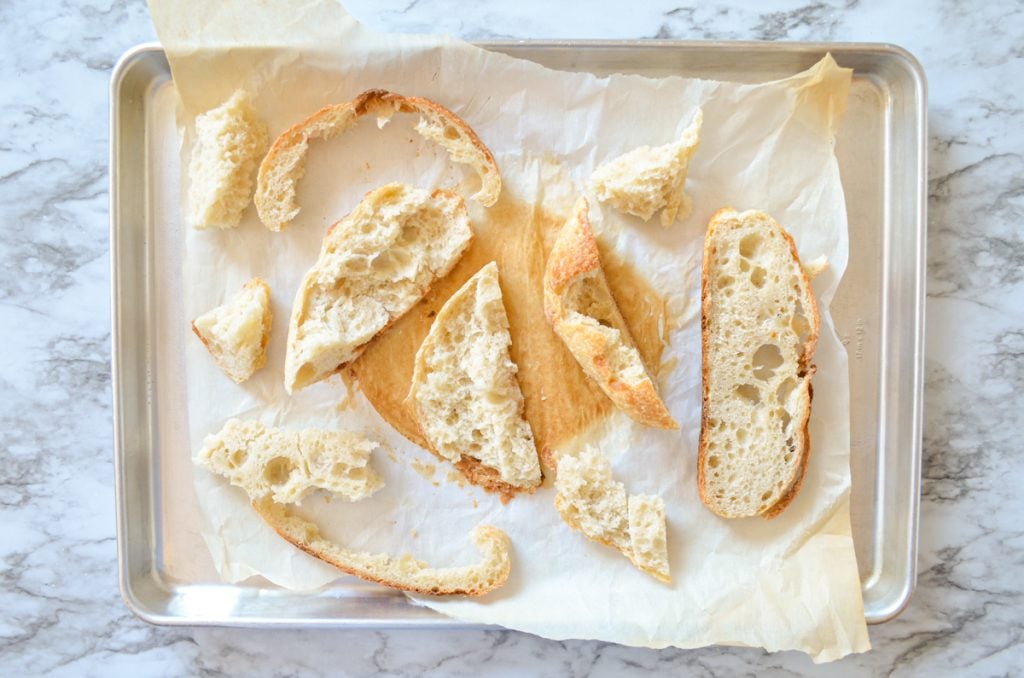 Drying
Once your sourdough bread has been cut to size, arrange them on a parchment lined baking sheet. You can dry them in the oven as directed in the printable recipe below, OR you can leave them to dry out at room temperature for about 24 hours. I'm impatient so I prefer the oven method, especially since it will be used later on to further dry (and thus preserve) the breadcrumbs.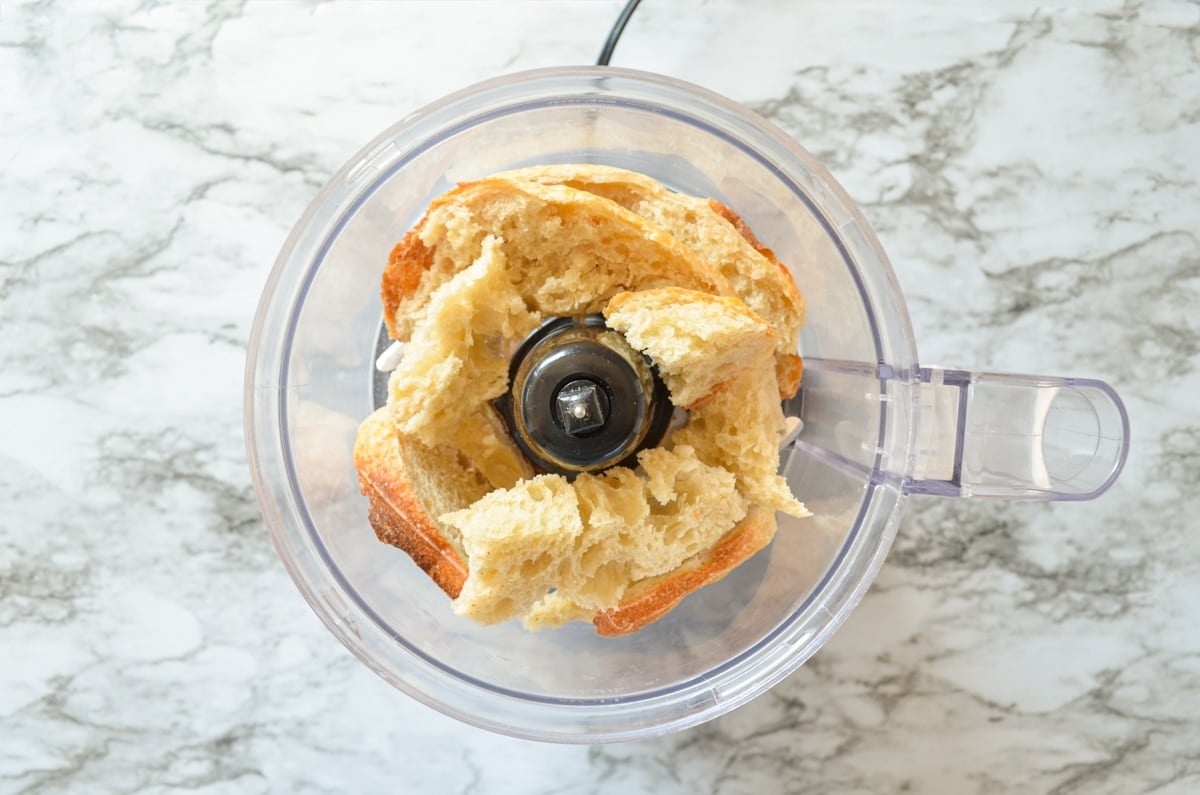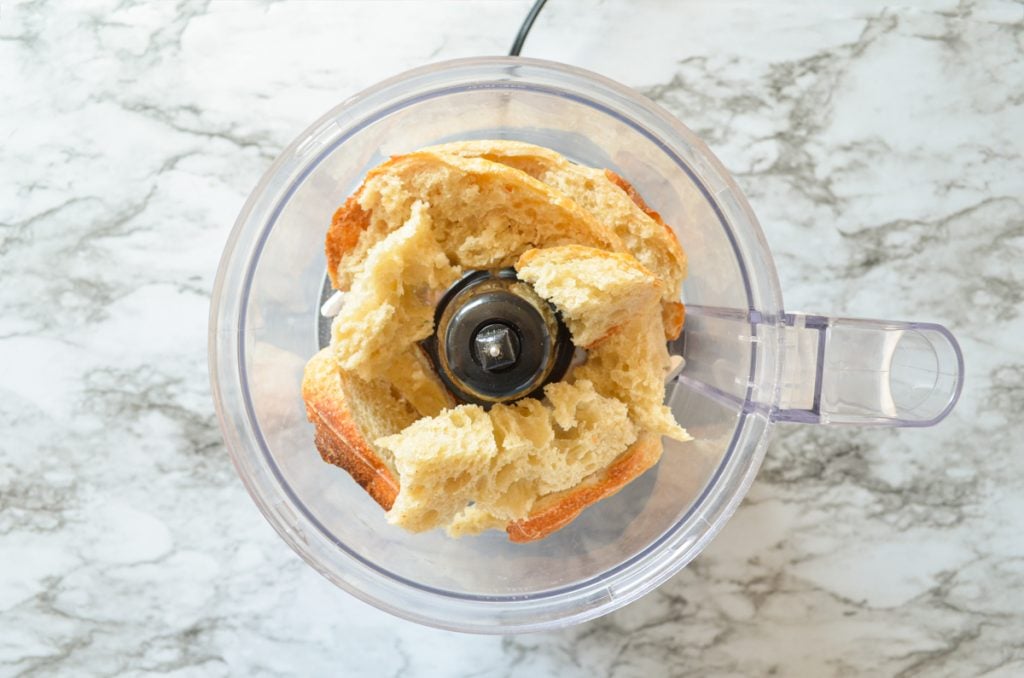 Processing
Let your bread pieces cool until they are warm to the touch. Once they are comfortable to handle, add them to the bowl of a food processor. Pulse or process on high speed until they are broken down into coarse crumbs (see below).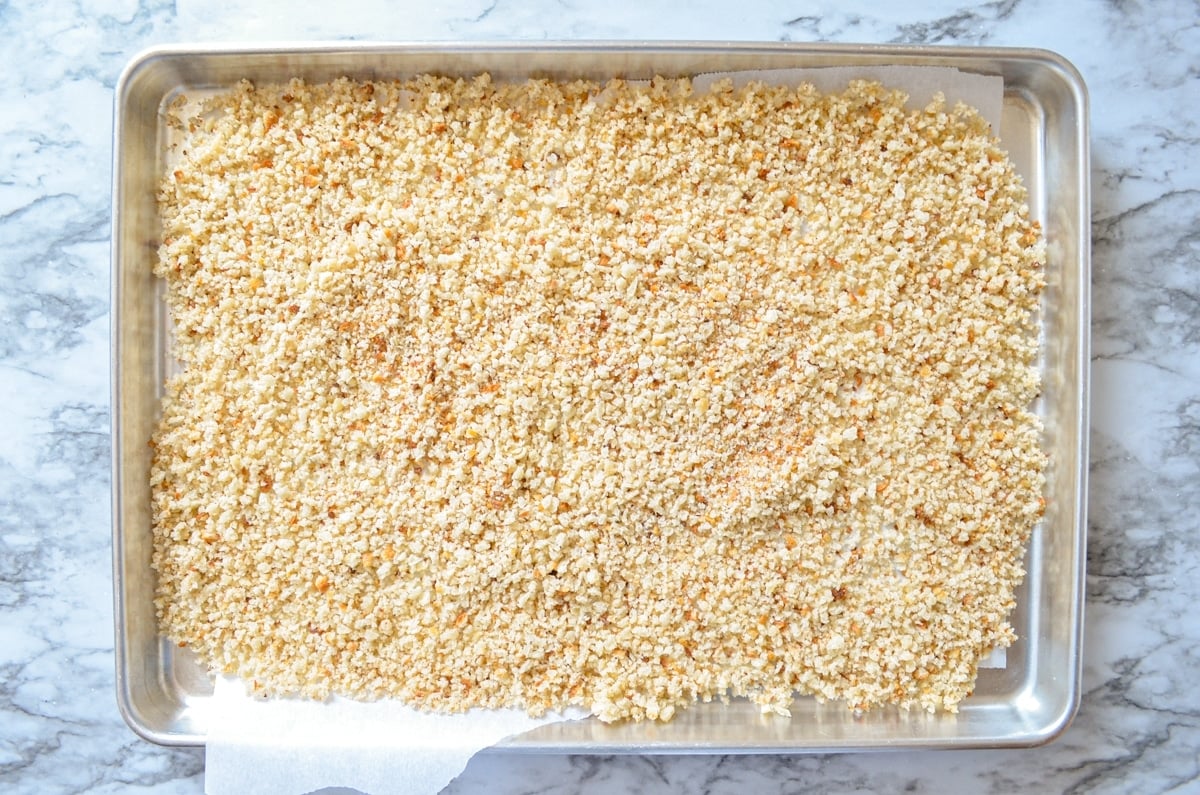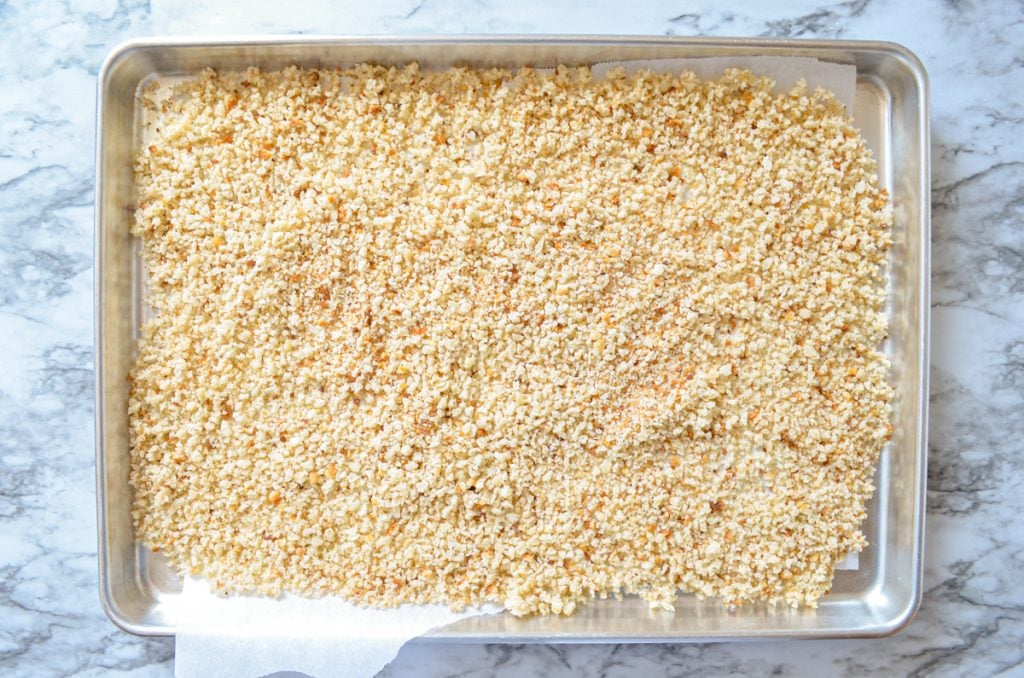 Spread your coarse crumbs onto a parchment lined baking sheet (using the same one from before is fine!). Bake in the oven for about 15 minutes. Remove them from the oven and give them a stir, doing your best to flip them over. Then, return your baking sheet to the oven and bake for another 15 minutes.
Remove the baking sheet from the oven and turn off the heat. Let your breadcrumbs cool COMPLETELY at room temperature. If they are warm for the next step, you'll have condensation, which will cause moisture and subsequently, mold. You want your breadcrumbs to be as dry and cool as possible. I leave mine for several hours.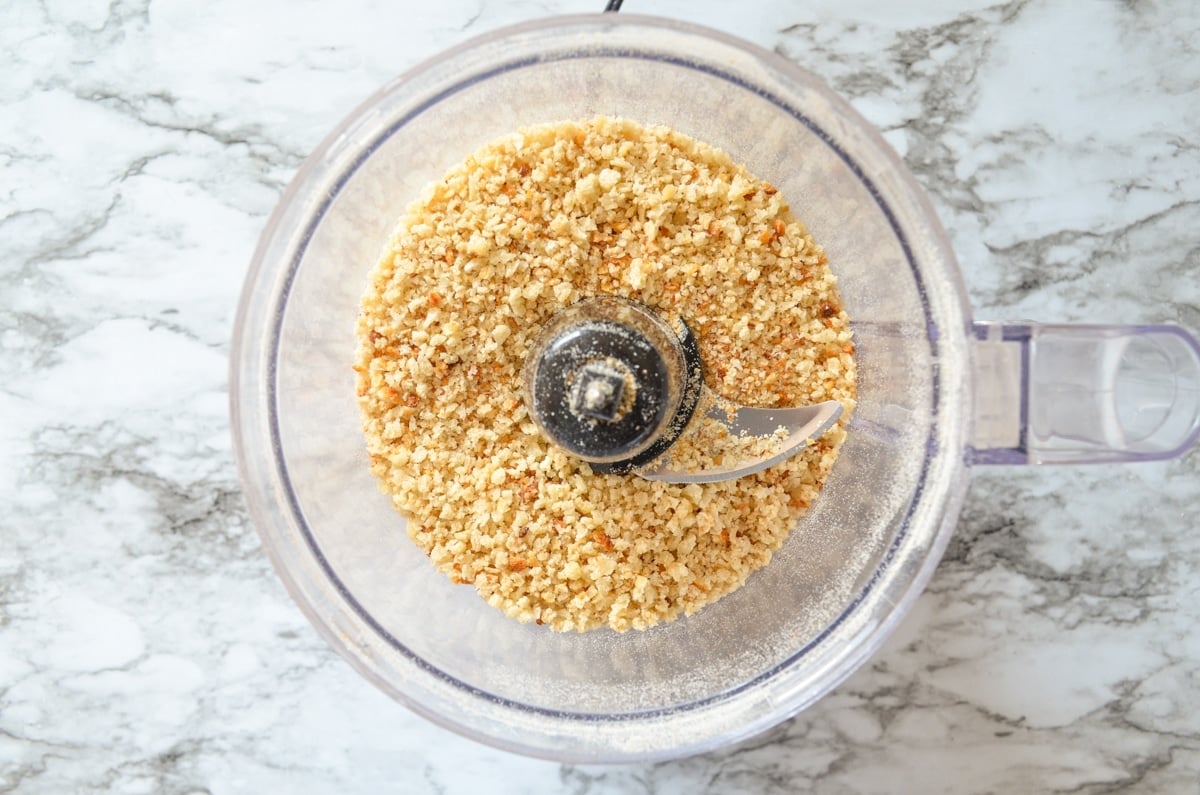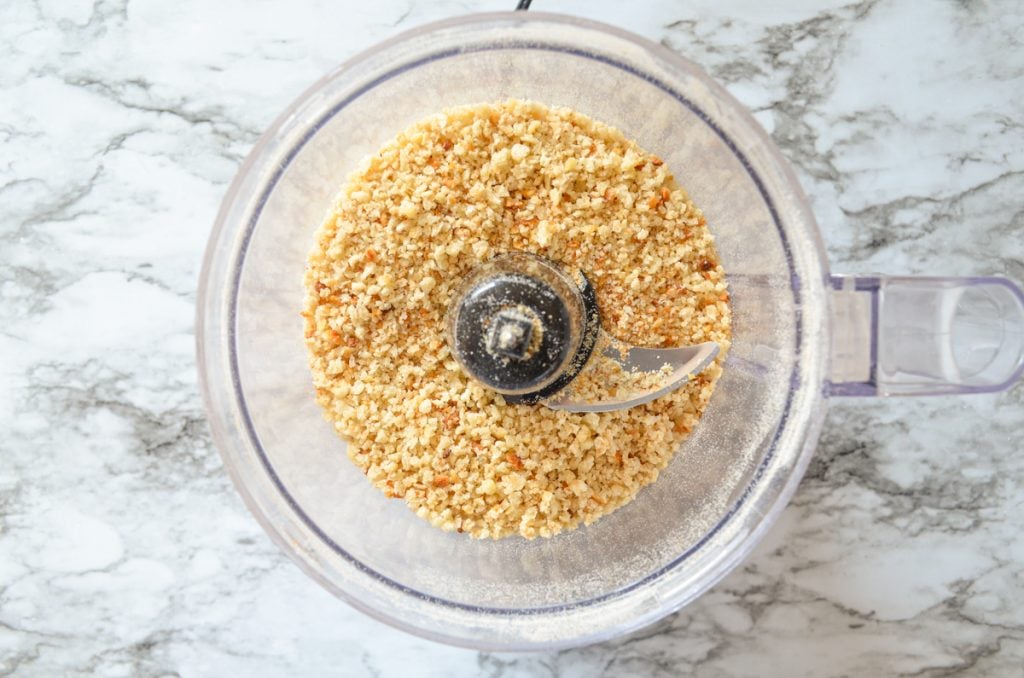 Homemade Fine Breadcrumbs
Once your sourdough breadcrumbs have cooled completely, add them back to the bowl of your food processor. Pulse or process on high speed until they are fine and broken down, similar in consistency to store-bought breadcrumbs.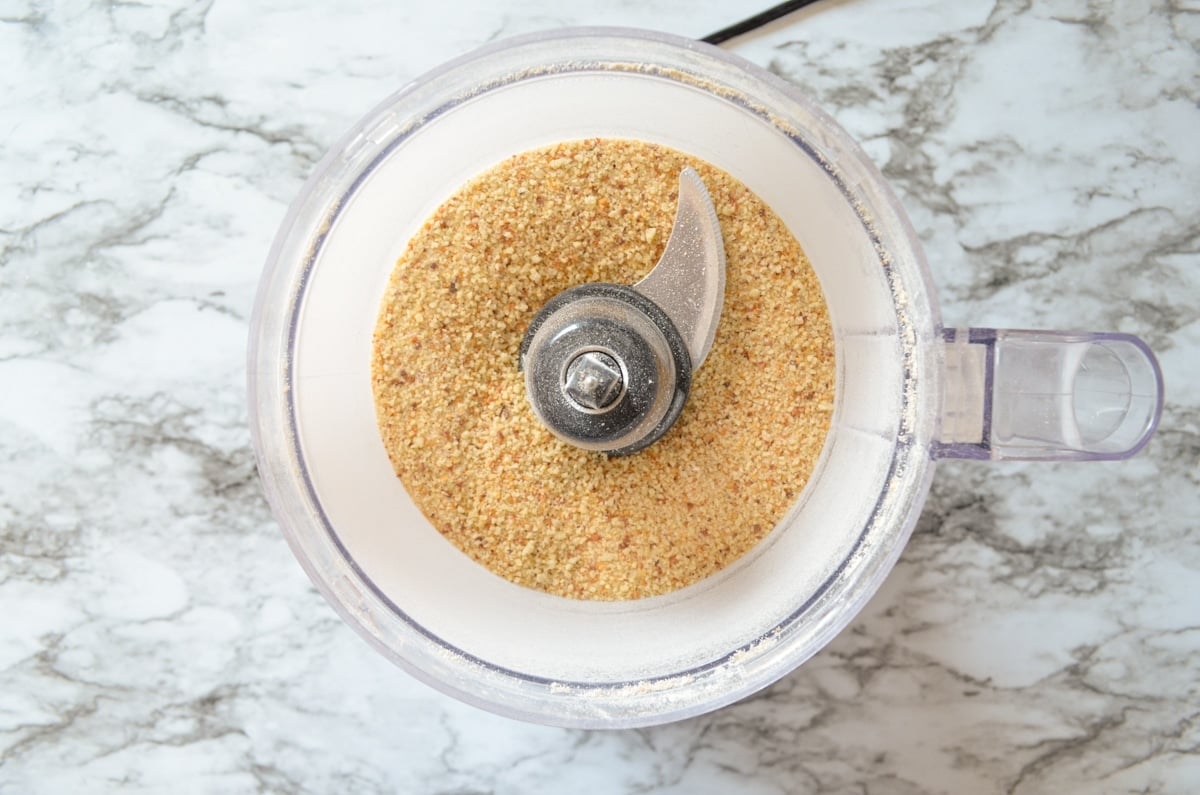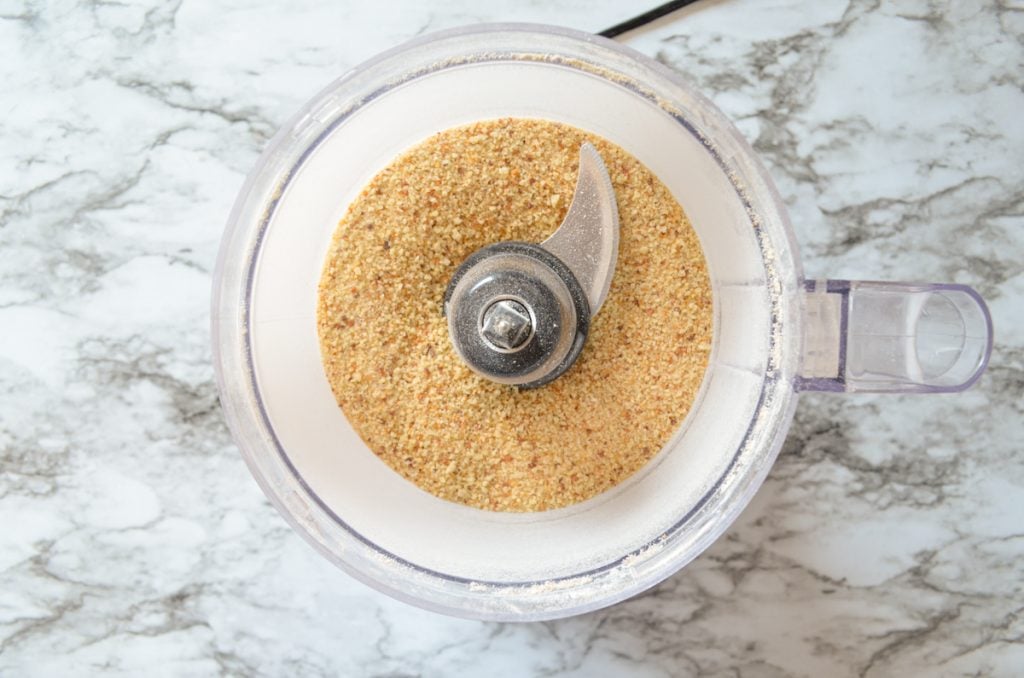 Like this.
How To Make Breadcrumbs Without a Food Processor
If you don't have a food processor, you can make breadcrumbs easily with a high powered blender like a Ninja or a Vitamix. Follow the instructions as written, only using a blender in place of a food processor.
If you don't have any appliances to help you, you can crush your breadcrumbs the old fashioned way! Place your breadcrumbs in a storage or freezer bag and seal. Use a heavy rolling pin to crush the bread into crumbs, rolling back and forth and shaking the bag often to ensure you crush all of the dried bread pieces.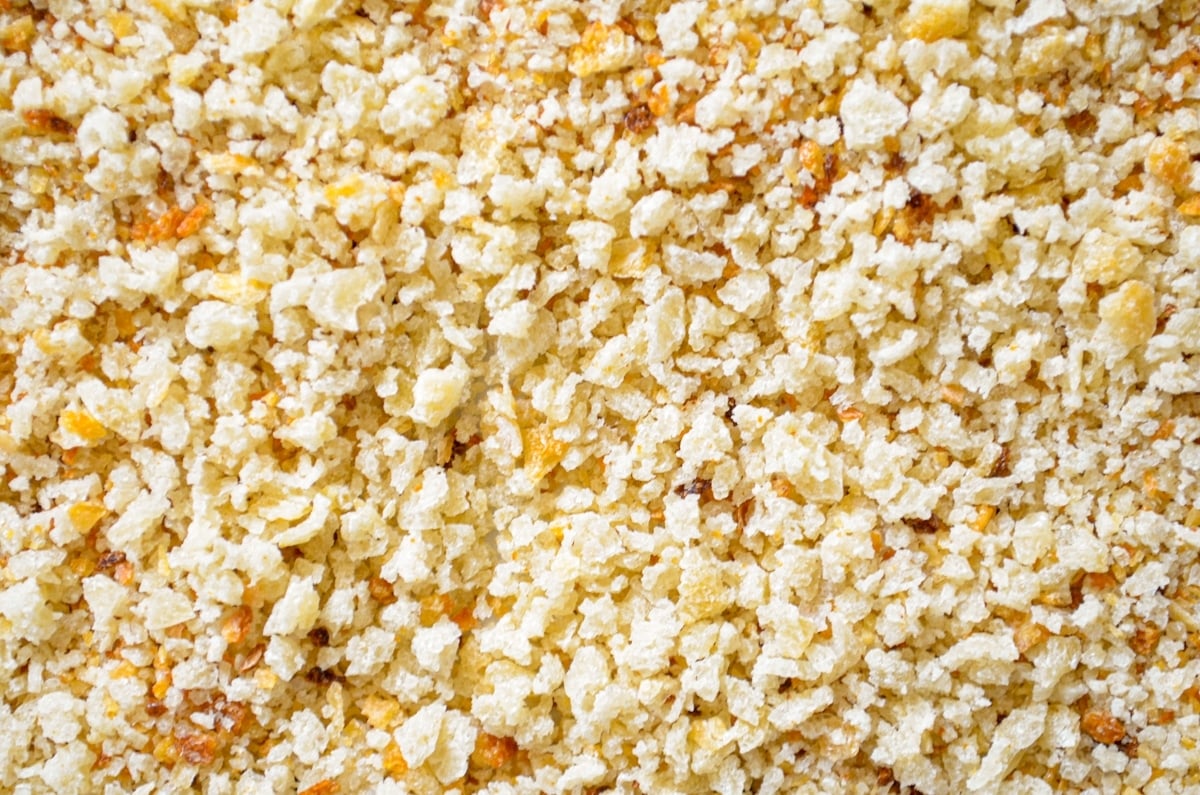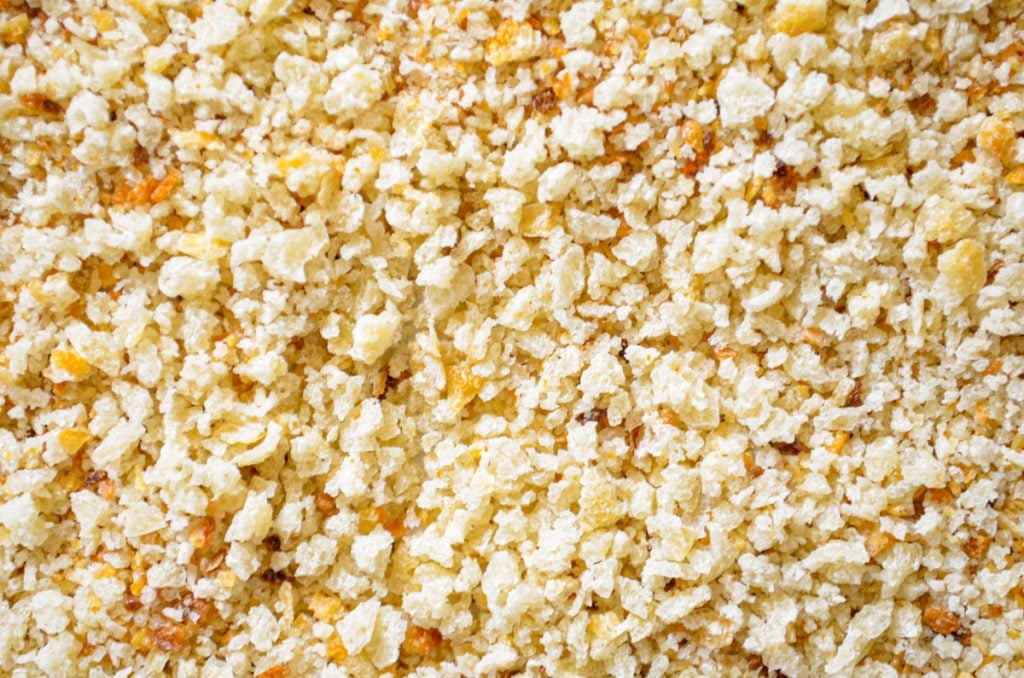 How To Make Your Own Panko Style Breadcrumbs
If you prefer the crunch of panko style breadcrumbs, you can get similar results with sourdough breadcrumbs. Instead of pulsing in the food processor twice as called for in this recipe, pulse just one time after the initial toasting in the oven. Return the breadcrumbs to the oven to dry, and then store and use in place of panko style breadcrumbs in your favorite recipes.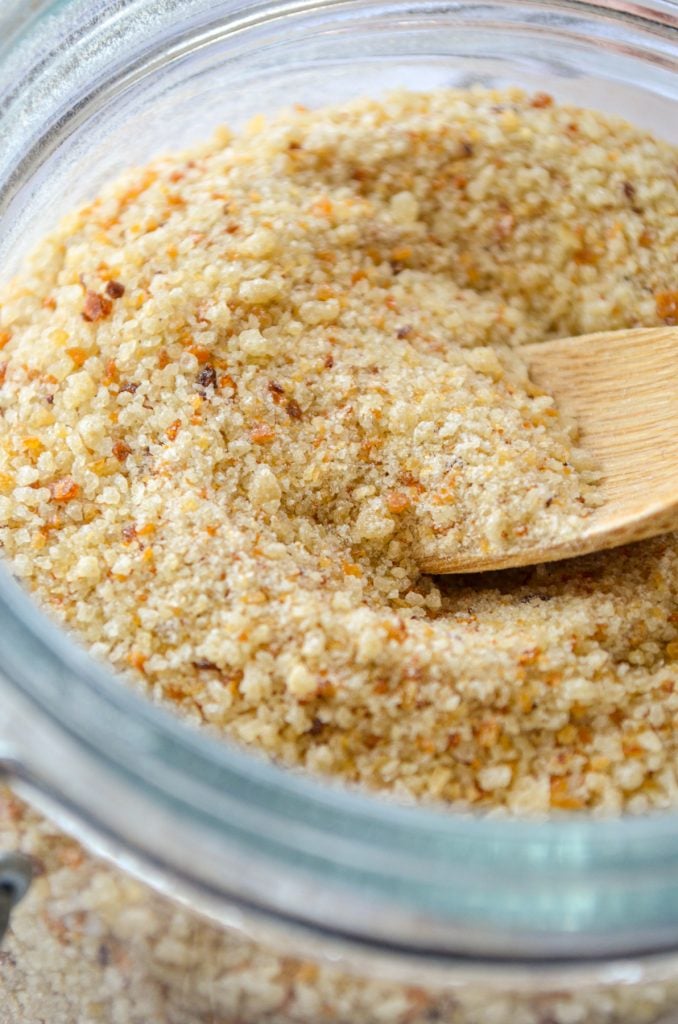 What Can You Do With Sourdough Breadcrumbs?
You can use sourdough breadcrumbs in any recipe that calls for store bought dried breadcrumbs. There are a variety of ways you can use them while cooking, including:
As a topping for a casserole (see this Baked Shells and Cheese recipe for an example)
For meatballs (like my recipe for Freezer Meatballs)
Meatloaf
Bread chicken for homemade nuggets or strips
Salmon patties (this recipe from Well Plated looks yummy and uses canned salmon!)
Crab cakes
Anywhere breadcrumbs are called for
Storage Tips
Since these breadcrumbs are dried, they can be stored for a time in the pantry, so long as they are completely dry and in an airtight container. For longer storage, keep them in an airtight container in the freezer. They will last for a very long time that way and take very little time to thaw.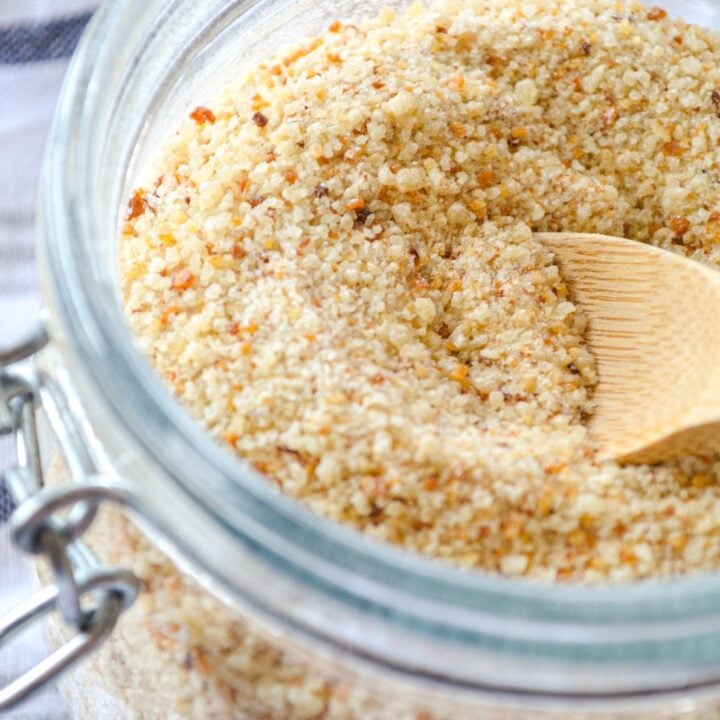 Homemade Sourdough Breadcrumbs
Total Time:
2 hours
5 minutes
Do you have leftover sourdough bread you're not sure what to do with? Maybe a failed or flat loaf? You can make your very own sourdough breadcrumbs! Perfect for using in your favorite recipes and topping homestyle casseroles. Minimize waste and make your very own pantry basic: dried breadcrumbs!
Instructions
Preheat the oven to 300F and line a sheet pan with parchment paper.
Prepare your leftover sourdough bread by slicing it into manageable pieces.
Arrange your pieces of sourdough bread on the lined baking sheet so that none are touching. This will help ensure an even drying.
Bake the sourdough pieces in the preheated oven for 10 minutes.
Flip the bread pieces over and return to the oven and bake for an additional 10 minutes.
Remove the bread from the oven and let them cool on the baking sheets until just warm to the touch.
Add some of the bread pieces to the bowl of a food processor fitted with the blade attachment. Pulse or set to high power to bread down the breadcrumbs. They will not be as fine as regular dried breadcrumbs, but you are looking for a coarse crumb size and texture. I recommend only filling the food processor 1/3 of the way to prevent overworking the motor and for the best consistency.
Repeat the above steps in batches until all the bread pieces are crushed.
Spread the crushed breadcrumbs out on the lined baking sheet and return to the oven for 15 minutes.
Stir up the breadcrumbs and do your best to flip them over for even drying.
Return the breadcrumbs to the oven and bake for an additional 15 minutes.
Remove the breadcrumbs from the oven and place the sheet pan on a wire rack. Let the breadcrumbs cool completely before proceeding with the next step. This is to prevent moisture from building up in the food processor.
Add the completely cooled breadcrumbs to the food processor and pulse until a fine texture is reached. Check the breadcrumbs to make sure they are completely dry. If they are still just ever so slightly moist, spread them on a baking sheet and let them air dry. If they are still quite moist, you may need to return them to the oven for 15 minutes and then air dry completely before storing.
Once the breadcrumbs are completely dry and completely cooled, add them to an airtight jar or container and tighten the lid. Store at room temperature up to 1 month, or in the freezer for up to 6 months. Use in place of store-bought breadcrumbs in your favorite recipes!
Notes
For Coarse or Panko Breadcrumbs: If you like a "Panko-style" crumb you can skip the step of the second processing of the breadcrumbs and instead let them bake for an addition 15-30 minutes, turning once. Let them cool completely before moving to an airtight storage container.