These juicy cast iron skillet chicken fajitas will be your new weeknight favorite! Loaded with crisp veggies, they are a meal the whole family can love. These can be made low carb, gluten-free, or dairy-free just by switching out the toppings. You're going to love keeping this one in your back pocket for casual entertaining too!
Post updated on March 17th, 2021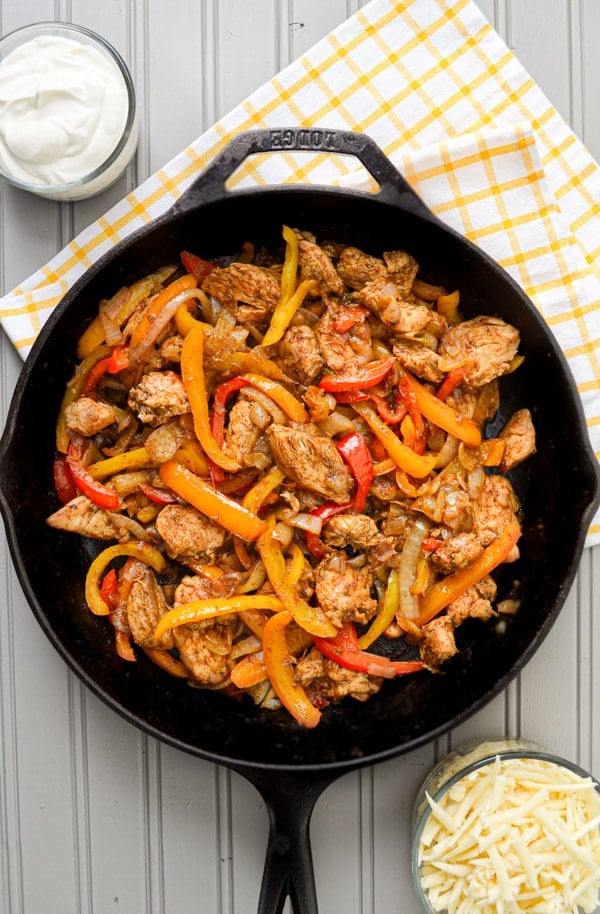 Please note that some of my blog posts here at Little Home in the Making may contain affiliate links. If you make a purchase through these links, I will get a small commission at no additional cost to you. See my Disclaimer for more information.
---
Everyone needs a weeknight hero meal. Yes, even you. On busy weeknights (or weekends, lets be real), you need something that you can cook up in a flash. You need something you know that will please everyone at the table, AND works around any taste or dietary needs or preferences.
Well my friend, these easy cast iron skillet chicken fajitas are the Batman to your Gotham city. They are here to save the day (and possibly get blamed when things go wrong? 🤔). If you have a package of thawed boneless, skinless chicken breasts (or can pick one up on the way home), you can get to work making this easy dinner idea. The best part? It's pretty healthy too! Loaded with crisp strips of bell peppers, and tender onion, they have a pretty high veggie to meat ratio, making them both vitamin-rich and cost effective. Win, win, win…and can you say win!?
Options for Picky Eaters
If you have some really picky eaters, you can even prepare the onions in a separate skillet, or scale back on the seasonings listed. This is a such an easy and adaptable meal, you're going to come back again and again. I love serving this for casual guests because I can break out my paper plates, set up a table of fixings, and let them assemble and enjoy! This way everyone can customize the meal to their needs and preferences, and I don't have to try to keep it all straight. This is a good thing because I have perma-mom brain. All you moms out there know what I'm talking about, don't deny it. 😂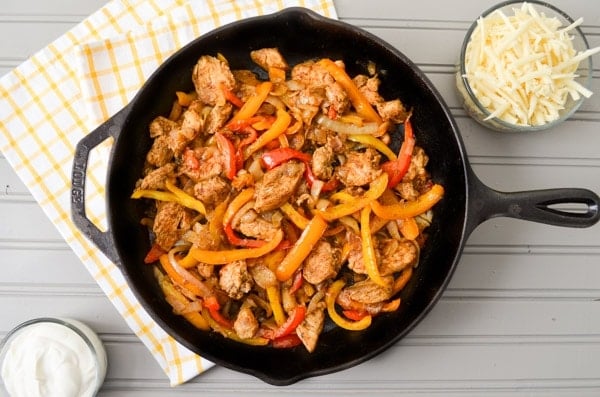 Options for Dietary Restrictions
The basic recipe is pretty allergen and diet-friendly. Since it's just a few veggies, some chicken breast, and a blend of home selected seasonings, it lends itself to a lot of situations. Including gluten free, dairy free, and low carb diets.
Your standard toppings are as follows, and can be swapped, subbed, or skipped as needed or desired:
Shredded cheese
Sour cream
Shredded lettuce
Salsa
Flour tortillas
For a Gluten-Free Option, offer the following alternative toppings:
Corn tortillas
Gluten free tortillas
For a Dairy-Free option, offer these:
Dairy free cheese (or skip the cheese when serving)
Dairy free sour cream (again, you can skip this when serving as an alternative)
For a Keto or low-carb friendly option, offer:
Guacamole (for extra fat content)
A romaine or salad blend as a base
Low carb tortillas
Lettuce wraps
Serve the onions and peppers on the side, so a small amount can be chosen to keep the net carbs in line.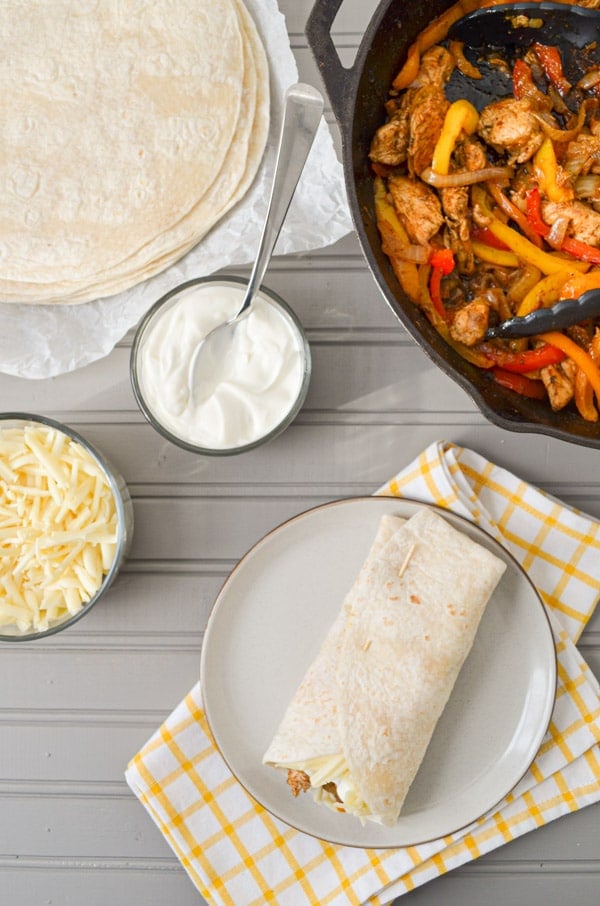 Cast Iron Skillet Chicken Fajitas: The Ultimate Budget-Friendly Recipe
These Skillet Chicken Fajitas are not only easy, but they are super inexpensive too. Because the skillet is loaded with fresh peppers and onions, you can scale back on the pricier ingredient: boneless, skinless chicken breasts. I use just a few in this recipe and it stretches a fair bit (be sure to include a side dish though!). If you have a family of 6 or more that you're serving, just double the recipe. Either way, it makes just a few chicken breasts go a looooongggg way!
Another money-saving feature of this recipe for Skillet Chicken Fajitas is that it forgoes store-bought fajita seasoning in place of a homemade blend of spices! If you have a well stocked seasoning collection, you're sure to have everything you need to whip up this easy skillet recipe. If not, you can use 1 package of store-bought seasoning or 2-3 tbsp. of a homemade blend of seasoning (like my recipe for Chicken Taco Seasoning OR Regular Taco Seasoning)
Recommended Tools:
Cast Iron Skillet: This is not only great for cooking, but for serving too! The heat of the cast iron skillet keeps the chicken warm so much longer than a traditional serving dish. My favorite is this one from Lodge.
Trivet: You don't want to scorch your pretty dining room table! Make sure to put down a heat-resistant trivet to protect your surfaces! I use this one for all of my cast iron cooking.
Wooden Spoon or Spatula: You don't want to use plastic with cast iron. It gets too hot! Stick with metal or wood. I like a wooden spatula (like this one from OXO)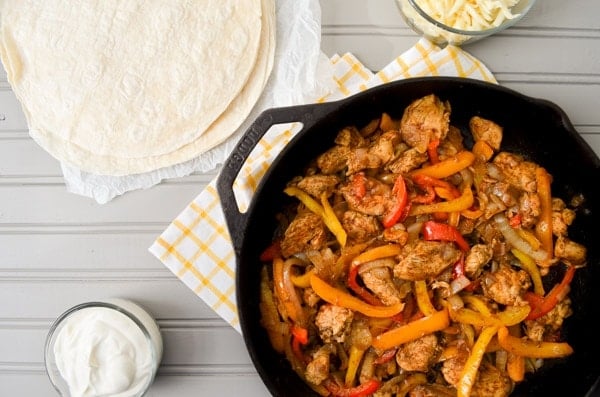 What Can I Serve With Them?
There are so many ways to round these easy chicken fajitas to make them a meal!
All the toppings listed above, including:
Flour Tortillas
Corn Tortillas
Lettuce Wraps (for low carb!)
Shredded Cheese
Sour Cream
And fun extras like:
Queso
Guacamole
Avocado
Cilantro
Sliced Jalapenos
Diced Onions
Diced Tomatoes
Shredded Lettuce
Green Onions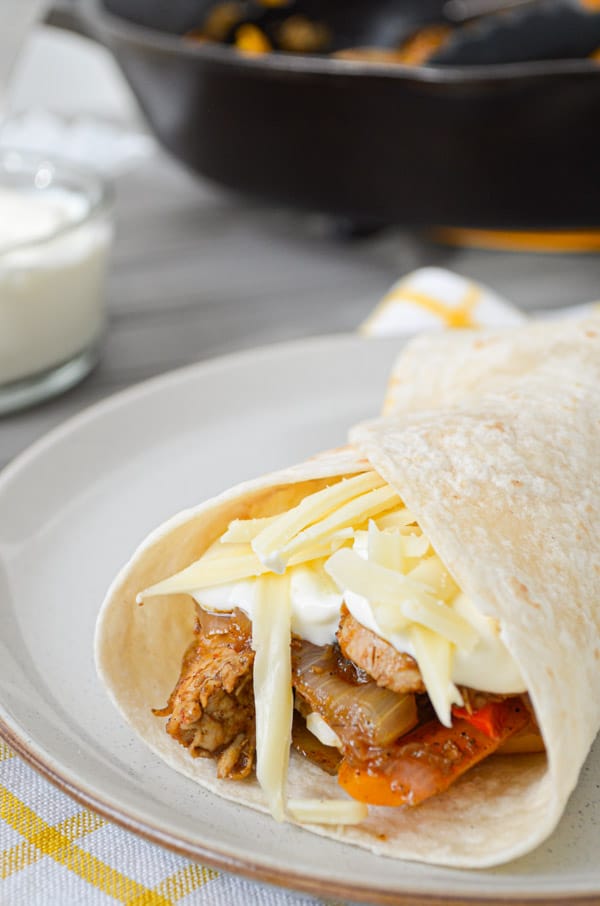 For Serving On the Side:
Nachos
Mexican Rice
Cilantro Lime Rice (try my Instant Pot recipe!)
Salad
Tortilla Chips and Queso
Jalapeno Poppers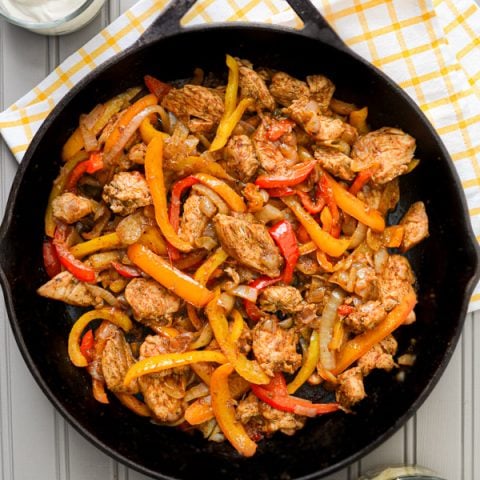 Easy Cast Iron Skillet Chicken Fajitas
Make these delicious, veggie-packed Skillet Chicken Fajitas NOW! They'll soon be a weekly favorite! So easy and so delicious!
Ingredients
3 tbsp. Oil, divided
4 large Boneless, Skinless Chicken Breasts, sliced
2 tbsp. Chili Powder
1/2 tsp. Garlic Powder
1/2 tsp. Onion Powder
1/2 tsp. Dried Oregano
1 tsp. Paprika
1 Tbsp. Cumin
2 tsp. Salt
2 tsp. Pepper
1 cup Water
4 Rainbow Bell Peppers, sliced
2 large Yellow Onions, peeled and sliced
Tortillas, for serving
Shredded Cheese, for serving
Sour Cream, for serving
Additional Toppings of Your Choice, for serving
Instructions
Heat a large skillet over medium heat. Add half of the oil.
Add the sliced peppers and onions, stirring to coat with the oil. Cook until slightly soft, about 5 minutes.
Remove the peppers and onions to a plate and set aside. Wipe out the skillet and add the remaining 2 tbsp. of oil to the skillet.
Once the oil is shimmering, add the chicken. Cook on one side for 3-4 minutes.
Flip the chicken pieces with a fork and cook on this side for an additional 3-4 minutes.
Combine all of the seasonings in a small bowl.
Sprinkle the seasonings over the surface of the chicken and stir with a wooden spoon until the chicken is evenly coated.
Add the water and stir again until the seasonings have dissolved into the water.
Add the peppers and onions back into the skillet and mix well.
Turn the heat to medium-low and simmer for 10 minutes, stirring occasionally to prevent scorching.
Serve with tortillas, shredded cheese, sour cream, and toppings of your choice. Avocado, shredded lettuce, diced tomato, and guacamole all make excellent toppings if you have them on hand.
Nutrition Information:
Yield:

4
Serving Size:

1/4 of Recipe
Amount Per Serving:
Calories:

299
Total Fat:

14g
Saturated Fat:

3g
Trans Fat:

0g
Unsaturated Fat:

9g
Cholesterol:

60mg
Sodium:

795mg
Carbohydrates:

22g
Fiber:

3g
Sugar:

6g
Protein:

24g
Nutrition information is an estimate only and isn't always accurate.
Don't Forget! Pin It to Pinterest!
More Recipes to Try: