Make your very own easy homemade taco seasoning. No additives, preservatives, or anti-caking agents mean that this easy homemade recipe is perfect for special diets and those with allergies. Gluten-free, dairy-free, MSG-free, keto, and just plain delicious! Make up a batch of this tasty pantry staple today!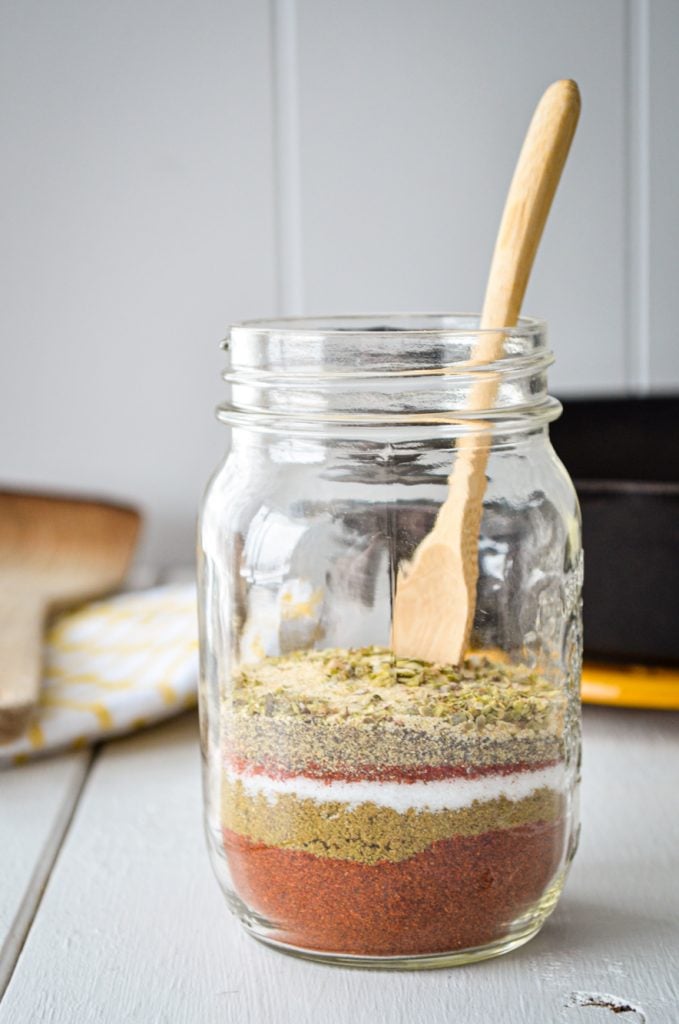 Please note that some of my blog posts here at Little Home in the Making may contain affiliate links. If you make a purchase through these links, I will get a small commission at no additional cost to you. See our disclaimer for more information.
---
One of my favorite things to do in my homemaking and in my kitchen is learn how to make pantry staples from scratch. Nothing makes you feel more Suzy Homemaker-y than pulling together a few basic ingredients, mixing them up, and having a replacement for something you normally buy at the store.
Such is the case with this Easy Homemade Taco Seasoning. This is an item I have been making for YEARS from scratch, and it is one that I use often and liberally. My recipe for Skillet Chicken Fajitas uses a blend of seasonings very similar to this one, and you can replace those seasonings with approximately 2-3 tbsp. of this homemade taco seasoning blend! This is the seasoning mix I use in ALL of my recipes that call for taco seasoning.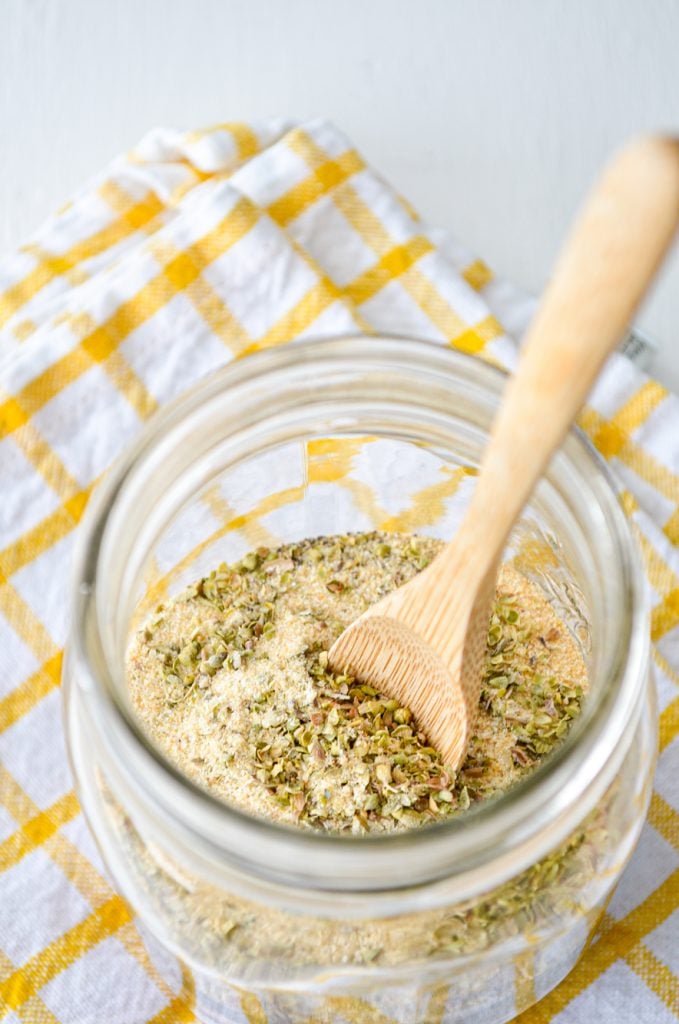 Homemade Vs. Packaged
Although the store-bought stuff is convenient, the homemade stuff is better. Why, you ask? Well, for many reasons! Making your own taco seasoning means that you know exactly what is going in to your food. You can skip the additives, preservatives, and the anti-caking ingredients. You can even omit or change up the salt content if needed for your particular diet or nutritional needs. And the taste? Yup, that's way better too!
This homemade taco seasoning recipe is SO EASY. You can put it together in less than 5 minutes, using ingredients you probably already have on hand. I make up a batch every month or so since we go through it so quick! It also makes a lovely homemade gift: taco seasoning in a jar? Yes please!
What is Packaged Taco Seasoning Made Of?
Store bought taco seasoning can have a variety of ingredients, all depending on the particular brand. I checked out the ingredients of some of the leading brands and they contained:
Chili peppers (most likely in the form of chili powder)
Spices and seasonings (like onion powder, paprika, oregano, etc)
Maltodextrin
Corn starch
Salt
Vegetable oil
Corn flour
Silicone dioxide
Citric acid
Sugar
"Natural flavor"
If you take a peak at my recipe below, you can see that a lot of these ingredients in the packaged taco seasoning are left out. When we make our own taco seasoning, we don't need it to sit on a shelf for months and months before being purchased. Because of this we can choose high quality ingredients and leave out the fake stuff. We can even adjust it according to our tastes. THIS is why I love making my own pantry staples at home.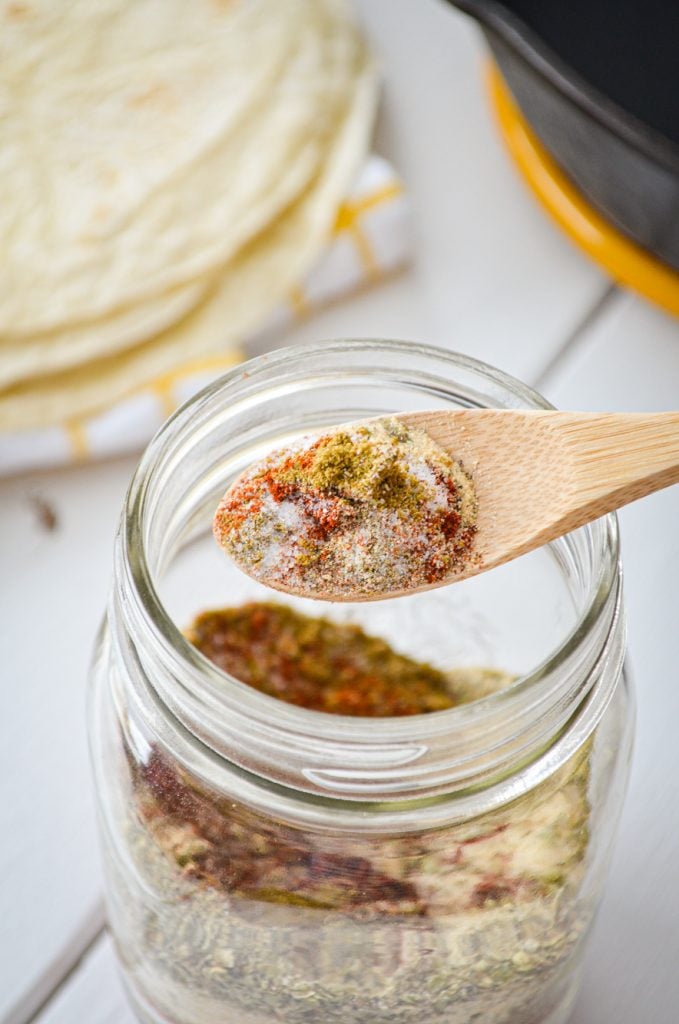 How Do You Make Taco Seasoning From Scratch?
I'm guessing I have you sold on making your own taco seasoning! Making your own from scratch is EASY. All you need is:
Chili Powder
Cumin
Paprika
Oregano
Garlic Powder
Onion Powder
Black Pepper
Salt
Yup! That's it! And if you keep a well stocked spice cabinet, you're probably ready to make this easy recipe!
Q&A
Is Taco Seasoning Keto?
Well, that entirely depends on the brand or recipe. Most taco seasoning is keto and/or low carb, but some do contain added sugar. This recipe does not, so feel free to use it in all of your favorite keto dishes!
Do You Need to Add Water to Taco Seasoning?
Yes, and no. It really depends on the particular recipe. If you are using taco seasoning in the typical way, which is preparing tacos, I would say that water is needed. That is because the meat and seasoning would be rather dry and clumpy with the absence of some sort of liquid. If you are adding your taco seasoning to a dish with liquid in the recipe, you are probably fine with skipping the addition of water.
Is Taco Seasoning Gluten Free?
Again, this depends on the brand and the recipe. Most homemade taco seasoning recipes (including this one) are gluten-free, but some store bought brands may contain gluten or have been processed alongside gluten-containing foods, which can be problematic if your are celiac.
How Can I Prevent My Homemade Taco Seasoning From Caking?
I discovered this tip recently and so far it's working great! Pour in a few teaspoons of long grain white rice into the bottom of the jar you will be storing your taco seasoning in. Be sure that the rice stays to the bottom (no mixing), and be careful to strain off the rice grains as you come to the end of the jar.

The rice absorbs excess moisture, making for a homemade seasoning that is less likely to stick together. All natural too!
Easy Homemade Taco Seasoning
Yield:
Approximately 1 Cup
Making your own homemade taco seasoning means no additives, MSG, gluten, or anti-caking agents. Keto-friendly, and flavor-packed. Embrace your frugal side with this easy DIY taco seasoning.
Ingredients
6 Tbsp. Chili Powder
3 Tbsp. Cumin
2 Tbsp. Salt
1 Tbsp. Paprika
1 Tbsp. Ground Black Pepper
1 1/2 tsp. Garlic Powder
1 1/2 tsp. Dried Oregano
1 1/2 tsp. Onion Powder
Instructions
Combine all of the ingredients in a small bowl and mix well to blend the seasonings together.
Pour into a jar or airtight container and store in a cool, dry place for up to 3 months.
Notes
Tip:
To prevent your taco seasoning from caking, you can add a few teaspoons of long grain white rice to the bottom of your storage jar or container. This absorbs excess moisture and helps prevent some caking, which is common with homemade seasoning blends.
Be sure to strain off the grains of rice when you get near to the bottom of the jar.
Recipes to Try:
Pin It