Skip the additives, msg, sugar, and anti-caking agents in conventional chicken taco seasoning and make your very own! For pennies on the dollar you can whip up your own blends for adding flavor to chicken tacos, quesadillas, soup, salads, and more! Gluten-free, dairy-free, sugar-free and keto.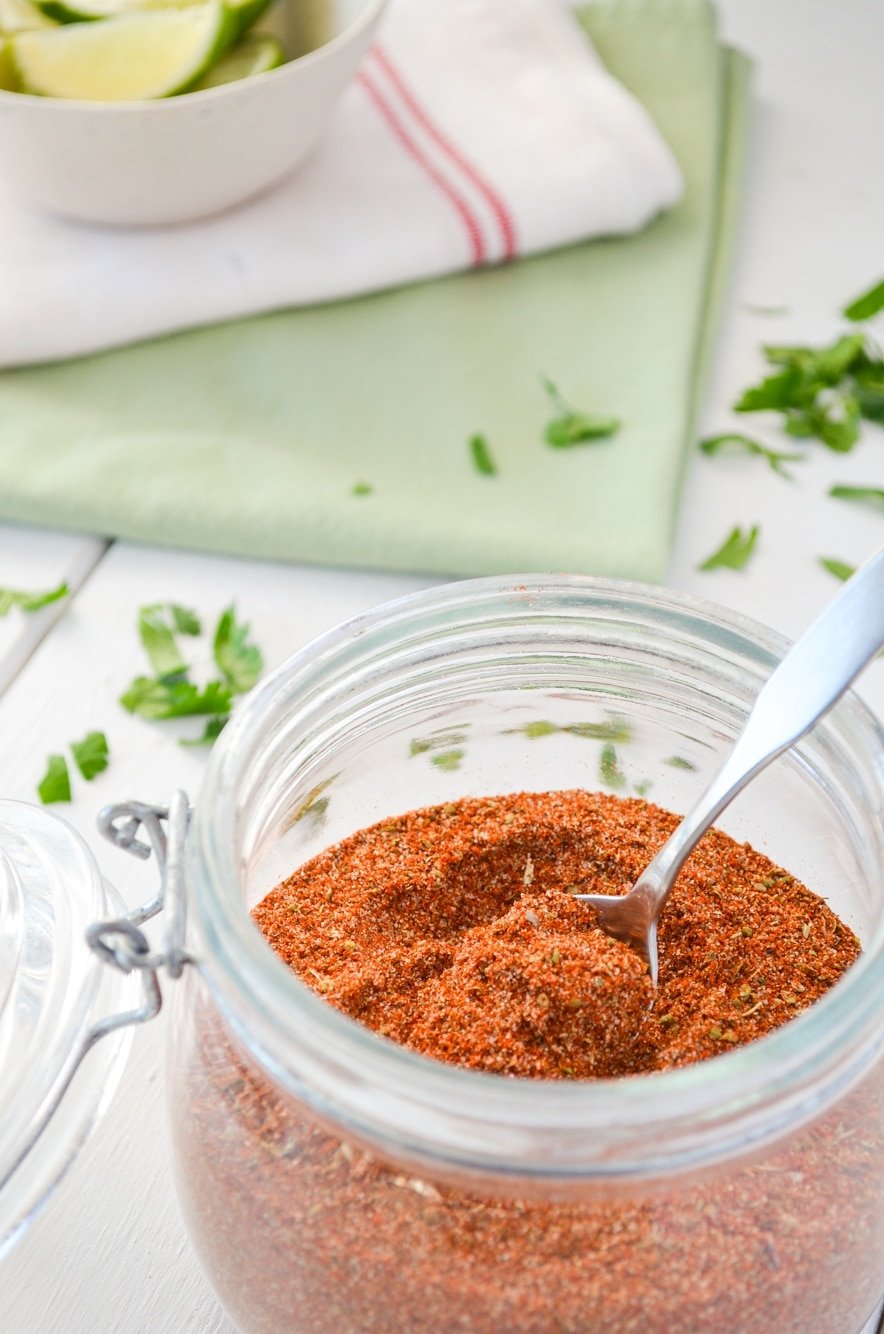 This post contains affiliate links, which means that if you click a link and make a purchase, we receive a commission at no additional cost to you. See our disclaimer for more information. Any nutritional information is for entertainment and informational purposes only, and is not intended as medical advice. Always seek the advice of your health provider.
---
Why Make Your Own?
I absolutely love making my own seasoning blends at home. Not only does it save SO MUCH MONEY, but it also reduces the amount of additives and preservatives my family consumes. While I enjoy a good cream of mushroom soup as much as the next gal, I'm not looking to add any fake stuff when it's completely uncalled for. Homemade seasoning mixes help you avoid all those "extras" and focus in on the true flavor: the spices. While you will be missing out on MSG and anti-caking agents, you won't be missing out on flavor!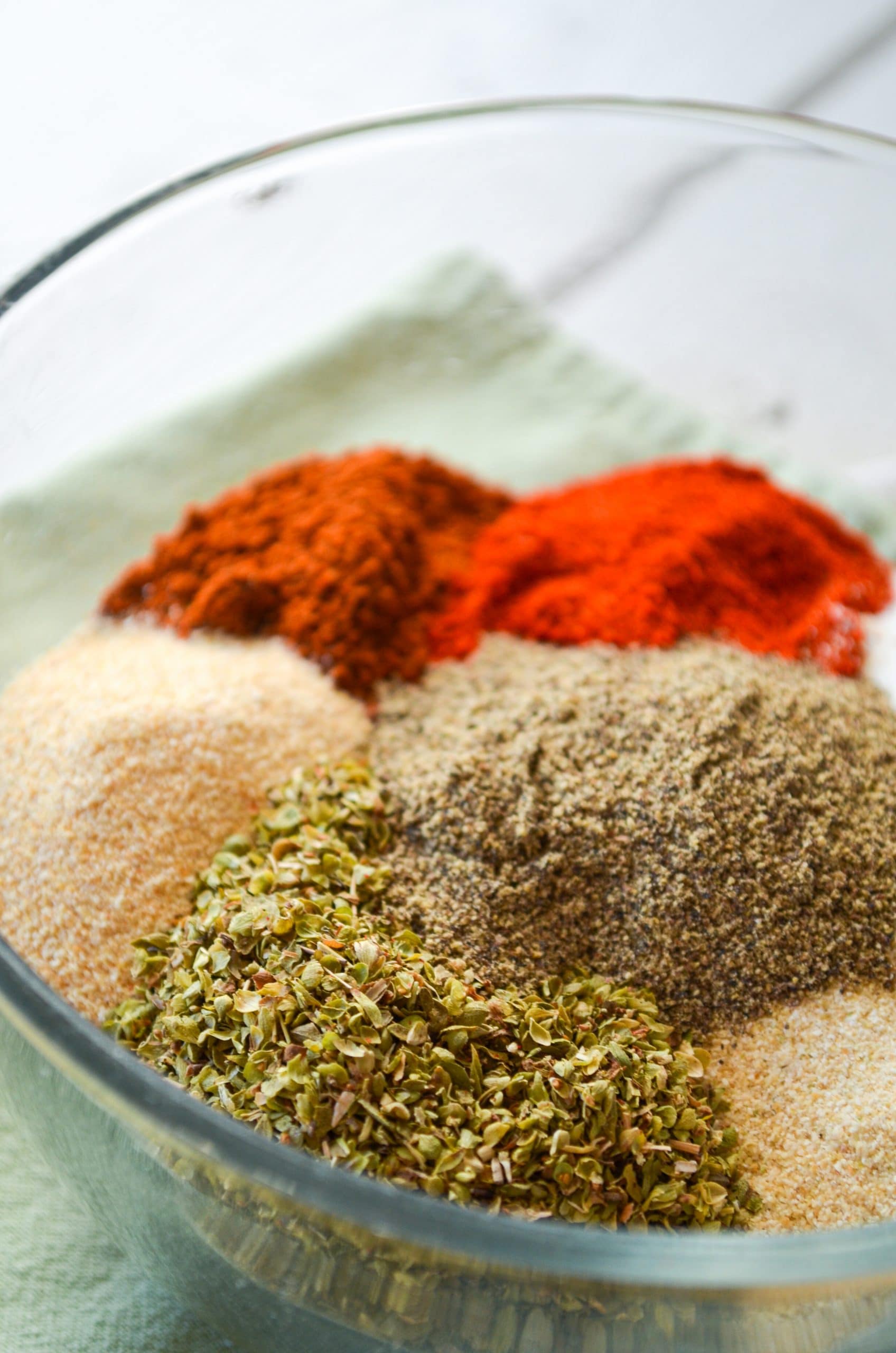 Chicken Taco Seasoning Vs. Taco Seasoning
While the two are similar, there are some differences between chicken taco seasoning and regular taco seasoning. Chicken taco seasoning is often more mild and contains less cumin. I have a recipe that I use for standard taco seasoning, and the ratio of both chili powder and cumin is higher versus the chicken version. Paprika and oregano also play a bigger role. Overall, if you find the regular stuff a little strong in flavor, the chicken version is a little more mild, while still packed with delicious-ness.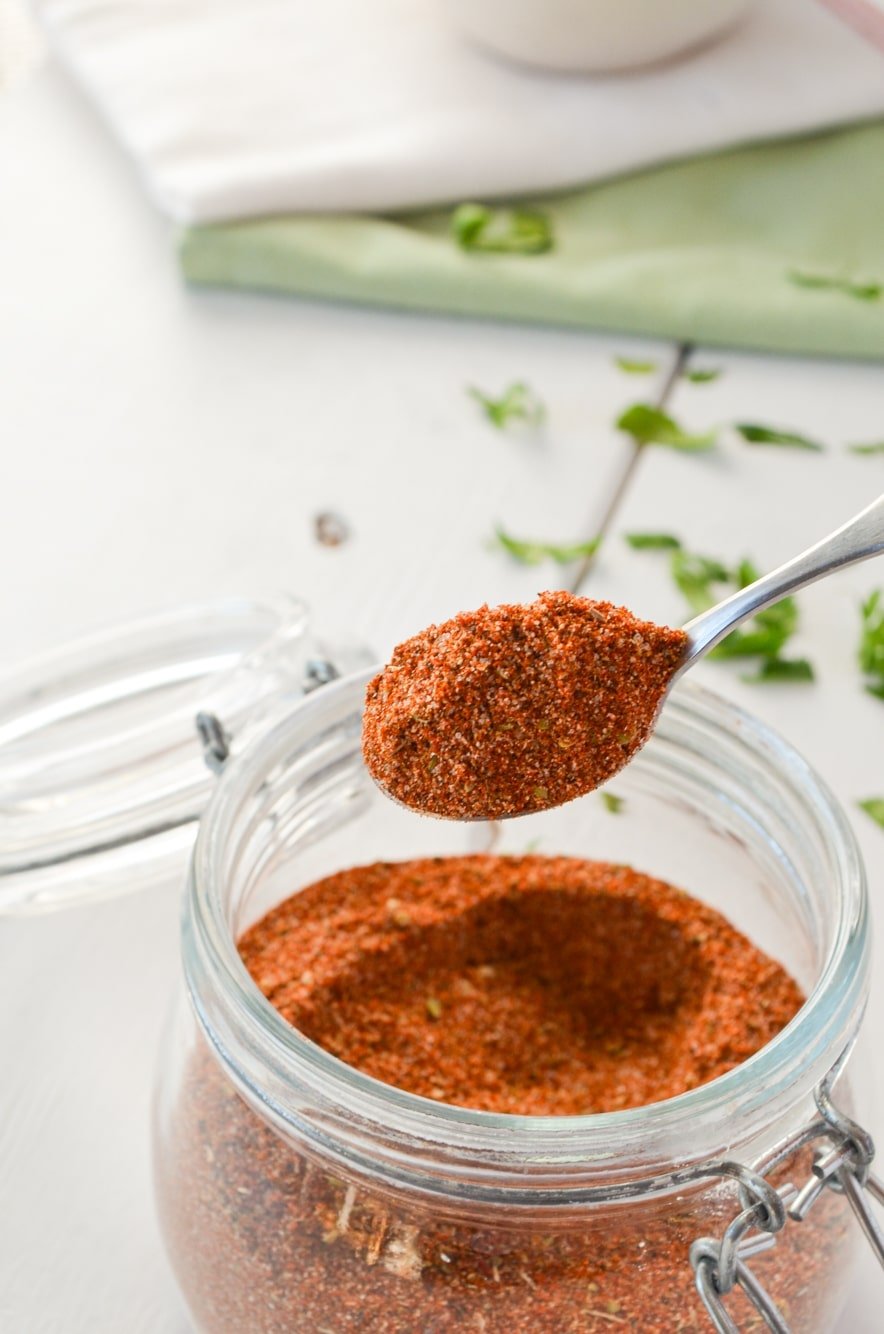 How to Use Chicken Taco Seasoning in Recipes
You can use chicken taco seasoning in the place of any packaged taco seasonings you may use. I like to use about 2 heaping tablespoons of homemade seasoning to replace one packaged taco seasoning blend. You can also use it to flavor some of your favorite foods like:
Chicken Tacos (duh!) like this recipe from How Sweet Eats
Chicken Quesadillas (try these ones from Gimme Delicious)
Shredded Chicken Taco Meat
Taco Salad
Taquitos
Taco Soup
Nachos
In my Skillet Chicken Fajitas (just replace the list of seasonings with 2 heaping tablespoons of this Chicken Taco Seasoning)
And anywhere you would use a store-bought packet!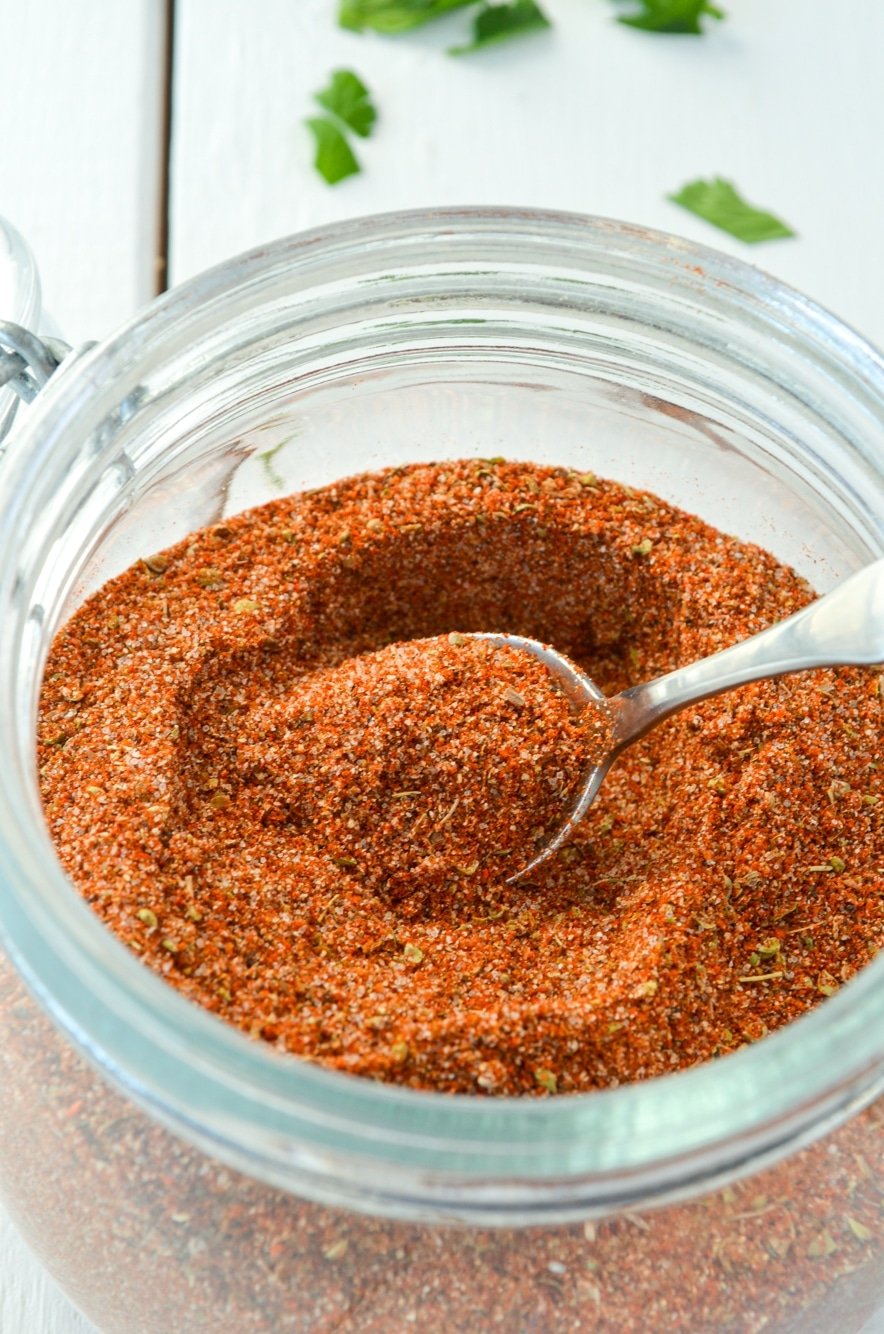 What is in Chicken Taco Seasoning?
Well it really depends if we are talking store-bought packets, or if we're talking about homemade. The store-bought version contains seasonings and spices, just like my version, but features some additives too.
I checked out the ingredients of a few national brands, and they contained extras like:
Lactose (milk)
Corn starch
Corn syrup solids
Maltodextrin
Corn starch
Sugar
Vegetable oil (canola, soybean and/or sunflower oil)
Silicon dioxide
"Natural flavor" (which can be anything, so long as it is a natural source)
Some of these are items that I would use in my kitchen in small amounts (like corn starch and corn syrup), but they really aren't needed in order to season chicken tacos. Further, it makes things difficult for families who need allergy-friendly meal ideas, or need to avoid sugar. The best solution is to make your own chicken taco seasoning at home.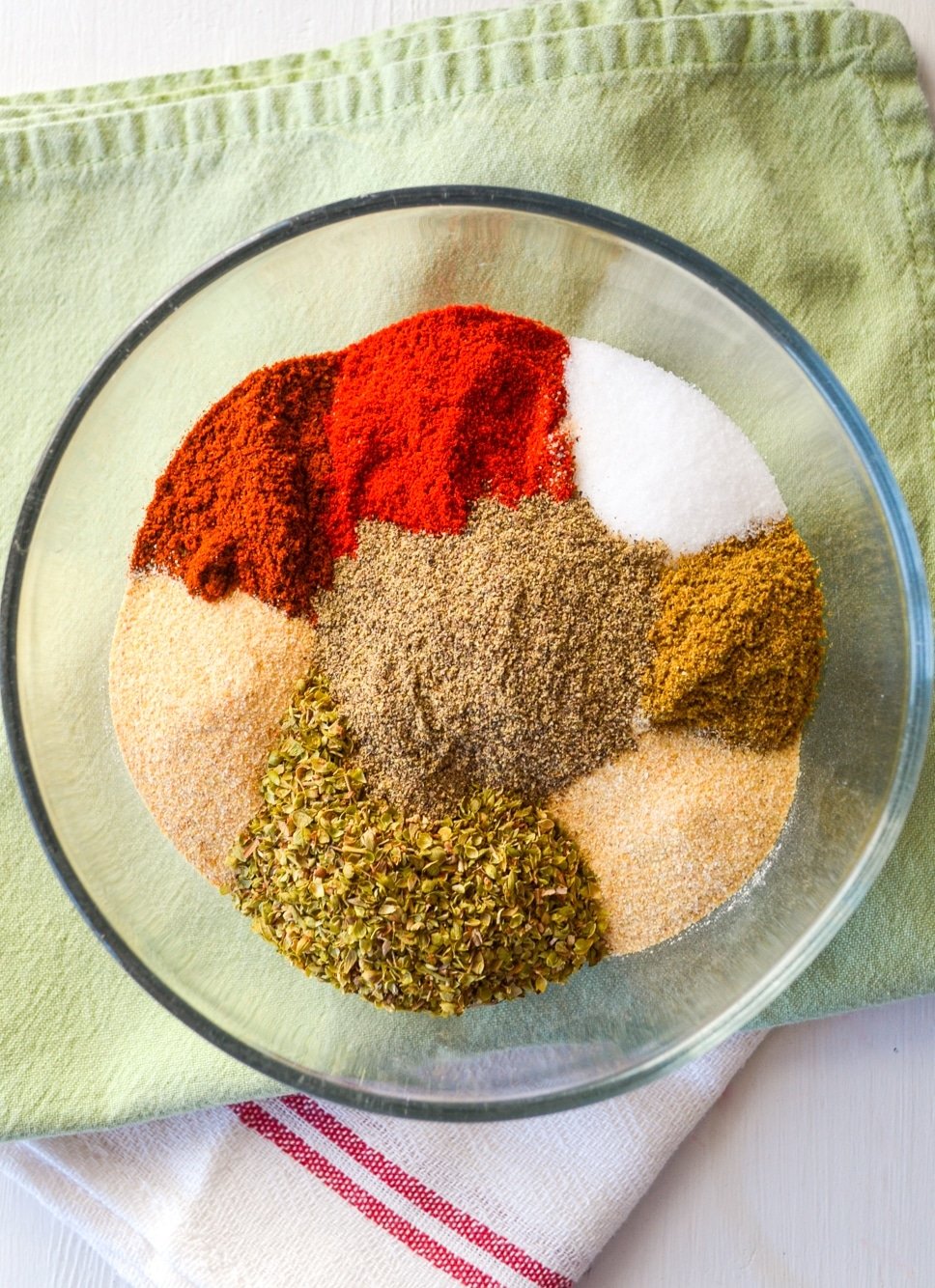 The homemade version contains:
Chili Powder
Paprika
Oregano
Cumin
Onion Powder
Garlic Powder
Salt
Pepper
Yup, that's it! The best thing is, you can make swaps or substitutions based on your own families tastes, preferences, and dietary concerns. It takes less than 5 minutes to whip up a bulk batch, and then it's at the ready whenever you need it for seasoning your favorite Tex-Mex inspired chicken dishes.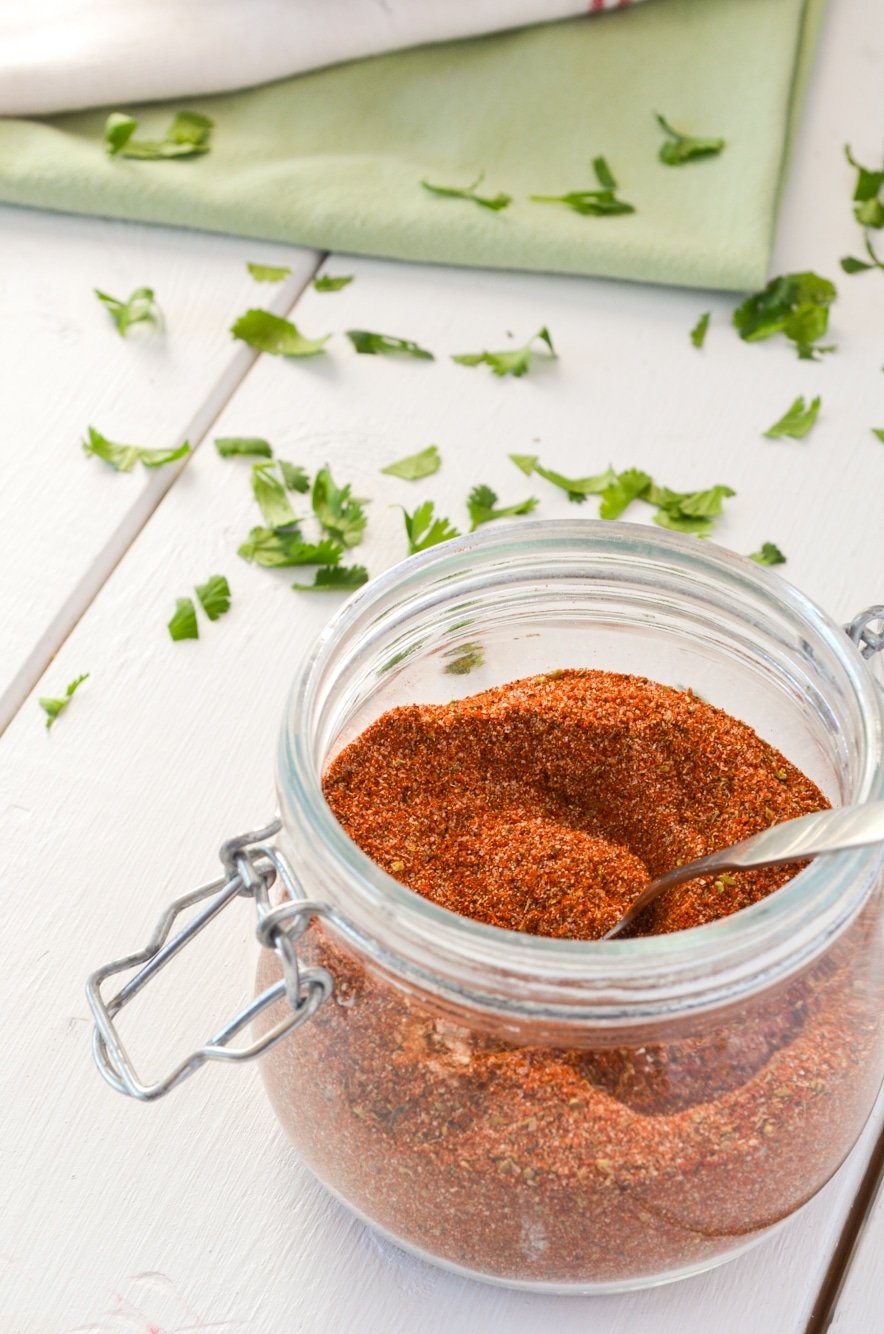 Q&A
Is there a difference between taco seasoning and fajita seasoning?
Yes! Fajita seasoning normally contains cornstarch, a small amount of sugar, and is generally a little less spicy that typical taco seasoning recipes.
Can I use homemade chicken taco seasoning in place of a packet?
Yes you can! I recommend using 2-3 Tbsp. of homemade chicken taco seasoning in place of one packet of the store-bought stuff.
Is taco seasoning keto?
Some recipes may contain sugar or cornstarch, which wouldn't make them suitable for a keto diet. This particular recipe is free from both sugar and cornstarch, so it is very keto and low carb friendly.
Is taco seasoning gluten-free?
Some store bought varieties may contain gluten, or have been produced in a facility where contact with gluten may have happened. If you are celiac, it may be best to make your own taco seasoning or purchase seasoning that is specifically labeled "Gluten-free."
Can I use chicken taco seasoning with beef?
Yes you can! While your regular variety of taco seasoning is best for beef, you can absolutely use chicken taco seasoning if you need to in a pinch. The flavors are only slightly different, making for a good stand in.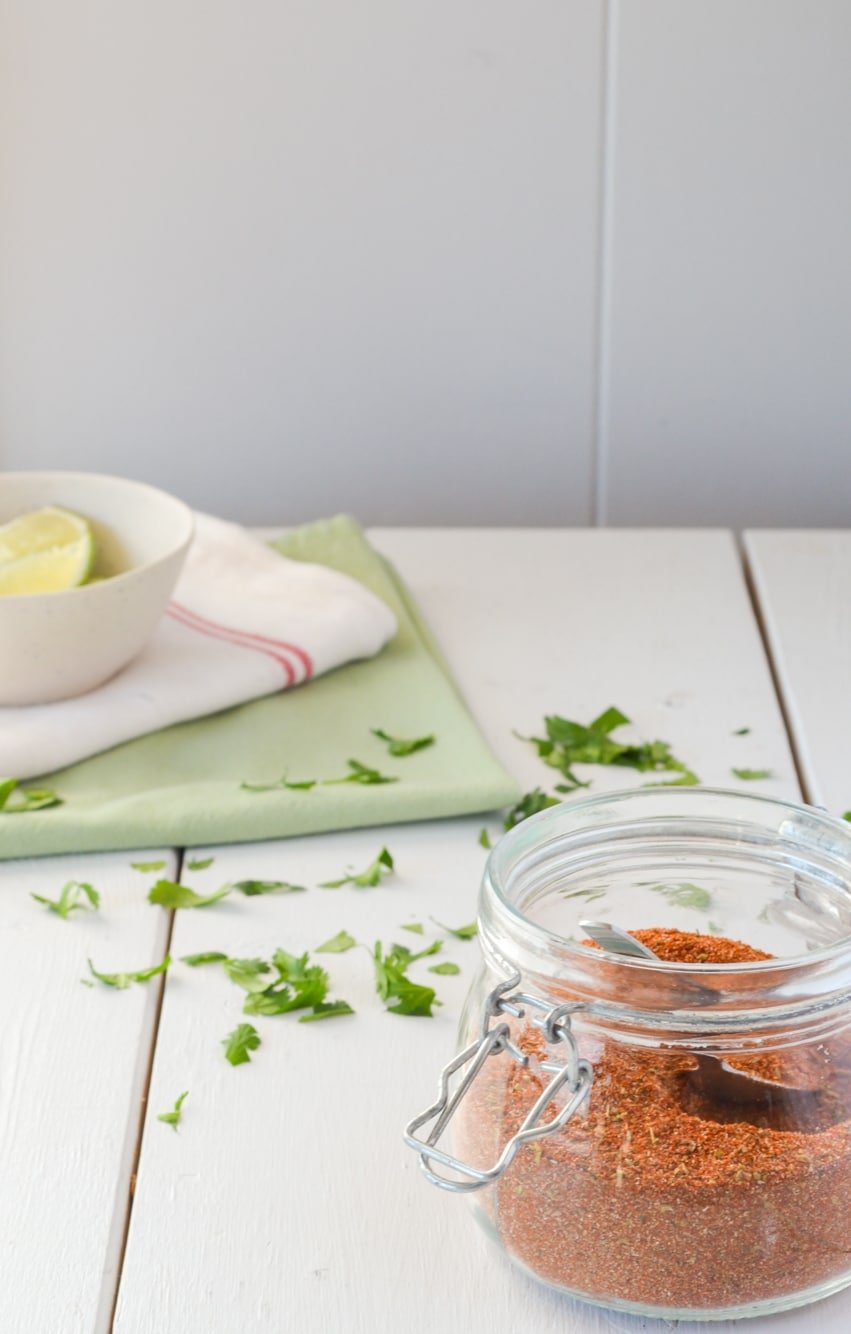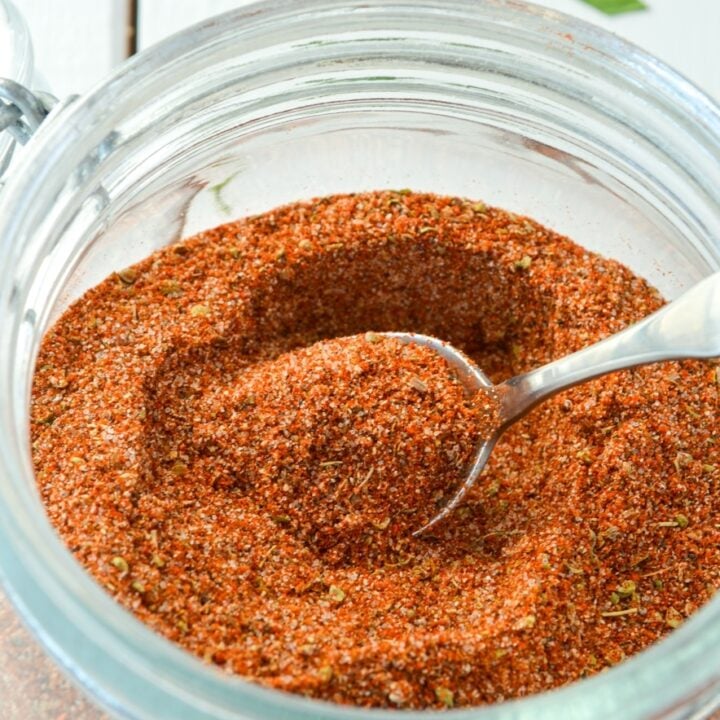 Homemade Chicken Taco Seasoning
Yield:
Approximately 1 Cup
Save yourself money, time, and additives by opting to make your very own chicken taco seasoning. Gluten-free, dairy-free, msg-free, and cornstarch-free makes this from scratch seasoning a winner in the kitchen! Seasons your chicken tacos to perfection, without a detailed recipe. WAY better than the packaged chicken taco seasoning.
Ingredients
6 Tbsp. Chili Powder
3 Tbsp. Paprika
3 Tbsp. Dried Oregano
3 Tbsp. Salt
2 Tbsp. Ground Cumin
2 Tbsp. Onion Powder
1 1/2 Tbsp. Garlic Powder
1 1/2 Tbsp. Ground Black Pepper
Instructions
Add all of the seasonings to a small bowl or glass jar.
Use a whisk or a blender to combine all of the seasonings.
Store in an airtight container in a cool, dry place for up to 6 months.
Notes
Prevent caking: To help prevent caking, you can place 2 tsp. of long grain white rice in the bottom of your storage container. This will help absorb moisture and prevent some of the caking that comes with homemade mixes and seasonings. When you get to the bottom of your seasoning mix, put the seasoning through a sieve to remove the grains of rice.
Doubling: This recipe very easily doubles or triples. Just increase each ingredient times 2 or 3 and store in a glass jar for up to 6 months.
Storage: Keep in an airtight jar at room temperature in a dark, low humidity environment. If possible, add rice grains to the bottom of your jar as detailed above.
Small batch: you can also make a very small batch by scaling your recipe down as needed.
Nutrition Information:
Yield:

40
Serving Size:

1
Amount Per Serving:
Calories:

9
Total Fat:

0g
Saturated Fat:

0g
Trans Fat:

0g
Unsaturated Fat:

0g
Cholesterol:

0mg
Sodium:

559mg
Carbohydrates:

2g
Fiber:

1g
Sugar:

0g
Protein:

0g
Nutrition information is an estimate only.
Pin It for Later!