Bring a dinner to the table that pleases the whole family! Chicken Broccoli Alfredo Casserole is sure to please even picky palates…as long as they don't notice the broccoli!
Updated March 20th, 2021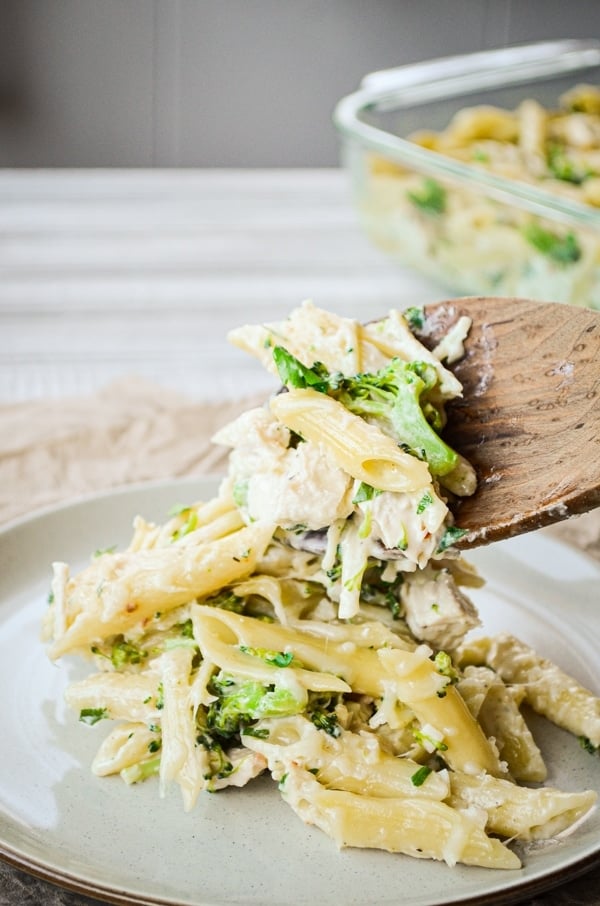 Please note that some of my blog posts here at Little Home in the Making may contain affiliate links. If you make a purchase through these links, I will get a small commission at no additional cost to you. Please see my Disclaimer for more information.
---
There is something special about casseroles. I don't know about you, but when I hear the word "casserole" I immediately think of "home." There is something about a casserole that makes you feel immediate comfort and security. They're simple, they're unassuming, and they have the ability to please the whole family.
Casserole math is pretty easy. All you need is:
Starch: The bulk of your casserole will generally come from a satisfying and inexpensive starch such as pasta, rice, potatoes, or bread.
Protein: In order to increase the satiety of your casserole and satisfy protein requirements, you'll generally include a meat like chicken, beef, or fish. Beans and legumes are also great plant-based protein sources.
Sauce: Generally a creamy sauce, but not always. You need something to hold the ingredients together and add a richness. A casserole without ample sauce is much too dry!
Vegetables: The best part of making a casserole is being able to make a whole-meal-in-one. Including some vegetables in your casserole means getting those important fruit and vegetable servings in!
Topping: This one is kind of optional, but really makes the difference between a ho hum casserole and a family favorite. Crushed buttery crackers, buttered bread crumbs, and shredded cheese are all popular toppings for casseroles. Crunchy toppings don't suit every casserole, but cheese is almost always a nice addition!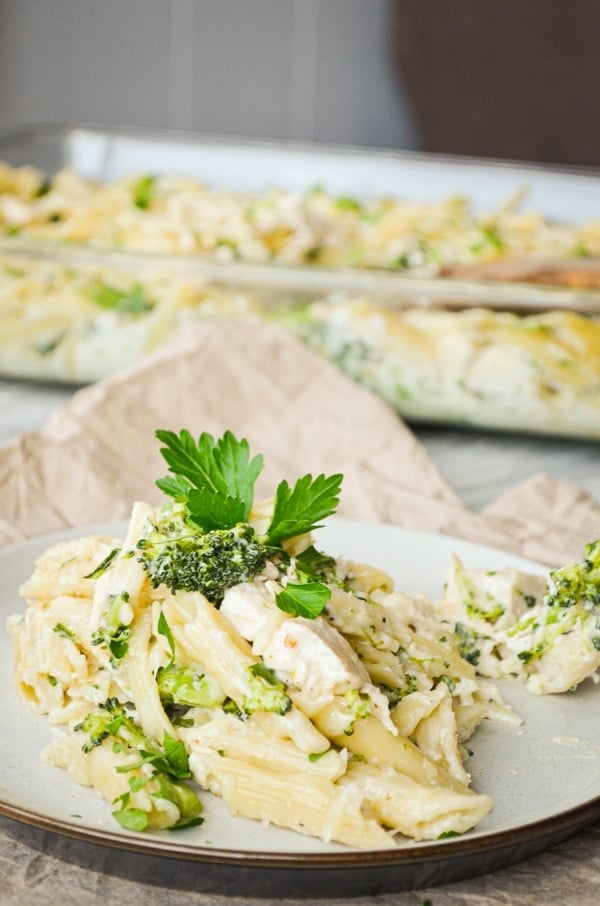 Chicken Broccoli Alfredo Casserole…From Scratch
This recipe for Chicken Broccoli Alfredo Casserole hits all of the elements of my casserole math equation above. We have our starch via Penne Pasta, protein with the chicken, a homemade alfredo-style sauce, fresh steamed broccoli as our vegetable, and a sprinkling of parmesan cheese for our topping. This one was a hit in my home, and made great leftovers as well. It was even good cold! I love using a homemade sauce in this recipe because the store-bought jars, though convenient, have an off taste to them. There just isn't anything better than food made from scratch!
You will most likely find, as I did, that the cheese doesn't completely melt into the sauce, and that's okay! Parmesan isn't a particularly melty cheese, so it can be difficult to work with. This recipe really compliments the sauce because the stringy bits of cheese really add to the "cheese pull" effect of the casserole. Keep that in mind as you make the sauce, because you won't see a completely cohesive sauce for this particular recipe, but once you combine all of the ingredients together it really works!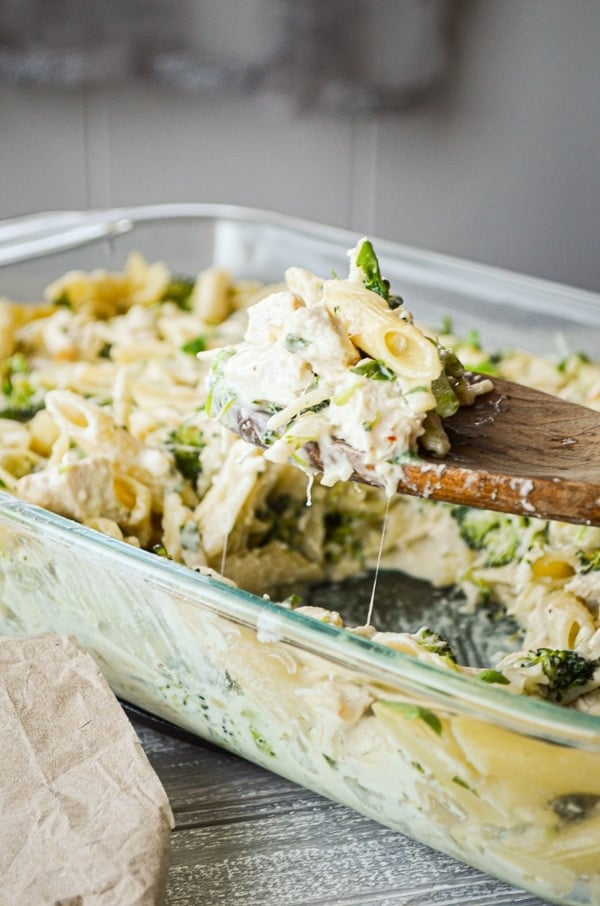 What Do I Need to Make Chicken Broccoli Alfredo Casserole
Pasta: Penne pasta is what is called for in this recipe, but you can use 12oz of your favorite similar sized pasta (such as rotini). Don't substitute for a smaller pasta though, because that throws off the ratios and measurements. Penne is nice because it holds the sauce very well!
Chicken Breasts: Cooked and cubed chicken breasts are used in this recipe! I love using cooked chicken because you can use leftovers very easily. This method for Baked Chicken Breasts from Gimme Some Oven is a great method to use if you don't have cooked chicken on hand.
Broccoli: One head of fresh broccoli is chopped and steamed before adding it to the casserole.
Butter: The beginnings of our from-scratch sauce comes from a good portion of salted butter. You could also use unsalted butter if that's what you have on hand.
Heavy Cream: Adds a nice creamy, richness to our from scratch alfredo sauce.
Parmesan Cheese: Freshly grated parmesan cheese will melt best in this recipe, but you can use pre-shredded parmesan cheese too. Just don't use the shelf stable stuff in the green can; that won't work at all!
Garlic: You can't have pasta without garlic!
Seasonings: Salt, pepper, and some fresh parsley compliment this dish without overwhelming it.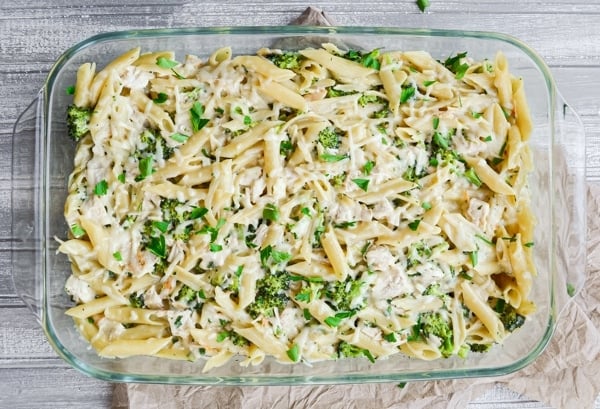 Chicken Broccoli Alfredo Casserole
When it comes to broccoli recipes, this homemade Chicken Broccoli Alfredo Casserole is a family favorite! Loaded with creamy, cheesy flavors and crisp broccoli, it's a delicious meal the whole family will love.
Ingredients
Pasta
12 oz Dry Penne Pasta , about 2 ½ cups
1 tsp. Olive Oil
Alfredo Sauce
¼ cup Salted Butter
2 cups Heavy Cream
1 ½ cups Shredded Parmesan Cheese
2-3 cloves Garlic, minced
¼ tsp Mineral Salt
⅛ tsp Ground Black Pepper
2 tbsp Fresh Minced Parsley
Casserole Fillings
3 Chicken Breasts, cooked and chopped, about 2 ½ cups
1 head Fresh Broccoli, florets only, chopped small
Instructions
Pasta
Bring a large saucepan of salted water to a boil over high heat.
Add the olive oil and the dry Penne pasta. Stir and cook for 8 minutes, or according to package directions.
Once the pasta is done, drain and put a plate or lid over the pasta to keep it warm.
Alfredo Sauce
While you are waiting for the pasta to cook, prepare the sauce.
Melt the butter in a medium saucepan over medium heat.
Add the heavy cream and bring to a low simmer. Simmer for 5 minutes.
Add the garlic and the shredded Parmesan, stirring to melt the Parmesan and heat the garlic. The Parmesan will be very stringy and won't melt very well, but the stringy bits are very nice in the casserole. Just try to get it as smooth as you can.
Remove from the heat and add the salt, pepper, and fresh parsley. Stir and set aside.
Casserole
Preheat the oven to 350F and grease a 9X13 baking dish.
Fit a medium saucepan with a steamer basket and add some water. Bring to a boil.
Add the broccoli and steam for 5 minutes.
Once all the components are completed, combine the drained pasta, sauce, cooked chicken, and broccoli in a large bowl. Mix until well combined.
Pour into the prepared casserole dish and spread out evenly.
Sprinkle with 1/3 cup of Parmesan cheese. Cover with aluminum foil and bake for 20-30 minutes or until the cheese is melted and the casserole is bubbly.
Nutrition Information:
Yield:

8
Serving Size:

Approximately 1 1/2 cups
Amount Per Serving:
Calories:

471
Total Fat:

34g
Saturated Fat:

21g
Trans Fat:

1g
Unsaturated Fat:

11g
Cholesterol:

130mg
Sodium:

441mg
Carbohydrates:

18g
Fiber:

2g
Sugar:

3g
Protein:

24g
Nutrition information is a estimate only and isn't always accurate.
Don't Forget to "Pin it" for Later!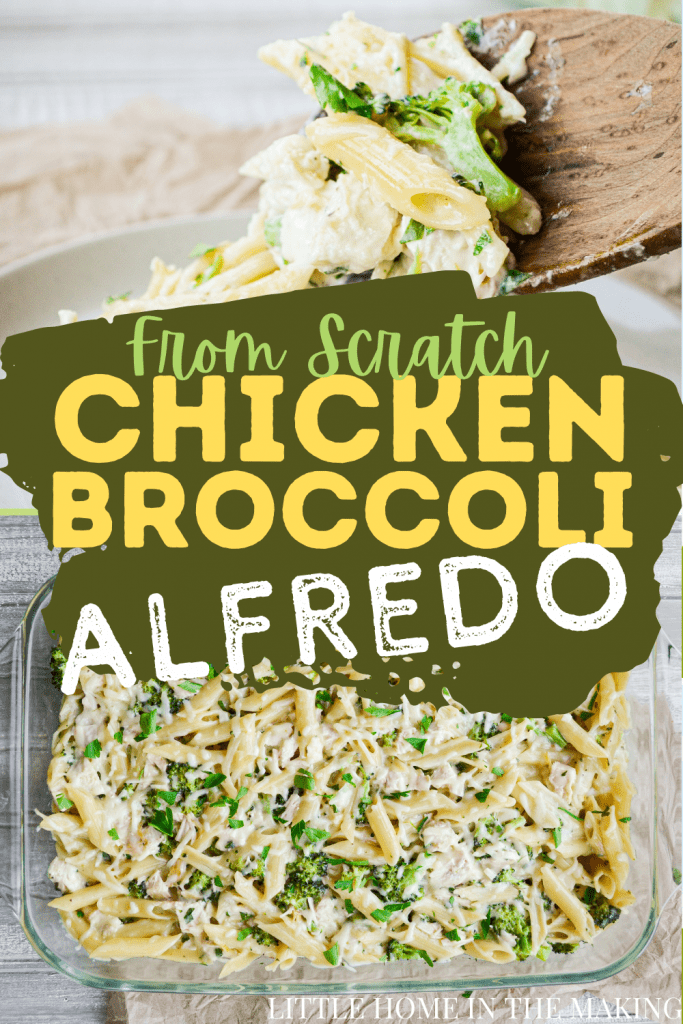 More Recipes to Try: