Poppy Seed Chicken and Rice Casserole is an update on a classic casserole! With added rice and a panko topping, I think you'll love my take on this comfort food classic. Creamy, cheesy, and crispy, your family will keep coming back for more!
Updated May 6th, 2021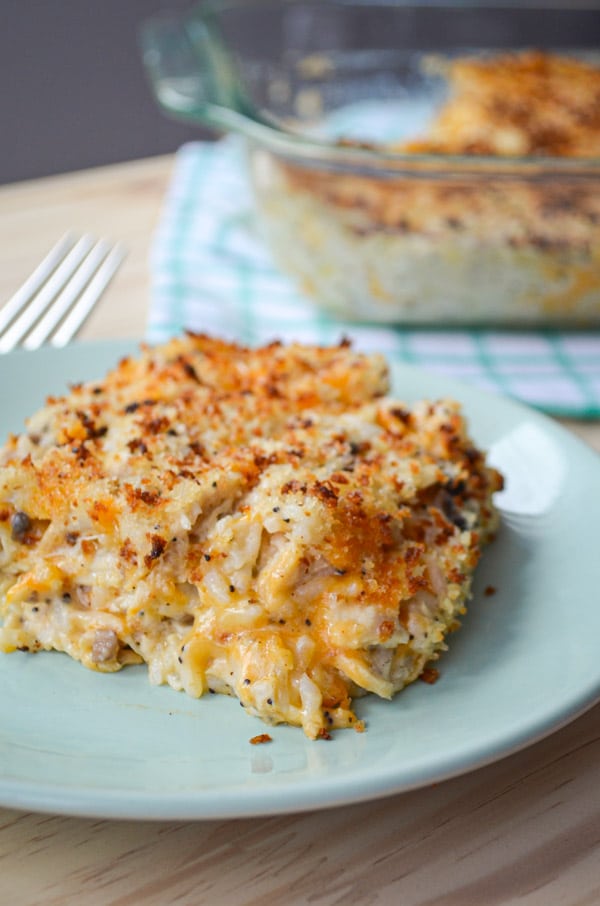 Please note that some of my blog posts here at Little Home in the Making may contain affiliate links. If you make a purchase through these links, I will get a small commission at no additional cost to you. See our disclaimer for more information.
---
Poppy Seed Chicken Casserole is a classic comfort food. So delicious and absolutely indulgent with a buttery cracker crumb crust. Everyone loves your basic Poppy Seed Chicken Casserole! I was looking for a version that was a true casserole, in that it contained a starch for maximum meat-stretching power. I also wanted to make a version that was more accessible and "basic" but still had the crispy crunchy layer of the classic. I've renamed my everyday version: Poppy Seed Chicken and Rice Casserole.
In this recipe I'm using my Homemade Cream of Mushroom Soup, but I have used your standard store-bought cream of mushroom soup in the past so I'm sure you'll have success either way.
Poppy Seed Chicken and Rice Casserole is a great meal option for the day after serving a roasted or rotisserie-style chicken. During the Winter I tried out serving a roast chicken dinner on Monday, tacos on Tuesday, and then using the leftover chicken in a casserole or soup on Wednesday. More often than not I made this Poppy Seed Chicken and Rice Casserole! I hope your family enjoys it as much as my family does.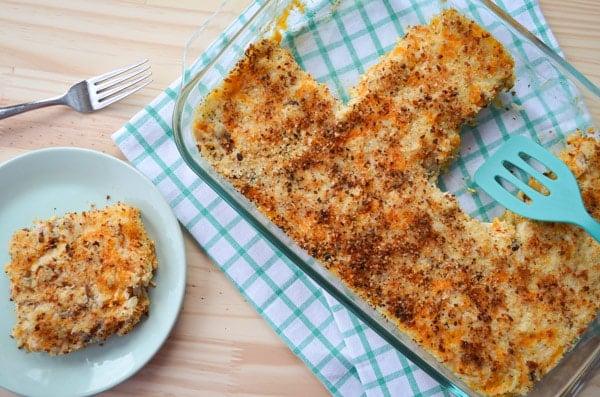 What is the Best Topping for Poppy Seed Chicken and Rice Casserole?
The classic Poppy Seed Chicken casserole often calls for crushed Ritz crackers, but we don't keep those on hand in my home. Instead, we keep lots of breadcrumbs on hand, both homemade and panko style. When these breadcrumbs are tossed with melted butter and sprinkled on top of your Poppy Seed Chicken & Rice casserole, they provide a deep lovely crunch and buttery flavor. This is the "all purpose" casserole topping in my opinion, and I think it's a more basic addition for those of us who want to make a yummy casserole without having to go out and buy special ingredients for the topping.
What Chicken is Best For Adding to Casseroles?
It is preferred to prepare baked chicken and slice or chop it to add to your favorite casseroles, but leftover chicken or even leftover rotisserie chicken can be used. Just finely dice or shred your chicken, measure, and add it to your favorite casserole. I use it in this Poppy Seed Chicken & Rice casserole ALL of the time! It's such a great way to make the most of your leftovers and ensure nothing goes to waste (see my tips about making a whole chicken stretch for more info!)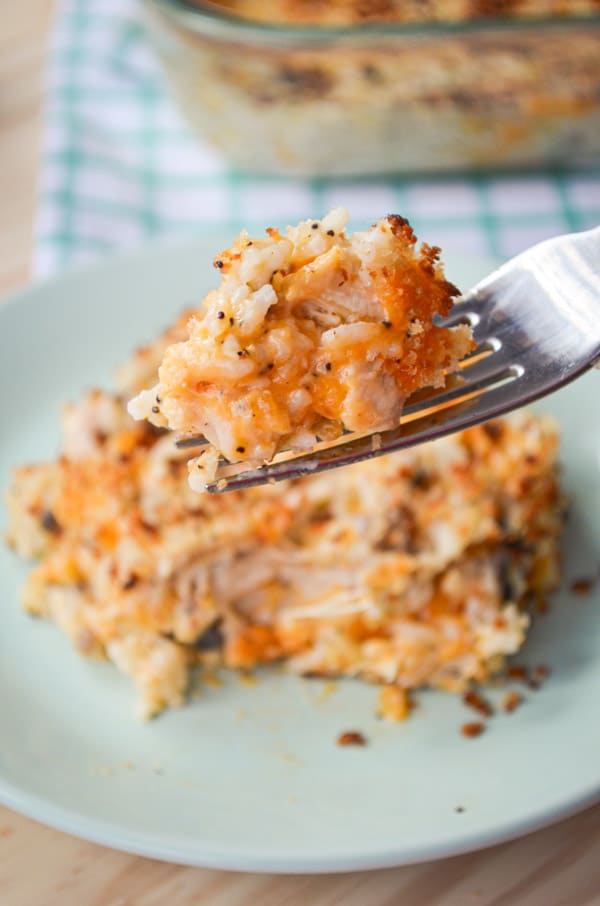 What Do I Need to Make Poppy Seed Chicken and Rice Casserole?
Chicken: I use precooked shredded chicken in this recipe. 90% of the time it comes from the leftovers of a roasted chicken dinner. You can use meat from a rotisserie chicken for an easy prep!
Cream of Mushroom Soup: You can use store-bought or you can try my recipe for Homemade Cream of Mushroom soup.
Sour Cream: This adds some delicious "tang" to the casserole.
Shredded Cheddar Cheese: Sharp or old cheddar works best in this recipe.
Cooked Rice: This is a great recipe for leftover rice! I have used both leftover brown rice and leftover white rice with great success. You can also use hot cooked rice.
Poppy Seeds: I don't know if poppy seeds really add any extra flavor, but they do look pretty! It is called Poppy Seed Chicken and Rice Casserole after all.
Panko Bread Crumbs: These are one of my favorite casserole-toppers. Panko adds a crispy layer without a lot of added calories. I feel like they are a happy compromise for an everyday casserole.
Butter: This adds a rich, buttery flavor to the panko crumbs and helps maintain that traditional Poppy Seed Chicken flavor.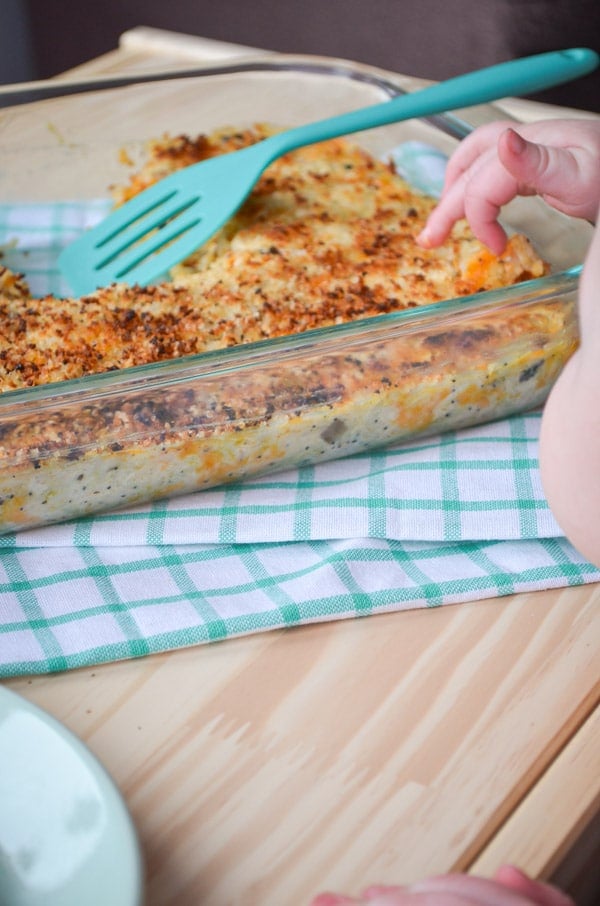 Can I Freeze Poppy Seed Chicken?
Yes! You can freeze this casserole unbaked. Mix up all of your ingredients, top with the breadcrumb topping and let it cool completely on the counter before covering tightly with aluminum foil and placing in the freezer to freeze solid. Mark the foil with the name of the casserole and the baking time.
To bake the frozen casserole, thaw your Poppy Seed Chicken in the fridge. Once thawed, bake as directed and add an additional 15-20 minutes to the baking time.
For the Best Results, omit the breadcrumb topping in the freezing stage and instead add it just before baking. It will be fine if added to the frozen casserole, but it just gets a little more crisp if you sprinkle it on fresh.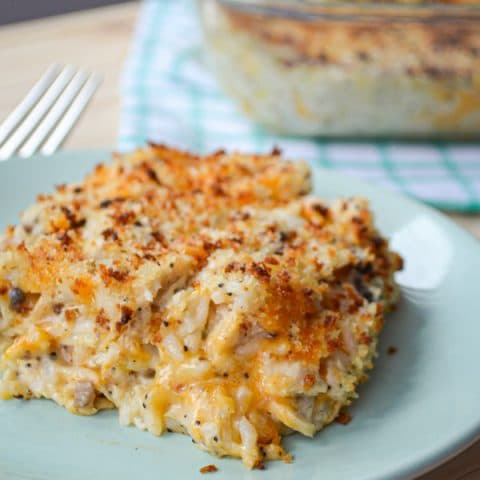 Poppy Seed Chicken and Rice Casserole
Poppy Seed Chicken and Rice Casserole is an update on a classic casserole! With added rice and a panko topping, I think you'll love my version! Perfect for making ahead, or even for the freezer. A comfort classic that is great for even the pickiest of eaters.
Ingredients
3 cups Chicken, cooked and shredded
2 10oz cans Cream of Mushroom Soup, or 2 2/3 cup homemade
1 cup Sour Cream
3 cups Shredded Cheddar Cheese
3 cups Cooked Rice
1 1/2 tsp. Poppy seeds
1/2 cup Panko Bread Crumbs
2 tbsp. Salted butter, melted
Instructions
Preheat the oven to 350F and grease a 9X13 baking dish.
Combine the chicken, cream of mushroom soup, cheese, rice, and poppy seeds in a medium bowl. Mix well.
Scoop the mixture into the prepared baking dish and spread out evenly.
Combine the breadcrumbs and melted butter. Sprinkle evenly over the casserole.
Cover the casserole with aluminum foil and bake until bubbly, about 20 minutes.
Turn the oven to broil and return the casserole, uncovered. Broil for 1-2 minutes, until topping is crisp. Be super careful here, you can burn your casserole very easily!
Cool 5 minutes, cut into 8 equal portions and serve.
Nutrition Information:
Yield:

8
Serving Size:

1 grams
Amount Per Serving:
Calories:

526
Total Fat:

33g
Saturated Fat:

16g
Trans Fat:

1g
Unsaturated Fat:

13g
Cholesterol:

117mg
Sodium:

695mg
Carbohydrates:

29g
Fiber:

1g
Sugar:

4g
Protein:

27g
Nutrition information is an estimate only.
Pin it For Later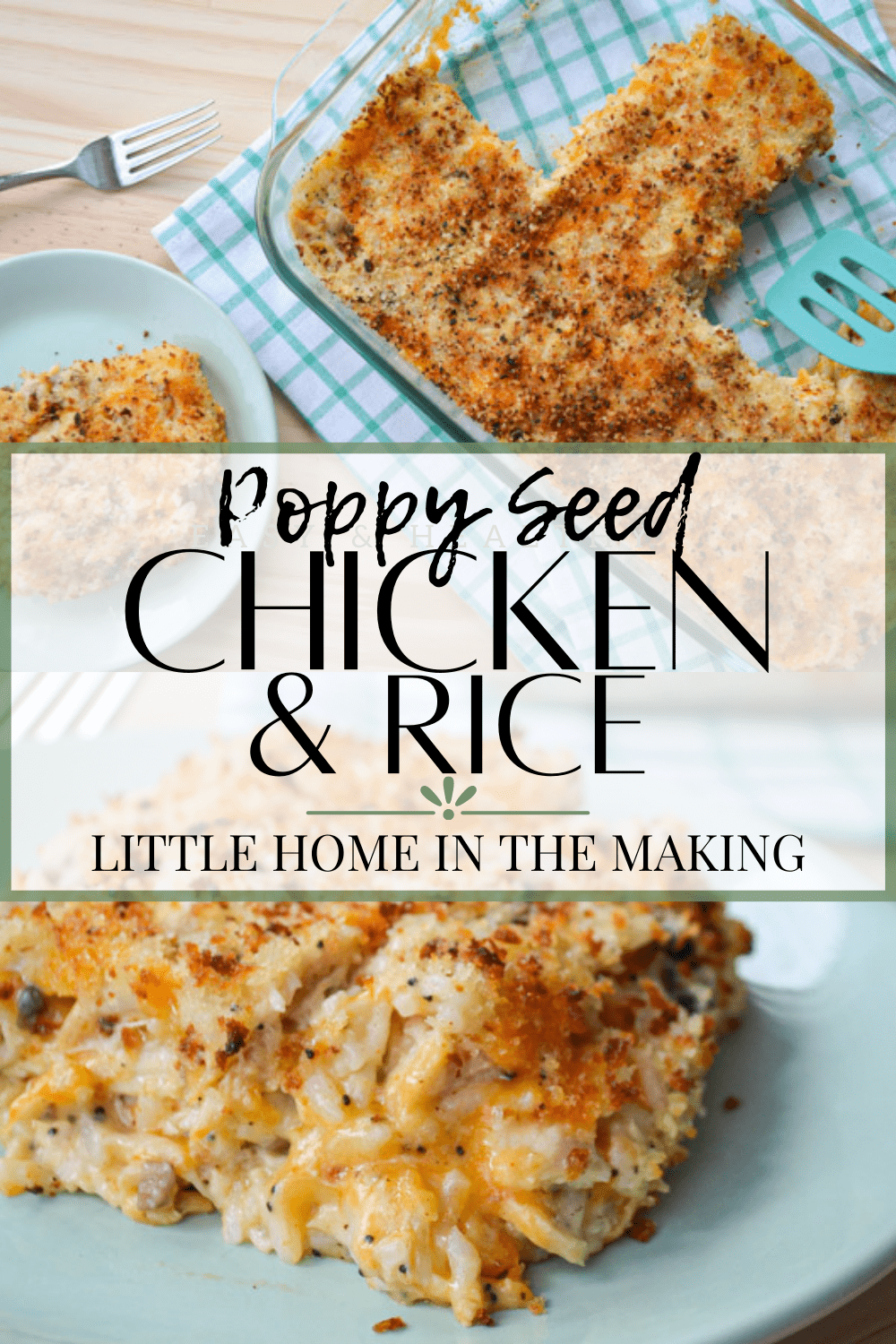 Other Recipes to Try: