This creamy lemon chicken pasta is seasoned perfectly, and tossed with a sauce of lemon juice, fresh garlic, butter, and heavy cream. This is the best pasta recipe for serving to guests because it impresses with simple flavors every single time! Bowties make this perfectly polished pasta just a tad fancy. You know, cause bowties are fancy…right!?
Updated on May 5th, 2021
Have you ever declared that you really don't like something, and then, after listing all of the exceptions, you realize you DO like that very thing? Pasta is that thing for me. If you asked me, "Do you like pasta?" I would probably say, "No, I do not, except…" and then I would go on to list the exceptions, which would be legion. This is particularly hilarious because my absolute #1 10/10 favorite food is Macaroni and Cheese (like these Baked Shells and Cheese or my ultimate From Scratch Macaroni and Cheese). Yet, unless I'm thinking about it good and long and hard, I wouldn't think that it was pasta. But it is.
Now that I'm coming to terms with myself, I recognize that pasta is a great food. While it can't be every day fare for most of us, it's a wonderfully comforting meal and is great to serve guests. Pasta is inexpensive, well liked, and lends itself well to a variety of flavors. This makes it an ideal selection for having dinner guests, or even just for preparing a special meal your family will love.
Why Use Bowtie Pasta?
Bow Tie pasta is one of my favorite pastas. Partially because of the novelty, and partially because the nooks and crannies serve as perfect little hidey holes of saucy goodness. Bowtie pasta has these little creases where the buttery lemon sauce settles in and makes a nice little home for itself. When assessing a pasta noodle for use, always look for a good "sauce trap". You don't want a smooth surface, you want something a little rumpled or ridged. That way the sauce clings to the noodle, rather than staying in the bowl.
I adapted a recipe that was simply used for chicken, increased the volume, made it saucy and spectacular, and served it over bowties. Topped with fresh parsley and grated parmesan. I mean, it's a simple equation:
Butter + Lemon + Garlic + Pasta + Parmesan = Perfection.
You're going to be absolutely addicted from the very first bite.
Can I substitute bow tie pasta for another type of pasta?
I would recommend sticking with bowtie pasta when called for, or a pasta that is a very similar shape (like Mafalda). Pasta is not an easy food to convert because it has less to do with volume (cups) and more to do with weight. Even if you weigh your pasta to convert, you can have some difficulties because different pastas absorb different amounts of water and require different cooking times.
Since this is not a one pot pasta recipe (you will be draining the noodles) you could bend the rules a little and substitute a pasta of your choice. But bear in mind that the results may be significantly different than they will be if this is made with bowtie pasta. That is because your pasta may cook up to a larger volume (meaning less sauce to go around) or a lower volume (meaning much more sauce to go around). As long as you keep that in mind and temper your expectations, you should be fine to go ahead with your experiment.
What Makes This The BEST Pasta Recipe?
Looks impressive
Tastes great
Uses fresh ingredients
Has a classic flavor combination
And really isn't that hard to prepare!
What Do I Need to Make Creamy Lemon Chicken Pasta?
Pasta: Bowtie pasta is used in this recipe. The particular ridges are perfect for a thinner sauce.
Chicken Breasts: These are sliced and seared with plenty of seasoning for a well rounded flavor.
Salted Butter: An essential element for the Creamy Lemon Garlic Sauce. Yum! Unsalted butter is fine too if that's what you have on hand, just add a little bit of additional salt.
Heavy Cream: I once saw someone call it "heavenly cream" and that certainly is true, isn't it!?
Parmesan Cheese: Just a little bit of parmesan cheese goes a long way in this recipe since we have some nice fatty mouthfeel from our butter and heavy cream.
Garlic: It has to be fresh here. Jar garlic would be a crime for which there would be no adequate punishment.
Lemon Juice: If you can, use a fresh lemon. Lemon juice in the bottle has its place, but it can have a bit of a metallic taste when you're asking it to be a main flavor in the dish.
Fresh Parsley: You really really really want to go with the fresh stuff in this recipe. Dried parsley really is a poor replacement for fresh. You can buy a bunch for fairly cheap, and you can keep it fresh for a long time using this method.
Oil: Use a neutral tasting oil like sunflower, canola, or avocado oil.
Seasonings: Salt, pepper, paprika, and dried thyme are used in this recipe.
How Do You Make Really Good Pasta?
The secret to making really good pasta, is to cook the pasta to al dente. This means that you will generally follow the instructions for your particular type of pasta, but you also want to go by feel. Check your pasta at about 2 minutes before the timing is up, and check often to see when it becomes slightly tender with a little bit of bite to it.
How can I make my pasta more flavorful?
Another tip for making good pasta is to heavily salt the water. Since this is the liquid that the pasta will cook in, it will be getting all of its flavor from the water. To ensure that it is adequately seasoned, you want to make your pasta water as salty as the sea. This means adding quite a bit of salt to that water. Don't worry though, your pasta won't absorb all of that salt, just a portion. So be liberal with your salt and you'll noticed a marked difference in how tasty your pasta is.
Something else I like to do for added flavor, and to help with sticking is to add a little bit of extra virgin olive oil to the pot. I've watched Vincenzo's Plate on YouTube and he insists that this is a waste of olive oil, but I just get such great results from it that I can't stop! Certainly, don't use your fancy olive oil for adding to your pasta, but your run of the mill grocery store stuff is perfectly inexpensive and makes a huge difference (in my opinion, anyway).
What Side Dishes Go Well With Pasta?
This creamy lemon chicken pasta can certainly hold its own, but to round out the meal you may want to serve up some sides. Here are some of the best side dishes for pasta:
Garlic Bread: I love making mine with sourdough bread, but you can make it however you like it. Here is a classic Garlic Bread recipe from Ambitious Kitchen that looks tasty.
Tossed Salad
Copycat Olive Garden Salad (totally drooling over here!)
Caesar Salad (Natasha's Kitchen is always a good bet. She has a recipe for Caesar Salad here and it looks amazing!)
Garlic Knots (These ones from Sally's Baking Addiction are my favorite to make for special occasions)
Soft Breadsticks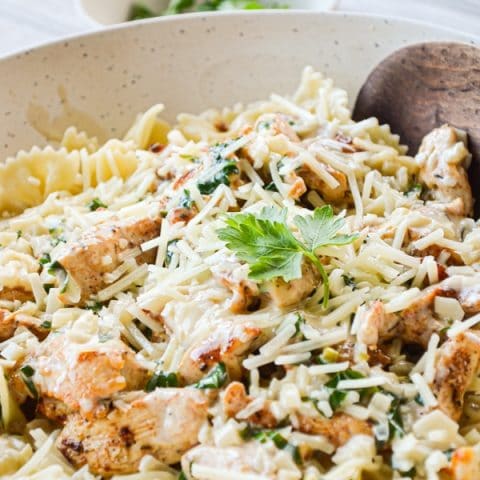 Creamy Lemon Chicken Bowties
Creamy Lemon Chicken Bowties is THE BEST chicken and pasta recipe! You will want to serve this to company and is sure to become a new favorite in your home!
Ingredients
Pasta
12 oz Dried Bowtie Pasta
1 tsp. Olive Oil
Chicken
2 tbsp. Oil, avocado, vegetable or neutral tasting oil
2-3 Boneless Skinless Chicken Breasts, sliced
¼ tsp. Dried Thyme
½ tsp. Paprika
¼ Ground Black Pepper
½ tsp. Table Salt
Creamy Lemon Sauce
½ cup Salted Butter
8 cloves Garlic, minced
1 cup Heavy Cream
⅓ cup Lemon Juice
3 tbsp. Fresh Minced Parsley
For Serving
½ cup Grated Parmesan Cheese
Instructions
Pasta
Bring a large stockpot of salty water to a boil.
Add the olive oil and the bowtie pasta. Stir, and boil the pasta for 12 minutes, or according to package directions.
Drain the pasta and cover with a plate to keep warm.
Chicken
While the pasta is cooking, prepare the chicken. Heat 2 tbsp. Of oil in a large skillet over medium heat.
Combine the thyme, paprika, ground black pepper, and salt in a small bowl.
Add the sliced chicken in a single layer. Sprinkle the chicken with the seasonings. Once the first side is browned, turn the chicken to brown on the other side.
Cook the chicken until an internal temperature of 165F is reached in the thickest piece of chicken.
Remove the chicken from the skillet and onto a plate. Set aside.
Creamy Lemon Sauce
Add the butter to the hot skillet, swirling it around until it melts.
Reduce the heat to medium-low and add the garlic to the melted butter. Saute until fragrant, about 1 minute.
Slowly add the heavy cream to the butter and garlic, whisking as you add the cream.
Once all of the cream is added, add the lemon juice.
Bring the sauce to a gentle simmer. Simmer for 5 minutes, stirring often to prevent scorching.
Once the sauce is done, remove from the heat and stir in the fresh parsley.
For Serving
Place the hot pasta in a large bowl, stirring to prevent clumping.
Top the pasta with the chicken, then the Parmesan cheese, and finally pour the sauce over the pasta and toss to combine.
Serve immediately!
Nutrition Information:
Yield:

6
Serving Size:

1/6 of Recipe
Amount Per Serving:
Calories:

582
Total Fat:

42g
Saturated Fat:

22g
Trans Fat:

1g
Unsaturated Fat:

18g
Cholesterol:

144mg
Sodium:

532mg
Carbohydrates:

24g
Fiber:

2g
Sugar:

2g
Protein:

26g
Nutrition information is an estimate only.
Make sure to save this recipe for later! "Pin It" on Pinterest!