This is going to become one of your favorite cheese tortellini recipes! This easy dinner idea comes together in less than 30 minutes and uses only 3 simple ingredients! This Cheesy Tortellini Casserole has been a weeknight lifesaver in my home, and I know it will be in yours too!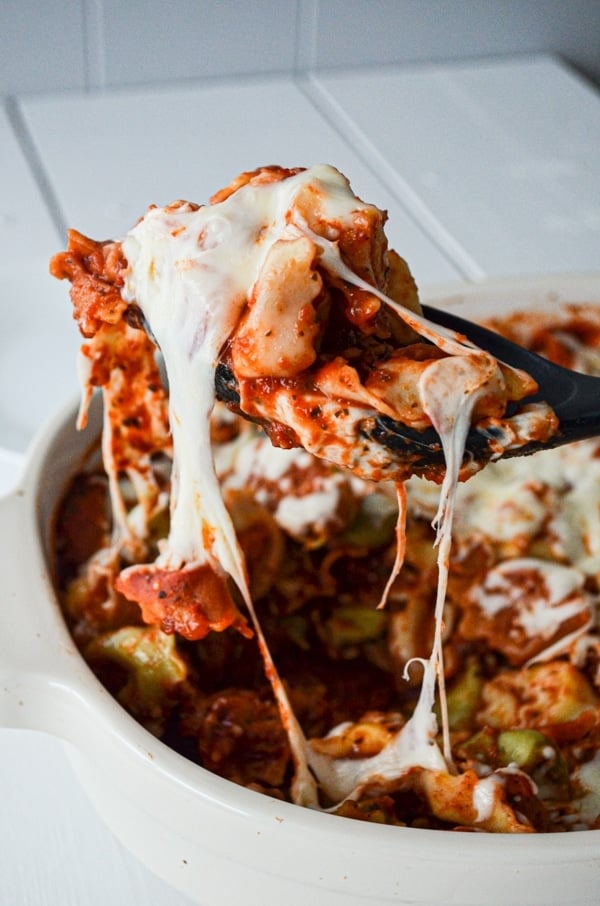 Even though I consider myself relatively organized in the food department (I am a food blogger, after all), I still have those days. You know the ones. When the meat doesn't thaw, or the baby has been crying, or maybe you get home from work and realize your forgot to take your chicken out of the freezer before you left.
Those days.
We all have those days. Much of the time, the days where everything goes wrong ends with calling for a pizza or some Pad Thai. Maybe even a Drive-thru burger that ends up cold by the time you sit down to eat it. Dinner must be served, and so we always find a way.
This 3 Ingredient Cheesy Tortellini Casserole is for those days. This is going to take way less time than having a pizza delivered, and it's going to taste a lot better than cold drive-thru burgers! Best of all? You won't have to leave the comfort of your own home. You can cozy up in your jammies, throw together the 3 ingredients you need for my cheesy tortellini casserole and retire to the couch while you wait 15 minutes or so for it to get all melty and delicious.
This is a lifesaver meal.
I started making this when my son was just a baby and we were facing a witching "hour" every day beggining at 4PM and not ending until some time after midnight. Those were HARD days, and I had to prepare meals that were simple and could be done with a screaming baby on my hip. This Cheesy Tortellini Casserole became my new best friend.
For an easy dinner all I had to do was:
Cook the tortellini
Add it to jarred marinara sauce
Top with shredded cheese
Bake and serve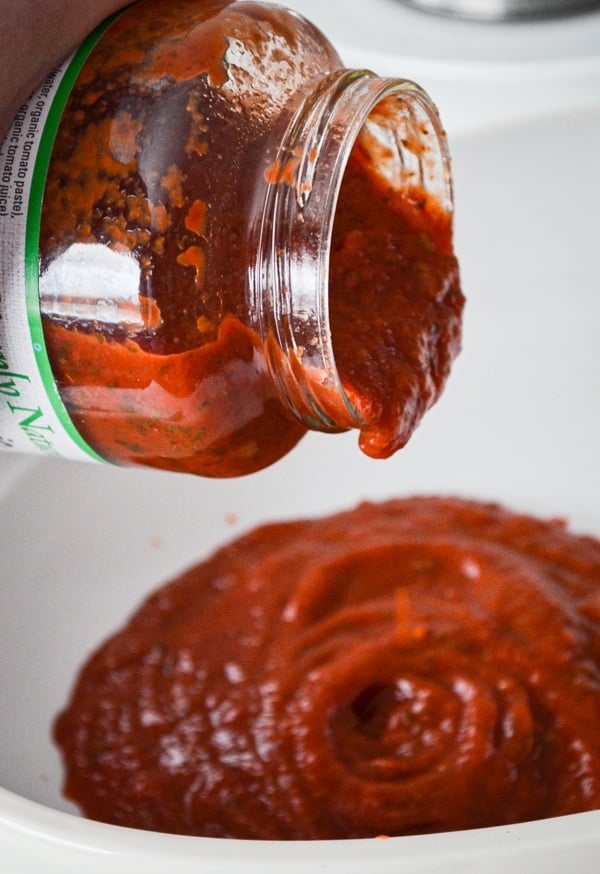 On days when I really had it together, I'd even serve up some garlic toast or garlic bread. Those were hard days, and I'm so glad I had a few simple meals up my sleeve so we could avoid spending a fortune on take out meals.
Nowadays, I have a little more time for meal preparation, and even use my blog here as a creative outlet for sharing our family's favorite recipes. Things were hard then, but they did get better. Even still, we still have hard days. Spilt milk, upturned garbage cans, teething: these all come into play and when they do? I get out my casserole dish and I make this cheesy tortellini casserole.

Homemaking Tip: Using hot tap water will help your water boil quicker, which is great if you're in a hurry!
Q&A for Cheesy Tortellini Casserole
How Do You Cook Pre-Packaged Tortellini?
Cooking cheese tortellini is a really simple process. All you have to do is bring a pot of salted water to a boil, drop in the tortellini, and cook according to the package directions. Mine cook up in about 5-6 minutes.

If you're cooking your packaged tortellini for this cheesy tortellini casserole, I recommend undercooking them by just a few minutes. Since they will continue to cook in the sauce once they are baking in the oven, there is no need to have them completely cooked.

Once the cheese tortellini is cooked, drain off the water and use your tortellini as desired! It really is that easy!

Do You Have to Boil Tortellini?
For this recipe, yes. But for others? The answer is maybe. If the recipe specifically calls for unbaked or frozen tortellini, you have the go ahead. Otherwise, it's best to stick to the recipe.

If you're creating your own recipe, tortellini + lots of sauce + a good amount of covered baking time seems to be the ticket.
Can You Freeze Cheesy Tortellini Casserole?
Yes! Just prepare the casserole completely, but cool, cover and freeze before the baking stage. When you are ready to bake the tortellini, you can bake it from frozen for 90 minutes, or thaw completely and bake for 45 minutes. Be sure to bake it covered with foil or a lid to prevent it drying out.
What Are Some Good Side Dishes for Cheese Tortellini?
Some great side dishes include garlic bread, garlic knots, salads, soup, and roasted veggies. You can keep it simple by preparing a frozen vegetable mix or a bagged salad.
Do I Have to Use Cheese Tortellini?
No! You can use whatever flavor of tortellini you prefer. We like cheese in my home, but feel free to use whatever your family likes best. Cheese tortellini makes this a vegetarian meal, but you can opt for sausage or beef tortellini if that's what you prefer.
How Do I Make Cheesy Tortellini Casserole?
You're not going to believe how easy it is! Once you have your pasta boiled and drained, the rest is SOOOO stinking easy!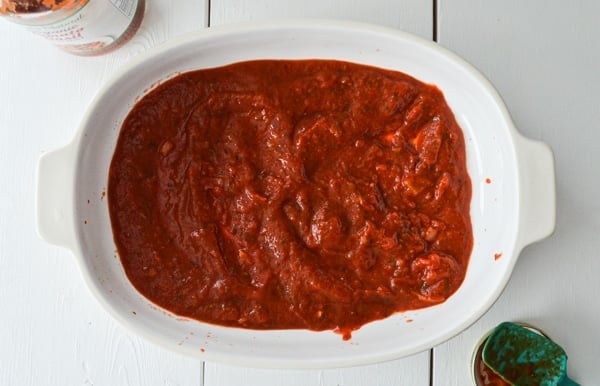 Step One: Pour in the Sauce
I like to pour in about half the sauce now, and half after I add the pasta. This helps make sure it's evenly coated.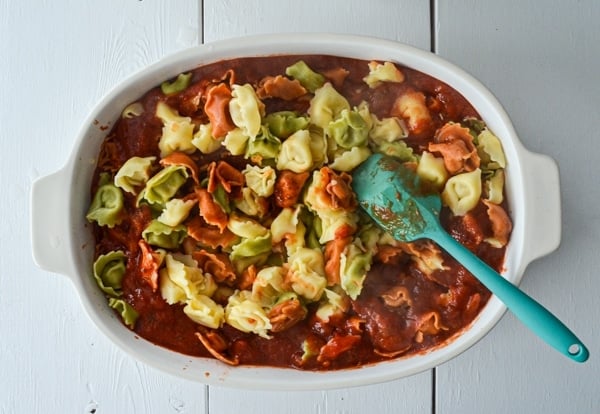 Step Two: Add In the Pasta
Add the cooked and drained cheese tortellini into the pasta sauce. Use a silicone spatula or wooden spoon to mix the pasta and the sauce together.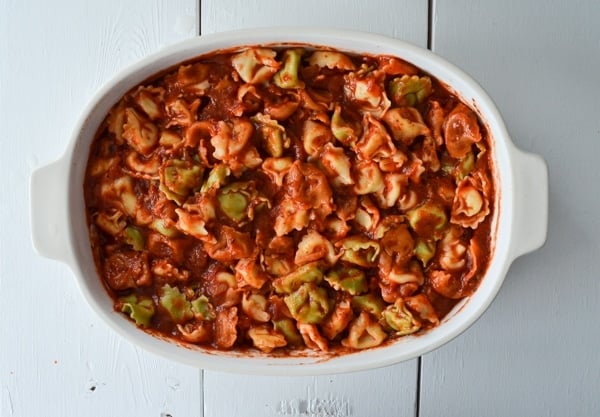 Step Three: Spread it Out
Once the pasta and sauce are well mixed, spread them evenly in your baking dish.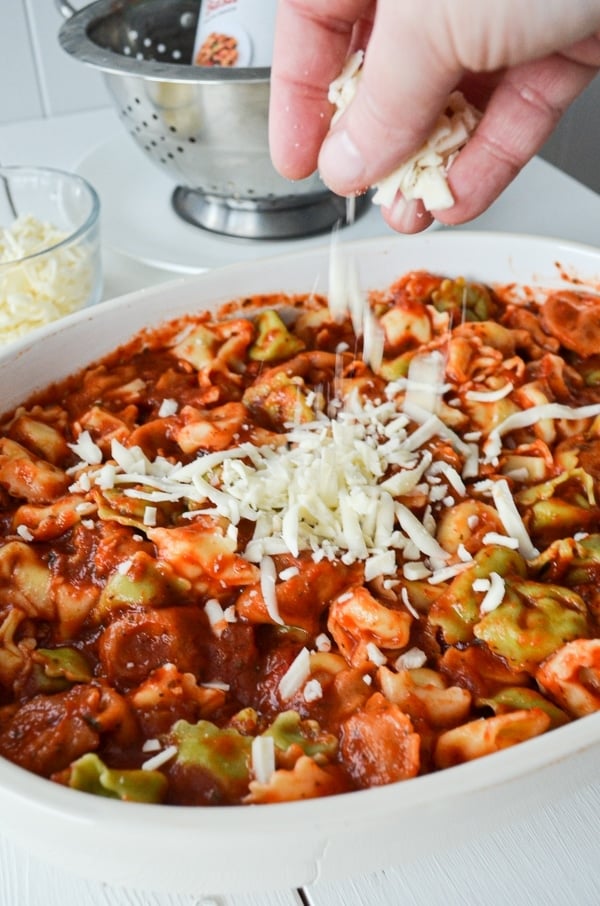 Step Four: Top with Cheese
This step explains itself! Top that yummy cheesy tortellini casserole with lots of cheese! I use shredded mozzarella because we love the stretch that it gives, but you can use any kind you like. Italian pre-shredded blends are perfect for the sake of convenience.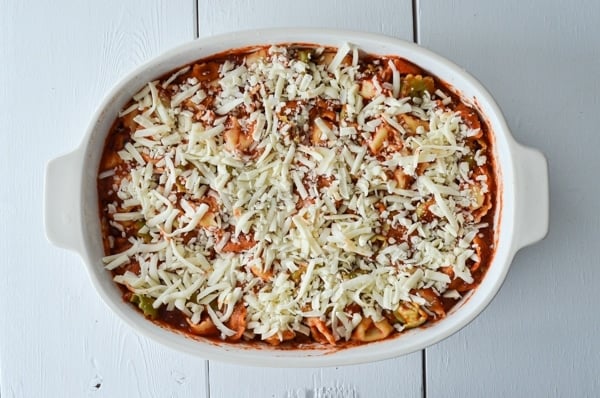 Step Five: Bake Until Bubbly
Bake at 350F for 15-20 minutes, or until the cheese is melted and bubbly. 🤤😋 Serve with your favorite sides, or all by itself! You're going to love how easy this cheesy tortellini casserole is!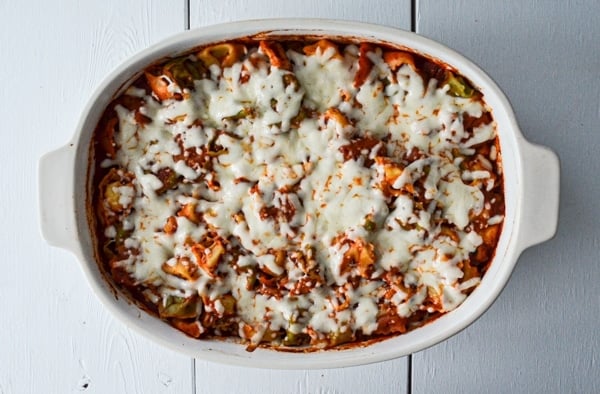 Favorite Side Dishes for Cheese Tortellini Casserole:
If you try my recipe and love it, please consider leaving a review so other can find it! You can also tag me on Instagram @littlehomeinthemaking. I'd love to see your quick and easy meals!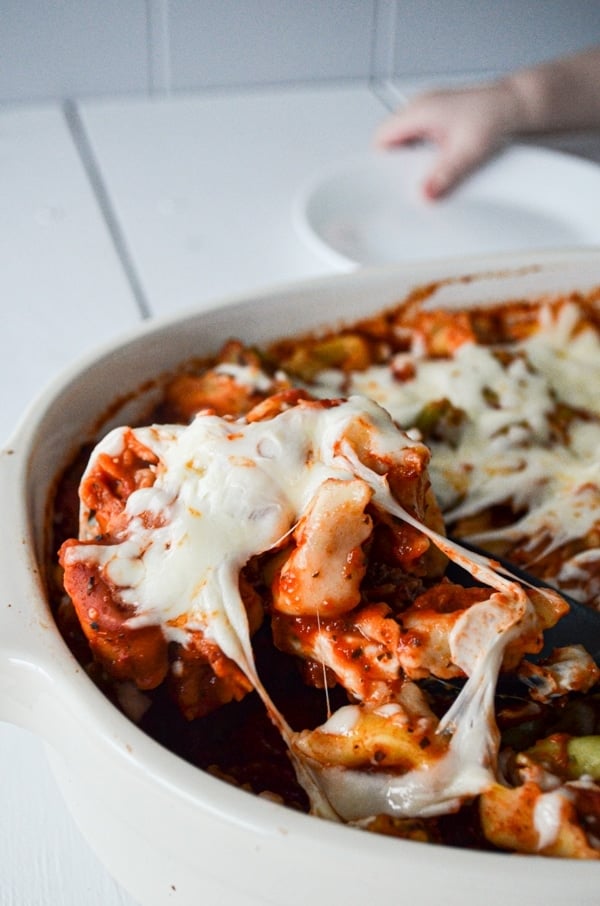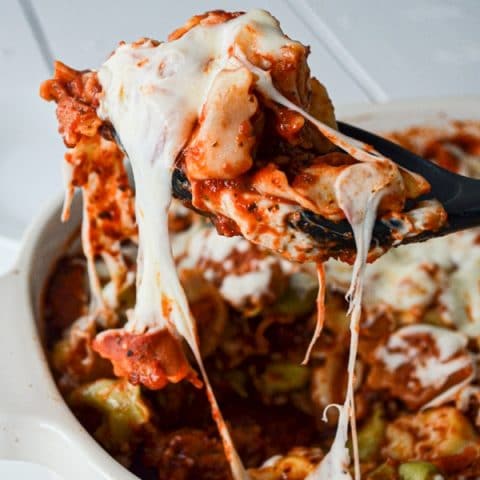 3 Ingredient Cheesy Tortellini Casserole
As far as easy dinner recipes go, it doesn't get any easier than this delicious baked tortellini recipe featuring just 3 ingredients! An easy meal idea that comes together in less than 30 minutes and will be a lifesaver in the kitchen.
Ingredients
1 28oz Jar Marinara or Pasta Sauce
1 24oz package Cheese Tortellini
2 cups Shredded Mozzarella Cheese
Instructions
Preheat the oven to 350F and grease a 9X13 baking dish with butter or cooking spray.
Add hot water to a large pot of water and salt generously. Bring the water to a boil over high heat.
Once the water is boiling, add the tortellini and cook for 5-6 minutes, or just a little less than the package directions. Since you'll be baking your pasta, it does not need to be completely cooked at this point.
Drain the pasta. Pour half of the marinara sauce into the bottom of your prepared baking dish.
Add the pasta to the sauce. Top with the remaining sauce and stir well to combine.
Spread the pasta and sauce out in an even layer and sprinkle on the cheese.
Bake in the pre-heated oven for 15-20 minutes, or until the cheese is melted and bubbly.
Nutrition Information:
Yield:

6
Serving Size:

1
Amount Per Serving:
Calories:

523
Total Fat:

17g
Saturated Fat:

8g
Trans Fat:

0g
Unsaturated Fat:

6g
Cholesterol:

70mg
Sodium:

1425mg
Carbohydrates:

69g
Fiber:

5g
Sugar:

10g
Protein:

25g
Nutrition information is an estimate only.
More Easy Recipes: