Keep it simple and keep it delicious with this reliable recipe for Simple Butter Pecan Granola! Just a few ingredients come together quickly to create a rich, buttery granola that is sweetened with maple syrup and made with love. Perfect for breakfast meal prep and kid-friendly too!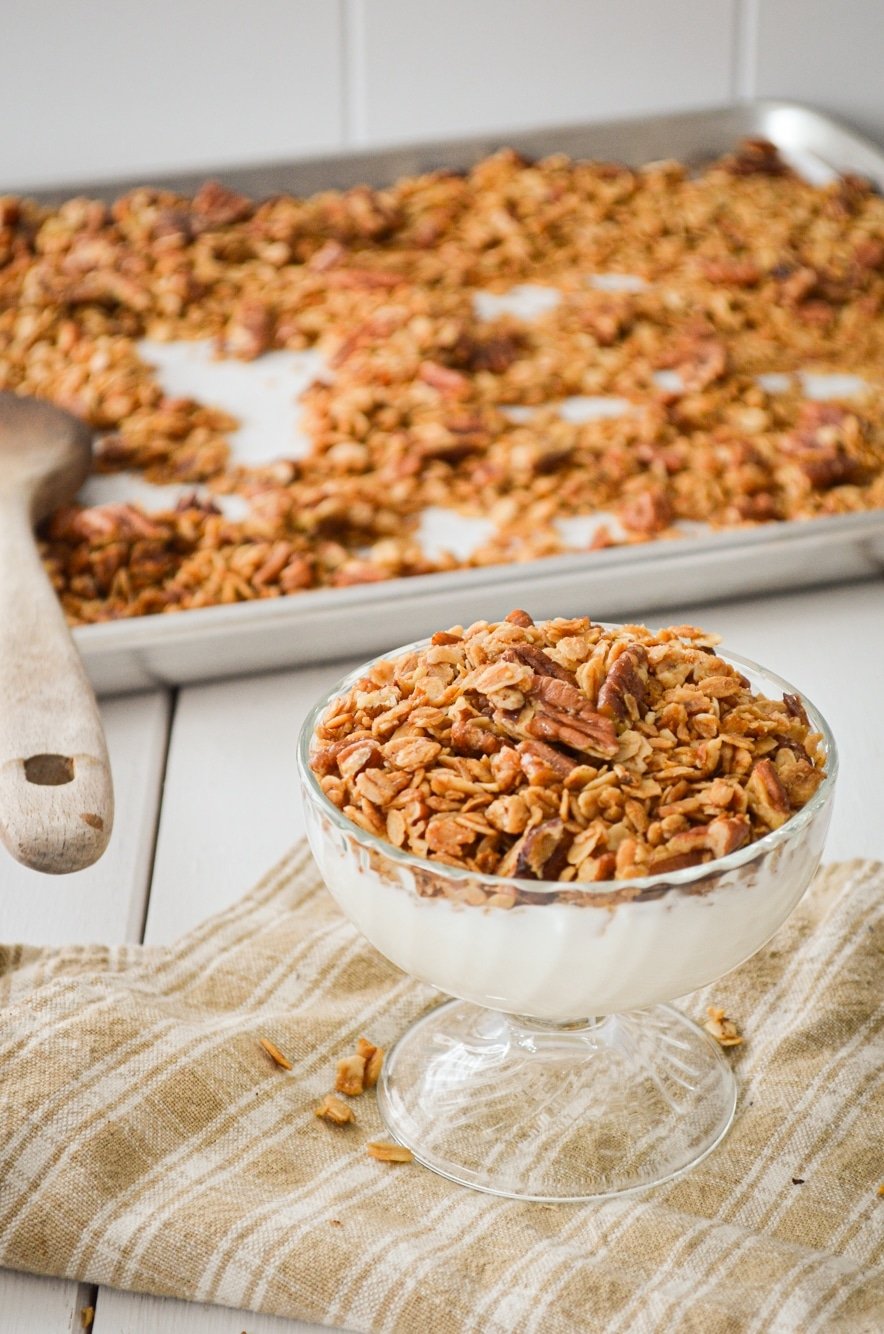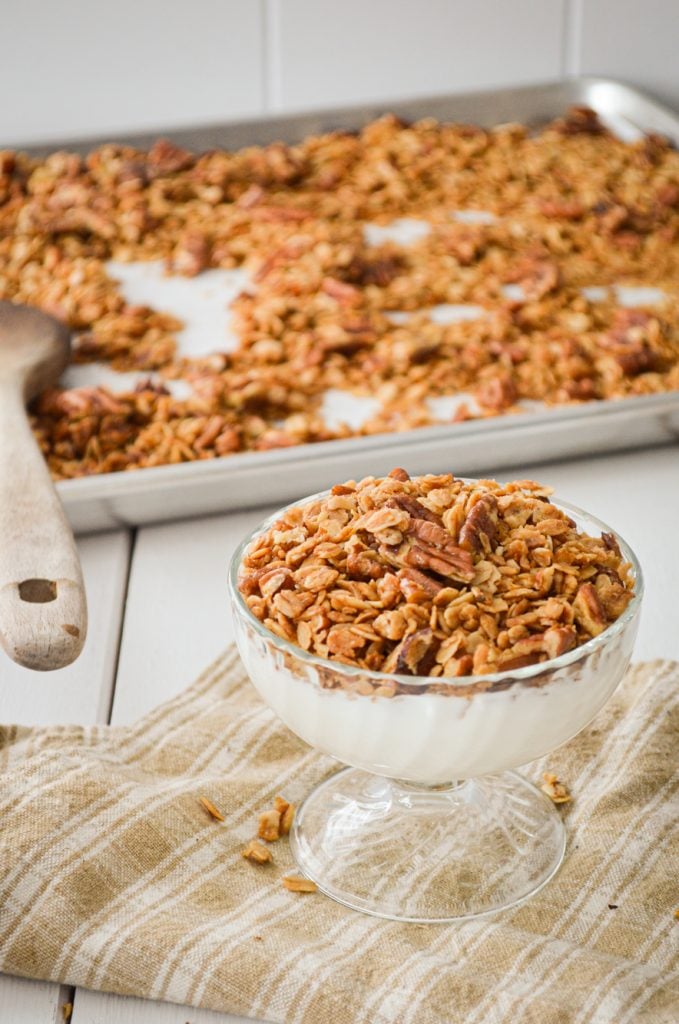 If you're like any other mom out there (or person in general), I bet you're looking for something fun and different for breakfast or for snack time. I'm always on the lookout for new flavors and ideas (hence, why I'm a food blogger), and I love sharing the best of the best with you here at Little Home in the Making. I'm totally obsessed with this new SIMPLE Butter Pecan granola, and I know you will be too!
So what makes this granola so good?
Granola is the Best Simple Breakfast Meal Prep
Well, it's in the title! Butter (hello!) and pecan (can you say yum?). But I forgot the emphasize the BEST part: simple. You're busy, you need something that you can throw together and have prepped for the week. I get that. I feel that. Time is such an important commodity, and so it's so essential to be able to be efficient with the time that you do have. Instead of spending a whole day making a fancy dehydrator granola recipe, you could be spending valuable quality time with your family!
That's why I'm so excited about this recipe. You can have this delightful simple granola in the oven and done in about an hour. This means it will be ready to go for delicious breakfast and snack options throughout the week (or longer, if you don't eat it all first!). Now that is making the most of your time.
Okay, but why even take the time to make homemade granola? Why not buy it at the store?
Good question! Besides the absolutely fresh and natural taste of the homemade stuff, it's way better for you too! The store-bought varieties are formulated to be able to sit on a shelf for a LONG period of time. And then come home and live with you and your fam for an even LONGER period of time. This means they have fillers, processed sugars (like corn syrup), and other additives too. This can be fine as a quick convenience meal, but when I have the time to prepare something special for my family (even if it's only a small margin of time!), I want to make them something fresh and tasty. And obviously you do too, or else you wouldn't be here reading all about this simple butter pecan granola recipe! 😅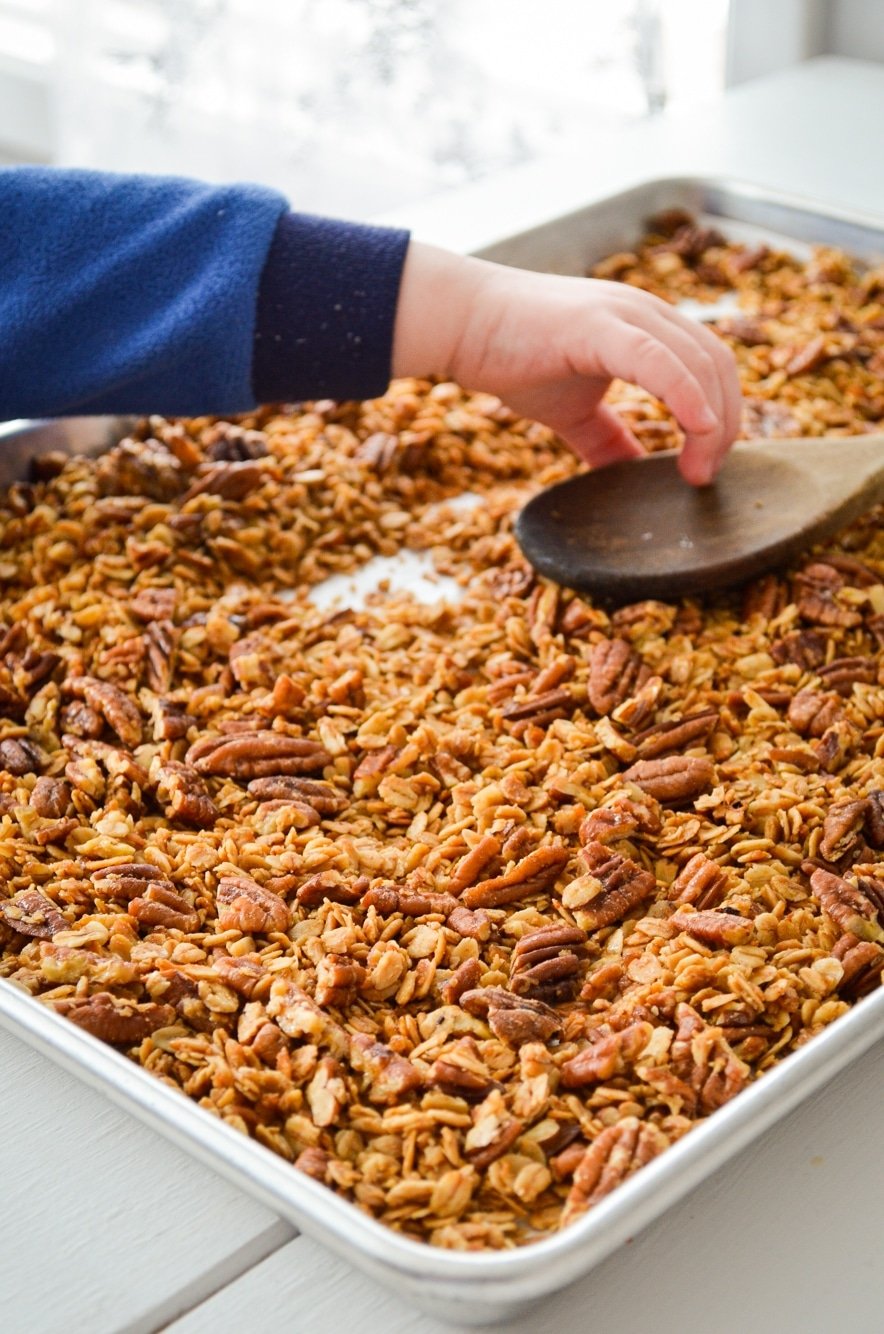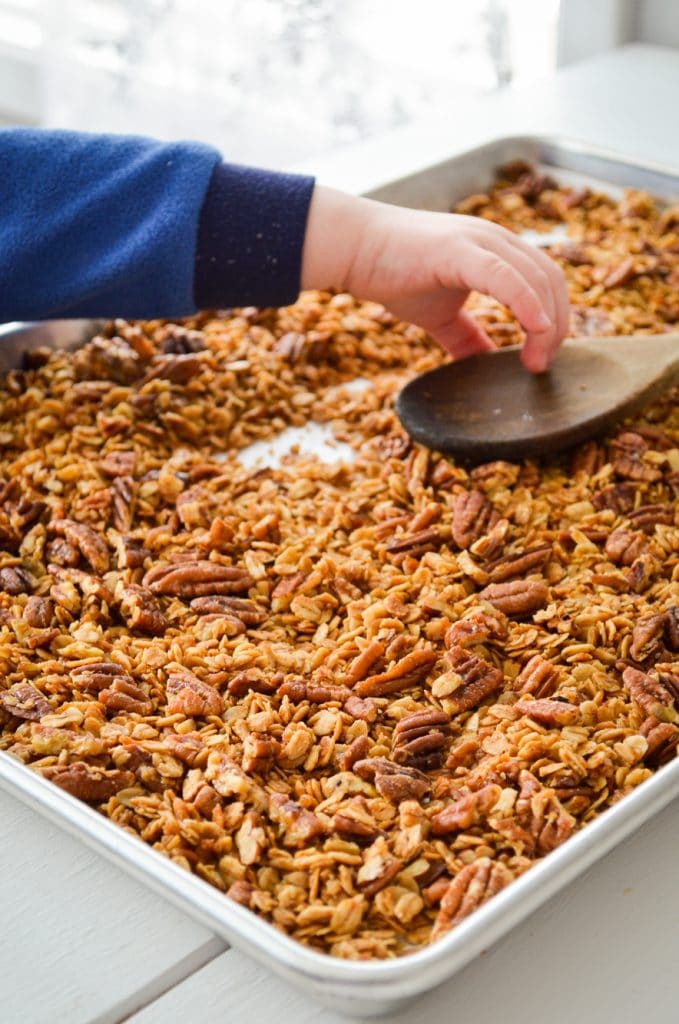 How long does granola last?
Not long in my house! 😂
Really though, when it comes down to how long granola actually lasts, I find a practice of about 2 weeks in an airtight container at room temperature a good practice, but each family is different and it is different for each various climate. If you want to store your granola for more than 2 weeks, you can try stashing some in the fridge or even in the freezer. This would be a great way to save even MORE time, because you could triple or quadruple the recipe (although you'll want to use multiple baking sheets; piling it all on one baking sheet wouldn't allow for even cooking).
See this great article from Pantry and Larder: How to Store Granola to Retain Crunch and Flavor.
How to Make Granola: The Simple Way
You're going to love how simple and easy this granola is. I've kept the ingredients on the short side, and the result is a nice, buttery, rich flavor with minimal effort. Love it!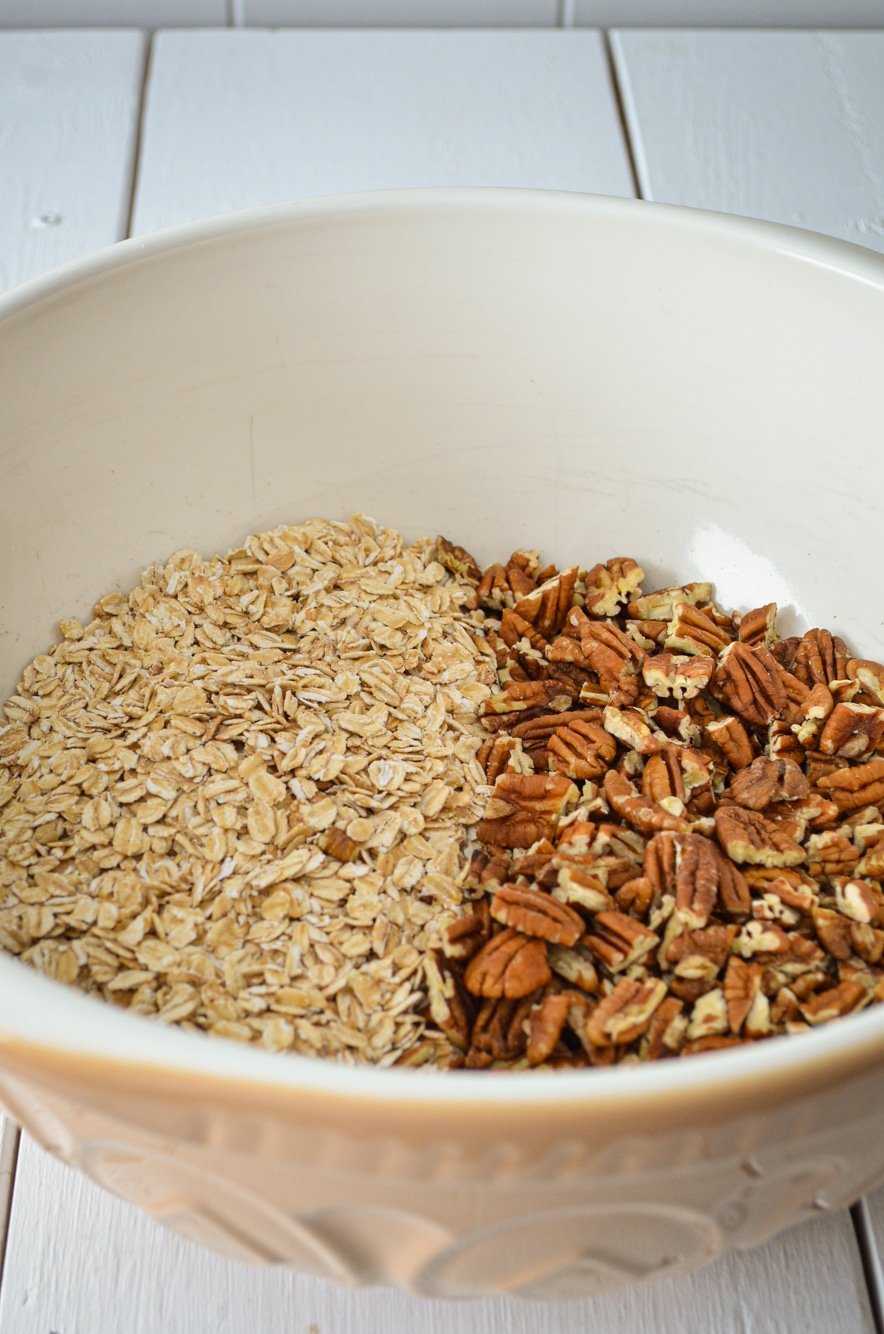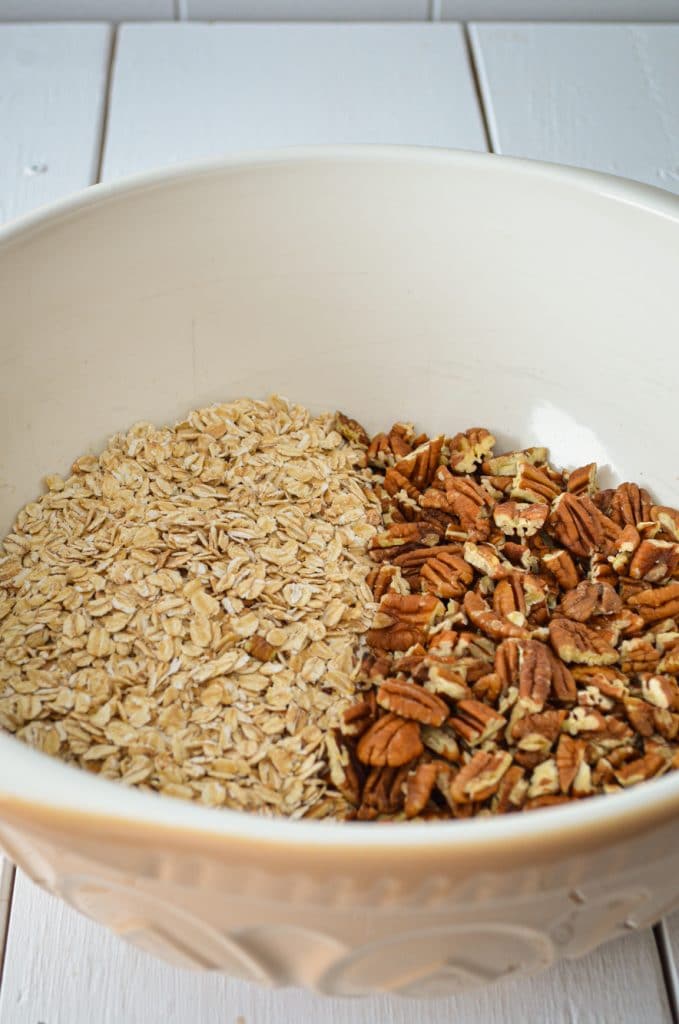 1. Combine Your Oats and Pecans
Get out a big ol' bowl (like my giant Mason Cash bowl, which I LOVVVVVEEEEEE 😍😍😍) and mix up your oats and chopped pecans.
Oats: Use the old-fashioned kind. Also known as rolled oats. These are big flakes and are the best choice for homemade granola recipes.
Pecans: Roughly chop some pecan halves. Raw is best, since they will be baked in the oven and you don't want your pecans to be overdone! A rough chop is perfect for crunchy little pieces of pecan, but if you have young children who will be enjoying this granola, you may want to opt for smaller pieces to avoid a choking hazard. Just give them a quick whiz in a food processor or blender to break them up just enough. Or you can manually chop them if you have been blessed with the gift of patience.
2. Add the Melted Butter, Maple Syrup, and Vanilla Extract
Once your oats and pecans are mixed together, go ahead and add you melted butter, maple syrup, and vanilla extract. Use a silicone spatula or wooden spoon to distribute and coat the granola evenly with all that butter pecan-y goodness. Oh yeah.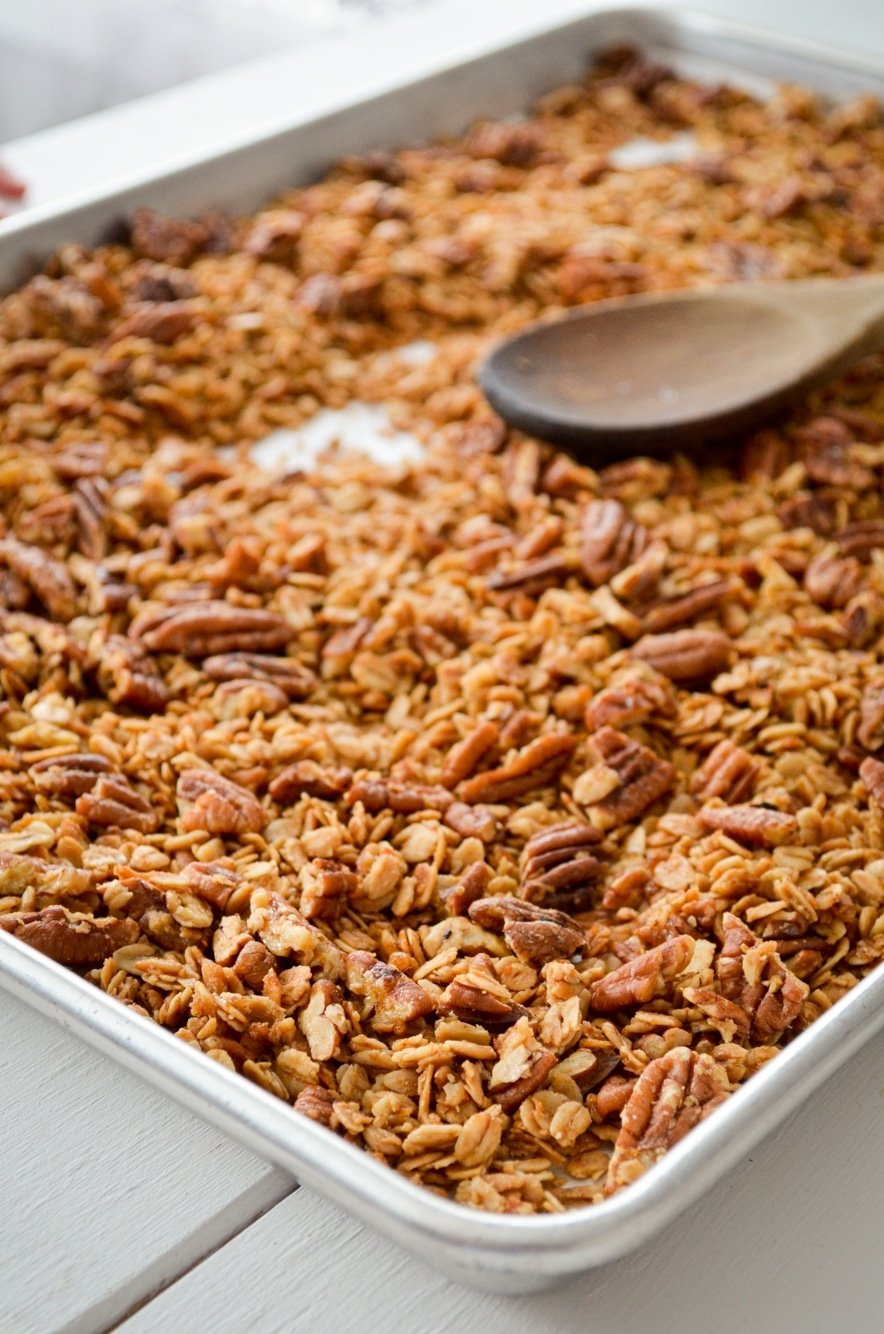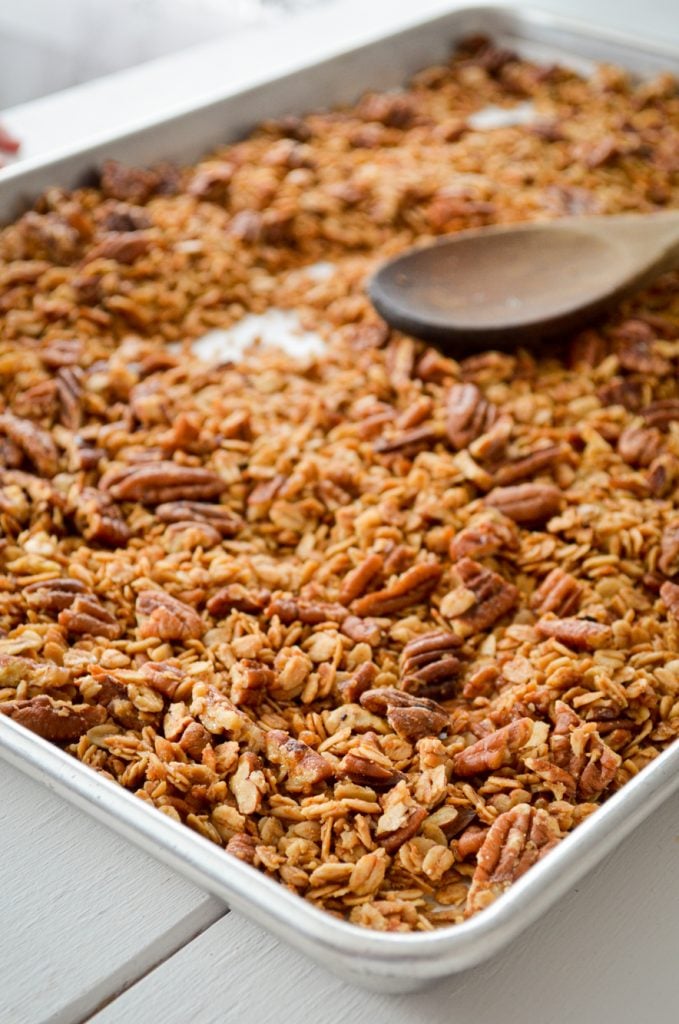 Spread and Bake
Line a half size baking sheet with parchment paper or a silpat baking mat (I've been using this one for 10+ years now) and spread on your granola mixture as evenly as you can manage. Bake it according to the directions below, making sure to toss the granola a time or two during the baking time. This makes for even cooking, and to allow any moisture to escape, helping the granola to last longer and stay fresher.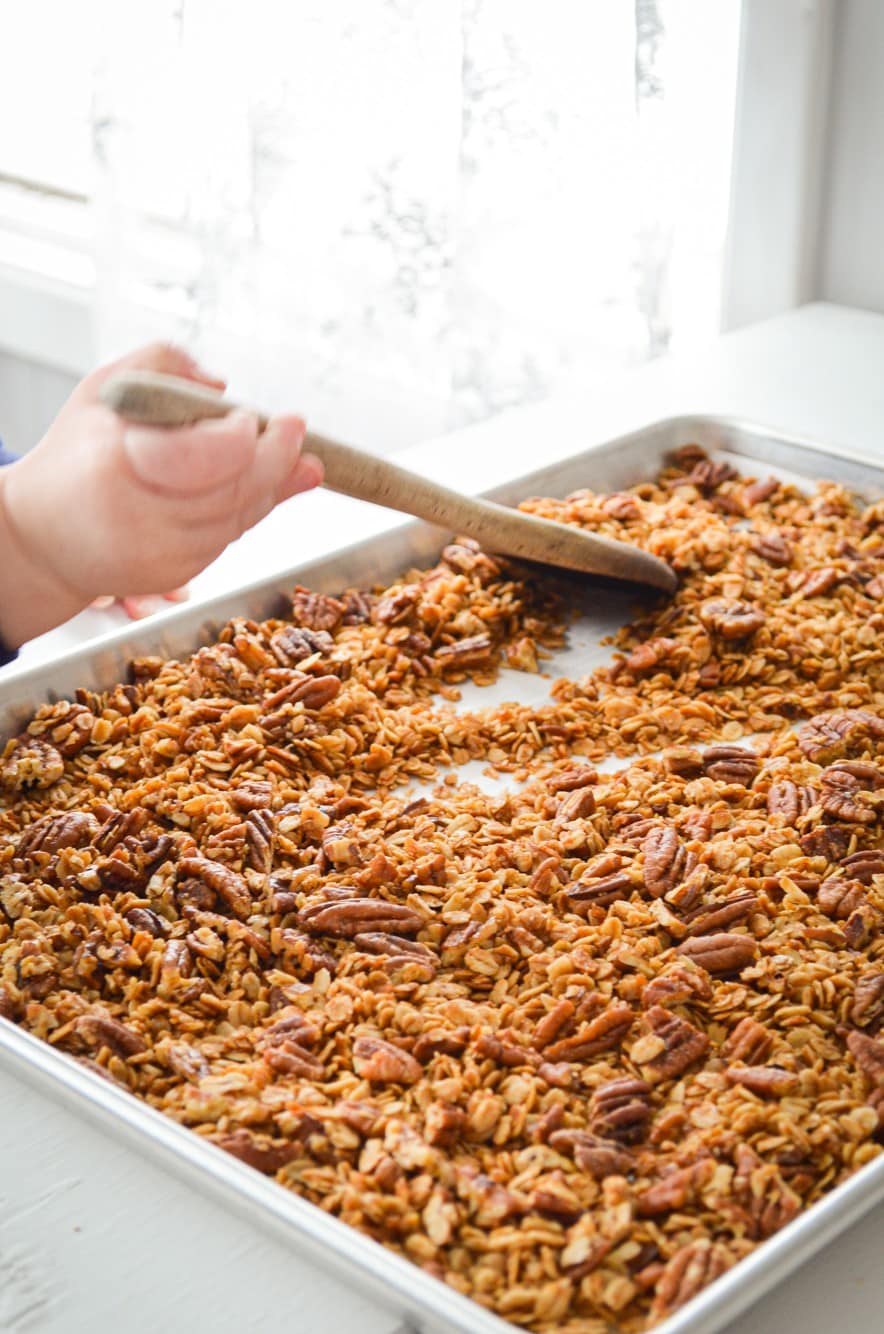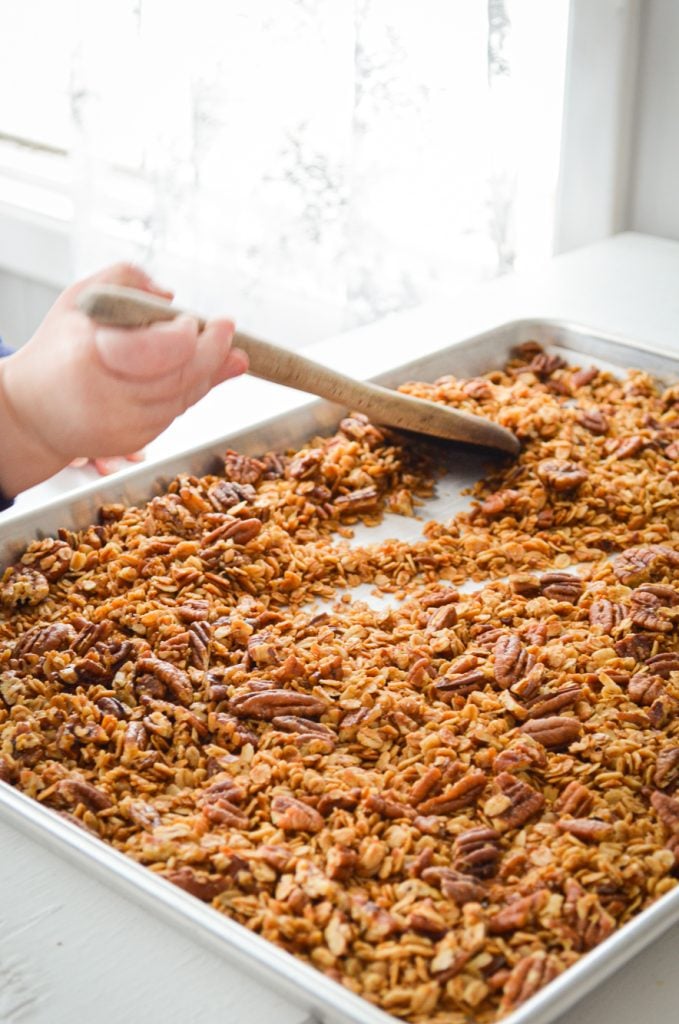 Cool and Store
Once your granola is done, take it out of the oven and let it cool. I let mine cool completely at room temperature before storing. Allowing the granola to cool means that there won't be condensation (and thus moisture) in your storage container. Moisture, as you know, means spoilage. We want our simple granola to stay fresh as long as possible, so that means less moisture.
I let mine cool for several hours up to half a day on the counter before transferring it to an airtight container, but that's a little extra. I mainly do it this way because I forget about it until I make my way back to the kitchen, and then my toddler has thrown all of the toothbrushes into the sink, and so I forget again. Until I finally make my way back into the kitchen sometime around 4PM and realize my granola still hasn't been put away. So, if you're forgetful like me, roll with it. If not, an hour or so cooling time is probably adequate. You could always pop it in the fridge or freezer to help accelerate the cooling process if needed.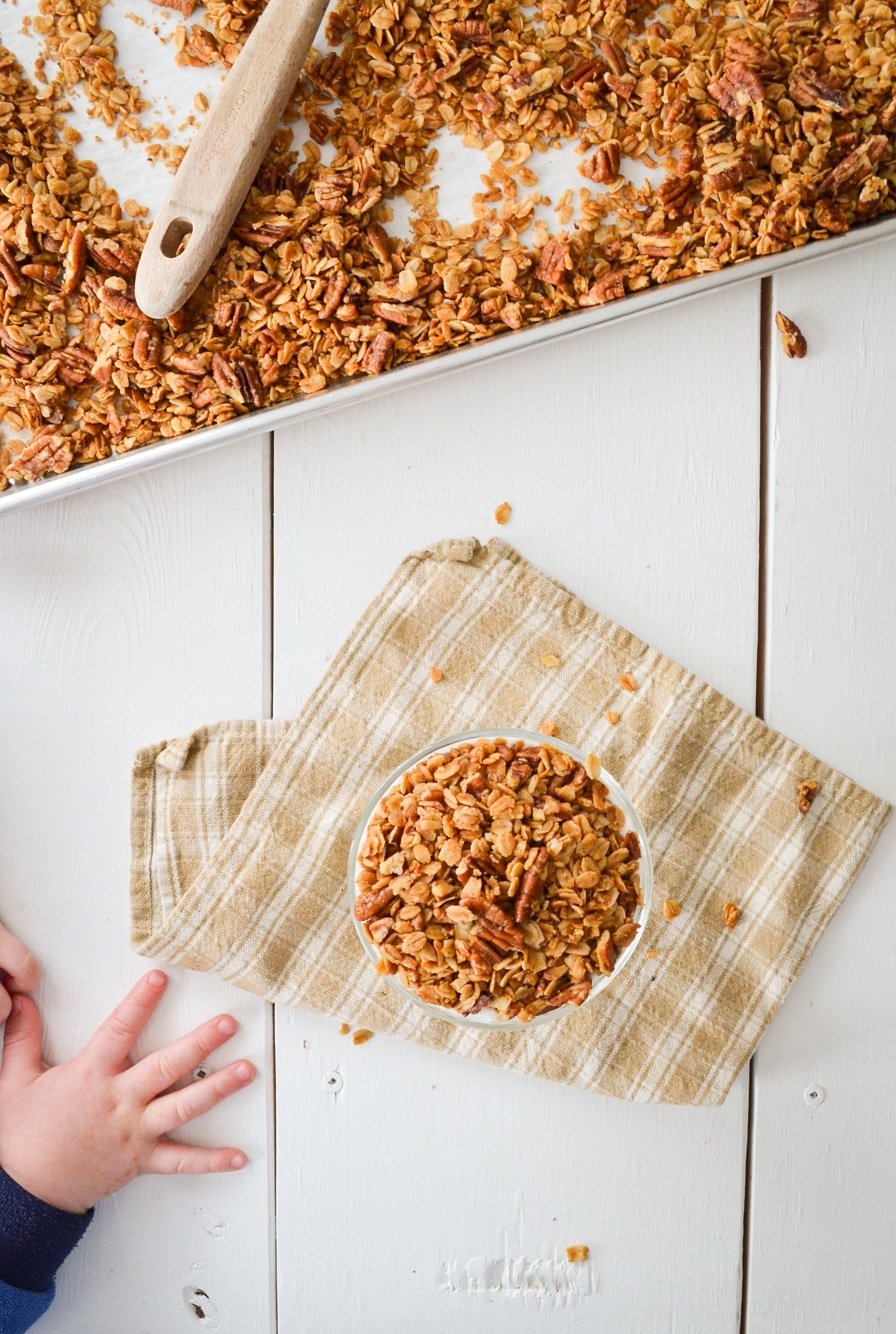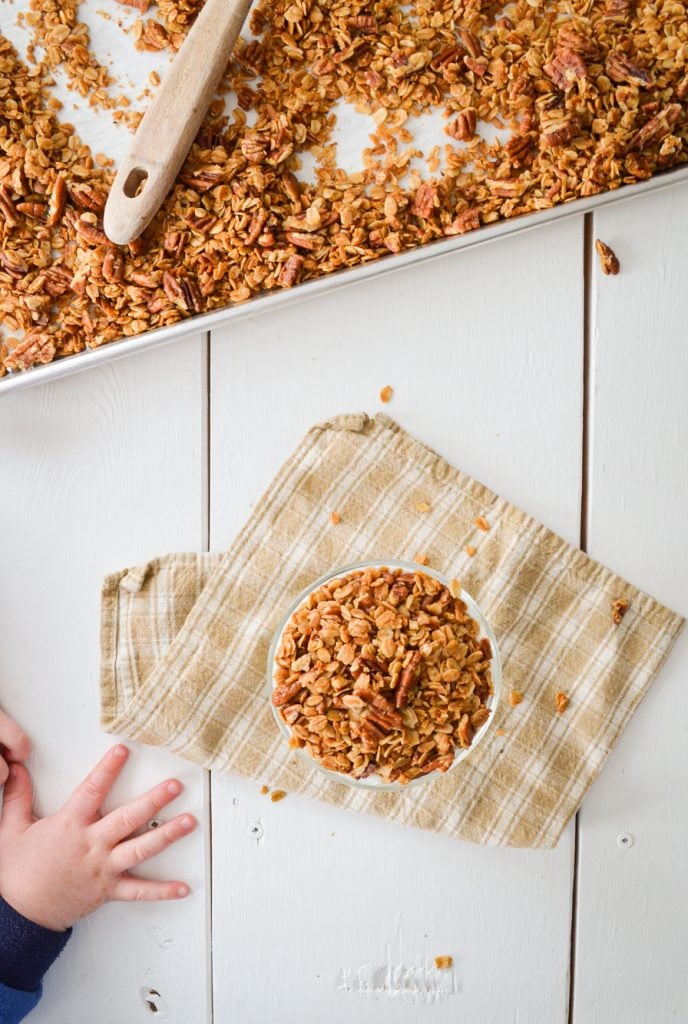 Ways to Serve Granola
As a replacement to breakfast cereal, served with a milk of your choice.
On top of yogurt, with or without fruit, for a yogurt parfait
As a quick snack
As a topping to milk kefir (I show you how to make your own here)
And wherever else you would use commercially prepared granola!
Recommended Equipment:
The Best Simple Butter Pecan Granola
Total Time:
1 hour
5 minutes
When it comes to homemade granola, it doesn't get much more simple than this decadent and delicious Butter Pecan Granola. Loaded with pecans and richly flavored with real butter and maple syrup. This is one granola you're going to come back to again and again.
Ingredients
3 cups Old Fashioned Oats
2 cups Coarsely Chopped Pecans
1/2 tsp. Salt
1/2 cup Salted Butter, melted
2/3 cup Maple Syrup
1 tsp. Vanilla Extract
Instructions
Preheat the oven to 300F and line a sheet pan with parchment paper or a silicone liner.
Add the oats and pecans to a large bowl. Sprinkle in the salt and mix well to combine.
Add in the melted butter and maple syrup. Use a silicone spatula to evenly distribute the butter and maple syrup all over the oats and pecans.
Once the oats and pecans are well coated, add in the vanilla and stir to combine again.
Spread the granola mixture onto the baking sheet in an even layer, ensuring to spread some into the corners and the edges of the pan.
Bake for 35 minutes in the pre-heated oven, then toss the granola well before spreading out in an even layer. This helps ensure an even cooking of the granola and helps any moisture evaporate more effectively.
Bake for an additional 25 minutes.
Remove the granola from the oven and mix well to help heat and moisture escape.
Let the granola cool completely before transferring to an airtight container for storage.
Notes
Cooling the Granola
It's very important that the granola has the opportunity to cool completely. If there is warm air in storage, there will be condensation. Condensation means moisture, and moisture means spoilage. Let your granola cool completely after removing from the oven. If you want to speed up the cooling process, you can cool partially on the counter and partially in the fridge or the freezer.
Storage
Add your completely cooled granola to an airtight container and store at room temperature for 2 weeks. If you want an extended storage time, you can store your granola in the fridge or even in the freezer. This is particularly helpful for bulk batches of multiple sheets of granola.
Nutrition Information:
Yield:

12
Serving Size:

1
Amount Per Serving:
Calories:

318
Total Fat:

22g
Saturated Fat:

6g
Trans Fat:

0g
Unsaturated Fat:

14g
Cholesterol:

20mg
Sodium:

161mg
Carbohydrates:

28g
Fiber:

4g
Sugar:

12g
Protein:

4g
Nutritional information is an estimate only.
More Recipes Using Oats
Pin It