These Strawberry Oatmeal Crumb Bars are so delicious, and a great way to up some of those fresh strawberries from the U-pick! These freeze great, and are perfect for serving with coffee or tea. Like a cereal bar for grown ups! 🤣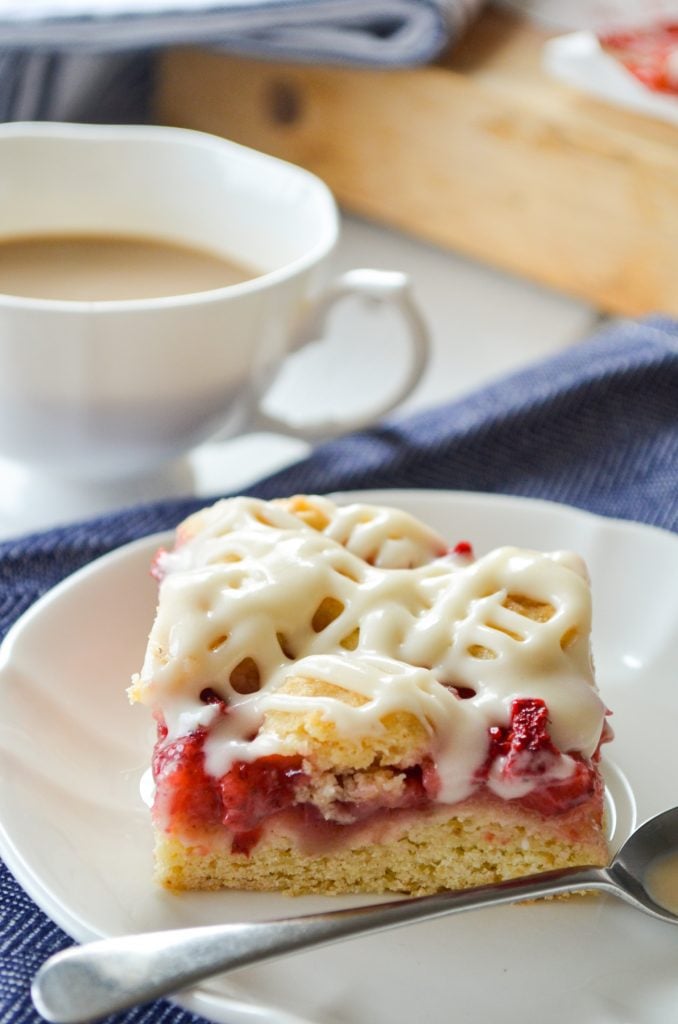 Please note that some of my blog posts here at Little Home in the Making may contain affiliate links. If you make a purchase through these links, I will get a small commission at no additional cost to you. Please see my Disclaimer for more information.
---
Here in the Northeast, strawberries are really just reaching their peak now. For those of you in warmer areas, that may come as a shock! But these delicious, red, and sweet berries are a little delayed due to our cold and long winters, and so the best time to head to the strawberry patch is late June through to mid July.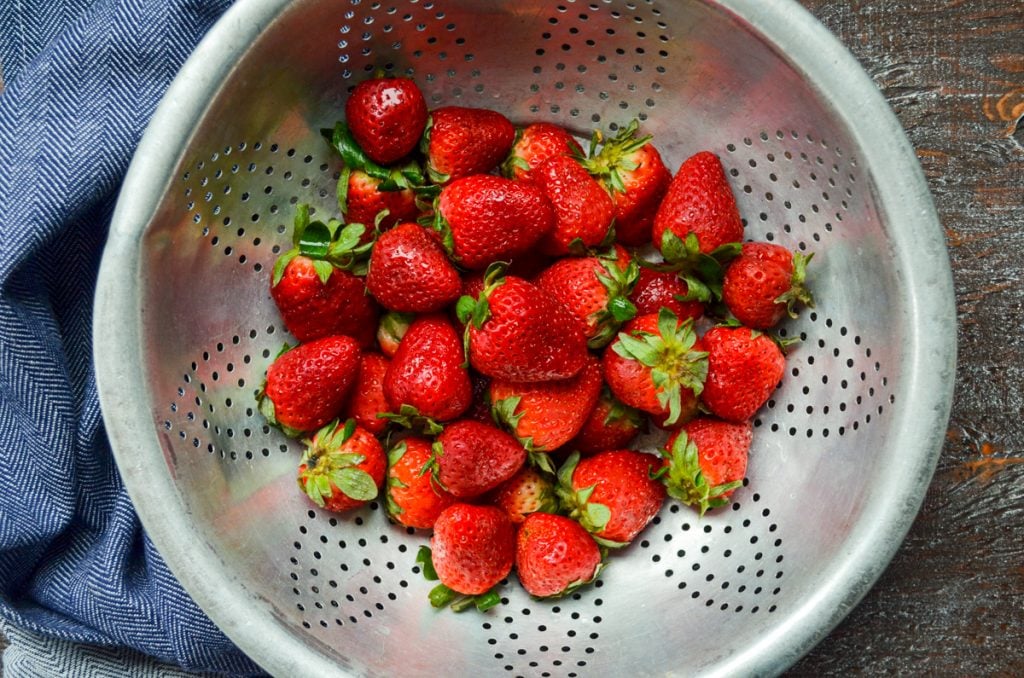 Strawberry picking is a Springtime (or Summer) rite of passage. While we are able to get strawberries at our grocery stores year round, they are soooo much better when freshly picked, local, and totally ripe. The grocery store out-of-season versions are picked under ripe, and just cannot hold up to the authentic freshly picked strawberry.
If you're like me, you want to make the most of that Spring crop of berries. You head to the local strawberry U-pick with the whole family in tow and pick up two or three flats. You load them (carefully) into your trunk, and cart them home with dreams of strawberry muffins, strawberry jam, and strawberry shortcake.
Well, this recipe for Strawberry Oatmeal Crumb Bars is one more to add to your arsenal of strawberry recipes! They are like a grown up version of a cereal bar, and packed with fresh fruit flavor. Not only that, they freeze beautifully. Great for carting off to a picnic, potluck, or family event.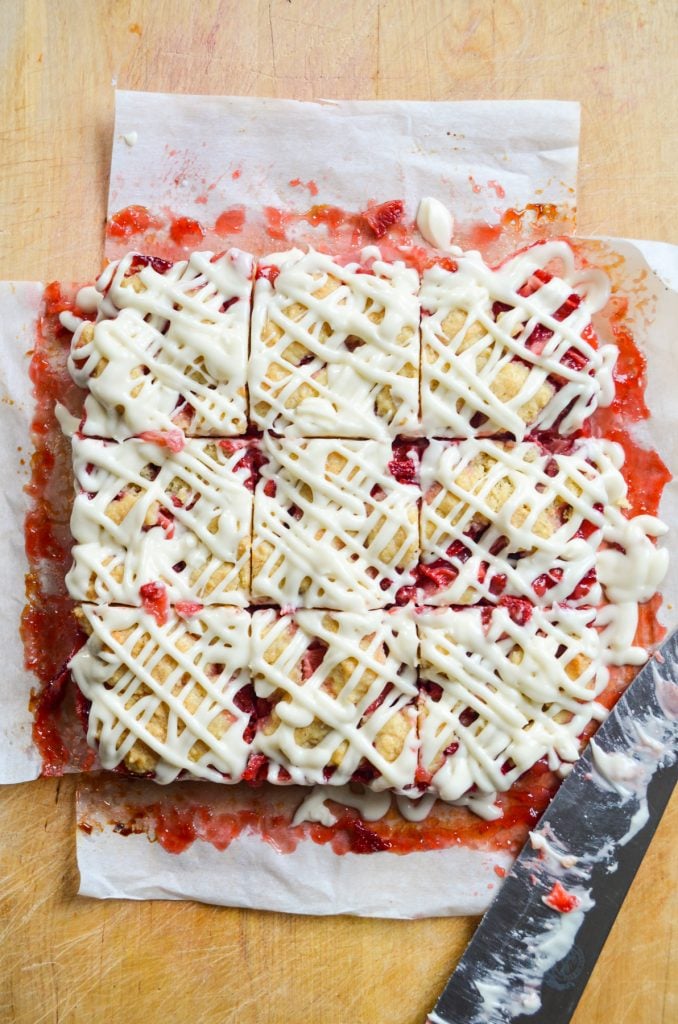 Tools Needed:
A High Powered Blender: Because we use a blender to grind the oats, you need a good quality one. Thankfully, that doesn't mean it has to be expensive! I have this Ninja Blender and it works like a charm!
Food Processor: I like to use my food processor to combine the dough. This is the easiest way to make the dough, since it is very thick. If you don't have a food processor, you can make this recipe by hand with a little bit of elbow grease. You'll need a pastry cutter, or a fork and a strong arm.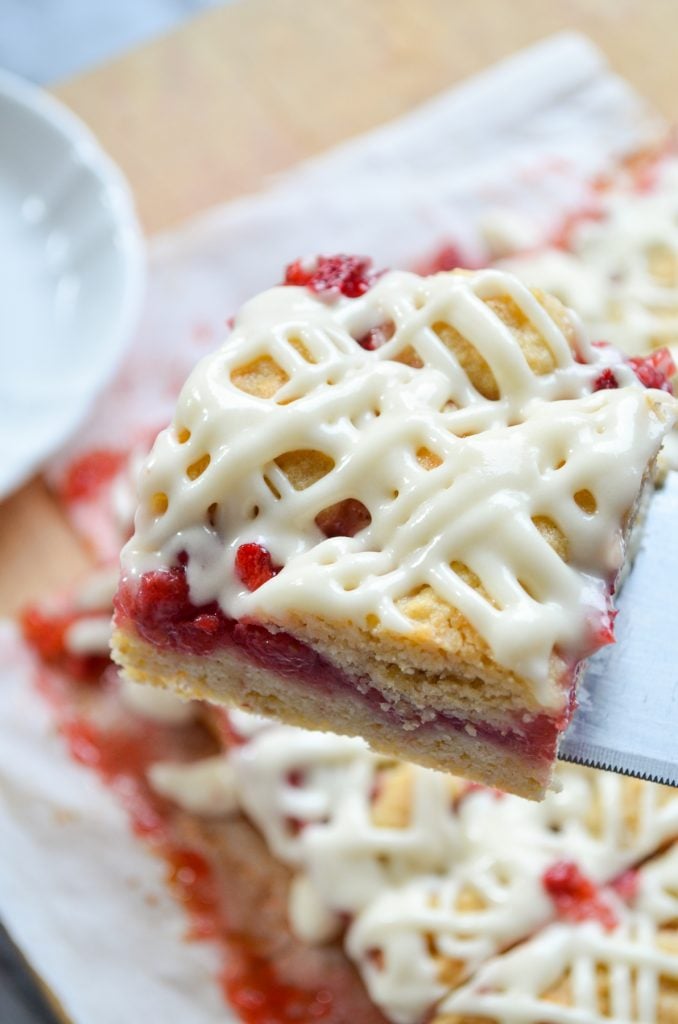 What Ingredients Will I Need?
One of the best things about these scrumptious Strawberry Oatmeal Crumb Bars is how easy they are to make! All you need are some fresh strawberries, and a few baking basics!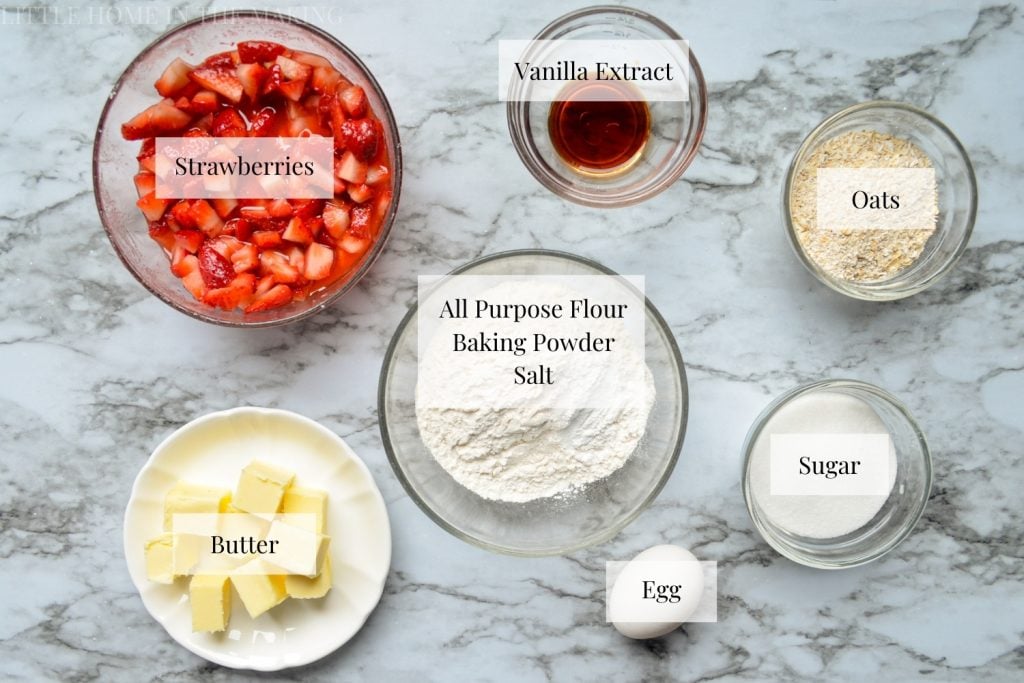 Strawberries: You will need about 2 cups of washed, hulled, and diced strawberries. This is about the size of a quart of whole, fresh strawberries.
Flour: This helps form both the base and the crumble layer.
Oats: We use old fashioned oats and grind them in a blender for a fine texture. You could use oatmeal flour if you prefer. I like the texture that comes from grinding oats, but that's a matter of preference!
Butter: I generally always use salted butter, but do try to use a brand that is not overly salty!
Sugar: A little bit of white granulated sugar is the perfect sweetness for these yummy fresh fruit bars.
Egg: 1 large egg is all we need for this recipe! It helps bind together the base and crumble mixture.
And a few pantry staples like lemon juice, vanilla extract, baking powder, corn starch, and salt.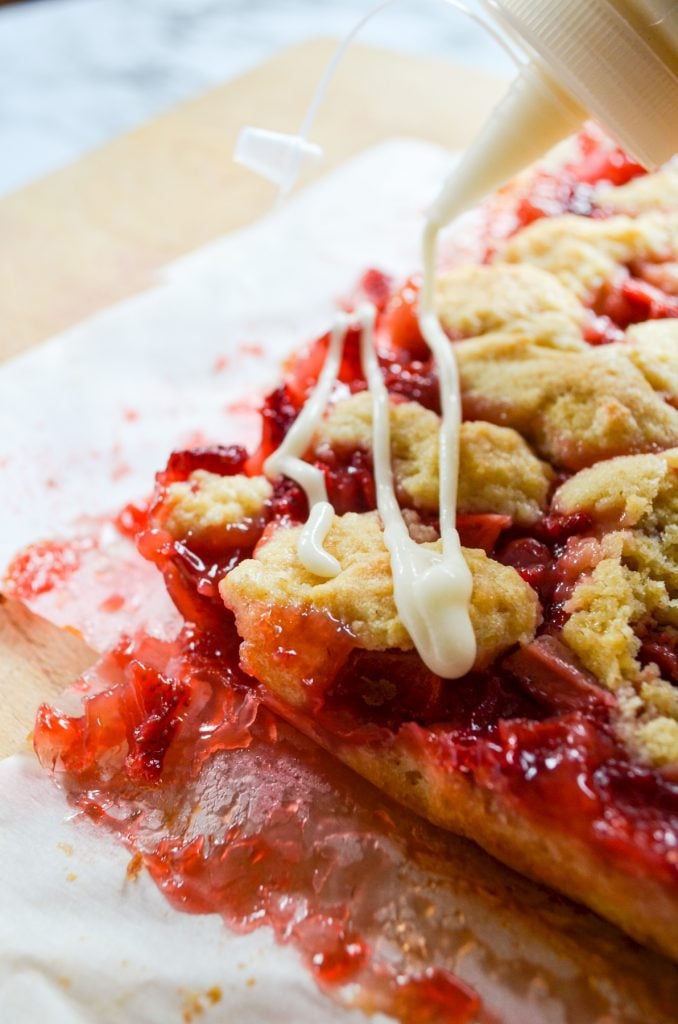 For the Drizzle
Once the bars are baked and cooled, I love to add a simple drizzle using just three ingredients!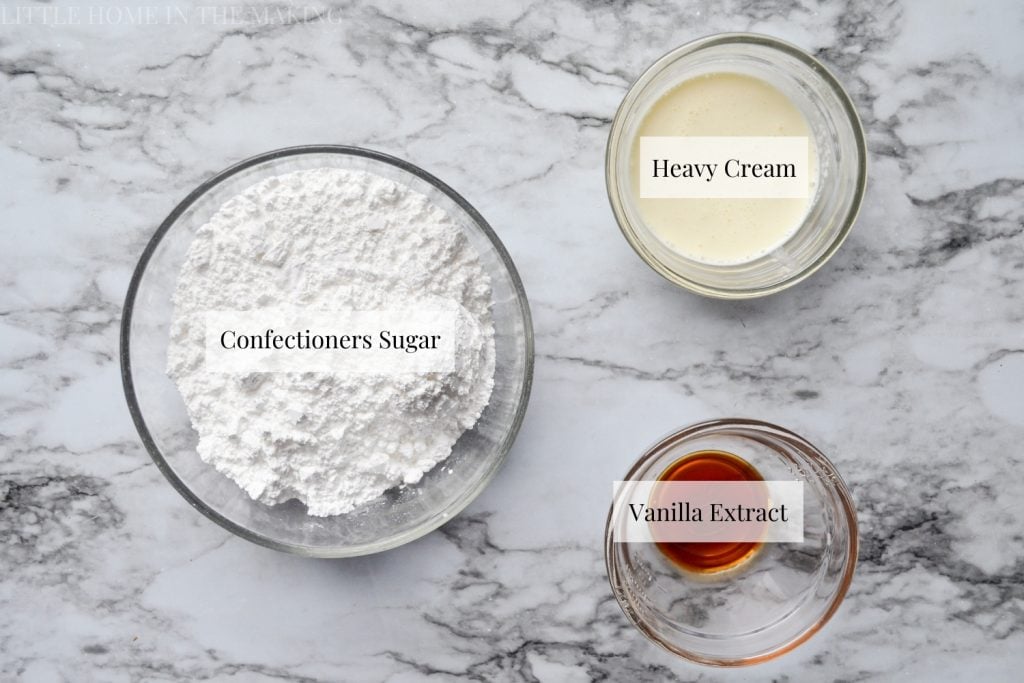 Confectioners Sugar: Also known as icing sugar. You'll need about 1 cup.
Heavy Cream: While you can certainly use milk or half and half, if you have heavy cream on hand I would strongly recommend it! I just find that icing and drizzles made with heavy cream hold up a little better.
Vanilla Extract: This adds a little vanilla flavor to the otherwise flavorless icing. Artificial is fine here, although pure vanilla extract is a lovely touch!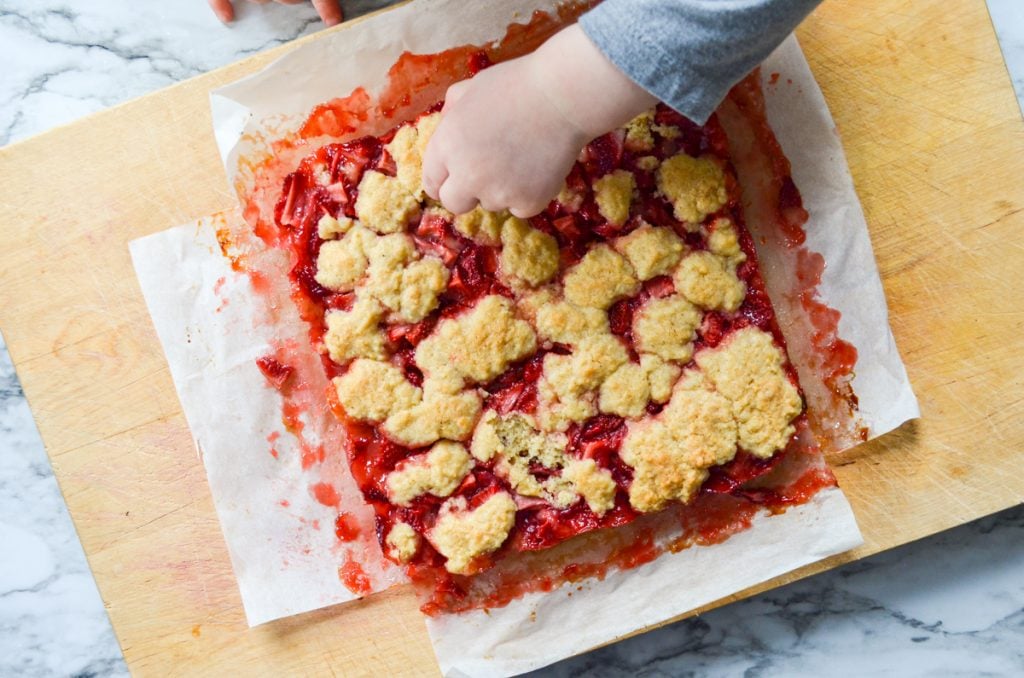 How to Make Strawberry Crumb Bars
These delicious fresh fruit dessert bars are SOOO easy to make. I loved making them so much, I think I'm going to experiment with some other fruit variations. I bet strawberry rhubarb, as well as blueberry would be absolutely delicious!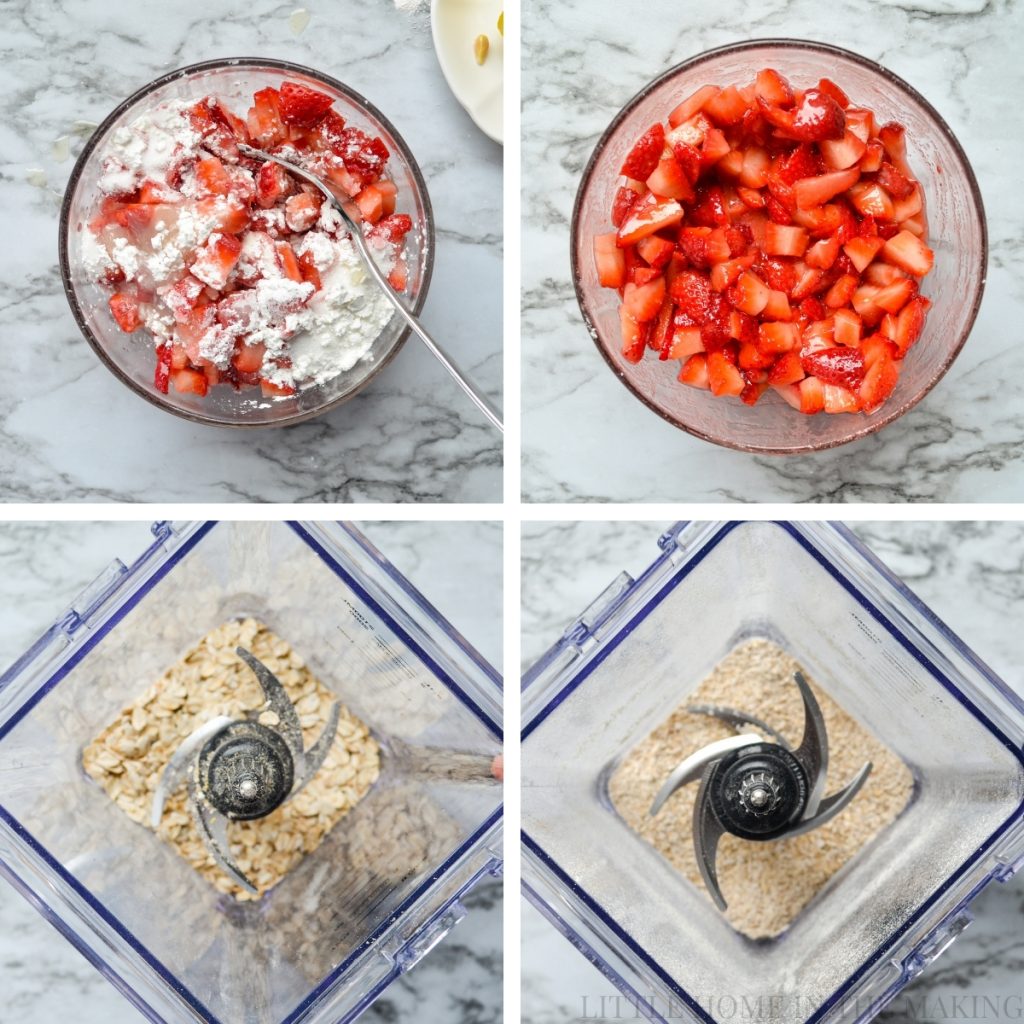 First, we'll start off by getting our strawberries prepared for baking. Sprinkle them with 1/3 cup of sugar, 1 tbsp. of lemon juice, and 1 tbsp. of cornstarch. Stir well to completely coat the strawberries. Set aside for 10-15 minutes.
Then, we will grind our oats for use in the base and crumb of the bars. This is done simply by adding some oats to a high powered blender (this is the one I use and it's super budget friendly) and blending until fine. You're not looking for the consistency of oat flour, but just that they break down enough to be fine and crumbly. Somewhere in between oat flour and quick oats, for a visual.
NOTE: The measured quantity of oats in the recipe is AFTER grinding, so measure your oats after grinding and discard (or use in another recipe) any remaining ground oats.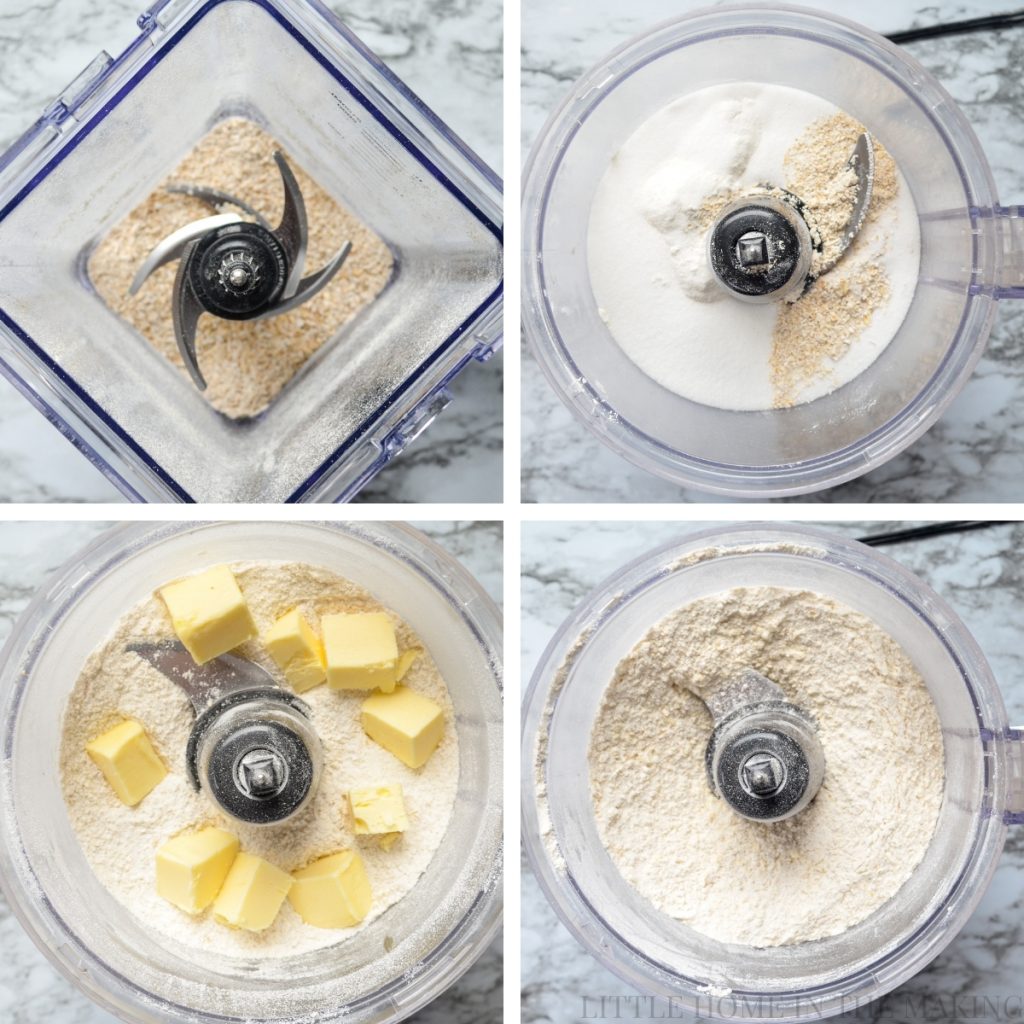 Once you've gone ahead and prepared both the strawberries and the oatmeal, you're ready to form the base and the crumble. This recipe is SUPER easy because the base and the crumble are actually made from the same dough! Sweet.
Add your flour, oats sugar, baking powder, salt, to the bowl of your food processor. Pulse a few times to combine.
Add the cubed, cold butter and set on low speed. Process until the butter resembles coarse crumbs. Similar to the size you look for when making pie dough.
Without a food processor
I like to use a food processor for this step, but if you don't have one you can cut the butter in using a pastry cutter. Then, add the wet ingredients and stir until a stiff dough forms. Use your hands to bring the dough together into a cohesive ball.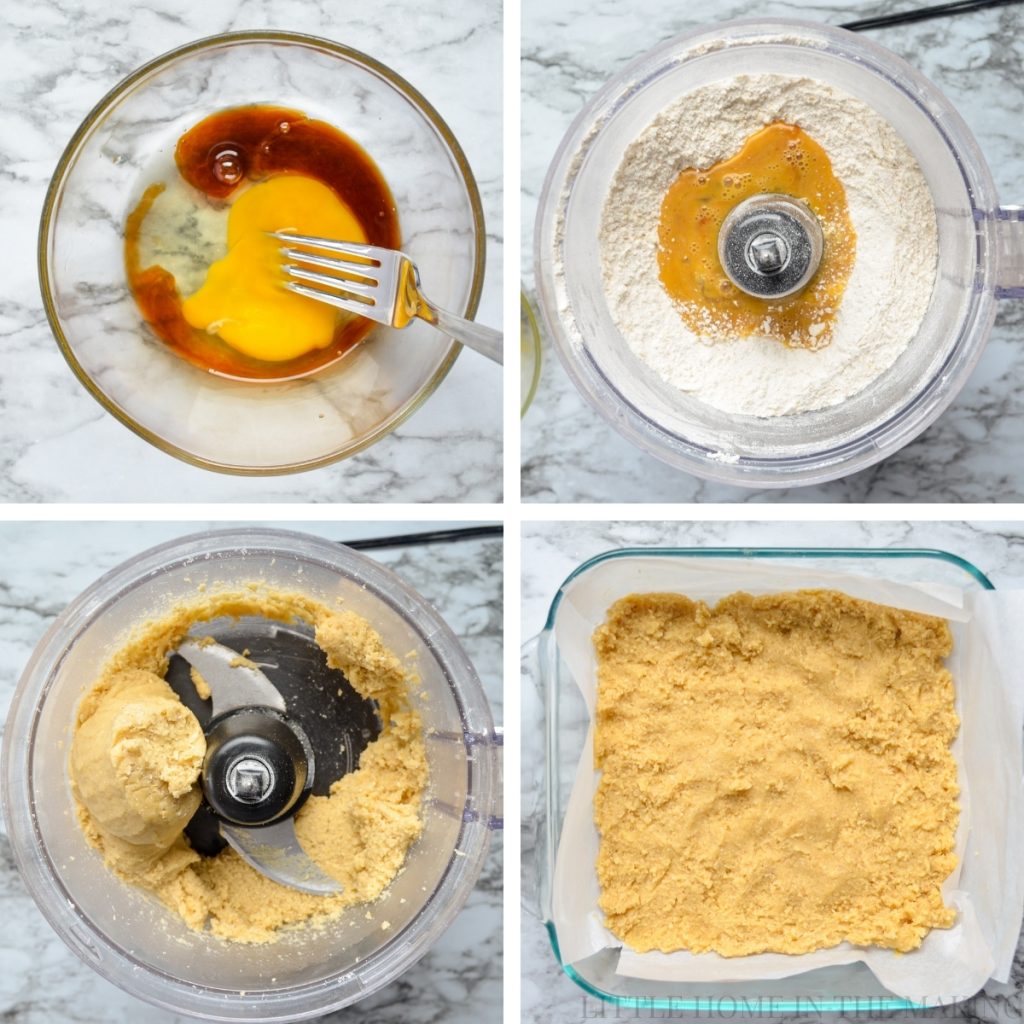 Crack your egg into a small bowl and add the vanilla extract. Whisk well until the yolk is broken and well combined with the white.
Add the egg and vanilla mixture to your butter and dry ingredient mixture.
Pulse a few times in the food processor until the dough comes together and all flour is absorbed. If doing this by hand, mix well with a wooden spoon until the dough becomes too stiff, then use your hands to form the dough.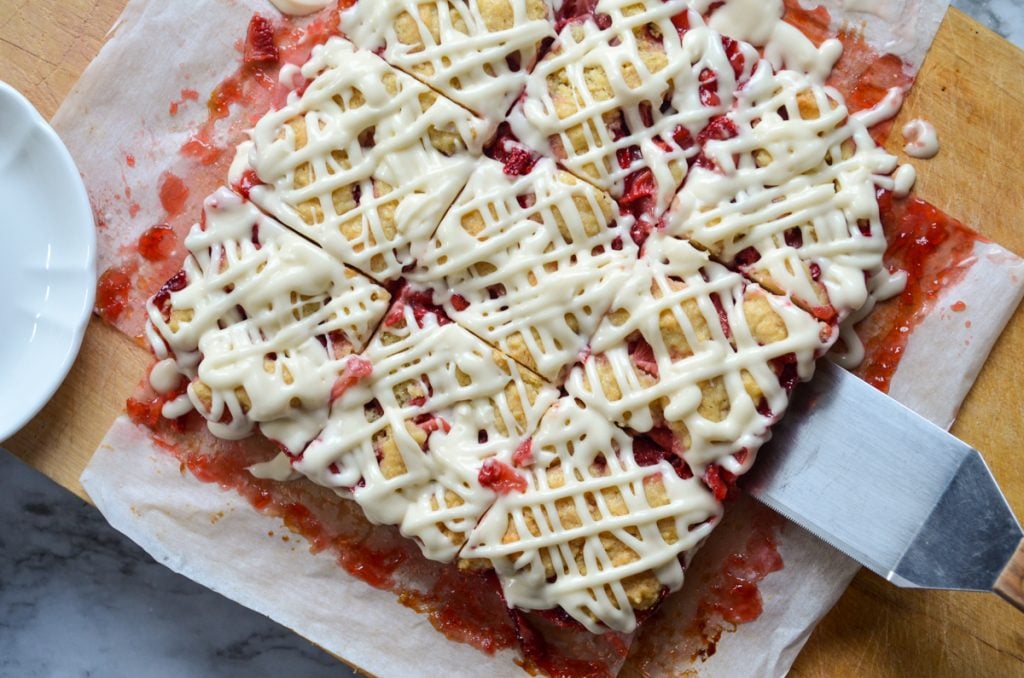 How to Layer Strawberry Oatmeal Crumb Bars
Now that you have the dough and the strawberries prepared, you are ready to layer your fruity dessert bars.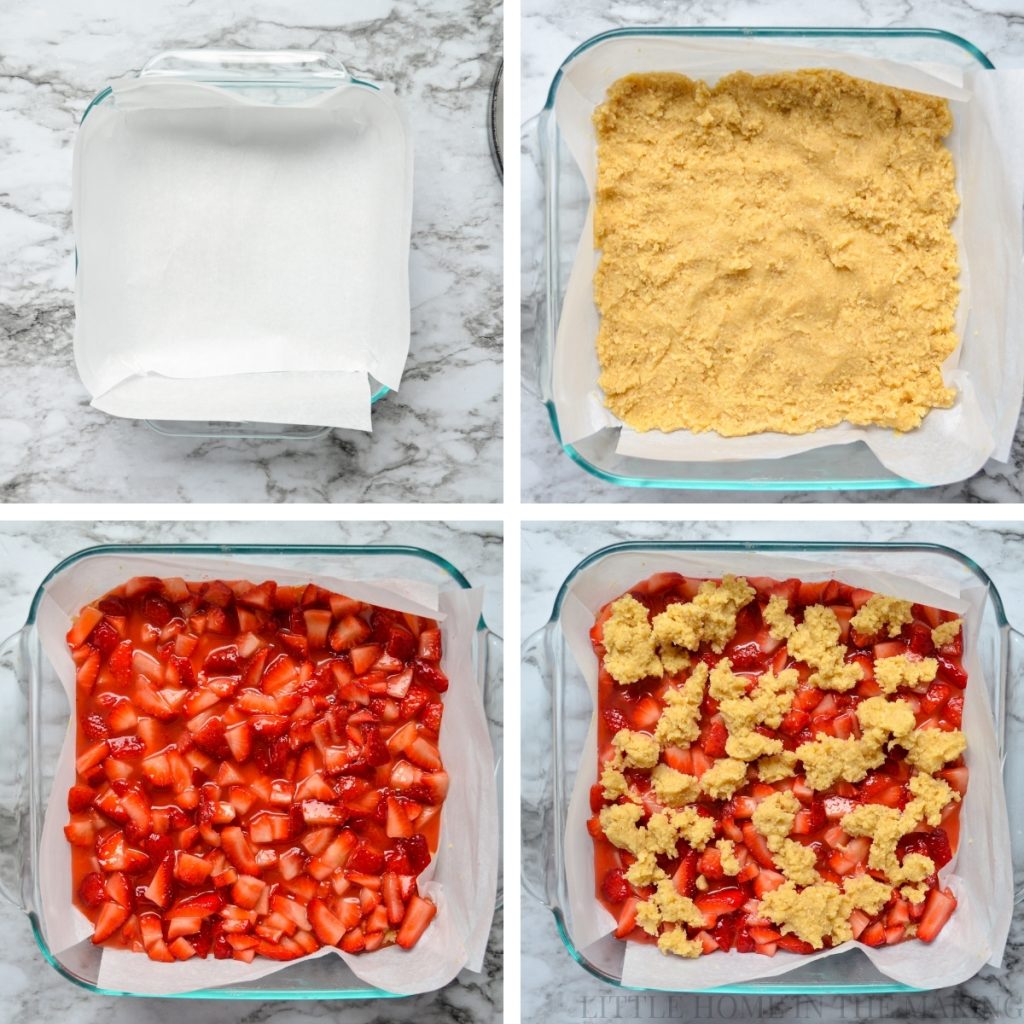 Begin by greasing an 8X8 glass baking dish, and then lining it with two overlapping sheets of parchment paper. I cut mine to fit and place one horizontal and one vertical. This creates little "handles" for lifting the bars out of the dish after cooling. I first tried that in my Coconut Cream Pie Shortbread Bars and I've been using it ever since! Greasing the dish prior to lining it helps the parchment paper stick a little better.
Take about 2/3 of your prepared dough and press it into the bottom of the lined baking dish. Do this as evenly as possible. You don't need to tamp it down or press very hard, you just need to be firm and ensure that there are no thin spots.
Then, add your prepared strawberries, spreading them out in an even layer.
Pinch off small pieces of the remaining dough, and drop them onto the surface of the strawberries. Repeat this until all the dough is used up, ensuring that you space the dough chunks evenly over the surface of the strawberries. You don't need to cover all of the strawberries, as you want some fruit to show through.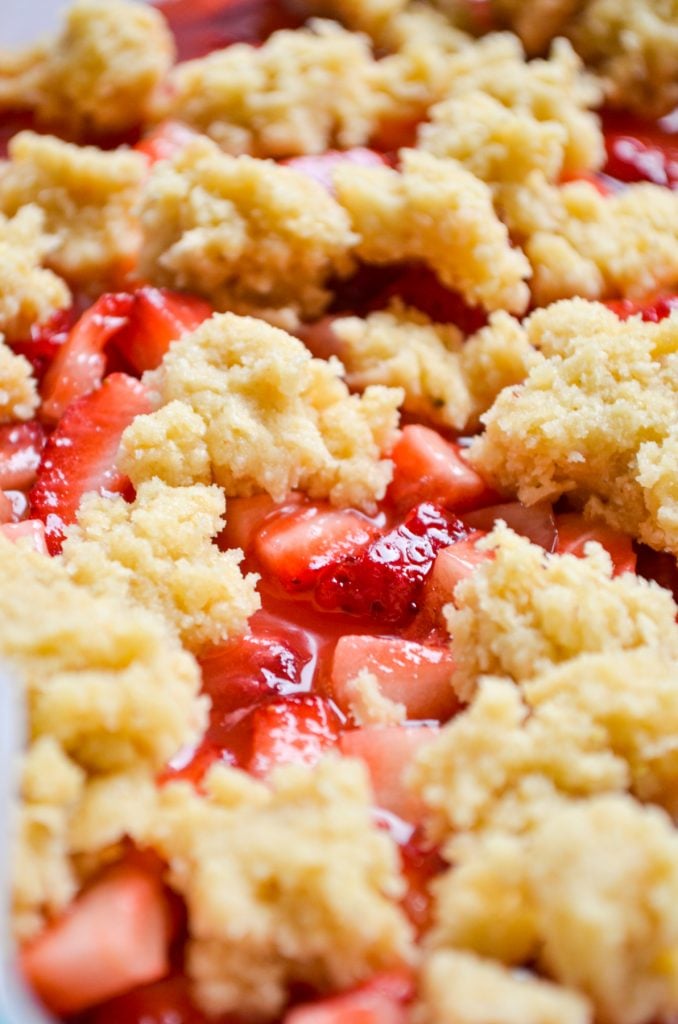 Bake it a preheated oven (375F) for 45 minutes, or until the filling is bubbly and the top is lightly browned and cooked through.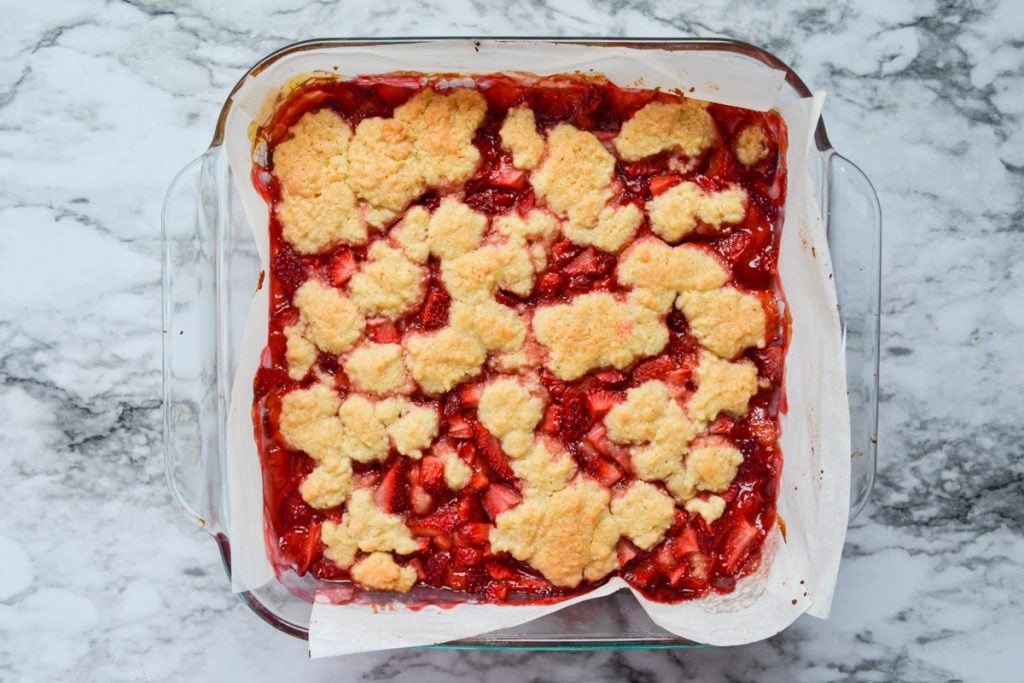 Adding a Simple Drizzle
Once your bars are baked through and completely cool, you can prepare a simple drizzle. This drizzle is a liquid-ish icing and is soooo simple to make with just a few ingredients! If you can let your bars chill in the fridge overnight, this is even better. The point is that you don't want the drizzle to melt on the bars as you apply it, so the bars should be as chilled as possible. Room temperature is fine, but cold is even better!
What You'll Need: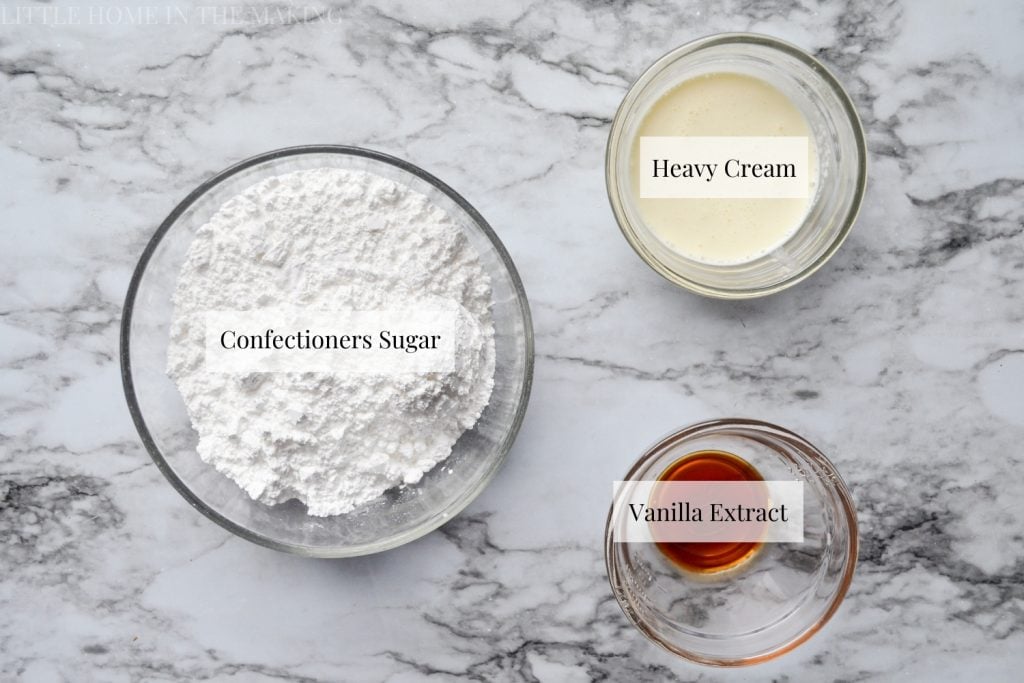 Confectioners Sugar: Also known as icing sugar, or powdered sugar. You can find it in the baking aisle of any grocery store.
Heavy Cream: I like to use heavy cream for an extra rich drizzle, but you can use whole milk if that's what you have on hand.
Vanilla Extract: To give the drizzle a simple flavor, a touch of vanilla extract is used. You can opt for pure, or imitation. They both work well for this recipe!
How to Make It: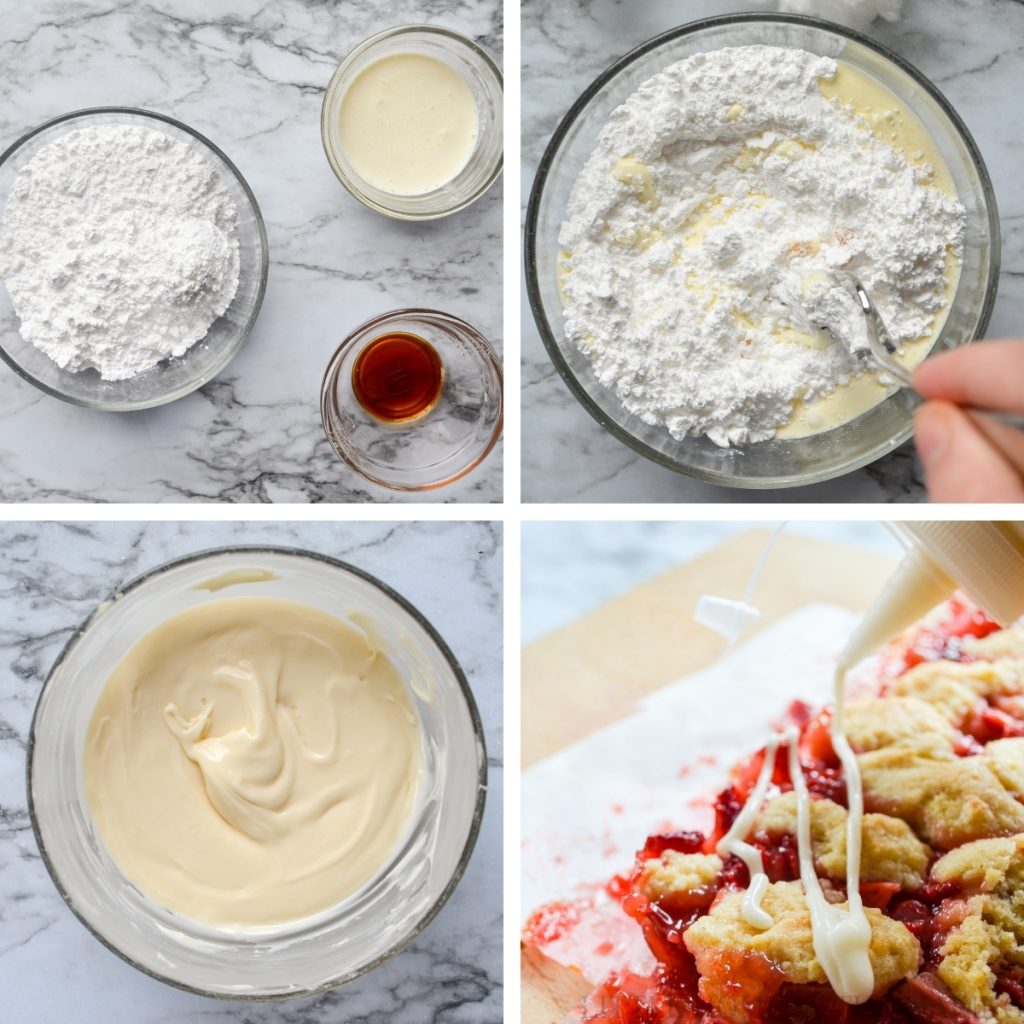 To create an easy drizzle for any dessert part (and these Strawberry Oatmeal Crumb Bars in particular), just:
Combine the confectioners sugar, vanilla extract, and heavy cream.
Whisk until smooth.
Add to a piping bag or a mini squeeze bottle, and drizzle over the surface of the bar.
Cover tightly with plastic wrap, and move the bars to the fridge to chill.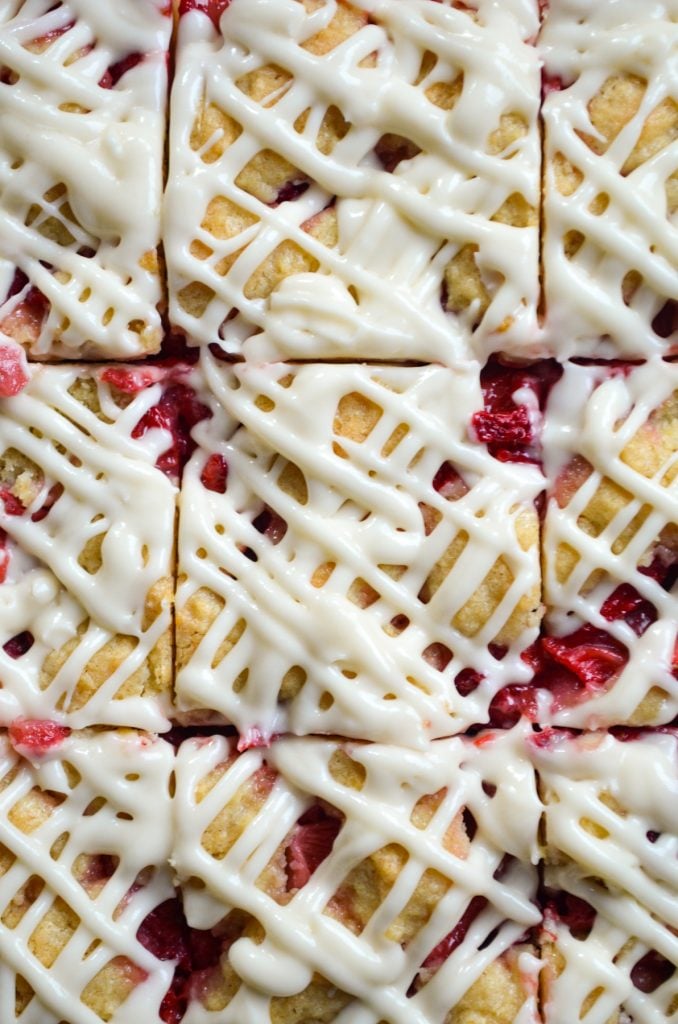 After 1 hour of chilling, slice and serve the Strawberry Oatmeal Crumb Bars.
Questions and Answers
How long do fresh picked strawberries last?
For the best results, eat your berries within 2 to 3 days of picking them. They last longest and have the least chance of molding if they are stored in the refrigerator, in a container that allows airflow.
How long do strawberry crumb bars last?
Once your strawberry crumb bars are baked, cooled, and sliced, they will last for 2-3 days on the counter. If you store them in the fridge, they will last for up to one week. I prefer the texture of the drizzle when they are stored in the fridge, so that is the storage method I will recommend.
Can you freeze strawberry crumb bars?
Yes! Once the bars are completely cooled, you can slice them and freeze them flat on a baking sheet. Then, place them in a plastic freezer bag, removing all the air. Store in the freezer, unopened, for up to 1 month.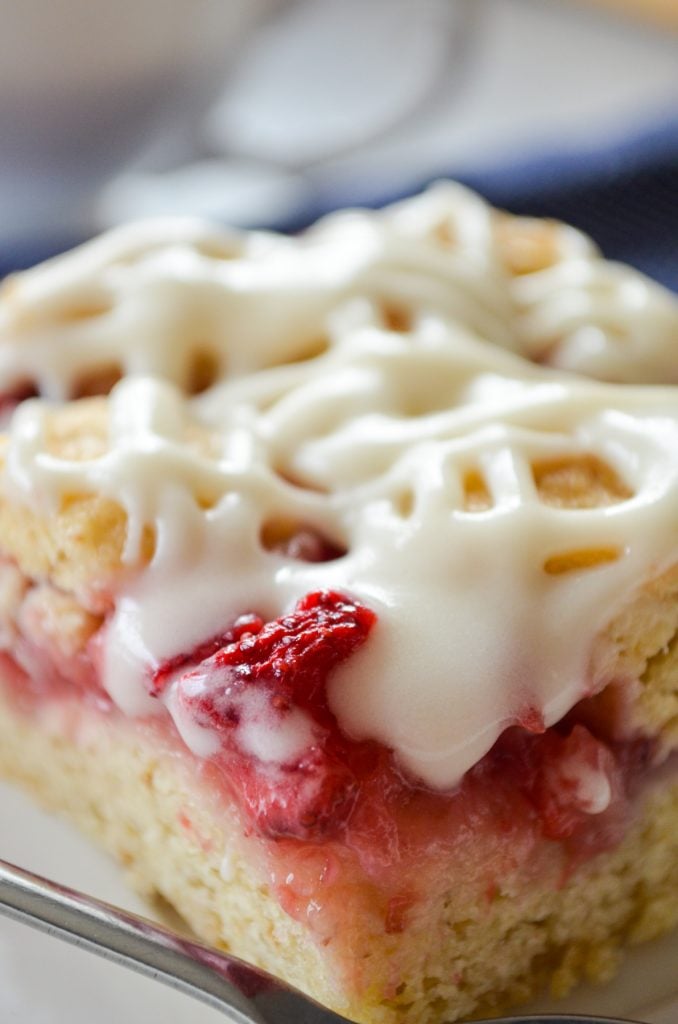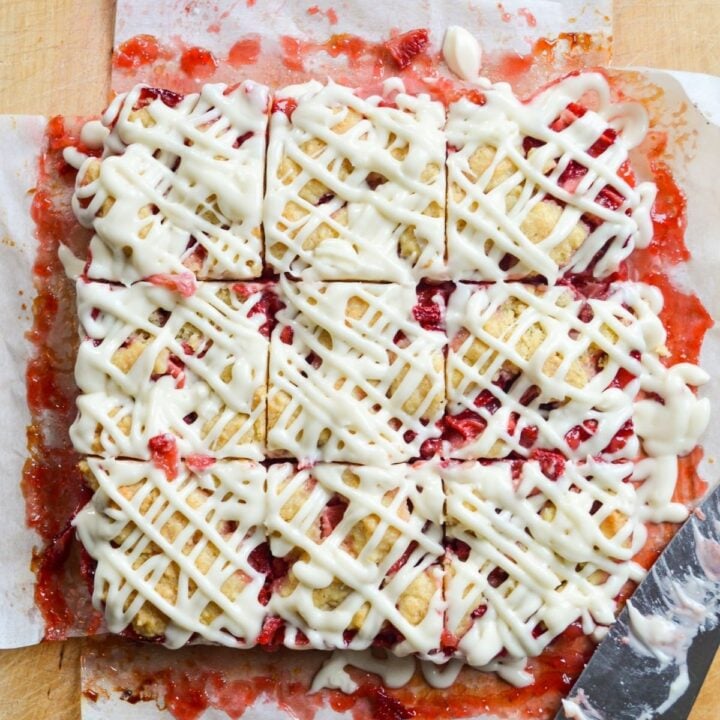 Strawberry Oatmeal Crumb Bars
Total Time:
2 hours
5 minutes
These Strawberry Oatmeal Crumb Bars are a yummy dessert bar, loaded with fresh strawberry flavor. Perfect for using up all those extra strawberries from the U-pick!
Ingredients
Base and Crumble
1 cup unbleached all purpose flour, scooped and leveled
1/2 cup coarsely ground rolled oats
1/2 cup granulated cane sugar
1/2 tsp. baking powder
1/4 tsp. salt
1/2 cup salted butter, cold and cubed
1 large egg
1 tsp. vanilla extract
Strawberry Layer
2 cups diced fresh strawberries
1/3 cup granulated cane sugar
1 tbsp. lemon juice
1 tbsp. cornstarch
Drizzle
1 cup confectioners sugar
1/2 tsp. vanilla extract
3 1/2 tbsp. heavy cream
Instructions
Preheat the oven to 375F and position the oven rack to the middle position.
Add the diced strawberries, sugar, lemon juice, and cornstarch to a medium bowl. Mix well and set aside for 10-15 minutes.
Grease and line an 8x8 glass baking dish with two separate sheets of parchment, creating an "overhang" parchment handle on each side of the baking side.
Add the flour, coarsely ground oats, sugar, baking powder, and salt to a food processor. Pulse a few times to combine. If you don't have a food processor, add the ingredients to a large bowl and whisk well.
Add the cubed cold butter to the food processor and pulse several times, or until the mixture resembles coarse crumbs. If you are mixing by hand, use a pastry cutter or fork to cut the fat into the flour until the coarse crumb stage is reached.
Add the cracked egg and vanilla to a small bowl and whisk well.
Add the egg to the food processor and pulse until the mixture forms a dough that easily clumps together and forms several masses of dough. If you are mixing by hand, add the egg and mix with a silicone spatula until the same consistency is reached.
Pat 2/3 of the dough into the bottom of the prepared baking dish. Pat down as well as you can to create a solid base.
Stir the strawberries well and add them on top of the base layer. Spread them out evenly.
Take the remaining 1/3 of the dough and pinch off small pieces of dough. Drop them all over the surface of the strawberry layer. It's not your goal to cover the strawberries, but just add a crumbled layer on top. Repeat until all the dough is used.
Bake in the preheated oven for 45 minutes, or until the filling is bubbly, and the top browned and cooked through.
Cool completely before adding your drizzle and slicing the bars. It's important for the bars to cool before slicing, since they will not hold their shape and will crumble rather than slice. Place your baking dish on a wire rack and let sit at room temperature until cool to the touch. Then move to the fridge and chill until completely set. For the sake of convenience, I like to do it overnight, but 2-4 hours is fine.
Once your bars are chilled, use the parchment paper "handles" to loosen the bars and remove them gently from the baking dish. Place the bars, with the parchment layer, on a cutting board or flat surface.
Whisk together your confectioners sugar, vanilla, and heavy cream until thick and smooth.
Drizzle your icing over the surface of the bars using the back of a spoon, or by transferring your icing to a drizzling bottle. Cut your bars lengthwise into thirds, and width-wise into three sections. This will give you 9 individual bars.
Nutrition Information:
Yield:

9
Serving Size:

1 Bar
Amount Per Serving:
Calories:

323
Total Fat:

13g
Saturated Fat:

8g
Trans Fat:

0g
Unsaturated Fat:

4g
Cholesterol:

54mg
Sodium:

184mg
Carbohydrates:

49g
Fiber:

2g
Sugar:

33g
Protein:

3g
Nutrition information is an estimate only.