The delicious, creamy taste of Coconut Creme Pie, with the sweet, dense, buttery texture of shortbread. Coconut Cream Shortbread Bars are a MUST TRY recipe!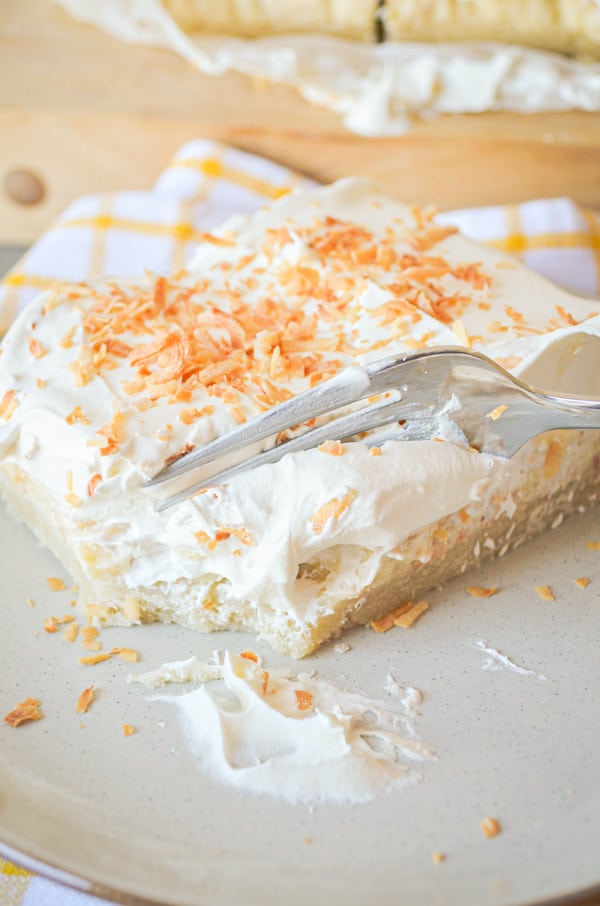 Please note that some of my blog posts here at Little Home in the Making may contain affiliate links. If you make a purchase through these links, I will get a small commission at no additional cost to you. Please see my Disclaimer for more information.
---
Ever hear the phrase "Easy as Pie?" Yup. It's wrong. Total trash. Pie, despite common thought, is not easy. Pie dough, while "easy" perhaps once you have ample experience with it, is not "easy" to your average beginning home baker. Pie dough is one of those things that is not subject to measurements like most baked goods are, but rather it is about feel, which makes it altogether difficult for someone who hasn't made pie dough before. Too little water (and it must be ice cold water) will have your pie dough cracked and thick. Too much water and you won't be able to peel it off the counter. Pie dough is fickle, but pie is delicious. What is the solution?
Shortbread.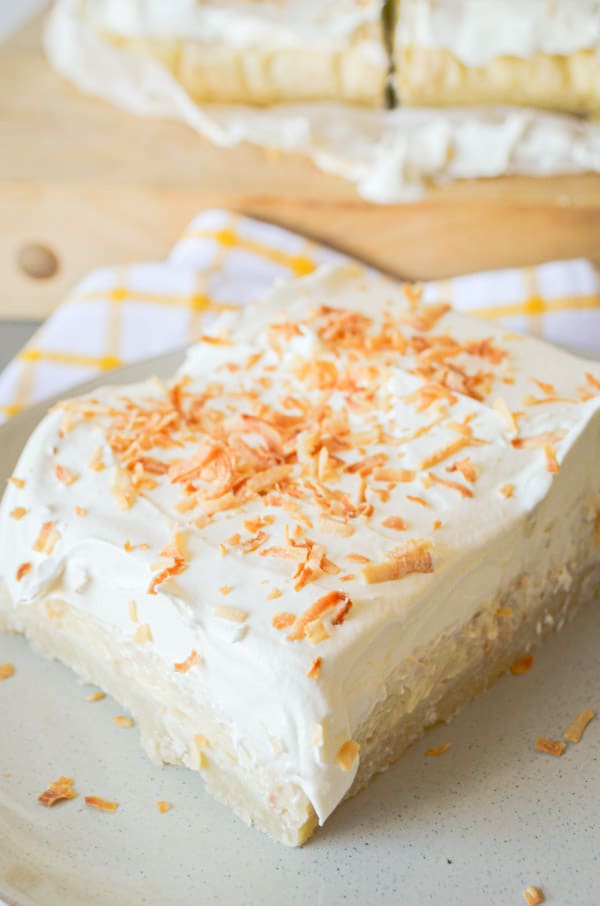 Shortbread, while absolutely delicious, is actually incredibly easy. Shortbread, like pie, is a simple mix of flour, salt, and butter, but it does not require that pesky little friend: ice water. Shortbread is dense, delicious, and pleasantly simple. I asked myself: why not make a shortbread pie of sorts?
And so I did.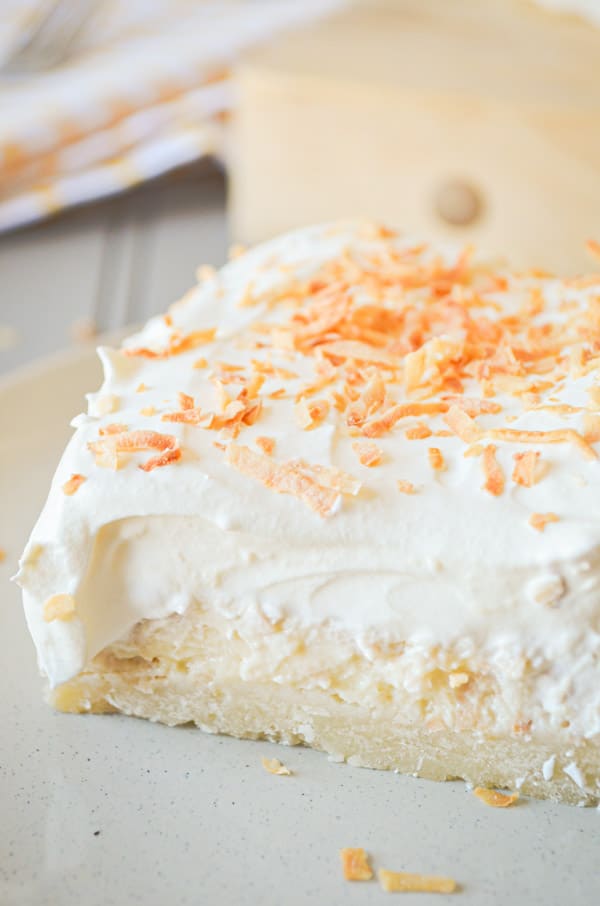 These Coconut Cream Shortbread Bars combine the best of both worlds: delicious coconut cream pie filling, and exceedingly easy shortbread. The results are a delicious and decadent dessert that makes for easy slicing and serving. I'm keeping this one in mind for the next time I have to serve a crowd!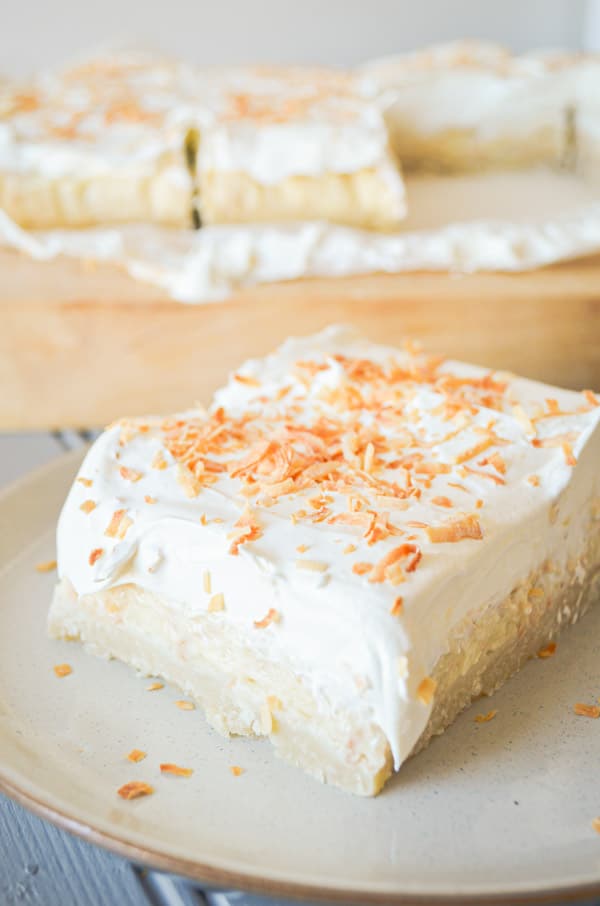 What Do I Need to Make Coconut Cream Shortbread Bars?
Flaked Coconut: I like to use flaked coconut in this recipe because it creates a nice texture. Flaked coconut is larger in size than typical shredded coconut. It can be hard to find in store, but a lot of health food stores stock it. It's also available on Amazon. I like to use unsweetened, but if you can only find unsweetened that's fine too.
Half and Half: This keeps it super creamy! The recipe calls for 3 cups of half and half, but I have also made my own by using 1.5 cups whole milk and 1.5 cups heavy whipping cream.
Eggs: 2 large eggs are needed in this recipe.
Sugar: Both the shortbread crust and the coconut custard employ the use of sugar. Just plain white sugar is fine here!
Salted Butter: This is used in the shortbread crust. I like to use salted butter, but unsalted butter would probably be fine if that's what you have on hand.
Flour: Regular all-purpose or unbleached will do well in this recipe. It's used in the shortbread crust, but also as a thickener in the pie filling.
Vanilla: Would it be baking without vanilla?
Salt: Just a touch for balancing the sweetness of this delicious dessert!
Parchment Paper: To make slicing and serving easy, I highly recommend parchment paper. It also makes cleanup a total breeze. I can't believe I spent so many years without using parchment paper!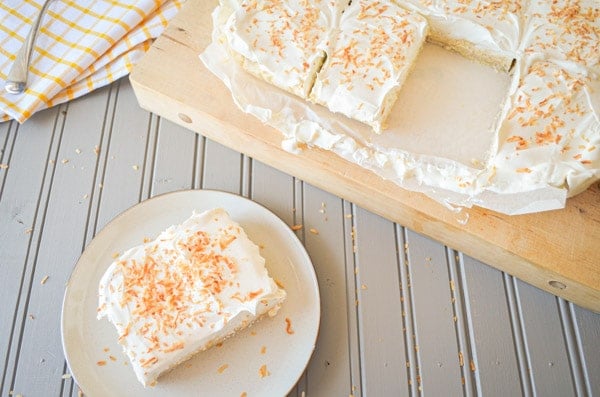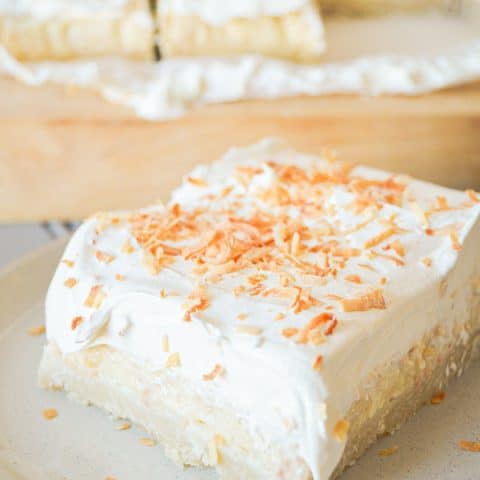 Coconut Cream Shortbread Bars
Total Time:
5 hours
20 minutes
The delicious, creamy taste of Coconut Creme Pie, with the sweet, dense, buttery texture of shortbread. Coconut Cream Shortbread Bars are a MUST TRY recipe!
Ingredients
Shortbread Crust
1 cup Salted Butter, melted
1/2 cup Sugar
1 tsp. Vanilla Extract
2 cups All Purpose Flour
Coconut Cream Layer
1 1/4 cup Unsweetened Flaked Coconut
3 cups Half and Half
2 large Eggs, beaten
3/4 cup Sugar
1/2 cup All Purpose Flour
1/4 tsp. Salt
1 tsp. Vanilla Extract
Topping
1 container Frozen Whipped Topping, thawed
Instructions
Shortbread Crust
Preheat the oven to 325 and grease a 9X13 glass dish. Line it with trimmed parchment paper, both lengthwise and width wise.
Add the melted butter to a medium bowl. Add the sugar and vanilla. Whisk well. Add the flour and mix well.
Press the mixture in an even layer into the prepared baking dish. Use a fork to poke holes evenly over the dough.
Bake in the preheated oven for 20 minutes, or until just lightly browned on the edges.
Remove from the oven and cool approximately 1 hour before proceeding to the next layer.
Coconut Cream Layer
Preheat the oven to 350F and line a baking sheet with parchment paper or a silicone liner.
Spread the unsweetened flaked coconut on the prepared baking baking sheet.
Bake the coconut, stirring occasionally, until golden brown. About 5-10 minutes.
Remove from the oven to cool. Reserve 2 tbsp. of coconut for the topping.
In a medium heavy bottomed saucepan, combine the half and half, eggs, sugar, flour and salt. Whisk well.
Bring to a simmer over low-medium heat, whisking very frequently until thickened considerably (a whisk should be able to stand up in it). This takes 15-25 minutes. As the mixture gets thicker, be sure to whisk more frequently, whisking nearly constantly towards the end of cooking time.
Remove from the heat and whisk in the vanilla.
Add the toasted coconut and mix well.
Spread this coconut cream mixture over the cooled shortbread layer, smoothing it out so it forms an even layer.
Let cool completely before covering with plastic wrap and placing in the fridge to cool for an additional 4-8 hours to set the filling.
Topping
Spread the coconut cream layer with the thawed whipped topping or the homemade whipped cream.
Sprinkle with the reserved toasted coconut and cut into bars.
Serve and enjoy!
Notes
You can use 3 cups of homemade real whipped cream in place of the frozen whipping topping if you like. Add the whipped cream just before serving.
Nutrition Information:
Yield:

8
Serving Size:

1/8
Amount Per Serving:
Calories:

663
Total Fat:

38g
Saturated Fat:

25g
Trans Fat:

1g
Unsaturated Fat:

11g
Cholesterol:

139mg
Sodium:

368mg
Carbohydrates:

73g
Fiber:

2g
Sugar:

40g
Protein:

9g
Nutrition information is an estimate only.
Don't Forget to "Pin It" on Pinterest!
More Recipes to Try: