Making a delicious breakfast every morning can be labor intensive…especially before you've had your daily cup of joe. Do yourself a favor and do up a big batch of these breakfast sausage patties! The perfect make ahead and freeze breakfast meal prep option!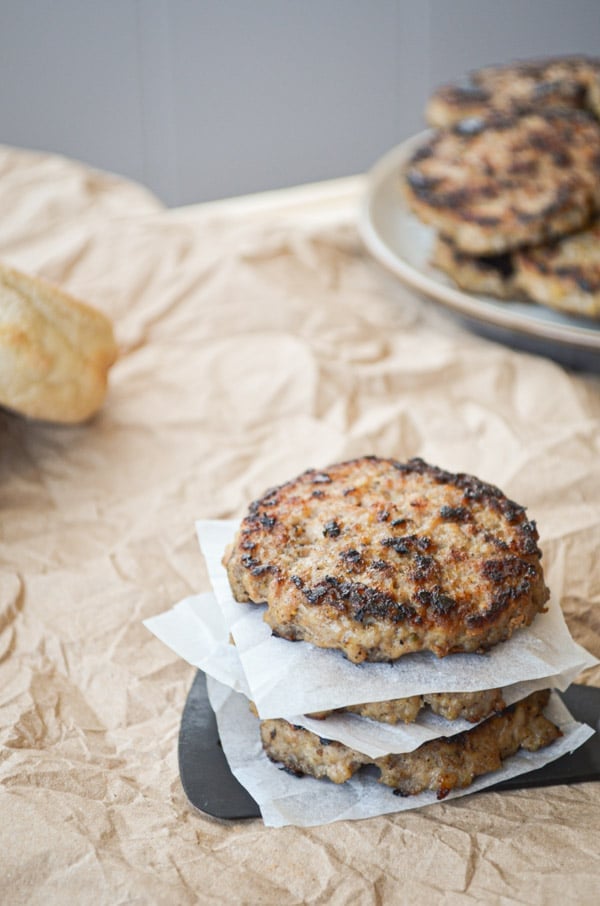 Please note that some of my blog posts here at Little Home in the Making may contain affiliate links. If you make a purchase through these links, I will get a small commission at no additional cost to you. Please see my Disclaimer for more information.
When my son started with BLW (Baby Led Weaning), I was always looking for a source of protein for his breakfasts. I needed something that was not only easy to prepare, but also something he would actually eat. Many months later and he still won't really touch eggs, but he loves meats of all sorts (hello, meatballs!). Since I needed the meat of choice to be quick to prepare, I was looking at store bought sausage patties. Needless to say, I wasn't terribly impressed with the ingredients. On top of that, the price was a lot more than I wanted to spend, especially since most of it would end up on the floor!
Will Homemade Sausage Patties Save Me Money?
I priced out the cost of ground pork, and soon realized that it was going to be a lot more cost effective for me to make them from scratch. I've made similar things in the past, so I knew I could freeze them and reheat them quickly for an easy breakfast. So I set to work, adapting a base recipe to ensure it had the ingredients I was comfortable with, held its shape both through cooking, freezing and reheating.
How Can I Use Homemade Sausage Patties?
In addition to serving them as is, you can serve sausage patties on a warmed biscuit, or on a toasted english muffin with fried egg and cheese for that classic breakfast sandwich experience. My husband happens to love breakfast sandwiches, and even bought a breakfast sandwich maker so he could prepare them whenever he had the urge. I was reluctant to allow such an odd appliance in my kitchen, but he loves to use it, and it's nice to have a morning (or evening) off cooking while I sit back and let my hubby make me something tasty. We've tried these out in the breakfast sandwich maker after thawing for about 10 minutes and they've worked great!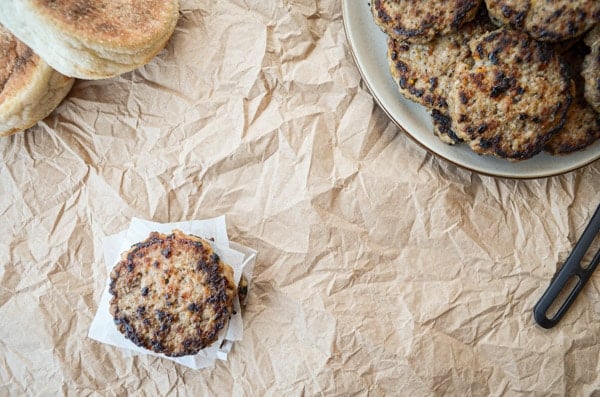 What Do I Need to Make Homemade Breakfast Sausage Patties?
Lean Ground Pork: Make sure you buy plain ground pork. Since we are adding seasonings, you don't want to buy any kind of flavored ground pork, normally labeled as "ground sausage."
Seasonings: A blend of sage, black pepper, marjoram, red pepper flakes, salt, and cloves creates that signature sausage patty flavor.
Brown Sugar: Just a little bit of brown sugar rounds out the flavors.
Panko Bread Crumbs: I've added panko crumbs to provide some needed structure to these homemade sausage patties. My intent with this recipe is to help you make a bunch so you can freeze them for later use. It's really important they don't crumble and maintain their shape.
Tools You Will Need:
Biscuit Cutters: For evenly formed sausage patties, the use of a biscuit cutter for shaping is a must. This set has great reviews on Amazon.
Cookie Scoop: Again, for keeping a uniform shape and size, portioning out your meat with a measured scoop is so important. I like this one from OXO. The large scoop is a #20 and holds 3 tbsp.
Cast Iron Skillet: A good cast iron skillet provides a nice, even heating surface and provides a nice browning for the sausage patties. This Lodge 12″ skillet is my kitchen standard. It never leaves my stove top.
How Can I Make These Low Carb?
If you're looking to make these low carb, you can leave them as is if you'd like (as long as you don't mind the addition of small amounts of brown sugar and breadcrumbs), or you can substitue brown sugar for a low carb sweetener of your choice (like Lakanto Monk Fruit Golden Sweetener) and omit the breadcrumbs. The omission of the breadcrumbs may make for a patty that is more likely to crumble, so you will have to take extra care when forming and flipping the patties.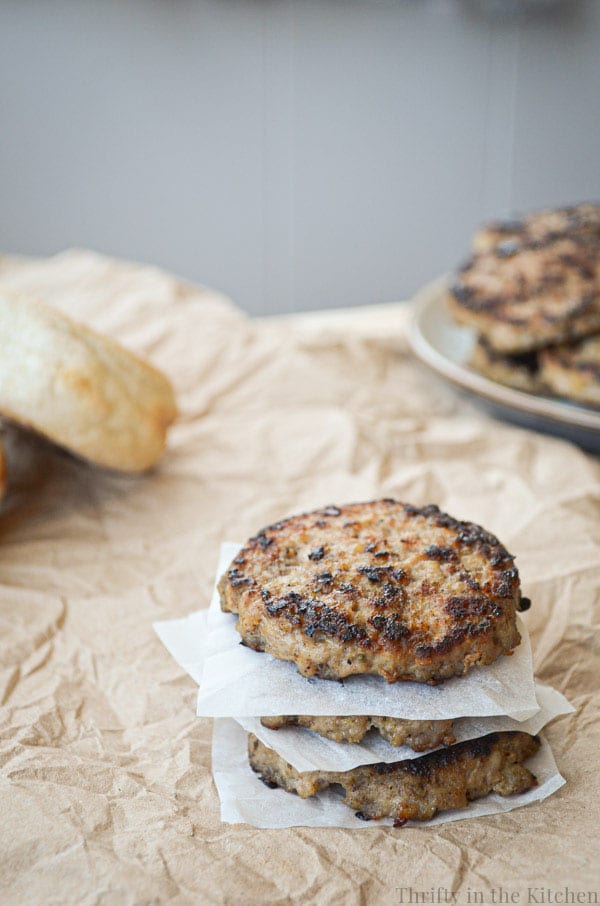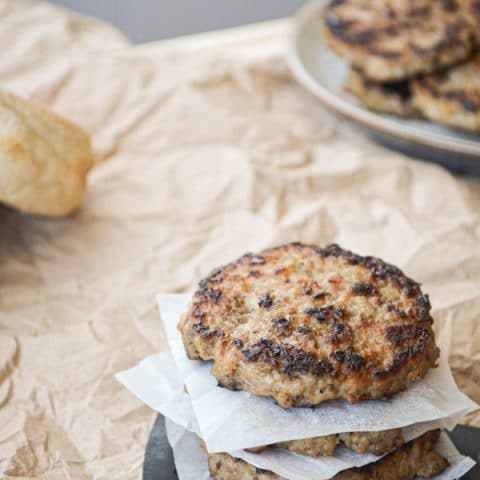 Homemade Breakfast Sausage Patties
If you're looking to save some money, try these Homemade Breakfast Sausage Patties! So easy to make ahead and freeze...and so tasty too!
Ingredients
2 lbs Lean Ground Pork
1 tsp. Ground Sage
1 tsp. Ground Black Pepper
2 tsp. Table Salt
½ tsp. Dried Marjoram
1 tbsp. Brown Sugar
⅛ tsp. Red Pepper Flakes
1/16 tsp. Ground Cloves
1/4 cup Sourdough or Panko Bread Crumbs, optional
Instructions
Combine all of the ingredients in a medium bowl and mix well.
Heat a large cast iron skillet over medium heat.
Form sausage patties by portioning out the meat using a #20 or 3 Tbsp. Cookie scoop and pressing it into a large biscuit cutter. If you don't have these, you can just portion the meat out as evenly as you can and press into 2 1/2 inch patties.
Cook the patties for 5 minutes on one side, and 4 on the other, or until the pork is cooked through.
Drain the patties on paper towels, and serve.
Notes
Note: The panko bread crumbs in this recipe help hold them together a little better, but if you're avoiding bread for whatever reason, you can absolutely omit them. They may be a little more crumbly, but the recipe will still work!
Freezing Instructions:
If you would like to freeze these for future use, place completely cooled patties in a single layer on a parchment lined baking sheet. Place the baking sheet in the freezer and freeze them for several hours. Remove the patties and place them in a large Ziploc freezer bag if you will be using them within the next month. If you want them to last longer, wrap each patty in plastic wrap and then place in a Ziploc bag. Remember to remove all the air from the Ziploc bag before placing in the freezer.
Nutritional Information is calculated using MyFitnessPal and is an estimate only.
Nutrition Information:
Yield:

22
Serving Size:

1 grams
Amount Per Serving:
Calories:

58
Total Fat:

2g
Saturated Fat:

1g
Trans Fat:

0g
Unsaturated Fat:

1g
Cholesterol:

24mg
Sodium:

251mg
Carbohydrates:

2g
Fiber:

0g
Sugar:

1g
Protein:

9g
Nutrition information is an estimate only.
Don't Forget to "Pin It" for Later!